How would you like a stroller that combines UPPAbaby VISTA functionality with a small and compact size of a lightweight stroller? And what if I told you UPPAbaby have just designed such stroller? They just announced their brand new product: UPPAbaby MINU that is going to hit the stores in the spring of 2018.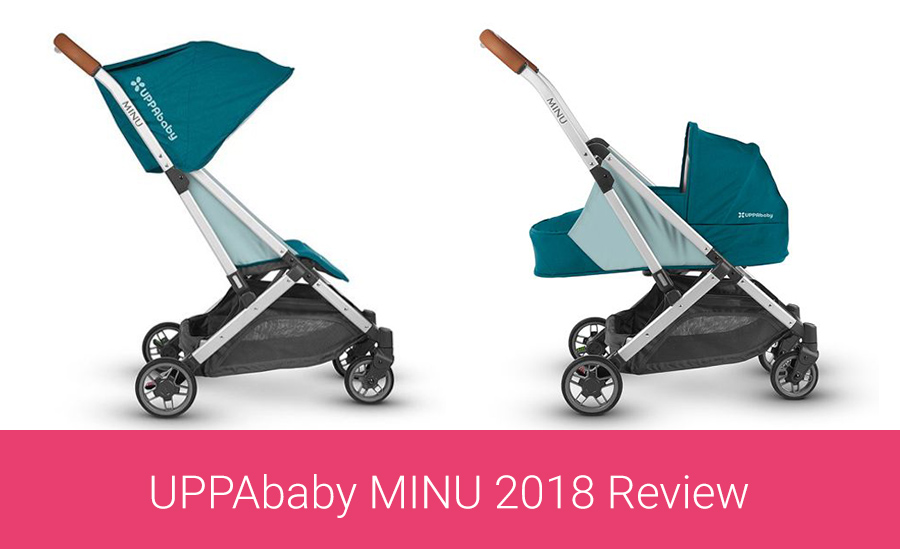 UPPAbaby MINU is perfect for city adventurers, who need stroller that won't slow them down. It can be used as an everyday stroller or lightweight stroller for travel. It is designed to provide comfortable ride, convenient use and fit into small spaces.

UPPAbaby MINU Review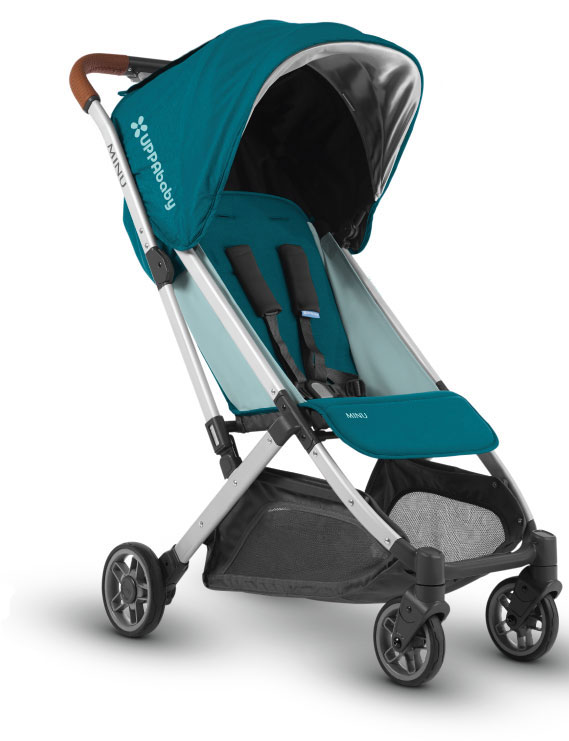 You are certainly all thrilled about the new UPPAbaby stroller and curious about its features. Here is everything you need to know about UPPAbaby MINU 2018.
Want to find out when UPPAbaby MINU will be on sale? Scroll down for more info about the release date!
UPPAbaby MINU 2018 – Weight and Fold
This new stroller from UPPAbaby is very lightweight and compact. MINU weighs only 14.5 lbs which makes it easy to lift or carry with a shoulder strap (included!). You will easily take it in and our of the car trunk or carry down the stairs.
It's also very useful for older toddlers who can walk, but sometimes on long distances they like to ride in a stroller to rest a little bit. When your toddler is ready to walk and jump again, you can just fold it and carry on a shoulder effortlessly.
It folds up into a small, compact package. Maybe it's not as small as GB Pockit but it's very portable. Here you can compare it with other lightweight strollers.

Folding is one handed and literally takes few second. The stroller basically folds itself. There are two buttons on the handlebar, you need to slide one to the side and press the other one and UPPAbaby MINU will fold itself. It's a piece of cake! The stroller stands on its own when folded. There is also automatic lock, which we need to unlatch before opening the stroller.
Folded UPPAbaby MINU 2018 takes very small space in a car trunk, it's perfect for those who have small cars. Moreover, if you have small apartment with UPPAbaby MINU you don't have to worry about storage. It will easy fit in your closet.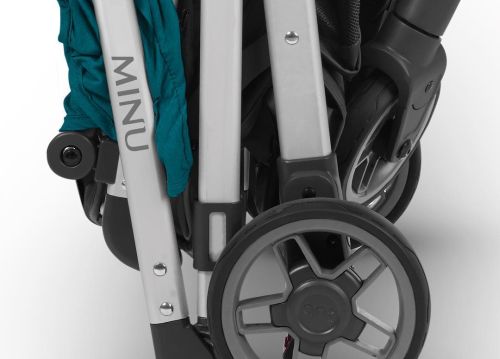 You are probably curious if UPPAbaby MINU fits in overhead compartment on airplanes. Based on latest information from the brand, it should meet carry-on regulation at least for some of the airlines. The prototype of MINU has folded dimensions: 20.5″ W x 23″ H x 11.5″ L, however they may change a little bit yet. Nevertheless, this lightweight stroller is ideal for parents who often drive a car, use public transportation or travel by train.
There is also one more great news – UPPAbaby MINU 2018 can be also folded with the bassinet attached! So you don't have to take off the From Birth Kit every time you want to put the stroller to the car trunk. It's very convenient.
UPPAbaby MINU 2018 – Seat
This stroller is equipped with a padded seat, suitable from 3 months up to 50 lbs. You can recline the seat pretty low by using a strap on the back. It's comfy for 3 months old babies and toddlers for a naptime. There is 5-point harness that protects baby. Each strap can be adjusted as the baby grows, shoulder straps are extra padded. The seat is pretty deep and long so it will definitely serve you for few years.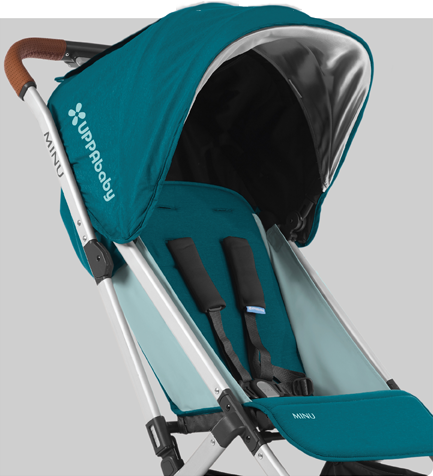 There is extendable canopy with pop-out UV sun visor. This canopy provides really nice sun shade. There is also mesh peek-a-boo window with a magnetic closure – I love UPPAbaby for their peek-a-boo windows! 🙂
UPPAbaby MINU 2018 – From Birth Kit
What is really great is that you can use this lightweight travel stroller for newborn! There is From Birth Kit (sold separately) which you need to install on the frame instead of the main seat and you're ready to go with your newborn.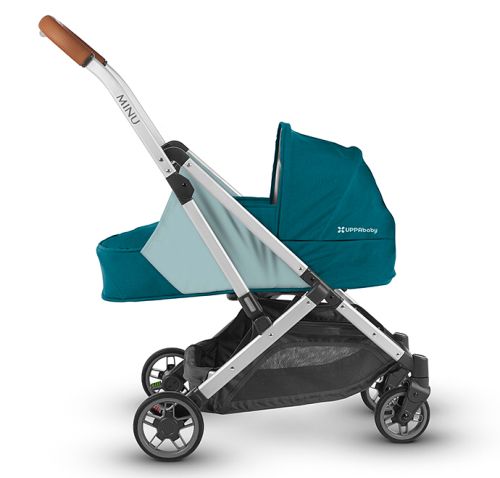 From Newborn Kit is basically a bassinet with nice mattress, 5-point harness and extendable canopy that also has a UV sun visor – it fully covers the baby. Padded mattress can be removed and washed.
I love the fact that we can fold the stroller with bassinet attached! It makes driving with newborns so much easier!
UPPAbaby MINU 2018 – Infant Car Seats Compatibility
This stroller is suitable for newborn and infant also with MESA and Maxi-Cosi infant car seats (it will be also compatible with other brands later). You just need a special adapter and you can turn your MINU into a travel system. Big plus for MINU, because not every lightweight stroller is compatible with infant car seats!
Thanks to From Birth Kit and infant car seats compatibility, UPPAbaby MINU 2018 can be your primary and only stroller!
UPPAbaby MINU 2018 – Storage basket
As for such a compact stroller, MINU 2018 has pretty large basket under the seat. It can hold up to 20 lbs! You will easily fit there your diaper bag, bottle of water, baby blanket and other essentials. The basket is easy to access from the back and front.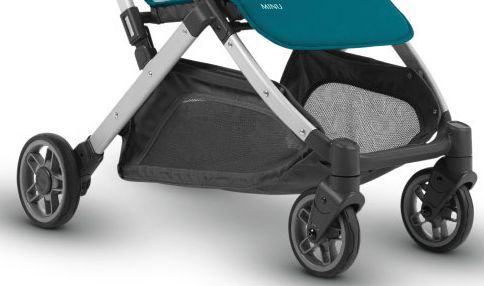 There is additional storage pocket on the back of the seat, where you can store your phone or keys. I only wish it has a magnetic closure like peek-a-boo window, instead of Velcro. But it's great anyway!
UPPAbaby MINU 2018 – Handlebar
The handlebar leather cover is brown (camel) or black color. The handlebar is not adjustable, however its height is comfortable for average parents.
UPPAbaby MINU 2018 – Wheels & Suspension
There are rubber wheels, smaller on the front and bigger on the back. Front wheels are pivoting which makes the stroller very agile. The size of the wheels is typical for lightweight strollers, so the stroller definitely works better on flat surfaces than bumpy unbeaten roads. In my opinion UPPAbaby MINU is designed for city dwellers, who will use it mostly on pavement, sidewalks, in shopping malls and occasionally in parks.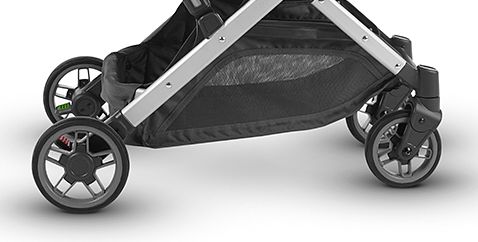 What's really great is that MINU has all-wheel suspension – that distinguishes it from many other lightweight strollers. So, although it has rather small wheels, thanks to the suspension you don't have to worry your child will get bumped around. This stroller will handle even some cracks on the sidewalks and gravel paths pretty smoothly.
UPPAbaby MINU 2018 – Brakes
This brand new stroller is equipped with two pedals – one is for locking the stroller and the other is for releasing it. The brake is very easy and intuitive. To lock the stroller we need to press on the pedal on the right side, which has a red indicator. To unlock the wheels we need to press the pedal on the left side with a green indicator. It's doable in flip flops and high heels.
UPPAbaby MINU 2018 – Color versions
There are four color version for UPPAbaby brand new stroller: Ryan (Teal Mélange), Denny (Red Mélange), Jordan (Charcoal Mélange) and Jake (Black Mélange).

UPPAbaby MINU – Release Date
UPPAbaby MINU is going to hit stores in sping of 2018. It will come with an adapter for MESA infant car seat. There will be also adapters for other brands, but they will be available later.
UPDATE: The brand just announced that UPPAbaby MINU release date is scheduled for May 2018!
UPPAbaby MINU – Price
This brand new stroller price will range from $399.99 to $429.99, depending on color version. It's very reasonable price considering it's such a well-featured lightweight stroller!
Are you a fan of UPPAbaby strollers like I am? Here are my other reviews: VISTA, CRUZ and G-LUXE.
UPPAbaby MINU Review Conclusion


Based on available information I can already tell you UPPAbaby MINU is going to be one of the best strollers for 2018!
Keep in mind
This stroller is not designed for off-road trips. Also, in the newborn mode the From Birth Kit is attached to the frame pretty low, therefore taking baby in and out of it requires bending.
3 Reasons Why You Will Love UPPAbaby MINU
1. It is designed for parents who want a lightweight stroller for newborn, not only toddler, something that will serve them since day one for several years.
2. It's perfect solution for parents who travel a lot with their baby.
3. MINU 2018 is for urban parent who are often out and about, like doing shopping or running errands with the baby and need a lightweight, compact and portable stroller.
If you are one of those parents, UPPAbaby MINU is definitely worth waiting for! 🙂
I hope you enjoyed my sneak peek on UPPAbaby MINU stroller. I'm super excited about it and already can't wait to try it out! I will let you know as soon as UPPAbaby MINU will be available and I will review its maneuverability, ease of use, comfort, safety and general performance! Stay tuned 🙂
---
In the meantime you may want to read my other reviews:

Hello Moms! I am Zooey. I am a wife and a mother of three amazing kids: 3-year-old Haley and almost 1-year-old twins Jesse and Matthew. I am a jogger, cooker and blogger
If you have a question or a comment, do not hesitate to write to me! 🙂