Would you like to have a stroller that combines UPPAbaby VISTA functionality with a small and compact size of a lightweight stroller? What if I told you that UPPAbaby has designed such stroller? The new UPPAbaby MINU will steal your heart!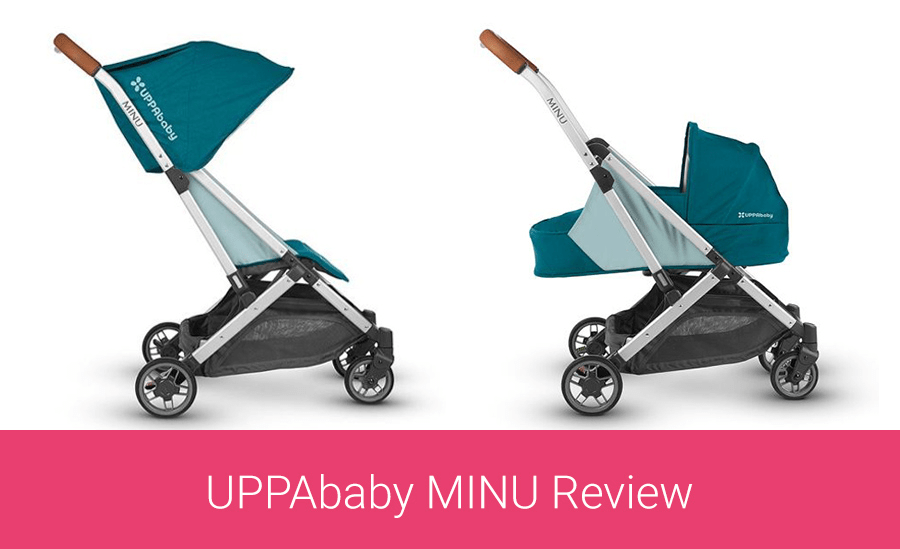 UPPAbaby MINU is perfect for city adventurers, who need a stroller that won't slow them down. It can be used as an everyday stroller or a lightweight stroller for travel. It is designed to provide comfortable ride, convenient use and fit into small spaces.
Like every other UPPAbaby stroller, MINU is made of high-quality, durable materials that will serve you for years (and many travels).
What distinguishes this models among other lightweight strollers is that UPPAbaby MINU has many features of a full-sized strollers like generous canopy, deep recline, compatibility with carrycot and infant car seats and all-wheel suspension. Although it is so well-equipped it weighs so little – when your toddler prefers to walk, you will be able to carry MINU on your shoulder effortlessly.
Key features:
Lightweight stroller for newborn baby? Why not! MINU is compatible with infant car seats and carrycot
Made of high-quality materials and fabrics
Generous canopy protects baby from sun and wind
Easy & compact fold – great option for parents who often travel or use public transportation
Great for everyday city use (going to the mall, parks and daycare)
Weighs only 14.8 lbs = effortless carrying
Price range: $$$ (Check it on Amazon or on PishPosh Baby)
Some of the links in this article are affiliate links.
UPPAbaby MINU Review – Stroller Features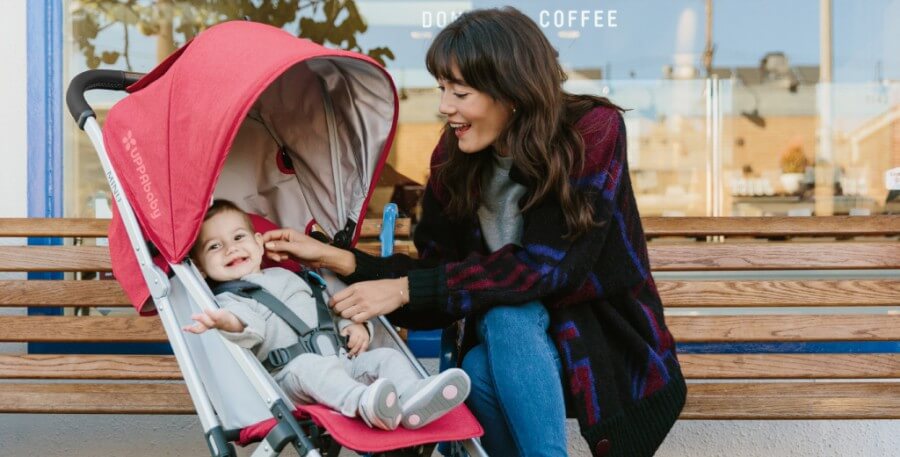 You are certainly all thrilled about the new UPPAbaby stroller and curious about its features. Here is everything you need to know about UPPAbaby MINU. This review refers to all 3 versions of this stroller: MINU 2018, MINU 2019 and MINU 2020. They look exactly the same and have the same features, the only differences are the available colors and accessories, sold separately.
UPPAbaby MINU – Seat
This stroller is equipped with a padded seat, suitable from 3 months up to 50 lbs. There is 5-point harness that protects baby. Each strap can be adjusted as the baby grows, shoulder straps are extra padded. The seat is pretty deep and long so it will definitely serve you for few years.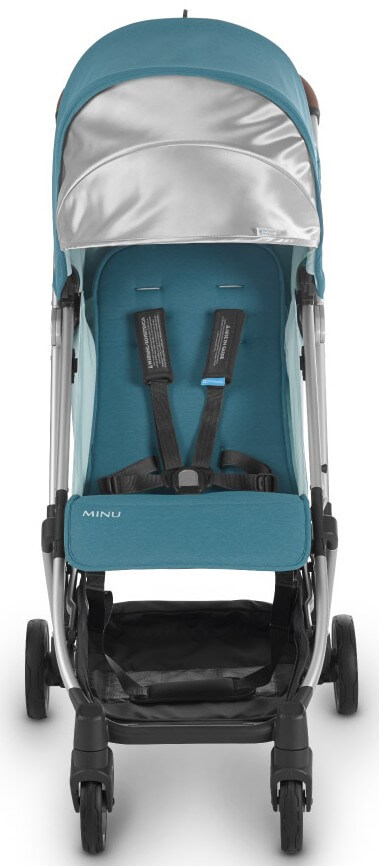 You can recline the seat pretty low by using a strap on the back. Lowering the backrest can be done with one hand, but raising it requires using two hands. The lowest position is comfy for 3-month-old babies and toddlers for a nap time. But it's not fully flat so it's not suitable for newborns.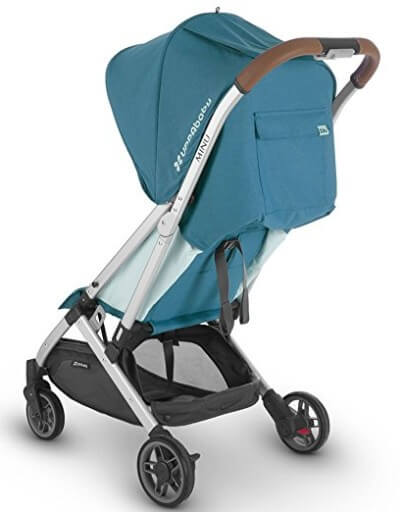 There is extendable canopy with pop-out UV sun visor. This canopy provides really nice sun shade. There is also mesh peek-a-boo window with a magnetic closure – I love UPPAbaby for their peek-a-boo windows! You can check on your baby without disturbing his nap time. 🙂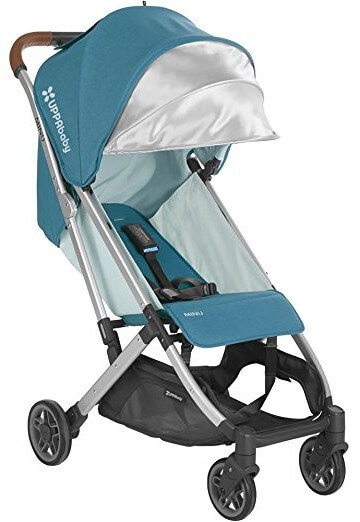 IMPORTANT UPDATE: UPPAbaby is going to release a snack tray for MINU in 2020. It's fantastic news – lack of snack tray was one of the major drawbacks that MINU owners were talking about. We are still waiting for the exact release date, but it's great to know that UPPAbaby listens to its customers.
UPPAbaby MINU – From Birth Kit
What is really great is that you can use this lightweight travel stroller for newborn! There is From Birth Kit (sold separately) which you need to install onto the frame instead of the main seat and you're ready to go out with your newborn.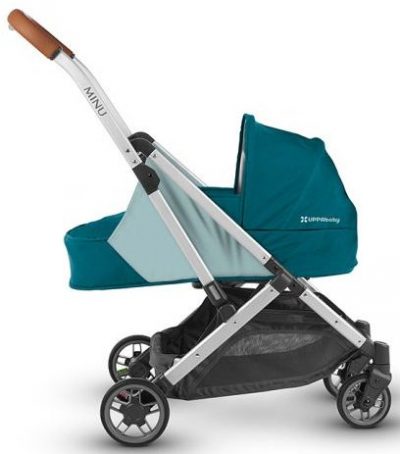 From Newborn Kit is basically a bassinet with nice mattress that allows newborn baby to lie completely flat. This padded mattress can be removed and washed.
There is also 5-point harness and extendable canopy that also has a UV sun visor – it fully covers the baby. You can also unzip one panel and allow the air to circulate through the mesh window – perfect solution for keeping baby comfortable during warm summer days.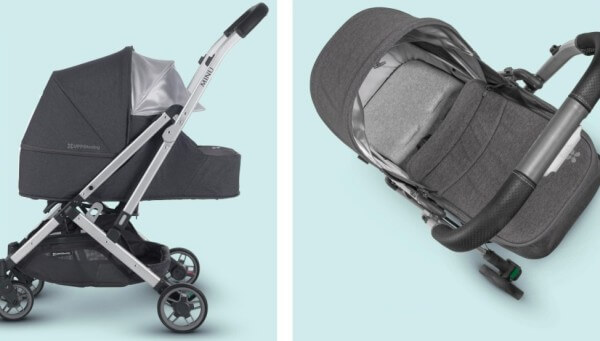 As you can see this bassinet is places pretty low on the frame so putting baby in and out of it will require bending.
There is one thing that I really love about MINU – you can fold the stroller with bassinet attached! It makes driving with newborns so much easier!
From Birth Kit is sold separately (check it on Amazon or on PishPosh). Keep in mind that only the From Birth Kit is compatible with MINU, CRUZ's and VISTA's bassinets don't fit MINU.
UPPAbaby MINU – Infant Car Seats Compatibility
This stroller is also suitable for newborns and infants thanks to compatibility with infant car seats. MINU works with UPPAbaby MESA and car seats from other brands: Maxi-Cosi, Nuna and Cybex.
Big plus for MINU, because not every lightweight stroller is compatible with infant car seats!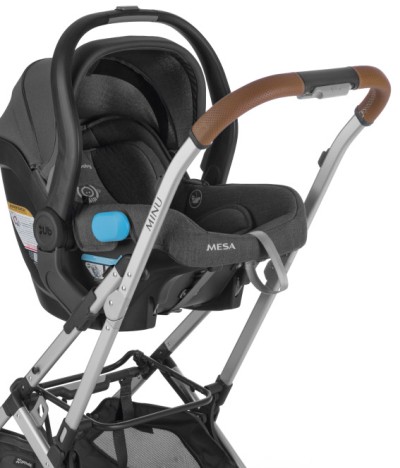 You just need a special adapter to turn your MINU into a travel system (here are adapters for MESA and adapters for Nuna, Cybex and Maxi-Cosi on PishPosh Baby).
Thanks to From Birth Kit and infant car seats compatibility, UPPAbaby MINU 2018/2019/2020 can be your primary and only stroller!
UPPAbaby MINU – Handlebar
MINU's handlebar is not height- adjustable. It is about 41 inches from the ground which is comfortable for most of the parents, but it might be a bit too high for a very short person. The handlebar has leather cover, brown (camel) or black, depending on the color version that you purchase.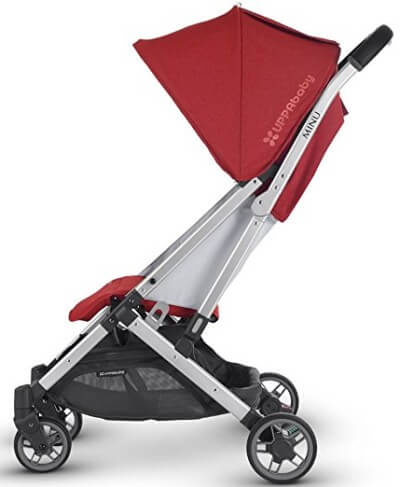 UPPAbaby MINU – Wheels & Suspension
There are rubber wheels, smaller on the front and bigger on the back. Front wheels are pivoting which makes the stroller very agile. The size of the wheels is typical for lightweight strollers, so the stroller definitely works better on flat surfaces than bumpy unbeaten roads. In my opinion UPPAbaby MINU is designed for city dwellers, who will use it mostly on pavement, sidewalks, in shopping malls and occasionally in parks.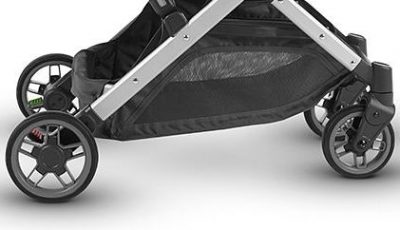 What's really great is that MINU has all-wheel suspension – that distinguishes it from many other lightweight strollers. So, although it has rather small wheels, thanks to the suspension you don't have to worry your child will get bumped around. This stroller will handle even some cracks on the sidewalks and gravel paths pretty smoothly.
UPPAbaby MINU – Brakes
This brand new stroller is equipped with two pedals – one is for locking the stroller and the other is for releasing it. The brake is very easy and intuitive. To lock the stroller we need to press on the pedal on the right side, which has a red indicator. To unlock the wheels we need to press the pedal on the left side with a green indicator.
As you can see, you don't have to lift the pedal to disengage the brake so your pedicure is safe. 🙂 Pressing the pedals is easy whether you're wearing flip-flops, high heels or sneakers.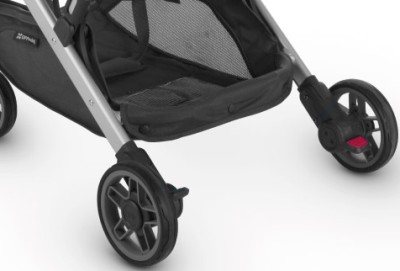 UPPAbaby MINU – Storage basket
As for such a compact stroller, MINU has pretty large basket under the seat. It can hold up to 20 lbs! You will easily fit there your diaper bag, bottle of water and few other essentials. The basket is easy to access from the back and front – big advantage.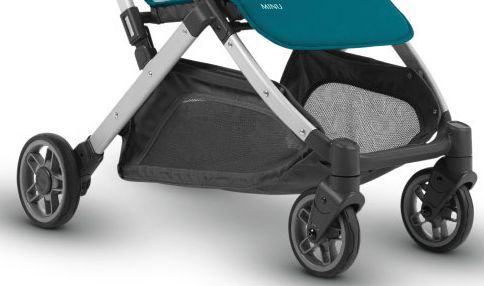 There is additional storage pocket on the back of the seat, where you can store your phone, keys, wallet and even a sippy cup!
UPPAbaby MINU – Weight and Fold
This new stroller from UPPAbaby is very lightweight and compact. MINU weighs only 14.8 lbs which makes it easy to lift or carry with a shoulder strap (included!). You will easily take it in and our of the car trunk or carry down the stairs.
Such a portable stroller is also very handy if you have an older toddler who can walk, but sometimes on long distances likes to ride in a stroller to rest a little bit. When your toddler is ready to walk and jump again, you can just fold MINU and carry it on a shoulder effortlessly.

It folds up into a small, compact package. Maybe it's not as small as GB Pockit but it's very portable. Here you can compare it with other lightweight strollers.
Folding is one handed and literally takes few second. The stroller basically folds itself. There are two buttons on the handlebar, you need to slide one button to the side and press the other one and UPPAbaby MINU will fold itself. It's a piece of cake! The stroller stands on its own when folded. There is also automatic lock, which we need to unlatch before opening the stroller.
Folded UPPAbaby MINU takes very small space in a car trunk, it's perfect for those who have small cars. Moreover, if you have small apartment with UPPAbaby MINU you don't have to worry about storage. It will easy fit in your closet. To prevent MINU from getting dirty during transportation or storage use the storage bag – included with the stroller.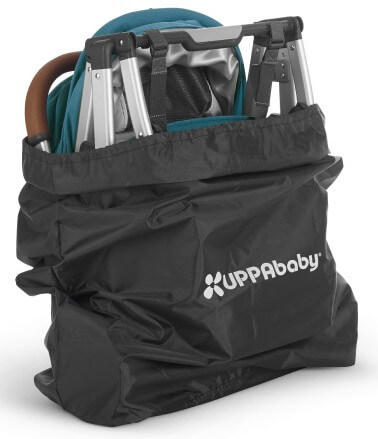 You are probably curious if UPPAbaby MINU fits in overhead compartment on airplanes. Folded dimensions of MINU are: 11.5″L x 20.5″W x 23″H so it may not be accepted as carry-on. If you plan on traveling by plane a lot and want to be sure you could take this stroller on board, check your airline regulations.
There is also one more great news – UPPAbaby MINU can be folded with the bassinet attached as well! So you don't have to take off the From Birth Kit every time you want to put the stroller into the car trunk. It's very convenient. On the video below you can see how to fold and open MINU with the bassinet.
This lightweight stroller is ideal for parents who often drive a car, use public transportation or travel by train because it folds up so easily and small. Whether you're using newborn or toddler version you can fold and open MINU within few seconds.
Are you a fan of UPPAbaby strollers like I am? Here are my other reviews: VISTA, CRUZ and G-LUXE.
Overall Performance, Ease Of Use & Comfort
This stroller has many features that make using it a real pleasure. It has three seating options and switching between them is quick and simple. The basket is spacious (which is a rare thing among lightweight strollers) and easily accessible from the back and front. Moreover you can fold MINU with one hand within few seconds – perfect solution for busy parents who are often on the run with their baby.
The backrest is about 18 inches long, but there are few more inches to the top of the canopy so the toddler has plenty room to grow. Such a roomy seat can accommodate also taller and older kids. Moreover the seat padding and padded shoulder straps increase baby's comfort during the ride.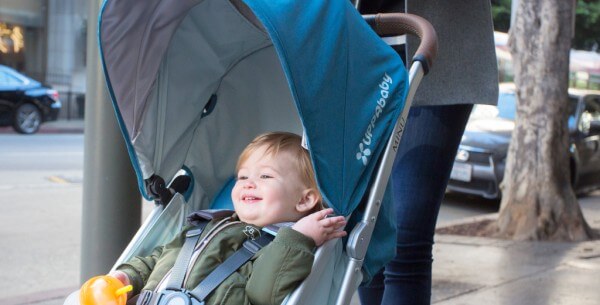 UPPAbaby MINU has small footprint which makes it ideal for narrow places. It's easy to turn in tight corners and maneuver in crowds. This is a perfect companionship for shipping at the mall and small grocery stores because it's easy to steer between store racks.
The stroller pushes smoothly, especially on a flat ground. It can handle hard-packed dirt and cobbled streets as well and thanks to all-wheel suspension it won't bounce that much. As a petite woman I'd wish it had an adjustable handlebar, but it's a minor drawback. If you're over 5'5" you're be fine.
Pros & Cons
Pros
Cons

Pros

---

+ Deep recline & lots of head space

+ Extendable canopy with pop out sun visor – good amount of shade for the baby

+ Magnetic peek-a-boo window

+ Option of attaching a carrycot and infant car seat

+ Good-sized storage basket

+ All-wheel suspension cushions the ride over cracked sidewalks and cobblestone

+ Compact fold – perfect for small apartment and for traveling by plane

+ Portable – very lightweight and easy to carry with a shoulder strap

Cons

---

- Small wheels – not suitable for off-road strolls

- Non-adjustable handlebar
UPPAbaby MINU 2018 – Color versions
When UPPAbaby released MINU back in 2018, there were four color versions for this brand new stroller: Ryan (Teal Mélange), Denny (Red Mélange), Jordan (Charcoal Mélange) and Jake (Black Mélange).

UPPAbaby MINU 2019 – Color versions
The brand has added one new color for UPPAbaby MINU 2019 – Devin. It's a light grey marl, which looks like a creamy white. Very stylish and elegant! This fashion is available from Spring 2019. Denny has been discontinued.
Depending on the color version, UPPAbaby MINU price varies a bit (the basic price for Jake is usually a few dollars higher). Overall, I think the price is very reasonable considering how well featured and lightweight this stroller is!
Don't forget to check current price of UPPAbaby MINU in different stores and look for discounts! I recommend you to check on Amazon and PishPosh Baby
What other parents say about UPPAbaby MINU?
I checked this new stroller from UPPAbaby on Amazon to find out it parents are satisfied with its functions and quality. Here's what I've found.
Folding is one-handed and really super easy – when you're in a hurry you can close it within few seconds and put into the car trunk (where it takes up a little space!). And thanks to small weighs it's very portable. It may works as a travel stroller (fits in overhead compartment on many airplanes – read more here) and second stroller for running errands etc.
It's perfect for shopping at the mall, because it's very compact and easily maneuvers between cloth racks. In a restaurant it can be tucked away. On sidewalks and smooth surfaces it rolls smoothly and it's very easy to push. Generally speaking parents praise its maneuverability, seamless navigation in tight places and good shock-absorption on slightly uneven terrain. Another advantage is the canopy which gives nice shade for the baby and hassle-free harness.
It may be a smaller and lighter alternative for VISTA or CRUZ, but MINU's seat is not reversible, so if you'd prefer your infant to sit facing you, these bigger strollers may be better option. Also, keep in mind the seat back is not very long, but the canopy is high and there's plenty of head room for taller kids (find out more).
UPPAbaby MINU has decent storage basket, but smaller than VISTA or CRUZ and big diaper bag may not fit into it. It's very light, so if you hang a heavy diaper bag on the handlebar and the kid is not in the seat, the stroller may tip over.
To raise the backrest again you'll need to use two hands, button would be more convenient. Non-adjustable handlebar may be a disadvantage for short parents (read this customer review).
Moreover this stroller is quite pricey, but it doesn't include accessories like cup holder or organizer. Lots of parents were also complaining about the lack of snack tray for MINU. This is about to change in 2020. The brand is going to release a snack tray UPPAbaby MINU (as well as a cover for the storage basket). The best thing is that MINU will fold WITH the snack tray – you won't have to remove it every time. I guess this is the ingenious design you pay for. 🙂
UPPAbaby MINU 2018 vs MINU 2019 vs MINU 2020 – Comparison
| MINU 2018 | MINU 2019 | MINU 2020 |
| --- | --- | --- |
| New lightweight stroller, some of its awesome features are: one-hand fold, near-flat recline, compatibility with infant car seats | No changes in functionality or design, one new color (Devin) and one color discontinued (Denny) | No changes in functionality or design, two new accessories for MINU: snack tray and storage basket cover |
UPPAbaby MINU Review Conclusion
UPPAbaby MINU is one of the best strollers this year! It combines features of standard, full-sized strollers with compact size and weight of a lightweight strollers.
Keep in mind
UPPAbaby MINU stroller is not designed for off-road trips. Also, in the newborn mode the From Birth Kit is attached to the frame pretty low, therefore taking baby in and out of it requires bending.
3 Reasons Why You Will Love UPPAbaby MINU
1. UPPAbaby MINU is designed for parents who want a lightweight stroller for newborn, not only toddler, something that will serve them since day one for several years.
2. It's perfect solution for parents who travel a lot with their baby.
3. MINU is for urban parent who are often out and about, like doing shopping or running errands with the baby and need a lightweight, compact and portable stroller.
If you are one of those parents, UPPAbaby MINU is definitely worth buying! 🙂
---
You may want to read my other reviews:
---
All pictures belong to UPPAbaby. Source: https://uppababy.com/
Your trust is really important to me: This post contains affiliate links. If you choose to buy something using these links, I receive a small commission, at no extra cost to you. Your support helps me run this blog. Thank you so much 🖤 Zooey