"Nanit or Owlet?" – This is the most common question when parents look for high-tech smart baby monitors that can track baby's sleep and baby's breathing. Both the Owlet and Nanit are on the high end – that's why you should read my detailed comparison and avoid wasting your money on the wrong one!
This article is not a substitute for medical advice. It contains affiliate links.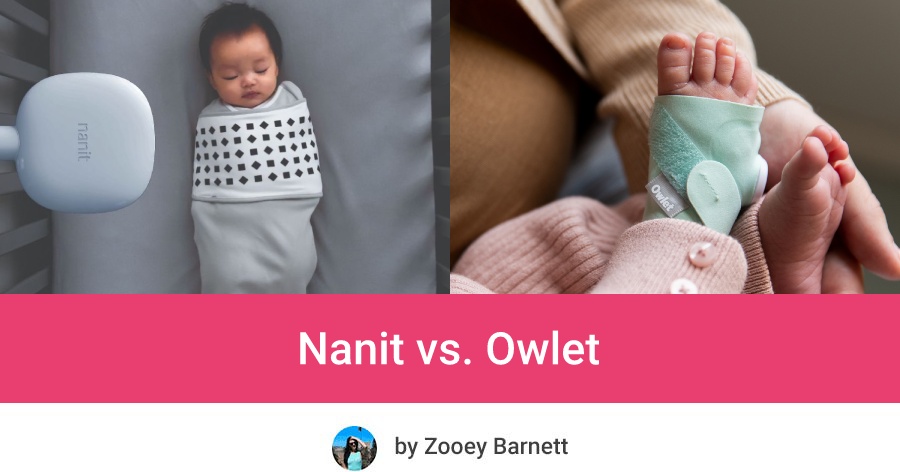 In this article I'm going to compare the newest version of Nanit Camera Pro + Breathing Wear with the newest version of Owlet Smart Sock 3 + Owlet Baby Monitor.
Before we jump into more detailed reviews and comparison, let me start by saying that Owlet and Nanit are smart devices, but they differ a lot, especially in terms of information they give you about your baby's condition.
Nanit camera allows you to track your baby's sleep trends, play white noise or nature sounds, as well as monitor baby's breathing if you get their Breathing Wear as well. You can choose swaddles, sleeping bag, pajamas or chest band.
But you should keep in mind that Nanit Breathing Wear only works with Nanit Pro and Nanit Plus camera, it won't track your baby's breathing patterns on its own. And the camera itself doesn't monitor baby breathing motion either. You need both pieces. Nevertheless, if you're looking for baby breathing monitor Nanit Pro is definitely one of the best choices.
On the other hand, what distinguishes Owlet is the innovative Smart Sock that tracks baby's heart rate and oxygen level. You can use the Sock on its own or pair it with Owlet video monitor for additional sleep tracking.
As you can see, both the Owlet and Nanit can give you lots of peace of mind about your baby's safety during the nighttime, but the type of information these devices provide are different. Which one is more accurate and reliable? We'll get to that soon.
Keep on reading to find out which one wins the battle for the best smart baby monitor: Nanit or Owlet.
Best Features
❤️ The sock works WITHOUT the camera
❤️ The only smart monitor that tracks heart rate and oxygen saturation
❤️ Portable and perfect for travel
❤️ Best quality video and night vision
❤️ In-depth sleep analysis + personalized tips
❤️ More stable app with useful customizations
advantage
✨ Recommended by 720+ parents
✨ Breathing Band included!
Tracks Baby's Vitals Without The Camera
Best Features
❤️ The sock works WITHOUT the camera
❤️ The only smart monitor that tracks heart rate and oxygen saturation
❤️ Portable and perfect for travel
advantage
✨ Recommended by 720+ parents
Best Baby Camera & Smartphone App
Best Features
❤️ Best quality video and night vision
❤️ In-depth sleep analysis + personalized tips
❤️ More stable app with useful customizations
advantage
✨ Breathing Band included!
Nanit vs. Owlet – Review & Comparison
Nanit and Owlet are one of the most popular and best baby monitors that you can get right now. But which one of these two devices is actually better?
Here's my comparison: Owlet vs. Nanit to help you choose baby monitoring system for your little one.
What's Included – Nanit And Owlet Price Comparison
With Owlet it's pretty easy. You can choose the Owlet Monitor Duo which includes the Smart Sock 3 and the camera, or buy just one of those devices. Keep in mind that bundle is more cost-efficient – it allows you to save $50! The camera comes with a magnetic base and you can place it anywhere to monitor your baby's sleep, as well as wall mounting kit.
Nanit Pro Camera comes with a Breathing Band. You can choose wall mount or floor stand – the latter one is more pricey. There's also the Nanit Pro Complete Monitoring System that comes with wall mount, as well as Multi-Stand that basically works like a tripod so you can place your camera wherever you need to (its' perfect for travel), Breathing Torso Band for monitoring baby's breathing motion, Smart Sheets for tracking your baby's growth.
Nanit also has a collection of Breathing Wear which includes: swaddles, sleeping sacks, pajamas and chest bands. If your newborn baby prefers to sleep when swaddled (like mine did), you will need to purchase the Nanit Swaddle separately, in order to track breathing motion.The band that is included with the camera cannot be used on a swaddle.
Owlet vs. Nanit – Cost Comparison
Owlet
Nanit

Owlet Smart Sock 3 - $299
Owlet Cam - $149
Owlet Monitor Duo (Sock + Cam) - $399 $349 > Grab the discount here (code: OWLFLASHSALE50) <
Owlet Smart Sock Plus (fabrics in 3 sizes) - $368 $359
Owlet Smart Sock Extension Pack (Fabric in the largest size) - $69

Nanit Pro Camera (Cam + Band) - $299 with wall mount /$379 with floor stand
Nanit Pro Complete Monitoring System (Cam + Band + Sheets + Multi-Stand) - $379 with wall mount/ $449 with floor stand
Nanit Breathing Swaddle - $24.99 for 1 / $49.99 for 3
Nanit Breathing Sleeping Bag - $34.99
Nanit Breathing Pajamas - $29.99
Nanit Breathing Band - $19.99 for 1 / $39.99 for 3
*These are the regular prices that you can find on brands' websites. They may change during sales etc.
Owlet Sock 3 vs. Nanit Pro With Breathing Wear – How Do They Work & Are They Accurate?
You may be debating between Owlet and Nanit, if you're in a hunt for smart baby monitor that could track your baby's health and not just the sleeping patterns.
And this is probably the biggest difference between Nanit and Owlet.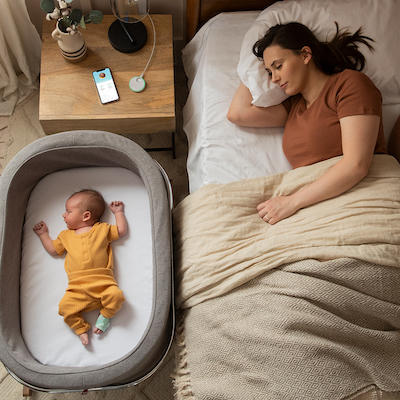 Owlet Smart Sock sensor tracks baby's vital signs like oxygen levels and heart rate. Whenever baby's oxygen saturation or heart rate are below or above the preset safe levels, the base station will change its color from green to red and your Owlet app will sound the alarm too.
Lots of new moms who were anxious about their babies safety, praise Owlet Smart Sock for giving them peace of mind. And when you're calm about your little one's health, you can sleep better – which is SO IMPORTANT in the first few months after the birth.
The best thing is that you don't need the Owlet Camera to use the Smart Sock. It's really convenient solution for parents who often travel – the sock takes a little space and it's so easy to travel with.
PRO TIP: If Owlet has been above your budget, I've got great news for you! During Black Friday Owlet is having amazing sale and you can save $80 OFF Dream Sock, $20 OFF Cam 1, and $50 OFF Cam 2. Keep in mind that today is the last day of this promo do don't miss out on your chance! Grab your discounts here >>
In contrast to Owlet, the Nanit Breathing Wear allow your to monitor baby's breathing. Thanks to custom-designed pattern on the swaddle, band, sleeping sack and pajamas, Nanit Camera can detect child's breathing motion.
Keep in mind that in order to track baby's breathing motions, you need both pieces – Nanit Monitor and Breathing Wear. It's wonderful all-in-one solution for home, but if you travel a lot, you will need to bring more equipment with you (cam + multi-stand + Nanit sleepwear).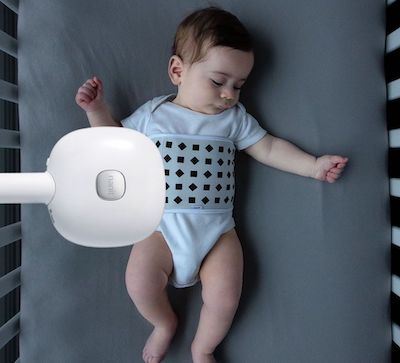 What I find important is that Smart Sock still works even when your Wi-Fi goes out. In that case you will receive notification on the Base Station (not in your app).
With Nanit you need the Wi-Fi connection to set it up – your phone and the camera need to be in the same Wi-Fi network, but then you will see the video even in case of Wi-Fi disruptions.
When you're on the go, you can still monitor your baby through Nanit app or Owlet app, but you will need an active Internet connection.
IMPORTANT INFO: If used properly, Breathing Wear can provide you with lots of useful information about your little one's health which may be helpful for decreasing the risk of Sudden Infant Death Syndrome. But keep in mind, that even high-quality monitors cannot guarantee full protection from SIDS and you should practice pediatrists' recommendations for safety sleep. Even if you use Nanit (or Owlet) make sure you baby always sleeps in supine position1.
Nanit vs. Owlet – False Alarms
This is the thing that parents worry about the most. False alarms can scare the hell out of you.
It's so terrifying to be woken up in the middle of the night to your baby's monitor informing you that something is wrong. Those few seconds when you chase down to your little one's nursery feel like FOREVER.
When you invest a few hundred dollars in a high-tech smart baby monitor you definitely don't want this kind of situation to happen, right?
That's why it's so important to choose a baby monitor that doesn't give frequent false alarms, as well as to learn how to use it properly to avoid this type of events.
FYI, these types of devices are not perfect and false alarms WILL happen.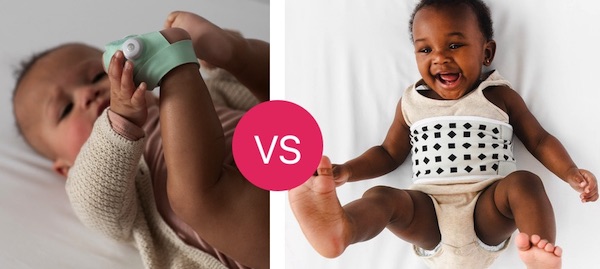 I went through Nanit reviews and Owlet reviews I must admit that Nanit seems to give much less false alarms!
It's very important to follow all the rules, like the distance between the baby and camera. Sometimes, if the baby is too small or the camera is too far, it may not be able to track baby's breathing motion properly and show false alarm. Apparently, the color of the crib sheets also matters – it's best to choose solid ones.
To avoid false positive alerts, don't use Nanit sleepwear to monitor breathing patterns when the baby is in a swing, bassinet with vibrations or a rocker.
Now, let's move onto Owlet false alarms. I'm aware that there's lots of negative online reviews of Owlet because of false alarms, but many of them are not the result of bad design but rather a misuse.
It's extremely important to choose the right size, because if it's too tight or too loose it won't read baby's vital signals which may lead to false alarm. You should take some time to learn how to put the Owlet's Smart Sock on properly.
Other things that can lead to less accurate readings, as well as false (and frightening) alarms: sock placement, baby's foot temperature or sickness. The sock may not work properly when the baby is in a swing, vibrating bassinet or a rocker with elevated seat.
PRO TIP: If you're hesitating between Owlet Sock 2 vs. Nanit Plus, the latter one is definitely more accurate and reliable. Thankfully, Owlet did a good job with improvements for Smart Sock 3. Thanks to improved design it fits baby's foot better – which means it reads baby's heart rate and oxygen saturation more accurately. If you're debating between Owlet Sock 3 vs. Nanit Pro, it will boil down to choosing what fits your needs better and what seems to be more convenient to you (electronic add-on or washable wearables). If you care more about video quality, in-depth sleep data analysis and sleep tips – Nanit will be better choice.
>> Nanit vs. Miku – Which Baby Breathing Monitor Is Best?
Which One Is Better: Smart Sock By Owlet Or Nanit Breathing Wear?
Owlet gives you information about baby's oxygen levels and heart rate, while the Nanit offers you the ability to monitor child's breathing pattern. Even though false positive alerts can happen with both these types of devices, they seem to be quite accurate.
I've read and watched lots of comparisons of Owlet with medical equipment used for monitoring premature and NICU babies. The Smart Sock turns out to be very precise and measures baby's vitals accurately.
Nanit Breathing Sleepwear seems to be a great choice too, especially for parents who worry about having false alarms or having their baby to wear an electronic device all night long.
Here are a few tips that may help you to choose between Nanit vs. Owlet.
Owlet Smart Sock (called now the Dream Sock) is designed to fit babies from 5 to 30 lbs, from birth up to 18 months, but it's the best solution for newborn babies and infants up to 6-9 months. You can get extra sock fabrics for kids up too 5 years here >> No need to worry that your child will grow out of Owlet Sock!
You can swaddle your baby with the Owlet. Make sure the Smart Sock fits your child's foot properly (not too tight, not too loose) and then you can swaddle your baby, put them in footy pajamas or sleep sack. It's perfect solution for babies who prefer to sleep when swaddled.
Smart Sock is the best option for traveling parents. You don't need a camera to monitor your babe's vitals.
Nanit Breathing Wear is long-term solution for monitoring child's breathing, if you're okay with spending some extra money on swaddles, sleep sack or pajamas as the child grows.
If your little one sleeps only when swaddled, Nanit Breathing Band will be useless for you, because you can't put it on the swaddle. You will need to pay extra for Nanit Breathing Swaddle.
Nanit Swaddle is recognized as hip-healthy by the International Hip Dysplasia Institute2, which is a big plus.
Nanit offers solution for monitoring breathing patterns in older babies who outgrew the Smart Sock.
Nanit vs. Owlet Cam
Now let's see which baby video monitor is better (SPOILER ALERT: it's Nanit, but keep on reading to find out why).
Owlet Cam comes with a magnetic base that you can place anywhere or mount on the wall. The package also includes wall mounting kit and cable guards. Lots of parents who own this baby monitor agree that it's very easy to install and detach. The camera can be set at many angles so you can always get the perfect view of your baby's crib.
I love the fact that this baby monitor is so small and portable, you can move it from one room to another or bring it with you when you travel.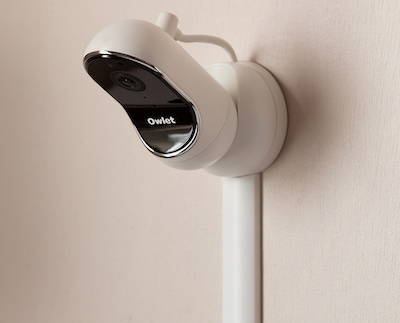 Just like many other smart baby monitors, Owlet uses secure, encrypted WiFi connection to send the video and audio to your smartphone (by the way, it works with Android and iOS).
The Owlet baby monitor has 130 degree wide angle lens and streams HD 1080p video with night vision. I was so positively surprised with the quality of the video, it's so sharp and you can easily zoom it in! It's WAY BETTER than in traditional baby monitors. Besides, there's two-way audio so you can hear your baby and you can also talk to your baby (I think this feature may be useful with older toddlers).
There's also built-in room temperature sensor so you can always make sure your baby's is not overheating or getting cold.
In contrast to standard and cheaper baby monitors that come with a separate parent screen/monitor, with Owlet you receive the audio and video directly in your smartphone Owlet app. Thanks to sound and motion notifications you know when you little one wakes up or start to cry.
I really like the background audio feature that allows you to use your phone and other apps, and hear the audio from your baby's room at the same time. Whenever the video baby monitor detects motion or audio events, the Owlet alerts you in the app.
In contrast to standard baby monitors that don't use the Internet connection, you can keep an eye on your little one though Owlet app even when you're away from home which is super convenient.
I've heard that some parents have been having connectivity issues. Speaking from my own experience, setting the router closer to the camera usually helps to solve the problem.
Keep in mind that there may be a delay in video/audio streaming – about 2 seconds.
Despite many useful features, and amazing audio and video quality, Owlet camera seems to be pretty similar to other baby video monitors and you can probably find some great alternatives at this price point. Nevertheless, the bundle cam+sock is a fantastic option and its price is more reasonable.
Now let's move onto Nanit video baby monitor. You can choose two versions: cam with floor stand or wall mount with the former one being $80 more expensive. There's also a new Multi-Stand available which allows you to place the camera wherever you need to, plus it's quite useful for traveling parents.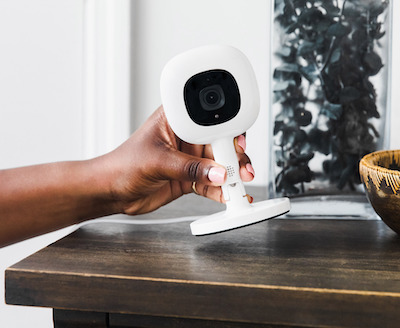 If you choose Nanit with mount wall you will also receive the cable guiders. And in case the crib is not set next to a wall, you can always choose the floor stand. Keep in mind that Nanit camera unit is a bit more stiff so you may need to work a bit harder to get the perfect angle. In contrast to cheap, traditional video monitor – with Nanit there are no blind spots!
Whether you choose floor stand or wall mount, you will get a bird's-eye view of your little one's crib.
Just like Owlet, the Nanit Pro offers 1080p HD video. It's an important upgrade from Nanit Plus which features 960p video. Moreover, Nanit Pro model has better night vision. There's also a two-way audio and background feature which means you can use your phone for other tasks and still receive real time sound. It's so convenient.
What sets Nanit from Owlet are the additional features of the baby monitor. Nanit Pro has a night light, plays white noise and nature sounds and has room temperature AND humidity sensor.
There are two more things that make me prefer Nanit over Owlet cam. Speaking from my own experience, delays in audio/video streaming are usually smaller and problems with Internet connection happen less often.
Is Nanit Worth The Money?
Personally, I think Nanit is worth the money and it's a great investment for years. The newest version offers fantastic video and sound quality, the camera has some cool extra features like nature sounds and white noise, night light, room temperature and humidity sensor that ensure your baby feels comfy throughout the night.
It notifies you when your little one wakes up or cries. Cam can be used even when the kiddo is older and has his own bedroom.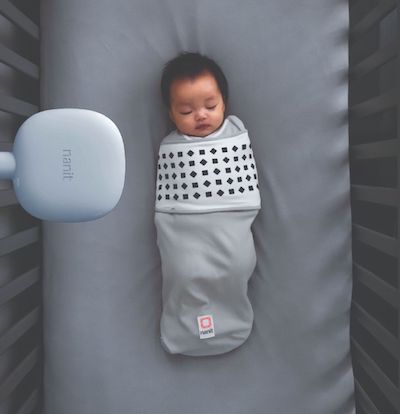 Another thing that I like about Nanit is that you receive live streaming directly to your smartphone, there's no separate parent unit. You can watch your baby even when you're not at home – you can have a date night out with your hubby and still keep an eye on your baby when he's with nanny.
I like the fact that Nanit app gives you so much information about baby sleep patterns and personalized tips that can be useful for sleep training, as well as for improving baby's sleep quality. Sleep recommendations are based on baby's sleep stats.
What also makes Nanit baby monitor splurge-worthy is the innovative Breathing Band, included with the cam.
Is Owlet Worth It?
The Monitor Duo bundle that includes Owlet Cam and Smart Sock is worth the splurge. Owlet monitor is portable and so easy to travel with. In the Owlet app you can check your little one's sleep data including sleep phases.
Even though the Smart Sock is not designed for SIDS prevention, it can give you great information about your baby's health which can give anxious first-time parents peace of mind (and more hours of sleep at night). It works well for newborns and babies in the first year of life and can be used with swaddles, sleeping sacks, pajamas and normal socks which is very convenient.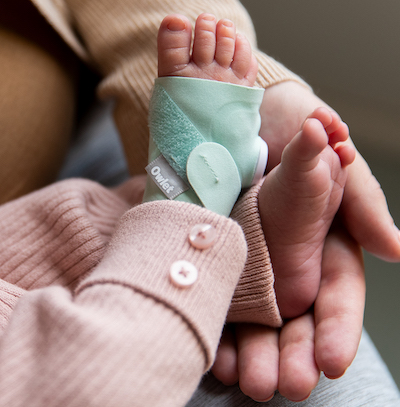 I also love the fact that you can use both Owlet devices separately: camera for tracking sleep, and sock for tracking baby's oxygen levels and heart rate.
When the baby outgrows Owlet Socks, you can still use the video baby monitor. HD video quality, amazing night vision mode, two way communication, and background function make it so much better option than traditional video monitors.
IMPORTANT UPDATE: Now you don't have to worry that your child will outgrow Owlet Sock. The brand has just released larger size sock fabrics that fit kids up to 5 years/ 55 pounds! The most cost-effective option is to get this full pack Owlet Dream Sock Plus. You can also purchase the larger sock later – choose this Extension Pack.
Final Decision: What's Better Owlet Or Nanit In 2022?
Final decision on which baby monitor is better: Nanit vs. Owlet will highly depend on your own preferences.
Just ask yourself whether you prefer your baby to wear Owlet Sock which will monitor their heart rate and oxygen saturation, or if you're prefer Nanit technology that tracks respiratory rate by monitoring pixels.
There are lots of functions that differentiate Nanit and Owlet which can make you prefer one monitor over the other.
I personally think that Nanit camera itself is better than Owlet cam, mainly because it has more functions. It can play nature sounds or white noise, there's room humidity sensor and the delay in streaming is usually smaller. Moreover, with Nanit Insights Subscription you get extremely helpful personalized sleep tips, based on your baby sleep analysis.
If you want to use these smart baby monitors not only for sleep tracking, but also for tracking breathing motion or baby's vitals, you should choose whatever feels more convenient to you.
The Smart Sock works amazing for newborns, babies who sleep only in a swaddle, and it's a fantastic solution for the first year. It's also the best smart baby monitor for travel, because you don't need the camera or other bulky equipment.
On the other hand, Nanit seems to be better than Owlet if you want a solution that will last longer than the first year. Of course you need to keep in mind that Breathing Sleepwear will cost you extra. What's noteworthy, if you decide to get the Owlet Extension Pack with larger size Sock Plus, you'll be able to use it even up to 5 years, which makes it a fantastic long-term investment. Read more about the Owlet Smart Sock Plus in my review.
Nanit
Miku

Reasons to choose Nanit Smart Monitor

---

- It offers in-depth analysis of baby's sleep and provides personalized tips which are very handy

- It tracks baby's breathing

- Lots of parents say that false alarms are much less often than with other monitors*

- Smartphone app is more stable, has user-friendly interface and less connectivity issues

- Top-notch quality of video, great night vision mode

- There's room humidity sensor (which Owlet lacks)

- Camera plays white noise and some other sounds to soothe the baby

- Last time I checked, Nanit Pro camera + wall mount + Breathing Band bundle was $75 cheaper (check if the sale is still on)

Reasons to choose Owlet Monitor Due

---

- Dream Sock can monitor baby's vitals without the camera

- Sock tracks baby's oxygen saturation and heart rate

- No subscription or monthly fee!

- Ultra-portable camera - you don't need a separate stand to set it on a shelf (no extra costs)

- It takes up little room so it's perfect for travel - you can bring just the Sock with you or bring the camera too, without any additional stands

- If you choose this Dream Sock Plus you'll be able to use Owlet even up to 5 years. The monitor will grow with your child. You can also purchase the largest sock size separately here.
*The accuracy of each technology and frequency of false alarms will depend on a lot of different factors (including correct use). Also, remember that none of these devices can guarantee you full protection from SIDS. Practice safe and healthy sleep habits ("back to sleep, tummy to play")3.
Nanit And Owlet Baby Monitors – FAQ
Before you choose a smart baby monitor, read this basic information below. Here are some questions that parents usually ask about Owlet and Nanit video baby monitors.
How Accurate Is Owlet?
If sizing and fitting is proper, Owlet is really accurate and its measurements of baby's heart rate and oxygen levels are similar to medical equipment's readings. However, you should remember that it's not a hospital-grade monitor.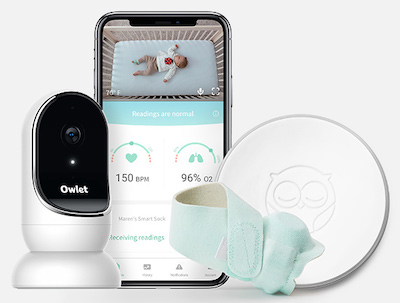 Does Owlet Burn Baby's Foot?
If you've already done some research about Owlet, you've probably heard about red marks on children's feet from Owlet Smart Socks. According to Owlet company these red marks are not burns.
Redness and skin irritation usually occur when the fabric is on child's foot for too long, especially if child has sensitive skin. I've heard about babies wearing the Smart Socks not only during nighttime, but for a whole day! Another causes of red marks are: moist or unclean fabric. It's important to wash the fabric, as well as the sensor frequently to remove buildup of dirt, oils and bacteria.
To answer the questions, according to Owlet company, the Owlet Smart Socks cannot burn baby's feet, but they may leave red marks if worn for extended period of time or when they are dirty.
PRO TIP: If you're looking for something comparable to Owlet, you may want to check out this Snuza Hero monitor which tracks baby's breathing movements. It's really small and clips onto baby's diaper. There's no need for a separate camera! Here's my comparison: Owlet vs. Snuza, in case you need more details.
How Long Can You Use Nanit Plus/Pro?
You can continue to use Nanit cam even when your kid gets older. It may be useful not only with newborns and for sleep training, but also for keeping an eye on a toddler or even a preschooler who has his own room.
There are strict age recommendations for Nanit Breathing Wear:
Band: There are two sizes, small is for 0-3 months/ 6-15 lbs; large is for 3-24 months/ 13-30 lbs
Swaddle: 2 sizes for 0-3 months and 3-6 months (up to 20 lbs). You should stop using Nanit Swaddle when the baby is able to roll over, roll from back to stomach or undo the swaddle on their own.
Sleeping bag: 3 sizes for 3-6 months, 6-12 months and 12-24 months.
Pajamas: 4 sizes for newborns, 0-3 months, 3-6 months and 6-9 months
If you spend some extra money on the sleepwear as your baby grows, you'll be able to use Nanit to monitor your child's breathing even up to 2 years. After that you'll still be able to use the Nanit Plus camera or Nanit Pro camera to receive video and audio streaming from your child's bedroom.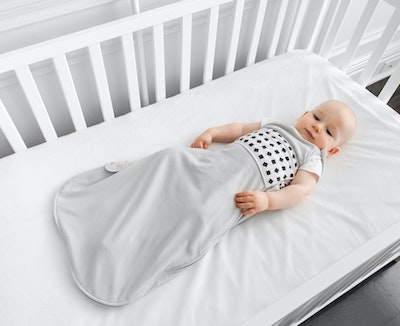 Does Nanit Have A Monthly Fee?
With Nanit Pro you'll receive 1-year access to Nanit Insights which stores information about your baby's sleep patterns and gives you useful tips based on your baby's sleep analysis (2-day storage).
After the first year, you can renew your subscription with a monthly free or yearly fee and you have 3 options:
Nanit Insights $5 monthly fee or $50 yearly fee
Nanit Insights Premium $10 monthly fee or $100 yearly fee
Nanit Insights Unlimited $30 monthly fee or $300 yearly fee
You can also use Nanit without the monthly or yearly subscription which means you won't have to pay any additional fees.
Read more about the Nanit monthly fees and what's included here.
Can You Use The Nanit Without Subscription?
When buying Nanit Pro camera you will get 1 year of Nanit Insights for free. Thanks to this feature, Nanit app stores video history, sleep history, movement map and other useful information for 2 days.
After 12 months you can continue to use Nanit Insights for $5/mo or $50/yr. You can also upgrade your Nanit subscription at any time to Insights Premium (30 days of storage, $10/mo or $100/yr) or Insights Unlimited (unlimited storage, $30/mo or $300/yr).
You can still use Nanit without the subscription – you will still receive live video and audio stream from camera to your Nanit app. The only difference is that you won't have access to your baby's sleep analytics, you won't be able to track sleeping patterns and you won't receive personalized sleep tips.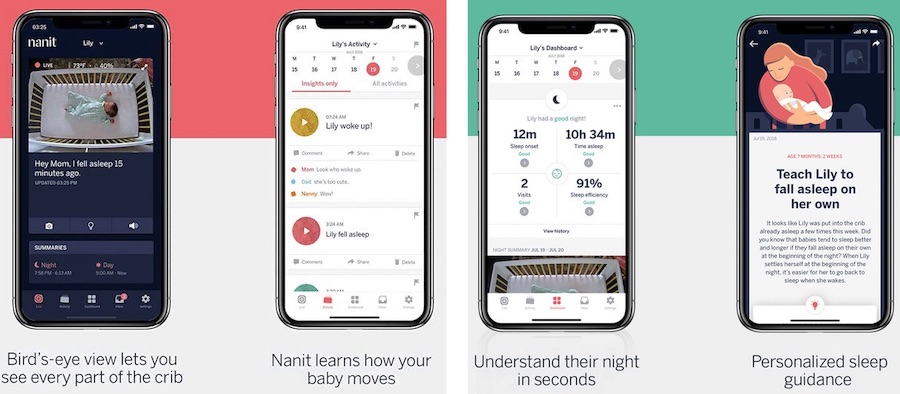 Does Nanit Work Without WiFi?
Nanit requires active Internet connection for the setup. If your smartphone and the video baby monitor are in the same WiFi network, Nanit can work without the active WiFi connection.
If you're out and about and want to keep an eye on your little one through Nanit app, you will need an active Internet connection.
Does Nanit Prevent Sudden Unexpected Deaths In Infants? Does Owlet Prevent SIDS?
Owlet or Nanit DO NOT prevent SIDS, but they can help to track your baby's sleep, breathing or heart rate and oxygen levels and inform you in case something is wrong. They may be helpful, but you should not rely just on these devices – they will not protect your baby from Sudden Infant Death Syndrome.
Remember about the most important rule for SIDS prevention: back to sleep, tummy to play!
The fact that you invest in a high-tech baby monitor or track breathing motion or baby's heartbeat doesn't mean that you should allow your infant to sleep on his/her stomach.
Do Pediatricians Recommend Owlet?
In general pediatricians don't recommend smart baby monitors like Owlet or Nanit and emphasize that these devices haven't been proven to prevent or protect from SIDS. It's important to follow the recommendations of pediatric sleep specialists which can actually decrease the risk of SIDS: supine sleep position and safe sleeping environments, room sharing until 1st birthday, no prenatal and postnatal exposure to secondhand smoke4.
---
The purpose of this article is informative. It's not a substitute for medical consultation or medical care. Remember: safety first! Consult your doctor/pediatrician in case of any doubts, and before you introduce tummy time. The author of this article does not accept any responsibility for any liability, loss or risk, personal or otherwise, incurred as a consequence, directly or indirectly, from any information or advice contained here. The article contains affiliate links – your support helps us run this blog!
Source of pictures:
Pictures of Nanit Video Monitor & Sleepwear belong to Nanit brand. Source: https://nanit.com/
Pictures of Owlet Cam & Socks belong to Owlet brand. Source: https://owletcare.com/