Babies love being cuddled and cradled in their parents arms. But you can't do it all day, right? Your arms would hurt and you wouldn't be able to do any of your daily tasks. But there is one solution, that is not only practical, but has emotional benefits too – using a safe, ergonomic & best baby carrier.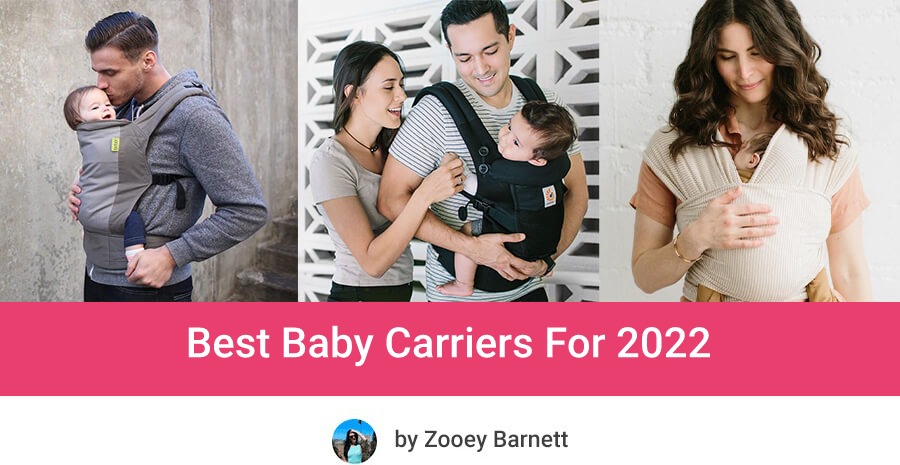 This article contains affiliate links.
There are hundreds of different baby carriers on the market, but as it is with other baby gear – not all of them are worth recommendation and investment. It may be really confusing and difficult to choose proper carrier that would be comfortable and safe for the child and you. But don't worry – Zooey's got your back. 🙂
In this article I present you my favorite 5 carriers, in various styles and designs, and wide price range. My list includes only most quality and versatile carriers that are highly recommended by hundreds of parents. Choose the one that best suits your life style!
Pic
description

Ergobaby Adapt Baby Carrier

Suitable from birth without the infant insert (from 7 lbs)
3 carrying positions
2 types of fabric available: cotton and mesh
Easy to adjust and comfy to wear

Check availability & price: Get 10% OFF with code: LBG10 >>

Lillebaby Complete Airflow

Most versatile carrier in this ranking of the top-notch baby carriers 2021
6 carrying positions
Includes unique lumbar support and crossable shoulder straps

Check availability & price: Lillebaby Website

Solly Baby Wrap

Soft & lightweight fabric makes it the best breathable summer carrier
Easier to tie than other baby wraps
Works perfect as first baby carrier
Available in many beautiful colors

Check availability & price: Get 10% OFF w/ code: LITTLE10)

Baby Tula Explore Carrier

Most versatile Baby Tula carrier
You can wear it on your front (facing in & out) or back
Padded with ultra-soft and breathable fabric
Available in many beautiful and cute patterns

Check availability & price: Amazon

Boba 4GS Carrier

Suitable from birth with infant insert (included!)
Fits chunky toddlers and older kids (up to 45 lbs)
3 carrying positions: newborn, front facing inward position and back position
Pocket-friendly price

Check availability & price: Boba Website
The best baby carriers of 2022 are:
This is one of the newborn-ready carriers from Ergobaby. It's suitable from 7 to 45 lbs which means you can use it from birth, if your newborn baby weighs more than 7 pounds. And it works best up to 2-3 years.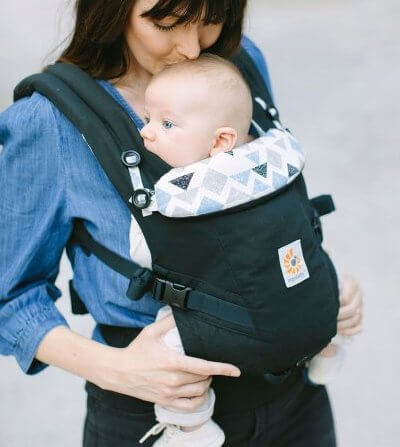 This soft structured carrier comes in two version. One is made of premium cotton, the other one is padded with breathable mesh (Ergobaby Adapt Cool Air Mesh). I definitely prefer the latter version as it allows the air to circulate through and keeps the little one from sweating.
Cool Air Mesh version is perfect choice if you are having your baby during summer months or if you live in a warmer climate.
This buckle carrier has plenty useful features that you're going to love.
First of all, it offers 3 carrying positions. You can carry your child on your front – this position is suitable from birth. As the baby gains more neck and head control you can start using hip carrying position. And when the baby can sit upright unassisted you can also use your Ergobaby Adapt as a backpack carrier and wear it on your back.
Another important thing is that Ergobaby Adapt has been recognized as "hip healthy product" by The International Hip Dysplasia Institute. It means that all carrying positions are ergonomic and allow the infant to rest in most natural position (with M-shaped legs).
It's crucial especially during the first 6 months when baby's developing hips are at greatest risk of dysplasia. This baby carrier supports the infant in frog position which promotes healthy hip and spine development and prevents from dysplasia.
In Ergobaby Adapt child can keep his knees bent and higher than the bum, and his spine is naturally rounded. It doesn't force the child to straighten legs and back too early. Instead, it gives good support for infant's bottom, thighs and back and keeps the child snuggly.
The bucket seat can be adjusted as the baby grows so it always supports baby's thighs from knee to knee, as recommended by babywearing experts. There is also extendable back panel which you can adjust to provide proper neck and back support, accordingly to baby's size.
Of course as one of the top baby carriers, Ergobaby Adapt is ultra-comfortable not only for the child, but also for the wearer. Parents can easy adjust all straps to find the most comfortable fit for their body size.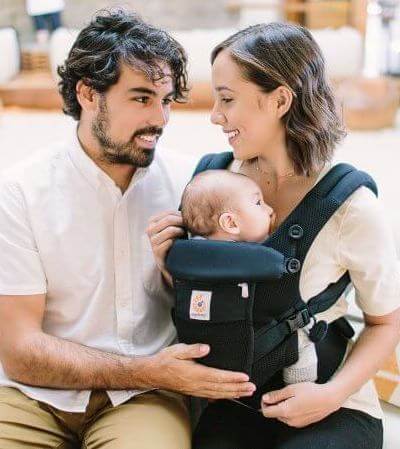 Wide, padded shoulder straps can be worn straight (like backpack straps) or X-crossed – perfect solution especially for petite moms. There is also adjustable waist belt with wide lumbar cushion.
Thanks to all those features Ergobaby Adapt ensures even weight distribution and doesn't strain parent's hips, pelvic area or shoulders. Moreover, some parents even say the weight spread is so great they barely feel toddler's weight!
And since all straps have wide range of setting they fit parents with petite or large body frame.
What's really great is that all buckles are easy to reach and all adjustments are user-friendly. Once you do it several times, putting it on and off will take a few seconds.
Another feature that makes Ergobaby Adapt one of the highly-recommendable baby buckle carriers in 2022 is that you can wear the waist belt higher or lower to reduce the pressure on your pelvic area and hips. Moms after C-section will love this feature!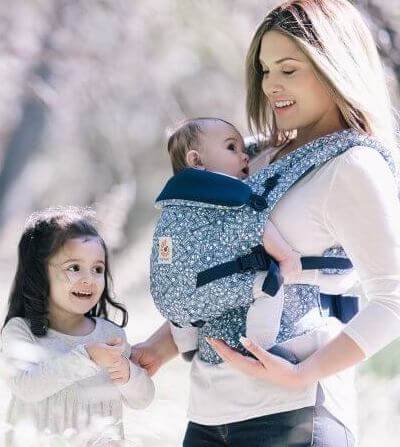 Other features for parents' convenience:
Machine-washable fabric – Great thing about Ergobaby Adapt is that both versions are very easy to clean and quick to dry. You don't have to worry about any stains after baby's spills.
Hood – Ergobaby Adapt comes with a hood that protects baby's head from sun and wind. When not in use, it can be folded and tucked away.
Variety of colors – Ergobaby Adapt comes in more than dozen colors. You'll be wearing it so it's good to pick a color that you actually like! And if you live in warm climate I recommend you choosing a light color. To see all color versions visit Ergobaby Website.

What parents think about Ergobaby Adapt?
This model is one of the newest among all Ergobaby carriers, but it's already very popular and highly rated by hundreds of parents.
According to them it is a perfect choice for beginners as well parents who are often on the go and need a baby carrier that is simple to use and adjust. There's no need for infant insert, so you can put it on and position the child really quickly.
Thanks to crossable shoulder straps kid's weight is more evenly distributed along wearer's shoulders and back. Most users agree that even when you wear it for few hours it doesn't strain your back and doesn't cause hip pain. Parents also praise the quality and durability of the material.
Something that customers might complain about is the lack of storage pocket (which for example the Ergobaby Original carrier includes). Another drawback that few parents mention is that the waist belt lacks padding on the sides so it may rub your skin a bit. On the other hand, padding on the lumbar area is awesome.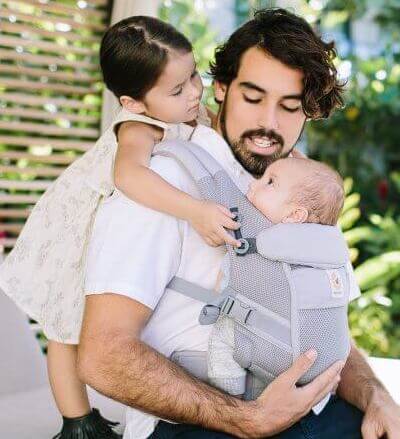 Parents also recommend getting the Air Cool Mesh version for warm weather, as the cotton version gets hot quicker.
If you'd like to read customer reviews on your own, here's Ergobaby Adapt page on Amazon. I recommend you to check reviews on Ergobaby Official Website too.
Ergobaby Adapt is great choice if you:
Want a carrier that grows with the child and can be used from birth up to 2-3 years
Want a baby carrier that supports the child in natural, frog position and contributes to proper hip development
Love to have wide choice of colors
Need a carrier for warm weather (choose Ergobaby Adapt Air Cool Mesh or the newest Ergobaby Aerloom made of breathable, knit fabric)
Need an ultra-quick and easy to put on carrier that doesn't require infant insert
Ergobaby Adapt may not be good choice if you:
Are on a tight budget
Would prefer to have more carrying positions (then check Tula Explore or Lillebaby Complete below)
This is the most versatile and all-purpose baby carrier in Baby Tula collection and it is definitely going to be one of the best selling buckle carriers in 2022.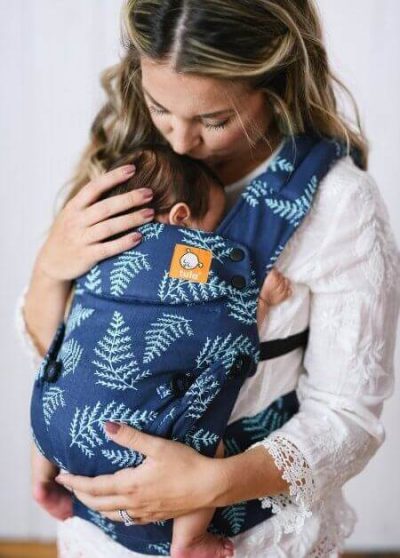 Explore Baby Carrier has different design than famous Baby Tula Free-to-Grow. This new model is more similar to ergonomic carriers made by Ergobaby or Lillebaby.
Baby Tula Explore comes in two version. One is made of 100% cotton, the other one, called Coast, has a mesh vent in the middle of the back panel for increased circulation. Of course the Coast version is a better choice for summer and warm climate, because it's more breathable.
The regular Explore is available in SO MANY COLORS and fashionable designs! The brand often adds new prints to their collection and some of the older fashions get cheaper! My favorite Tula carrier prints are: Everblue, Playdate, Splash, Gatsby and Play. The availability and pricing changes frequently so don't forget to check Explore on your own.
The Coast collection offers different fashions – some of them are super cute too. My favorite one is the How's Jelly Now pattern. You can browse through available Coast patterns here.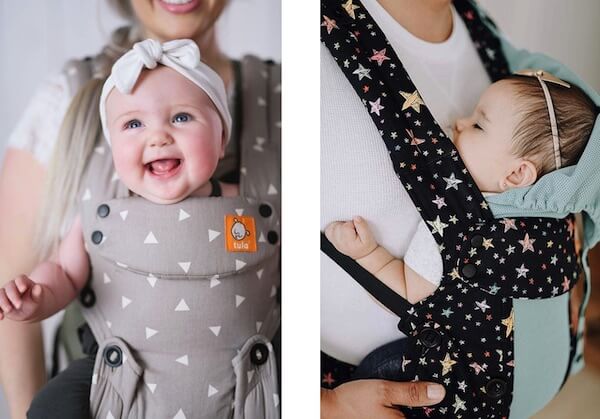 LittleBabyGear Verdict: Cutest And Softest Buckle Baby Carrier For 2022
This is Baby Tula most versatile carrier. It can be used from 7 pounds without the need for any infant insert. The maximum capacity is 45 lbs, but in most cases this carrier will serve parents up to 2-3 years.
Moreover, it offers more carrying positions than other Baby Tula carriers. Explore allows you to carry your baby on your front, including inward and forward facing, as well as on your back.
Front carrying position (inward facing) is great for newborns, infants and toddlers. Tula Explore gives you the ability to adjust the width of body panel, as the child grows so the their thighs are always supported from knee to knee.
Furthermore, this awesome carrier doesn't force the child to straighten the spine artificially. It provides proper support for infant's natural position (frog position) with M-shaped legs, bent hips and C-shaped spine. It allows baby's spine and hips to develop at natural pace.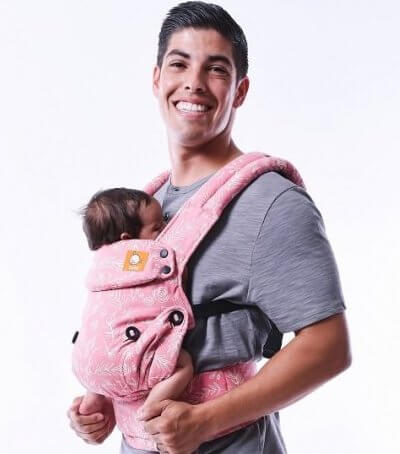 Baby Tula Explore has been included in the list of "Hip Healthy Products" made by The International Hip Dysplasia Institute.
Explore can be also used for facing out carrying and it provides good support for infant's legs (and prevents them from dangling).
The manufacturer recommend using this position only for babies who have good neck control and can hold their head up. Facing out position is most suitable for babies from 13 to 22 lbs and only for short period, according to Baby Tula. You can read more about it on Tula Official Website.
Back carrying position can be used for children who can sit unassisted (usually around 6-9 months). This position is perfect for curious toddlers as it allows them to observe surroundings.
Another feature that I like about this high-quality baby carrier is the adjustable neck support. You can adjust the pillow position to provide proper amount of support for baby's neck and head, accordingly to their age.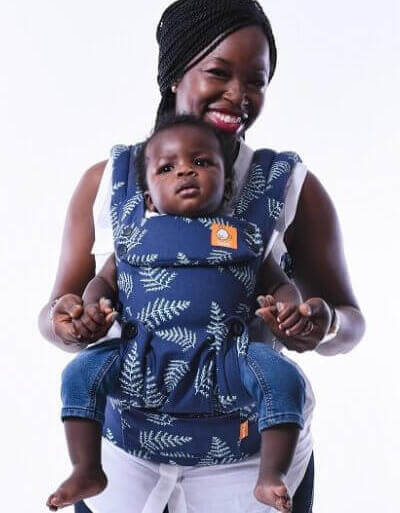 Explore is ultra-comfy for parents too. It has highly adjustable shoulder straps and waistband with wide range of settings – for petite and large parents. Shoulder straps have rich padding to minimize the shoulder and neck strain.
What is also great about this soft-structured carrier is that the wide waistband is fully padded. Many carriers feature padding on front part as well as the lumbar area, but lack padding on the sides and the straps often dig in after a while. With Baby Tula Explore you can forget about this issue, because the whole waist belt is nicely padded and prevents you from lower back and hip pain.
The soft and rich padding and multiple adjustments allow for even weight distribution and thanks to that you don't experience back pain even after long periods of carrying.
Other features that you'll love:
Removable hood – there is a hood that protects the baby from sun and wind. It can be also used during breastfeeding to give you and your child more privacy. When not in use, it easily snaps out.
Storage pocket – Explore is equipped with useful waistband pocket where you can put a teether, keys or tissues.
Easy to clean fabric – the material on this new carrier is very soft and breathable, and all the stains from milk are easy to get rid of, because it's machine washable.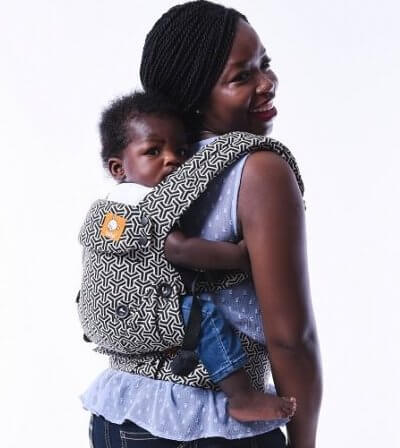 What parents think about Baby Tula Explore?
Explore is very comfortable to wear. The design of straps and buckles makes it quick to put on and take off. And nothing digs into your skin or hurt your underarms and breasts. Besides, it can be shared between wearers, because it adjusts even for plus size moms and very tall dads.
What customers also praise is the quality of fabric. According to many parents it's softer than the fabric on Tula Free-to-Grow carrier as well as many other baby carriers. They love how comfy it is for the baby. And of course cute patterns are another plus. You can be sure other parents will envy you and compliment your beautiful Explore carrier!
According to buyers it is awesome thanks to its multiple positions, especially the facing out mode. All in all, majority of parents think that Baby Tula Explore is worth the investment.
There is one thing you should keep in mind – some parents noticed that not all newborns fit this carrier and sometimes you need to wait a few weeks to start using it. Consult your pediatrician and/or babywearing expert to make sure that your baby is ready for the carrier.
Would you like to check the customer reviews on your own? Here are the Amazon customer reviews.
Baby Tula Explore is great choice if you:
Would like to have a carrier with ultra-soft fabric that is very comfy for the baby
Want to have facing out carrier, that keeps the child in ergonomic position all the time
Want a soft structured carrier that is probably most comfortable to wear and quickest to put on
Would like to have a carrier with beautiful, unique pattern
Baby Tula Explore may not be good choice if you:
Would prefer something cheaper
Like the hip carrying position (Explore doesn't offer this position)
Boba 4G Carrier has been on the market for quite a long time now, and some time ago the brand upgraded it to Boba 4GS. Why I include it in my ranking of the best baby carriers 2022? The answer is simple. It has fantastic simple design, it serves parents even up to 4 years and costs much less than other high-quality buckle carriers.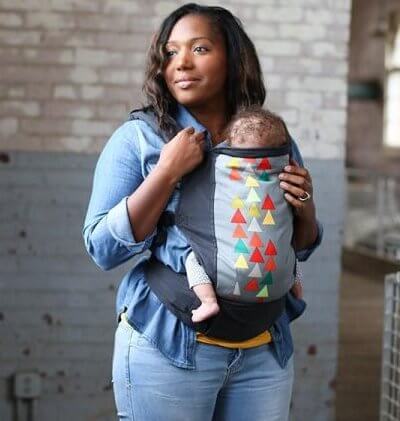 This Boba Carrier is suitable from 7 to 45 pounds. It can be used from birth (if the newborn weigh at least 7 lbs), but only with an insert which included with the carrier. You don't need to spend extra money on any additional equipment, all you'll ever need is included with this carrier.
LittleBabyGear Verdict: Best Affordable Baby Carrier In 2022
This baby carrier is truly a long-term investment. Many parents start using it from day one and carry even a 4-year-old kids in it!
Boba 4GS is usable for newborn babies with included infant insert. If your baby weighs 7-10 pounds, you need to snap the insert ends together to form a ball shape. If your little on is 10-15 pounds you should leave the insert open.
Thanks to this integrated pillow little infants can sit higher in the carrier and position their legs in M-like shape.
Usually I prefer newborn-ready carriers that don't require any inserts, however Boba 4GS is fantastic, more pocket-friendly and definitely worth making an exception.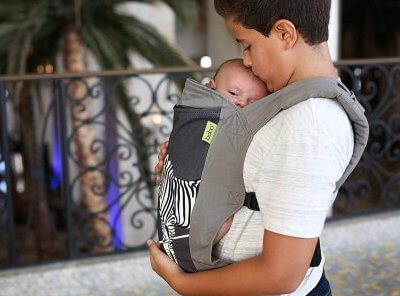 It has been recognized as one of the "Hip Healthy Products" by The International Hip Dysplasia Institute. It doesn't interfere with natural hip development and allows the child to rest in most ergonomic position (frog position, also called spread-squat position).
In Boba 4GS Carrier infant can maintain rounded spine, bent hips and keep knees higher than the bottom. This position is most natural for the baby during first ~6 months. At this time baby usually gains neck and head control and starts sitting unassisted.
Boba Carrier is also very comfortable for older infants and toddlers. The insert is removable and there's plenty room even for a big baby. I've read many customer reviews of Boba 4GS Carrier and it can be used well into toddlerhood.
What's important, while updating Boba 4G to Boba 4GS Carrier, the brand decided to remove the foot straps. I'm not sure why they did this, because this was pretty useful accessory for older babies. Nevertheless, Boba 4GS is still one of the top choices among baby carriers in 2022.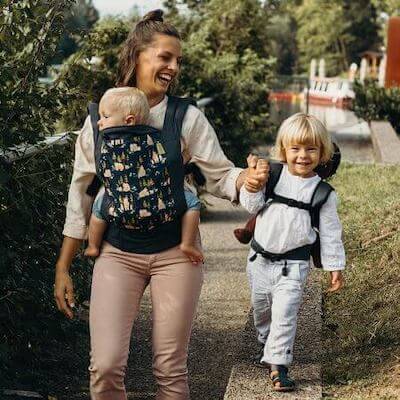 This buckle carrier has pretty simple design and offers 3 carrying positions: newborn, front carrying (inward facing) and back carrying (for older kids who can sit upright). These are the most useful and popular positions and in many cases they are totally sufficient.
There is also removable hood included. It prevents the child from harmful sun rays, as well as wind. If you want to nurse on the go, with the hood you will have more discretion.
Now let's see what features this amazing baby carrier includes for parents' convenience.
There are wide, padded shoulder straps that adjust for different body types which allow to spread baby's weight along your shoulders and back.
The waist belt also offers wide range of width settings. 4GS by Boba is most comfortable for people from 5ft up to 6'3″ tall. All straps are easy to adjust so you could fit the perfect tightness and snugness for your body and your baby size.
I only wish the waist strap had padding on the back (where the buckle is) because after a while it digs in a bit. But as I said at the beginning – this high-quality carrier is much more affordable than other models, so we can't expect it to have everything.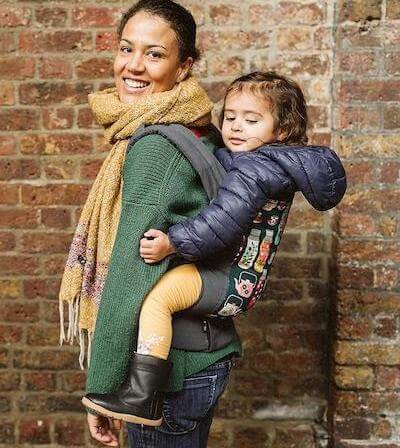 Other handy features:
Storage pocket – with Boba 4GS Carrier you'll be able to keep your essentials at hand. There is a convenient zippered pouch on the waist belt.
Machine-washable fabric – parents praise it for being very easy to clean.
Breastfeeding-friendly carrier – on each side there is additional buckle that you can easily loosen when it's time for breastfeeding.
What parents think about Boba 4GS Carrier?
The new Boba 4GS, just like the previous version Boba 4G, is a very popular carrier. Right now, this budget baby carrier has hundreds of positive reviews, both on Amazon and Boba Official Website.
Parents like the included insert – it's only a bum pillow so it doesn't make the child hot and sweaty. And since it's included with the carrier, parents don't have to spend extra money on this accessory.
Another advantage is that Boba Carrier fits petite 5ft moms, as well as plus size mom (who wear size 28). It's very comfortable to wear and doesn't strain your shoulders that much. Besides, the shoulder strap are very easy to pull and tight enough to feel secured. Parents also like the fabric which is soft and not bulky at all.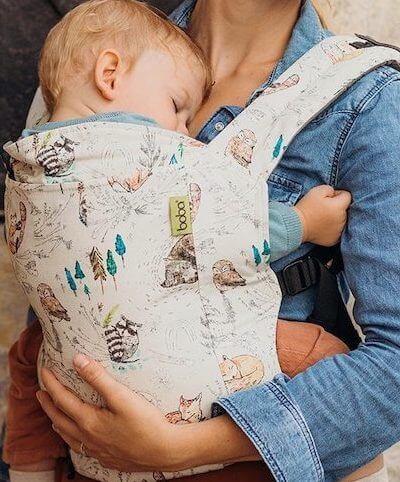 Few parents mention using Boba Carrier even with 4-year-old kids (check for example review #1 & review #2)! It's a great thing that you can use this carrier for big and tall kiddos, who are too big for other buckle carriers.
The only things that parents can complain about are: the fabric may get hot in summer, there is not padding in lumbar spine area and no facing outward position. But still lots of parents say it's a wonderful soft-structured carrier, worth every penny.
Boba 4GS is great choice if you:
Want a soft structured carrier that doesn't cost a fortune
Would prefer one baby carrier that you can use from birth to toddlerhood
Want a carrier that is comfortable even for older and bigger kiddo (3-4 years old)
Would like to have a simple to use carrier that easily adjust to different body types and sizes
Need a carrier that adjust to plus-size mom wearing size 24-28
Boba 4GS may not be good choice if you:
Would prefer a carrier that doesn't require infant insert for newborn baby (in this case you may want to consider Boba X – it's very similar to 4GS, but smaller, and usable from 7 lbs

without

an insert)
Want a carrier that offers more carrying positions
Need a carrier that features lumbar support pillow
Lillebaby Complete Airflow is the most versatile model in my ranking of 2022 best baby carriers, when we consider available carrying positions.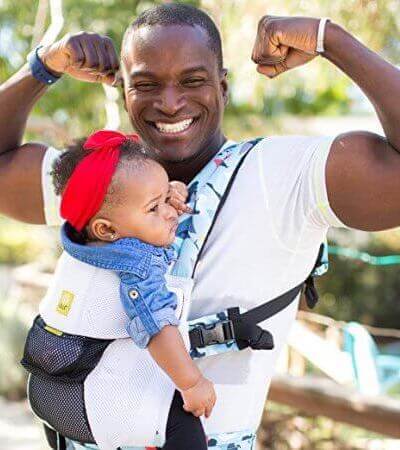 Similar to Ergobaby Adapt and Baby Tula Explore, this model is suitable from 7 to 45 lbs. Therefore if your newborn baby's weight meets the lower limit you can use this Lillebaby carrier – and you don't need an infant insert.
LittleBabyGear Verdict: Most Versatile & Best Baby Carrier For Back Pain In 2022
It offers 6 carrying positions. You can wear Lillebaby Complete Airflow on your front (with newborn, infant or toddler), on your hip and back. There is also possibility to carry the baby facing outward.
What's really great is that this soft-structured carrier has cupped seat that can be adjusted, accordingly to baby's age and size. Thanks to that the child can always rest in the position that is most natural for their development stage.
With Lillebaby Complete Airflow you can carry your newborn on your front and the baby can be positioned in natural frog position (with knees bent and higher than the bum and legs in M shape). This ergonomic baby carrier provides support for baby's legs from knee to knee.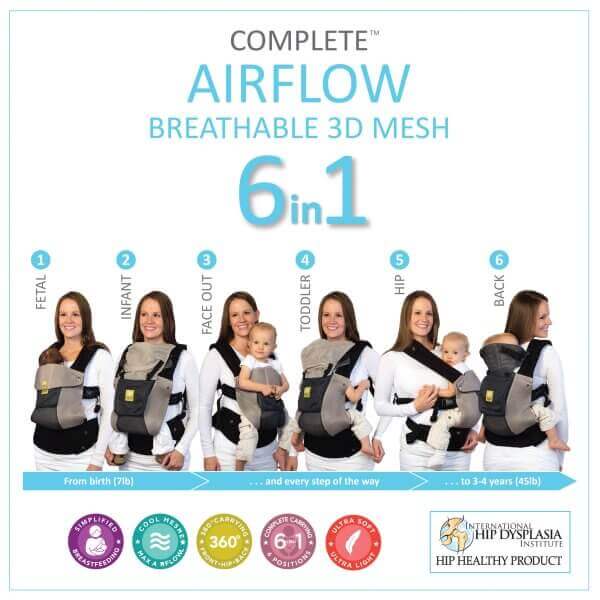 In this position child can maintain naturally rounded back and the carrier supports their spine, hips and thighs. At the beginning (~first 3 months) baby's arms are inside Lillebaby Airflow, legs can be both – inside and outside the carrier, depending on how you adjust the seat width.
Of course facing out position is suitable only for a child who can hold their head up and I would rather recommend it only for short periods (you can read more in my article about baby carriers safety rules).
Hip and back carrying position can be used only when the kid has really good neck and head control and is able to sit unassisted.
As the child grows you can adjust the seat width, as well as the head and neck support (there is extendable back panel). There is also foldable hood which can be used for protection from sun and wind or when the baby need privacy (during nursing or napping). It provides additional head support.
PRO TIP: Whenever you use the hood or extended back panel, check baby's airways more frequently.
As you can see Lillebaby Complete is very comfortable for the baby, supports infant's natural position and actually grows with the baby. How about parents comfort? Is Lillebaby Airflow comfy for the wearer as well?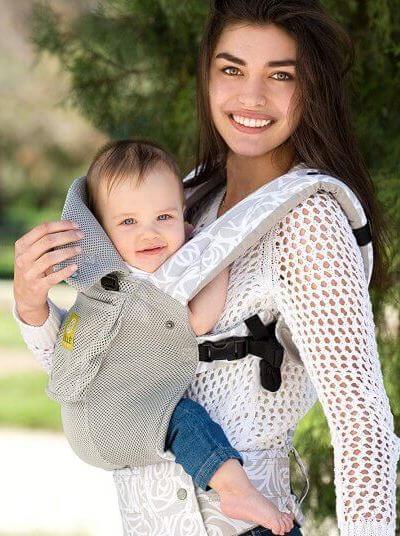 There is a wide sturdy waist belt with rich padding. Lillebaby carrier has also a special pillow in lumbar spine area. This makes it an amazing baby carrier for parents who struggle with back pain. This awesome lumbar support is a unique feature of Lillebaby carriers.
It provides good support for lower back, doesn't strain wearer's hips and allows to evenly distribute baby's weight. Many customers praise Lillebaby Complete Airflow for being easy on their back or even helping with removing some pressure off their lower back.
The shoulder straps also feature deep comfortable padding, as well as dual adjustment buckles which make breastfeeding easier.
According to customers all adjustments take a bit practice, but after few times you'll be able to quickly adjust the carrier to your body type and find the perfect fit.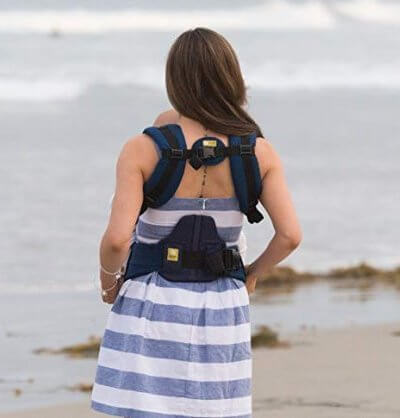 Other useful features that you're going to love:
Crossable shoulder strap – you can wear the straps backpack style or crossed. The latter option is great for smaller parents. It also promote even weight spread.
Breathable fabric – this infant carrier is made of 3D mesh fabric that provides nice airflow, as well as wicks the moisture away. Thanks to that you and the baby can stay cool longer. The whole carrier is machine washable.
Zippered pocket – there is one pocket where you can tuck away the detachable hood, as well as small items like keys or baby's teether.
What parents think about Lillebaby Complete Airflow?
This model is a best-seller among ergonomic & high-quality baby carriers. It has a few hundred positive reviews on Amazon (you can see them here) and over 800 reviews on Lillebaby Official Website! It's truly incredible score.
Parents love the versatility and multiple positions it offers. Most customers agree that it doesn't hurt their back even after long periods of babywearing.
Lots of parents praise Lillebaby Airflow for being very comfortable for babies – both newborns and toddlers. Moreover, this thing is a long-term investment as it can serve you for 2-3 years and even for chunky toddlers.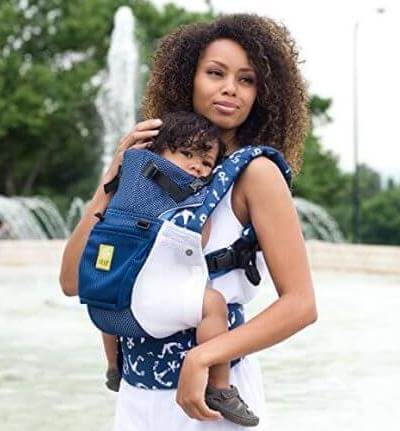 Some parents complain the fabric is a little rough and may irritate baby's skin, but it gets softer after a few uses.
Another drawback is that Lillebaby Complete is less comfortable for petite wearers (see for example these customer reviews: #1 & #2). Some small parents complain it doesn't adjust all the way to their size and feels bulky.
However some petite moms (check for example review #1 and review #2) say it fits them perfectly. So it definitely depends on the body type. For average and plus size parents this carrier works great.
Lillebaby Complete Airflow is great choice if you:
Want a carrier that offers multiple position for front, hip and back carrying, including facing out
Want a baby carrier that is suitable for breastfeeding
Struggle with back pain and need a carrier that would be easy on your back
Need a carrier for plus size mom (or dad)
Lillebaby Complete Airflow may not be good choice if you:
Are a very small person (for example less than 5ft tall) and have petite upper body
Are looking for an inexpensive carrier
I decided to include Solly Baby Wrap as an example of best baby carrier 2022, because it is a fantastic solution for newborns and smaller babies. And since this wrap is very unique, because of innovative ultra-soft and airy fabric, it's perfect for all year round babywearing.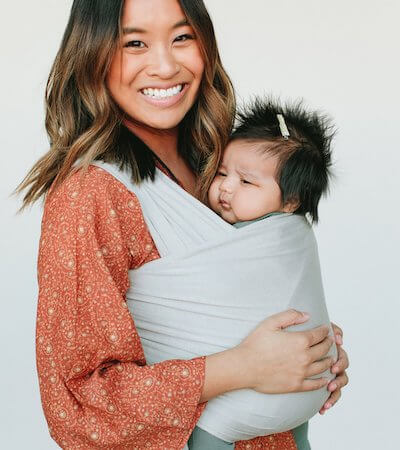 Solly Baby Wrap is not only a fantastic carrier for warm weather, but it's also user-friendly and according to dozens of parents – it's easier to put on than many other baby wraps!
LittleBabyGear Verdict: Best Baby Carrier Wrap For Summer
You'll love this wrap because it doesn't make the wearer or the baby sweaty and hot. Among these 5 carriers that I recommend here, this one has the most breathable fabric.
Of course it does require learning tying method which takes some time, but trust me. This infant carrier wrap is the best one in terms of lightweight design and provided air circulation. It wicks moisture away, allow the air to go through which means you and the baby don't get overheating.
Parents who are just starting their babywearing journey are often hesitate about using wraps. They usually worry tying will be difficult and confusing. Solly Baby addresses these concerns.
If you go through the customer reviews on Solly Baby website you'll notice that parents often mention that this wrap is much easier to tie and adjust than other baby wraps.
Moreover, Solly Baby provides lots of useful tutorials to make babywearing easier for you.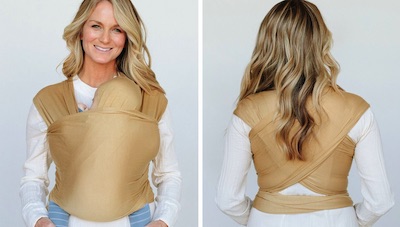 It's actually a perfect choice as first baby carrier. Besides, it costs much less than high-quality soft structured carriers (you can read more about different types of carriers here).
Another great thing about this wrap is that it's suitable from birth and supports baby in the natural position. You'll be able to easily position your infant in frog position (with M-shaped legs and C-shaped spine). This wrap carrier support infant's body, without putting pressure on their delicate spine and developing hips.
It really imitates the way baby felt in the womb. Thus it has lots of emotional benefits:
facilitates mom-baby bonding
helps with soothing and putting child to sleep
reduces infant crying
helps with digestive problems and colic
What's important Solly Baby Wraps are approved as hip-healthy by the International Hip Dysplasia Institute. They promote healthy hip development and may prevent from hip dysplasia.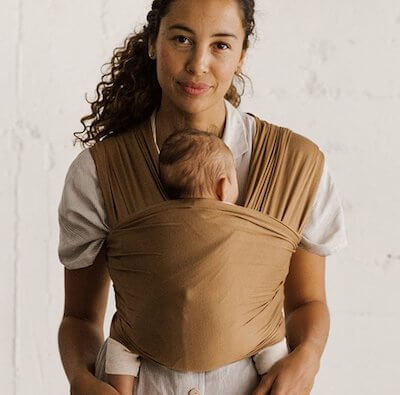 This wrap by Solly Baby is suitable up to 25 pounds, and usually parents use it for 9-12 months.
It can be used for front carrying, facing inward position. It's a newborn and infant carrier, and because of that it doesn't allow for outward carrying or back carrying.
Nevertheless, during the period of first 9 months, the front inward facing position is sufficient, and perfect for mom-baby snuggles. Or dad-baby snuggles, because this baby wrap carrier is great for babywearing dads too
Another feature that distinguishes Solly Baby Wrap among the most amazing infant carriers in 2022 is its beautiful design. The wrap is available in various patterns and colors, all of them look gorgeous and fashionable. The brand often adds new colors and prints and stocking changes frequently so don't forget to check if your favorite color is available right now.
DISCOUNTS FOR LITTLE BABY GEAR READERS 🎁
Now it's a perfect time to get this wrap at more affordable price. Get 10% OFF your favorite color with code: LITTLE10. >>Grab your discount here<<
What's also important is that Solly Baby Wrap comes in one size – it's a long piece of a fabric. According to many customers it's easy to adjust it to make it comfortable to wear and snuggle for the child. Even very short moms (5ft tall) and tall plus size moms don't have any problems with adjusting it to their body.
Moreover, the thing that parents often rave about is the perfect combination of stretch and support this fabric gives. It's lightweight, elastic and flexible therefore you can easily form it around your body, while being very supportive for infant's body.
Because of one universal size the Solly Baby Wrap can be shared with other caregivers which is a big plus. Dad can borrow it from mom whenever he wants to. 🙂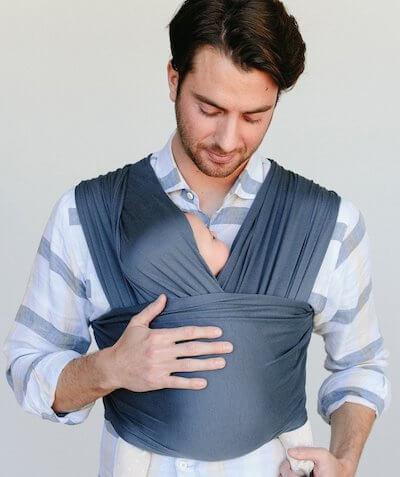 There's one more advantage: Solly Baby Wrap folds up when not in use and you can store it in a self-closing pocket (included). According to the manufacturer, it fits in majority of diaper bags so traveling with it is very convenient.
What parents think about Solly Baby Wrap?
This baby carrier has several hundred reviews on Solly Baby Official Website, and nearly all of them are 5-star ratings! Can you believe that?! It is truly remarkable how much parents love this wrap.
Parents are satisfied with this wrap and say it feels very secured. It snuggles the baby to wearer's chest and works perfect for soothing as well as putting baby to sleep. Infants love to nap in it!
It's also great choice for parents who want to share the wrap, because it's easy to adjust to petite and larger body frames.
Another advantage is that it's comfortable to wear, it distributes kiddo's weight across wearer's body in a proper way, therefore it doesn't strain your back or shoulders.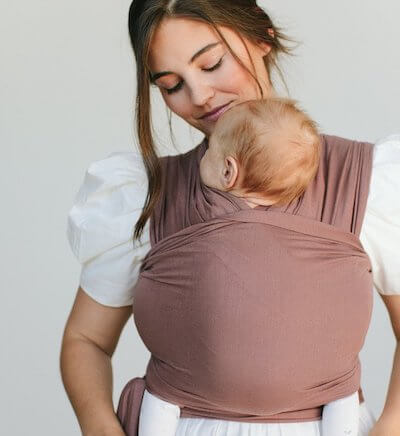 Parents usually use the wrap from birth up to 9-12 months. They love how easy it is to put on and to position the baby – it takes only a little practice. Instruction are easy to follow. Lots of parents say that this is the easiest baby wrap carrier out there!
The best thing about this carrier wrap is its unique fabric (called Lenzing Modal®) which is super soft, lightweight and very breathable. Parents often worry that a carrier or wrap is another layer of clothing and will make them sweaty.
But that isn't the case with Solly Baby Wrap. It allows for good air circulation and keeps you and the baby cool longer than other carriers. This makes it a great baby carrier for Disney Vacation and warm weather in Florida.
The only thing that several moms noticed is that the fabric shows some signs of wear after few months, especially if you wear it for many hours each day.
Solly Baby Wrap is great choice if you:
Need a breathable baby carrier for warm weather
Want a user-friendly infant carrier that is quick and easy to put on
Want a wrap, but you don't want to sweat while wearing it
Would like to have a carrier that snuggles the baby and forms tightly around infant's body
Are looking for an inexpensive baby carrier
Solly Baby Wrap may not be good choice if you:
Would prefer soft structured carrier that offers more carrying positions
Want a carrier that will serve you longer than for a year
Your trust is really important to me: This post contains affiliate links. If you choose to buy something using these links, I receive a small commission, at no extra cost to you. Your support helps me run this blog. Thank you so much 🖤 Zooey