You've been dreaming about getting DockATot but it's too pricey for you? No worries! Here you'll find the best DockATot alternatives at affordable price. These baby loungers are designed to keep the baby safely contained during playtime.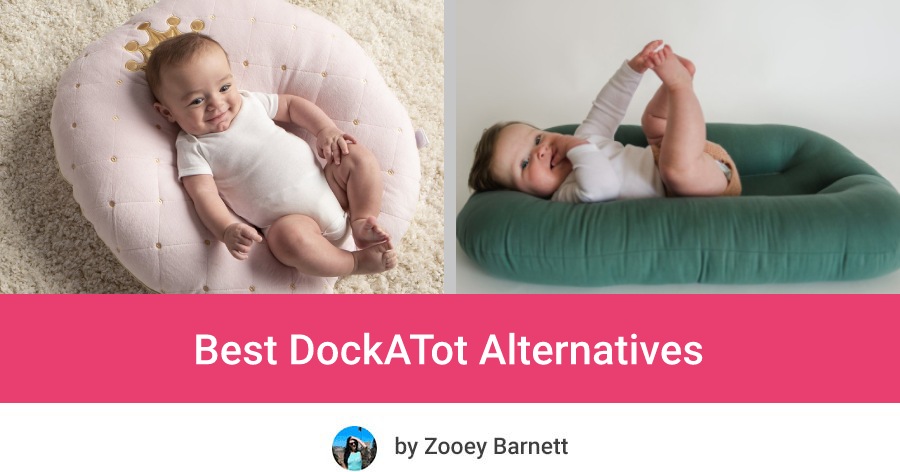 DockATot is one of best-selling items among all types of baby gear for newborn babies. It's extremely popular and instagrammable. It also costs a pretty penny.
If you can't afford this baby lounger, getting a cheaper DockATot alternative is a good solution.
What distinguishes original DockATot docks is the high-quality material and iconic, beautiful design. Fortunately, there are also other loungers that create safe environment for infants, and have more budget-friendly price.
Keep in mind that I only recommend using DockATot or its alternatives for supervised playtime or relax, not for nap time or co-sleeping.
This article is not a substitute for medical advice. It contains affiliate links.
Best Features
❤️ Perfect for newborns and small infants
❤️ Great tummy time pillow
❤️ Inclined - helps with digestion and gives baby better view of surroundings
❤️ About 5x cheaper than DockATot!
advantage
✨ Recommended by 9750+ parents!
Cheapest & Most Popular Alternative
Best Features
❤️ Perfect for newborns and small infants
❤️ Great tummy time pillow
❤️ Inclined - helps with digestion and gives baby better view of surroundings
❤️ About 5x cheaper than DockATot!
advantage
✨ Recommended by 9750+ parents!
Last update on 2023-09-30 / Affiliate links / Images from Amazon Product Advertising API
What Is Comparable To A DockATot? – 4 Amazing & Cheaper Baby Loungers That You Can Buy In 2022
Here are my favorite cheaper alternatives to DockATot that your little one can use for playtime, tummy time or relaxing.
In my opinion this is the best DockATot alternative at more reasonable price. It's also one of the most popular and best-selling baby nests right now.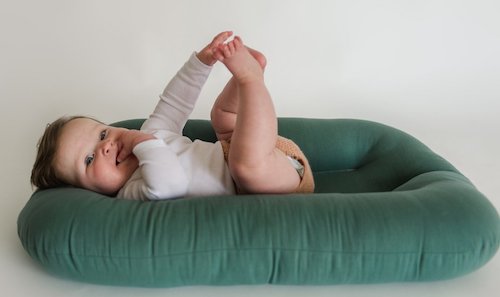 Just like with the original DockATot, you can use this affordable baby lounger when you want to comfort your little one or charge their diaper, as well as for supervised lounging, tummy time, and seated play. If you pair it with baby toy arch it will be a perfect cozy space for overhead play that will encourage baby to practice fine motor skills like reaching and grasping.
This lounger comes in two sizes, just like DockATot, but they have slightly different age recommendations.
Snuggle Me: Infant Loungers from 0 to 9 months, Toddler Loungers from 9 months+.
DockATot: Deluxe+ from 0 to 8 months, Grand from 9 to 36 months.
What's noteworthy, you can purchase just the lounger, or pair it with a cover. You can use Snuggle Me without the cover, but when it gets dirty, you will have to put the whole lounger in the washing machine. It's much more convenient with the cover, because in case of a diaper blowouts or spit-up, you will only need to wash the cover.
I compared prices of Snuggle Me Organic loungers with and without the cover with DockATot docks. Snuggle Me pillows are about 15% – 50% cheaper than DockATot, depending on the version you choose.
There are a few important differences between these two baby loungers in terms of design.
Snuggle Me Organic is made from GOTS certified 100% organic cotton and it's only available in single-colored versions, in contrast to DockATot which is made from regular cotton and comes in 20+ styles.
If you're a fashionable mama you will love DockATot huge collection – you can choose from single-colored versions, as well as chic colorful prints and patterns. On the other hand, if you prefer minimalistic style or have a boho nursery this cheaper baby nest alternative will suit you just fine.
The removable cover, as well as the hypoallergenic polyester fiber fill are machine-washable which I found to be a huge advantage.

Snuggle Me Organic Baby Lounger doesn't have high bolsters, it's like a donut pillow with no padding in the middle section (it's slightly lower than the sides), in contrast to DockATot which has two parts: a mattress and high side bumpers.
I like the shape of Snuggle Me lounger. Because the center is kind of suspended it makes the sides to pull in and they curve around baby's back.
The center is also quite narrow so it fits tightly around baby's torso which gives them hugging sensation, similar to mom's womb, and prevents rolling.
At the same time, the edges are not too high, therefore this lounger doesn't force baby to straighten the legs. It allows the baby to rest in natural position with bent knees and flexible hips (M-shaped position). This pillow is not too cushy or soft therefore the baby doesn't sink into it.
Moreover, this cheaper alternative doesn't have any buckles – it's just a rectangular pillow with rounded edges. On the other hand, DockATot has a buckle that you can undo for additional length or fasten tightly to keep the baby more snuggly.
Overall I like this DockATot alternative for its cozy, nested structure, as well as organic fabrics that are gentle on baby's sensitive skin. If you want a fully machine-washable lounger at more pocket-friendly price, this is your best bet!
My rate:
Nanit
Miku

Reasons To Choose This Alternative

---

- Organic materials - perfect for sensitive skin

- It feels softer and more breathable than DockATot

- The entire lounger is machine-washable

- Its narrow design provides baby with hugging sensation just like in mother's womb

- Side walls are not too high - it doesn't squeeze baby's legs or forces them to straighten (baby can keep naturally bent knees and flexible hips)

- Depending on the version, it may be even 50% cheaper than DockATot!

What To Keep In Mind

---

- The interior is slightly smaller than on DockATot (20.5" x 7" vs. 22" x 8.5")

- DockATot comes in more fashionable (and instagrammable) prints

- Because there is no padding in the center part, some parents don't like to use it on bare floor
>> In-depth comparison DockATot vs. Snuggle Me Organic
Boppy lounger is probably the cheapest DockATot alternative. Depending on the print you choose, it may be even 5 times cheaper!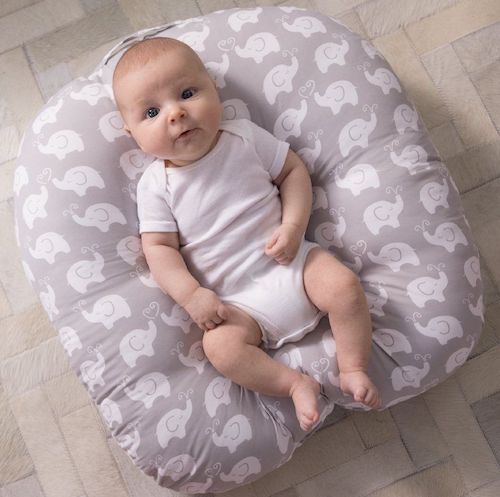 Boppy has nest-like shape with recessed center. It cradles the baby in place at slight angle and thanks to special stitching it allows the baby to maintain hip-healthy position, with bent knees and M-shaped legs. It doesn't force the baby to straighten the legs too early (which could lead to hip dysplasia).
Boppy can be used for lots of activities when the baby is awake. It's perfect for supervised play time (overhead play with a toy arch), playing peek-a-boo with older siblings, as well as tummy time.
What distinguishes this pillow from DockATot lounger, is its shape and size. Boppy is rounded, very thick and inclined – it keeps baby's head slightly higher than the rest of their body. This may help your baby with digestion and winds. Thanks to recessed interior the pillow gives baby better view of surroundings that DockATot.
It doesn't have high bolsters. It's good because there's noting that would block baby's view and airway. On the other hand, the edges don't hug the baby like DockATot, therefore if you have a wiggly infant, they may roll to the side or slide out of the pillow. Again, this lounger should be used only for SUPERVISED awake times.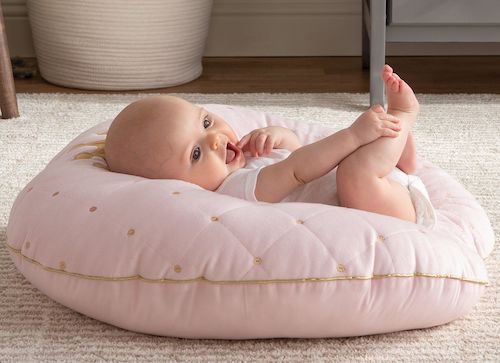 Because it's smaller than DockATot, it also has shorter usability. Boppy is recommended from birth, only up to 4 months / 16 lbs or when the baby can roll over.
The pillow comes in a few fashions with cute prints. You can also choose a classic version made from breathable fabric or Preferred Lounger which is made from softer poly fabric. There are no zippers that would irritate baby's skin. Boppy baby loungers are fully machine-washable and have a convenient carry handle so you could easily move them from one room to another.
Nanit
Miku

Reasons To Choose This Alternative

---

- It keeps baby in inclined position therefore the baby can look around and watch surroundings

- Thanks to unique shape it allows the newborn to maintain ergonomic position with M-shaped legs

- Great tummy time pillow

- You can clean the entire lounger is a washing machine

- MUCH lower price tag - great DockATot alternative for first few months

What To Keep In Mind

---

- It can serve you only up to 4 months
This is one of the most inexpensive DockATot alternatives. Abreeze baby lounger is rectangular, has high sides and comes with a pillow that keeps baby's head slightly higher than the rest of their body.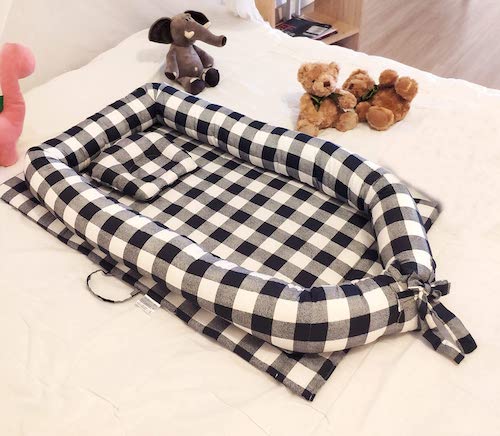 I don't recommend it for co-sleeping – because of its high bumpers and inclined surface, but it may be useful for awake times, lounge, relax, or playtime. You can also use this baby lounger as a changing pad, because it has adjustable ends. You can untie them when you need to change the nappy and then tie it again to keep baby snuggled and contained.
This cheap baby lounger will also provide comfy space for your little one when you travel. Thanks to convenient carry handle, it's portable and easy to move around the house.
It's slightly longer than DockATot Deluxe+, but smaller than Grand DockATot. Even though the manufacturer advertises it as suitable from 0 to 12 months, I would recommend it up to 8-9 months just like the original docks.
There's one more thing that you should keep in mind. Even though I picked Abreeze baby bassinet as one of the best DockATot alternatives, it's not perfect. I guess, you get what you pay for.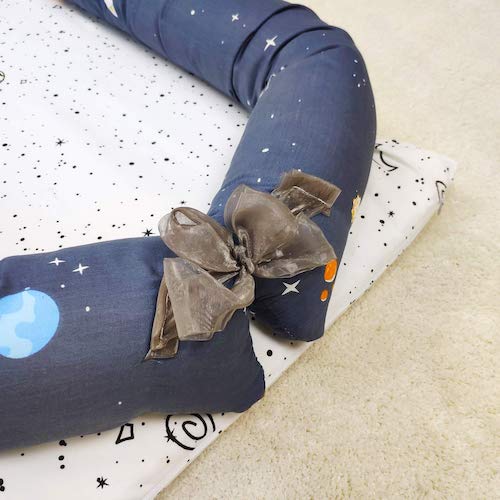 This baby lounger is really cheap and it's quality is noticeably lower than DockATot quality. The mattress is much thinner and there's only a little cushion. The sides are lower, thinner and much more flimsy. DockATot bumpers are really thick, strong and sturdy, Abreeze sides look like they have less filling which makes them less firm and dense. They may also wrinkle a bit. The ties at the bottom are also a bit flimsy. Because of lower quality, this baby lounger may not serve you that long.
Overall, I think it's still a good choice, if you're on really tight budget and looking for baby nest that is comparable to DockATot.
Nanit
Miku

Reasons To Choose This Alternative

---

- It may be a good option if you will only use it occasionally or if you need a cheap and portable baby lounger for weekend visits to grandparents

- There's a pillow that keeps infant's head higher - it gives baby better view

- It comes in multiple colors and cute patterns

- Soft material, feels lightweight - good for warm weather

- Much cheaper than DockATot

What To Keep In Mind

---

- Low quality zipper, fabric may wear out quickly

- A lot thinner and much less padded than DockATot
If you're looking for a cheap baby lounger that you could use instead of the DockATot, Mamibaby is one of the best options. It looks very similar to original docks, yet it's about half the price of DockATot!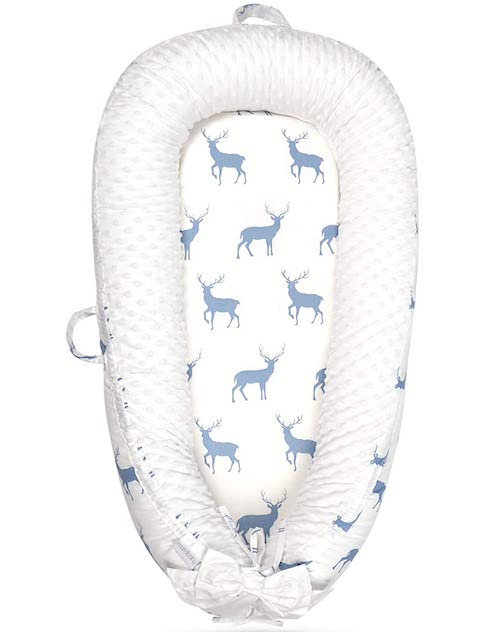 You can tie its ends at the bottom to keep the baby snuggly, or open them for more space – for example for a diaper change.
Just like DockATot, this baby nest has lower center part and bumpers around the mattress. Although the manufacturer advertises this product for co-sleeping, I only recommend it for supervised awake times. It's greta for overhear play if you have a toy arch, playing with siblings, cuddling, reading books to baby, playing peek-a-boo or resting.
I don't recommend this baby nest for sleeping. Also, keep in mind that it's not designed to prevent SIDS (none of baby loungers can do that). There are actually some studies that show that AVOIDING baby loungers for sleep DECREASES the risk of SIDS.
What distinguishes this baby lounger is that is has different patterns on both sides of the cover and you can switch them depending on your preferences. The cotton cover is fully removable and machine-washable. I like that the fabric is lightweight and doesn't overheat the baby.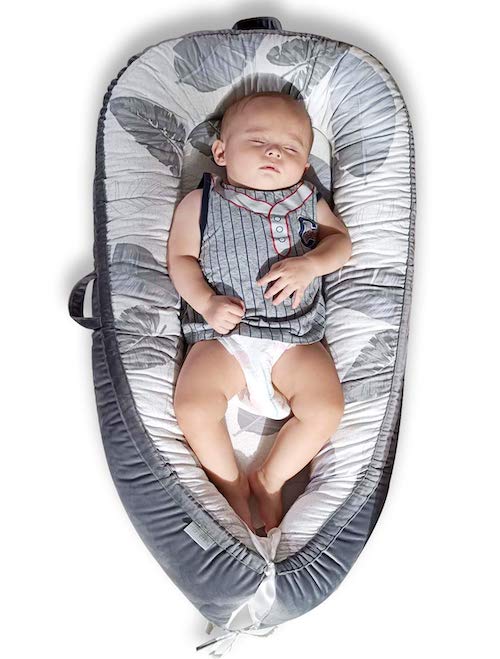 Mamibaby lounger is portable thanks to two carrying handles. You can easily move it from nursery to your bedroom or living room whenever you need to which is very convenient.
There's one more important thing – on Amazon you can read that this baby item is suitable from 0 to 12 months. I would recommend using it up to 8-9 months, just like the DockATot and SnuggleMe.
Nanit
Miku

Reasons To Choose This Alternative

---

- It looks very similar to original DockATot Deluxe+

- Cute prints to choose from

- 2-side cover - you can reverse the lounger

- Two convenient carrying handles

- You can untie the ends at the bottom and use it as a changing station

- One of the cheapest DockATot knock-offs

What To Keep In Mind

---

- The sides feel mushy and are not as strong and dense as on the DockATot - it doesn't hug the baby as much as the original dock

- Some pillows seem to be slightly misshapen after the assembly
Best DockATot Alternatives – FAQ & Safety Tips
Parents usually have lots of questions about DockATot and its alternatives, from Is the DockATot worth it? to Can you co-sleep with a baby in a lounger?
If you have more burning questions about how to use baby loungers and DockATot alternatives in a safe way, just let me know in the comment section below.
Do You Really Need A DockATot?
Baby lounger provides comfortable environment for the baby during awake times. Many parents say that it is one of baby essentials. However, I think that if you want to buy a baby lounger, you don't really need the expensive DockATot. You can choose more pocket-friendly alternative and use it instead of a DockATot.
Is There A Cheaper Version Of DockATot?
The original DockATot comes in two versions: Deluxe+ and Grand. The former one is smaller – suitable for babies up to 8 months, and it's cheaper. The Grand DockATot is much bigger – design for babies from 9 to 36 months, and it's much pricier.
Unfortunately even the Deluxe+ version is quite expensive and there is no cheaper version of DockATot. But there are some comfy alternatives, designed by other brands, that have more budget-friendly price (check the recommendations above).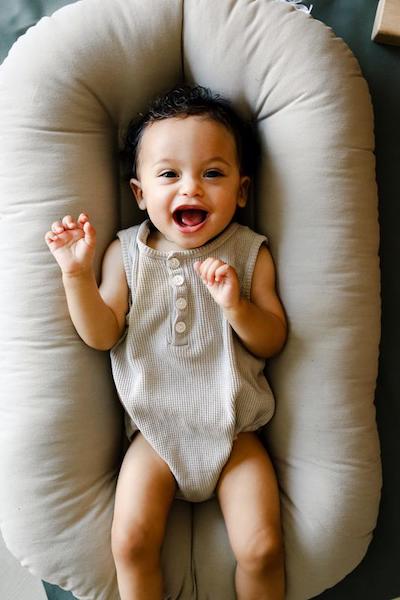 Is DockATot Safe For Sleeping? Is It OK For Baby To Sleep In Lounger?
It's not okay for the baby to sleep in lounger, and you should not use DockATot or any other baby lounger for naps, overnight sleep or co-sleeping. These products should be used only for supervised awake times, they are not safe for sleeping.
Generally speaking, this topic is very controversial in the US, in contrast to Europe, where co-sleeping is quite common. Lots of people in Europe use baby loungers as co-sleepers.
I've seen so many parents allowing their babies to nap and sleep during the night in newborn loungers like DockATot or its cheap alternatives.
Keep in mind that according to the American Academy of Pediatrics safe sleep environments means:
flat and firm surface
baby has its own sleep space – crib, bassinet or bedside sleeper
no bed-sharing (no co-sleeping)
no fluffy blankets, loose bedding, pillows, toys in the sleep area
Even if you choose top-notch baby lounger, made from high-quality materials, it's not a safe sleep space for a baby (there's risk of SIDS and suffocation).
I only recommend using baby loungers for LOUNGING – resting, playing, bonding with other family members, tummy time, reading books to baby. If your baby falls asleep in a DockATot or other lounger you should transfer them to bassinet or crib.
I also recommend using baby lounge pillows on the floor, not on the bed or inside a crib/bassinet.
---
The purpose of this article is informative. It's not a substitute for medical consultation or medical care. Remember: safety first! Consult your doctor/pediatrician in case of any doubts, and before you introduce tummy time. The author of this article does not accept any responsibility for any liability, loss or risk, personal or otherwise, incurred as a consequence, directly or indirectly, from any information or advice contained here. The article contains affiliate links – your support helps us run this blog!
Source of pictures:
Pictures of Snuggle Me Organic Loungers belong to Simply Mommy LLC brand. Source: https://snugglemeorganic.com/
Pictures of Boppy Loungers belong to Boppy brand. Source: https://www.boppy.com/
Pictures of Mamibaby loungers belong to Mamibaby brand. Source: https://mamibabylife.com/
Pictures of Abreeze lounger belong to Abreeze brand. Source: https://www.pinterest.com/