Here I present you the best toys for crawlers. They not only encourage babies to crawl, but also provide hours of entertainment. Playtime is a fantastic opportunity for your little one to explore and learn new things about the world, and meet next developmental milestones.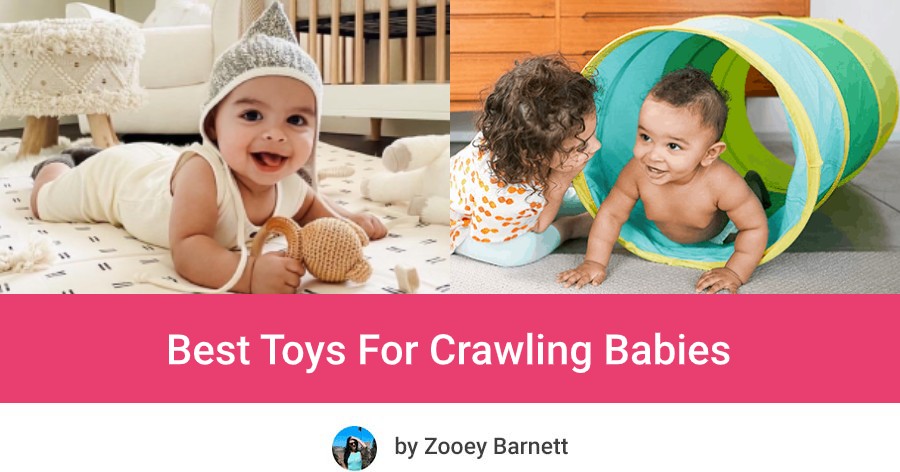 This article is NOT a substitute for medical advice. Content and pics may contain affiliate links.
Crawling is one of the important movement and physical milestones that babies usually meet between 9 and 12 months of age (of course some infants skip crawling and move straight to walking). Play can help your soon-to-be toddler reach those physical milestones, as well as other emotional, social, language, communication and cognitive milestones, while having fun and bonding with mommy and daddy.
To encourage your little one to crawling you can put their favorite toy out of reach or use a pull toy and roll it back and forth between you and your baby. Choose a toy that will be interesting for your kiddo to crawl after. This will help your little bundle of joy to practice coordination and manual dexterity which are necessary to become a crawler.
Toy For Baby Crawler – TOP 3 (full list below)
Image
Verdict

Lovevery Play Tunnel

LittleBabyGear Verdict: Best Crawling Toy



Great for little crawlers
Helps to practice motor skills, coordination and balance
You can use it for playing peek-a-boo
Made of organic cotton - it's breathable and safe for baby's skin

PlanToys Chicken Racing Car

LittleBabyGear Verdict: Best Wooden Car Toy For Crawler



This intriguing toy motivates little ones to crawl after it
Encourages to practice reaching out and developing pincer grasp
Provides visual and tactile stimulation
Cute design, attracts baby's attention
Made of organic and non-toxic materials

Sassy Bumpy Ball

LittleBabyGear Verdict: Best Inexpensive Toy To Help Baby Crawl



High contrast colors stimulate infant's vision
Multiple materials and textures provide tactile stimulation
Allows little hands to practice grasping and manipulating
Gentle rattling sound encourages baby to chase it
My Favorite 8 Best Toys For Crawling Babies
Below you can see my recommendation of the best toys that help baby crawl – and you can rest assured these toys make your child's safety and healthy development a priority.
1. Lovevery Play Tunnel
This kids tunnel encourages crawling and supports development of motor and coordination skills, as well as muscle strength.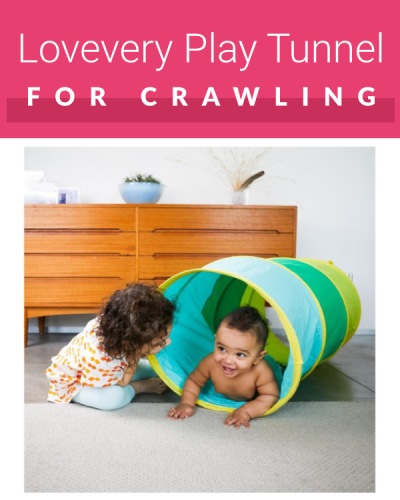 Get This Tunnel For Your Child
You can place interesting toy on one end to entice your little one or use it for playing hide & seek. Your baby will have a blast time while learning through play.
According to many parents this is absolutely the best crawl tunnel ever! I'm pretty sure you and your baby will love it too, and here's why:
It's made of organic cotton, in contrast to majority of other play tunnels which are made of polyester. This is a huge advantage because cotton is safer material for babies' delicate skin, and it's much, much more breathable. I think this is one of the crucial aspects to look out for when you buy a crawling tunnel. Your child is going to spend some time in it, so it needs to ensure good airflow.
Lovevery uses organic fabric therefore this tunnel is also more eco-friendly.
It is roomy enough for comfortable play, but compact enough to be used in any room.
You can easily collapse it and carry to another room (it weighs only 2 lbs!).
Whenever you want to bring it with you for your baby's outdoor adventures or overnight stay at grandparents, you can pack it in the included organic cotton carrying bag. Super convenient!
I think it's the best choice for babies who already can get into hands-and-knees position with their belly off the floor and are already learning to crawl forward. The tunnel will give them plenty of opportunities to practice this new motion and balance.
Recommended age: 12 months+ (but parents often start using it from 9 months – always for supervised play)
My rate:
2. Crawling Play Mat by Toki Mats
This is a wonderful thing not only for the playtime, but also for all those activities that get your child one step closer to crawling (and walking!).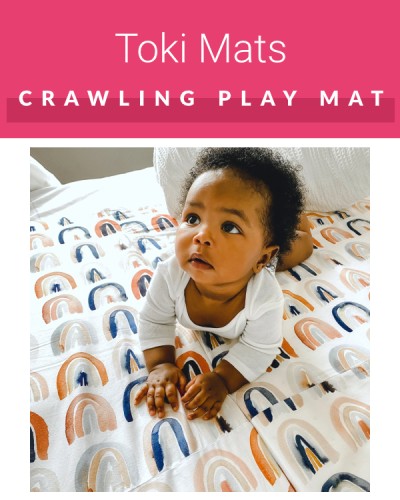 Check Out All Adorable Patterns
It's actually really useful from the first weeks of baby's life. As your child grows and reaches next milestones, the play mat accompany them. Whether you baby is 3 months old or 9 months old the playmat will come in handy. And even when your toddler starts to walk, you can still use it for playtime, because it's much more comfy than a bare floor.
Play mat is a wonderful investment and it will serve you for a long time. Your little one will definitely love to use it for these activities:
tummy time, practicing balance and hand eye coordination
scooting on belly backwards and forward,
sitting and twisting body to reach for toys without hand support,
getting into the hands-and-knees position with belly off the mat,
learning to crawl forward.
The mat by Toki Mats is thick and gives babies proper support when the are on their knees and hands. If you pair the play mat with tantalizing baby toys (like an activity ball or soft blocks) this will be a perfect set to encourage crawling. When babies see a clear reward for their effort, they will be extra motivated to try out new movements.
As you can see the play mat supports both physical and cognitive development.
Toki Mats Crawling Play mats have one more HUGE advantage: it's truly non-toxic. It's safe from baby-safe and eco-friendly materials. In contrast to popular colorful foam play mats, crawling mat by Toki Mats is free of harmful substances like: EVA foam, PVC, Phthalates, BPA, BPS, lead, glues, VOCs etc.
If you're looking for a safe place for your little one to play and learn – this is the best choice.
Recommended age: 0 months+
>>Check out more organic & non-toxic play mats for crawlers
PRO TIP: If you're looking for something more affordable for your baby crawler, I recommend you this Wee Gallery Playmat. It's made from organic materials and it has cute black & white design – to stimulate infant's vision. In case of spit-up or diaper blowout, you can toss it into the washing machine. Highly recommended for overhead play, tummy time and crawling.
3. Sassy Developmental Bumpy Ball
Activity balls will come in handy for crawling baby, because they attract their attention and motivate them to crawl.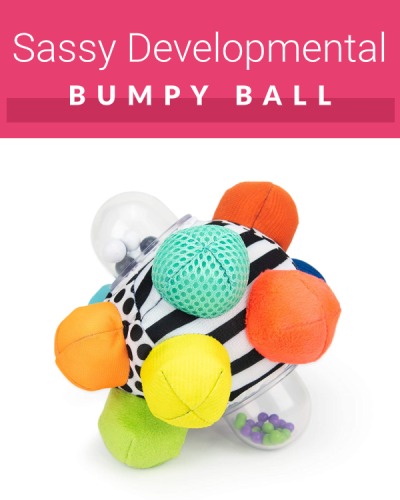 Check It On Amazon
Its high-contrast colors help baby to focus and strengthen their vision. They are appropriate for infant's developing sight.
The ball features multiple textures and materials so it stimulates tactile sensitivity too.
There are chunky sized bumps that encourage baby to reach out, grasp and manipulate with their little hands. This is an important exercise for improving fine motor skills and developing the pincer grasp.
When the ball rolls it makes gentle rattle sound. This way it stimulates baby's hearing, teaches them cause and effect, and encourages them to shake it or toss it. This is also a great exercise for younger babies for learning to track and follow moving object. And once the child gets older, they will enjoy chasing this activity ball and rolling it around.
Soft balls are also fantastic for playing peek-a-boo which teaches little ones object permanence.
Recommended age: From 0 months up to 3 years
PRO TIP: I also recommend you this Vtech Ball. When you toss it or roll around, it makes noises. This baby crawl toy has soft textures, bright colors and tags which make it really interesting for curious, exploring infants. It features a motion sensor that triggers sounds and phrases, what's why it's a great choice for babies learning to crawl.
4. PlanToys Rabbit Racing Car
You can introduce this adorable wooden toy during tummy time. It's cute and funny, provides stimulation for vision and tactile senses, and encourages baby to crawl.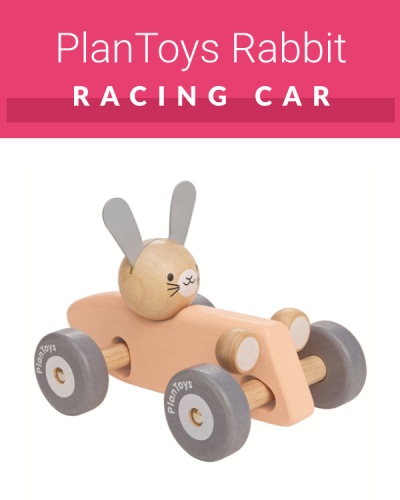 Get This Cute Crawling Toy
It is made of wood, therefore it's safe for your baby, and he/she can use the string to roll and push it on the floor, rug, or playmat.
This educational toy is made for crawling babies, as well as for toddlers who already started cruising.
You can use it to attract their attention and inspire them to crawl! When your baby is on their knees and hands, they can also play with the PlanToys and roll it around. This will be a great exercise for balance.
And as the child grows and becomes more independent in their movements, the Rabbit Racing Car will help them to practice coordination grip and gross motor skills.
Besides, this baby crawling toy inspires kids to pretend play and helps them to develop their creativity and imagination.
Recommended age: 12 months+.
PRO TIP: I also recommend you this wooden push & pull toy by Lovevery. Your little explorer can roll it back and forth, and as he gets older, he can also pull it along on the floor or sidewalk. It's so adorable!
5. Melissa & Doug Match & Build Blocks
These soft blocks are perfect for infants and toddlers to manipulate in small hands. Kids can use them to build different things and practice their spatial skills, as well as fine and gross motor skills.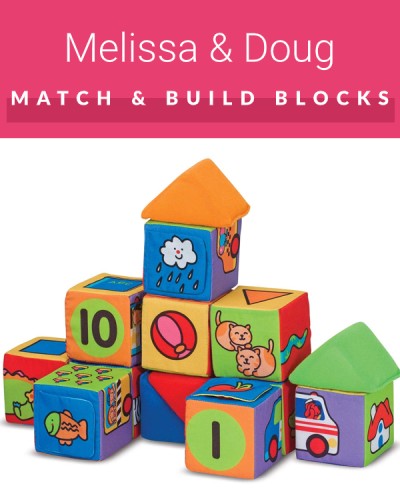 Check Price & Availability
There are also colorful pictures and numbers that engage kids in matching activities. They can pair numerals, quantities, animal halves and everyday shapes. They provide excellent visual stimulation and support learning new cognitive abilities like recognizing shapes and common objects, and noticing similarities. It's a great exercise for problem solving skills, logical thinking, and creativity.
The blocks are light and babies love to knock them down and toss around. This is a fantastic toy for crawling baby, because it inspires them to chase it. Besides, it provides multi-sensory stimulation and supports healthy brain development and allows to practice so many skills – it's just perfect for 9-month-old children and up.
By the way, this is an inexpensive toy to help baby crawl.
Recommended age: 9 months+
6. Fat Brain Toys Dimpl
Babies love this simple, colorful toy! It has 5 poke-able silicone bubbles which are so fun to push and pop.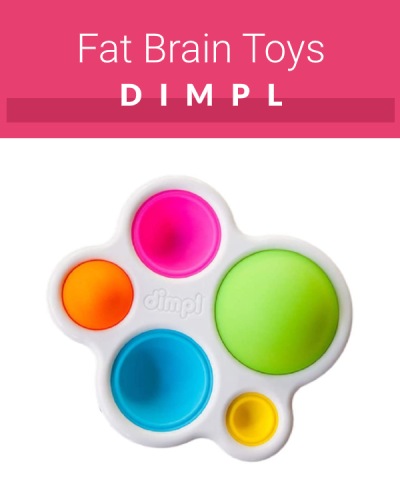 Get It On Amazon
Dimpl teaches babies cause and effect. Thanks to various colored and shaped bubbles it provides visual and tactile stimulation and encourages to practice fine motor skills. It's an entertaining activity that helps to strengthen those little hands, practice precise finger movements, and master the pincer grasp.
It attracts baby's attention and entices them to crawl after it. It works great for seated play, as well as for kids who are already on their hands and knees with belly off the floor.
Its size makes it portable and perfect for tiny hands. If your wee one gets fussy during diaper changes or car rides, this educational toy may help to occupy them for a while.
It's important to notice that the bubbles are made of food-grade silicone and the whole toy is BPA-free therefore you don't have to worry about your baby's safety if he/she like to mouth toys (BTW, mouthing is a very important part of child's healthy development).
Recommended age: From 10 months up to 3 years
7. LeapFrog Learn & Groove Musical Table
This colorful toddler activity table has lots of buttons that teach baby cause and effect. Kids can press, slide, spin and pull various elements which introduces them to shapes, colors, common sounds and baby songs, musical instruments, number and letters.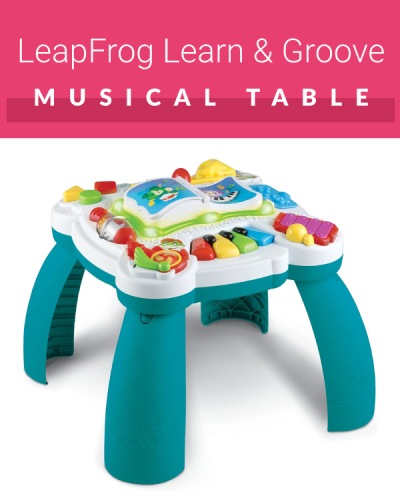 Check Price
The best thing about this educational toy is that you can use it with or without the legs, so it's actually suitable for babies and toddlers. At first, you can remove the legs for play on the floor (or playmat). Whether your baby has just learned to sit unassisted or can scoots on their belly or is already able to support themselves on hands and knees with belly off the floor, they will be eager to explore various activities on the board.
As your child grows and begins to stand, you can attach the legs and use it as an activity table.
This multi-sensory toy allows children to develop their language skills, shape recognition and color differentiation, and many other cognitive abilities. It also helps to practice fine motor skills, gross motor skills and hand eye coordination – which are an important part of learning to crawl. You can easily switch between music mode and learning mode.
Recommended age: From 6 months up to 3 years
8. Hape Wooden Push and Pull Wagon
My last recommendation goes to an educational toy that will serve you for a few years for sure.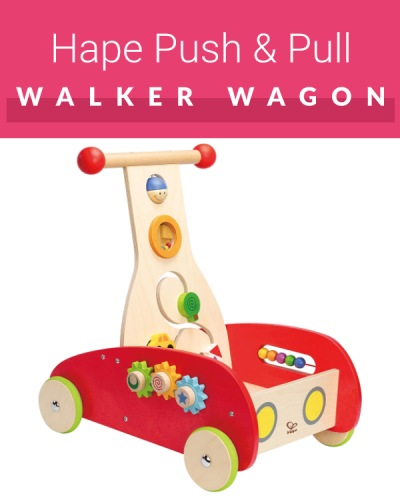 Order Your Wagon Here
This is a wooden push & pull walker that offers many activities, that we can usually find on activity cube.
This is a great gift idea for a child who is already able to sit unassisted, get into hands-and-knees position and has started crawling. It can be used as an activity center and your baby can play with colorful beads, knobs, maze toys and other elements to practice fine motor skills, hand eye coordination and learn cause and effect. It's a great help for developing cognitive skills and creativity.
When your little one is ready to stand and make the first step, they can use this wooden walker for extra support. It is recommended for supervised play – always watch after your child as he/she is still learning to balance.
Recommended age: 12 months+
Safety note: American Academy of Pediatrics2 advises against the old-type baby walkers which actually don't help baby to walk and pose a threat to their health (it may easily tip over and baby may get hurt)3. Instead, it's better to use a stationary activity center or push & pull walker wagon – like the ones that I recommend above.
When Should Babies Crawl?
Babies usually start crawling between 6 and 10 months of age, with the average age of 9 months. But as we all know, all babies are unique – some start later, some start sooner.
Some infant may start crawling at 6 or 7 months of age, while for others it may take a bit longer to get up on all fours (10-12 months).
It's also important to notice that some babies skip crawling altogether. And in most cases that's perfectly normal and you don't have to worry about it!
When Should I Be Concerned About My Baby Not Crawling?
Although crawling is important and gives your little one opportunity to learn new skills and straighten muscles (and it's full of adorable moments), it's not a must-do milestone! Some tots don't crawl at all and simply move from sitting upright to standing, cruising and walking.
Why your baby is not crawling yet:
Not enough tummy time – It's really simple, babies can't practice crawling when they are lying on their back! Tummy time helps to practice raising yourself on all fours and strengthen muscles in neck, back and arms that little ones need to start rolling over, scooting, and then crawling.
Baby is not ready to crawl yet – It takes time to learn this new move, so it may be just your little one is not ready yet to put four on the floor.
Your baby learns to crawl in a different style than the "classic crawl" – There a LOTS of different techniques and they all count! Your little one may be creeping, dragging the tummy and legs behind them, scooting on their bottom, move along tripod style or just rock back and forth. Or push themselves backward instead of forward. Remember that it's all legit. Your child may start with one style and progress to another or stick with their favorite moves.
You should also know that some babies who are not the world's greatest crawlers or don't crawl at all – are early walkers.
As long as your child is learning to coordinate each side of their body and uses both sides equally, there's no reason to be worried. Even if you baby skips crawling, they should be able to explore surrounding on their own and have plenty of opportunities to strengthen their body – to prepare for walking.
You should be concerned about your baby not crawling, if you feel like they are not moving normally, not using their legs and arms equally, or if they are behind in other developmental areas as well (like language, social skills or other motor skills). In that case you should definitely consult your pediatrician1.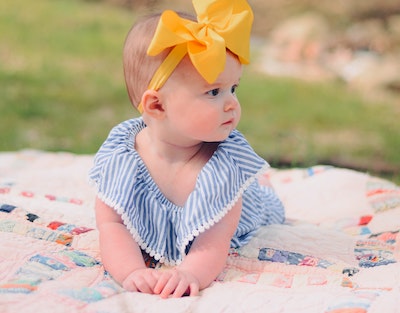 How Do You Know When Your Baby Is About To Start Crawling?
One of the signs that your baby is about to start crawling is sitting unassisted and leaning over to reach a toy. This way babies may discover they can prop up their body on their hands and arms, they may hold themselves in plank pose, or rock back and forth. Soon they will figure out how to move along and how to get back up to sitting position. This is a sign they are ready to crawl.
It's also important to remember that usually babies start to learn this new skill with just their arms, because they master using arms first, separately from legs. Over time they learn coordination between their upper and lower extremities.
Here are some of the first signs of crawling:
Creeping – your child keeps belly and legs on the floor and pulls themselves along with their arms. This is also called "commando crawl" or "belly crawl".
Using legs to pull themselves forward and sliding their bottom along the floor (called "bottom scoot")
Getting on all fours and rocking back and forth ("the roll")
Getting into downward-facing dog yoga pose or plank pose and trying to move forward on their hands and feet ("the bear crawl")
Crawling backwards – At first babies have better developed muscles in arms than in legs and it's easier for them to push themselves backward than forward ("the crab crawl")
Keep in mind that all those movements are also considered as different crawling styles and some kids just stick to them and that's normal! Others will move to the "classic crawl" technique – from the tummy, baby pushes up on their hands and knees and moves forward by alternating the opposite leg and arm.
How Do You Get A Baby To Crawl?
Here's what you can do to encourage your baby to get on all fours and discover crawling:
Plenty of supervised tummy time – It helps the baby to gain strength for further skills: rolling over, creeping and crawling. During the "gymnastics" time you can use various toys for babies and toddlers that develop their cognitive skills, stimulate their senses, and support fine motor skills. Place some intriguing baby toys just beyond their reach and cheer them on as they move closer to their goal. Check out my ranking of the best wooden play gyms that can be used for tummy time.
Seated play – sitting unassisted (when the baby is ready!) helps to develop strong abdominal and back muscles which are necessary for crawling. Over time baby will learn to lean forward, stay in plank pose, rock back & forth, and finally move forward.
Belly bait – placing intriguing baby crawling toys just out of baby's reach during tummy time or seated play will encourage them to try out new moves. Having the reward in sight, will extra motivate your little explorer.
Remember about child-proofing your home for your little crawler. Get down on all fours yourself and look around for any hazards. Remove obstacles and breakables from baby's path. Gate off the stairs, both top and bottom.
When the child crawls he/she can see the world from a different perspective, explore it and experience new things. But seeing others standing and walking, will make the baby eager to try out other ways to move too and in what may seem like the blink of an eye, your crawler will be cruising, walking and running!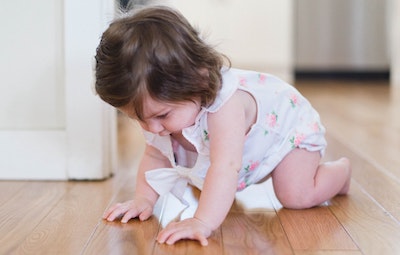 How Do You Entertain A Crawling Baby?
To entertain a crawling baby it's best to invest in intriguing, tantalizing crawling toys – also called "belly bait". When your little bundle of joy is doing tummy time, sitting up or trying to crawl, place the toy nearby, but just out of reach – it's important that the baby could see the reward. Go down on your belly in front of your child and cheer them as they get closer to the goal. All of this will motive them to experiment with new ways of moving their arms and legs.
As the baby becomes more agile, you can place some small obstacles – soft blocks, pillow or boxes – so your child could crawl over or between them. You can also join the game and use these obstacles for playing peek-a-boo.
For a child who is already cruising on all fours, kids play tunnel will be a fantastic choice – it will help them to master this new movement and get ready for first steps.
---
The purpose of this article is informative. It's not a substitute for medical consultation or medical care. Remember: safety first! The author of this article does not accept any responsibility for any liability, loss or risk, personal or otherwise, incurred as a consequence, directly or indirectly, from any information or advice contained here.
Pictures belong to respective brands. Sources:
https://www.melissaanddoug.com/