You want to explore outdoors with your baby and need a stroller that can handle gravel paths and bumpy hiking trails? Or maybe you live in the countryside and need a stroller for unbeaten dirt roads? Here I present you the best all terrain strollers for off-road cruises.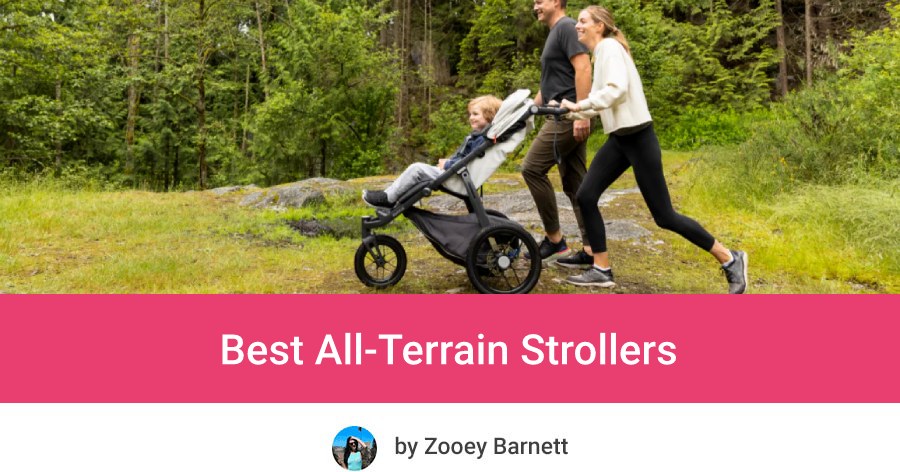 In this article I will review top-quality all-terrain strollers and evaluate their performance on different types of terrain.
I've chosen only the best all-terrain strollers and divided them into 3 categories, depending on how frequently you're going for an off-road trip and how difficult is the terrain.
Whether you're looking for a jogging stroller for trails or an everyday stroller that handles more difficult terrain, in this buying guide you will find a model that suits your needs.
Are you ready? Let the adventure begin!
This article is not a substitute for medical advice or consultation. It contains affiliate links.
Best Urban Strollers For Multiple Surfaces
Last update on 2023-12-11 / Affiliate links / Images from Amazon Product Advertising API
In this category I included urban strollers that have versatile wheels which handle multiple types of terrain. These strollers are designed for terrain that is more difficult than pavement, but not as rough as tree roots or loose sand.
Some of these all-terrain strollers are suitable not only for everyday use, but also for jogging.
So if you don't want to spend money on two strollers (one for daily use and one for rough terrain) you can always go with a city stroller that has all-terrain wheels.
For whom?
For city dwellers who use the stroller mostly on sidewalks, but some of them are cracked
For those who like occasional off-road stroll or like to go to parks and playground (gravel, grass)
Best solution for those who live in the city or countryside and need an everyday stroller that handles bumpy terrain
For those who occasionally jog (some of these urban strollers are suitable for light jogging)
For parents who can afford only one stroller so it has to be versatile and all-terrain
For parents who have small apartment and don't have space for second stroller, so buying additional jogger is not an option
1. Baby Jogger City Mini GT2
One example of such stroller is the new Baby Jogger City Mini GT2. It rather doesn't handle sand, but it can easily go through short grass (like lawns and public parks), dirt roads and gravel paths in parks. For deeper and looser gravel or sandy beaches parents suggest getting jogging stroller with larger wheels, pumped tires and better shock absorption.
It has three-wheel design which make it very nimble and easy to steer. Even on surfaces like cracked sidewalks and uneven pavement it doesn't get stuck up and doesn't bounce that much. It can handle bricks and cobbled streets for example in Italian old cities, but bigger rocks may be too difficult for it.
If you take this stroller on more rugged terrain, you and the baby will feel bumps harder than you would with a jogging stroller. However, even if the stroller shakes a bit, it doesn't feel like it's going to fall apart or hurt the baby. Most parents agree the suspension is good, especially on average difficult terrain. What's important – the newest model – City Mini GT2 has improved suspension, built in all wheels. Although this stroller has a handbrake I don't find it suitable for hills (mostly because of smaller wheels and insufficient suspension).
This stroller is not designed for jogging (Baby Jogger is only the name of the brand). It is a good choice for parents who are not runners, but like long-distance walks on multiple types of terrain (read more in my full review of City Mini GT).
If you're looking for the best all-terrain travel system consider adding Baby Jogger City GO infant car seat (check it here). The adapter is now included with the stroller!
2. Bumbleride Indie
Another all-terrain stroller for city dwellers who like off-road cruises is the Bumbleride Indie. This is a hybrid of an everyday city stroller and jogging stroller. The wheels are 12″ and have air-filled tires. Front wheel is lockable.
Parents agree Bumbleride Indie is very easy to maneuver and can handle rough terrain like gravel, grass, cracked sidewalks and dirt roads. It handles park paths smoothly. Going over tree roots is not difficult. Some parents have even taken it to the beach or rocky trails (for proof read review #1 & review #2)! But since it doesn't have a handbrake I find it less suitable for hills.
Great thing is that it works almost as good as typical running strollers, but it's lighter and less bulky. It's more like an urban stroller for everyday use that can handle multiple types of terrain, off-road strolls and light jogging as well.
Oh, one more thing – there were some negative opinions about the old version because of the canopy (when it was pulled back, the fabric was folded and wrinkled and touching baby's head, while not giving him too much space).
Keep in mind that Bumbleride Indie has beed redesigned1 and has improved canopy that gives more headspace. This new version is also a bit heavier – 24 lbs (still not very bulky or cumbersome).
If you're more serious runner you can always go with Bumbleride Speed, instead of Indie. It's designed for long distance running and more challenging terrain. It can go over muddy trails, grass, sand, dirt roads and more.
3. Chicco Activ3 (inexpensive alternative)
This is a perfect choice if you're on a tight budget and need a stroller for all terrains, but still compact and easy to operate in a city jungle.
Chicco Activ3 is a great stroller for off-road and everyday use in the city. It handles cracked, uneven sidewalks and cobbled streets very well.
There is also amazing suspension which makes this stroller suitable for many kinds of rugged terrain.
It handles gravel and dirt roads very smoothly. Especially on hard-packed gravel this stroller literally glides like a breeze. Chicco Activ3 is also a great solution for strolling and in park, countryside etc.
Remote front-wheel-lock located at the handlebar is a huge plus – you don't have to get your hands dirty!
Keep in mind it has foam-filled tires so it's not a stroller for running or deep sand.
4. UPPAbaby VISTA, Bugaboo Donkey, Baby Jogger City Select (alternative for growing family)
Another city strollers with versatile wheels are: UPPAbaby VISTA, Bugaboo Donkey or Baby Jogger City Select. These are great options especially for growing families, since you can expand them from a single to a double mode.
All these strollers have four-wheel design but they are still very maneuverable (maybe slightly more difficult in tight corners). As for everyday strollers they can handle grass and gravel in parks, hard-packed dirt roads and cracked pavement very well.
The suspension on each model is very good too and minimizes the impact of shocks on the baby. However I don't recommend these strollers for beach, hiking or rugged trails in woods with tree roots.
Best All-Terrain Strollers For Long Walks And Running
Last update on 2023-12-11 / Affiliate links / Images from Amazon Product Advertising API
If you're an advanced runner and train often, you should definitely choose a stroller from this category. All these models here can handle most challenging terrain like gravel roads, loose sand and forest trails.
For whom?
For advanced runners who like long distances and rough terrains
1. BOB Revolution FLEX 3.0
BOB Revolution FLEX 3.0 handles flat sandy trails and gravel roads. If the rocks are small it maneuvers with ease, if the trail is really rocky it may be a bit harder to push and the passenger bounces more. But on deep gravel it performs amazing and pushing it is not very difficult. Dirt roads in country side won't be a problem either.
According to customers this stroller works perfect for dog walking on tall grass, gravel and bark chips. You can even take it on the beach if the sand is composed and thick. It absorbs the shocks really well, even on difficult terrain like cobblestone.
Some parents consider BOB FLEX as the best beach stroller, as it works really impressive on wet and loose sand (more info in this Amazon review and this one).
It rolls pretty smoothly on bumpy forest paths. Thanks to amazing suspension system the baby feels comfortable and doesn't get bumped around. With this stroller you'll be able to enjoy long walks and long distances jogging. It's perfect choice for advanced runners too.
Some parents use it for strolls and jogs on hills and agree the shock absorption works great and protects baby from negative impact of bumps. However keep in mind this jogging stroller doesn't have handbrake so it's not ideal for hills. If you need a stroller for mountain trails, check out the BOB Alterrain PRO which is equipped with a handbrake.
More details and photos of BOB Revolution FLEX in my in-depth review.
2. Joovy Zoom 360 Ultralight
If you want a good-quality stroller for gravel roads and grass but you're on a tight budget, Joovy Zoom 360 may be perfect for you. However if the road is very bumpy, the child may feel it and bounce more than in BOB or Thule jogging strollers (check this customer review to find out more).
Tires on Joovy Zoom 360 are great for running on more flat terrain and only occasionally on grass or rocky roads. If you're more advanced runner or prefer very rugged terrain, BOB would be better choice.
With other joggers (BOB or Thule) customers agree the shock absorption is great and these strollers roll smoothly even on rough terrain. With this model, some parents find it less suitable for very difficult terrain.
However, some parents have used this Joovy as beach stroller and it did fine (more here). If you want to use your stroller on mountain trails, I would recommend something different – with a brake operated by hand.
If you're hesitating whether this stroller is the right choice for you, read my full review of Joovy Zoom 360.
3. Baby Trend Expedition (cheap alternative)
Other stroller that can serve you for light jogging, off-road walks and everyday use is Baby Trend Expedition. This is also great budget option.
It has 3-wheel design with 16″ rear wheels and 12″ front wheel which is lockable. This stroller is good for gravel roads, grass and slightly uneven terrain thanks to big wheels with pumped tires.
However it doesn't have suspension so it's not suitable for more rugged terrain. I wouldn't recommend this stroller for beach or bark chips etc.). I also wouldn't use this stroller on mountain trails either – it lacks handbrake so it's less suitable for hills. For short distances and light jogging – it's great.
If you're looking for a stroller for deep sand and beaches you should check out my ranking of the best beach strollers. These ones can handle the most challenging terrain!
Best Hiking Strollers
Last update on 2023-12-11 / Affiliate links / Images from Amazon Product Advertising API
Just like the models from the previous category, these ones can also handle more rugged terrain, but additionally these strollers are suitable for hiking because they are equipped with a handbrake.
For whom?
For active parents who like training on mountain trails/ hiking/ trekking and/or live in hilly area
For serious runners who like off-road jogging
For those who often visit sandy beaches
Did you know that hiking with a stroller can be a great exercise if you have "mom butt" syndrome (meaning pregnancy made your bum flat) and you want work on your buttocks. Once your doctor gives you green light for returning to normal activity and workouts, you can go off-road with your hiking stroller and work on that glutes.
Remember about maintaining good and ergonomic posture3!
1. Thule Urban Glide 2
Many parents use Thule Urban Glide for hiking and mountain trails. However, if you like to stroll or jog in hilly area I would recommend getting the newest version of this stroller (Thule Urban Glide 2) which has additional handbrake2. Other features are very similar to the previous model.
You can read more about the new Thule Urban Glide 2 in my full review!
2. Baby Jogger Summit X3
Some parents say this stroller is even better than BOB jogging strollers. It does have one advantage over BOB Flex model – Summit X3 has a handbrake which is crucial for jogging in hilly area or hiking on mountain trials.
This additional handbrake gives you better control over the speed. This model is also perfect not only for trekking but also for strolling and running on other rough terrains like sandy beaches, rocky trails, paths in forest with sticks and bark chips, as well as cracked sidewalks.
Even if you're going over grass, dirt roads or roots it's still smooth and comfortable for the baby. Pushing it is still effortless and the baby can nap undisturbed. All thanks to large wheels with pumped tires and amazing suspension. Even the mud won't stop you!
What's also great about this stroller is its remote front wheel lock. You don't have to bend down and get your hands dirty to lock/unlock the front wheel. You can do it by using a simple lock on the handlebar. So convenient!
3. Chicco TRE (more affordable alternative)
For hikes, mountain trails and jogging down the hill I also recommend Chicco TRE. It's a solution for parents with smaller budget. It's really amazing how well equipped this inexpensive stroller is – no wonder it has been chosen as the best all terrain hiking stroller for the 5th consecutive year!
This running stroller has a 2in1 handbrake that works for slowing down and parking. Very easy and convenient to use when you're going up and down the hill (check this review for example).
It's also great for country gravel roads (more here). This stroller provides comfortable ride for the baby and the parent so it's perfect for more serious runners or those who like long-distance training.
---
Resources:
https://www.thule.com/en-us/
https://bumbleride.com/
https://www.healthline.com
---
The purpose of this article is informative. It's not a substitute for professional medical advice or medical care. Remember: safety first! Consult your doctor/pediatrician in case of any doubts. The author of this article does not accept any responsibility for any liability, loss or risk, personal or otherwise, incurred as a consequence, directly or indirectly, from any information or advice contained here.
Your trust is really important to me: This post contains affiliate links. If you choose to buy something using these links, I may receive a small commission, at no extra cost to you. Your support helps me run this blog. Thank you so much!