For the past few years Bumbleride has been working on their new stroller with reversible seat and it's finally going to be available for purchase! I have a feeling Bumbleride Era is going to be one of the best strollers for 2019.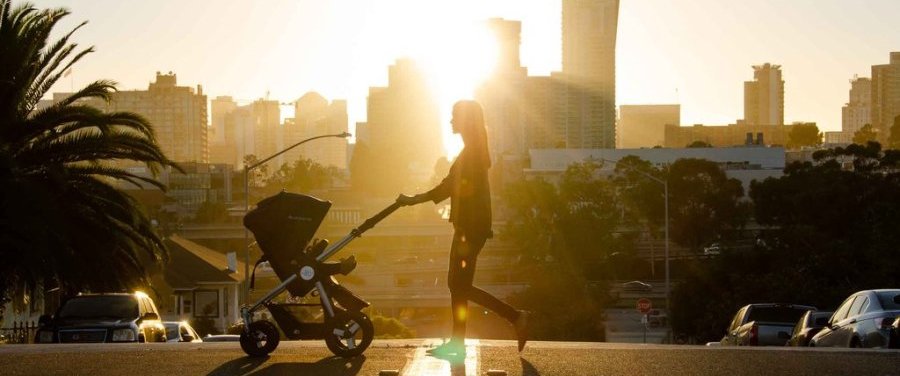 I receive a lot of questions from parents if I could recommend them a stroller that is all-terrain and handles gravel, cracked sidewalks and snow, at the same time small enough for shopping malls, has reversible seat, big canopy, seating option for newborn baby and compact fold.
It's a dream stroller of many moms and dads. And now this dream is finally coming true with the new Bumbleride Era launching in early 2019. Isn't it a great news?!
The brand wanted to make their new stroller perfect, that's why the release date for Era has been delayed for so long. But recently Bumbleride confirmed that the newest addition to their collection is going to hit the stores at the beginning of 2019.
Bumbleride Era Review
The brand has presented final version of Era at Kind + Jugend tradeshow in Cologne in September 2018. There is not much information about this stroller, but I decided to gather all important details and give you a sneak peak of the new Bumbleride Era stroller with reversible seat.
Generally speaking this stroller is very similar to Indie 4 (with 4 wheels), but the main difference is the reversible seat.
Seat
Bumbleride Era seat looks similar to Indie seat. There's lots of comfortable padding and an adjustable calf rest (comfy napping, yay!). The reclining mechanism is also the same as on Indie – buckle with straps. You can lower the backrest with one hand, but to raise it you will need to use both hands.
It's quite an old-fashion mechanism, but it works smoothly so I'm not complaining. Besides, the recline is near-flat and with the footrest raised up we can create an infant mode – suitable for smaller babies.
When the seat is fully reclined there is a small mesh window in the seat top which allows the air circulate through and keeps the baby from overheating during hot weather.
There is only one thing that I'm not a fan of when it comes to Bumbleride Era seat. The highest position – when the seat is not reclined, it's not fully upright. I would even say it's quite included which some curious toddlers may not like.
The seat easily reverse from parent facing mode to front facing mode. You just need to press two buttons located on both sides of the seat frame and it easily snaps in and out.
Having a reversible seat is very useful as the child grows and changes preferences (toddlers usually prefer to observe the World during the stroll than look at mommy all the time LOL).
I like that Bumbleride Era comes with a bumper bar included – big plus.
For now there is no info about the stroller capacity yet.
Check the first picture – this is how the new Bumbleride Era looks like.
 

View this post on Instagram

 
Canopy
Generous, extendable canopy with peek-a-boo window is another advantage of Bumbleride Era and another feature that makes it similar to Indie.
There are two panels plus a flip out sun visor which almost touches the bumper bar. The canopy covers baby's face and torso so the amount of shade is impressive.
With Era canopy your little one will be able to rest and nap undisturbed. Perfect for light sleepers and babies who don't like having sun in their eyes.
Bassinet
You can also detach the regular seat and replace it with a bassinet – you can choose Era carrycot or the same one that works with Indie and Speed strollers.
Thanks to this solution you'll be able to use your Bumbleride Era from birth and have only one stroller that grows with your child!
What's also noteworthy – the Bumbleride bassinet is approved for overnight sleep.
Infant car seat
Bumbleride Era is also compatible with infant car seats – there are adapters for Maxi-Cosi and Nuna car seats (I hope to see adapters for other brands as well!).
To make the Bumbleride Era travel system you just need to take off the main seat, attach the adapters onto the frame and click in the infant car seat. Easy-peasy!
Options for siblings
You can also attach a mini-board on the back of your Bumbleride Era to make a room for older sibling who sometimes gets tired and needs a ride. Excellent solution for a preschooler.
Handlebar
Bumbleride Era has an adjustable handlebar that rotates up and down. Thanks to that short and tall parents can comfortably push this stroller which the wrist pain or slouching over the handle.
Wheels & Suspension
This new stroller by Bumbleride has 4 wheels with air-filled tires. Rear ones are big, front ones are a bit smaller. The wheels are all-terrain, providing you with a smooth and comfortable ride over old, cracked pavement, gravel trails, grass and snow.
There is also all-wheel suspension – the same that Indie has – which absorbs shocks and decreases shaking when you go over bumps and cracks.
Although this stroller works well on harsh terrain, it's not designed for running – keep that in mind.
I also like the parking brake pedal which is big and easy to find  and press with your foot. It may be a bit harder to lift if you're wearing flip flops, but easy in sneakers and boots.
Maneuverability
Bumbleride Era is not only suitable for different kind of terrain, but it also has a small footprint which makes it a perfect city stroller. It's not bulky or cumbersome – you can take it for shopping to the mall or grocery store and ride through alleys seamlessly.
Storage
This new addition to Bumbleride collection has nice, large storage basket where you can fit even a big diaper bag. It's perfect for day trips as it can accommodate all of your essentials.
The access is always easy from behind the seat, as well as from the front when you lift the leg rest.
Weight & Fold
The brand hasn't confirmed how much the stroller will finally weigh, but it should be around 25 pounds – rather standard weight as for an all-terrain convertible stroller.
But fold is what distinguishes Bumbleride Era from other all-in-one strollers. It features really compact, pretty flat fold which is easy to transport in the car trunk or stow away at home.
To fold the stroller you need to press two buttons on both sides of the seat to collapse the seat in half. Then lift the levers on the sides of the handlebar and flip it to the other side. The stroller will fold down neatly. There is also automatic lock and self-stand for parents' convenience.
Bumbleride Era stroller is also equipped with a handle, so after you fold it, you can easily lift it to the trunk or carry up the strains etc.
You can check how to fold Bumbleride Era in the video below (there are also other features presented).
 

View this post on Instagram

 
Bumbleride Era Release Date
According to the latest information, Bumbleride Era release date is scheduled for early 2019. I really hope to see it finally at the beginning of the next year! 🙂
Funny thing, I heard about Bumbleride Era for the first time back in 2013 when I was pregnant with my daughter Haley. I really believe the brand put a lot of effort to make this stroller awesome and I can't wait to finally take it for a test-drive!
Stay tuned for latest info about the brand-new Bumbleride Era Reversible Seat Stroller!
---
Main picture belong to Bumbleride. Source: https://bumbleride.com