For the past few years Bumbleride has been working on their new stroller with reversible seat and now it's finally out! I have a feeling Bumbleride Era is going to be one of the best strollers for 2019 and 2020!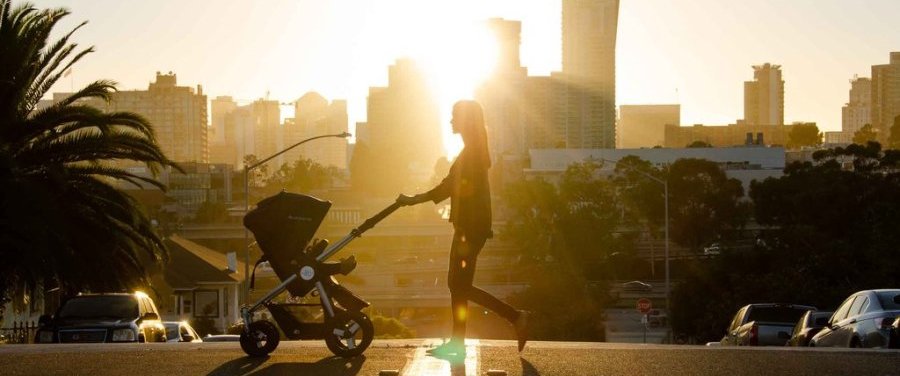 This article contains affiliate links
I receive a lot of questions from parents if I could recommend them a stroller that is all-terrain and handles gravel, cracked sidewalks and snow, at the same time small enough for shopping malls, with reversible seat, big canopy, seating option for newborn baby and of course compact fold.
It's a lot to ask, but it is a dream stroller of many moms and dads. And now this dream is finally coming true with the new Bumbleride Era that launched in late 2019. Isn't it a great news?!
The brand wanted to make their new stroller perfect, that's why the release date for Era was delayed for so long. But recently Bumbleride has add Era to their collection and I'm super excited to tell you more about it.
Image
Info
Verdict

Bumbleride Era 2019Order On Amazon

Type: Convertible, All-Terrain Stroller

Weight: 27 lbs

Capacity: 55 lbs
LittleBabyGear Verdict:

Top-notch stroller with beautiful, aesthetic design. It's a perfect choice for those who like long walks and need a stroller for multiple types of terrain (including the snow)
Bumbleride Era Review
The brand has presented final version of Era at Kind + Jugend tradeshow in Cologne in September 2018. What's really awesome is that you can already purchase it, as it has hit the stores a few weeks ago. I've gathered all important information to give you a full and detailed review of the new Bumbleride Era stroller with reversible seat.
Generally speaking this stroller is very similar to old Indie 4 (with 4 wheels), but the main difference is the reversible seat.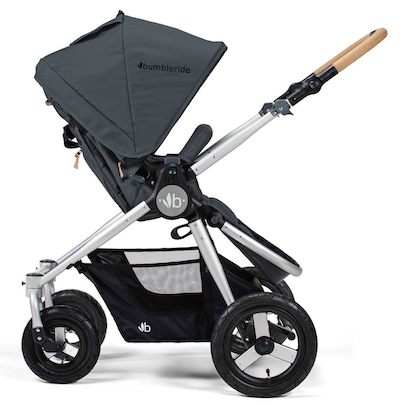 Seat
Bumbleride Era seat looks similar to Indie seat. There's lots of comfortable padding and an adjustable calf rest (comfy napping, yay!). The reclining mechanism is also the same as on Indie – buckle with straps. You can lower the backrest with one hand, but to raise it you will need to use both hands.
It's quite an old-fashion mechanism, but it works smoothly so I'm not complaining. What's really great is that the recline is near-flat and with the footrest raised all the way up, we can create an infant mode – suitable for smaller babies. If you add an infant insert it may be a good alternative for the bassinet, for short walks.
When the seat is fully reclined there is a small mesh window in the seat top which allows the air circulate through and keeps the baby from overheating during hot weather.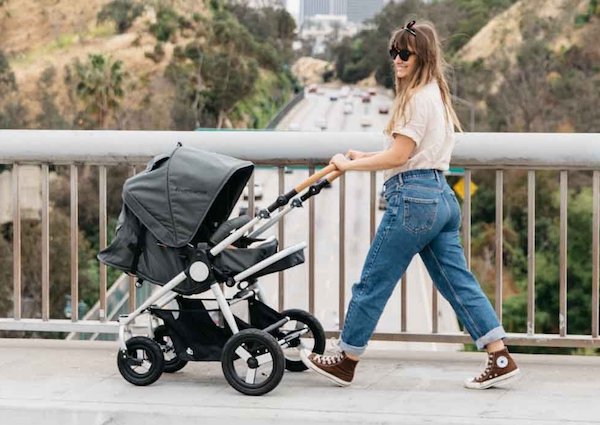 There is only one thing that I'm not a fan of when it comes to Bumbleride Era seat. The highest position – when the seat is not reclined, it's not fully upright, which some curious toddlers may not like.
The seat easily reverse from parent facing mode to front facing mode. You just need to press two buttons located on both sides of the seat frame and it easily snaps in and out.
Having a reversible seat is very useful as the child grows and changes preferences. Toddlers usually prefer to observe the World during the stroll than look at mommy all the time (LOL).
I like that Bumbleride Era comes with a bumper bar included – big plus.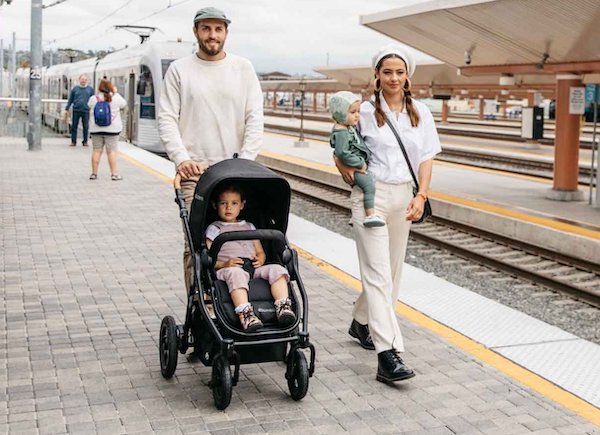 The stroller capacity is 55 pounds. The seat is 12.5-13 inches wide, the backrest is 19.5 inches long and there are 25 inches from the bottom of the seat to the top of the canopy which is really impressive. Bumbleride Era is definitely a long-term investment.
What I also love about this seat is the eco-friendly fabric that is fully removable and machine-washable! You'll be able to keep the stroller clean and quickly get rid of the stains.
Canopy
Generous, extendable UPF45+ canopy with peek-a-boo window is another advantage of Bumbleride Era and another feature that makes it similar to Indie.
There are two panels plus a flip out sun visor which almost touches the bumper bar. The canopy covers baby's face and torso so the amount of shade is impressive.
With Era canopy your little one will be able to rest and nap undisturbed. Perfect for light sleepers and babies sensitive to the sun.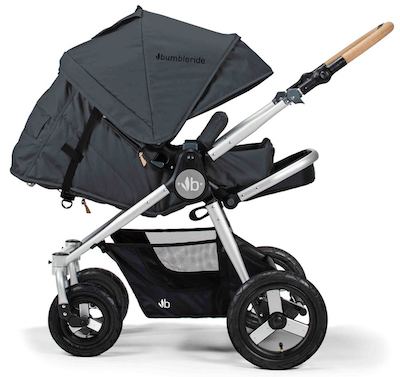 Bassinet
You can also detach the regular seat and replace it with a bassinet – it's the same one that works with Indie and Speed strollers.
Thanks to this solution you'll be able to use your Bumbleride Era from birth and have only one stroller that grows with your child!
What's also noteworthy – the Bumbleride bassinet is approved for overnight sleep.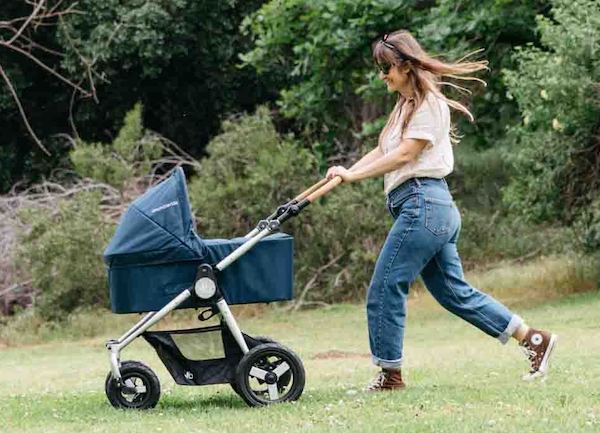 Infant car seat
Bumbleride Era is also compatible with infant car seats – there are adapters for Maxi-Cosi, Cybex, Clek and Nuna (you can already buy them on PishPosh Baby).
Era works with some of the Graco, Chicco and Peg Perego infant car seats too. The adapters are exactly the same as the ones that work with Bumbleride Indie and Speed (for Graco or Chicco use this adapter).
To make the Bumbleride Era travel system you just need to take off the main seat, attach the adapters onto the frame and click in the infant car seat. Easy-peasy!
What's important, you don't have to remove stroller seat to attach the infant car seat. However I think it's better to detach the main seat to make the stroller less bulky and a bit lighter.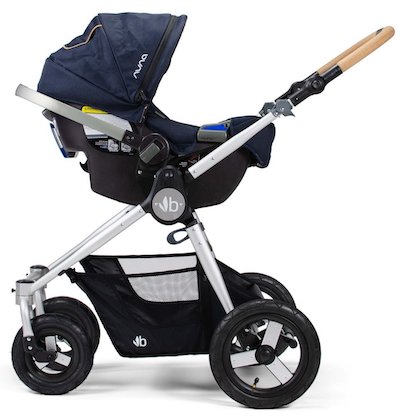 Options for siblings
You can also attach a mini-board on the back of your Bumbleride Era to make a room for older sibling who sometimes gets tired and needs a ride. Excellent solution for a preschooler.
Handlebar
Bumbleride Era has an adjustable handlebar that rotates up and down. There is a wide range of height settings: from 26″ to 44.5″. Thanks to that short and tall parents can comfortably push this stroller without the wrist pain or slouching over the handle.
There is also a wrist strap for added security.
Wheels & Suspension
This new stroller by Bumbleride has 4 wheels with air-filled tires. Rear ones are big – 11.5″, front ones are a bit smaller – 8.5″. The wheels are all-terrain, providing you with a smooth and comfortable ride over old, cracked pavement, gravel trails, grass and snow.
There is also all-wheel suspension – the same that Indie has – which absorbs shocks and decreases shaking when you go over bumps and cracks.
Although this stroller works well on harsh terrain, it's not designed for running – keep that in mind.
I also like the parking brake pedal which is big and easy to find and press with your foot. It may be a bit harder to lift while wearing flip flops, but easy in sneakers and boots.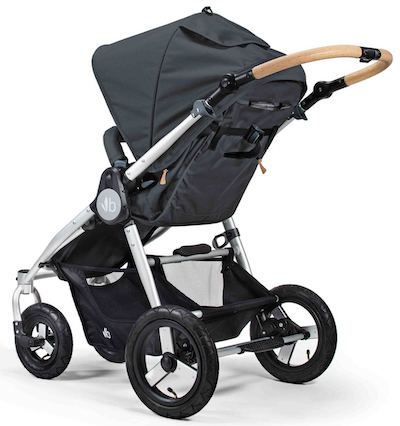 Maneuverability
Bumbleride Era is not only suitable for different kinds of terrain, but it also has a small footprint which makes it a perfect city stroller. It's not bulky or cumbersome – you can take it for shopping to the mall or grocery store and ride through alleys seamlessly.
For moving at higher pace or over bumpier terrain, manufacturer recommends to lock the front wheels. It will make the stroller sturdier.
Storage
This new addition to Bumbleride collection has nice, large storage basket where you can fit even a big diaper bag. It's perfect for day trips because it can accommodate all of your essentials.
The access is always easy from behind the seat, as well as from the front when you lift the leg rest.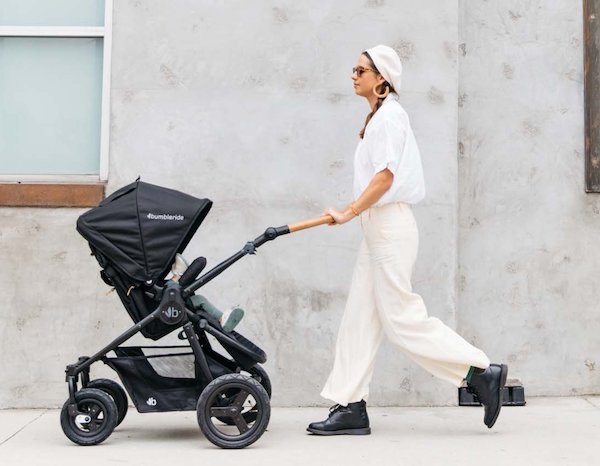 Weight & Fold
This new stroller is definitely not light, but not excessively heavy either. 27 pounds – it's rather standard weight as for an all-terrain convertible stroller.
But the fold is what distinguishes Bumbleride Era from other all-in-one strollers. It features really compact, pretty flat fold which is easy to transport in the car trunk or stow away at home.
To fold the stroller you need to press two buttons on both sides of the seat to collapse the seat in half. Then lift the levers on the sides of the handlebar and flip it to the other side. The stroller will fold down neatly. There is also automatic lock and self-stand for parents' convenience.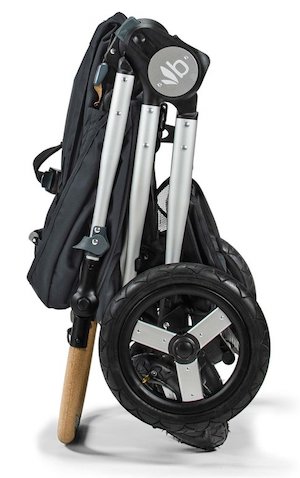 Bumbleride Era stroller is also equipped with a handle, so after you fold it, you can easily lift it to the trunk or carry up the strairs etc.
Scroll down to see how to fold Bumbleride Era (the video presents other features too).
Pros & Cons
Pros
Cons

Pros

---

+ Large wheels roll nicely, even on rigged terrain

+ Suspension makes the ride really smooth

+ One-hand steering

+ Infant mode - suitable for small baby

+ The seat reverses with a few simple clicks

+ Canopy gives a lot of shade

+ Beautiful look, soft and eco-friendly fabric

+ Easy folding, self-stand

+ Basket can hold a big diaper bag

+ Included tire pump

Cons

---

- Rather on heavier side

- Pretty expensive
Bumbleride Era – Colors
This new strollers with reversible seat comes in four color versions: Silver Black, Dawn Grey, Maritime Blue and Matte Black. For 2020 Bumbleride have prepared new color lineup but we have to wait a bit longer to see them.
You can always check on PishPosh Baby which colors are currently available and compare their prices. I also found this stroller on Amazon – I recommend you to check which store offers lower price. 🙂

Video – All You Need To Know About Bumbleride Era Features
Specification
| Stroller | Data |
| --- | --- |
| Stroller Type | Convertible, All-Terrain |
| Stroller Weight | 27 lbs |
| Weight Limit | 55 lbs |
| Stroller Dimensions | 32.5" x 24.5" x 40.5" (LxWxH) |
| Fold Dimensions | 29.5" x 24.5" x 13" (LxWxH) |
| Handlebar Height | 26" - 44.5" |
| Wheels Size | Front - 8.5", Rear - 11.5" |
Bumbleride Era Release Date
Bumbleride Era release date was delayed for a few years (!) but finally the stroller is on the market and you can order it for example on PishPosh Baby as well as on Amazon.
Funny thing, I heard about Bumbleride Era for the first time back in 2013 when I was pregnant with my daughter Haley. I really believe the brand put a lot of effort to make this stroller awesome and I'm really excited it's finally out in the stores!
View this post on Instagram
Bumbleride Era vs Indie – Comparison
Era and Indie are both fantastic all-terrain stroller that share some features, but they also differ in many ways! If you're wondering what are the differences between Bumbleride Era and Indie or which one is better, check my quick comparison table below.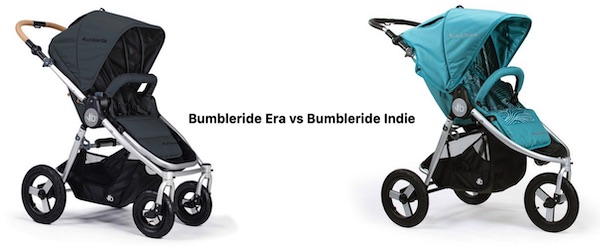 I listed the most important functions that differentiate these two strollers. I hope my comparison of Indie and Era will help you to choose the stroller that suits your lifestyle better!
Bumbleride Era
Bumbleride Indie
All-terrain stroller with all the convenience features for everyday use (walks on & off the beaten path)
All-terrain stroller for everyday use & occasional light jogging
4-wheel design
3-wheel design
11.5" rear wheels + 8.5" front wheels
12" wheels
Not suitable for jogging
Suitable for light jogging
Handles bumpy, uneven surfaces
Handles even more types of terrain (like sandy beach), more agile thanks to 3-wheel design
Reversible seat
Only front-facing seat

13" wide and 9.5" deep seat

15" wide and 9" deep seat

2-panel canopy + sun visor
Slightly longer canopy (2 panels + longer sun visor)
Handlebar height range: 26"-44.5"
Handlebar height range: 26.5"-45.5"
Shorter footprint (32.5")
Longer footprint (37")
Weighs 27 pounds
Weighs 24 pounds
Fold: 29.5" x 24.5" x 13" (L x W x H)

Fold: 32" x 24.5" x 11.5" (L x W x H)

Color lineup (as of February 2020):


Matte Black
Dawn Grey
Maritime Blue
Silver Black

Color lineup:


Dawn Grey Mint
Maritime Blue
Matte Black
Camp Green
Tourmaline Wave
I'm curious which stroller you like better – let me know in the comment section!
Keep in mind
This stroller weighs 27 pounds which means it's not lightweight at all. It's a tradeoff for all those amazing features… Before you decide to buy it, make sure that weight doesn't bother you.
One more thing – Era has air-pump tires which require regular maintenance and pumping once in a while.
3 Reasons Why You Will Love This Stroller
1. It's a 2in1 stroller – for city and all-terrain use. Whenever you need to go to grocery store or get through snow, Era won't let you down.
2. Beautiful and eco-friendly fabrics are perfect for baby's gentle skin.
3. Thanks to removable seat unit, you can use Era as an infant car seat frame – which is lighter and easier to operate.
I also invite you to check my article about other fantastic strollers available on the market this year.
---
All pictures belong to Bumbleride. Source: https://bumbleride.com
Your trust is really important to me: This post contains affiliate links. If you choose to buy something using these links, I may receive a small commission, at no extra cost to you. Your support helps me run this blog. Thank you so much 🖤 Zooey