Is the new Ergobaby Aerloom comfortable to wear and breathable enough for babywearing in summer? How long can you wear a baby in Aerloom? Is it easy to use and adjust? And above all, is this limited edition carrier worth the price?
In my Ergobaby Aerloom review you'll find answers to these and many more questions!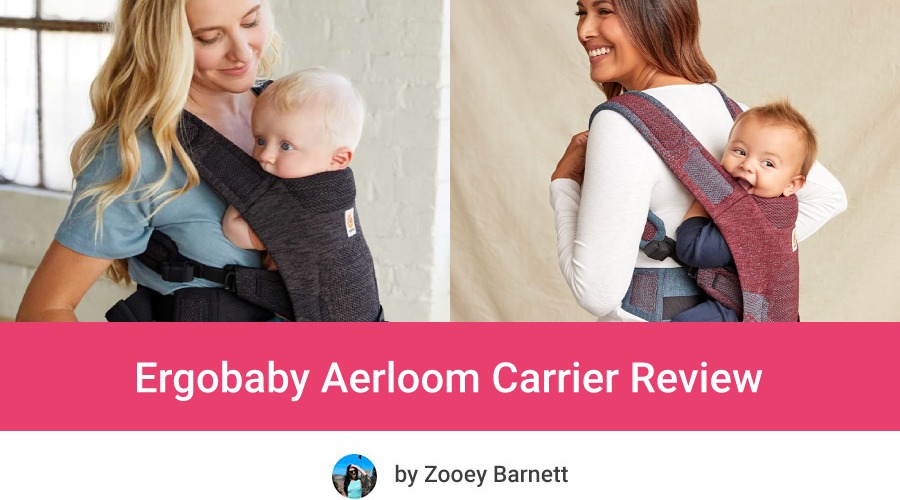 As a parent, keeping your baby close is the most natural thing in the world. Babywearing has emerged to help us forge a powerful bond with our babies, carrying them wherever we go and even breastfeeding on the go.
The Ergobaby Aerloom Carrier is a new and exciting newborn-ready baby carrier. Even though it has a smaller weight limit than other baby carriers, it is a splendid choice which impresses with its innovative fabric and high-end features. Newbies might find it hard to use at first, but thanks to the detailed instructions, you will get the hang of it.
Let's see if the new Aerloom Ergobaby carrier is worth the price.
At the beginning I have to mention that Ergobaby Aerloom is a limited edition carrier which means that certain number of carriers are available in each color. If the color sells out, it will be no longer available for purchase! The only exception is black version which is getting restocked. If you like this baby carrier, don't wait any longer and order it while it's still available! Some colors are now on final sale and you can get them $30 cheaper! > Get your Aerloom here <
This article is NOT a substitute for medical advice. It may contain affiliate links.
Ergobaby Aerloom Review
Suitable for babies aged 0 to 3, the Ergobaby Aerloom will draw your attention with its ergonomic design. The carrier is ideal for parents on the move, and every detail seems to have been chosen with the goal of ultimate comfort. Offering a custom fit for both you and your baby, it is supportive and comfy to wear.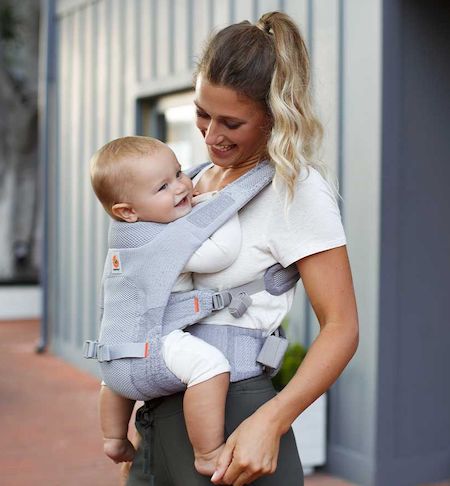 Innovative Fabric
Breathability is a common concern for babywearing enthusiasts. With the Ergobaby Aerloom carrier, you won't have to worry about sweating.
This buckle carrier is made from innovative FormaKnit™ fabric1 which makes it lightweight and allows the air to circulate through. Seamlessly integrated knit mesh panels have been added to the carrier, so you will never run the risk of getting hot while wearing it.
This type of fabric also ensures perfect fit – it "cuddles" the baby in, keeps him securely in place and provides the right amount of support for his body.
PRO TIP: Last time I checked Ergo website you could save $30 OFF selected colors of Aerloom. What's more, you can get extra 10% OFF your Aerloom and this discount applies to all colors! It's the best opportunity to get this carrier at cheaper price. Use the code LBG10 at checkout here >> to grab your 10% discount.
What's interesting this knit fabric is 87% post-consumer recycled polyester + 13% nylon. This makes Aerloom a good choice for eco-conscious parents! There is also 100% cotton lining which received highest safety rating (OEKO-TEX Standard 100).
In case of spills-out or diaper blowout, Aerloom carrier is easy to clean because it's machine-washable. Ergobaby recommends putting it in delicate laundry bag and using 30°C cycle.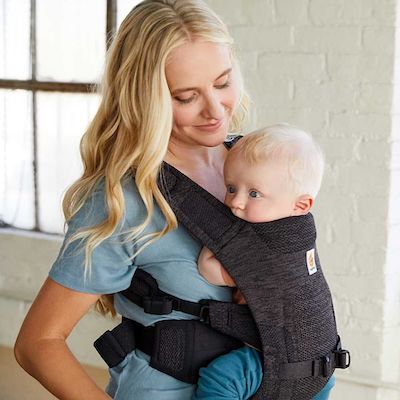 You will definitely like the fact that the Ergobaby baby carrier doesn't feel bulky when you wear it, it's lighter and "less structured" than other Ergobaby carriers.
This carrier won't weigh you down – in fact, it is one of the lightest products of its kind on the market. By choosing the carrier from Ergobaby, you will never complain of back pain, and you will surely enjoy that it stretches just enough for you to feel comfortable.
If you're looking for buckle carrier that is lightweight and thin, yet very supportive, I also recommend you this Ergobaby Embrace carrier. This is a fantastic inexpensive option for babywearing beginners. This light fabric will keep you from sweating and it won't strain your shoulders. If you want to read more about it, here's my review.

By the way, during Cyber Monday sale (only till 12/4) you can get FREE Embrace carrier with the purchase of Ergobaby Aerloom! No code needed, just pick your favorite color here >>
Comfort & Adjustments For Parents
Aerloom has curved straps with soft padding – nothing digs into your skin. They are not as thick as straps on Ergobaby Omni 360 or Adapt. I actually think that these thinner straps are better because they don't make you sweaty and they don't stick out. Besides, if you're petite, these straps will fit better and won't fall off your shoulders.
What distinguishes this carrier is excellent lumbar support – another feature that contributes to the "friendliness" of this carrier. There is a large lumbar supports for the lower part of your back. Aerloom has also wide waist belt with generous padding. Both these features help to distribute baby's weight across your body. It prevents you from back pain and doesn't strain your pelvic area.
Regardless of the chosen carrying position, you will find it to be ergonomic and easy to adjust. There are 5 adjustments – and although it may seem a bit hard to adjust those straps while babywearing, once you get a good hang of it, you'll be doing it really quickly.
You can adjust the waist belt on both sides, tighten the strap on your back and adjust the shoulder straps (the adjustment is actually under the armpit).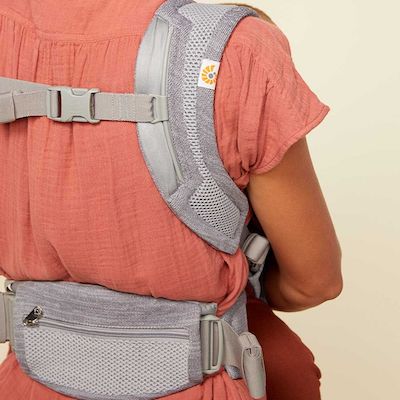 Aerloom baby carrier is light yet sturdy, easy to use and comfortable to wear for longer periods of time. According to parents, the back support is great and you don't feel any of the straps digging into your skin.
For moms, the Ergobaby Aerloom is a great choice, as it allows them to breastfeed while carrying their babies.
A cool feature is the zippered pouch, which can come in handy when you're out and about. I wish it was on the front of the carrier, but it's not a dealbreaker. It's still good to have a pocket for small valuables.
Does Ergobaby Aerloom Fit Plus-Size Parents?
What I love about all Ergobaby carriers is that they adjust for parents with larger frame. Aerloom has also long straps and it easily fits plus-size moms and dads. The waist belt adjusts from 17 to 53 inches. The shoulder strap loops can be extended from 25.7 to 50.6 inches.
Carrying Positions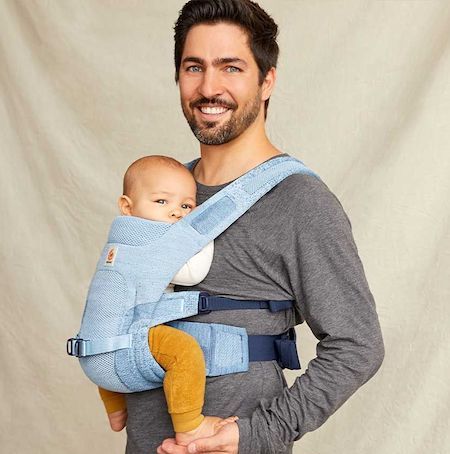 Suitable from birth, the Ergobaby carrier requires a minimum weight of 7 lbs, and a minimum height of 20 in. It can be used until the age of 3, or until 35 lbs.
There are three carry modes parents can use, depending on the age of the baby: front carry inward facing, front carry outward facing, and back carry. On the manufacturer's website, you can find a detailed instruction manual – you will find extensive recommendations to prevent fall and suffocation hazards.
The inward carrying mode is newborn-ready, while the front carry outward facing and back carry are recommended for older infants who can keep their head up.
Keep in mind that babywearing experts recommend outward carry position only for shorter periods to prevent overstimulation.
Even though I'm not a fan of wearing baby outward, I'm really happy that Ergobaby makes this position comfortable and ergonomic for the child! It doesn't put pressure on baby's crotch or thighs and provides proper support for their legs, bottom and back.
In all positions baby's legs are well supported and don't dangle.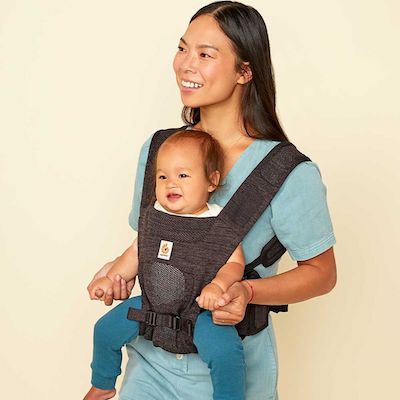 Ergonomics & Safety
All Ergobaby carriers have received acknowledgment from the International Hip Dysplasia Institute, being recognized as hip healthy products2.
Aerloom has just been launched so we are yet to see if it's going to be approved as hip-healthy, but I'm pretty sure it will, because it helps the baby to maintain the most natural position ("frog position") – safe for their hips.
When placing your baby in the Ergobaby Aerloom, you will notice his/her legs adopting the "M" position, regardless of the carry mode. The carrier provides proper support for baby's thighs – from knee to knee and keeps baby's knees higher than the bum.
It doesn't force baby to straighten his back. On the contrary, it supports baby in the natural position with C-shaped spine.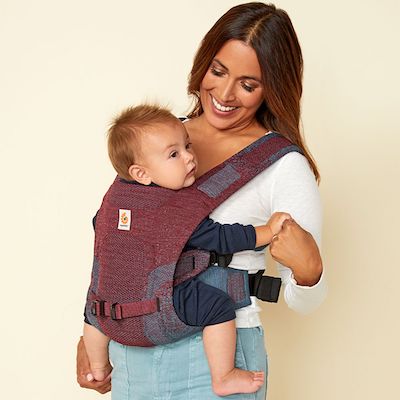 The AGR in Germany has also awarded the brand a Seal of Approval. The Aerloom has been appreciated for its "back-healthy design" for the baby and parents.
Eco-Friendliness
It might also interest you to know that Aerloom is also a sustainable product, which guarantees a lighter carbon footprint. Produced from post-consumer, recycled polyester yarn and lined with 100% cotton fabric, it is an environmentally-friendly choice. No harmful materials are used for the making of this carrier.
Right now it is available in 5 color versions, each color comes in a limited stocking (choose your favorite color here). Keep in mind that this is a limited edition carrier – when the color sells out it won't be restocked again!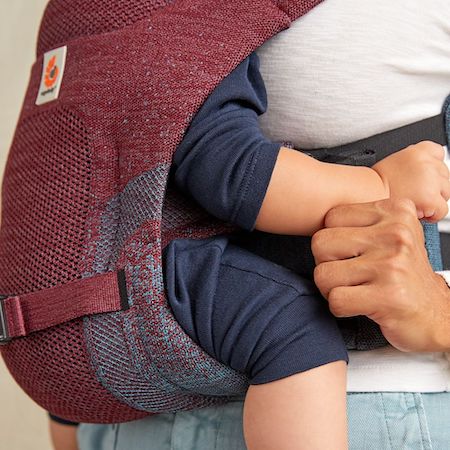 Is This The Right Carrier For Your Baby?
From the first use, you will fall in love with this baby carrier. From the eco-friendly mesh material to the enhanced breathability, you will find the Ergobaby to be just the carrier you need. Parents who have wrote an Ergobaby Aerloom carrier review declared themselves to be perfectly satisfied with its features, they found the carrier easy to put on, soft, cozy and light.
Reasons To Buy Aerloom
There are a lot of reasons for which you should consider purchasing Aerloom: innovative fabric, multiple carrying positions, ergonomic & safe design, comfortable use. Once you practice it a few times, you will find that it is simple to configure the straps and back part, so that both and your baby can enjoy a snug fit. Your baby will be snug as a bug in a rug, and you will enjoy being hands free, carrying your baby everywhere.
Compared to other carriers, the Ergobaby baby carrier has thinner straps that don't stick out or fall off shoulder. Moreover, they are easy to adjust to all body sizes or types – many parents have mentioned sharing the carrier with other caregivers. The zip pouch was appreciated, as it allows parents to carry essentials, such as the phone or credit cards.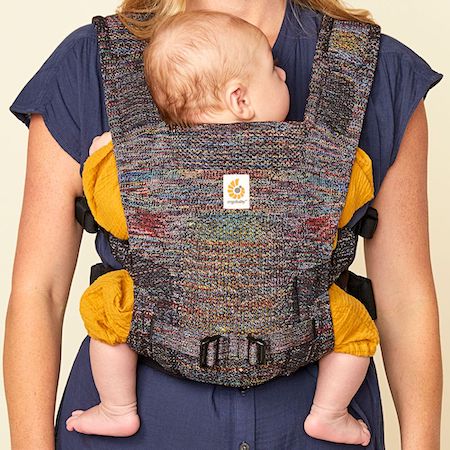 All in all, this is a great carrier for everyday use, that offers enhanced support, especially when compared to other similar products. Its user-friendly design makes it a superior product to wraps and slings, and its lightweight structure stands as testimony for Aerloom being a good choice for parents leading an active lifestyle. Unlike other structured carriers, it is not bulky or heavy to wear.
Plus-size parents have mentioned they had to expand the waist belt almost fully, but it did fit them and there weren't ton of excess that would bother them (BTW, if you're looking for plus size carrier check out Ergobaby Omni 360 and other awesome baby carriers for plus-size parents).
Ergobaby managed to create a carrier that is lightweight, comfortable, and breathable. The design is unique and so is the choice of fabric, the product coming as the next level in terms of babywearing. Aerloom distinguishes itself from the rest of Ergobaby carriers, thanks to its innovative breathable fabric.
Why Aerloom May Not Be A Good Choice For You
Naturally, you must ask yourself – does this baby carrier have any drawbacks? Well, there might be a few things worth mentioning, but keep in mind that these are related to each individual experience.
Some parents have mentioned that the zip pouch is not that easily accessible, but, I don't think it's a real deal breaker. It's still nice to have a storage pouch which many other baby carriers lack.
It has been said that the carrier is rather bulky when not in use, or that it might be difficult to follow the setup instructions. For instance, there were parents who found it hard to adjust the clasping strap, while others had trouble required the assistance of their partners to completely set it up. As a general rule, once you get past the learning curve, there should be no issues with the Aerloom.
Also, the head support might not reach mid-head level in all babies, with the parent having to support the baby's head. There is no cover for the head, so this might be a disadvantage as well.
Is this baby carrier worth the money? I believe so. My recommendation for you is to go over the Ergobaby Aerloom reviews (check them here), and jot down all the features of this product. However, I'm pretty sure you will love this baby carrier! It offers a snug fit for you and your baby, and allows to enjoy the beauty of babywearing and constant snuggles!
PRO TIP: If you like this baby carrier make sure to order it soon, as Aerloom is limited edition carrier and once it sells out, it won't be available again!
---
If this carrier doesn't meet your needs, check out these fantastic hip-healthy baby carriers (top choices in 2022).