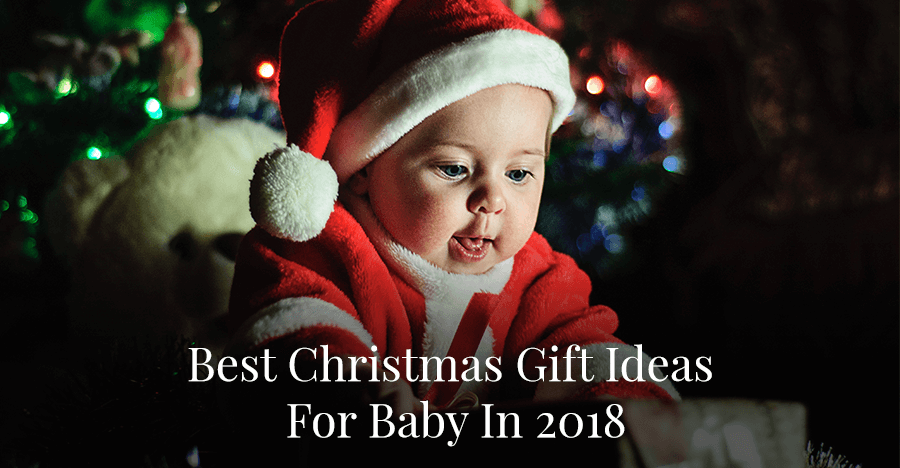 To see the joy on a child's face after unpacking Christmas gifts – it's priceless. This moment is definitely worth the effort. No matter if it's the first Christmas with the baby or the third one – I'm sure you want to it to be magical.
Instead of running from store to store, take a look at my tips and my gift ideas for babies. See what will be suitable for a newborn, what will make one-year-old baby happy and what will bring joy to a 2-year-old child.
Check with me the most adorable Christmas gift ideas for 2018 and choose the perfect gift that will put a big smile on your child's face (without you spending a fortune!).
Below you can find my Christmas Gift Ideas for Baby for 2018, but you can use them also for other occasions: baby shower party, child's birthday or just a normal visit! My list contains not only toys, but also other useful baby products.
My Favorite Christmas Gift Idea For Baby For 2018
Age recommendation: 0 months +
Excellent for infants for overhead play and tummy time and for toddlers for seated play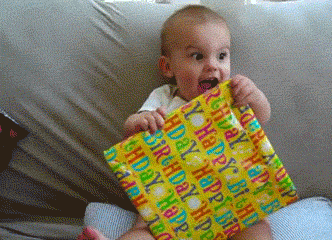 Christmas Gift Ideas for Baby 2018
Here are my Christmas gift ideas for baby for 2018 in wide price range – so everyone could pick something that suits their budget. I put everything in order depending on recommended baby's age and the type of the gift.
Recommended age: 0 months +
1. Skip Hop Baby Infant and Toddler Camping Cubs Activity Gym and Playmat
This is definitely my favorite playmat. It's very interactive like others, but this one also looks super cute! It has very unique design – it looks like a wooden shelter! It offers great space for infants for overhead play and tummy time thanks to a plush bear pillow that provides proper support.
This playmat is also suitable for toddlers for seated play. There is so much to do and explore! The mat is super soft and comfy and has plenty of funny pictures animals in the woods. There are over 17 different activities so we can be sure the baby will enjoy this playmat for a very long time.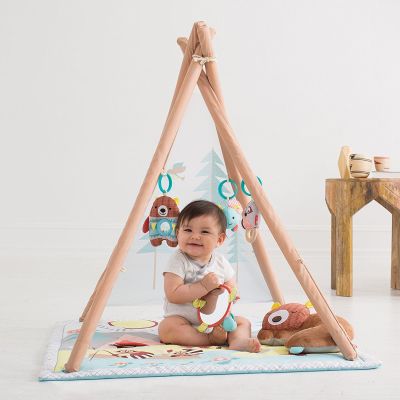 There is a turtle mirror, light-up firefly, bear rattle, musical raccoon that plays "Twinkle, Twinkle Little Star" and peek-a-boo felt flat. Each features help to develop baby's sensory and motor skills and strengthen upper body through tummy time. Thanks to this playmat baby can have its own cozy space for entertainment and education.
2. Fisher-Price Music and Lights Deluxe Gym
This is another great playmat for infants and toddlers. There are many toys hanging above baby's head and the whole mat is covered with pictures of wild animals. It's not only great for keeping baby's attention, but also introduces them with new creatures. Baby's movement activates music and lights.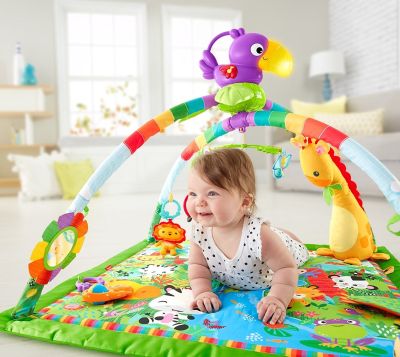 This gym is excellent for infants to lay and play or for a tummy time. It encourage baby to lay on the tummy and explore new pictures and toys. It's really important for building baby's upper body strength.
This playmat provides hours of sensory stimulation. Baby can watch itself in the mirror or play with toy animals: spin the snail's rollerball, watch lion hanging down from the bat or make the zebra clack. It's also useful for travel to grandparents or on vacations.
3. Skip Hop Baby Treetop Friends Activity Gym/Playmat
This playmat also provides so much entertainment and supports baby's cognitive development and motor skills. There is a picture of the big tree on the mat and above baby's head there are forest animals hanging down: owl, birds and squirrel.
All of these toys and pictures are very attractive for babies and promote tummy time to strengthen baby's upper back. There is also cozy supportive pillow for baby's tummy time. A child can also lay on the back to watch and grasp animal toys.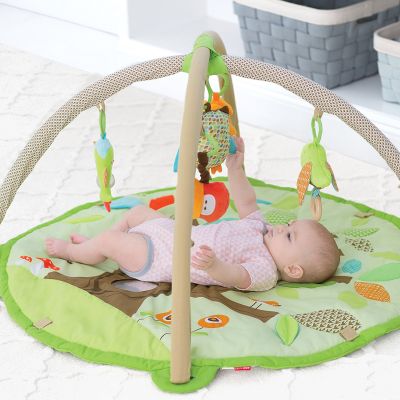 There are also crinkle leaves, a mirror and flower that squeaks to stimulate baby's senses and help in comprehensive development. This playmat provides so many different activities so you can be sure your baby will have lots of fun for a long time!
4. Infantino Twist and Fold Activity Gym
This playmat is beloved by many parents and children! It's great for infants for their tummy time and overhead discovery and for toddlers who can already sit. It is excellent place for fun and learning new things. There are many toys hanging down from the bats above baby's head: giraffe, elephant, monkey and lion.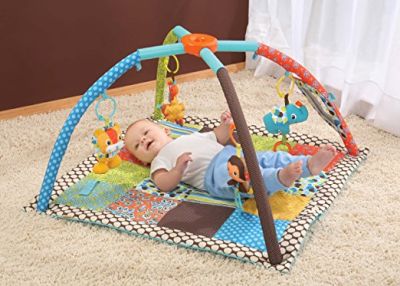 There is also a large mirror. The whole mat is super colorful, have different fabrics and patterns to help in baby's vision and tactile development. It's also easy to fold and takes a little space so it's not only simple to storage but also perfect for travel!
5. Arshiner Baby Kid Toddler Play Crawl Mat Carpet Playmat Foam Blanket Rug
I decided to add this product to my list of Christmas gift ideas for baby because I have been using this mat for a year and I saw that other parents are also very satisfied with it. It was a gift from grandparents when boys were 1 month old. We have the version with letters, words and food on one side and the farm on the other side.
We started using this playmat when boy were two months old. It is made of soft foam so they could lay comfortably on it during tummy time and practice neck control. Now it serves us for playing and learning. This mat is not only for baby's entertainment but also helps learning the alphabet and new words.
"One of my sons loves the picture and word "eggs". I don't know what's so special about it but he just loves to stare at it and repeat this word. And apparently it's really amusing for him! The other one is a huge fan of the picture of a truck. He all shakes with joy when he looks at it." ~ Zooey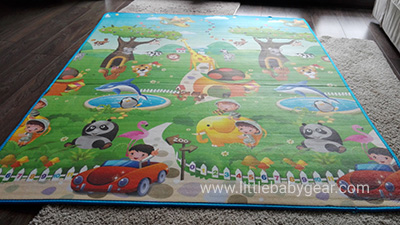 Boys are now really familiar with all the colorful pictures and words from one side, I think we will switch to the Farm side soon. This mat was also very helpful for crawling and learning how to walk – it's definitely better than a hard floor, so all the falls didn't hurt so much 🙂 I love this mat – it engages baby in many ways, it helps in baby's development and makes learning so much fun.
This thing is also easy to storage because we can roll it up or just fold it. However, we never do that, it lies on our floor the whole time. Sometimes me and the daddy walk over it in flip flops and the material is still untouched. We've been using for a year now and it still in a really good shape.
"It's easy to clean with a wet cloth that's the waterproof fabric. It survived our boys' first birthday party when daddy was blowing soap bubbles and the whole liquid spilled out on the mat. It stayed intact!" ~ Zooey
Excellent Christmas gift idea for baby, very durable, enjoyable and educational.
6. Pingko and Friends Baby Care Play Mat Foam Floor Gym
This is another great playmat that could be the perfect gift for baby, but you will need a bigger budget for it. It is also waterproof and reversible. On both sides there are very colorful pictures of animal with their names. It's awesome and fun way for the baby to learn new words and get to know the animals.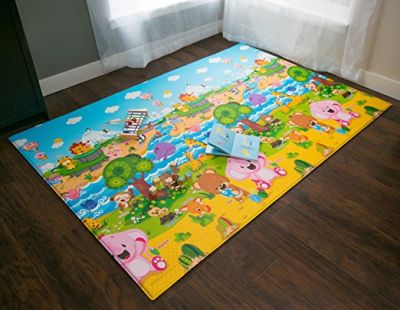 Besides this playmat protects baby for hard falls which makes it the perfect place for learning how to crawl, sit and stand and walk. This playmat is really awesome but it is an idea for a little more expensive gift.
7. Nuby Teething Blankie
Are you looking for a Christmas gift ideas for teething baby? This Nuby Blankie will be perfect! It's very versatile toy. It has many teething surfaces so the baby can massage sore gums.
In the middle of the blankie there is a plush animal: lion, frog, monkey or bear and the squeak when squeezed! There are also four different fabrics to capture child's attention and stimulate its senses. Nuby Teething Blankie is suitable for newborns and teething infants.
8. World of Eric Carle, The Very Caterpillar Let's Count Clip-On Book
This soft book contains plenty of colorful pictures of fruits with their name and numbers. And it squeaks! It's an awesome and fun way to learn new words and numbers! Thanks to a hanging clip your baby can learn and have fun anywhere!
9. Our best soft book for babies from ToBeReadyForLife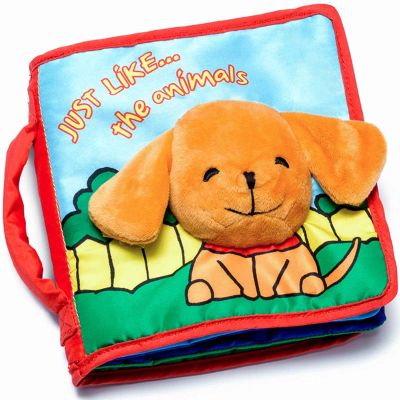 This gift will make your infants and toddlers very happy. It's an entertaining and educational cloth book that has numerous adorable and stimulating features. There is a mirror, peek-a-boo flap, different textures and it also makes sounds! During reading this book you have a chance to strengthen the bond with your baby.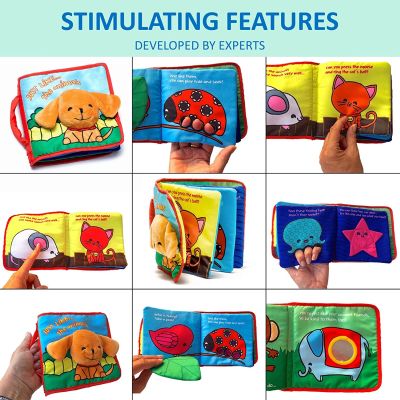 Your baby will have so much fun while practicing sensory skills, imagination, communication, language and reading skills. It is never too early to start reading book to a baby. Moreover, this toys is also packed in a luxury gift box which makes it the perfect Christmas gift idea for baby!
Click below to see how much this book costs on Amazon

10. Small World Toys IQ Baby – Knock-Knock Blocks
These soft block are beloved by many kids! They can stack them up and then knock them down. There are many different colors, patterns and shapes, some of the blocks make crinkle noises, rattle or jingles to stimulate babies senses, hold their interest for a long time and provide maximum fun! It also help to learn cause and effect.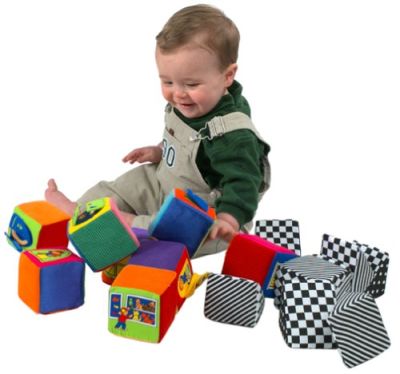 Each block is 3'' square and they are super soft therefore it can be very versatle gift idea for babies 0-36 months.
11. Edushape Giant Blocks
Another great set of blocks, suitable for children of all ages! They can provide fun for infant, toddlers and even preschoolers so it is a gift that can serve for years. The blocks are soft, lightweight, colorful and have different shapes and sizes. Kids can built with them different constructions or stack them up and then knock them down.
They promote motor skills, hand-eye coordination and visual sensory development. They also help in development of logic and reasoning. They also encourage playing with other kids which helps in socialization. Great durable gift, that helps learning in a fun way.
12. Hudson Baby Animal Face Hooded Towel
Hudson Baby has huge offer of sweet and soft towels for babies. There are two dozens of different option with animal faces on the hood. We can choose a giraffe, fox, elephant, bunny, bear, lamb and many more! They are made of cotton terry which is very absorbent and comfy. With these baby towels you can be sure the bath time will be excellent fun!
13. Natemia Extra Soft Baby Bamboo Hooded Towel
Bamboo Towels are hypoallergenic and bacteria resistant which makes them great for children with sensitive skin and skin conditions. With Bamboo Towels from Natemia we can wrap our babies closely to keep them warm. The hood covers baby's head and hair and it has funny ears so baby looks in it so sweet and adorable!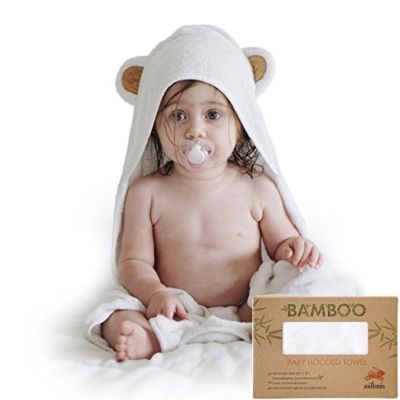 These towels are made from 92% natural bamboo and 8% microfiber which makes them extra soft and plush. They will make all babies super comfortable after the bath time. This is perfect Christmas gift idea for infant or toddler, whether it is for you child or friend's. It is very useful, eco-friendly and charming.
14. R. Gibson First 5 Years Memory Book
This is very adorable memory book of baby's first five years. Parents can write down some memories and milestones like first words and first step, but also first haircut, first travel, birthday parties, first day of school and other sweet memories.
There is also a place for footprints, handprints and hospital bracelet! I guess at the beginning it is rather a gift for new parents, but when the baby gets older it will be great gift and memento for it too. I also have such a memory book for each of my kids. It will be awesome to look at it in 10 or 20 years! 🙂
This memory book has many different color versions and patterns so you can find something for a baby girl and baby boy.
15. Pampers Swaddlers Disposable Diapers – One Month Supply
I decided to put them on my list, because it is so obvious that parents really need A LOT of diapers, yet they are rarely bought as a gift 🙂 I think most of parents would be extremely happy to receive one month supply of diapers! Maybe it's not the most fancy gift ever, but it's useful and practical and parents will certainly use it.
Recommended age: 3 months +
16. Skip Hop Bandana Buddies Soft Activity Toy
This elephant was my son's favorite toy for almost a year! He started using it when he was 3 months old and since then he wanted to take it everywhere, concentrated and played with every part of it for very long time.
Why he loved it so much? Well, it has different fabrics, textures and colorful patterns, rattle rings and squeaker, crinkle and a mirror! He played with it at home and during walks thanks to an attachment to stroller. He loved the green leaf which helped him at the beginning of teething and the ears that rustle. It was wet all the time 🙂
This elephant is really awesome, it provides multi-sensory play and it's so cute and fun!
17. Skip Hop Explore and More Roll Around Rattle Toy
Excellent gift for an infant (from 3 months), that support tactile and visual development. This rattle is very colorful and there and few version with different animals. I love the one with hedgehog and the one with owl. There are also rattle beads. This thing really attracts baby's attention and stimulate its vision and hearing.
Thanks to this toy baby can learn how to grasp, shake, roll and toss. There are also few rubberized parts for teething baby to stimulate gums. The teethers, beads and wholes are very attractive to a baby and they encourage to touch and explore. It can be one of the first baby's educational toys and excellent teether.
18. Vulli Sophie la Giraffe
Probably one of the most popular teethers in last couple of months. It's not only great for soothing sore gums but engages the baby in many positive ways: contrasting spots provide visual stimulation. Sophie the Giraffe is also easy to recognize and very quickly becomes a familiar object for the baby.
She squeaks to stimulate baby's hearing and amuse baby. There are numerous parts to chew: legs, ears, horns so is perfect for irritated gums. It's made of natural rubber and food paint (that's why it fades).
19. Playgro Clip Clop Activity Baby Rattle
The best toys for infant are the versatile ones, which are colorful, make sounds, have different fabrics, textures and hanging objects. They engage kids the most and stimulate their senses. I love these toys and Clip Clop Activity Rattle from Playgro is an excellent example of such toys ! It has many features that support hand-eye coordination, stimulate auditory senses and helps to develop motor skills.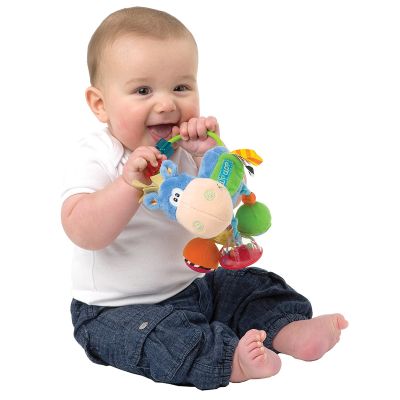 There is a mirror, crinkles, rattle, it makes click clack sounds, there are lot of parts that babies can grasp, shake or swing to practice their motor skills. There are also parts perfect for stimulating gums for teething baby. Thanks to this toy baby can learn how to distinguish colors and recognize familiar object, noises and faces. Clip Clop is suitable from 3 months.
20. VTech Baby Rattle and Sing Puppy
Very versatile toy for infants (from 3 months) which stimulates their senses and aid the sensory and cognitive development. There is a rattle to shake, puppy's cheeks that light up, it makes different sounds, plays songs and fun phrases.
And the best are the ears! They are so colorful and crinkly and provide visual and tactile stimulation. This toy is super funny and supports baby's development – I love this combination.
21. Bright Starts Grab and Stack Blocks Toy
These four soft block have different colorful pictures and patterns and introduce baby with letter, numbers and animals.  Each block has crinkles, satin tags and knotties. They all make sounds: rattle or jingles. Baby can explore, stack, built up or knock down. This toy stimulate baby's senses and makes the playtime a blast! It is suitable from 3 months.
22. Baby Einstein Take Along Tunes Musical Toy
This toy is easy to grasp even for small hands. It plays seven classical melodies from Chopin, Mozart and more in baby-friendly version and it lights up. Baby can learn new sounds and melodies and dance to them!
This toy is great entertainment for infants and it promote their auditory development and visual perception. It's suitable for babies from 3 month
23. Baby Banana Infant Training Toothbrush and Teether
I love this thing! It's great for teething baby because baby can massage irritated gums and little teeth with thick bristles. It's also really awesome for developing good oral hygiene habits – it's never too early for that! 🙂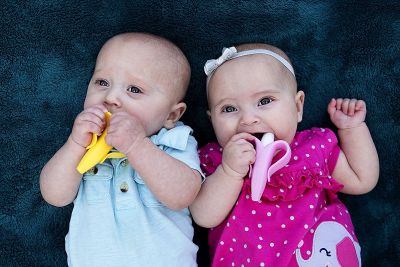 Thanks to this baby toothbrush child can get used to brushing teeth and learn that it isn't scary! This is excellent gift idea for baby from 3 to 12 months.
Recommended age: 4 months +
(infants who can hold head up unassisted)
24. Fisher-Price Deluxe Sit-Me-Up Floor Seat
This seat provide comfortable and supportive place for a child to play and learn new things. It has foot pads that squeak when baby kicks them. It increase baby's curiosity and aid gross motor development.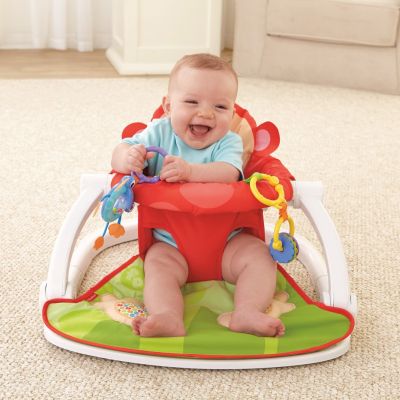 Thanks to it baby can sit in upright position, watch the World or play with the toys that are attached to the base: teethable clackers and rollerball frog. Great for infants from 3 months. Thanks to Fisher-Price Seat baby has comfy and safe place for playing and mommy can quickly take care of household duties.
25. Fisher-Price Rainforest Jumperoo
My boys were using this Jumperoo and they loved it. I also found thousands of positive reviews from other parents, therefore I decided to included it to my list of Christmas gift ideas for baby. This thing is designed for babies that have perfect neck and head control, but are not able yet to climb out and walk.
Thanks to it baby can sit and play or jump in a safe place and gets reward for it: there are colorful light, sounds and music. There is a soft toy bar with engaging toys, a small piano and two soft leaves that extend from the frame, animal toys that dangle down to provide entertainment for the baby.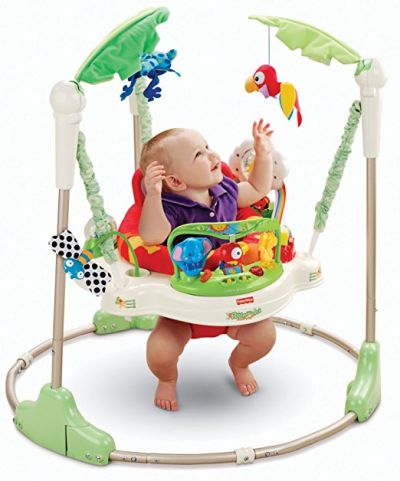 The seat rotates and has three height position to provide baby maximum comfort. Everything that is in Rainforest Jumperoo engages baby in many ways and support its development. Thanks to spinning seat baby can see all around and there's always something to discover and laugh about!
26. Evenflo Exersaucer Bounce & Learn
With Evenflo bouncer baby has a safe and secured place to learn and play. It can be an alternative to walkers. The child can rock, spin and bounce to strengthen back, neck and leg muscles.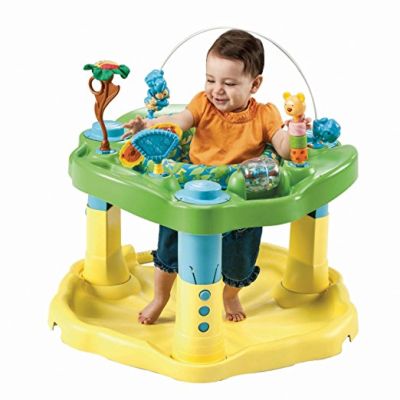 The seat swivel all the way around and gives baby access to many colorful and educational toys. Baby can grasp, shake and roll them. They support motor skills development, tactile and visual development, learn cause-effect and practice hand-eye coordination, allow baby to explore different object and learn object permanence. It can be a great gift for an infant or a toddler (up to 24 months).
27. Skip Hop Explore and More Baby's View 3-Stage Activity Center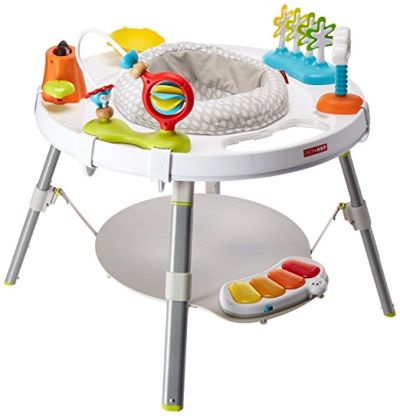 This active center makes learning super fun. It captivates the baby in numerous ways. There is a 360-degree rotating seat that stretches for bouncing and a Discovery Window so the baby sees their feet and can learn cause and effect. Baby's toys can be attached to the frame so the baby can play with their favorite toys while seating and bouncing.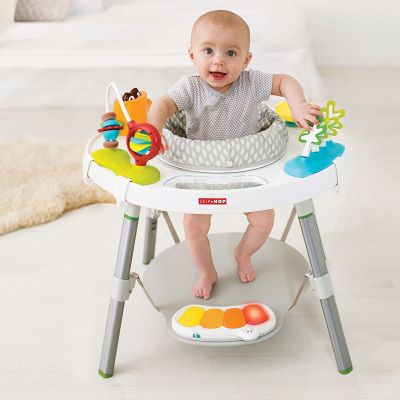 There is also a piano that lights up, peek-a-boo owl, cloud with colorful beads, a spinner and swaying trees. This active center also grows with the baby and when he/she outgrows the seat we can convert it to a sturdy table for playing, coloring, writing and more! It is recommended from 4 months to toddlerhood. Therefore it can be a gift that will serve for few years.
Recommended age: 6 months +
28. VTech Baby Lil' Critters Roll and Discover Ball
This plush ball is great for entertaining and learning. It has soft textures and tags that attract baby's attention and promote tactile development. This ball also help to learn color, number and object thanks to colorful pictures. It also encourage baby to crawl thanks to a motion sensor that triggers sounds and phrases when the ball is tossed or rolled around! So it aid cognitive and motor skills development. Excellent for children from 6 months to 2 years.
29. Sassy Developmental Bumpy Ball
This toy engages baby in numerous ways and stimulates the senses. There are many different textures and materials that aid tactile sensitivity development. Chunky sized bumps encourage baby to reach, grasp and transfer from one hand to the other.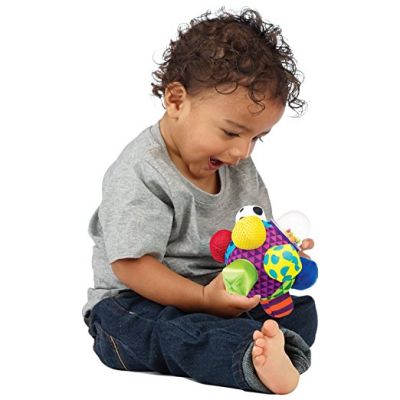 It is super colorful, has many different pattern and also makes rattle sounds to help in sensory development. High contrast colors and bright colors are appropriate for infant's developing vision and help baby to focus. This toy is suitable for baby from 6 to 12 months old.
30. Skip Hop Baby Explore and More Rocking Owl Stacker Toy
This Owl has 5 unique play pieces. It rocks, rattle and rustles! There are click-clack rings, rattle beds inside owl's head and teething textures for sore gums! Babies can stack and decompose the owl to practice hand-eye coordination and develop motor skills. I'm sure your baby will love it! It is suitable from 5-6 months.
31. The First Years Stacking Up Cups
Another great toy that engages baby in numerous ways. There are 8 colorful cups which baby can stack together or built a pyramid with it. The cups have different sizes and colors so they help to learn differentiation, practice counting and learn colors.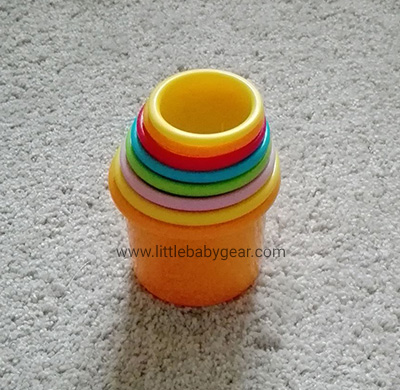 Babies can put things inside the cups and take them out or hide things underneath. There are so many ways to play and learn! I used these cups to hide other toys underneath and teach my kids that objects still exist even if we don't see them. All of my three kids love to play with these cups!
32. Fisher-Price Rock-a-stack
This type of toys is one of my boys' favorite! We have three different models, one made of wood and two plastic ones like this one. It's also great for teething! Fisher-price Rock-a-stack has a bat-at rocker base and five colorful rings in different size. Top ring is shiny, has swirling, rattling beads inside and makes rattle sounds which is so much fun for kids!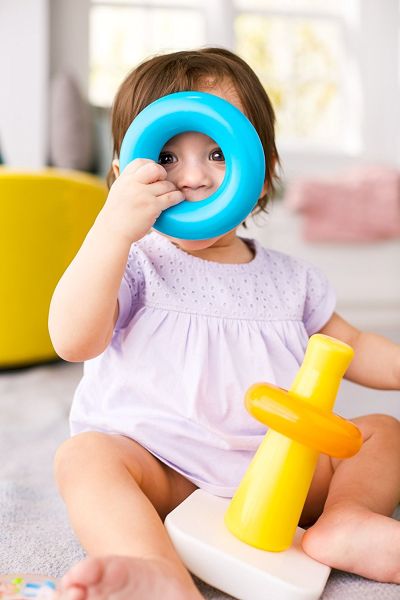 This educational toy helps to learn how to grasp and stack and differentiate among sizes and colors. My boys have been playing with it for like 3 or 4 months now and they still like it and they are getting better and better with stacking!
33. VTech Drop and Go Dump Truck
This is another gift idea for baby over 6 months. Child can drop colorful rocks into the dump truck or press buttons which help them to develop hand-eye coordination, learn colors, numbers, tools and melodies.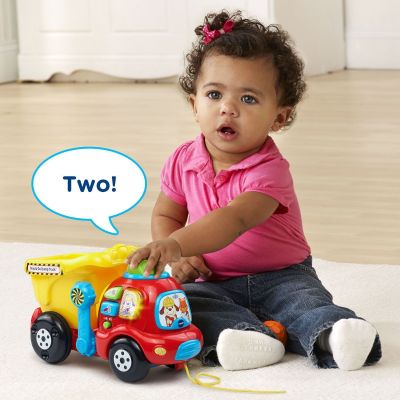 When the rocks are in the bucket, the child can push or pull the truck and watch the rocks rumble around inside the bucket. Then baby can unload the bucket by lifting it up. Each activity promotes baby's motor skills. It is a great toy for early education.
34. Fisher-Price Brilliant Basics Baby's First Blocks
Pretty simple but very engaging educational toy. There are ten blocks in five different colors and shapes. Child can sort and stack these colorful blocks and thanks to it can learn how to identify and match shapes.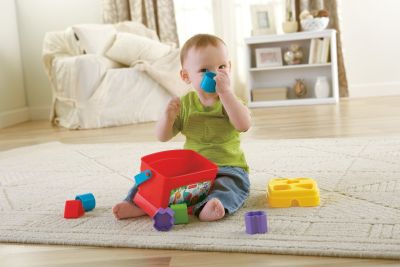 This toy is awesome for hand-eye coordination and cognitive development. Great for 6-month-old babies and 1.5-year-old toddlers. Baby will have fun with it for a long time.
35. Lamaze Peek-A-Boo Forest
Who says that learning can't be fun? This soft book is excellent and fun way to learn about animals. It has colorful cloth pages with pictures of animals and peek-a-boo flaps that help to develop hand-eye coordination and motor skills.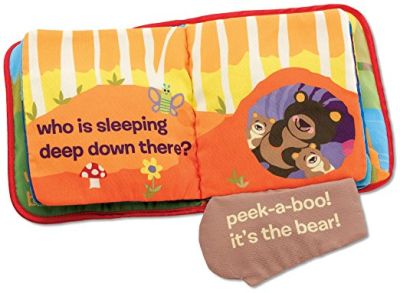 There are also fun stories with rhythms to promote language development. This book stimulate many baby's senses thanks to colorful pictures, crinkles and different textures. There are also other books in this series with other animals and objects!
36. VTech Rhyme and Discover Book
This interactive book is recommended from 6 months. It plays popular nursery rhymes, songs, sounds and phrases. There are six colorful pages and three buttons that light up to stimulate not only baby's hearing but also vision. It's very durable and can provide excellent fun to infants and toddlers.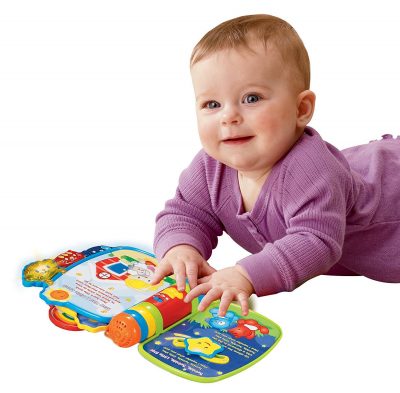 Vocabulary and songs are age-appropriate and introduce baby with animals and familiar sounds. Parents can sing-along with their children which helps to develop baby's verbal skills and strengthen parent-child bond. Child can also develop motor skills while turning pages. With this book babies can learn while having fun!
37. Baby Einstein Discovering Music Activity Table
This toy engages baby in many ways and stimulates it's senses. It introduces baby with familiar sound, melodies, colors and numbers in three different languages: English, Spanish and French. It helps to develop motor skills by pressing different buttons, flipping book pages and rotating a ball with rattle beads. There are also lights and drumming sounds that rewards baby.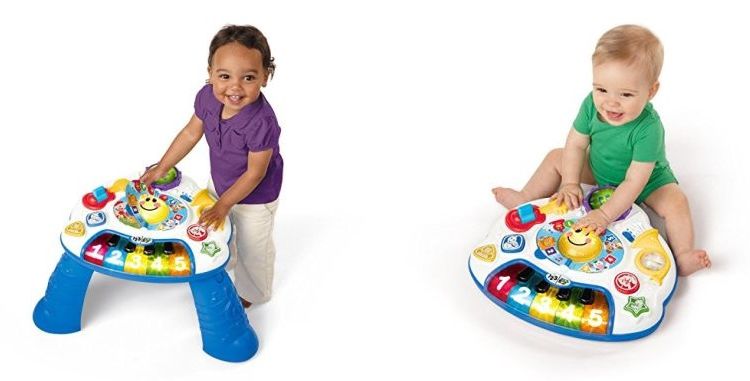 I really like this toy because it can be used for children at different ages. If your baby can stand already, you can use it as a table. And if your baby is younger and can already sit straight you can use only the board and let your kid play on the floor.
38. Hape Double Bubble Wooden Toddler Bead Maze
This is very engaging educational toy, great for toddlers from 6 months and up. Babies can move wooden beads from one end to the other, watch them falling down, spinning and rolling. They can also slip larger beads over the smaller ones which demonstrates them the concept of "inside and outside".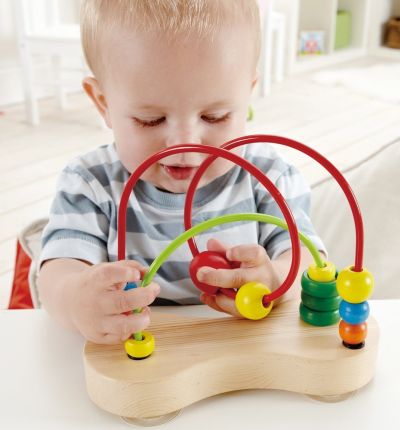 This toy help to develop hand-eye coordination, promotes dexterity and creativity. With this bead maze your child will have funny playtime and learn new things.
39. Fisher-Price Laugh & Learn Smart Stages Toolbox
This toolbox is an awesome toy that grows with the baby. We can choose the level that is the best for our baby. We can choose songs, words and phrases adjusted to baby's age and developmental stage. There are also sing-along songs that help baby to develop verbal skills and they are also excellent opportunity for parent-child interaction.
There are three levels, first one for babies from 6 to 12 months and the second one for kids from 12 to 18 months and the third one for children over 18 months. At the first level baby can practice tapping pegs, opening and closing the toolbox and batting the roller. Each activity rewards baby with shape and color names, funny sounds, words and songs!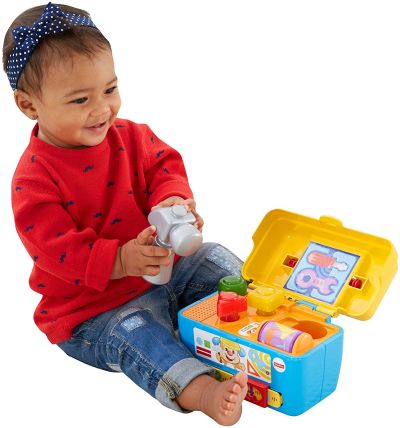 At the second lever baby can learn how to identify shapes and color. With this toolbox your baby can also learn few Spanish words and phrases! Voice phrases encourage and reward baby for playing and learning. At the third level baby can engage in role-play with the toolbox, which helps to develop imagination, creativity and problem solving skills.
40. VTech Click and Count Remote
Many kids love remote controls. When my daughter was teething she loved to suck our TV remotes and it was always wet 🙂 She wasn't interested in any colorful toy remotes thou. I wish I had found this baby remote that looks like a real remote then! It's look real, but it's suitable for babies from 6 months old.
Moreover, this toy is very interactive and educational, great for older babies and toddlers! Is plays many melodies, phrases and 45 songs that baby can sing along, and it makes different sound effects. This remote also engage role-play, therefore older babies can pretend surfing through nine channels and listen to familiar phrases like "breaking news".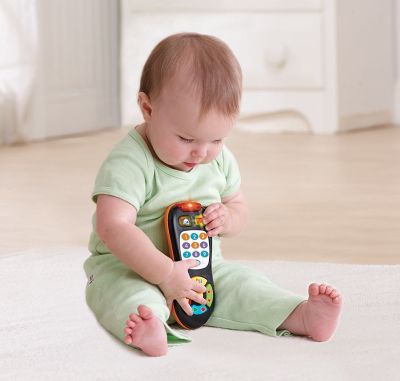 There are many colorful buttons with different shapes and numbers to keep baby's attention and help to learn new things. For older toddlers this remote is also great for stimulating imagination. Few weeks ago I bought two remotes like this one for my twins and they love them! It is a great gift idea both for infant and toddlers.
41. Munchkin Caterpillar Spillers Stacking Cups
This is a different version of stacking up cups. Here we have 7 colorful cups that baby can link to make a snake or stack to build a tower. They can be also used during a bath to pour and strain water! With these cups bath time will be even more enjoyable! Thanks to these toy baby can practice motor skills, learn colors and numbers!
Recommended age: 9 months +
42. Playgro Rock N Stack Toy
So this is another great rock and stack toy, very helpful for tactile and cognitive development. This one has five rings, three of them have super texture which makes them perfect for teething baby. The whole toy is very colorful and attractive and funny for the baby.
We can start using it since 9 months to learn our babies how to sort and stack which also can encourage counting. It's also so much fun to watch how the rings rock back and forth.
43. Melissa & Doug K's Kids Match and Build Soft Blocks Set
These blocks are super soft and each has a different picture: numbers, cars, animals and other objects. Baby can play with them in many different ways: built up and knock down, pair numerals and quantities (for example cube with number 10 and cube with 10 butterflies), match everyday shapes and animal halves (put together head and tail of zebra or panda).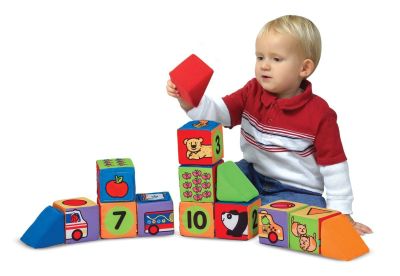 All blocks can be arrange to complete a picture puzzle! It helps develop sensory and motor skills, hand-eye coordination, cognitive skills, creativity, imagination and communication skills. Thanks to this toys babies will laugh and learn at the same time! It is one of my favorite Christmas gift ideas for baby over 9 months and up.
44. VTech Sort & Discover Activity Cube
This cube features five sides of entertaining and learning activities. There are over 75 songs, melodies, sound and phrases. Two electronic panels help to learn colors, numbers, animals and objects. There are also five piano keys which introduce sounds and music.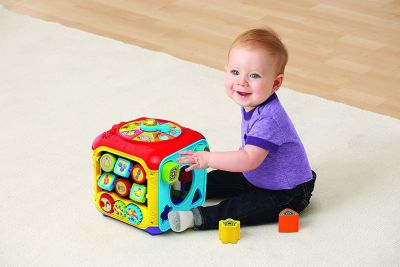 Child can turn the book pages, twist a spinner that lights up and play with a slider to develop motor skills. There is also shape sorter so the baby can practice hand-eye coordination. My boys have very similar cube, they started playing with it when they were 6 months old and it's still funny and interesting for them!
45. VTech Alphabet Activity Cube
Great toy for early education to introduce a toddler with letter. There are five sides of fun activities to keep babies entertained and teach them new things. This cube plays over 100 songs and phrases, there is a keypad and phone that help to learn numbers, piano keys that introduce baby with shapes, colors and music and shape sorter.
Baby can also practice motor skills thanks to turning, sliding and moving different parts of the cube. This toy is pretty big which makes it perfect also for younger kids – from 9 months and up.
46. VTech Care for Me Learning Carrier
This is excellent Christmas gift idea for baby from 9 months to 36 months. It includes sweet plush puppy, interactive pet carrier and pet care accessories like bowl, comb, bottle and ball.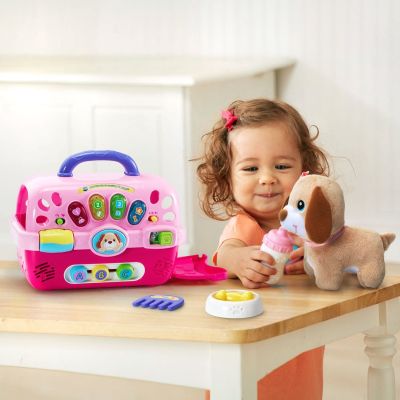 This toy is not only super adorable and entertaining, but also helps to learn colors, shapes, new sounds and songs, and how to take care of a pet, because it encourages role-play! It plays numerous songs, melodies and playful phrases so it's very stimulating and helps to develop motor skills.
47. VTech Sit-to-Stand Learning Walker
This is a great gift idea for a toddler that will serve a long time. It has two parts: the walker and removable interactive panel. The latter is for early learning, it has two colorful spinning rollers, five piano keys which play music, three shape sorters and three buttons that light-up. All of these features are awesome for developing motor skills and discover new things like animals, colors, shapes and numbers.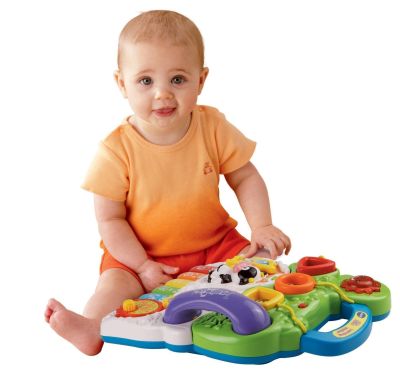 And when the baby is ready he/she can start to learn walking. There are two tensions settings on the rear wheels to provide easier or harder pushing. Tighter setting is great for hard floor and free spinning setting is suitable for the carpet. Thanks to the speed control Walker doesn't run away.
It is really awesome, because it engages child in many ways and it's entertaining and educational for younger and older toddlers.
Recommended age: 10 months +
48. HABA Walker Wagon
It is super helpful for taking first steps. We can adjust the wheel speed depending on the surface and baby's walking skills. If your baby just started to learn walking you can increase the friction for a slower pace. It's also very sturdy, doesn't run away and doesn't top over easily, which makes it a perfect push toy for early walkers.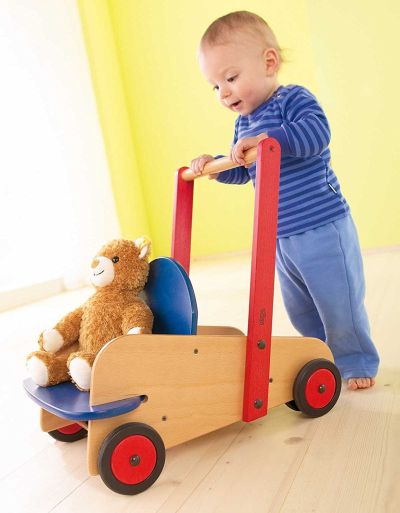 It is made of wood and very durable. It can serve your baby as a walker and a storage for other toys or a stroller for dolls! It's recommended from 10 months. Thanks to this walker first steps will be super fun!
Recommended age: 12 months +
49. First 100 Board Book Box Set (3 books)
Great set of three educational books which will stimulate your baby to learn first words and new objects. There is a book with first 100 words, first 100 animal and book with numbers, colors and shapes. Each has plenty of colorful photographs to attract baby's attention.
50. Baby's Box of Fun: A Karen Katz Lift-the-Flap Books Set
I looove these interactive books! They make learning so funny. The baby plays peek-a-boo and learns new words and pictures.
Theset includes "Where Is Baby's Belly Button?", "Where Is Baby's Mommy?," and "Toes, Ears, and Nose."
51. VTech Sit-To-Stand Ultimate Alphabet Train
It is a great educational toy for toddlers from 1 to 3 years old. It grows with the baby: at first it can be used as a floor toy, then a ride on, baby walker or pull wagon for other toys! There are 10 different activities like clock, alphabet blocks, storybook, gears, all of it help baby to learn the letters, numbers, colors, melodies, phrases, animals and objects and develop motor skills.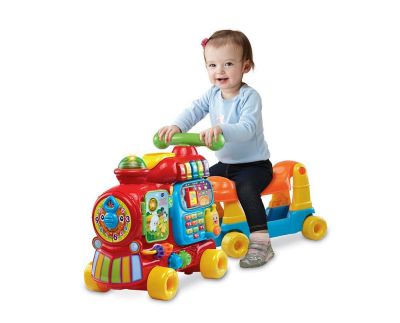 There is also number pad and walkie-talkie which encourage role-play! This toy is very colorful and makes so many sounds to engage babies in many positive ways. Thanks to so many features children can learn something new every day and the toy will remain interesting for them for a very long time.
52. Fisher-Price Chatter Telephone
My daughter loved this telephone when she was 1.5-3 years old! It helps not only to learn colors and numbers, but also encourages role-play. Babies can pretend they talk on the phone, practice their verbal and social skills by imitating words and phrases they have heard. It also develops babies' imagination and creativity.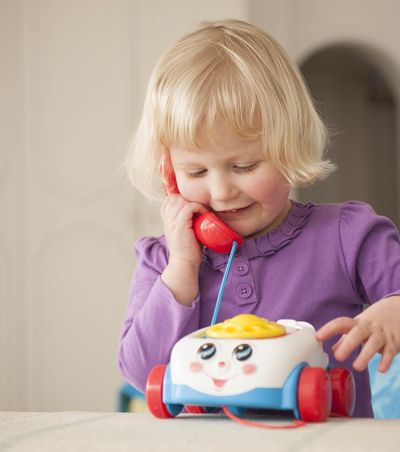 Parents, siblings and friends can join the fun to help baby in socialization. Kids can also develop their motor skills while using a spinning dial, picking up and hanging up. Dialing rewards baby with saying "hello" or "goodbye" to encourage communication.
This is a classic toy, that children can also pull-along to develop their coordination and balance. Besides, it has a friendly face with eyes that move when baby pull the phone along. Great toy for exploring, discovering, learning and playing!
53. Melissa & Doug Deluxe Chomp and Clack Alligator Wooden Push Toy and Activity Walker
Great wooden walker which helps baby to take first steps, develop hand-eye coordination and promote motor skills. It has sturdy construction so it is suitable for early walkers. It offers also few more activities like chomping alligators, wheels with colorful fish, spinning butterfly and it also makes noise when child pushes it.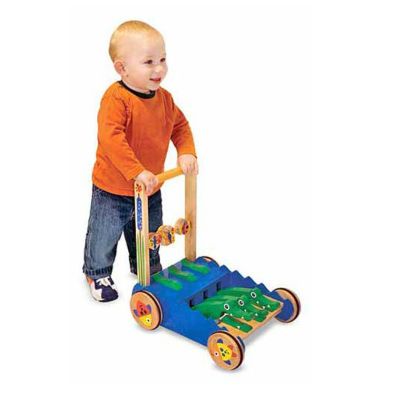 Alligators open and close their mouths with a clacking noise as the baby takes steps. This noise and animation encourage baby to take another step. With Chom&Clack Alligator Push Toy learning to walk can be a joyful activity. This walker is suitable from about 12 months.
54. VTech Pull and Learn Car Carrier Pull Toy
Children can play with this toy in many ways. They can load cars and characters onto the pull string car, press buttons to learn numbers, press horn button to hear fun phrases, tunes, numbers and color, play with three interactive animals or pull the whole car along.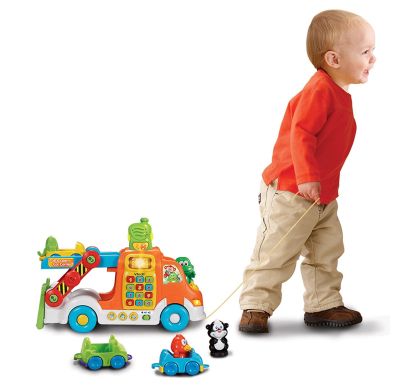 There is also a removable CB radio that encourage baby to role-play. Great toy for kids over 12 months to help them develop motor skills, creativity and imagination.
55. Little Tikes Rocking Horse Blue
This is a modern version of a rocking horse. It is perfect for indoor and outdoor playtime! It's suitable for older children from about 1 year. The seat is really nicely design to keep children from falling forward or back. It has sturdy construction and smoothed corners and edges to keep baby safe during playing.
There are two handles that baby can hold on to, they are very easy to grasp. It provides excellent fun and help children to learn coordination and balance.
56. Little Tikes Go and Grow Lil' Rollin' Giraffe Ride-on
This is awesome riding toy for indoor and outdoor fun. It has adjustable seat for longer usability, large back wheel to give more stability and provide safe ride. It helps to develop large motor skills, build coordination and balance. I'm sure your children will love this adorable giraffe ride-on.
Thanks to foot-to-floor format it is easier for children to ride and scoot. It promotes active play and has huge value for kids' proper physical development.
57. Melissa & Doug Match and Roll Shape Sorter
This sorter is very colorful and introduces baby with different shapes like: square, rhombus/diamond, oval, pentagon, pentagon and parallelogram. Child can sort these shapes and throw them through shape and color-matched holes.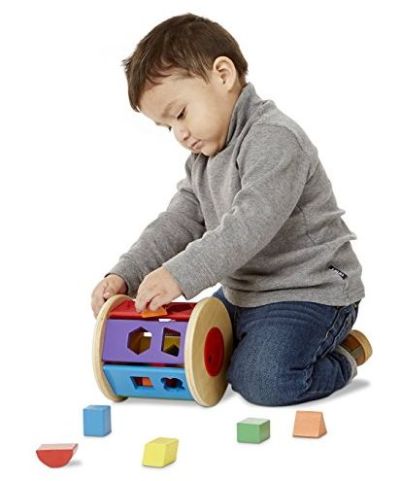 This toys teaches colors, shape recognition and sorting skills, helps to practice manual dexterity and problem solving skills! The wooden construction is very solid therefore this toy will definitely serve your baby for a long time. Suitable form about 1 year.
58. Hape Shape Sorter Wooden Pull Turtle Toy
Super adorable and educational toy. It engages baby in many different ways: there are colorful various shaped blocks that a child can sort and throw in proper shaped hole. We have here: circle, triangle, square, star and oval so baby can learn to identify and differentiate these shapes, train logical thinking and practice hand-eye coordination.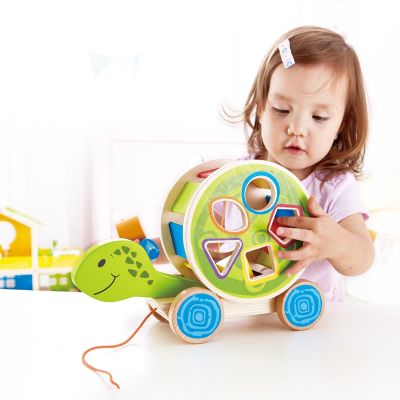 Baby can also pull this turtle toy along and during that the sorting shell will spin! It is a perfect educational gift for baby over 12 months. It has solid wood construction which makes it very durable – it will serve and attract baby's attention for a long time.
59. Glamore Shape Sorter kids toys Preschool Educational Wooden Puzzles for Toddler
This cube teaches baby 10 different shapes! Children can sort and stack colorful pieces and throw them through shape-matching holes. It allows them to learn to identify and match colors and shapes. It also helps develop hand-eye coordination and learns to grasp, take, turn over, put and dump.
Each block also introduces baby with numbers! Parents can help and play with their kids which is also very important for their bond. It's great opportunity to learn during a play time! Thanks to bright colors this toys is very attractive for kids and you can be sure they won't leave it for a long time.
60. Hape Country Critters Wooden Activity Play Cube for Toddlers
This play cub has some much features and offers so many activities, that you can be sure your toddler will play with it for a very long time! If comes with a shape sorter and 6 different blocks, a maze, spinning and many more! A child can learn to identify and differentiate color and shapes, develop fine motor skills and problem solving skills.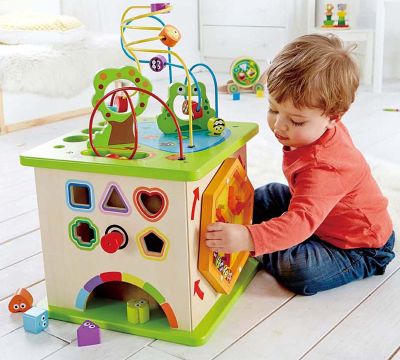 This cube is not only entertaining, but also helps develop imagination, motor skills and cognitive functions. This educational toy is suitable for toddler from 12 months and preschoolers!
61. Colorful Wooden Stacking Rings Mula by IKEA
We have this toy since my boys were 10 months old and they love to play with it. The wooden rings are definitely louder than plastic ones, but I guess this is the most amusing thing about them! My boys love the noise it makes when they stack the rings on the stick.
The rings have different sizes and color which stimulate baby's vision and help to develop motor and cognitive skills. The rings can be put in any order therefore this toy is great for babies that can't sort objects by size yet – but this toy will help them to learn how to do this! It's very durable and provides super fun to toddler and even preschoolers.
62. VTech Go! Go! Smart Wheels Spinning Spiral Tower Playset
It is a great gift for toddlers from 1 year and preschoolers. It helps to develop baby's creativity through playtime. It's great for developing motor skills – children can build the track with colorful pieces, turn the gate and then push vehicles through 4 levels and 2 courses.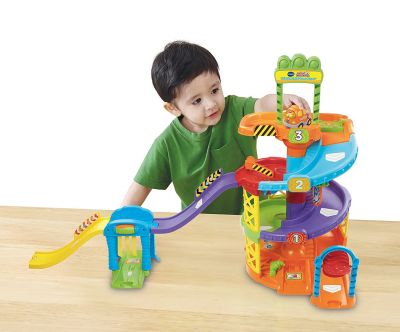 This educational toy encourage role-play thanks to a features like a car wash and gas station. It also plays music and familiar phrases to help baby learn first words.
Recommended age: 18 months +
63. Nuby Octopus Hoopla Bathtime Fun Toys
Thanks to this octopus bath-time and pool-time will be even more fun! There are also three colorful rings and baby can toss them around the tentacles to practice hand-eye coordination. The rings and tentacles have different textures so they are perfect for teething baby to massage sore gums.
What I also like about this toys is the lack of any holes, so we don't have to worry about mold forming. I think this toy would be interesting mostly for older toddlers.
64. Maxim Deluxe Wooden ABC Blocks
These alphabet blocks are made of wood which makes them super durable. They can serve your toddler or preschooler to learn letters and words, practice hand-eye coordination and develop motor skills. Even 1-year-old child can start learning alphabet in a fun way thanks to these colorful blocks.
65. LeapFrog Chat and Count Smart Phone
Smart phones attract babies' attention very early. Kids love to play games on smart phones or pretend they are talking to somebody. Younger babies also love phones, they like to watch has the screen is moving, watch videos and photos. Each of my kids became interested in phones when they were about 12 months.
That's why I think this educational toy smart phone is really excellent gift idea! Now children can have their own smart phone which looks similar to the real one, but offers many educational features and activities!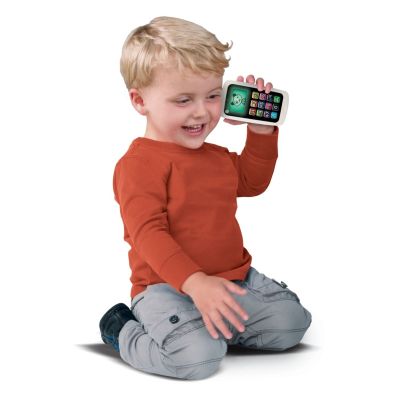 They can sing along songs about counting, engage in a role play and pretend they talk on the phone, press buttons to see animations. Thanks to this toy children learn to count 1 to 10, practice social skills, imagination and creativity. They can also learn conversional skills and common phrases like "hello, how are you", "nice to talk to you", "goodbye". Perfect for kids over 18 months.
66. Friction Powered Cars, Push and Go Toy Trucks Construction Vehicles Toys Set for 1-3 Year Old Baby Toddlers
This set contains dump truck, cement mixer, bulldozer and tractor. If your children loves all vehicles as much as my boys, this set of toy trucks will be awesome gift for them! My twins love to watch passing cars, trucks, garbage trucks. The bigger the vehicle, the greater is their excitement.
That's why I bought for them this set of trucks and they love to play with them! Pushing the friction car is a great exercise for hand-eye coordination. And chasing moving vehicles is excellent opportunity for improving walking flexibility and muscles strength.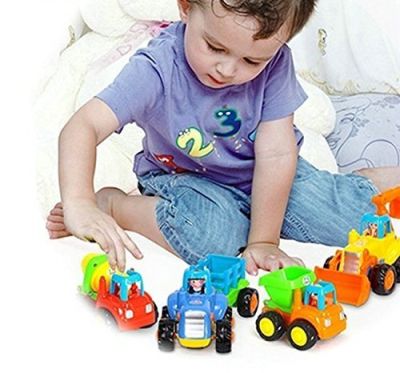 The drive in those cars is activated by pushing them backwards and then releasing them, then the cars roll apretty long distance forward (without batteries!). Thanks to this toy children can learn to distinguish vehicles, learn their names and functions. It's promotes their cognitive development and curiosity. Kid scan also learn colors and shapes of vehicles. It enhance baby's learning interest.
67. Step2 Whisper Ride II
Thanks to this toy the child can feel like a real driver! Parent can push or pull it. It provides so much fun and very smooth ride thanks to special wheels. There are two cup holders – one for the kid and one for the parent, seat belt and a storage.
On the steering wheel there is a honking horn that gives even more fun. Some parents use it instead of a stroller for older toddlers. This toys is suitable for kids from 18 months up to 4 years, but I know that sometimes parents use it even for 12-month-old children.
68. Step2 Play Fun Climber Ball for Toddlers – Durable Outdoor Indoor Kids Slides and Crawl Space with 10 Balls
With this thing your children will have an incredible fun while learning coordination and balance at the same time! There are stairs to climb and a slide to zoom down. Kids can also crawl under it! They can also move the balls through the maze.
This slide engages children in many positive ways, it's super enjoyable and great for their physical development. Excellent Christmas gift idea for baby over 18 months.
69. Fisher-Price Brilliant Basics Classic Xylophone
It's not only an educational musical toy but also a pull-along toy thanks to easy-rolling wheels! Child can tap on the colorful keys using a mallet, which helps to develop eye-hand coordination and motor skills.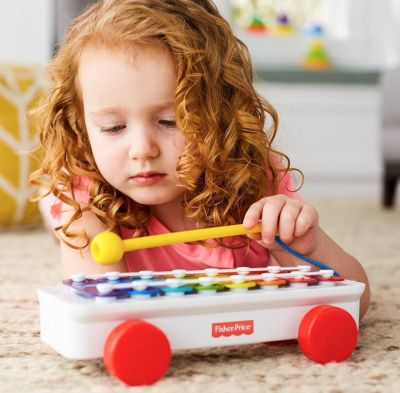 This toy also grows with the baby and when your child is ready he can follow the colors and play a real song! And during pulling baby practice balance and coordination. Older toddlers love xylophone! It's recommended that kids play with it while supervised.
Recommended age: 24 months +
70. Melissa & Doug Beginner Wooden Pattern Blocks Educational Toy With 5 Double-Sided Scenes and 30 Shapes
This educational toy consists of 5 two-sided boards, each has a recessed design template that need to be filled with geometric pieces. Baby can play with 30 geometric shapes and try to complete the picture with these parts. It's great tool for learning colors, shapes, common objects and developing matching skills.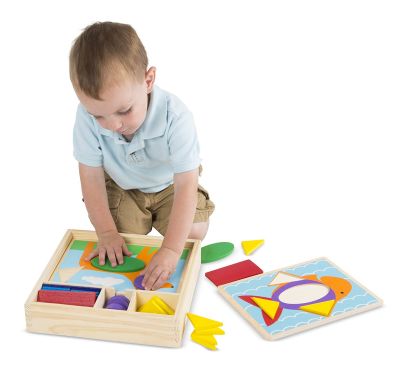 Children can also create their own design which allows them to develop their creativity and imagination. It is a great Christmas gift idea for baby around 24 months and up.
Recommended age: 36 months +
71. EverEarth Garden Activity Cube. Wood Shape & Color Sorter, Bead Maze & Counting Baby Toy
This active cube offers 6 sides of activities that provide excellent fun and help babies to learn. Child can sort shapes, count beads, slide animals, spin gears, push beads through a maze. It's great not only for motor skills, but also encourage curiosity and problem solving skills.
Different colors, shapes and sounds stimulate babies senses. Thanks to this toy child can learn to reach, grasp and hold, recognize and differentiate color and shapes. With abacus a child can learn counting to ten.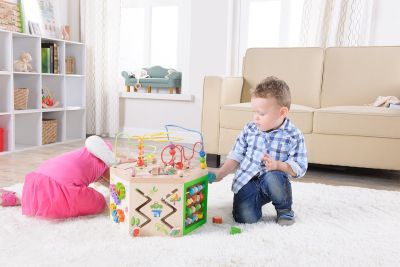 It also promotes socializing and sharing because children can play with their siblings or friends and learn together! You babies will have so much fun they won't even notice they're learning!
Manufacturer recommends this toys for kids over 36 months, but I know that many parents give it to 12-month-old babies! There are some small pieces, so parents' supervision is recommended, but the activities arent's to difficult for 1-year-old children.
72. Melissa & Doug Disney Mickey Mouse Wooden Shape Sorting Clock
This is a great gift idea for toddlers. It help older children to learn to tell time. For younger kids (around 1 or 2 years) it's also very attractive and have great educational value – babies can sort colorful block with different shapes and number. They can practice motor skills, hand-eye coordination and learn to differentiate and match shapes! It's definitely very educational toy and children at different ages can learn new things thanks to it.
BONUS – Other Christmas gift ideas that you won't find in a store
You don't want to buy your child for Christmas another toy? You want to give your baby something special, that is not available in a store or advertised on every children's TV channel? Gift for a baby don't have to be trivial! Check out my list of Christmas gift ideas for baby that can't be bought in a shop.
Photo Studio Session
Photo sessions of newborns or for 1-year-old babies are really popular nowadays. The pictures are not only great memento, but also super adorable. Newborns laying in a cute pose, wearing sweet clothes or wrapped in blankets. I'm sure you have also seen some photos for 1-year-old baby photo session: with a birthday cake laying everywhere. 🙂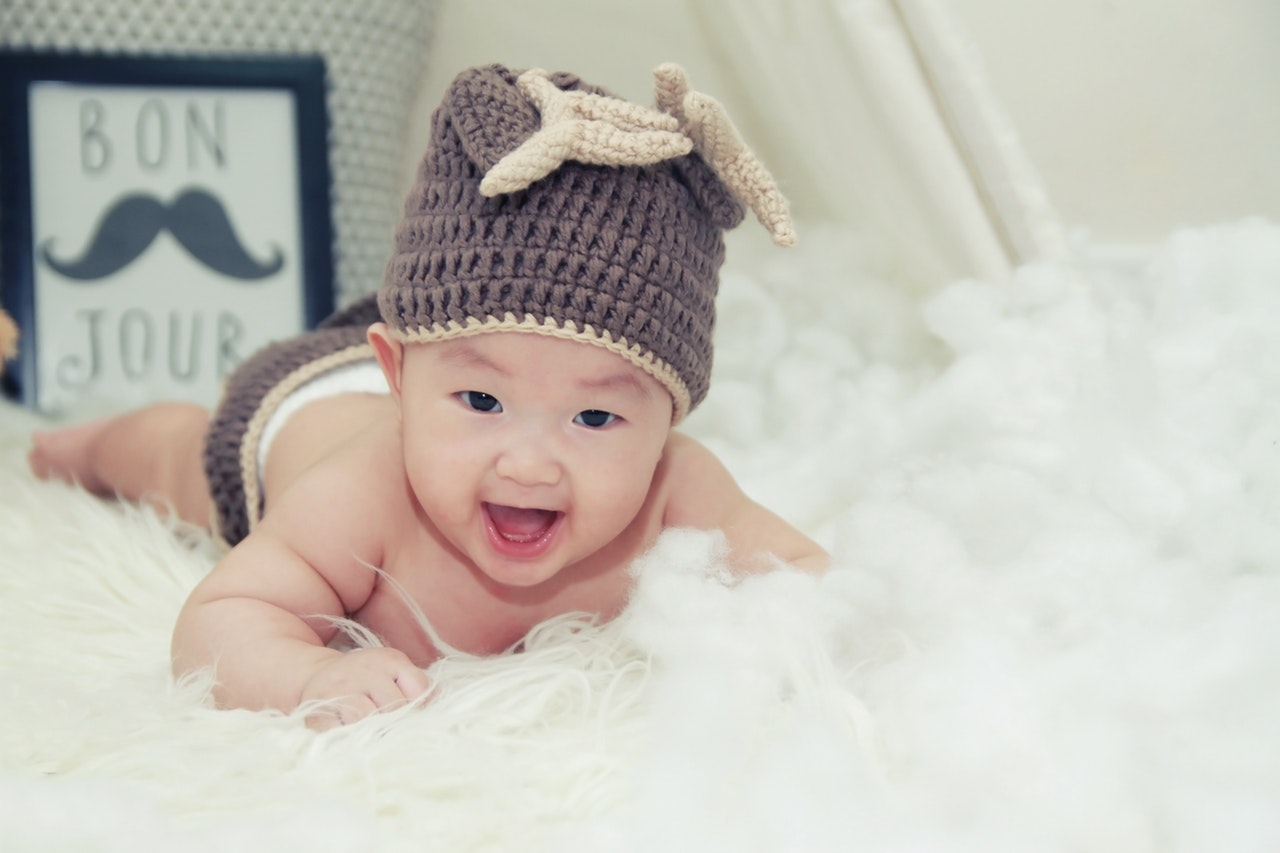 I'm sure that in your area there are couple of photographers, but of course the prices may vary. So if you wonder what Christmas gift would be awesome for a newborn or 1-year-old baby, photo studio session is always a hit!
Zoo or Aquarium Membership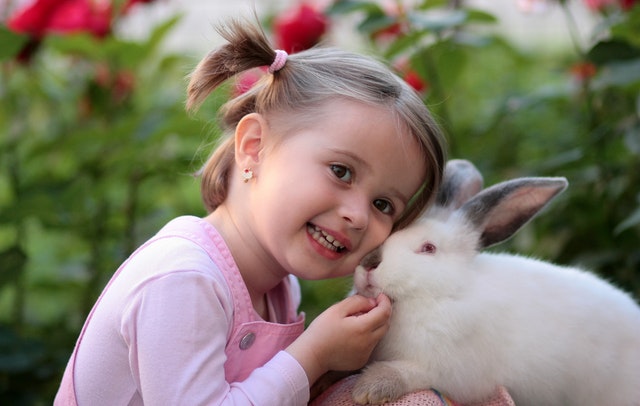 Kids love to watch animals and regular visit at the zoo or aquarium can be not only very enjoyable but also educational. For some kids watching fish in aquarium might be also soothing. Besides, visit at a aquarium is always a good idea, regardless of weather conditions.
Swimming pool/ Trampoline park/ Climbing wall Pass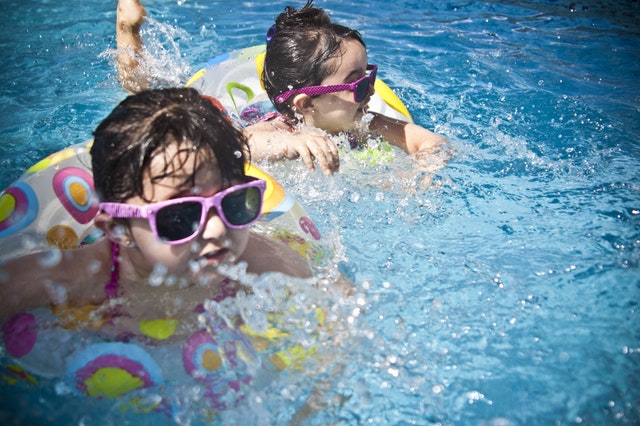 If your child likes this kind of physical activity it will be a really awesome gift for him/her! And the child will enjoy it for a very long time after Christmas.
Swimming Lessons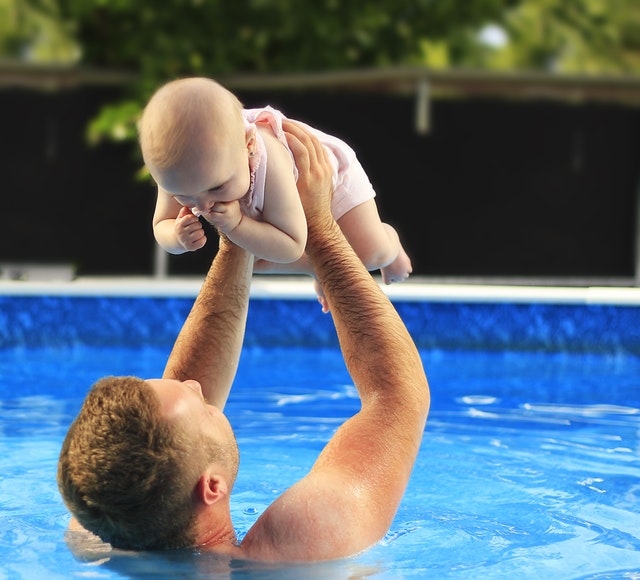 You can start swimming with your baby really early. There are also special courses for infants, toddlers and preschoolers where they can learn to swim under the watchful eye of the coach
Creative Classes for Kids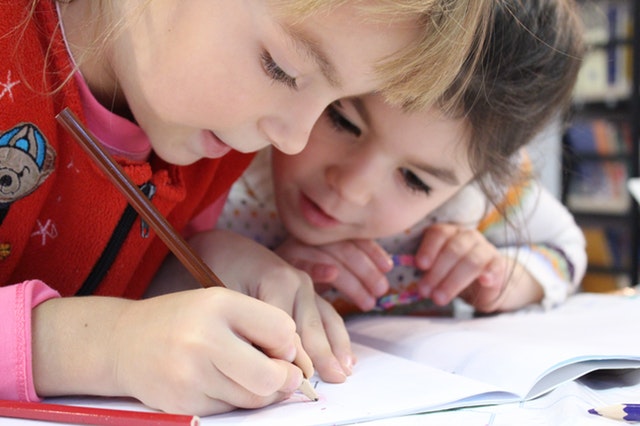 This is excellent gift idea for a baby around 2 or 3 years. It can be not only educational, but also an opportunity for socialization, playing with other kids and learning social skills.
Other Classes for Children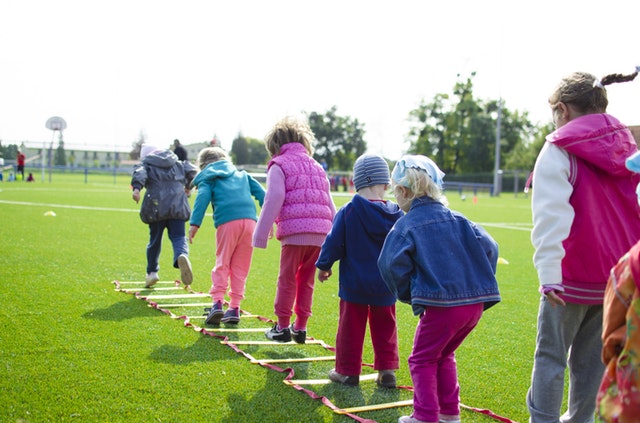 If you are looking for a gift for older toddler or preschooler you can fund him some after-school activities, depending on his interests. Maybe your child dreams about to go skiing or likes to paint? You can give him lessons as a gift!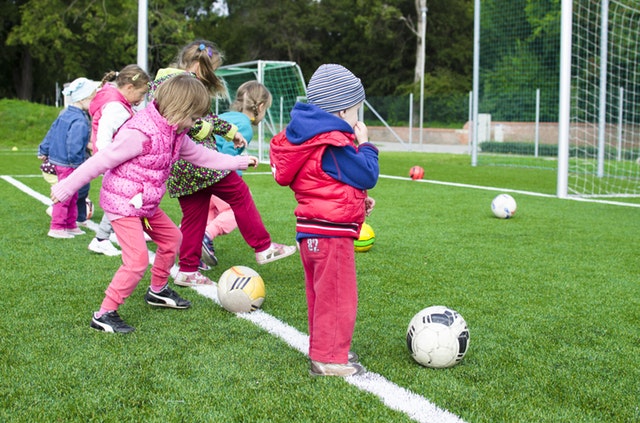 The choice is vast: sports and dance classes, ballet, robotics classes, cooking classes, art classes and many more! This is excellent gift because it is an investment in a child's development. But remember that these classes should be linked with child's hobby and passion, not yours!
Match tickets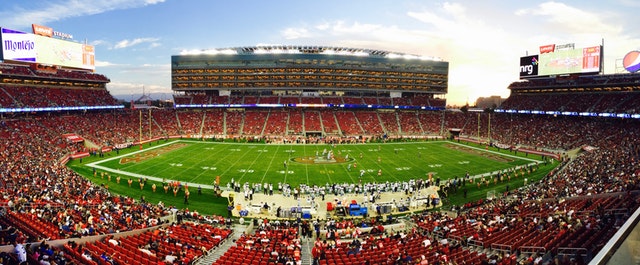 It can be a great gift idea for older toddler or preschooler. If your child is a huge fan of basketball, baseball or socker, you can give him a ticket to the game of his/her favorite team! You can be sure he will go crazy with joy!
Travel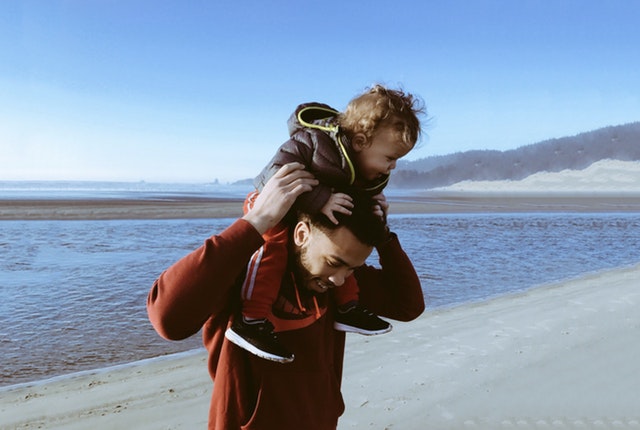 Most kids really love to travel with their parents. It's not only a great experience, but it can be also very educational for them. Therefor if you are looking for a gift for your babies or your grandchildren you can organize or buy a trip! Put under the Christmas tree some plane tickets or train tickets – for kids it will be even more fun than traveling by car!
How I created this Christmas gift for baby buying guide
Choosing a gift for infants and toddlers isn't an easy task. Whether you are a mom, dad, grandma, grandpa, aunt or a family's friend, you want to pick something useful, pretty, entertaining, engaging baby in many ways, something that the child and parents will love and something that express your generosity. WOW! That's sound pretty difficult!
Although gifts are not the most important, it is worth to think for a while about what you will put under the Christmas tree. Therefore don't put off Christmas shopping to the last minute. Searching for the perfect Christmas gift for the baby is best to start early, even in November or early December.
To make it all easier I did my own research and made a list of Christmas gift ideas for baby for 2018.
What were my criteria while picking best gift ideas for babies?
First of all, I checked what other parents think about baby gift. Even if my children have this toy I check others review, I always do that.
I chose gift that will be interesting and engaging for baby for a longer time
They should be useful or have an educational value and serve baby and parents for some time
I chose different types of gifts with wide price range so everyone could find something for themselves.
If you have already done some research in online stores, then you've probably notice that when we are looking for a gift for baby (especially infant), we can find many products that in fact are not a gift for the baby, but for a parent!
Baby carrier, blanket or baby sleeping bag are rather something that parents need, not the baby, nevertheless this stuff is useful and always welcome! Of course there are few things that also can be perfect as a gift for the baby.
I also give you age recommendation for each product which I check on each brand's website. However, it is very common practice to give baby a toy/product that will be suitable in couple of weeks or months, not something that is suitable only now and will quickly become boring for the baby!
Besides, parents also give their children toys and products earlier than the recommendation states. Even if the baby doesn't get the toy's purpose yet, he/she can already have super fun and start learn with it. Of course under the supervision of parents! 🙂 Besides, age recommendations are only approximate, because each baby develops at different pace and different things are attractive at each developmental stage.
---

I hope that my Christmas gift ideas for baby 2018 will be useful for you and you will find the perfect gift! If you still hesitating which one to choose – write to me in the comment section below and I will try my best to help you!
Do you have more ideas for awesome Christmas gifts? Let me know about it a comment so I could try it and include to my list!
---
Sources:
Pictures with sign "www.littlebabygear.com" were taken by me. Other pictures belong to each brand (source: each brand's official website).