Breastfeeding while babywearing has lots of benefits: it's convenient, and encourages bonding. To make it possible, you need the best baby carrier for breastfeeding that will keep you and the baby comfortable and allow you to nurse confidently.
I'm here to help you find the best baby carrier for nursing on-the-go in 2022.
This article is not a substitute for medical advice. It contains affiliate links.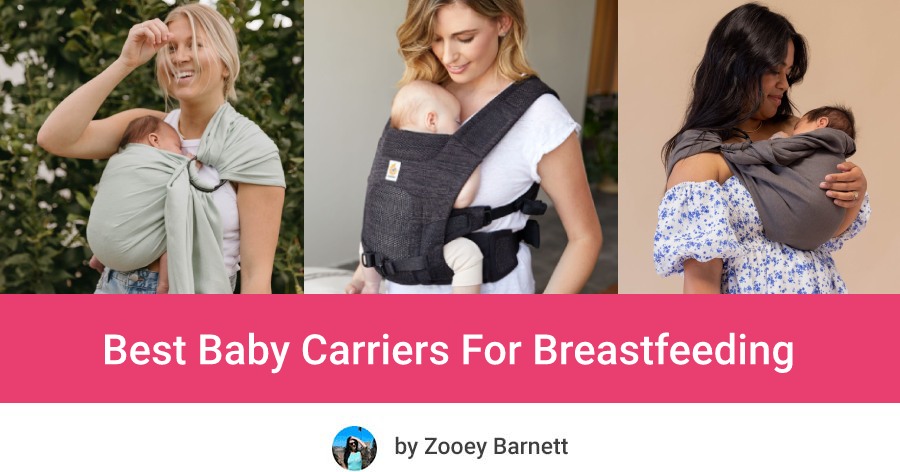 Breastfeeding in a baby carrier may feel overwhelming at first, but once you get a good hang of it, it will make your life easier. There's a wide variety of baby carriers for confident breastfeeding.
As a mother of three, I tested A LOT of different carrier types and eventually found 3 amazing breastfeeding carriers that were super easy to use and ultra-comfy for my babies.
I am going to share my favorite baby sling, soft-structured baby carrier and baby wrap that are truly breastfeeding-friendly. You'll find here a low-budget option, medium-priced baby carrier, as well as one high-end carrier.
What Is The Best Baby Carrier For Breastfeeding? – Reviews
Breastfeeding while babywearing is really convenient, but in order to keep both of you comfy and safe, you need a proper baby carrier.
Here's my list of the best baby carriers for breastfeeding that you can get in 2022, based on my babywearing experience with 3 kids.
According to breastfeeding moms, ring sling is a must-have if you plan on babywearing and breastfeeding. This type of baby carrier makes life easier.
After testing a few ring slings, I think the best one is WildBird Ring Sling. It's one of the most popular medium-priced ring sling style baby carriers.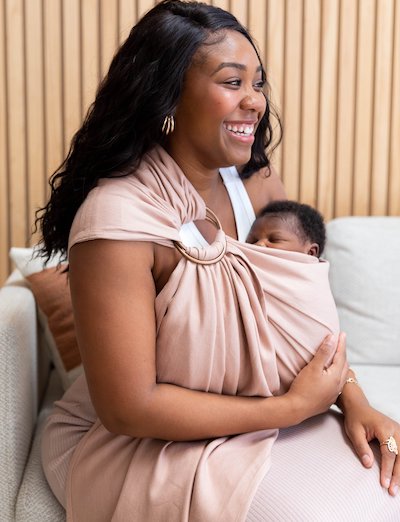 WildBird is a 2-yard-long piece of fabric with rings sewn-in. Before first use you need to thread the fabric through the rings – and that's it. Putting it on is very simple and quick, especially after a few times when you get a hang of it.
Ring sling has unique design because it looks like a hammock or pouch and you wear it only on one shoulder. It goes from one shoulder to the opposite hip. Moms who own the WildBird baby sling agree that it "feels like motherhood". This position if natural and basically the same as you would carry your baby in your arms.
These baby slings are made from ultra-soft and breathable fabric to make sure your little one is always comfy and dry. I live in hot climate and I've never felt sweaty or sticky in WildBird and it gives me piece of mind that my baby is not overheated.
PRO TIP: If you like this ring sling for breastfeeding, but you're on smaller budget, now it's the perfect time to get it, because WildBird Black Friday / Holiday Sale has just started. The slings are up to 40% OFF. And there's one more great news: if you use code: LITTLEWILDBIRD10 you'll get extra 10% discount which means BIG SAVINGS! Don't miss out on your chance – the slings are selling out super fast. Choose your color & grab all discounts here >>
You can choose from 2 versions of fabric: 100% linen or a blend of 75% modal and 25% linen.
The latter one is a bit more stretchy and I recommend it especially for babywearing beginners and moms who want to breastfeed in a ring sling. Elastic fabric makes it easier to position the baby in the sling and find the perfect snug fit. WildBird also has tons of useful video tutorials which helped me a lot to learn how to use the sling.
WildBird Slings have so many advantages. They are approved as hip-healthy by the International Hip Dysplasia Institute which means they help the baby to maintain healthy, ergonomic position (called frog or spread-squat position).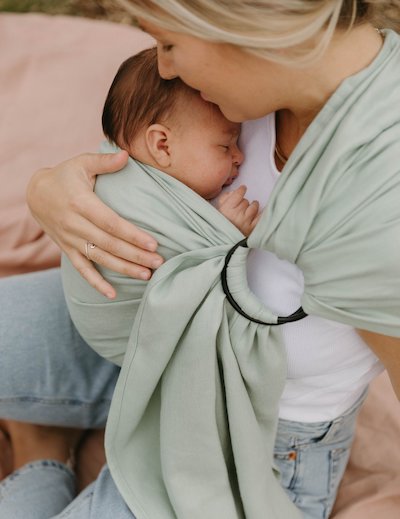 WildBird is a great choice because it will serve you for about 2 years – you can use it with smaller babies, as well as older babies (up to 35 lbs). It offers 3 positions: front inward and outward facing and hip carry.
It's also very easy to nurse in WildBird. You only have to change your baby's position just a little, and adjusting the tightness is a piece of cake.
Here's a short guideline for breastfeeding in WildBird Ring Sling:
First you need to loosen up the sling by pulling up on the ring. Remember to support your baby's weight (place you hand under baby's bottom and your forearm behind baby's back).
Shimmy baby down to your breast level.
Pop up your breast and help your little one to latch.
Support your baby's head, back and bottom during nursing.
You can use the tail of your ring sling as a nursing cover if you or your baby need more privacy and discretion. Monitor your baby the whole time and make sure you can see their mouth, nose and eyes. Baby's chin should be off of their chest.
When the baby is done nursing, unlatch, lift and reposition the baby. Tighten up the fabric and make sure your baby is again in the ergonomic upright position with M-shaped legs, knees higher than the bum and legs supported from knee to knee.
What moms love about WildBird, except from being user-friendly and extremely easy to use, is its beautiful design. These baby slings are one of the most fashionable baby carriers out there! You can choose from a wide selection of gorgeous colors and adorable patterns. My favorite is this gender-neutral Owl (it looks good with all mom's clothes).
There's one thing that you should keep in mind. Because you wear the sling on one shoulder, I recommend to take often breaks to avoid back pain and neck strain. Other than that, WildBird is AMAZING and I find it to be the most comfortable baby carrier for breastfeeding.
WildBird is not as long as baby wrap, and it's not as bulky as buckle baby carrier. It fits in mom's diaper bag with ease. And it's machine-washable in case of spit-ups.
Aerloom carrier is a high-end product, but I decided to include it on my list because it has modern look, it's soft and ultra-comfy, and it's my favorite soft structured carrier for breastfeeding.
This is also the newest addition to Ergobaby collection of soft structured baby carriers.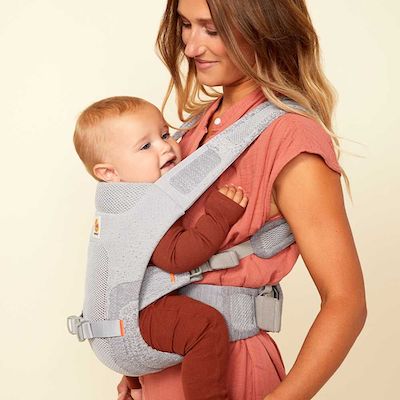 As your baby grows, Aerloom allows you to use multiple positions: front inward facing, front outward facing and back carry. It has also adjustable bucket seat which you can make narrower or wider depending on baby's size.
This baby carrier has also the highest weight limit – 45 lbs which makes it usable for much longer period than other baby carriers in this ranking. If you're looking for a baby carrier for breastfeeding that will grow with the baby and serve you for at least 3 years, Aerloom is an amazing option.
What makes Ergo Aerloom one of the best baby carriers is its lightweight design. It's made from breathable knit fabric which allows the air to get through. It's much less bulky and hot than other structured carriers. Shoulder straps and the waistband are not excessively thick which means you won't get sweaty.
All Ergo baby carriers are suitable for breastfeeding, but I find Aerloom to be the most nursing-friendly one. It has easy-to-reach buckles. Moms say that it's very easy to adjust the shoulder straps when it's time for nursing on-the-go.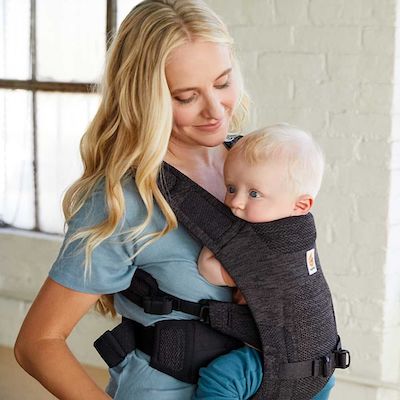 Just like with other best baby carriers for breastfeeding, when you want to nurse in Aerloom, you need to loosen up the carrier a bit and lower your baby to your breast.
To do that, you only need to adjust the shoulder straps using a buckle located on the baby carrier right next to your breast or under the armpit, depending on your size. Once the strap is loose, you can shimmy your baby down to the breast and help them to latch. Use your hand to hold your baby while breastfeeding for extra support.
PRO TIP: I have rather small boobs therefore I always have to lower my baby a lot more. If you're a bustier woman, you may not have to lower your baby as much and move your breast to baby.
When the baby is done nursing or falls asleep, move them up again and tight the carrier by pulling the same strap back. Make sure your baby is in ergonomic position with M-shaped legs. Never leave your baby that low on your breast, always keep baby close enough to kiss with chin off of their chest, above your bust.
The big advantage of Aerloom is that you can easily switch sides. Each time you only need to adjust the strap on the side you want to nurse – it's only one strap! It's so simple, convenient and quick. I was so surprised to see how comfy it is to nursing baby upright, instead of cradle position.
This soft-structured carrier is also machine-washable which is very convenient, because spit-ups may happen.
PRO TIP: If you decide to get Aerloom during Cyber Monday sale, you will receive FREE Ergobaby Embrace carrier (value of $79). It works perfect for newborns and small infants, and it is nursing-friendly too! Get your FREE Ergo carrier here 👈
My third favorite baby carrier for breastfeeding is Solly Baby. In my opinion, this is also the best wrap style baby carrier – it's so comfy, buttery-soft and pretty easy to use. Besides, it's the most breathable wrap out there, perfect for summer babywearing.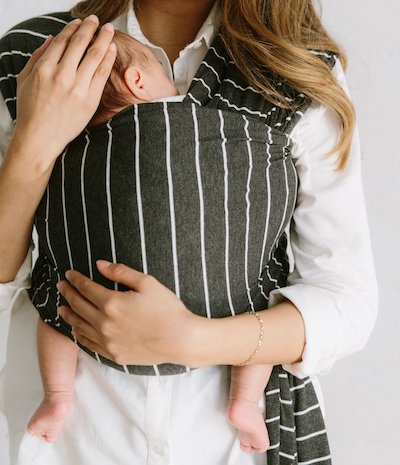 Solly Wrap Carrier is a long piece of fabric that requires wrapping around your body and tying. It's not that difficult but it does take some practice.
What I love most about this wrap is that it allows for skin-to-skin cuddles and it feels so cozy and snug for my baby.
It's also recognized as hip-healthy and keeps the baby in ergonomic position with M-shaped legs. It's very important for baby's hips healthy development.
Solly Baby Wrap is made from modal fabric which is silky soft and so much more breathable than woven wrap carriers. It's very important for your baby's comfort and safety (and yours too!) because it prevents from sweating and overheating. If you worry that your little one will get hot in the wrap – Solly Baby is the solution.
Moreover Solly Baby Wraps have just the right amount of stretch. They are not too elastic, but they are also not too stiff. This stretchy fabric makes Solly easy to tie. Besides, it's much easier to position the baby in a stretchy wrap than in woven wrap. This makes Solly more nursing-friendly than woven wraps.
Solly is also machine-washable so you don't have to worry about stains from spitting up.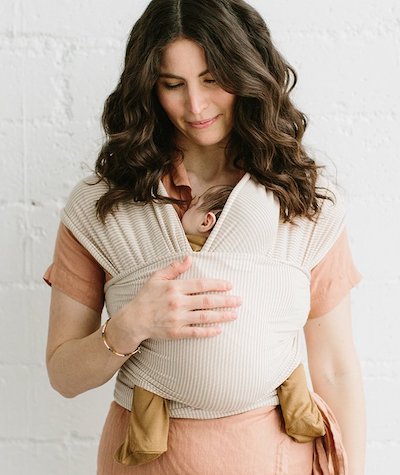 Solly Wrap Carrier can be used from birth up to 25 pounds, it usually lasts up to 9-12 months. It's most comfy with newborns and infants, but it's not designed for older babies.
It comes in one-size-fits-all, and because it's just a long piece of fabric, it so easy to adjust to wearer's body size. Whether you're petite mom or plus-size mom, Solly will fit you comfortably.
Moms who own Solly praise this wrap for being lightweight yet supportive and so comfortable. Solly Wrap provides great support for the baby and ensures even weight distribution across mom's body. It allows for comfortable carrying for longer periods with no back pain. Moms also mention many benefits from babywearing with Solly: it soothes babies, reduces crying, and helps with digestive problems like colics and winds.
Lots of moms breastfeed in Solly and most of them agree that it takes some time to get used to it. I must admit that it's a bit harder to adjust the wrap and re-position the baby in it, ring sling seems to be easier in that case. But once you get a good hang of Solly, breastfeeding in it will be much simpler.
I recommend you to try breastfeeding in Solly Baby, once you're comfortable with the wrap and you're comfortable with nursing in general. You should also check out this video tutorial: How to nurse in Solly Baby Wrap.
Solly allows you to safely breastfeed, you just need to follow some steps. First you need to loosen up the fabric (on your shoulders) and shift your baby to the breast. Keep in mind that during nursing the carrier is no longer hands-free. You need to support your little one with one hand.
When the baby is done nursing, remember to re-position them. Lift the baby to upright position, tighten up the fabric and re-adjust and knot. Make sure that fabric goes from the back of one knee to the back of the other knee and provides good support for baby's hips. Baby's bottom should be lower than the knees and their chin should be above your breasts.
PRO TIP: Solly Baby runs a fantastic promo right now – selected colors are 32% OFF (this is even lower price than Black Friday last year!). Grab your 32% discount here >> (no code needed).

The good news is that even if your favorite print is not on sale, you can still get 10% off your wrap! Pick your favorite patterns here and use code LITTLE10 at checkout. This code applies to ALL colors. Don't miss out on this opportunity to save money.
Best Baby Carriers For Nursing – FAQ
Breastfeeding in a baby carrier makes you feel intimidated? Here's what you should know before mixing breastfeeding and babywearing.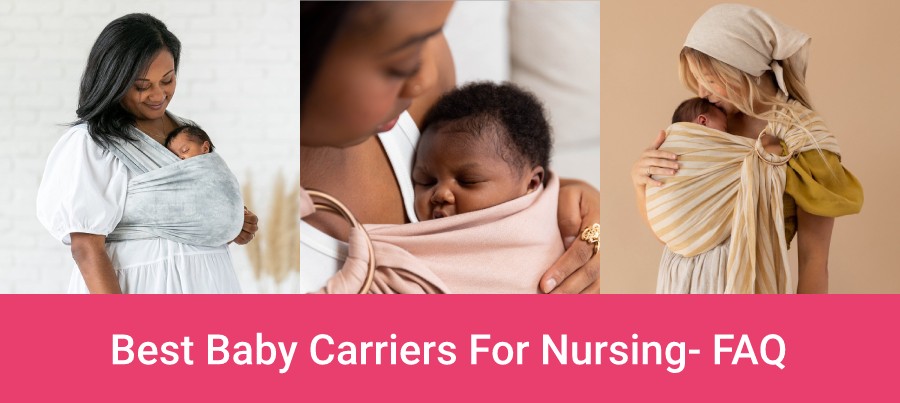 Which Baby Carrier Is Best For Breastfeeding?
As a mom of three, who loves babywearing, I think that WildBird Ring Sling is the best baby carrier for breastfeeding. In general, baby slings are extremely comfortable for breastfeeding a newborn, and WildBird is the best among all baby carriers.
It's very easy to put on which is super important for a new mom, and when the baby gets hungry, adjusting the fabric and baby's position is so simple. What I also love about this ring sling is it's breathable, lightweight fabric which is very supportive at the same time. It will keep your baby snug and cool, and won't make you sweaty either. You can also use the fabric for extra coverage whenever you need more discretion.
WildBird is also a good choice if you don't have a huge budget but still want a baby carrier for at least 1.5-2 years.
Other fantastic baby carriers for breastfeeding are: Ergobaby Aerloom soft-structured carrier and Solly Baby Wraps.
Aerloom is truly breastfeeding-friendly because you only need to adjust one strap when it's the feeding time and it's so easy to switch sides.
Solly carrier, on the other hand, is made from a stretchy fabric that easily adjust when you want to nurse. It also makes it easier to find the perfect fit and tightness for the newborn baby. Besides, the extra fabric provides really good coverage and extra privacy for breastfeeding mamas.
>> Best Baby Carriers In 2022 – Ranking & Reviews
Can You Breastfeed In A Carrier?
You can breastfeed your baby in a carrier. Generally speaking, most carriers are nursing-friendly, but make sure to pick a hip-healthy one. I recommend only baby carriers that are ergonomic and keep baby in frog position.
What's noteworthy, some baby carriers make breastfeeding while babywearing easier and more comfortable. Ring slings seem to be the best breastfeeding carriers out there, thanks to their unique design. When it comes to baby wraps, it's much easier easier to nurse in stretchy wrap than woven wrap. Elastic wraps are also simpler to tie.
Moreover, go for baby wrap that is made from lightweight fabric that allows the air to circulate through. Structured baby carrier is another option – always opt for something with user-friendly buckles that are easy to reach and adjust.
>> Safest & Best Baby Carriers For Newborns
How Do You Breastfeed In A Baby Carrier?
Babies nurse in a baby carrier in upright position – it's easier and more convenient especially in buckle carriers, where cradle feeding is not possible.
In order to breastfeed in a soft-structured baby carrier, you need to loosen up the shoulder strap on the side you want to nurse. To do that, use the buckle near your breast/armpit. Then, shimmy your newborn to the breast level. To keep your baby safe, support their back and head with your hand.
Breastfeeding in ring sling baby carriers is also very simple – use the rings to loosen up the fabric and lower the baby to your breast. Support your baby the whole time. You can use ring sling for upright feeding, as well as cradle feeding.
When the baby's finished, make sure to re-position them to move them up again to ergonomic spread-squat position.
Can You Breastfeed With Baby In A Wrap?
You can breastfeed baby in a wrap carrier, but it will require some practice. I recommend you to use Solly Baby for breastfeeding in a wrap, because its elastic fabric makes it much easier to position the baby and adjust the tightness. Wait until you're comfortable with using wraps and you have established breastfeeding relationship.
>> List Of The Best Baby Carriers For Petite & Short Moms
---
The purpose of this article is informative and entertaining. It's not a substitute for medical consultation or medical care. Remember: safety first! The author of this article does not accept any responsibility for any liability, loss or risk, personal or otherwise, incurred as a consequence, directly or indirectly, from any information or advice contained here.
Source of pictures:
Picture at the top of the article was created with photos that belong to Ergobaby and WildBird.
Pictures of WildBird slings belong to WildBird brand. Source: https://wildbird.co/
Pictures of Solly Baby wraps belong to Solly Baby brand. Source: https://sollybaby.com/
Pictures of Ergobaby Aerloom belong to Ergobaby brand. Source: https://ergobaby.com/