Your bra squeezes your breasts and makes you feel uncomfortable? It's time to get the best nursing bra for big bust! Here you will find the most comfortable maternity bras for large breasts that will finally provide the support you need, prevent you from breast swelling, under-boob rashes, blocked ducts and back strain!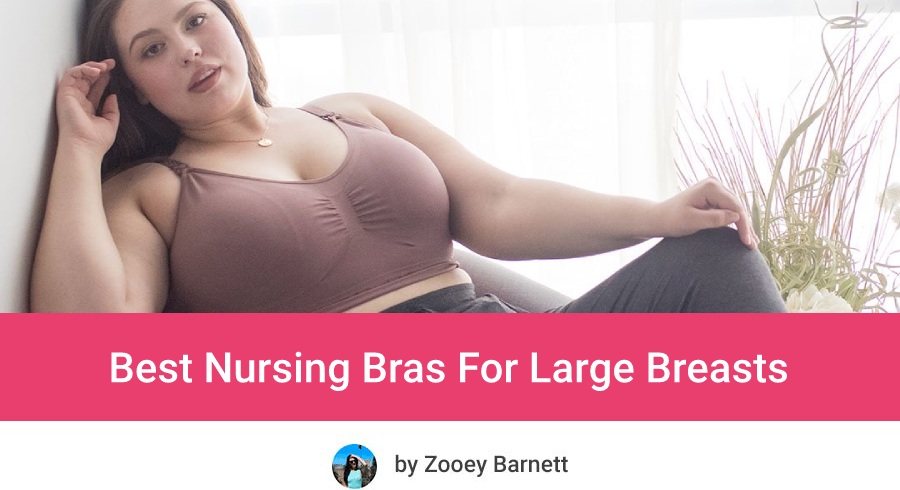 Choosing the right maternity bra is crucial for your comfort and wellbeing, whether you're breastfeeding or using a breast pump. If you have large breasts, getting proper nursing bra is even more important, because your "big girls" need extra support.
Moreover, wearing a bra that is tight around the cup or rib band and compresses your breasts may cause problems with milk flow or even decrease your milk supply!
This article is not a substitute for medical advice. It contains affiliate links.
Image
My Personal Choice For

Moms Top Choice: Best Nursing Bra For Large Breasts


Why you will love it:


Seamless wire-free design - nothing digs into your skin
Full coverage and great support for large bust
Ultra-comfy - perfect for everyday use and sleep
Quick access whenever you need to nurse or pump
Works perfect as maternity, pumping & nursing bra
Easily expands when your breasts fill and get bigger - no squishing
Last sale this year: Get 3 bras & save $15 off >> Grab your $15 discount here (no code needed) <<
In general, nursing bra in a wrong size may lead to many health issues that I'm sure you want to avoid:
Squeezed and swelling breasts
Constricted or plugged ducts, breast infections
Lower milk flow, low supply
Back pain
Skin irritation (from straps digging into the skin)
Rash under the breasts
Aggravated nipples
Difficult access to the breasts when you need to nurse
Discomfort
Milk spillage
To avoid these problems, you need to choose the right nursing bra for your large and hefty boobs.
Here's everything you need to know about the best nursing and pumping bras for big busts.
4 Best Nursing Bras For Large Breasts That Provide Ultimate Comfort & Support
Not all brands offer maternity bra for plus size moms (above bra size F), and it's even more difficult to find a nursing bra for large cup sizes, but with a smaller underband.
But don't worry! I did the hard work for you and researched for maternity bras for large breasts – below you can find my favorite picks that offer the best comfort.
LittleBabyGear Verdict: Best Overall Nursing Bra For Large Bust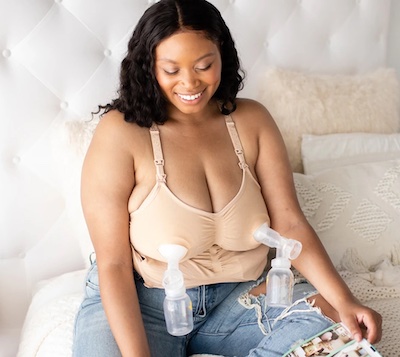 In my opinion this is the best nursing bra for large breasts – it's designed with all different body types in mind!
It's available in 10 sizes with cups size from B to I and band size from 30 to 44. In contrast to many other brands that only offer large cups with longer underband, Kindred Bravely gives you wider choice – you can pick nursing bra with larger cups and shorter band or large cups with long band. This is really awesome, because it allows mom to find the right fit and good support.
With this bra you will forget about straps digging into your shoulders, cups that cause discomfort or even breast swelling, and under-boob rashes caused by a tight band.
>> Check out the sizing guide and pick the right size for you
To give you even better fit, each bra has adjustable back band with 4 hook closures. What's more, each size comes with a bra extender!
SALE ALERT: If you decide to buy 3 Kindred Bravely bras for large breasts right now, you'll save $15 OFF! This is the perfect opportunity to get Kindred Bravely bras at more pocket-friendly price. Collect your $15 discount here >> This bundle includes 3 bras (I usually recommend getting 3 bras anyway), so you will always have a spare one without having to do the laundry every day. Milk spills and leakage will happen for sure!
Kindred Bravely Sublime is so comfy that you can wear it all day long or even sleep in it! With clip-down cups, this bra gives you quick access to your busts, whenever you need to nurse.
It also works fantastic for hands-free pumping thanks to double-layered cups and openings for breast pump flanges.
Moms who have been wearing this maternity bra, have tested it with all popular breast pumps like Medela, Spectra, Lansinoh, Philips Avent, Evenflo… It's super convenient and allows you for hands-free pumping even if you don't have a cordless pump!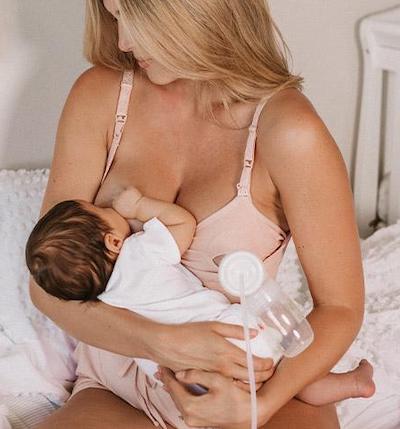 Having your hands free for a few moments and being able to multi-task, is so precious when you have a baby!
Whether you're dedicated to breastfeeding, EPing or mixing nursing and pumping, this seamless nursing bra will give you ultimate comfort.
With full-coverage cups, wide underband and thick (but breathable) fabric, it keeps your breasts well-supported and it relieves the pressure from your back and neck.
PRO TIP: If you happen to have one of those ingenious wearable hands-free breast pumps like Willow or Elvie, and you're looking for a nursing bra for larger breasts that would also fit the pump, choose this Kindred Bravely Simply Sublime bra. This one also comes in 10 sizes. It's $10 cheaper, because it doesn't have openings for flanges (you don't need them anyway).
What's important, this maternity nursing bra doesn't have underwire. This is a great thing because wires can put extra pressure on the milk ducts, which may lead to blocked ducts or even breast infections.
Whichever brand you'll choose, if you want the best nursing bra for your large busts, pick a wire-free one.
One last thing, Kindred Bravely Sublime is made from 84% nylon and 16% spandex – this fabric is really elastic and adjust to your breasts as they change size throughout the breastfeeding journey.
If you decide to sleep in it, it will easily expand when your breasts get full and bigger during the night hours.
PRO TIP: If you're looking for some extra support during your workout, I recommend you this sporty version of Kindred Bravely Sublime. It's made from breathable and moisture-wicking fabric which all active mamas love. There are some important differences tho – it doesn't have openings for electric breast pump flanges (but it does have clip-down cups for convenient breastfeeding) and you slip it on like a t-shirt. If you're looking for the best nursing sports bra for large busts, this is your top choice. It's also really comfy as a sleep bra.
LittleBabyGear Verdict: Breathable Nursing Bra For Daily Use, Sleep & Workout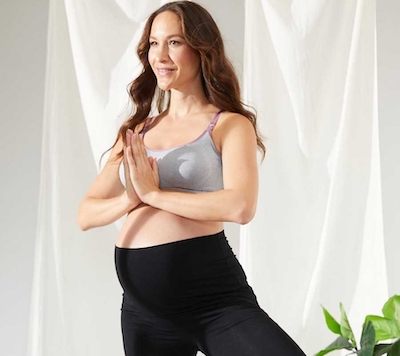 According to mamas, this is one of the best maternity bras on the market! It's silky soft, provides excellent support and doesn't cause back strain – which is really important for ladies with larger breasts.
It has molded double-layered cups that provide excellent support for large busts and prevent mono-boob. What's unique about this maternity bra, is that it has knitted ribbed panels that mimic the shape of wire. Even though Cotton Candy is a wire-free bra, it's strong and supportive just like a bra with underwire!
Thanks to dropdown cups that you can unclip with one hand, it's so easy to breastfeed in this bra.
There's one more thing that distinguishes Maternity Cake nursing bras: each has an inner side sling to prevent your boobs from moving from side to side and sticking out on the sides.
This nursing bra for large breasts offers full coverage and support, without squishing your boobs.
What mamas also love about this nursing bra is its fabric. It's silky soft, stretchy and wicks moisture away – no more sweaty boobs! Moreover, the material is Oeko-Tex Standard 100 Certified. With this maternity bra you will stay comfy and dry all day (or night) long! It's also perfect for light and moderate workout like yoga or walks.
Thanks to the elastic fabric, the cups and the band mold to your body and easily adjust to your breasts size, as it changes throughout the pregnancy and postpartum.
Another great thing about this nursing bra is that is has racerback design that provides additional support and better weight distribution. Thanks to that moms with larger breasts won't experience strain in the neck or back.
The back band is adjustable with 3 hook & eye closures. This allows you to expand or contract up to half a size as your body and breasts change.
These nursing bras are available in cup size B-G and for each cup you can choose from 6 underband sizes (32-42).
Cotton Candy has tons of positive reviews on brand's website, as well as on Amazon. Moms rave about how soft, lightweight and supportive it feels. Even though it's on the higher end, mamas say that it's totally worth the money. It's incredibly comfortable for daily wear.
What's more, some moms have started using it during pregnancy and continue to wear it throughout the breastfeeding journey – it grows with the breasts and easily adjusts to the body. Other moms have been using the bra with Willow pump and it turned out to be a fantastic choice. They even say it is the best pumping bra ever!
Whether you're looking for the best maternity bra for large breasts for breastfeeding or breast pumping (or both), you can't go wrong with Cotton Candy bra. It's available in 8 colors, my favorite is this Navy Blue version.
PRO TIP: If you're a plus-size mom or have fuller bust (above G cup), check out this Sugar Cake Nursing Bralette. This nursing bra was designed for ladies with larger breasts – if you're G-K cup, it will be a fantastic choice.
>> Would you like to add some style to your maternity lingerie? Check out these awesome sexy nursing bras!
LittleBabyGear Verdict: Best Nursing Bra For Large Breasts And Narrow Bands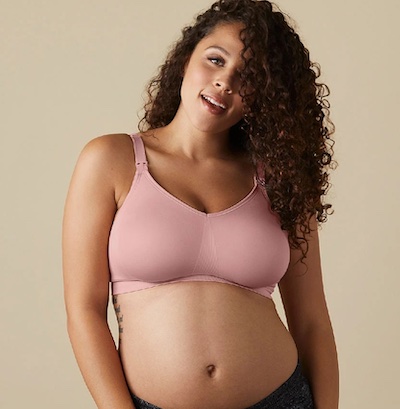 It's the best fit for narrow-band moms (sizes 30-40) who have large bust (cup sizes G-J).
This full-coverage bra is made from an elastic fabric that molds to your body and easily accommodates your growing breasts without compressing them.
It has seamless design with knitted ribber panels at the sides and inner sling – all to improve lift and support larger and heavier breasts better. All those features also prevent mono-boob.
These molded cups are double-layered and have removable foam padding in case you need more shaping and support. Each cup unclips with one hand for quick and easy nursing.
What distinguishes this amazing bra for large breasts are the shoulder straps – they are wider than in many other nursing bras. This ensures better support for full and heavy bust and more even weight distribution. This in turn means less pressure on your back and less pain!
Other key features: it's made from nylon and spandex that hugs your shape really well, and it doesn't have underwires that would dig in and cause discomfort.
If you have a full bust and narrow band, this is one of the best nursing bras you can get. This means it's perfect for skinny girls with large boobs. It's great for everyday wear, for pregnant and breastfeeding mamas.
It's available in multiple colors – some may be slightly cheaper than others so make sure to compare all prices here.
PRO TIP: If you're in the hunt for the best nursing bras for large breasts with wider band or if you're looking for the best plus size nursing bras, I recommend you this regular version of BRAVADO! DESIGNS nursing bra. It has the same features, but comes with much wider underband (up to size 46) and cup size A-F.
LittleBabyGear Verdict: Cheap Alternative For Mother On Tight Budget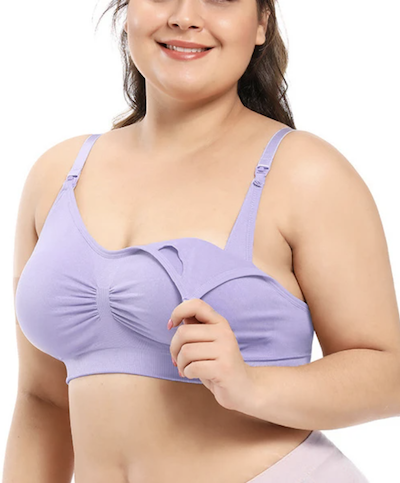 The last place in my ranking goes to inexpensive iloveSIA nursing bras. If you're on tighter budget, this is an awesome choice.
This bra has molded cups with two layers of fabric. There are removable inserts which provide more discretion and shape. The cups have one-hand clips so you can easily nurse whenever and wherever you need.
iloveSIA nursing bra has seamless and wire-free design, but there are knitted ribber panels and inner nursing sling.
All these features ensure proper lift and support for heavy and large bust. Besides, the breasts are separated properly – no more mono-boob!
These nursing bras come as a 3-pack – you can choose all in black or mix the colors. Each bra has highly-adjustable shoulder straps and hook&eye closure at the back with 4 width settings for even better fit.
According to moms this nursing bra is so comfortable, it can double as a sleep bra!
It fits ladies wearing cup size A-F and band size 30-42. The biggest available bra size is 2XL which fits 40F and 42E. Moms who have this nursing bra recommend sizing up.
Keep in mind that for really large breasts it may feel a bit less supportive since the fabric is thinner than in other bras in this ranking. But this nursing bra is also a few times cheaper!
If you're on small budget, I would still recommend it, but if you're looking for optimum support for large breasts, choose one of the bras that I recommend above.
>> Check out the best bras for Willow, Elvie & other wearable pumps
Getting The Best Nursing Bra For Large Busts – FAQ
Whether you're looking for maternity bra for nursing or want to get a pumping bra, first you should know some basic things.
Do You Really Need Nursing Bras?
Having good nursing bras can really improve your comfort and protect you from many health issues – which are often caused when you try to squeeze your boobs in a wrong bra or don't get proper support.
During and after pregnancy your breasts size change a few times therefore a nursing bra made from elastic and stretchy material will be really handy. It will expand or contract and adjust to your boobs, keeping them always well supported.
The main reason why you need a nursing bra is very simple – it's more comfortable and gives better support for your breasts (which are now full with milk, more sensitive, change size frequently and sometimes are swollen).
Nursing bra with a seamless design, full coverage and no underwire is better for a new mom than a regular bra.
During and after pregnancy you will need a different bra size than before you got pregnant, this is another reason to get a good nursing bra. Besides, it's better to invest in a comfy maternity bra than simply get a bigger regular bra, because maternity bras are designed with mothers in mind – they have clip down cups for quick access when you need to breastfeed or pump, and no wires that would dig into your sensitive boobs. What's more, they have cups that mold and hug your changing shape – this means proper support without squishing the breasts (which could lead to blocked ducts).
What To Look For In Good Nursing Maternity Bras?
Stretchy and elastic material – the bra should be able to grow with your body when you're pregnant and then when you breastfeed or use a breast pump.
Sturdy, thicker fabrics are better than thin lace which doesn't provide enough support.
Seamless design with molded cups that separate, lift and support boobs – avoid bras that squeeze your breasts! Encapsulated cups will help you to prevent mono-boob which is especially important if you have larger bust.
No underwires – the best maternity bras are the ones without wires. Generally speaking, underwire can put additional pressure on milk ducts – you definitely want to avoid that. Choose a nursing bra that has knitted panels that mimic a shape of underwire and provide extra support.
Pick the right size – this is extremely important, because a bra that is too tight and squeezes your boobs may lead to issues with milk flow and supply, plugged ducts, aggravated nipples, milk spillage on the sides and at the top of the bra, rashes under the breasts, back pain and general discomfort.
Wide adjustable straps – getting a bra with wider straps will help to distribute the weight more evenly and limit the pressure on your back.
Elastic underband with adjustable back (few width settings) or a separate bra extender – your body will change and the bra band should be easy to adjust to it.
Full coverage cups – for ultimate comfort and support, the cups should cover as much of the breasts as possible.
Removable padding – additional foam inserts may be useful if you need extra shape or discretion, but they should be removable in case you want to put a wearable breast pump (like Willow or Elvie) inside the bra.
Breast pump flanges openings – if you want to use breast pump, it may be useful to get a nursing bra that has openings for flanges. It will allow you to pump hands-free or multitask!
Dropdown cups – each cup should have a clip for a quick access to the breasts for nursing or pumping. You should be able to unclip the cups with one hand.
When Should You Start Wearing Nursing Bras?
You can start wearing nursing bras during pregnancy – they will adjust to your changing body and grow with your breasts. If you pick the right nursing bra made from elastic fabric, with seamless, supportive and wire-free design, it will be comfy to wear throughout the pregnancy and above. It's best to choose multi-purpose maternity bra: for pregnancy, nursing and pumping.
Should You Wear A Bra To Bed While Nursing?
This really depends on your preferences and comfort. If you've always slept braless, you don't have to wear it while nursing. However, there are a few reasons to sleep in a nursing bra while you're breastfeeding.
During the first few weeks, before your milk supply is established, you may leak a lot at night therefore wearing a bra to bed while nursing may be helpful. You can put nursing pads inside the bra to prevent leaking and reduce laundry1.
Keep in mind that once your bra gets stained with breastmilk it's better to throw it in the laundry because it will quickly get smelly.
Moreover, the bra supports the structure of your bust (especially Cooper's ligaments2) and prevents sagging breasts. If you have bigger breasts, a bra will help you to avoid backache.
Make sure to choose the right nursing sleep bra for your breast size – the best ones are made from stretch fabric that expands when your breasts fill overnight.
---
The purpose of this article is informative and entertaining. It's not a substitute for medical consultation or medical care. Remember: safety first! The author of this article does not accept any responsibility for any liability, loss or risk, personal or otherwise, incurred as a consequence, directly or indirectly, from any information or advice contained here.
Source of pictures:
Picture at the top of the article was created with photos that belong to Kindred Bravely. All pictures of Kindred Bravely bras belong to Kindred Bravely. Source: https://www.kindredbravely.com/
Picture of BRAVADO! DESIGNS Bra belongs to BRAVADO! DESIGNS. Source: https://bravadodesigns.com/
Picture of iloveSIA bra belongs to iloveSIA. Source: https://www.ilovesia.com/
Picture of Cake Maternity bra belongs to Cake Maternity: https://www.cakematernity.com/