Baby led weaning can be really messy, but the best bibs for BLW can help you keep all those spills, dribbles and crumbs contained. My 3 kids tested a lot of baby led weaning bibs and here we are sharing our top picks.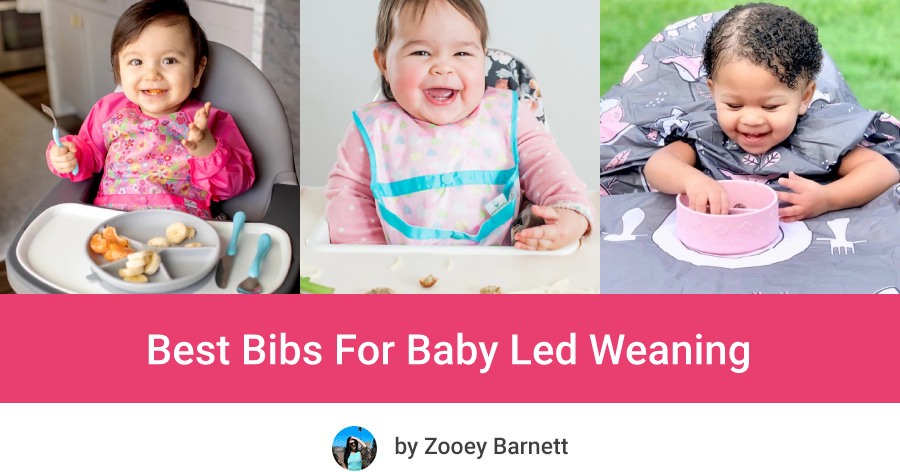 This article is NOT a substitute for medical advice. It contains affiliate links.
Baby-led weaning is an important part of teaching your child to be more independent and self-sufficient. It can be difficult for parents tho, with all that mess to clean after.
You will need a lot of patience before your baby learns food-to-mouth motion and masters self-feeding. But the truth is that BLW is just as messy as traditional weaning (with purees).
The key to make BLW easier and a bit less messy is to have the right equipment and getting the best bib is one of the most important tools.
Some innovative companies have designed the best bibs for baby-led weaning, so it won't look like a food fight broke out in the high chair. This means less mess and less laundry – one of my favorite words as a mom of three!
With so many bibs and products available it can be overwhelming to choose the most suited BLW bib for your little ones. Luckily, me and my kiddos did all the research for you.
We truly hope this article will help you choose the best bib for weaning your little one and make your child's mealtimes easier and cleaner.
Best Features
❤️ Features adjustable neck and large pocket to catch all crumbs and spills
❤️ Easy to wipe clean & dishwasher-safe
❤️ Comes in many adorable designs
❤️ Suitable up to 3 years - it will serve you until your baby masters eating independently
❤️ Super easy to clean: pop part is machine-washable, silicone pocket is dishwasher-safe
❤️ Rolls up neatly for easy storage in a diaper bag
❤️ Perfect size for BLW beginners
❤️ This is a GAME-CHANGER for making BLW less messy - it fully covers the baby and highchair
❤️ Easy to clean & machine-washable
❤️ Works awesome for young babies who are just starting baby-led weaning
advantage
✨ 300+ positive reviews online
✨ Recommended by 2000+ parents!
Best Features
❤️ Features adjustable neck and large pocket to catch all crumbs and spills
❤️ Easy to wipe clean & dishwasher-safe
❤️ Comes in many adorable designs
❤️ Suitable up to 3 years - it will serve you until your baby masters eating independently
advantage
✨ 300+ positive reviews online
Best Features
❤️ Super easy to clean: pop part is machine-washable, silicone pocket is dishwasher-safe
❤️ Rolls up neatly for easy storage in a diaper bag
❤️ Perfect size for BLW beginners
Best BLW Bib
Best Features
❤️ This is a GAME-CHANGER for making BLW less messy - it fully covers the baby and highchair
❤️ Easy to clean & machine-washable
❤️ Works awesome for young babies who are just starting baby-led weaning
advantage
✨ Recommended by 2000+ parents!
5 Best Baby Led Weaning Bibs That Are Easy To Clean
Whether you're just starting out with the self-feeding and introducing solid foods, looking for a BLW bib for on the go, or upgrading to a toddler bib, there are safe, easy to clean, and simply adorable bibs to choose from.
Here are the best bibs for BLW that I personally tried:
Starting off with Loulou Lollipop Silicone bibs, with an adorable name, it has top features that make it a durable, safe, and practical choice. This is absolutely my favorite baby-led weaning bib because it's super easy to use and clean and keep all mess contained.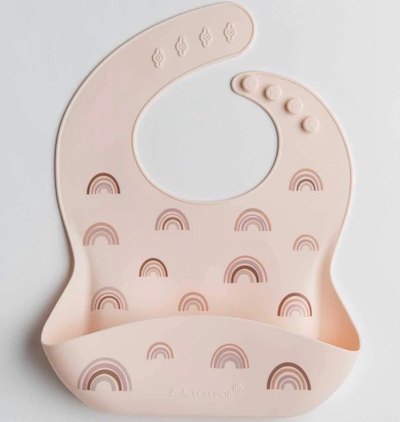 The best thing about these silicone baby bibs is the extra-large and deep pocket. Seriously, it'll catch the crumbiest of cookies! The deep pouch catches all falling food but still isn't too chunky, making it a great option for when mealtime is on the go.
Once your baby is finished eating, the silicone is easy to wipe down. Plus it's stain resistant so it will look good even after few months and there's no need to worry about stains from carrots or beets!
If you've got a serious mess on your hands, a pouch of mashed potato, simply empty the pocket and toss it in the dishwasher. As easy as that! Always a fan of less laundry.
Loulou Lollipop is great for baby-led weaning as it comes with durable buttonholes so you can adjust it to fit your growing baby. The bib is suited for ages 3 to 36 months so your baby can wear through all stages until they master self-feeding.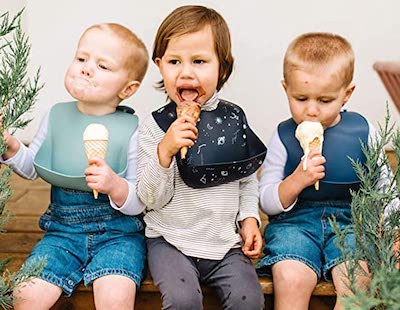 I think Loulou Lollipop makes one of the safest best baby bibs for BLW, because they are free of BPA, PVC, phthalates, and lead so you can be sure your precious little one only has the safest and highest quality products.
This is very important because infants love to gnaw on silicone baby bibs and no parents want nasty chemical in their little one's mouth!
PRO TIP: If you'd like to get these BLW bibs at more affordable price, I've got great news for you. The brand offers two discounts right now. With code LOLLI5 you can save 5% OFF, and with code OFF150 you'll get 15% OFF when you spend $150+. Make sure to use your discount code here at checkout >>
If you're like me and enjoy looking for the cutest designs for babies, Loulou Lollipop has many sweet patterns like Sushi, Ramen, Breakfast, Lemon, Space and more! My favorite design is this Rainbow bib. There is also a wide collection of single-color bibs without any prints if you prefer something more classic.
Green Sprouts is a well-known company with some of the best BLW bibs. Their Silicone Food Catcher Bib is a great BLW bib for traveling. Simply, roll up the mess, snap it away and go!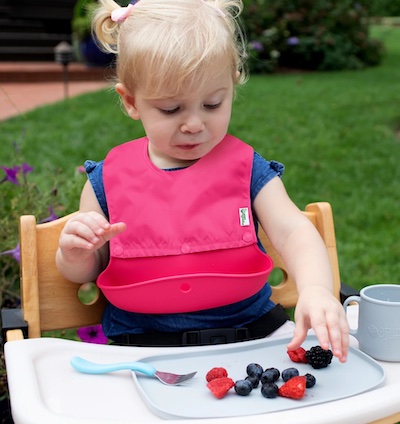 This BLW bib has two parts: there's a waterproof top with wicking lining and a silicone pocket that can catch crumbs and spills. The bib top can unsnap from the silicone scoop and it is machine-washable to make cleaning even easier. You can purchase bib tops separately to always have a clean bib at hand (I recommend getting this 2-pack).
The bib is really lightweight and you can easily fit it into your diaper bag, meaning baby-led weaning training doesn't stop just because you left the house.
Designed for babies 6- 18 months, the bib is easy to take on and off with a hook and loop closure that gives space to adjust it perfectly to size. It snaps on and off which makes it so convenient if you're out and about.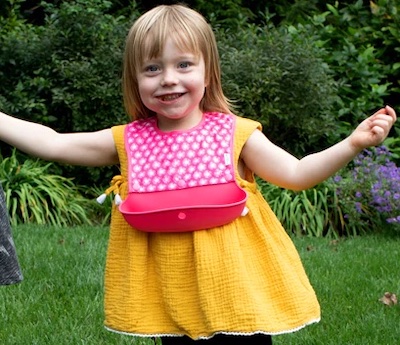 Once feeding time is over, you can throw the dirty utensils into the silicone scoop and roll it up easily. The scoop can be added to the next dishwasher cycle.
The Snap + Go is made from safe materials with no BPA, azo-dyes, or PVC, meaning mom can relax knowing their baby's health and well-being is safe.
PRO TIP: Although a silicone allergy is rare, it can happen. Fortunately, Green Sprouts Snap + Go comes in two more versions. There's this water-resistant polyester version, which is the most compact and lightweight option. If you're opting for waterproof bib, here's Snap+Go made of EVA – this material ensures no liquids soak through your baby's clothes and keeps them dry.
Full coverage at your service. Grabease All Over Bib is a game-changer when starting out the baby-led weaning experience.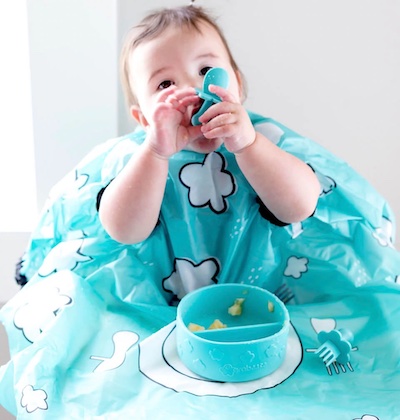 The All Over bib does just that, covers your baby, the high chair, table, and all. Babies 6 months and over can learn to explore their food without mommy worrying about the mess.
There's a lot of material but it's simple to use as you just pull it over your baby's head and it'll cover the high chair. When removing, you can pull the bib over back to front, avoiding food falling in their face. That's if they haven't already created a Picasso-esque food painting on their face!
What makes this a great baby-led weaning bib is that once it's off, you can just shake off the food and wipe it down.
It's also washable so when you're ready put the bib in the machine wash for a more thorough clean. Once machine washed, make sure to only hang dry the clean bib. You'll also find the high chair is also clean!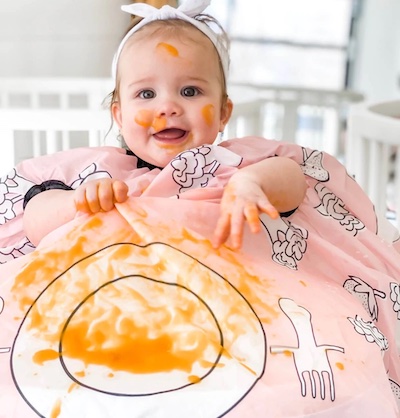 The Grabease All Over Bib is on the pricier side so be sure it's the type of bib you're looking for. That said, for the surfaces it covers, including the high chair, the bib is a handy purchase for younger babies and first-time baby-led weaning parents.
PRO TIP: If you plan on buying more things from Grabease (like their fantastic silicone suction bowl, baby's first ergonomic utensils or divided plate for self-feeding), the brand has an awesome deal. When you buy all those items as a set, you save a few dollars! Check out this bundle promo here >>
The All Over is a BPA-free bib that's also PVC-free and phthalate-free making sure the baby-led weaning mealtimes are both safe and easy to clean.
Another Green Sprouts product, their Snap + Go long-sleeved bib is a good all-rounder bib for baby-led weaning as well as arts and crafts activities.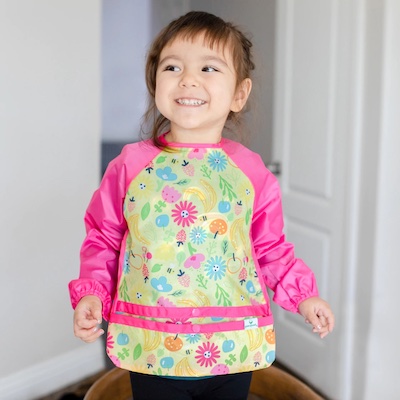 I'm a fan of these long-sleeved bibs for their versatility. Coming in two sizes, 1 to 2-year-olds and 2 to 4-year-olds, the waterproof bib is odor resistant and stain proof making it a fantastic choice for food time as well as a little painting!
This is one of the best baby-led weaning bibs because it's made from safe materials, as are all Green Sprouts baby products and baby clothes, it covers your baby's arms, and it's got an affordable price tag.
This long-sleeved bib is genius and is what makes it a good bib. It provides full coverage while eating, and once done, you can pack used utensils in the pocket, roll up and go. Throw it into the dishwasher during nap time.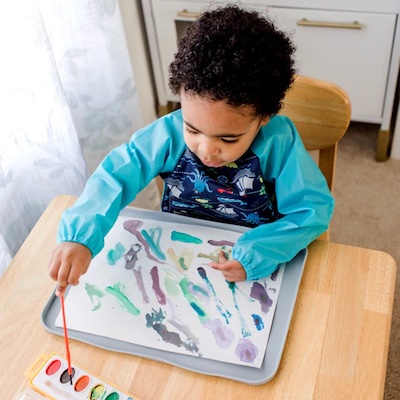 One thing is the sizing can be tricky, especially the arm sleeves. My baby has adorable, yet chunky wrists, and elastic sleeves can feel a little tight. Although the sizing might be a hit or miss for your baby, it comes at a good price giving it some leniency.
Last on the list, Bumbkins Short Sleeve Bib is designed for toddlers of 1 to 3 years. As all moms know, you turn around for a second and your toddlers have already grown a few inches! Bumkins is affordable which is handy for your growing toddler who's already in the swing of self-feeding.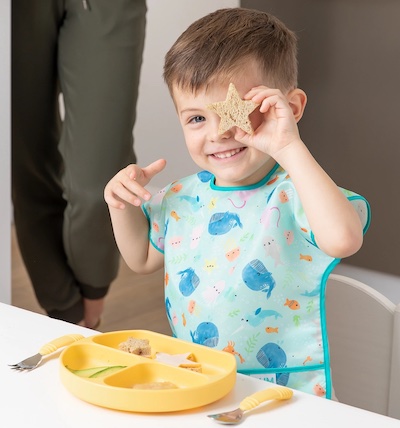 Bumkins are fantastic baby-led weaning bibs because they are adjustable with a hook and loop closure allowing for a tug-proof fit for toddlers. If you've experienced the terrible twos you'll know how important this is.
Bumkins Short Sleeve Bibs save you from messes as they're made from 100% polyester embedded with TPU so you can put them in the machine wash as many times as you need. They're also BPA, PVC, phthalate, and vinyl free ensuring your toddler isn't exposed to harmful materials.
The pocket is rather on the small size but as it's made for young toddlers it's not too much of a problem as they've moved on to even more solid foods. Much easier to clean up if the pockets are jam-packed with fallen snacks.
This baby led weaning bib has Velcro adjustment for baby's neck. I wish it was more durable tho.
If you're living with Disney's number one fan, Bumkins' designs are inspired by Disney characters. They also add colorful designs from DC Comics, Nintendo, Hello Kitty, and my personal favorite, Harry Potter. Seriously, these bibs are too cute and toddlers actually enjoy putting them on so they can see their favorite character.
Which Bibs Are The Best For BLW? – Features That You Should Look Out For
Size – Cover As Much As Possible
BLW bibs are all about strategy. We're trying to cover as much ground as possible, and a small bib, although cute, just isn't gonna cut it. There'll be loss of clothing, the floor bombed with steamed carrots and apple slices. Choosing a realistically sized bib for your baby's needs will make mealtimes just that much easier.
You'll be dealing with baby-led weaning mess probably until your toddler is 2 years old so make sure you're choosing bibs that adjusts and grows with the baby.
Design – Pocket Is A Must-Have
The design of the bib is an important feature as each bib's design suits the different stages of the baby-led weaning process. If you're just starting baby-led weaning you'll look for a design that covers high chairs, has deep pouches and covers even baby's arms. If you've got an experienced self-feeder a standard bib with pocket will suffice.
Type
Standard bibs – They only cover baby's chest, most of them have adjustable neck and pocket to catch crumbs.
Short sleeve bibs – This type looks like a T-shirt, so it additionally covers baby's shoulders and belly.
Long sleeve bibs – These ones offer full coverage for baby's torso and arms.
All over bibs – This type is actually perfect for BLW and first self-feeding attempts because it provides coverage not only for baby's body, but also the high chair.
Easy To Clean Material
What materials you choose is important for your baby's health and the ease of cleaning. Choose waterproof and stain-resistant baby bib to cut down on laundry time.
Silicone is probably the best option here, because it's easy to clean using a soapy water, some models are even dishwasher-safe. It's best if the material dries quickly before your baby's next meal.
Bibs made from EVA or polyester bibs with water-proof polyurethane coating will also do the job well.
Avoiding chemicals like BPA, PVC and phthalates is incredibly important. Purchasing products from well-reviewed and well-known baby product companies can help ensure your baby is in the safest of hands.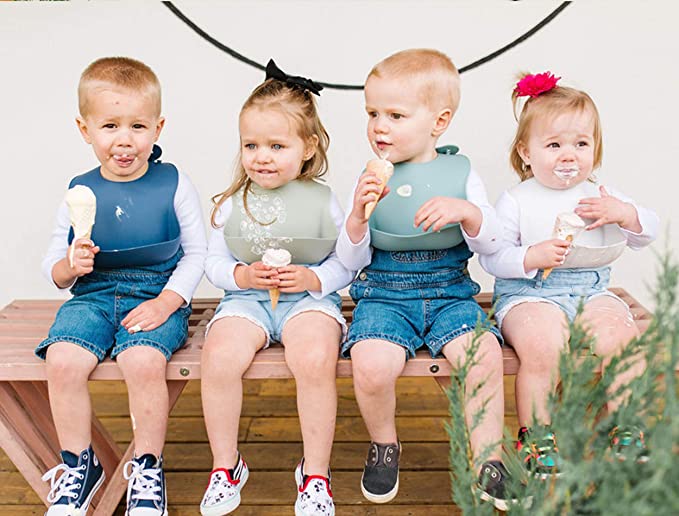 Neck Adjustments
Ensuring the bib is a comfortable fit for your baby is as important of a feature to focus on. Using a soft elastic material is easier on your baby's skin, especially sensitive skin. Choosing bibs with velcro closure and adjustable necks will allow your baby to feel comfortable while they explore their food.
What Bibs Should I Avoid?
Cute But Tiny
Again, size is very important. Small bib won't be effective at keeping food off baby. Bibs that don't come in different sizes or can't be adjusted for your baby's neck just won't work. If you need to catch food and catch spills the right bib for baby-led weaning should feature pockets or even be big enough to cover a baby's lap.
Bandana Bibs
If you're looking for a bib to catch drool you'll find bandana bibs will work just fine. But the drool bibs are too small for BLW.
Cloth Material Bibs
Out with the old and in with the new. Embrace modern materials designed for baby-led weaning and all types of baby food. Old cloth bibs, the traditional weaning material, may make grandma feel nostalgic but honestly, you'll be scrubbing bibs for ages, as well as the clothes under. Cloth bibs soak through quickly and lack pockets therefore they are useless to self-feeding lessons.
Best Baby Led Weaning Bib – FAQ
You already know what are the best baby led weaning bibs and which ones to avoid. Now it's time to learn what supplies you need to prepare for successful BLW.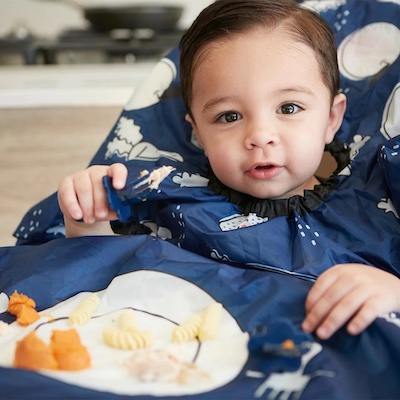 How Many Bibs Do You Need For BLW?
You need at least 3 bibs for BLW. I recommend getting one travel-friendly bib such as the Snap + Go, where you can easily store dirty utensils and slip them into a diaper bag.
And then two for home so you always have a bib available just in case there's a rainbow of BLW food spread across the other (or when the other is in the laundry).
You may also want to get various types to check what's working for your babe best.
If you're unsure how many bib you need for your little one, check out my tips in this article.
What Age Do Babies Use Silicone Bibs?
At the age of 6 months, babies can use silicone bibs. Generally, at 6 months old babies start baby-led weaning and it's honestly up to you which bib you choose, but silicone is a great choice.
What Supplies Do You Need For Baby Led Weaning?
There are lots of supplies you can get to help baby-led weaning. I recommend you to check out my ranking of the best silicone bowls and plates as they are foldable and suction to high chairs. Other useful thing is toddler placemat which helps to contain all messes. All these tools are very helpful when your children are starting solids.
You'll find lots of other utensils suggestions in baby-led weaning books too.
Of course getting the best high chair for BLW will also make the job easier. One of the chairs that I recommend for baby-led weaning is Stokke Steps (review).
---
Sources of pictures:
---
The purpose of this article is informative. It's not a substitute for professional medical advice or medical care. Remember: safety first! Consult your doctor/pediatrician in case of any doubts. The author of this article does not accept any responsibility for any liability, loss or risk, personal or otherwise, incurred as a consequence, directly or indirectly, from any information or advice contained here.
Your trust is really important to me: This article includes affiliate links to products that I think are useful for our readers. If you make a purchase through these links, I may earn a small commission at no extra cost to you. Your support helps me run this blog – thank you!