The best bassinet with wheels can be a game-changer when you're recovering after the delivery. It will make it so much easier for you to get out of bed at night, nurse your little one, or just roll the bassinet to another room when you need to multitask.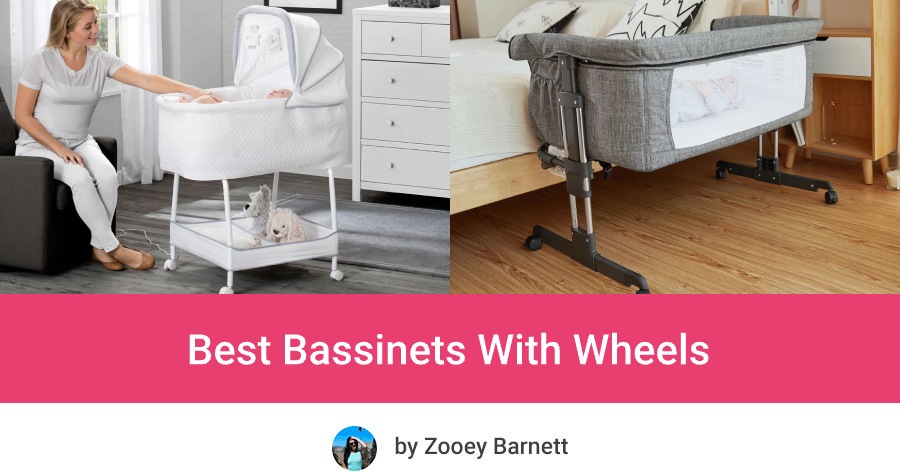 Bedside sleepers are a great co-sleeping option, but sometimes you need a sleeper bassinet with wheels that you can move around, not always be anchored to your bed.
If you delivered via caesarian or had any complications during birth, you may have limited mobility for the first few days. This is when having a bassinet with wheels can save the day.
It will also make it easier for you to get out of bed at night. When I was right after the delivery scooting down the bed was horrible. This Chicco bassinet was a life-saver for me. It's was so convenient to have a bassinet with wheels that I could roll away and get out of your bed without pain.
While some bassinets have a removable sleeper, this isn't always a great alternative or a safe place outside of the bedroom, especially if you have pets like cats who may try to reach your baby.
A bassinet that you can easily roll to another room can be so handy, especially during those first few months.
Best Features
❤️ It's easy to move it around the house
❤️ Bedside wall is foldable so it's easy to check on the baby and take them out of the bassinet
❤️ Mesh sides provide plenty ventilation
✖️Larger footprint (legs stick out)
❤️ Doubles as a changing table
❤️ It's the only bassinet in this ranking with melodies, vibrations and nightlight
❤️ Features convenient handle for even easier portability
✖️On higher end
advantage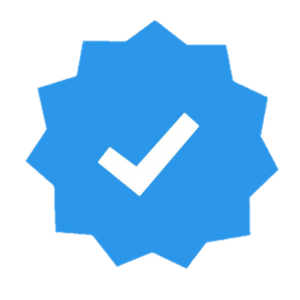 Recommended by 92% of verified buyers!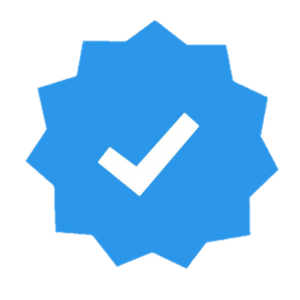 Recommended by 92% of verified buyers!
Best Features
❤️ It's easy to move it around the house
❤️ Bedside wall is foldable so it's easy to check on the baby and take them out of the bassinet
❤️ Mesh sides provide plenty ventilation
✖️Larger footprint (legs stick out)
advantage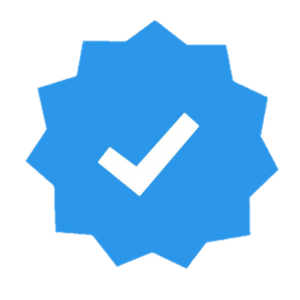 Recommended by 92% of verified buyers!
Best Features
❤️ Doubles as a changing table
❤️ It's the only bassinet in this ranking with melodies, vibrations and nightlight
❤️ Features convenient handle for even easier portability
✖️On higher end
advantage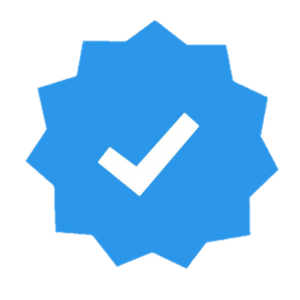 Recommended by 92% of verified buyers!
Last update on 2023-12-11 / Affiliate links / Images from Amazon Product Advertising API
Infant Sleep Safety: Expert Advice
According to the American Pediatrics Association, the safest way for newborns to sleep is on a separate sleep space, in the same room as the new parents, not in a separate nursery just yet.
There should be no small toys or loose bedding around your infant, only a mattress with a fitted sheet for safe newborn sleep.
Remember these 2 safety rules:
#1 Back to sleep, tummy to play
#2 Room-sharing, without actual bed-sharing
6 Safest & Best Bassinets With Wheels – Ranking
Here are the top six safest bassinets with wheels; ones to help you keep baby safe and secure and others to make bedtime with a newborn a little easier with built-in soothing devices or vibration machines.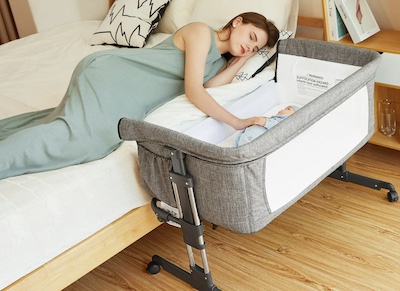 Review
The Mika Micky Baby Bassinet is a basic, straightforward option for parents who want a simple sleep solution. It can attach to your bed as one of those bedside sleepers. The appeal here are the rubber wheels, which allow you to easily move it from one room to another.
It has two fully mesh sides allow for optimal visibility and breathability for your infant. It also has a safety certificate through the Consumer Product Safety Commission (CPCS), so you can be assured its totally baby-safe.
While there aren't a lot of frills with this bassinet (no storage pockets) it does have built-in brakes for the wheels.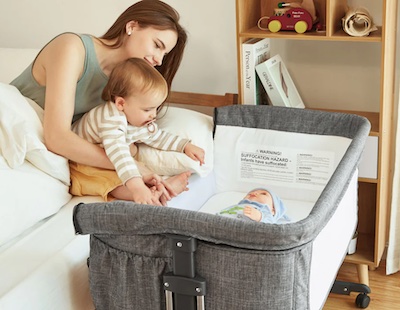 Reasons To Choose It
Perfect For Breastfeeding
This is one of my favorite bassinets for moms who are breastfeeding. The collapsable side and option to make it a bedside sleeper are really ideal for those late-night feedings.
It has an adjustable height with as many as seven different heights, so it's sure to fit your bed.
This bassinet comes with everything you need for easy assembly (no tools required!). Moreover, the sleeping board easily fits most standard mattress sheets, so finding matching sheets is easy.
PRO TIP: If you like the concept of the Mika Micky Bassinet, but need a more budget-friendly option, consider this Dream On Me Bassinet as an alternative. However, it only has a weight limit of 25 lbs, which isn't as much as the Mika Micky Bassinet.
Keep In Mind
There are no storage pockets, storage basket or other frills with this bassinet, it is very basic and does not have accessories too help soothe your baby.
The wheels work best on tile or wood floors, not as well on carpets.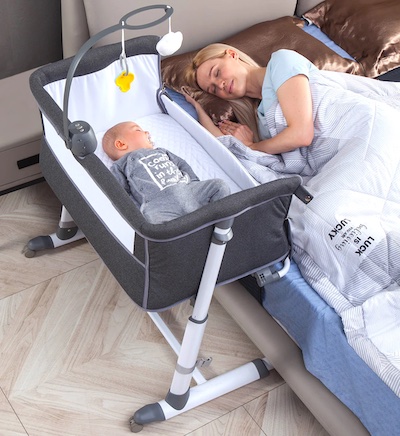 Review
Another good bassinet with wheels is the RONBEI Bassinet. It has a similar design and shape to the Mika Micky bassinet, with a drop-down side that can become a bedside sleeper or a standalone bassinet, as you decide. It also has two breathable mesh sides for visibility and airflow.
The advantages of the RONBEI bassinet are that it is lightweight and easy to move with built-in lockable wheels so you can feel safe setting your sleeping baby in it, too.
Reasons To Choose It
This is the most adjustable bassinet, with nine different height options; ideal for mamas with high or very low beds.
There is a cute mobile with little plush stars and a removable music device to help entertain your baby. But what I really like the best is the included mattress pad and a mattress sheet – both which are easily machine washable.
Even the mesh sides of this bassinet can be washed in your laundry machine – how awesome is that?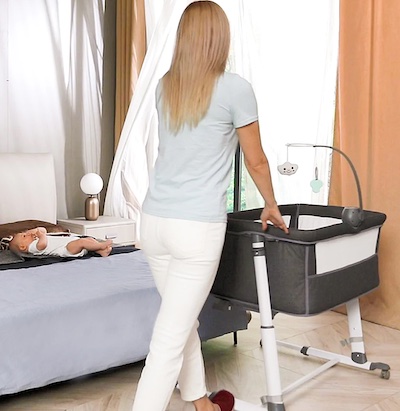 Keep In Mind
The locking wheels roll like a dream over flat surfaces (wood floors or your kitchen tiles) but they are not easily maneuverable over any type of carpet, even low area rugs.
The design of this bassinet results in the legs protruding quite a bit at the base. When it's in use as a bedside sleeper with the included safety straps, that may not be an issue, but it could get in the way if you park it in the middle of the kitchen.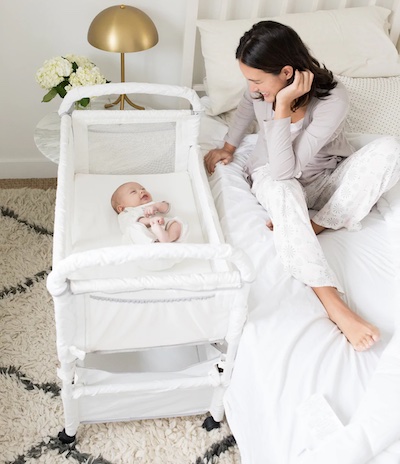 Review
The Arm's Reach Co-sleeper is the best bassinet for C-section mamas, because it was designed by OBGYNs to make it easy for new moms to conveniently access their baby during the rough first few weeks of a newborn's life, when Mama is healing, too.
The legs frames sit on four wheels to make it easy to move throughout your home. Each wheel has in individual lock, which most moms can maneuver with their feet – no bending necessary!
As the name "Clear-Vue" implies, the all-around mesh sides means a clear view to observe your little one, and complete airflow mesh for maximum breathability. You'll both sleep more comfortable with this bassinet.
You can also set up this co-sleeper to an adult bed with the included safety straps. The easy-open side panel folds down for convenient bedside use. Parents shared that they loved how extremely easy this bassinet was to use.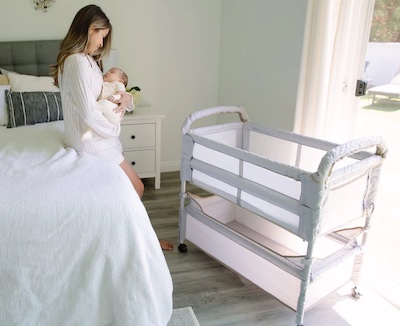 Reasons to Choose it
Good Choice For Recovering Moms
This is the best bassinet for C-section moms who are recovering from birth and surgery. The stable design on four rolling wheels means it's easy to move throughout your house, without bending or straining, to prevent injury after surgery.
The four lockable wheels are easy to use.
One of the things I love about this bassinet is all of the storage. There are not only side storage pockets, but also a large storage basket underneath, which is great for keeping baby essentials like diapers and burp clothes close by.
Easy access of baby items can be a life-saver for a C-section mom that needs to rest with baby close; keep everything you need for baby nearby, so you can rest and recover, too.
It comes with a mattress pad and fitted sheet to get you started off and when it comes to set up, it's pretty straight-forward and I appreciate that the height adjusts easily: push legs frames up or down to achieve your desired height.
Keep in mind
This bassinet does offer different heights, but only adjusts between 24 and 30 inches, from the floor to the bed mattress. If your bed is higher than this you will need to consider another option or use it as a standalone bassinet, not as a bedside sleeper.
Online, it says this product has no assembly required, but that's not entirely accurate. You do need to set it up with some basic tools your probably already have.
However, parents agree, it's very easy assembly.
Review
Finally, we have the awesome Chicco Bedside Bassinet. The oval shape, atop a simple frame with rubberized wheels allows you to easily rotate this bassinet around your bed, or any room in the house. The lightweight design allows you to easily wheel it to rooms without pushing or straining.
It is called the "Close to You 3-in-1" because it offers three modes: bedside bassinet, portable bassinet and finally, a baby changing table. It can hold infants up 20 lbs, but as a changing table it can be used up to 35 lbs.
Simply raise the stand and your baby can be right up over your mattress, like a bedside bassinet, without having to attach it to your bed at all. When you're done with bassinets, you can continue using this as a changing table; just lower the height and flip over to the waterproof mattress.
Reasons to Choose It
This bassinet is JPMA certified and independent reviews shared how sturdy this portable bassinet is.
This bassinet also has hand brakes, so you do not have to bend at all to stop movement.
It includes a device with soothing features: vibration, music and a gentle night light.
It also comes with a reversible mattress pad, which is quilted on one side to be more comfortable, and waterproof on the other.
This bassinet has strong rubberized swivel wheels that allow you to easily move from room-to-room, without distrubing your baby. It is very easy to move, even over low carpets.
The convenient pedestal shape makes its easy to rotate this bassinet even as you wheel it around.
This Chicco rolling bassinet doubles as a changing table with weight limit of 35 pounds.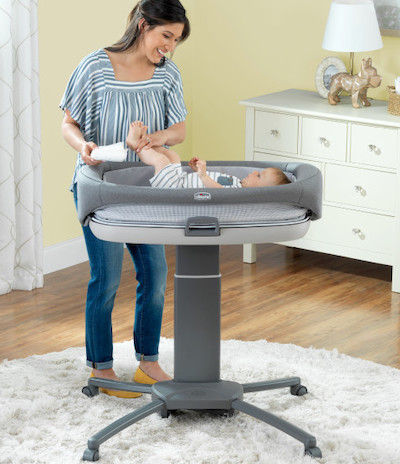 Keep in Mind
Compared to the other bassinets on the list, this is the most expensive.
There isn't any storage basket or other pockets for holding baby essentials, which is a drawback of this great bassinet.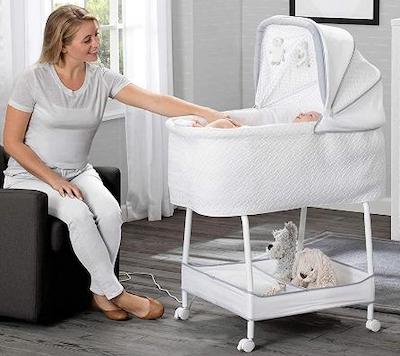 Review
The Delta Children Elite Bassinet is a vintage design with modern features, like auto-glide, soothing sounds and a calming nightlight. It sits on four rolling wheels, so you can do more than just glide your baby to sleep – you can also glide them into another room without disturbing them.
Need help lulling baby to sleep? This bassinet plays music, has soft plush toys overhead, and incorporates the gentle gliding to help your soothe baby to sleep.
This bassinet is recommended for babies up to five months of age or maximum of 30 lbs.
Reasons to Choose it
It's the same concept of a rocking cradle, but better: the soothing glide movement is gentle and silent. And – it's hands-free; just push a button to start the auto glide and off you go!
Accessories & Large Storage
The accessories of this bassinet work by adapters and batteries (yes, you do need both). The auto glide motion operates by AC power, while the nightlight and soothing music requires AA batteries.
You know I love storage space, and this thing has got a large storage basket underneath to help a mama out.
PRO TIP: If you love this Delta Children rolling bassinet, but need something more affordable, consider

this cute portable bassinet with vibration

, instead. It's a great bassinet featuring the brand's signature airflow mesh for optimal breathability as well as visibility. The vibration feature runs off batteries, only.
Keep in Mind
This bassinet only functions as a separate sleep space bassinet, and cannot be used as a bedside sleeper.
But, it's still a bassinet with wheels, so you can easily you can still keep your newborn close, but you won't have the convenience of having your baby right next to you in bed.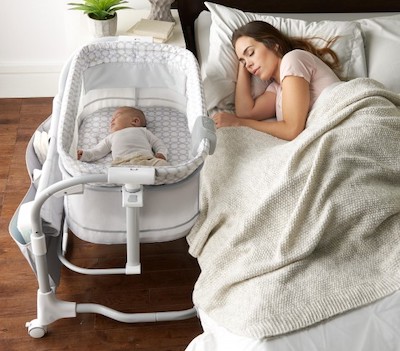 Review
The Ingenuity brand's Dream and Grow baby bed offers a dual use sleep solution for the first year of your child's life. The main benefits of this bed are that it not only doubles as a bedside bassinet, but that you can adjust it to be a crib, too. Start with the bassinet, which can easily slide on four wheels, or expand the bed area to be a soothing, cozy baby crib for your little one.
While most parents can only use a bassinet for the first 5 months, this bed can be used for the first year! Keep your baby at eye level when they are a newborn, then adjust the bassinet to be a crib as they grow.
And, since it has plastic wheels, you can roll your crib with you throughout your house, as you did when it was a mobile bassinet.
Reasons o Choose It
While other bassinets require that you transition your baby to a crib once they start rolling, or push up on hands and knees, this bassinet can transform into a crib. Talk about convenient!
You'll still have the mesh walls to easily see your baby, and the lockable wheels mean you can make it a stationary crib, too.
The four locking wheels means this is both a portable crib and a portable bassinet: you can easily wheel it between rooms by simply gliding it over a flat floor. Of course, as with most bassinets on this list, it doesn't move over thick carpets as well.
Now, the accessories of the Ingenuity Dream and Grow bassinet are pretty dreamy, too: a battery-operated machine that plays soothing sounds: nature sounds and music and a soft light.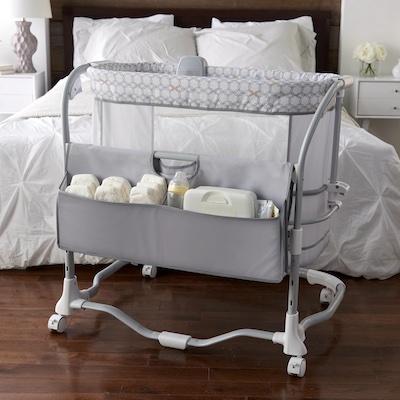 Keep in Mind
Don't assume that if you have the Dream and Grow Bassinet that you won't need anything else for your infant at all, most babies aren't ready for a toddler bed until they are 2-3 years old, so you will still need a solution for ages 1-3 years.
some reviews shared that new parents found the frame seemed more flexible than they were comfortable with. It seemed at times, like the bassinet swayed a little (and not like a rocking cradle in a good way sort of swaying).
Finally, several negative reviews shared that the base seemed unbalanced and tilted, so that their baby would slide or tip over to the side, with their face in the mesh side.
While this bassinet meets US safety guidelines, it is not JPMA certified.
Final Decision: What Is The Best Bassinet With Wheels?
I think this Mika Micky bedside bassinet is hands-down the best bassinet with wheels: it's easy to use, has a great safety rating and plenty of positive reviews from parents who have used it.
If you have more flexible budget you should definitely check out this Arm's Reach bassinet – its wheels are great quality and have lock feature. This mean that even when your little one wiggles in the bassinet, you can rest assure it will stay in place.
Do I Need A Bassinet On Wheels?
If you are going to buy a bassinet and use it as your baby's primary sleep option during naps and nighttime, it's a good idea to get a bassinet with wheels. This means you can move your newborn around the house with you. However, if you have another option for daytime naps, you may not necessarily need a bassinet with wheels.
Benefits Of Baby Bassinet On Wheels
If you have a bassinet with wheels, then you automatically have a portable bassinet! For small apartments, this may not be necessary, but if you have multiple rooms in your house, then a bassinet with wheels allows you to easily move your little one (sleeping or awake) to another room in your house.
Some bassinets might be good for putting really close to your bed as a bedside sleeper, but they aren't as handy for taking to another room in the house, especially if the doctor has ordered that you cannot do any heavy lifting. A bassinet with wheels is the perfect option in this situation.
What Features To Look Out For In The Best Bassinet With Wheels?
If you're in the hunt for a good bassinet with wheels, you should make sure it has these features:
Safety Rating
Look for quality items that are certified by the leading baby-safety experts, like the Juvenile Products Manufacturers Association (JMPA) and the Consumer Product Safety Commission (CPSC).
My favorite bassinet with wheels is JPMA certified.
Materials
You want a good bassinet that is made from durable materials but also isn't so heavy you can't move it (an aluminum frame is best). Also, aim for products that are Greenguard gold certified, meaning all the materials used are non-toxic and safe for your little one.
Side Panels
You should look for a bassinet with breathable mesh walls for adequate airflow, this can prevent suffocation.
The best bassinets have a smart design with side walls that fold or zip down for easy conversion.
Wheels
Four wheels: Some other baby beds come with two wheels so you can lift and push the baby bed to another room. However, this isn't ideal for new moms because if you're recovering from delivery, lifting anything might be difficult- or dangerous!
Locking wheels: Especially if you have other children at home, look for bassinets with locking wheels.
Rubber Wheels: Rubber wheels are preferable over plastic ones, because they will more easily roll through your home and do a bit better on carpets, too. Also, wheels with a smooth finish will not scratch up your home's expensive hardwood floors.
If you have a carpeted home, you should consider bassinets with bigger wheels, as carpet requires a bit more force for rolling over it
Baby Bassinet On Wheels – FAQ
Here are my answers to some frequently asked questions for your future bassinet with wheels.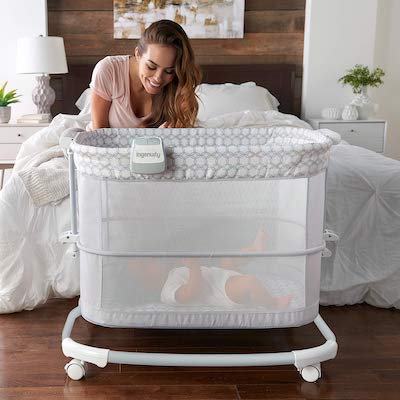 Should A Bassinet Have Wheels?
It's not only okay for a bassinet to have wheels, but having wheels is an additional feature for a good bassinet. Just make sure the wheels are stable and secure and that they have brakes or are able to lock in place.
Are Bassinets With Wheels Safe?
That depends on your home: do you have uneven floors? are there various levels in your home? What about stairs and steps?
These could all be dangerous, so keep that in mind if you're looking for a bassinet with wheels.
How Long Should A Baby Stay In A Bassinet?
A bassinet is not a crib. bassinet's sleeping surface is smaller than a crib, which is best for tiny newborns. Cribs are roomy, but bassinet is a good choice for newborns, because it creates a cozy, protected space, similar to the womb.
A baby should stay in a bassinet until they start pushing up on hands and knees (which usually happens around five months old) or when they reach the maximum weight limit of the bassinet – whichever comes first.
Is A Motion Bassinet Worth It?
Some bassinets come with soothing features like vibration or gliding. If it is worth the extra cost depends on your baby; if they need help them fall asleep, you might find a motion bassinet a real life saver.
Are Motion Bassinets Safe?
Yes, motion bassinets are determined to be safe; but make sure you install it correctly. Always follow the manufacturers guidelines and instructions when assemblying a bassinet.
Can I Change Mattress Pad In My Baby's Bassinet?
No, you cannot change the mattress of your bassinet.
While the mattress may seem extra firm or not as comfortable as another mattress out there, it is not safe to change your bassinet mattress.
Removing the mattress for another one means you might have a poorly-fitted mattress, and your baby's head and face could get stuck. In the worse case scenario, their life could be at risk.
---
Sources of pictures:
Pictures of Mika Micky bassinet belong to Mika Micky Brand.
Pictures of Clear-Vue Co-Sleeper belong to Arm's Reach Brand.
Pictures of Ronbei bedside bassinet belong to Ronbei Brand.
Pictures of Chicco Close To You belong to Chicco Brand.
Pictures of Delta Children Silent Auto Gliding Elite belong to Delta Children Brand.
Pictures of Ingenuity Dream & Grow belong to Ingenuity (Kids2) Brand.
---
The purpose of this article is informative. It's not a substitute for professional medical advice or medical care. Remember: safety first! Consult your doctor/pediatrician in case of any doubts. The author of this article does not accept any responsibility for any liability, loss or risk, personal or otherwise, incurred as a consequence, directly or indirectly, from any information or advice contained here.
Your trust is really important to me: This article includes affiliate links to products that I think are useful for our readers. If you make a purchase through these links, I may earn a small commission at no extra cost to you. Your support helps me run this blog – thank you!