Black Friday and Cyber Monday 2023 sales are already on! I've prepared for you a list of best deals for baby stuff which are currently on sale. You can get tons of baby products like strollers, baby carriers, car seats, baby swings, toys, new mom must-haves and more at much lower price. Are you ready for the shopping madness?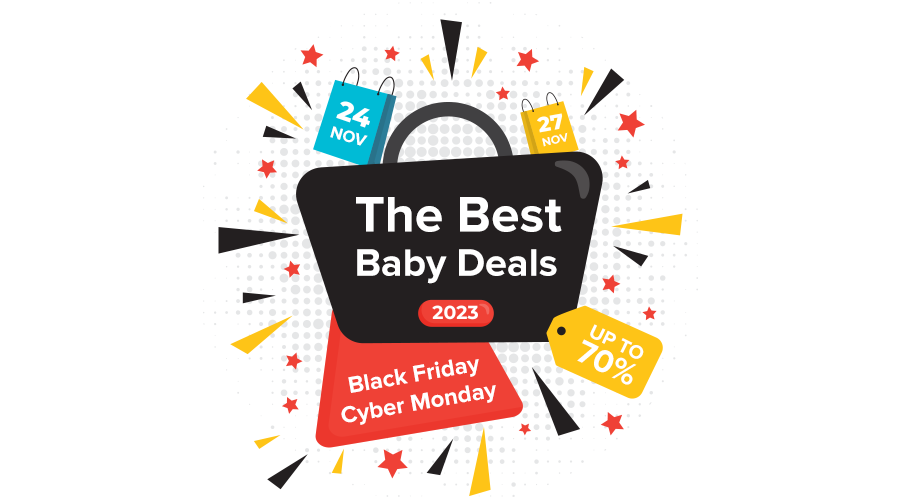 This article contains affiliate links.
Black Friday & Cyber Monday are perfect opportunity for parents-to-be and those who already have kiddos, to purchase baby products much, much cheaper and save hundreds of dollars!
And let's be honest – you don't want to miss this chance. Most of baby stuff like strollers, baby carriers and swings are usually quite expensive and we all love sales that allow us to save our family budget.
Whether you're expecting and looking for your first stroller or thinking about buying baby carrier for your toddler, you're in the right place.
2023 Black Friday & Cyber Monday savings are already on! There are so many fantastic promotions for baby and kids stuff happening right now!
I gathered here fantastic promotions for baby and kids stuff that are currently live on Amazon or PishPosh Baby. You will also find here information about popular brands sales, including: Ergobaby, Lillebaby, Boba, Solly Baby, Willow, Lovevery, UPPAbaby, Earth Mama Organics and many more!
The Best Black Friday & Cyber Monday Deals
2023 Black Friday & Cyber Monday sales have just started and you can already find awesome deals on many websites. I've chosen the best ones for you – only top brands and biggest savings!
Here's my new list of 70+ best Black Friday sales and Cyber Monday 2023 deals for baby products and coupon codes.
ERGOBABY – CARRIERS, STROLLERS & MORE
I found a few fantastic Ergobaby Black Friday sales. Here are the best Black Friday discounts for Ergobaby baby carriers, strollers and accessories:
1. Ergobaby Aerloom Carrier (discount: up to $50)
This is the BEST Ergobaby deal this year so far and perfect way to get this Ergo baby carrier cheaper.
Aerloom is a fantastic carrier that can be used for newborns and toddlers, it's a great choice for warm weather, and it's also one of the best baby carriers for travel.
Pick your favorite color here and get even $50 OFF.
Ergo Aerloom fabric is lightweight and breathable and keeps you from sweating. This is a great choice for babywearing beginners and summer babies.
2. Ergobaby Omni 360 Carrier (discount: $34)
Omni 360 is one of the best soft-structured carriers for newborn babies. It keeps the baby in ergonomic M-shape position which means it's safe for infant's hips (even in the front facing carry). It comes in 4 versions made of different types of fabric. In my opinion the best value for the money is Omni 360 Cool Air Mesh.
Right now you can get this baby carrier $34 cheaper! It's the lowest price of Omni 360 I've seen in a LONG time!
Keep in mind that the discount applies only to selected colors in mesh version and stocking is very limited.
Here you can check which colors are on sale – the discount will apply automatically 👈
3. Ergobaby Away Carrier (discount: -25%)
Away is the newest Ergo soft-structured carrier, suitable from 4 months up to 3 years. The best thing about this baby carrier is that it's super lightweight and packs neatly (only 1 lb!) so you can always carry it with you in the diaper bag when you're out and about with your little one. Keep in mind that it offers 2 carrying positions: front facing inward and back carry.
Grab your 25% discount here with code NEWAWAY25 👈
---
4. Ergobaby Metro Stroller + Omni Carrier Bundle (discount: -20%)
This is another amazing Ergobaby Black Friday sale – the brand offers a huge discount: 20% OFF, when you bundle Metro stroller with Omni 360 carrier. This is the cheapest way to get this stroller and baby carrier.
If you need a lightweight, compact stroller with cushy & comfy seat, that is also suitable for newborns, you will love Ergobaby Metro. And the Omni is one of the best carriers that you can use from birth up to about 3 years. It's comfy and ergonomic in every position, including the outward facing carry.
Choose your favorite color of Metro and Omni carrier here and save $100!
5. Ergobaby Metro+ Stroller FREE Bag (Value: $30)
Right now when you buy the Ergo Baby Metro+ stroller you get a free stroller carry bag. It's super useful for transportation when you travel with your little one, or when you want to storage the stroller for your next child and keep it from dust.
Use the code: FREEBAG at the checkout to receive the free bag.
6. Ergobaby Sale Items (discount: up to -30%)
You can find there discounted baby carriers, baby sleep bags, infant inserts and other accessories. Keep in mind that the supplies are limited and there might be some restrictions.
7. Baby Sleep Bag Bundle (discount: -20%)
If you decide to get two Sleep Bags, you will receive a discount of 20%! Choose your favorite colors and save up to $14.
8. On-The-Move Sleep Bag Bundle (discount: -20%)
If you'll order two On-The-Move Sleep Bags, you will save 20%! There are two sizes available: from babies from 6 up to 18 months, and for toddlers from 18 to 26 months.
9. Swaddler Bundle (discount: -20%)
Ergobaby offers a discount of 20% if you order two swaddles. Just check how cute they are! You should also know that Ergobaby swaddles are recognized as hip-healthy by the International Hip Dysplasia Institute. They are designed to give your newborn baby cozy and soothing feeling of being cuddled, without blocking movements of their hips.
10. All other items (discount: -10%)
If you were planning to buy some other Ergobaby products, that are not on sale now, you can still get 10% discount for your purchase! Use code LBG10 at checkout here to save 10% 👈
---
SOLLY BABY – BREATHABLE WRAPS, SWADDLES & MORE
11. Solly Baby Wraps (discount: -25%)
Solly Baby Wraps are available in multiple cute and adorable patterns. According to International Hip Dysplasia Institute these wraps are hip-healthy which means they are safe for baby's hip joints and keep the baby in natural, healthy frog position.
During Solly Baby Black Friday/Cyber Monday sale you can get these wraps at lower price.
Just add your favorite color to the chart and use code: LITTLE10 at the checkout. Simple as that! 👉 Grab your 10% discount here >>
12. Solly Baby Loop Carrier (discount: $30)
Loop carrier is a fantastic option for everyone who loves babywearing in a wrap and want to continue when their baby outgrows the wrap. It's just as cozy as wrap, but has much higher weight limit. At the same time, it's so much lighter and more breathable than soft-structured carriers.
Solly Baby brand has also prepared special deal for this carrier and now it's available at the cheapest price I've ever seen – 28% OFF! I'm pretty sure the supplies won't last long.
Pick your favorite color here and $30 discount will automatically apply at checkout! By the way, I have the Baltic Stitch color which you can see below – it's gorgeous! Make sure to check if it's still available.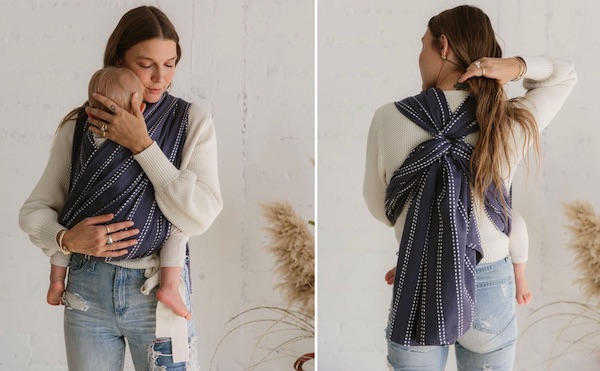 13. Solly Baby Swaddles (discount: up to -22%)
If you decide to get Solly Baby Swaddle right now, you will save from 8% to 22%. These swaddles are also recognized as hip-healthy which means they keep your newborn baby in natural and safe position. No code needed, but keep in mind that this discount applies only to specific colors.
14. Solly Baby Sleepers (discount: -21%)
Right now lots of sleepers from Solly Baby collection are 21% OFF! They are all incredibly soft, I'm sure you and your little one will love them.
My rate:
PRO TIP: Those of you who like shopping on Amazon should check this list of coupon codes and sales. The discounts are available for baby strollers, baby carriers, monitors, toys, clothes, diaper bags and lots of other useful baby stuff.
---
UPPABABY
Does UPPAbaby have Black Friday sales? – This is the question I get most often from parents! The answer is: YES, UPPAbaby has Black Friday sales every year and offers great discounts for their strollers: VISTA V2, CRUZ V2, MINU, G-LUXE and more!
If you're looking for 2023 UPPAbaby Black Friday deals, you're in the right place!
This year PishPosh Baby has a fantastic Early Access Black Friday deals for UPPAbaby strollers. Below you can see 2023 UPPAbaby Black Friday discounts – these are one of the best sales right now.
Check this cool UPPAbaby VISTA Black Friday sale:
15. UPPAbaby VISTA V2 (discount: $220)
It's finally happening! Famous UPPAbaby VISTA V2 stroller is now $220 OFF! Can you believe it? This is the lowest price this year! Discount applies to gorgeous Stella color. You can grab your $220 discount here.
PRO TIP: If you prefer to order from Amazon, I've got great news for you. Last time I checked, Uppababy VISTA V2 in Bryce was over $140 cheaper there. Check if the sale is still on >>
More of long awaited UPPAbaby Black Friday sales:
16. UPPAbaby CRUZ V2 (discount: $40)
CRUZ V2 is one of the luxurious high-end strollers for urban parents and the newest version of UPPAbaby iconic stroller. It's lighter and smaller than VISTA V2 (and doesn't expand). It can be your only stroller that will serve you well into toddlerhood (+/- 3 years).
Keep in mind that this promo is valid only for one color: Bryce. It is totally gorgeous and SO chic. The availability is very limited so better hurry up and don't miss out on your chance to get $40 OFF UPPAbaby CRUZ!
17. UPPAbaby CRUZ + Bassinet (discount: $50)
If you're looking for bassinet stroller, this UPPAbaby Black Friday sale is a fantastic opportunity! You can save $50 OFF CRUZ V2 + bassinet bundle (discount applied only to Bryce color).
---
KINDRED BRAVELY – MATERNITY & NURSING CLOTHES
Are you a new mama looking for some comfy maternity or nursing clothing? Black Friday is the perfect time to get new mom essentials at much much lower price! Here are the best deals that I found for Kindred Bravely pregnancy and nursing clothes:
18. Kindred Bravely Pumping & Nursing Bra Bundle (discount: $54)
Kindred Bravely has prepared awesome sale for early shoppers. Only till 11/17 you can save $53% OFF Kindred Bravely nursing and pumping bras bundle. This is their biggest sale this year. Create your own bundle and grab the discount here 👈
19. Maternity & Nursing Nightgowns (discount: up to -45%)
Lots of new moms prefers nightgowns instead of pajamas during the postpartum period and Kindred Bravely offers lots of comfy AND PRETTY nursing nightgowns. Now some of them are even 45% off.
20. Louisa Postpartum Leggings (discount: -50%)
These are one of my favorite maternity & postpartum leggings. I spent over a year in them! They fit all body types, so whether you're a petite or plus size mama, I'm sure you'll find them comfy to wear.
You can wear them throughout the pregnancy, postpartum and beyond because they are stretchy and adjust to your changing body size. They support growing baby bump and don't dig into your skin. Plus, I really like how they look with sneakers. If you prefer leggings with pockets, choose these ones (also 50% off) >>
And if you're more into joggers than leggings, I've got great news for you too. Kindred Bravely cozy lounge joggers are also on sale. The discount applies only to winter patterns – which is actually perfect timing! My favorite print is this Frosted Snowflake (now 50% cheaper).
21. Maternity & Nursing Swimsuit (discount: -75%)
I just love this one-piece Kindred Bravely Wrap Swimsuit – it looks so flattering on a baby bump and provides enough cover for postpartum belly so you could always feel comfortable.
It's also nursing-friendly – no more flashing! If you plan on going to the beach or swimming pool with your little one and want to nurse confidently – this is a must-have! And now it's the best time to get prepared for next summer – this swimsuit is 75% cheaper!
Don't miss out on this opportunity, this is the final sale and only few pieces left.
---
ORGANIC SKINCARE PRODUCTS FOR MOMS & BABIES
22. Earth Mama Organics (discount: -10%)
Earth Mama makes amazing natural and organic skin care products for babies and mamas. They are perfect for sensitive skin and help to avoid skin irritation and itchiness. They also make a fantastic breastfeeding-friendly nipple butter doe cracked nipples, diaper balm for immediate relief and the best postpartum kit for recovery after vaginal birth.
Their Black Friday & Cyber Monday sale hasn't started yet, but they offer now a few bundle deals which allow you to save a few bucks. If you're looking for organic and ultra-safe products for your pregnancy (or postpartum) or for your baby, this brand is the best choice.
You can check the bundles here (no need for any codes to get the discount). By the way, my absolute favorite is this Belly Oil + Belly Butter Bundle which works miracles for pregnancy stretch marks!
---
WILDBIRD BABY CARRIERS BLACK FRIDAY
23. WildBird Ring Slings (discount: up to -40%)
WildBird makes one of the best baby ring slings: they are ergonomic, breathable and super comfy to wear. No wonder, they are so popular! These ring slings work amazing for newborns and older babies. Plus, WildBird iconic baby slings are SO TRENDY!
Now you can get your Wildbird ring sling even 40% cheaper! My personal favorite is this Owl version – it's gender-neutral and looks gorgeous with all mom's outfits.
PRO TIP: If you want to save even more money, use the code LITTLEWILDBIRD10 at checkout here – you will get extra 10% discount (yes, it can be used in addition to WildBird sale discounts).
24. WildBird Bundle (discount: up to -40%)
If you were planning on getting a ring sling and a soft-structured carrier for you little one, you should definitely check out WildBird bundle option. You'll get a discount depending on how many products you choose. You can also add some other baby products to your bundle, like baby sleeping bag and crib sheets (made from the same amazing breathable fabrics as their famous ring slings).
More baby carrier Black Friday sales coming soon!
---
WILLOW BREAST PUMP
25. Willow Breast Pumps Bundles (discount: up to $40)
If you've been dreaming about Willow wearable breast pump, now you have a chance to buy it at much lower price.
Willow Black Friday Sale has not started yet, but there are a few bundles that include either Willow 3.0 or Willow Go and allow you to save even up to $40.
My favorites are:
Don't miss out on these opportunities!
---
SPECTRA BLACK FRIDAY SALE
26. Spectra S2 Breast Pumps (discount: -14%)
I know lots of moms are looking for Spectra sales during Black Friday 2023 so I just had to share this one! Spectra S2 is a great and cheaper alternative to Spectra S1. The main difference is that S2 works only with AC adapter.
Lots of pumping mamas actually prefer Spectra S2 because it's a bit smaller, lighter and more budget-friendly, while still being just as powerful as Spectra S1. And most importantly, in many cases it's fully covered by the insurance!
During Black Friday Spectra S2 is on sale and you can get this fantastic hospital-grade pump 14% OFF.
---
MOTHERHOOD MATERNITY BLACK FRIDAY SALE
27. Motherhood Maternity Secret Fit Belly Stretch Denim Jeggings (discount: up to -33%)
Lots of expecting mamas wonder if they can actually wear jeans during pregnancy. Of course tight slim-fit jeans may not be a good (or comfortable) choice when your belly gets bigger, but there's a solution: stretchy denim jeggings.
Motherhood Maternity brand offers awesome and trendy denim pregnancy jeggings with a stretchy belly support (you can wear it under or over your bump). And they have angle length which makes them looks super cool with sneakers.
Some colors & sizes of these jeggings are now up to 33% OFF – make sure to check here which ones >>
---
NATURAL & NON TOXIC BABY GEAR BLACK FRIDAY 2023
28. Finn+Emma Wooden Baby Toy Arch (discount: -20%)
LittleBabyGear has chosen Finn+Emma toy arch as the best affordable baby wooden gym. It's made of natural, non-toxic materials which are safe for little babies. It provides excellent stimulation for baby's vision and encourages infants to practice fine motor skills. It's a wonderful gift for a baby up to 1 year. Get this fantastic toy arch 20% OFF with code VIP20 >>
29. Finn+Emma Organic Cotton Baby Play Mat (discount: -20%)
What I love about this play mat is that it has organic cotton cover and OEKO-TEX certified filling – this mat is free from harmful substances and safe for your little bundle of joy. It's perfect for tummy time and taking baby milestone photos. It comes in two sizes and shapes – I prefer this play mat because it can serve you for 2-3 years. Use the code VIP20 to get it 20% OFF.
This is one of the best Black Friday sales!
30. Toki Mats Non Toxic Baby Play Mat (discount: -10%)
Toki Mats offer THE BEST baby play mats free of harmful materials, EVA foam and PVC. Their Black Friday sale will start soon, but in the meantime you can check their current discounts for selected colors. Some sizes and prints of those baby mats are 10% cheaper (you can see which ones – here). If you don't wanna wait for the BF sale, it's a good deal!
---
LOVEVERY BLACK FRIDAY SALE
31. Lovevery Play Kits (discount: $30)
Lovevery doesn't have many sales during the year, but they have prepared awesome deal for Black Friday!
If you're looking for educational Montessori-inspired toys, Lovevery is the best options. They offer play kits that include toys and books chosen for baby's specific age and developmental milestones. They help to develop fine motor skills, practice hand eye coordination, visual skills and cognitive skills.
Lovevery play kit toys are my favorites because they engage the baby in so many ways, they are fun but they don't overstimulate the baby which is very important.
To get Lovevery play kits, you need to get the subscription and they will send a new toy box every 2-3 months. Of course you can cancel your subscription at any time without any fees. During Black Friday Lovevery offers $30 OFF new play kit subscription.
Use the code JOY30 at checkout & grab your $30 discount here >>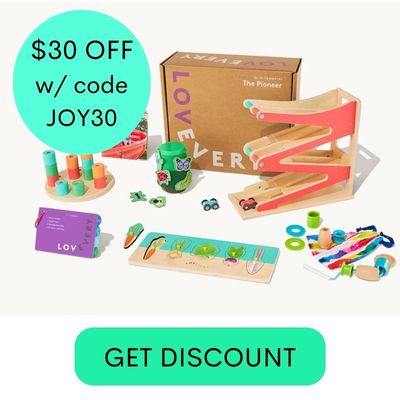 ---
LILLEBABY CARRIERS
32. Lillebaby Baby Carriers For Infants (discount: up to -40%)
Lillebaby is one of my favorite brands when it comes to ergonomic baby carriers. During Black Friday and Cyber Monday you can save up to 30% OFF infant carriers (best-selling Lillebaby Complete, as well as the LilleLight). Discounts vary for different models and colors!
My favorite deal is up to 50% OFF Lillebaby Complete Airflow – this carrier offers 6 carrying positions, including the outward facing position and it comes with a fantastic lumbar support for parent.
33. Lillebaby SeatMe Carrier (discount: $50)
In 2023 and 2023 we chose SeatMe as one of the best baby carriers for parents with back pain.
It ensures even weight distribution so your shoulders and back don't get strain even when you carry heavier child.
34. Lillebaby Sale Items (discount: up to -40%)
You can often find some great sales on Lillebaby official website. If you check it regularly you may get your favorite model of baby carrier even up to 50% cheaper. I also recommend you to check available open box carriers – their condition is like new and they come with standard warranty!
PRO TIP: You can also get Lillebaby carriers on Amazon. Some colors of the popular Lillebaby Complete All-Season – which I recommend as one of the best baby carriers for newborns, are cheaper now! >> Check current sales here <<
---
MOBY WRAP BLACK FRIDAY
35. Moby Wrap (discount: -20%)
If you're on smaller budget Moby can be a great alternative to Solly Baby wrap. It's a great, easy to use stretchy wrap that can be used from birth up to 33 lbs (it has higher weight limit than Solly). It works well with heavier babies and its fabric doesn't sag!
By the way, other Moby baby carriers are on sale too!
---
NANIT BLACK FRIDAY SALE
36. Nanit Baby Monitor (discount: -24%)
Cyber Monday is the best opportunity to buy Nanit Pro Baby Monitor – now it has way more budget-friendly price. The camera with Flex Stand is 28% OFF, the camera + Wall Mount is now 34% off. You'd prefer Nanit camera + Floor Stand it's available here with 24% discount >>
Nanit Pro is a fantastic smart baby monitor – the camera is actually THE BEST! Night vision mode is sharp and high-quality. You can pair the monitor with Nanit Breathing Wear to track your baby's breathing movement during the night. Lots of first-time parents praises Nanit for giving them peace of mind.
37. Nanit Baby Breathing Wear (discount: -20%)
The sleep bag that monitors baby's breathing from Nanit is 20% OFF during Cyber Monday sale. It's the cheapest price I've ever seen for their Breathing Wear.
Once Nanit announces more Black Friday deals I'll let you now!
---
OTHER BABY MONITORS
38. Owlet Dream Duo (discount: $121)
I love the Dream Sock – it monitors baby's sleep pattern, heart rate and average oxygen level to give parents peace of mind at night.
And now if you decide to get the Owlet Dream Sock + Owlet Cam as a bundle (it's called Dream Duo), you will save $121! It's the lowest price I've seen for this bundle in YEARS!
Keep in mind that the stocking is limited so don't miss out on your opportunity to save money! Get your discount here >>
---
DOCKATOT BLACK FRIDAY
39. DockATot (discount: -20%)
If you've been dreaming about DockATot lounger but it's been out of your budget, I've got fantastic news for you. DockATot Black Friday sale has started earlier this year are selected prints are 20% OFF.
There are not so many opportunities during the year to get this famous docks at more budget-friendly price so don't miss out on your chance (last time I checked there were only last few pieces left).
---
BEST BABY BLACK FRIDAY DEALS 2023 ON AMAZON
40. Baby Bjorn Travel Crib Light (discount: up to -21%)
It looks like Baby Bjorn Black Friday sale has started early this year – I found lots of their products at lower price on Amazon.
Ans since BabyBjorn Travel Crib Light is one of my favorite portable cribs for parents who often travel with their baby, I had to ad this deal to my list. This crib may be also a good option for families who don't have a lot of free space in their house and prefer to use a pack-n-play as baby's bassinet.
41. BabyBjörn Bouncer Bliss (discount: up to -12%)
This is one of the most popular and best-selling bouncers out there. It bounces when the baby moves and wiggles – which means no batteries or charging cords are needed. It has 4 adjustable positions which makes it suitable for rest, feeding and play time. And I love how lightweight and portable it is – you can easily move it around your house and even fold it flat when not in use!
Usually it's quite pricey but BabyBjorn brand has prepared awesome sale and now some of the color versions are even 12% off.
42. BabyBjörn Baby Carrier Free (discount: up to -23%)
Lots of parents have been waiting for Baby Bjorn carrier Black Friday discount and here it is!
BabyBjorn Free is one of the best baby carriers for back pain thanks to its unique shoulder straps and cushions for lower back support. So if you're struggling with back problems but still want to enjoy babywearing, this may be an awesome choice!
More BabyBjorn Black Friday sales coming soon!
43. Ollie Swaddle (discount: $15)
I know that lots of parents are waiting for Ollie Swaddle Black Friday sale – it hasn't started yet, but there is a way to get Ollie at lower price!
If you decide to buy Ollie Swaddle bundle (2-pack), you will get $15 discount! I always recommend my fellow mamas to get at least 2-3 swaddles, so this bundle is the perfect option! You know, diaper blowouts and leaks happen, so it's always good to have some spare swaddles, when others are in the laundry.
44. Itzy Ritzy Dream Convertible Diaper Bag (discount: up to $83)
Itzy Ritzy is my absolute favorite when it comes to diaper bags. The Convertible diaper bag is not only super capacious, but it also looks SO FASHIONABLE. There are tons of pockets and pouches to keep all your stuff organized and you can wear it as a backpack or attach to the stroller handlebar with special straps (included with the bag). Keep in mind that discount applies only to selected colors.
45. Ubbi Diaper Pail (discount: up to -13%)
Ubbi is one of the best-selling baby items and probably the best diaper pail. It's made from steel, in contrast to cheaper diaper diaper pails which are made of plastic. The steel doesn't absorb odors, it locks them inside. Plus, you don't have to buy any special bags or inserts. This diaper pail comes in various colors and some of them are now up to 13% OFF.
---
PERFECT GIFTS FOR BABY
If you're looking for educational toys and other baby stuff, Black Friday 2023 is the perfect opportunity to find them at more budget-friendly price. It's a good time to shop for Christmas gifts early and avoid buying presents at last minute and wasting money!
46. SmarTrike Stroller Trikes & Kids Bikes (discount: up to -40%)
This brand offers one of the best stroller tricycles on the market right now – really good quality at affordable price. With younger babies you can use it as a stroller thanks a push bar and reclining seat. Once your child gets older they can pedal and steer the tricycle. Their Black Friday and Cyber Monday sale has started earlier and all stroller trikes are up to 40% off.
SmarTrike also has a fantastic convertible kids bike – called Xtend. Your little one can use as a running bike for learning how to balance, and then you can add pedals so your child can learn how to pedal and eventually how to ride a bike. This is THE BEST investment ever – it's WAY better and SAFER than using learning wheels.
47. Skip Hop Toys (discount: -15%)
Lots of Skip Hop toys are right now on sale – and many of them have great educational value. My favorites are: The Xylophone, Bandana Buddies Activity Toy, and Safari Play Gym (what I like about it is that it's not too flashy and doesn't overstimulate the baby).
---
ORGANIC BABY CLOTHES BLACK FRIDAY
48. Finn+Emma Sale Items – Organic Baby Clothes & Toys (discount: up to – 50%)
Finn+Emma offer cute baby clothes and toys made of sustainably sourced and non toxic materials. Browse through their sale items: pajamas, jumpsuits, playsuits, bodysuits, hats and teethers. Some products are now even 50% OFF!
49. Natemia Organic Baby Nursery Essentials (discount: up to -20%)
Natemia offers organic bath and sleep time products like: bath robes, cute hooded towels for babies, swaddles blankets, crib sheets, sleeping sacks and many, many more! Now they are having amazing Bundle Sale and some of their products are even 20% OFF.
---
TRAVEL SYSTEM BLACK FRIDAY DEALS
If you've been looking for travel system Black Friday deals, you'll love these promos:
50. Chicco Bravo Trio Travel System (discount: up to -20%)
For many years in a row I've been choosing this travel system as one of the best stroller car seat combos. It comes with a great city stroller with removable seat and HUGE storage basket, and one of the safest infant car seat on the market!
And whenever you're on the go on your own with your baby, you'll appreciate how easy this stroller is to fold and how simple it is to click in the car seat onto the base or stroller frame.
51. Baby Jogger City Select 2 Travel System (discount: up to -29%)
I've never seen this travel system at such a low price! It includes City Go infant car seat, but the main star-turn is the stroller. It's an expandable stroller (similar to VISTA V2 but more affordable) which can accommodate 1, 2 or even 3 kids with extra add-ons. It has really good wheels and suspension which makes it roll smoothly on slightly bumpy terrain like gravel or grass.
---
BLACK FRIDAY CRIB SALES
52. Delta Children Folding Portable Mini Baby Crib (discount: up to -19%)
I always recommend this crib to parents on a low budget & those who live in small apartments. This mini crib is a space-saver so it's a perfect solution for room-sharing, especially if your bedroom is not big. It also has wheels so it's super easy to move it around the house and folds flat for easy storage for the next baby.
53. Delta Children Emery Convertible Baby Crib (discount: up to -27%)
This crib in turn is one of the best options for escaping artists! With a higher frame it's an great crib for tall babies and helps to keep them from climbing out.
54. Delta Children Essex (discount: up to -28%)
I just love Delta Children cribs – they are budget-friendly and look really cute. The Essex crib is particularly trendy and looks awesome in any nursery decor. It also grows with your little one thanks to adjustable mattress positions and options to convert it into a toddler or day bed.
Last time I checked it on Amazon white color version was 17% off, but the availability was limited so definitely check if this sale is still on!
---
HATCH SLEEP MACHINES
55. HATCH Rest (discount: $10)
What I like about Hatch Rest is that it's not only a sound machine but it also doubles as night light for nursery and kids room. According to parents who have been using Hatch, these sound machines can really improve baby's sleep pattern.
Usually they are quite pricey but during Black Friday you can get them $10 OFF! Your discount will apply automatically at checkout.
Choose cheaper Hatch Baby Rest & save $10 👈
---
HIGH CHAIR BLACK FRIDAY DEALS
56. Ergobaby Evolve High Chair (discount: -10%)
Ergobaby Evolve has quickly become one of the most popular high chairs that grows with the child throughout the infancy, toddlerhood and preschool years. It can hold up to 220 lbs (!) which means your child will be able to use it as a desk chair when he/she gets to school. This is an investment for years.
I also love the fact that Evolve has adjustable seat making it a super comfortable high chair for BLW.
57. Ingenuity Trio 3-in-1 High Chair (discount: up to -23%)
If you're on tight budget and looking for a high chair that could grow with your little one, then this Ingenuity Trio is an excellent choice. It converts into a toddler chair and a booster seat, so you'll be able to use it for a few year. And last time I checked selected colors were up to 27% OFF making this chair even more pocket-friendly.
---
BABY BOTTLES, BIBS & FEEDING UTENSILS
58. EZPZ Baby Dishware (discount: -25%)
If you're looking for silicone baby placemats, plates, suction bowls and spoons for self-feeding and BLW, EZPZ is a perfect choice. Now they offer 25% discount for orders of $75+! Use the code EZPZLOVE25 at checkout here to save 25% OFF.
59. Nanobebe Bottle Sets (discount: -20%)
Nanobebe bottles have a unique shape – they are designed to resemble mommy's breast. If you can't breastfeed your baby but still want your little one to benefit from your nutritious liquid, Nanobebe is perfect choice. It also works great for infants who transition from breastfeeding to bottle-feeding.
Because the Black Friday and Cyber Monday sale started early, you can now save 20% OFF all bottle sets.
My favorite is the Nanobebe Ultimate Newborn Feeding Set which includes 2 breastmilk bottles, 2 Flexy bottles, 2 pacifiers, breast pump adapters, bottle warming bowl, microwave steam sterilizer, drying rack, 6 different nipples and bottle brush.
If you feel like you don't need the steam sterilizer, I recommend you this smaller and cheaper bundle – Complete Feeding Set – it's 20% OFF too.
To get the 20% discount use the code: Sets20 at checkout. Keep in mind that discount only applies to sets.
---
BUGABOO STROLLERS & CAR SEATS
60. Bugaboo Strollers (discount: up to -25%)
Have you been waiting for Black Friday Bugaboo sale? Usually these stroller are SO PRICEY, but the good news is that you can already get them at LOWER PRICE! YAY!
This is a long-awaited Black Friday sale: Bugaboo strollers are now up to 25% cheaper.
You can get 25% OFF Bugaboo Lynx and its accessories, as well as 20% OFF iconic Bugaboo Donkey3 and Donkey accessories.
Another amazing Black Friday Bugaboo sale is 25% OFF Bugaboo Fox2 stroller and its accessories.
Finally these expensive stroller are a bit more affordable! 🙂
---
BABY JOGGER STROLLERS & CAR SEATS
61. Baby Jogger City Mini GT2 (discount: -7%)
One of the most popular strollers from Baby Jogger collection is now 7% OFF. It's one of the best-selling strollers for urban parents who like to go for some off-road walks from time to time!
---
CYBEX STROLLERS
62. Cybex Mios (discount: -23%)
Famous Cybex lightweight stroller – Mios, is right now on a sale. This luxury stroller has really high price tag which may scare you off, but the good news is that now you can save nearly $150. Mios has never been cheaper.
I've been preparing this list of sales for 4 years in a row, and this is definitely the best Cybex Mios Black Friday deal ever!
63. Cybex Gazelle S (discount: up to -10%)
This is Cybex first expandable stroller that can convert from a single to a double stroller. It offers 20+ seating configurations for newborns, toddlers or two kids with a small age difference. If you want to use it just as a single stroller, you can replace the top seat with a extra storage basket. This stroller is perfect for heading to the shopping mall with your little one and running errands around the town.
---
NUNA BLACK FRIDAY 2023
64. Nuna Strollers
I receive lots of questions from parents: "Will Nuna be on sale?". Black Friday is just around the corner but the brand hasn't announced any deals yet!
I'll update this part if I find any discounts, so stay tuned if you're looking for Nuna stroller Black Friday sale!
---
OTHER STROLLER BLACK FRIDAY DEALS
65. Thule Urban Glide 2 (discount: up to -20%)
This is one of my favorite running strollers. It has amazing suspension which protects the baby from bumping around and features handbrake. These two features are a must-have if you like jogging on more challenging terrain or would like to hike with a stroller.
If you're an advanced runner, training to marathon or you're simply an outdoorsy parent – this is one of the best jogging strollers for you.
Keep in mind that discount applies to selected colors and may vary a bit.
66. Joovy Zoom Lightweight Jogging Stroller (discount: up to -20%)
If Thule is out of your budget then Joovy jogging stroller may be better option. It has really good suspension, large pumped tires and comes with a useful parents organizer!
67. Joovy Kooper (discount: up to -20%)
This is a great choice for parents looking for a lightweight travel stroller that folds down neatly and doesn't take up much space. What I also like about Kooper is that its seat reclines almost fully flat so your little one can easily take a nap during the walks.
Another good news is that Kooper double stroller is also on sale now. If you have twins or kids at similar age, it's an option. Check this side-by-side double version here >>
68. Joovy Qool Stroller (discount: up to -20%)
This is an affordable expandable stroller that can grow with your family and accommodate 1, 2 or even 3 children. If you plan on having second child soon after the first one, this type of stroller might be worth consideration.
---
BLACK FRIDAY STROLLER WAGON DEALS
69. Evenflo Pivot Xplore All Terrain Stroller Wagon (discount: -20%)
Stroller wagons are fantastic choice for parents who often go to on long strolls, picnics, visit parks and zoos. It's a great alternative to strollers, especially if you have two kids – riding in a wagon is way more fun than in a stroller!
---
CAR SEAT DEALS ON BLACK FRIDAY
70. Graco SnugRide 35 Lite LX (discount: up to -5%)
Selected versions of this infant car seat are now up to 30% OFF, including versions with and without the anti-rebound bar. I prefer the version WITH anti-rebound bar, even though it costs slightly more – it's good to have extra safety feature.
This SnugRide car seat is quite lightweight so you will not have problems with carrying it on your forearm and you will love how easily it clicks in and out of the base and various strollers.
71. Evenflo LiteMax (discount: up to -11%)
This infant car seat is packed with safety features. I was super excited to see that Evenflo LiteMax car seat base has a load leg. During a crash it protects your baby's spine and brain! Another thing that I like about this Evenflo car seat is how lightweight it feels – it's effortless to carry it between the house and car.
If you're on tight budget, you can go for a cheaper version which comes with a standard car seat base (no load leg), but I think it's worth it to pay a little extra for additional awesome safety feature.
72. Graco Affix Highback Booster Seat (discount: up to -5%)
If you're just looking for a booster seat for your child, you can't go wrong with Graco. Affix Booster Seat is suitable from 40 up to 100 pounds and up to 57″ in height. Its high backrest fully supports child's back, plus there is an adjustable headrest to provide better comfort for a growing child.
---
BABY SWING BLACK FRIDAY DEALS
73. Ingenuity Compact Lightweight Portable Baby Swing (discount: up to -35%)
In my opinion, this is one of the best inexpensive baby swings. It offers back-to-forth motion, a few melodies and nature sounds, and comes with a toy arch with a few plushy dangling toys that encourage little ones to reach and grasp (very important fine motor skills). Keep in mind that the sale applies only to selected colors.
---
Which Baby Brands Have The Best Black Friday Sales In 2023?
UPPAbaby VISTA V2 Black Friday sale is definitely one of the most-awaited and best deals this year. If you decide to buy UPPAbaby VISTA during Black Friday you can save over $200 (choose Stella color)!
Ergobaby Black Friday sales are amazing too. You can get their popular Omni 360 carrier up to 40% off. There are also lots of bundles deals. Don't miss out on your opportunity – Black Friday Ergobaby Sale ends on 12/04.
Solly Baby Black Friday and Cyber Monday sales are fantastic this year. Every parent that wants to try babywearing has now the perfect opportunity to get Solly wrap at more pocket-friendly price during the Black Friday Solly Baby sale.
Are you looking for soft-structured baby carrier? Black Friday is the best opportunity because lots of brands have prepared huge discounts (including Lillebaby, Ergo, Beco and BabyBjorn).
There are also lots of sales and huge discounts for various strollers during Black Friday 2023: Bugaboo, Cybex, Baby Jogger, and more. I'm curious if there is going to be Nuna Black Friday sale – I checked multiple online store and I haven't found any discounts for Nuna strollers or car seats. Of course I'll let you all know if I find any Nuna Black Friday Deals 2023.
If you like natural beauty skincare products or you're looking for the best maternity and nursing clothes, make sure to check brand like Earth Mama Organics and Kindred Bravely to see what special deals they have prepared for this year BF/CM sales.
How To Save Money When Buying Baby & Mom Products
The best way to save a few dollar when buying baby stuff like clothing, nursery equipment, strollers or car seats is to check Black Friday and Cyber Monday sales which usually start earlier (some brands offer discounts even a week earlier!).
Other option is to check bundles – sometimes when you purchase 2 or 3 products from one brand you can get a discount. For example Ergobaby offers 20% – 30% discounts for baby carriers bundles.
Beside Black Friday baby sales, look out for discounts throughout the year – before Christmas, close to Easter, Mother's Day etc.
Another way to buy mommy and baby stuff at cheaper price is to check last chance items or imperfects (like the ones that Toki Mats or WildBird offer) – you can save even up to 50%!
---
More Cyber Week baby sales soon! I will be posting here new information about current deals and available discounts so stay tuned! For parents, season for savings has just begun.
If you want to be the first to know about the best deals and coupon codes, like LittleBabyGear on Facebook or follow us on Pinterest!
Your trust is really important to us: This post contains affiliate links. If you choose to buy something using these links, we receive a small commission, at no extra cost to you. Your support helps us run this blog. Thank you so much 🖤