Black Friday and Cyber Monday 2019 are over, but it doesn't mean the sales are over! I prepared for you a list of best deals for baby stuff which are currently on! You can get tons of baby products like strollers, baby carriers, car seats, baby swings, toys and more at much lower price. Are you ready for the shopping madness? 🙂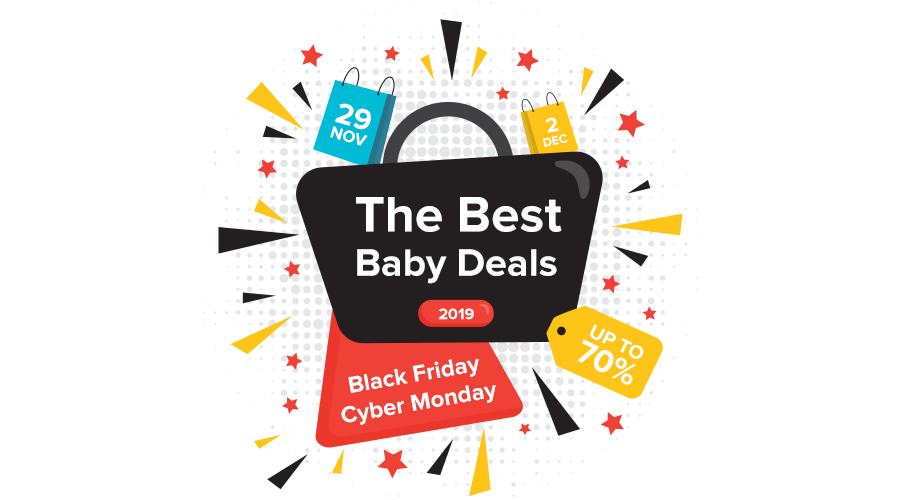 This article contains affiliate links.
Black Friday & Cyber Monday are perfect opportunity for parents-to-be and those who already have kiddos, to purchase baby products much, much cheaper and save hundreds of dollars!
And let's be honest – you don't want to miss this chance. Most of baby stuff like strollers, baby carriers and swings are usually quite expensive and we all love sales that allow us to save our family budget.
Whether you're expecting and looking for your first stroller or thinking about buying baby carrier for your toddler, you're in the right place.
Although 2019 Black Friday & Cyber Monday are over, there are many fantastic promotions for baby and kids stuff that you can find on Amazon and PishPosh Baby every day. Here you can find my list of the sales that are currently available.
You will also find information about sales on Ergobaby, Lillebaby and Boba websites.
The Best (POST) Black Friday & Cyber Monday Deals
Black Friday and Cyber Monday 2019 sales have ended, but you can find awesome deals on many websites. I've chosen the best ones for you – only top brands and biggest savings!
Here is my list of TOP deals for baby products and coupon codes.
ERGOBABY
1. Ergobaby Sale Items(discount: up to -30%)
You can find there discounted baby carriers, diaper bags, infant inserts and other accessories. Keep in mind that the supplies are limited and there might be some restrictions.
2. Any One Item(discount: -10%)
Don't worry if the carrier that you want to buy is not on sale. You can still get it cheaper by using special discount coupon code for LittleBabyGear.com readers! Use this coupon code: jo8KbuYPC at the check out and you will get 10% discount on one product!
PRO TIP: Those of you who like shopping on Amazon should check this list of coupon codes. The discounts are available for baby strollers, baby carriers, monitors, toys, clothes, diaper bags and lots of other useful baby stuff.
PISHPOSH BABY
3. GB Pockit Strollers(discount: $30)
We all love GB Pockit tiny strollers. I've got great news for you! Some models of Pockit, Pockit Air, Pockit Plus and Pockit Plus All-City are still $30 cheaper!
4. UPPAbaby VISTA(discount: -20%)
PishPosh Baby is still having Black Friday deal on UPPAbaby VISTA stroller! You can get 20% discount on William color from 2019 collection. > Here is your discount <
5. Baby Jogger Strollers & Accessories(discount: up to -30%)
Currently you can get a discount even up to 30% on Baby Jogger strollers and accessories! Remember that the discount varies for different models and colors.
6. Cybex Strollers & Car Seats(discount: up to -20%)
Some strollers and car seats by Cybex are also up to 20% cheaper. If you have been dreaming about Cybex Priam or Mios, now it may be the only chance to get it without ruining your family budget! 🙂 Other strollers like Cybex Balios S and Eezy S Twist are discounted too.
7. Valco Baby Strollers(discount: -25%)
Valco Baby sale is almost over, but you can still save 25% on Valco Baby Neo Twin.
LILLEBABY
8. Lillebaby Sale Items(discount: up to -50%)
You can often find some great sales on Lillebaby official website. If you check it regularly you may get your favorite model of baby carrier even up to 50% cheaper.
My rate:
---
I will be posting here new information about current sales and available discounts so stay tuned! For parents, season for savings lasts all year round!
If you want to be the first to know about the best deals and coupon codes, like LittleBabyGear on Facebook or follow me on Twitter (@Zooey_Barnett)!
Your trust is really important to us: This post contains affiliate links. If you choose to buy something using these links, we receive a small commission, at no extra cost to you. Your support helps us run this blog. Thank you so much 🖤