Black Friday and Cyber Monday 2020 ended but you still have a chance to save money! I've prepared for you a list of the best deals for baby products that are currently on. You can get strollers, baby carriers, car seats, baby swings, toys and more at much lower price. Are you ready for the shopping madness? 🙂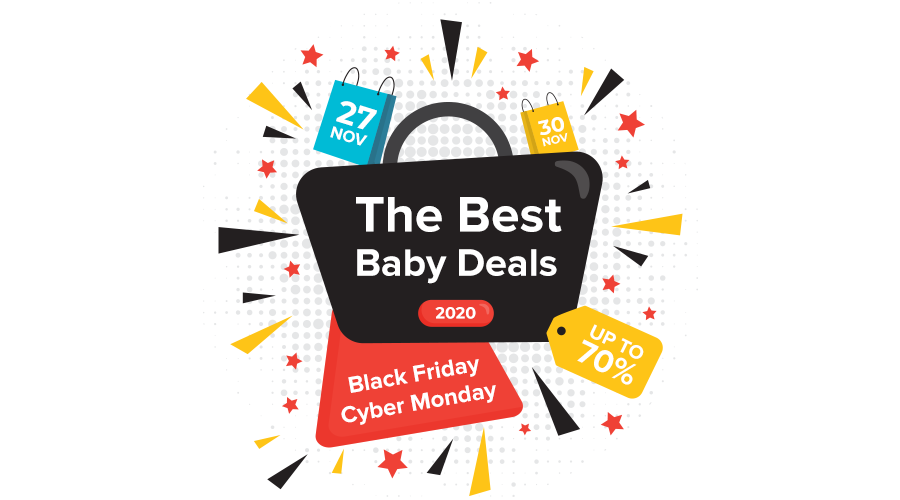 This article contains affiliate links.
Black Friday & Cyber Monday are perfect opportunity for parents-to-be and those who already have kiddos, to purchase baby products much, much cheaper and save hundreds of dollars!
And let's be honest – you don't want to miss this chance. Most of baby stuff like strollers, baby carriers and swings are usually quite expensive and we all love sales that allow us to save our family budget.
Whether you're expecting and looking for your first stroller or thinking about buying baby carrier for your toddler, you're in the right place.
I gathered here fantastic promotions for baby and kids stuff that are currently live on Amazon or PishPosh Baby. You will also find here information about popular brands sales, including: Ergobaby, Lillebaby, Boba, Solly Baby, Willow, Lovevery, UPPAbaby and many more!
The Best Black Friday & Cyber Monday Deals
2020 Black Friday & Cyber Monday sales are finished, but I still have for you many fantastic promotions for baby and kids stuff! Only top brands and biggest savings
Here is my list of 20+ TOP post-Black Friday and post-Cyber Monday 2020 deals for baby products and coupon codes.
SOLLY BABY – BREATHABLE WRAPS, SWADDLES & MORE
1. Solly Baby Wrap Bundle (discount: -40%)
Buy one wrap and get the second 40% OFF! Solly Baby Wraps are available in multiple cute and adorable patterns. According to International Hip Dysplasia Institute these wraps are hip-healthy which means they are safe for baby's hip joints and keep the baby in natural, healthy frog position. 👉 Grab your discount here with code: WRAP40!
2. Solly Baby Swaddle Bundle (discount: -13%)
If you decide to order two Solly Baby Swaddles, you will only pay $40 ($46). These swaddles are also recognized as hip-healthy which means they keep your newborn baby in natural and safe position. Use the code SWADDLE at checkout to collect your discount!
3. Solly Baby Sleep Bundle (discount: -21%)
Choose two sleeping products: crib sheets, sleepers or sleep gowns and pay only $60 ($76). All Solly Baby products are available in various gorgeous patterns which I'm sure you're going to love! Use the code SLEEP at checkout to receive the discount.
PRO TIP: Those of you who like shopping on Amazon should check this list of coupon codes. The discounts are available for baby strollers, baby carriers, monitors, toys, clothes, diaper bags and lots of other useful baby stuff.
---
ERGOBABY – CARRIERS, STROLLERS & MORE
4. Ergobaby Metro Stroller (discount: $100)
This stroller has never been cheaper! There is an amazing Ergobaby Black Friday sale and the brand offers a huge discount: $100 OFF Metro. If you need a lightweight, compact stroller with cushy & comfy seat, that is also suitable for newborns (with carrycot), you will love Ergobaby Metro.
Choose your favorite color of Metro here and use the code METRO at checkout to save $100.
5. Ergobaby Sale Items (discount: up to -30%)
You can find there discounted baby carriers, baby sleep bags, infant inserts and other accessories. Keep in mind that the supplies are limited and there might be some restrictions.
6. Baby Sleep Bag Bundle (discount: -20%)
If you decide to get two Sleep Bags, you will receive a discount of 20%! Choose your favorite colors and save up to $14.
7. On-The-Move Sleep Bag Bundle (discount: -20%)
If you'll order two On-The-Move Sleep Bags, you will save 20%! There are two sizes available: from babies from 6 up to 18 months, and for toddlers from 18 to 26 months.
8. Swaddler Bundle (discount: -20%)
Ergobaby offers a discount of 20% if you order two swaddles. Just check how cute they are! You should also know that Ergobaby swaddles are recognized as hip-healthy by the International Hip Dysplasia Institute. They are designed to give your newborn baby cozy and soothing feeling of being cuddled, without blocking movements of their hips.
9. Newborn Baby Bundle (discount: -30%)
Get Embrace Newborn Carrier, Classic Sleep Bag and On-The-Move Sleep Bag as a bundle and save 30%! Each product is available in multiple colors and patterns – I'm sure you'll find something that you and your little one will love!
---
UPPABABY
UPPAbaby Sales are still on!
10. UPPAbaby VISTA (discount: up to -20%)
Get AMAZING discount for UPPAbaby VISTA stroller! Save 20% OFF Jordan color from 2019 collection. This is one of the biggest UPPAbaby sales ever! > Here is your discount <
My rate:
---
LILLEBABY
11. Lillebaby Sale Items (discount: up to -50%)
You can often find some great sales on Lillebaby official website. If you check it regularly you may get your favorite model of baby carrier even up to 50% cheaper. I also recommend you to check available open box carriers – their condition is like new and they come with standard warranty!
PRO TIP: You can also get Lillebaby carriers on Amazon. Some colors of the popular Lillebaby Complete All-Season – which I recommend as one of the best baby carriers for newborns, are right now even up to 36% OFF! >> Check current sales here <<
FEEDING – BABY BOTTLES, DISHES & MORE
12. Green Sprouts Kids Plates (discount: -30%)
Green Sprouts offers a set of 3 plates for kids, perfect for finger foods, snacks, picnics and on-the-go meals. They are made from plants, but are reusable and dishwasher-safe!
---
ORGANIC & NATURAL BABY PRODUCTS
13. Wooden Name Puzzles (discount: -60%)
Child Universe makes adorable wooden non-toxic Montessori toys for babies, toddlers and preschoolers and now some of them are on sale. You can save 60% on puzzles collection.
Name puzzles are a fantastic gift idea for infants. This is an educational toy and beautiful memento – perfect to celebrate the arrival of a new family member.
14. Learn Words Puzzle, Alphabet Puzzles (discount: -60%)
If you're looking for jigsaw puzzles for toddlers or preschoolers, you will love these ones! They are made of wood and use only non-toxic paints. Learn Words puzzles are designed for 12m+, while the alphabet puzzles are perfect for 36m+ kids. They help them to learn new words, practice hand eye coordination and develop their cognitive skills (like memory and problem solving skills).
15. Finn+Emma Sale Items – Organic Baby Clothes & Toys (discount: up to – 50%)
Finn+Emma offer cute baby clothes and toys made of sustainably sourced and non toxic materials. Browse through their sale items: pajamas, jumpsuits, playsuits, bodysuits, hats and teethers. Some products are now even 50% OFF!
16. Natemia Organic Baby Nursery Essentials (discount: up to -30%)
Natemia offers organic bath and sleep time products like: bath robes, cute hooded towels for babies, swaddles blankets, crib sheets, sleeping sacks and many, many more! Now they are having amazing Holiday Sale and some of their products are even 30% OFF.
---
PISHPOSH BABY – STROLLERS & CAR SEATS
17. Mountain Buggy Nano (discount: up to -25%)
Nano has never been cheaper! Selected colors are now on a huge sale. Get this awesome lightweight stroller for just $149.99 ($199.99).
18. Silver Cross Wave 2020 (discount: -23%)
Wave is one of the luxurious high-end strollers that expand from a single to a double mode. This promo package includes a single stroller with one toddler seat + a bassinet. Availability is limited – save $300 today!
---
I will be posting here new information about current sales and available discounts so stay tuned! For parents, season for savings lasts all year round!
If you want to be the first to know about the best deals and coupon codes, like LittleBabyGear on Facebook or follow us on Pinterest!
Your trust is really important to us: This post contains affiliate links. If you choose to buy something using these links, we receive a small commission, at no extra cost to you. Your support helps us run this blog. Thank you so much 🖤