We are all super excited about upcoming Black Friday and Cyber Monday 2019! Check out which sales are worth waiting for and prepare yourself for this shopping madness! You can get tons of baby products at much lower price.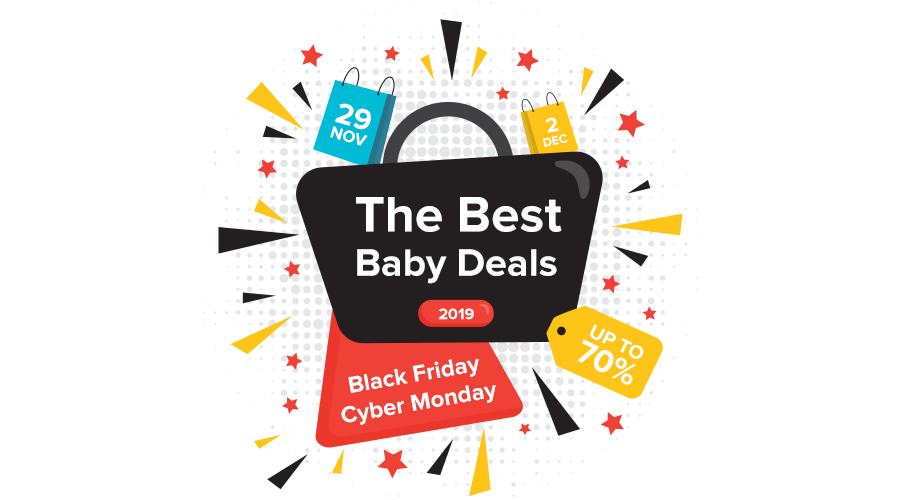 Black Friday & Cyber Monday are perfect opportunity for parents-to-be and those who already have kiddos, to purchase baby products much, much cheaper and save hundreds of dollars!
And let's be honest – you don't want to miss this chance. Most of baby stuff like strollers, baby carriers and swings are usually quite expensive and we all love deals that allow us to save our family budget. 🙂
Whether you're expecting and looking for your first stroller or thinking about buying baby carrier for your toddler, you're in the right place.
I will update this post with latest information about the best 2019 Black Friday & Cyber Monday deals for baby and kids stuff that you can find on Amazon and PishPosh Baby.
Here you will also find all info about sales on Ergobaby, Lillebaby and Boba.
The Best Black Friday & Cyber Monday Deals
Black Friday and Cyber Monday 2019 haven't started yet, but on some websites you can already find awesome promotions. Here is the list of TOP deals for baby products. All these sales are on!
1. Sales on ErgoBaby.com (discount: up to 30%)
Check out Ergobaby sale items! You can find there discounted baby carriers, diaper bags, infant inserts and much more. Keep in mind that the supplies are limited and there might be some restrictions.
Don't worry if the carrier that you want to buy is not discounted. You can still get it cheaper by using special discount coupon for LittleBabyGear.com readers!
Go to Ergobaby website using this link and choose products that you want to purchase. Once they're in your basket, enter this coupon code: jo8KbuYPC. You will get 10% discount on your whole purchase!
PRO TIP: Those of you who like shopping on Amazon, should check this list of coupon codes. The discounts are available for baby strollers, baby carriers, monitors, toys, clothes, diaper bags and lots of other useful baby stuff.
2. Sales on PishPosh Baby (discount: up to 30%)
Currently you can get a discount even up to 30% on Baby Jogger strollers and accessories! Check the Baby Jogger sale on PishPosh Baby website.
Some color versions of luxurious Cybex Priam are also up to 25% cheaper. It may be the only chance to get Cybex Priam without ruining your family budget. Read more information about this promotion.
3. Sales on LilleBaby.com (discount: up to 25%)
You can often find some great sales on Lillebaby official website. If you check it regularly you may get your favorite model of baby carrier even up to 25% cheaper. Check current sale here.
I will be posting here new information about current sales and available discounts for Black Friday 2019 so stay tuned! 🙂
---
If you want to be the first to know about the best deals and coupon codes, like LittleBabyGear on Facebook or follow me on Twitter (@Zooey_Barnett)!