If you're in the hunt for the best WiFi baby camera with breathing monitoring system, it boils down to choosing between Nanit and Miku. In my in-depth comparison, you will find out which of these two smart baby monitors: Nanit vs. Miku, is better and more accurate.
This article is not a substitute for medical advice. It contains affiliate links.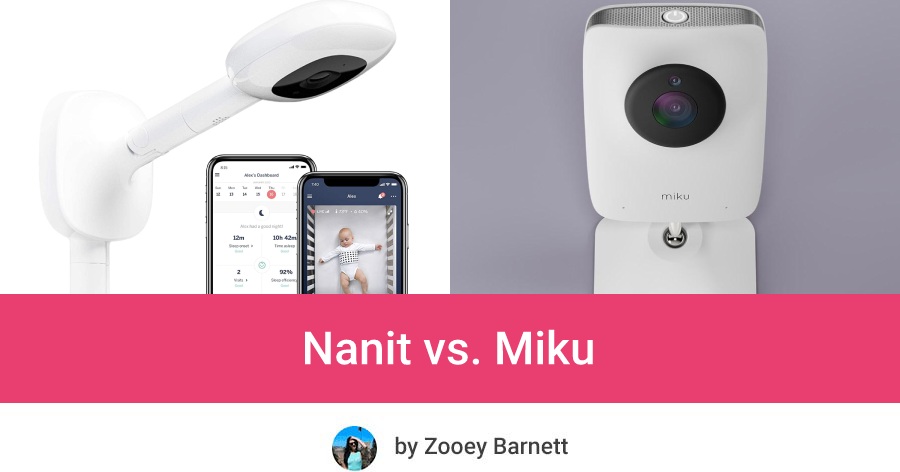 WiFi baby cameras with electronic breathing monitoring has become really popular these days. Even though these devices cannot prevent your baby from SIDS, they can monitor your baby's breathing rate and alert you when it drops. This may give a lot of peace of mind especially to new, anxious parents.
Nanit and Miku are best two smart monitors for tracking baby's sleep patterns as well as baby's breathing. What's noteworthy, these high end monitors differ a lot a use completely different technology to detect whether your baby breathes normally.
In short, with Nanit camera you need special Breathing Wear which is an additional cost. I've heard lots of positive opinions from parents who have been using Nanit, on its accuracy. On the other hand, Miku tracts baby's breathing using breathing sensors, without any add-ons or wearables, which is very convenient.
Keep on reading to find out which smart baby monitoring system: Miku vs. Nanit, is actually better and worth the splurge!
Best Features
❤️ Tracks respiratory rate without the need of wearables or add-ons
❤️ Good quality audio + lots of lullabies & sounds
❤️ Unlimited storage for sleep history data and videos
❤️ Best quality video and night vision
❤️ In-depth sleep analysis + personalized tips
❤️ More stable and user-friendly app with useful customizations
advantage
✨ No subscription or monthly fee
✨ Recommended by 4000+ parents!
Best Breathing Monitor w/o Wearables
Best Features
❤️ Tracks respiratory rate without the need of wearables or add-ons
❤️ Good quality audio + lots of lullabies & sounds
❤️ Unlimited storage for sleep history data and videos
advantage
✨ No subscription or monthly fee
Best Baby Camera & Smartphone App
Best Features
❤️ Best quality video and night vision
❤️ In-depth sleep analysis + personalized tips
❤️ More stable and user-friendly app with useful customizations
advantage
✨ Recommended by 4000+ parents!
Last update on 2023-09-30 / Affiliate links / Images from Amazon Product Advertising API
Nanit Pro vs. Miku Smart Baby Monitor – Reviews & Comparison
Miku app gives you unlimited history of your little one's sleep data as well as short videos of movements and sounds that Miku camera has captured. And you get all of that without any subscription plan! This is basically the only baby monitor app that gives you this much historical data.
On the other hand, I need to admit that Nanit app is more user-friendly, has even more customizable settings and options, offers in-depth sleep tracking and provides you with personalized sleep recommendations which Miku lacks. But it keeps sleep tracking data only for 2 days within the Nanit Insights 1-year free plan – included with the Nanit Pro camera.
If you want unlimited storage or 30-day storage (which is completely sufficient in my opinion) you will need to upgrade your subscription and pay a monthly/yearly fee.
So which baby monitor is actually better and more reliable?
Should you go for Miku that monitors breathing without any wearables that require washing or electronics that you need to recharge every day? Or is Nanit a better option with its comprehensive sleep data analysis and useful personalized sleep tips?
Let's dive into more detailed reviews and comparison: Nanit vs. Miku.
Nanit vs. Miku – What's Included In The Box & What Accessories You Can Buy
The basic package of Miku smart baby monitor includes the camera and wall mount with cable guides. You also get Miku measuring tape and screwdriver!
PRO TIP: If you're thinking about getting this baby monitor, I recommend you this newest version called Miku Pro. The camera has better processor (which means it detects motion events and respiratory rate much better) and wider lens which give you even better view of baby's nursery. It's a bit more expensive, but it's worth the improvements.
For Miku Pro your can also get a floor stand. At the time of writing this comparison, there's no travel case for the new version of this baby monitor, it's available only for Miku Original.
What's noteworthy, the camera tracks respiratory rate with no add ons, electronics or wearables.
Miku includes unlimited storage for sleep data and videos.
On the other hand, if you purchase Nanit Pro Camera on their website, it comes with a baby monitor and 3-pack of Breathing Band (0-3 months). You can choose a wall mount – which is cheaper, or a floor stand. There's also 1 year of Nanit Insights subscription included – it offers 2-day storage for sleep data and personalized sleep tips which Miku lacks.
Keep in mind that when you purchase the camera though Amazon, it may not include bands – make sure to read the description.
After a year, you'll still be able to use Nanit without subscription and monitor your baby's sleep and respiratory rate, but you won't have access to sleep analytics or personalized guidance, unless you renew the subscription (more on that later).
You can also choose Nanit Pro Complete Monitoring System which additionally includes Smart Sheets and Multi-Stand for the camera. These two accessories can be purchased separately, just like the Nanit Travel Case.
Keep in mind that other types of Breathing Sleepwear like swaddles, sleeping bags or pajamas are sold separately. Be prepared for additional costs.
PRO TIP: If you'd like to buy Nanit but you're on tight budget I've got great news for you.Last time I checked Nanit PRO (with wall mount and chest band) was 25% OFF. This was the lowest price this year. Check if your can still collect 25% discount >>
Miku vs. Nanit – Which One Is Better For Breathing Monitoring?
You're considering getting Nanit or Miku because you want the best baby monitor to track your little one's respiratory rate, right? Let's check how these two devices work and find out which one is better fit for your needs.
How Does Miku Work?
Miku is equipped with breathing sensor to detect your baby's respiratory rate and uses AI to evaluate whether it's normal or not. The brand promises that this technology works even when the baby is in a swaddle or sleeps under a blanket*, and obviously it works in total darkness.
IMPORTANT INFO: American Academy of Pediatrics (AAP) advises against using blankets at least for the first 12 months of baby's life. All soft objects and loose bedding should be out of the crib or other sleeping area to decrease the risk of SIDS.
With Miku you don't need any wires, any electronic add-ons on your baby's foot (like with Owlet) or wearables (like with Nanit). It's really convenient because there is less equipment you need to remember to recharge every day, there is no additional sleepwear to wash and, and what's the most important, there are no extra costs! All of this also makes Miku super convenient and easy to use.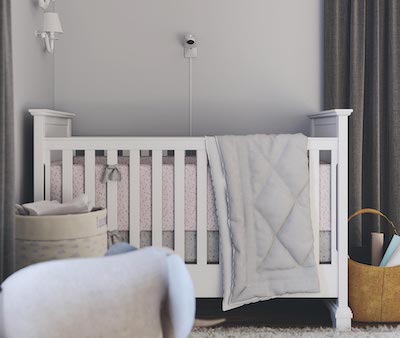 Some parents don't like the idea of their newborn babies wearing electronics directly on their body (e.g. Owlet Sock), so Miku seems like a good alternative.
What's really important Miku is equipped with a powerful processor to analyze your baby's respiratory rate and show you when his/her respiratory rate (RPM) decreases and alert you when it completely stops. Thanks to this innovative technology those alerts are really fast. In that case, you get what you pay for.
PRO TIP: I've just found Miku Pro on sale – it's $100 cheaper! It's literally the lowest price I've even seen. If you're on smaller budget, don't miss out on this opportunity! I want my $100 discount >>
>> Nanit vs. Owlet – In-Depth Comparison Of Smart Baby Monitors
How Does Nanit Work?
On the other hand, Nanit uses completely different technology. It can monitor breathing rate, but only when your little bundle of joy sleeps in Nanit Breathing Wear: torso band, swaddle, sleep bag or pajamas with innovative print that allows the camera to detect respiratory movements by analyzing pixels.
Nanit Pro Camera comes with a Breathing Band included. What's really important – you cannot put it on a swaddle. Therefore if your little one loves to sleep when swaddled, this band will be useless and you will need to spend extra money on a different type of Nanit Breathing Sleepwear.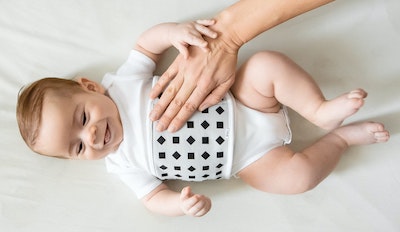 Besides, the band that is included in the set, fits babies from 0 to 3 months. When your child outgrows it, you will also need to buy bigger band (or a sleep sack, or pajamas) which indicates additional costs.
There's one more thing that I have to mention. When you put your little one to sleep, you need to "turn on" the breathing monitoring in the Nanit app and also remember to turn it off when your baby wakes up or you take him/her out of the crib. These additional steps are a bit annoying, but it's not a dealbreaker.
Now the most important thing: do Nanit and Miku smart baby monitors really work?
Majority of parents who own Nanit, are satisfied with the Breathing Wear. Although this type of technology is prone to give false alarms, they happen rarely with Nanit.
I've heard more negative opinions about Miku giving lots of false alarms, but majority of these reviews were about older version of Miku camera. It seems like the newer version (and updated, improved version of Miku app) gives less false positive alerts.
What's also noteworthy, there was a 3rd party IRB-approved clinical study conducted where Miku smart baby monitor was compared against worn medical-grade equipment.
It turned out to be just as precise as medical respiratory monitor and was able to identify when baby's breathing pattern was abnormal (apnea events), when the baby was resting in the crib1.
Choosing the best between Miku Smart Baby Monitor and Nanit Baby Monitor will boil down to what is more convenient to you.
IMPORTANT INFO: You need to remember that these WiFi baby monitors are NOT medical devices and they are not designed to prevent SIDS. They can tell you if your baby's breathing rate is normal (which you cannot simply observe). Whether you decide to go with Nanit or Miku to monitor breathing rate, remember to follow pediatrician recommendations for safety sleep (back to sleep, tummy to play).
Even if you use smart baby monitor to track respiratory rate and sleep, never allow your little one to sleep on their stomach. Monitoring breathing patterns may be very useful and may give you lots of peace of mind, but don't forget to practice safe sleeping habits everyday.
Miku Camera vs. Nanit Camera – Comparison Of Video Quality
In this article I'm comparing the newest versions of both baby cameras: Nanit Pro and Miku Pro. Both offer you 1080p HD video which is an amazing quality. I have to admit that Nanit has slightly better night vision, but Miku's is still very impressive.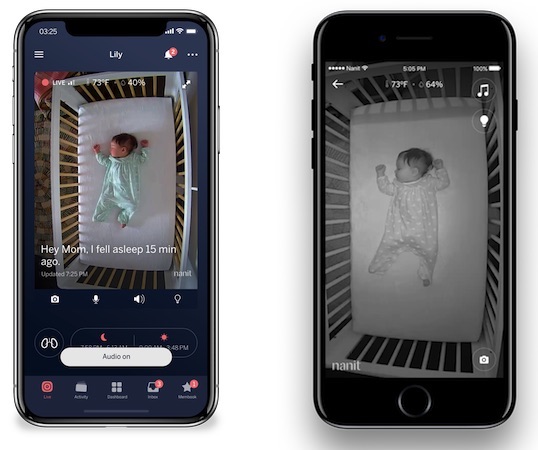 Nanit Pro offers you 130 degree view of baby's crib, while the newest Miku Pro features 140 degree wide angle lens.
What's important, Miku is using 8-core processor (similar to what we can find in smartphones or laptops) and thanks to that, there is basically no lag-time. With Nanit there might be a 2 second delay in the video/audio streaming, but it's still pretty accurate and the lag-time is shorter than with other smart baby monitors.
Both video monitors feature 256-bit encryption which means both Nanit and Miku are safe. According to both brands, Nanit and Miku cannot be hacked and you can rest assure that you are the only person who have the access to your baby's videos.
Nanit baby monitor and Miku baby monitor stream directly to parent's smartphone, there is no dedicated parent unit like with traditional baby monitors.
This is a huge advantage because you can keep an eye on your little dreamer even when you on-the-go. When the monitor detects motion or sound event, the app will notify you. You can customize these alerts and adjust their sensitivity (new feature for Miku).
Miku vs. Nanit – Which One Outputs Better Audio Quality?
Both baby monitor feature two-way audio. Of course the quality of audio that you hear will depend on your phone quality, age etc.
But what distinguishes Miku is amazing sound quality of the camera thanks to not one, but two Ole Wolff speakers. This means that the quality of nature sounds and lullabies (and your voice) that your baby hears is more clear.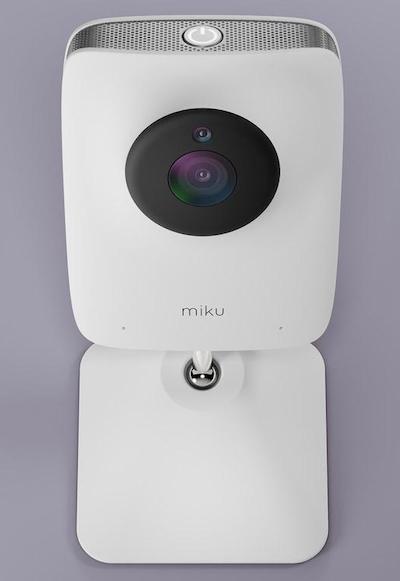 And yes, Miku camera can play numerous sounds and lullabies – the selection is much more vast than with Nanit, which can play some nature sounds or white noise but this feature is still in beta phase.
Overall, this is a very useful feature for putting baby to sleep and it means that you won't need to spend more money on another devices that plays white noise etc.
Miku App vs. Nanit App
Nanit App is probably the best one out there, especially with the Nanit Insights personalized sleep tips. It's so user-friendly, allows you to customize lots of features and notifications, and it's fantastic for detailed sleep tracking.
It analyses baby's sleep data (sleep length, sleep quality, sleep cycle and more) and provides parents with tons of useful recommendations and tips for improving baby's sleep.
It also may be very useful during the sleep training phase.
What I really love about Nanit app is how reliable it is. I've rarely experience connectivity issues, everything works fast and it is very intuitive.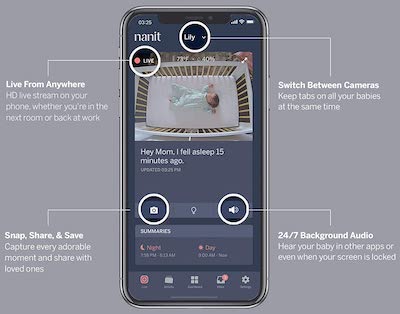 Miku app shows similar information about baby's sleeping patterns, but there is no sleeping guidance based on these data.
At the beginning this smartphone app for Miku baby monitor has some issues, there was some lag-time, it was slower, it was freezing or even shutting down from time to time. I must admit that this brand has been doing a really good job with frequent updates and improvements and now the app is much better.
The updated version of smartphone Miku app gives you more option of customization (like the sensitivity of notifications).
You can also check short videos of motion and sound events that Miku camera has captured. What's really impressive is that Miku offers unlimited storage for historical data, videos and photos – without any subscription. There are no hidden costs – BIG PLUS!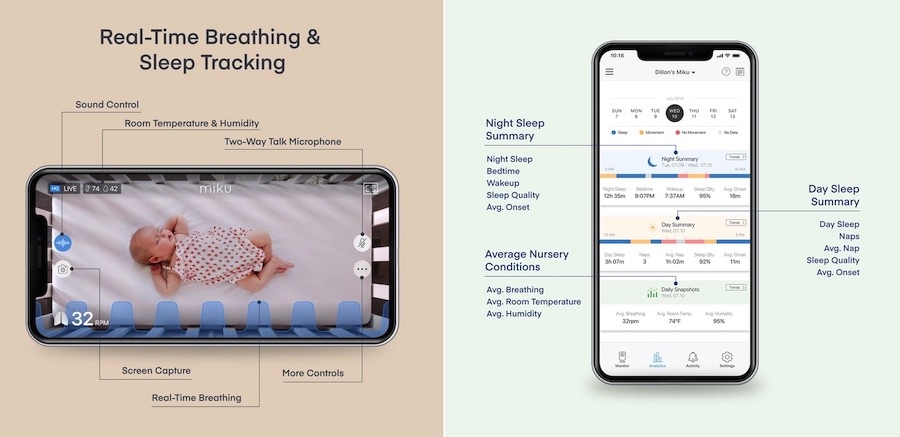 On the other hand, when you buy Nanit Pro Camera you receive 1-year of free access to Nanit Insights which contains detailed information about baby's sleeping pattern and personalized tips. Unfortunately there's only 2-day storage.
After a year, you can renew your Nanit subscription for $5/month or $50/year. You can also upgrade your plan to Nanit Insights Premium with give you the same features but with 30-day storage ($10 monthly fee or $100 yearly fee) or Nanit Insights Unlimited with unlimited storage ($30/month or $300/year).
If you decide not to renew Nanit subscription, you will still be able to use the camera and the app – you will receive live video and audio streaming, notifications, and you'll be able to monitor your child'd respiratory rate, but you won't have access to ongoing sleep analytics, patterns and recommendations.
I don't like the fact that you have to pay extra to have longer access to historical data, considering the monitor itself is quite pricey.
Nevertheless, I think the Nanit app is fantastic because it offers you better customization and it's more stable. Lots of parents also praise the personalized sleep recommendations which helped them to improve their baby's sleep quality.
Nanit vs. Miku – Which One Gives More Information About Baby Sleep?
Here Nanit is definitely a winner. It allows you for an in-depth sleep tracking and the app does a fantastic job at analyzing your baby's sleeping pattern.
Nanit Insights also provide parents with useful sleep recommendations based on the sleep data, therefore these tips are personalized and can be really helpful for improving your baby's night sleep quality.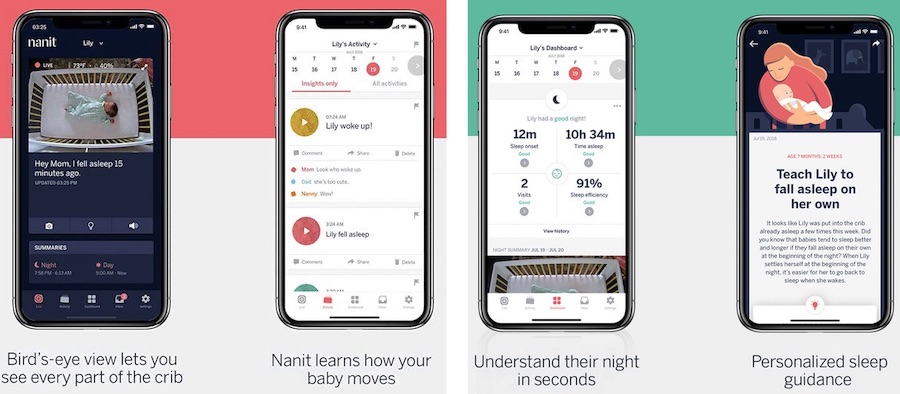 The only downside is that Nanit app stores baby's sleep data only for 2 days (if you have the free Nanit Insight subscription).
On the other hand, Miku baby monitor doesn't offer you sleep tips, but it works really great for tracking sleep. In contrast to other baby monitors, this one has unlimited storage for the sleep data – and you don't have to pay extra for it!
Nanit vs. Miku – Other Useful Features Of Smart Baby Monitors
Both devices have room temperature and humidity sensors which is also very useful.
The only difference between these WiFi monitors is that Nanit sends you an alert then the temperature or humidity raises or drops out of preset safe levels.
With Miku you don't get notifications, you need to go to the app and check it on your own.
What also distinguishes Nanit is the built-in night light in the camera.
Is The Miku Baby Monitor Worth It?
Technology that Miku uses is fairly new, but it's really awesome to see that the company is constantly improving the camera and the app and this whole smart baby monitoring system is working much better now.
Considering how convenient and easy to use this monitor is, and the fact that it allows you to track breathing and sleep without any add-ons, wearable and electronics on your baby's body, makes it really great investment.
Miku has also fantastic customer service, you can contact them via live chat on their website. I contacted them once and they were super quick to respond (it took them literally 2 minutes) and really helpful.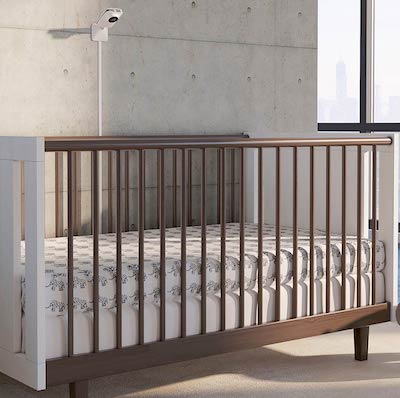 Is Nanit Worth The Money?
Nanit is one of the best baby monitors. It offers amazing video quality and surprisingly clear night vision. If you're considering getting this baby monitor, I recommend you the Nanit Pro model which has great improvements in comparison to older Nanit Plus model.
Nanit app is another thing that distinguishes this smart baby monitor, because it provides parents with TONS of useful information, sleep analytics and personalized tips. It's super easy to use, connectivity issues are rare and the whole app is very stable.
Even though breathing monitoring requires accessories that you need to buy separately and you need to remember to turn on/off this features in the app, it's still pretty convenient solution and according to many parents it doesn't give many false alarms.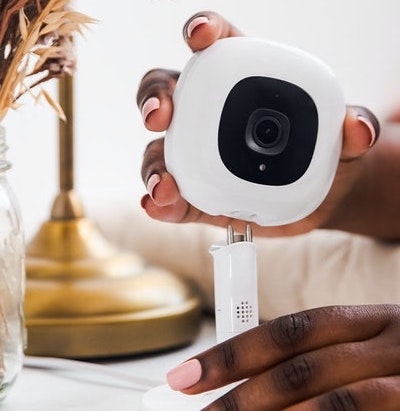 Final Verdict: Is Nanit Or Miku Better?
Final decision on which baby monitor is better: Nanit vs. Miku will highly depend on your own preferences.
Just ask yourself whether you prefer Miku smart baby monitor that works without wearables and electronic add-ons or if you're prefer Nanit technology that tracks respiratory rate by monitoring pixels.
Which technology will be more accurate for you and cause less false alarms will depend on a lot of different factors. Also, remember that none of these devices can guarantee you full protection from SIDS.
There are however other functions that differentiate Nanit and Miku which can make you prefer one monitor over the other.
Miku
Nanit

Reasons to choose Miku Smart Baby Monitor

---

- Contact-free breathing monitoring

- No wires, no wearables that have to be washed, no electronics on your baby's skin that have to be recharged every night

- No additional equipment needed, no hidden fees

- Unlimited storage for sleep data, photos & videos

- Bigger choice of white noise, lullabies and sounds

Reasons to choose Nanit Smart Monitor

---

- Cost of the camera and Breathing Sleepwear for the first year is similar to Miku Monitor cost

- Lots of parents say that false alarms are much less often than with other monitors*

- More stable app with user-friendly interface

- Better quality of video, especially in night vision mode than Miku

- Background audio feature works better
*Keep in mind that false alarms may be caused by various things: baby's position; distance between baby's crib and camera; whether baby is in a crib/ swing/ vibrating bassinet; and more.
Miku & Nanit Smart Baby Monitors – FAQ
Here's additional information on Miku Smart Baby Monitor, as well as Nanit Camera + Breathing Wear. If you have any other question, let me know if the comment section.
Is Miku Baby Monitor Safe? Can The Miku Baby Monitor Be Hacked?
Miku uses 256 bit encryption and high security Crypto Chip (part of the hardware) to ensure your baby's sleep data, photos and videos stay safe, and no one else has access to them. According to the company Miku Smart Monitor cannot be hacked.
Moreover, Miku baby monitors safe are tamper-proof which means that if someone tries to interfere with the device, all data erases.
Another safety feature to consider is the emission of radiation. According to the brand, Miku's breathing sensor emits 1000 time less radiation than smartphones, TVs and Bluetooth devices.
BabyGearLab team has tested Miku's level of EMF emission. When it was placed 6 feet from the reader (which is a similar distance between the monitor and baby in the crib), its radiation emission was one of the lowest among different baby monitors1. If you're worried about your child's exposure to EMF, Miku's baby monitor may be a good solution.
Considering all those things, we can assume that Miku is a safe baby monitor.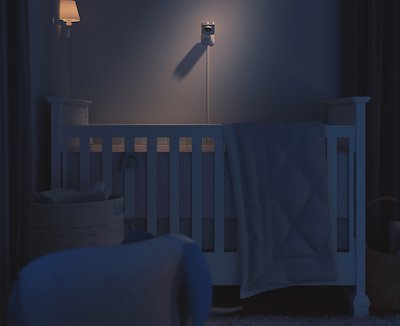 Is Nanit Baby Monitor Safe?
Nanit is designed with strict security guidelines to keep all your data, photos and videos of your baby safe.
What's more, video stream cannot be pulled from Nanit Cam directly. You can only pull it to your mobile device through Nanit secure servers which, according to the company, are protected by a top-notch digital and physical security measures.
Another thing that you need to consider, when it comes to baby monitor safety, is baby's exposure to EMF radiation. Lots of traditional and smart baby monitors use DECT or FHSS technologies – which unfortunately emit high levels of radiation.
Thankfully, Nanit is a low emission baby monitor and it doesn't use harmful DECT technology2. Nanit Cam directs 10 times less radiation forwards the baby than in other directions and in general much less radiation than TVs and computers.
Low emission of EMF was confirmed in a test conducted by BabyGearLab3.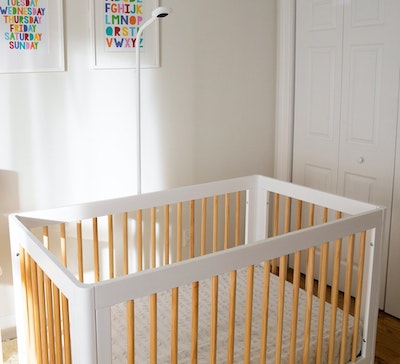 Does Nanit & Miku Monitor Work With Snoo?
Smart baby monitors like Nanit and Miku don't work with Snoo. The main reason is that vibrating bassinets like Snoo may lead to incorrect motion and breathing tracing – which in turn may occur in false alarms.
It is recommended to use Nanit and Miku in a crib, not in a rocking bassinet or swing.
>> Snoo vs. Halo – Comparison Of Bassinets
---
The purpose of this article is informative. It's not a substitute for medical consultation or medical care. Remember: safety first! Consult your doctor/pediatrician in case of any doubts, and before you introduce tummy time. The author of this article does not accept any responsibility for any liability, loss or risk, personal or otherwise, incurred as a consequence, directly or indirectly, from any information or advice contained here. The article contains affiliate links – your support helps us run this blog!
Source of pictures:
Pictures of Nanit Video Monitor & Sleepwear belong to Nanit brand. Source: https://nanit.com/
Pictures of Miku Monitor belong to Miku brand. Source: https://mikucare.com/