Winter is just around the corner but that doesn't mean you can't explore outdoors with your baby. You just need a sturdy and safe winter stroller that will handle snow and slush. Pick the best stroller for snow and enjoy winter walks with your child!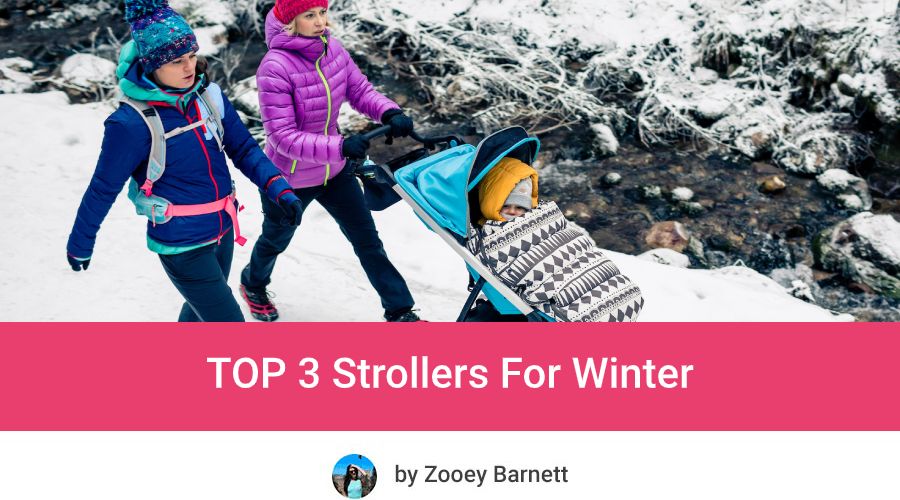 How to choose safe and high-quality stroller for snowy roads? There are few things that make a stroller suitable for winter walks – you'll learn about it in this article.
I know that some of you are looking for a stroller only for snowy sidewalks, while others would prefer model that handles snowdrifts. And of course all parents have different budget for this piece of baby gear.
That's why I present here 3 different baby strollers in a wide price range and suitable for different amount of snow: BOB Revolution Flex 3.0, Joovy Zoom 360 Ultralight and Baby Jogger City Mini GT.
Among these 3 options, I think that the best stroller for winter snow is BOB Revolution Flex 3.0 – it has the best features and quality.
This article contains affiliate links.
Suitable For
Off-road walks, trails in woods, rough winter & large amount of snow (also in a countryside)
Canopy
Large, 2-panel canopy with 1 peek-a-boo window
Best For Rough Winter
Suitable For
Off-road walks, trails in woods, rough winter & large amount of snow (also in a countryside)
Canopy
Large, 2-panel canopy with 1 peek-a-boo window
Last update on 2021-10-18 / Affiliate links / Images from Amazon Product Advertising API
Best Stroller For Winter And Snow – Features
Without further ado, here is the list of features that make stroller more easy to push through the snow.
1. Three-Wheel Construction With Lockable Front Wheel
Generally speaking strollers that have three wheels instead of four are easier to push on rough terrain, including snow.
3-wheel design makes the stroller easier to operate, as well and more agile and maneuverable.
Another important thing is the front wheel – swivel & lockable one is ideal.
By locking the front wheel you make the wheelbase longer and sturdier. It will be much easier to go over snowy sidewalks and you won't get stuck.
In general, all jogging strollers with lockable front wheel will do fine on snow, but here I will recommend two models that lots of parents praise for exceptional performance on slush and snowy roads: Joovy Zoom 360 Ultralight and BOB Revolution Flex 3.0.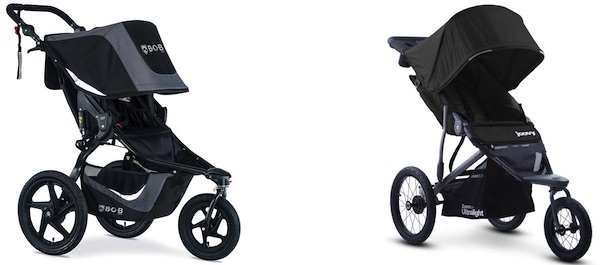 Of course you can choose any other jogging stroller (with swivel/lockable front wheel) that I reviewed in my ranking of joggers and it won't disappoint you on snow. If you have bigger budget you can go for Bumbleride Speed or Thule Urban Glide 2.
I'm aware that not every parent can afford a jogger or simply don't want to have a big and heavy stroller. There's another solution.
There is also one standard 3-wheel stroller that can handle mild winter weather – Baby Jogger City Mini GT.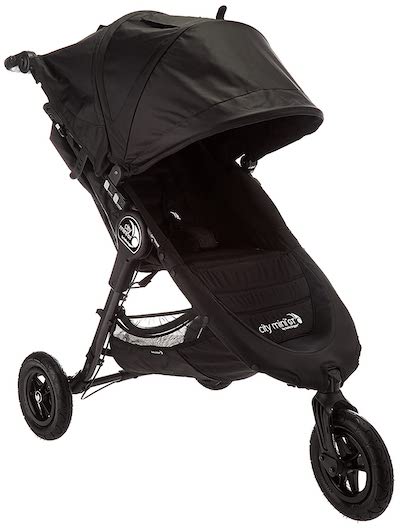 PRO TIP: If you live in area where winters are not so rough, four-wheel stroller with big foam tires will probably work fine as well. Lots of parents use Baby Jogger City Select, UPPAbaby VISTA, Bumbleride Era or Bugaboo Fox on snowy sidewalks and they are satisfied with their performance.
But if you're looking for a stroller that will handle tons of snow, iced paths and slush, choose a model that meets the requirement that I mention here.
2. Big Wheels With Air-Filled Tires
The bigger the wheels the better. Look for a stroller that has at least 8″ wheels. This means that lightweight strollers are not a good choice for snow – most of them has 5″ wheels.
For winter weather choose a standard model marked as "all-terrain" or a jogging stroller.
Tires are also very important. Air-filled ones are the best because they roll much smoother. This makes the stroller easier to push and the ride is more comfortable for the baby.
Both BOB Revolution Flex and Joovy Zoom 360 Ultralight meet all of these requirements. They have 16″ rear wheels and 12″ front wheels. Tires are filled with air and you should pump them once in a while to keep them in a good shape.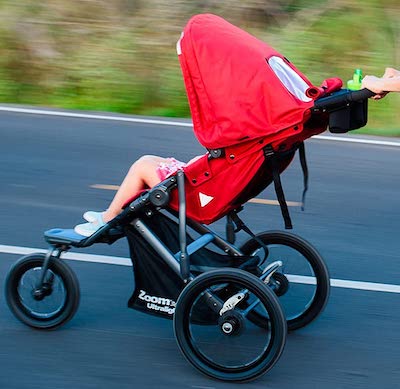 Depending on the amount of snow, wheels with big rubber tires filled with foam should also work fine. If you live in area where winters are mild and you only need a stroller for snow on sidewalks, Baby Jogger City Mini GT will be sufficient. It has 8.5″ wheels that roll on snow really well.
If your budget is more flexible, you can also consider Baby Jogger City Mini GT2 – which is a newer version with an updated design.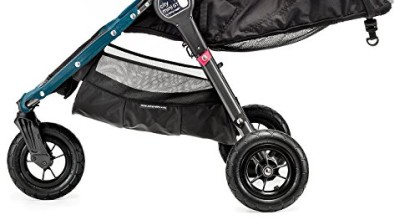 But if there's really a lot of snow in your neighborhood air-pumped tires are a must have.
PRO TIP: I don't recommend strollers with hard plastic wheels or almost flat tires. Strollers with dual front wheel (e.g. Britax B-Agile or Baby Trend EZ Ride) are also not a good choice – you will get stuck in snow for sure.
3. Suspension
Going through snow means your little one will be more exposed to shocks. If you don't want your baby to shake and bounce too much, choose the best winter stroller with suspension that will smooth the ride.
Currently lots of strollers have good suspension system – you can find it not only on joggers, but standard strollers as well.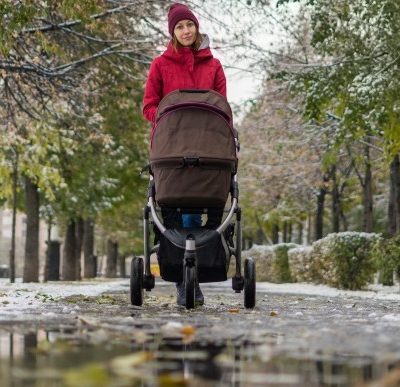 All three strollers for snow that I recommend here are equipped with shock-absorbing suspension so you can be sure your baby will have a pleasant ride.
PRO TIP: Make sure to clean your baby stroller (frame, wheels, brakes & suspension) from mud, sand and snow and dry it properly. This way you ensure it won't rust. If you want to use your stroller for snow for more than one season, take a good care of the seat too – clean it properly to avoid mold!
4. Large Canopy
During your stroll it may start snowing so your winter stroller needs to have a big canopy to keep your baby dry and warm.
Oversized canopy will also protect baby from wind and catching a cold.
BOB Revolution has huge extendable 2-panel canopy that covers baby's face and torso.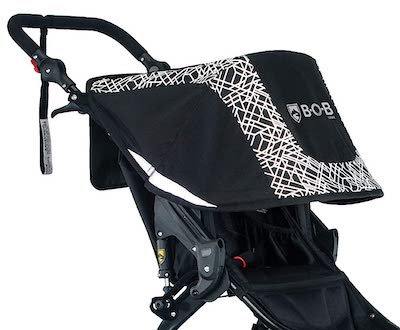 Joovy Zoom 360 has 2-panel shade that sticks out really far. Your child will be well protected from snow and rain.
Baby Jogger City Mini GT has long 3-panel canopy that covers baby down to the waist. This stroller for snow will keep your baby dry and warm the whole time.
5. Roomy Seat / Option Of Adding Footmuff
Performance on snowy roads is not the only thing that you should consider when choosing a winter stroller.
Wide, roomy seat and possibility of attaching a footmuff are also very important.
During winter strolls your baby will be wearing more clothes and bigger jacket and you'll probably want to cuddle him in a blanket. That's why the seat has to be roomy so the baby could feel comfy and warm in it, without being squeezed.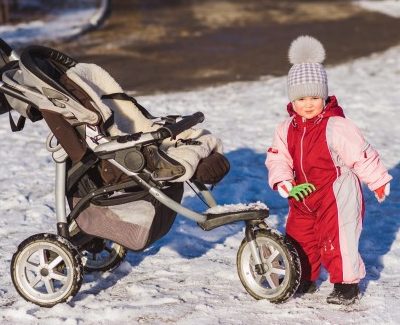 If you're wondering how to keep baby warm in a stroller during winter – adding a footmuff may be the best solution. Baby Jogger offer footmuff designed specially for their strollers. For BOB and Joovy jogging stroller you can add a universal footmuff (for example this one).
PRO TIP: There's one more useful accessory for fans of winter strolls: a hand muff. My babies don't like mommy's cold hands and definitely don't like gloves. So this accessory has been very handy for us.
It attaches to the handlebar and keeps your hands warm while you're enjoying snowy weather with your little one. No more dry and chapped hands! 🙂
Here you can see Baby Jogger hand muff. There are also other, universal hand muffs that fit majority of strollers (check this one for example).
---
Sources:
Your trust is really important to me: This post contains affiliate links. If you choose to buy something using these links, I may receive a small commission, at no extra cost to you. Your support helps me run this blog. Thank you so much 🖤