If you're a single mom (or dad) or a grandma looking for the easiest baby carrier to put on, you're in the right place. Babywearing doesn't have to be difficult and intimidating! Here I'm going to share with you my favorite ring slings, soft-structured carriers, and wraps, that you'll be able to put on easily, without anyone else helping you.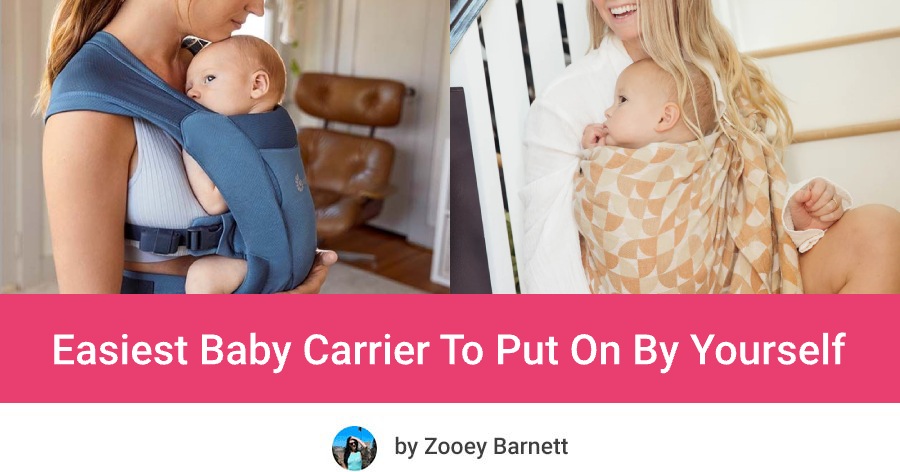 We love baby carriers! Sure, for all those great benefits of baby wearing, like bonding with caregivers and feeing comforted, but also, because its just easier to do basic life activities with your hands free.
Many parents enjoy carrying their children either a wrap or soft structured baby carrier from newborn ages on up. Baby carriers are great for neighborhood walks, while shopping at the grocery store, or to make travel with a baby a little easier. However, what happens when you are not two parents – but one?
Have you ever needed to put on a baby carrier without the help of your partner? If so, then you've probably wondered what is the best baby carrier to put on by yourself.
At some point, you're sure to need to put on a carrier solo, and it can be a real struggle! You have to keep the baby (who might be fussy and crying) safe, but also deal with several clips, buckles on your baby carrier, or intricate wrapping of your woven wrap.
That's why I've created a list of the easiest baby carriers to you can put on by yourself.
Don't stress: I've also listed tips and tricks for how to put them on if you don't have an extra hand to help you clip that pesky back strap.
This article is not a substitute for medical advice. It may contain affiliate links.
Best Features
❤️ Once you get a good hang of it, putting it on is easy-breezy and takes a few SECONDS!
❤️ Fabric is lightweight and breathable - it keep you and the baby from sweating
❤️ It's very comfy for breastfeeding on the go
❤️ Doesn't have lots of buckles to adjust & all of them are easy to reach
❤️ The fabric is thin and lightweight (no sweating!), but very supportive
❤️ You can carry your child in inward or outward facing position (which toddlers love)
❤️ Accommodates older infants and toddlers (weight limit up to 45 lbs!)
❤️ It has high weight limit (45 lbs!) just like soft-structured carriers, but it's less bulky
❤️ Comes in two sizes to fit petite and plus-size parents
advantage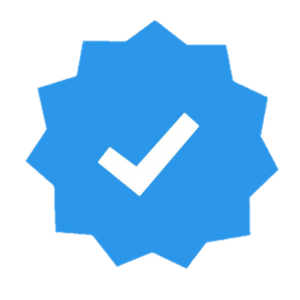 Recommended by 94% of verified buyers!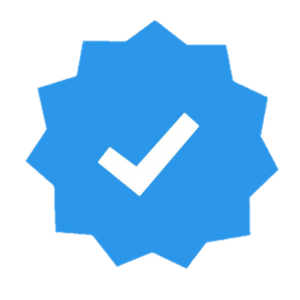 Recommended by 97% of verified buyers!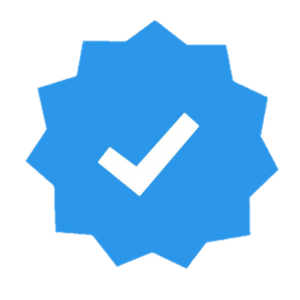 Recommended by 91% of verified buyers!
My Personal Choice
Best Features
❤️ Once you get a good hang of it, putting it on is easy-breezy and takes a few SECONDS!
❤️ Fabric is lightweight and breathable - it keep you and the baby from sweating
❤️ It's very comfy for breastfeeding on the go
advantage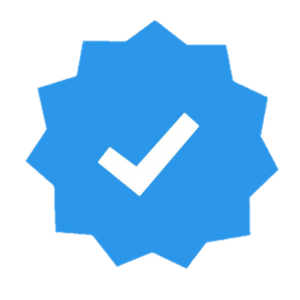 Recommended by 94% of verified buyers!
Best Features
❤️ Doesn't have lots of buckles to adjust & all of them are easy to reach
❤️ The fabric is thin and lightweight (no sweating!), but very supportive
❤️ You can carry your child in inward or outward facing position (which toddlers love)
advantage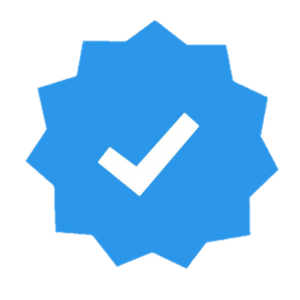 Recommended by 97% of verified buyers!
Best Features
❤️ Accommodates older infants and toddlers (weight limit up to 45 lbs!)
❤️ It has high weight limit (45 lbs!) just like soft-structured carriers, but it's less bulky
❤️ Comes in two sizes to fit petite and plus-size parents
advantage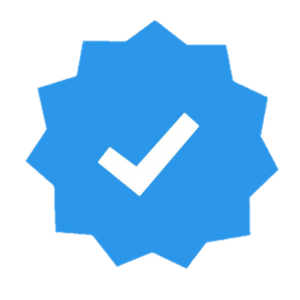 Recommended by 91% of verified buyers!
Last update on 2023-09-30 / Affiliate links / Images from Amazon Product Advertising API
I've checked out all sorts of baby carriers to find which is the easiest carrier for most parents to put on solo. Included in this list are baby wraps, ring slings and different soft-structured carriers that are best for putting on independently.
In regards to your baby's hip health, all of the carriers on this list are approved by the International Hip Dysplasia Institute.
Poorly designed or improperly fitting baby carriers can result in hip dysplasia in infants, so make sure to use products that are healthy for your child's hips, and use them according to the appropriate weight and age of your baby.
Which Baby Carrier Is Easiest To Put On?
Parents love ring slings because they are one of the easiest carriers to put on, and are so simple and practical to use with young babies.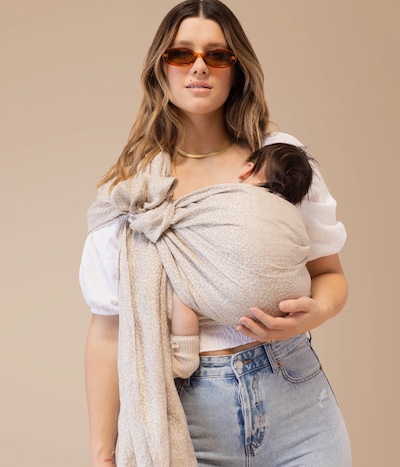 I particularly love WildBird Slings because they are made of strong and breathable linen material and come in cute colors and patterns, and they are one of the safest and best baby carriers.
These baby slings are so easy to put on – which makes them perfect for grocery shopping with baby, especially when you're just on your own, mama.
Putting Baby Sling On
The first time you use a sling, you should thread the fabric 'tails' through both rings, then tighten it by passing through only the outer ring and pull down firmly.
To wear it, simply put the sling on over your neck and pull one shoulder and arm through, so that the sling hangs diagonally from your shoulder to the opposite side of your waist.
It creates a hammock-like seat for your baby, so pop your infant in and then adjust by pulling on the 'tails' of the sling material. It should not be saggy. You want a snug fit to properly support your baby.
The metal rings should sit around your shoulder/collar bone and be easy to adjust with one hand.
You will have to practice putting the baby sling on a few times, but once you get a good hang of it, you'll be doing it in a few seconds! No complicated tying, no annoying (and hard-to-reach) buckles!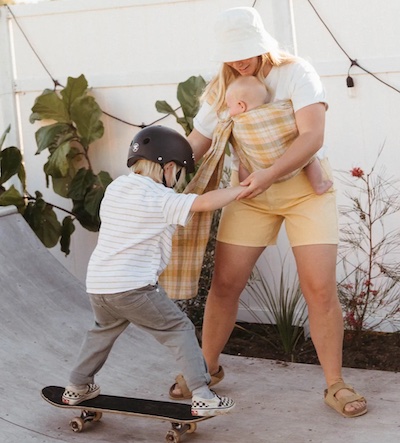 Carrying Positions
You can wear ring slings at your front (with baby facing in towards your chest), or on your hip, so they can turn their heads and see a bit more. This sling carrier is extremely comfortable for nursing on the go.
While ring slings are recommended for babies up to 35 lbs, as your baby gets heavier, you may find it more taxing to carry them for long periods of time.
Also, there are only two carrying positions, and no options to carry on your back, which might be limiting in some situations.
Why I Love WildBird Ring Slings
They come in several options – single or double layered woven linen or super-soft modal fabric. I find the single-layered woven slings are very breathable and best for keeping baby cool in hot weather. I actually picked them as the best baby carriers for babywearing in summer.
If you live in a cold climate, or plan to baby wear mostly throughout the winter months, check out their double-layered slings.
>> To learn more about WildBird, check out my detailed review here.
ErgoBaby designed the Embrace baby carrier specifically as a young infant carrier that doesn't require a newborn insert.
In terms of newborn carriers in buckle type, the best baby carrier to put on solo is the Ergobaby Embrace.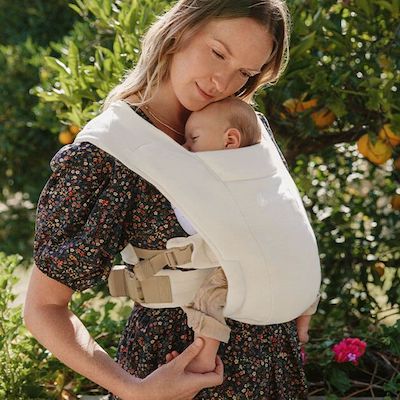 The weight limit on the Embrace is a bit lower than some other designs, it is recommended for babies from 7 to 25 lbs, making it ideal for a baby's first carrier.
The adaptable design allows for a custom fit without being complicated – just wrap the waist belt up one or two times!
Instead of using an infant insert, like other carriers out there, the Embrace has an adjustable, ergonomic seat that grows with your baby, adapting to suit both front forward facing, and outward facing positions, when your baby has developed appropriate neck support, of course.
Putting This Baby Carrier On
The Erbobaby Embrace doesn't have lots of buckles (which is why it's easy to put on solo), but uses simple shoulder straps that cross at the back, but clip at the front where you can easily see and reach them.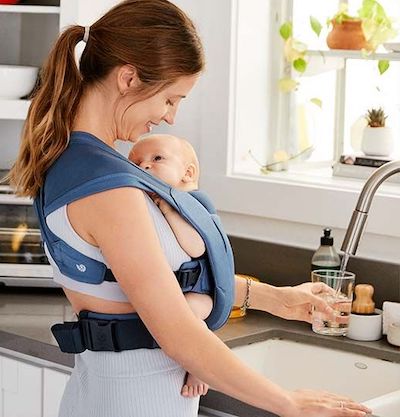 How To Wear It:
Secure the waist strap around your waist (wrap it once or twice to make it sit higher up, if your baby is younger).
Hold baby against your chest with one hand, and pull the fabric seat up around them with your other hand.
Cross the straps over your shoulders and clip them over your baby's hips/legs to create a secure seat.
Adjust straps as necessary to make a snug fit.
You'll keep one hand on the baby as you put on the carrier, but because the Embrace clips at the front (not the back) it's not difficult at all to swing those straps around. Moreover, the only thing you need to adjust is the waistbelt and the clips under your armpits.
Carrying Positions
The Embrace carrier allows for inward-facing and outer-facing carry with babies, but all carrying positions are front-carry.
For the proper position, your baby should sit against your body with the top of their head close enough for you to easily kiss.
With the Ergobaby Embrace, if your baby is less than 23 inches in length, you should wrap the waist-belt once or twice to reduce the length of the baby's seat and make sure they are in the correct position.
Once your little one is long enough, you can simply wear the waist belt as-is, and adjust the back straps to suit you and your child.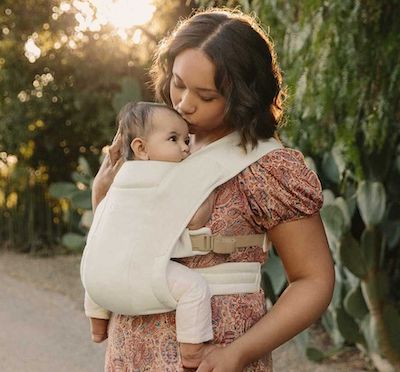 Why I Love Ergo Embrace
I think the Ergobaby Embrace is one of the best baby carriers to put on solo because of the back and shoulder straps that come all the way around and clip in the front.
The neckline has additional padding that acts as a head support for newborns, too.
Also, the Embrace comes in two fabric options: soft air mesh for maximum breathability, and the soft double-knit fabric for the coziest feel.
The Solly Baby company is most well-known for baby wraps, but they also have designed this Loop Carrier for older babies and toddlers called the Solly Baby Loop.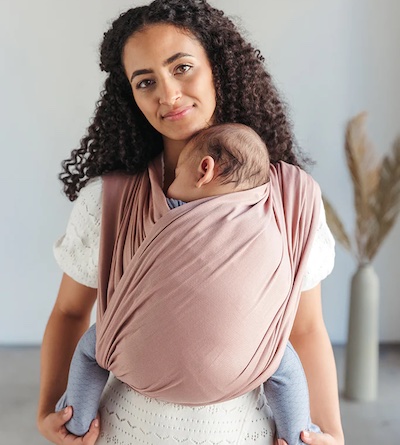 This design has the same concept as a baby wrap, without any complicated tying or buckles to worry about.
Whereas many carriers have a maximum weight of 35 lbs, the Solly Baby Loop has a weight range of 15- 45 lbs, making it a great carrier for older or heavier babies.
Putting The Loop Carrier On
It does look a bit complicated to wrap the Solly Baby loop, but I am sure, after a few tries you can get it right. It is not as complex as a wrap, but I would recommend trying in-front of a mirror a few times, at first.
The fabric crosses at the front, to hold your baby securely against you, and 'locks' into a single ring at the back, allowing you to adjust it easily as needed.
Because the fabric of this carrier will go around both you and your child, it might feel a bit warm in summer months.
How To Wear It:
Start with the ring at the the center of your back (just drape it over the back of your head, keeping the ring in the middle). You want it just above your bum/waist so that you can easily reach it with your hands.
Cross the remaining fabric over your chest – making and "x" shape.
Thread each end of the fabric through the ring at your back (this is when a mirror comes in handy). It is important that you thread over and through the ring, NOT under the ring, on both sides. Threading over and through is essential for it to 'lock' the fabric properly.
Put your little one in the Solly Baby Loop, one leg at a time. The fabric should create a seat with the "X" right under their bum and hold their legs securely inside. Your toddler will be facing your chest.
If you need to adjust or tighten the Solly Baby Loop, support your child under their bum with one hand, and with the other, tighten whichever side feels too loose. Balance the two sides so you carry your toddler's weight evenly across your body.

Carrying Positions
This carrier is only recommended for use as an inner-facing carrier, not for back carry or outward-facing positions.
It's great as a toddler carrier for extending naps, or carrying a heavy baby when traveling. However, it is not a substitute for backpack or hiking carriers.
The minimum weight for the Solly Baby Loop is 15 pounds, meaning that this carrier is not suitable for newborns. If you love the idea of using carrier like this one, try using a sling, like the WildBird Ring Sling (reviewed above), and transition to Loop when your baby is big enough.
However, the plus side of this is that you can use the Solly Loop with bigger kids, and get a lot more use out of it than with a ring sling, alone. It can hold kids up to 45 lbs, which means this might be used as a toddler carrier.
The easiest wrap to put on by yourself is not exactly a wrap, yet, it sort of is. It's the Baby K'tan carrier and it offers multiple carrying positions, with all the positives of a wrap, without the necessity of a full-length mirror and hours of YouTube videos to learn how to do several wrap options.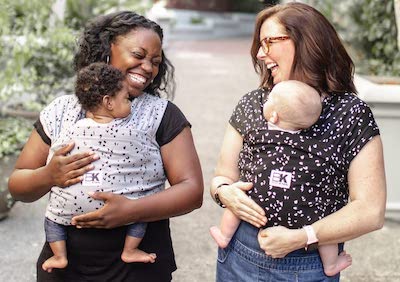 This carrier is easily machine-washable. If you feel like the jersey material is stretched out, just toss it in the wash and tumble-dry on low to get it back to the desired snug fit.
It's Not A Wrap, It's A Wrap Carrier
Allow me to explain:
The Baby K'tan wrap-carrier acts as a wrap, but can be put on a bit more like a baby carrier. While other wraps come as a single, long piece of fabric that you need to learn how to fold and twist properly to safely carry your baby, the Baby K'tan wrap is basically 'pre-wrapped', allowing for six safe baby-wearing positions that you can easily slip on over your head.
There are no buckles or straps to tighten, you just wear the pre-wrapped fabric around your body and put your baby inside, against your chest.
You will need to practice a few times, and maybe watch a video to make sure you're wearing the wrap correctly, but it is much easier than learning how to tie traditional wraps.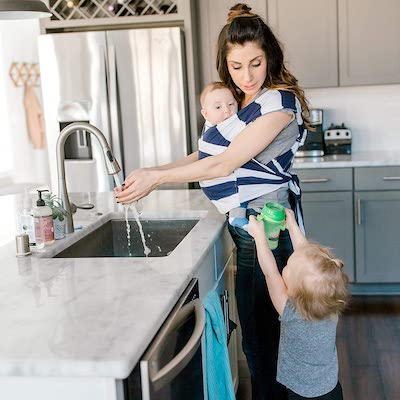 The Baby K'tan is recommended for babies from 8 – 35 lbs, and can be used basically from newborn through the first year of life. But once baby's weight reaches over 30 lbs, you will notice it is more difficult to use this baby carrier for long periods of time.
Putting Baby K'tan On
This is the easiest wrap option for infant carriers that moms can put on solo. Not only do you not need any help putting it on alone, but after a few tries, you could easily do it without a mirror, too.
Other parents who use woven wraps, like the Boba Wrap, said they had to tie on the wrap before leaving the house because it is so long it might drag on the ground as you tie it.
I can easily put this carrier on in the parking lot (with my child waiting in the car seat), because it is not a long piece of fabric, but two connected fabric loops and a short fabric waist belt.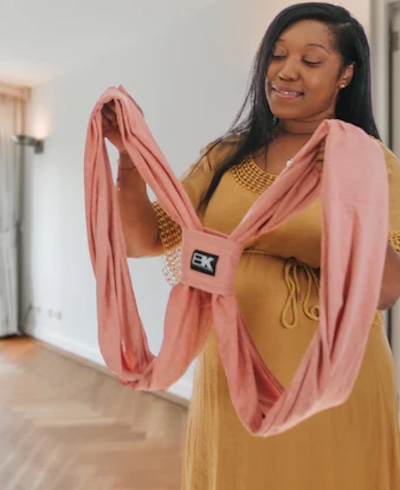 One drawback to this carrier is that it is not one-size-fits-all (like traditional wraps), instead, it is based on your T-shirt size. That means you might not be able to share it with another caregiver, if they are a different size than you are. Check out available colors and sizes here >>
How To Wear It:
There are six positions for wearing the Baby K'tan, so you will have to follow the instructional guide for each one of the positions.
The front-facing newborn carrying positions are the more complex (and should be done with a mirror the first few times, to get it right). They require that you first wear the material like an infinity scarf around your neck, then pass your arms through the loops.
The hip positions are similar to a sling, but without an adjustable ring.
I can even put this carrier on while still holding my baby! A total life-saver if she fell asleep while feeding and I don't want to risk putting her down before she burps.
It takes a bit of suave movements, passing the baby from one shoulder to the other, but I don't know any other wrap-style you can put on while holding your baby!
Carrying Positions
There are six positions for this baby carrier:
2 inward-facing which offer neck support for newborns
2 that are outward facing, once your child has a stronger neck and becomes more interested in the world around them
2 hip carry positions, too.
There are no back carry positions with this baby carrier.
If you're on the hunt for the best soft-structured carrier that is also easy to use, then check out the Ergobaby 360.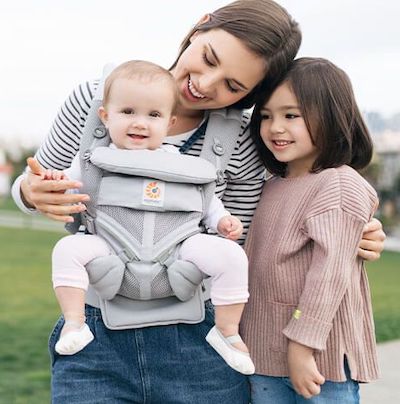 Now, Ergobaby makes a lot of soft-structured carriers, so before you get overwhelmed looking through the big selection, remember that the 360 Cool Air Mesh is the one I'm talking about, specifically.
It doesn't require an infant insert, and is adaptable as both a front and back carrier (the only one on this list!).
This has one of the highest weight limits in a baby carrier, starting at 7 lbs, you can use this soft structured carrier until your child is a whopping 45 lbs – meaning it doubles as a toddler carrier, too!
Putting Soft-Structured Carrier On
Like many soft-structured carriers, this features buckles and adjustable, padded straps. And yes, that annoying back strap, too. However, it isn't too difficult to manage solo, if you practice once or twice, and follow my tips, below.
How To Wear It:
When wearing the Ergobaby 360, remember to secure (and tighten) the waist support belt first.
Then, loosen both shoulder straps and put them lightly on your shoulders, so you can connect the back strap. (Use a mirror, if necessary).
Now bring your baby up to your chest and gently slide them into the carrier (with your shoulder straps still nice and loose), one leg at a time. Continue supporting your baby with one hand, even after he or she is fully sitting in the carrier, because your shoulder straps are not yet fitted.
With one hand supporting your baby against your chest, reach your other hand back and tighten a shoulder strap.
Switch hands and repeat, tightening the other shoulder strap until the carrier, and your baby, are secure.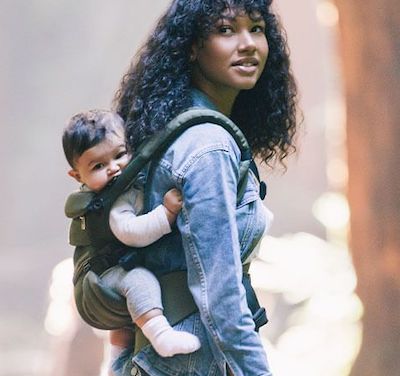 Four Carry Positions
The ergonomic design allows for four safe and easy carrying positions so you can be hands-free with your baby:
Inward-facing, front carry
Outward-facing, front carry
Back carry
Hip or side carry
Why I Love Omni 360
This is one of my favorite carriers because it is so versatile – it works great as a travel carrier, either for touring a new city or while transiting through the airport. It is ideal for short hikes or enjoying the park and, because there are so many positions and a high weight allowance, it lasts well into the toddler years.
I like it for outdoor use because it has a UPF 50+ privacy hood, in case it is sunny or your baby wants to sleep. Its ergonomic design is comfortable for parents (lumbar-support at the waist and padded straps).
And, it has a little storage space for small baby gear (pacifiers, tiny pack of wipes and a small toy).
The mesh material make it great for use in warmer months, your baby will not feel too hot in this carrier. If you need even more breathable carrier, check out this Omni Breeze version.
Are Baby Carriers Better Than Wraps?
Choosing a carrier or wrap mostly boils down to personal preference. If you are willing to learn how to tie baby wraps, like the popular Boba Wrap (and practice, practice a lot!), you may love using wraps.
If so, I suggest looking at this Solly Baby Wrap, because it is made out of special fabric so it is both incredibly soft and also not too stretchy. You'll find that because it doesn't have as much stretch it is easier to get it tight enough for your baby to feel secure, and it shouldn't get saggy, either.
Baby carriers are pretty straightforward for putting on and taking off, so there isn't as much of a learning curve, which is part of their appeal. If you don't want to study up on wearing a baby wrap, then try one of the awesome baby carriers on this list.
Or – check out something in the middle: The Baby K'tan Wrap Carrier, which is a little of both!
---
Sources of pictures:
Pictures of Embrace and Omni 360 belong to Ergobaby Brand.
Pictures of WildBird ring slings belong to WildBird Brand.
Pictures of Loop carrier belong to Solly Baby Brand.
Pictures of Baby K'tan wrap belong to Baby K'tan Brand.
---
The purpose of this article is informative. It's not a substitute for professional medical advice or medical care. Remember: safety first! Consult your doctor/pediatrician in case of any doubts. The author of this article does not accept any responsibility for any liability, loss or risk, personal or otherwise, incurred as a consequence, directly or indirectly, from any information or advice contained here.
Your trust is really important to me: This article includes affiliate links to products that I think are useful for our readers. If you make a purchase through these links, I may earn a small commission at no extra cost to you. Your support helps me run this blog – thank you!