Are you still hesitating whether to get Snuggle Me vs. Dock A Tot? In this in-depth comparison you will find out what are the most important differenced (other than the price) between these baby lounger, which one is more comfy and safer.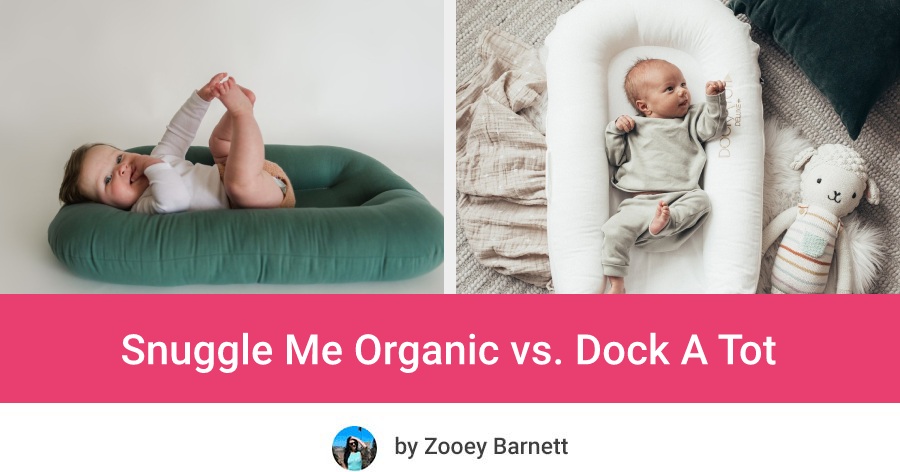 Snuggle Me Organic and DockATot are two most popular and best-selling baby loungers. Although they seem to be quite similar, there are many differences between them – and you should know about them before you decide to buy one of these baby pillows.
Both Snuggle Me Organic and Dock A Tot are designed for babies to lounge or play on it. Each comes in two sizes: for newborns & infants, as well as for toddlers.
Snuggle Me is kind of like a donut pillow, while the DockATot is a mattress with thick and high tube around it. The former one is available in single-color versions, while the latter one comes in dozens of trendy and chic prints. I'm pretty sure you've seen cute pictures of babies relaxing in lovely DockATot docks on Instagram or Pinterest…
But what makes Dock A Tot so special (except for its instagrammable look, obviously) and is it really worth the money? How does it compare to Snuggle Me Organic? Which baby nest will work better for your child?
Keep on reading to find out which baby lounger is better for infants and toddlers in 2022: Snuggle Me vs DockATot.
This article is not a substitute for medical advice. It contains affiliate links.
Table could not be displayed.
Last update on 2023-09-30 / Affiliate links / Images from Amazon Product Advertising API
Snuggle Me vs. Dock A Tot – How These Two Baby Loungers Differ In 2022?
Snuggle Me and DockATot differ A LOT in terms of size, design, shape and fabrics. What's more, the former one can be purchased and used without the cover which makes it more affordable option. On the other hand, docks by DockATot are probably the most fashionable (and instagrammable) baby loungers out there.
Sizes & Age Recommendation
Both the Snuggle Me and DockATot come in 2 sizes. There's the Snuggle Me Infant Lounger for babies from 0 to 9 months, who are not crawling yet, and Snuggle Me Toddler Lounger for babies at least 9 months old (up to 3 years of age). In order to use Toddler version in a safe way, baby should measure 21″ from the top of their head to the base of their bum and be a strong crawler.
DockATot versions are called Deluxe+, for babies from 0 to 8 months, and Grand – from 9 to 36 months.
Even though these baby nests have similar age recommendations, they differ in size.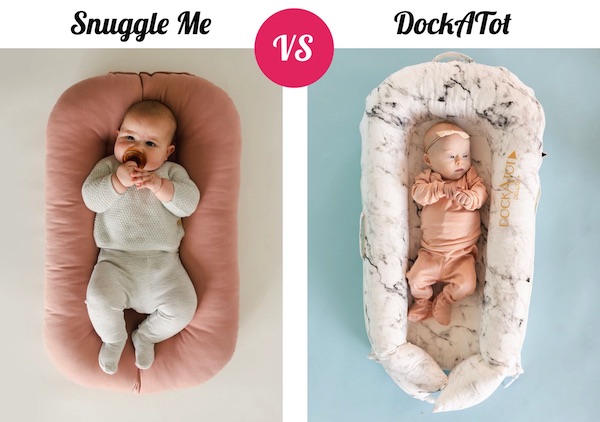 It's noteworthy that both versions of Snuggle Me are smaller than DockATot docks – this means they give less room for baby to wiggle in, as well as less room for growth. They also don't open at the bottom for extra few inches. On the other hand, they take up slightly less space on the floor than DockATot.
| infant | toddler |
| --- | --- |
| Snuggle Me Organic Infant: 29" x 17" (interior: 20.5" x 7") | Snuggle Me Organic Toddler: 36" x 20" |
| DockATot Deluxe+: 29" x 18" (interior: 22" x 8.5") | DockATot Grand: 48" x 24" (interior: 34" x 12") |
As you can see the difference between baby loungers for younger babies are not that big, however, the differences between toddler loungers are noticeable. DockATot Grand is WAY bigger than Snuggle Me Toddler Lounger which means it gives older and chunkier babies more space and may also serve you longer.
Shape & Design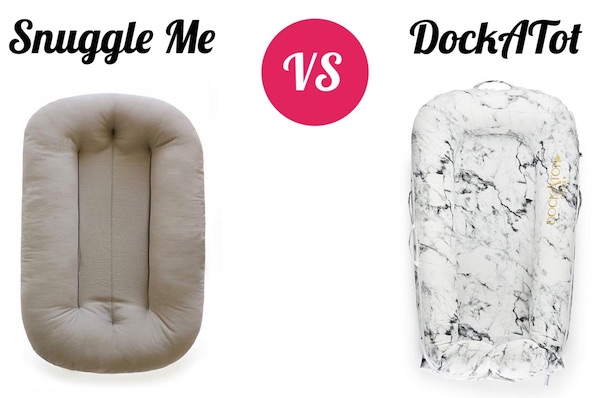 Snuggle Me Organic reminds me of a donut pillow, only that it's rectangular, not circular. It has strong bumpers – filled with dense and sturdy padding.
The center part of this baby lounger doesn't have padding, it's kind of "suspended". When the baby is lying on the pillow, the sides pull in and hug the baby snuggly. Moreover, the middle section is quite narrow so it forms tightly around baby's torso. This design prevents rolling and ensures hugging sensation so the baby can feel cozy in it, just like in mom's womb. Despite narrow width, baby is able to rest in ergonomic position with M-shaped legs.
I like the fact that the bumpers are not super high so they don't block baby's view and this lounger doesn't cause the baby to "sink" in it.
DockATot has completely different design – the center part has comfy padding – it's a bit like a mattress. Thanks to that you can use the dock on a bare floor, or carpet. There are high, thick and dense bumpers around the pad. These edges may block the view so the baby is rather not able to observe surroundings.The bottom part can be open or closed, in contrast to Snuggle Me which has fully enclosed design.
You can buckle the edges of DockATot to keep your baby more snuggly, or open the buckle for extra length. It's a great option because it gives baby more room for growth and it allows you to use the dock for changing a diaper.

This pillow doesn't hug the baby as much as Snuggle Me, but it gives the baby more room. If you're going to use DockATot for a newborn baby, there will be a gap between the baby and the raised sides. Is it a good thing? Some parents like it because the baby can wiggle a bit or move their head to the side and doesn't look squeezed. On the other hand, without the edges hugging the baby, little wiggler may be able to roll over which may be dangerous.
Winner: I like the nested design of Snuggle Me, its lower edges and the hugging sensation this lounger gives. But I found DockATot to be more versatile and functional with padded mattress and buckle that allows you to close or open the bottom edge. Besides, the interior is slightly bigger on infant DockATot than Snuggle Me which gives the baby more room to grow. If you're still hesitating whether to choose DockATot vs. Snuggle Me Organic, just ask yourself if you prefer your baby to have more space or more hugging.
Fabric
This is one of the biggest differences between these two loungers. Being made from organic cotton, Snuggle Me is more eco-friendly and safer option than DockATot – which is made from conventional cotton. Snuggle Me is USA-made, while the DockATot is made in Sweden.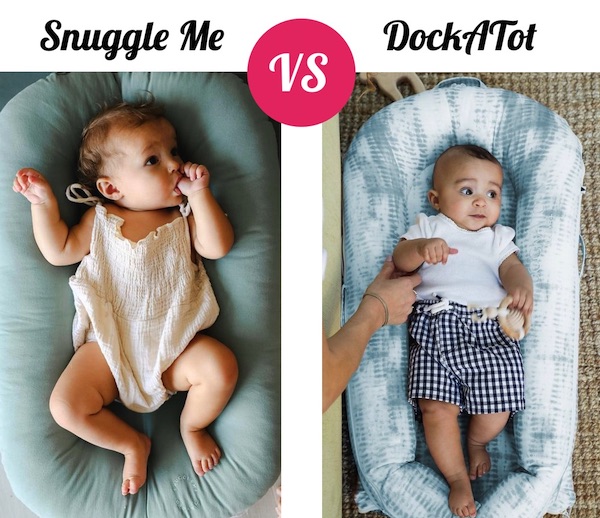 Snuggle Me Organic is made from GOTS certified organic fabrics. They are non-toxic and hypoallergenic which makes them suitable for babies with very sensitive skin or eczema. It feels so soft and nice to the touch. Inside there's polyester fiber filling.
This baby lounger is designed to hug the baby and keep them snuggled, therefore the fabric needs to be lightweight and breathable. I want my baby to feel nice and comfy when resting or playing in it, not sweaty or overheated. That's why I love the Snuggle Me fabrics – they are airy and don't make my baby hot.
What's important – the entire pillow is machine-washable.
The removable cover that you can buy separately is made from 100% organic cotton. It's also GOTS certified and buttery soft. The cover comes off easily and putting the pillow back inside takes only a few seconds which is a big plus.
What's more, Snuggle Me uses only water-based dyes, which are GOTS organic certified too. If you're eco-conscious parent or looking for a baby lounger made from non-toxic organic materials, this one is your best bet!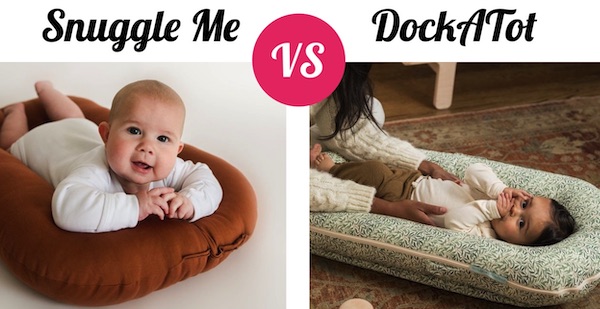 On the other hand, DockATot has 100% cotton cover (regular cotton, not organic), while the pad and tune is filled with 100% polyester filling.
Materials used in original docks are non-toxic, tested and OEKO-TEX certified (Standard 100 Class I) for lack of chemicals like flame retardants and other nasty substances that are harmful for babies.
The removable cover of DockATot is machine-washable, but the pad (the mattress) should be only hand washed. I have to admit that cleaning the dock is a bit annoying – I was always struggling with taking the tube out and putting it back inside. Not a dealbreaker, but it was a bit of a hassle.
Winner: I prefer the Snuggle Me for having more breathable fabric and being easier to clean. I like the fact that I can throw the entire lounger in the washing machine in case of a diaper blowout or spit-ups.
Fashions & Available Prints
Snuggle Me Infant Loungers and Toddler Loungers come in single-colored fashions, there are 6+ versions to choose from. Of course the collection and availability changes frequently. You can also purchase the cover separately for your loungers, they easily slip on the pillow – there are no buckles or zippers that would irritate baby's skin. There are 10+ color options. My favorite colors are this gorgeous Moss, as well as Natural – the latter one matches various nursery styles.
What distinguishes DockATot is its super stylish, fashionable and chic look. Deluxe+ docks for newborn, as well as the Grand docks for toddlers are available in dozens of colors and prints. You can also personalized your lounger and have your baby's name embroidered at the top.
DockATot collection is HUGE and I'm sure every mama will find something that suits the nursery style. Keep in mind that the availability may vary, especially for the special editions. My favorite colors of DockATot are: classic Pristine White which looks perfect in boho-style nursery, elegant Willow Boughs and fabulous Carrara Marble (this one is really popular).
What's important, single-colored docks are cheaper, while the versions with prints and patterns are $10-$30 more expensive.
All my favorite fashions from DockATot and Snuggle Me collections are in the picture below.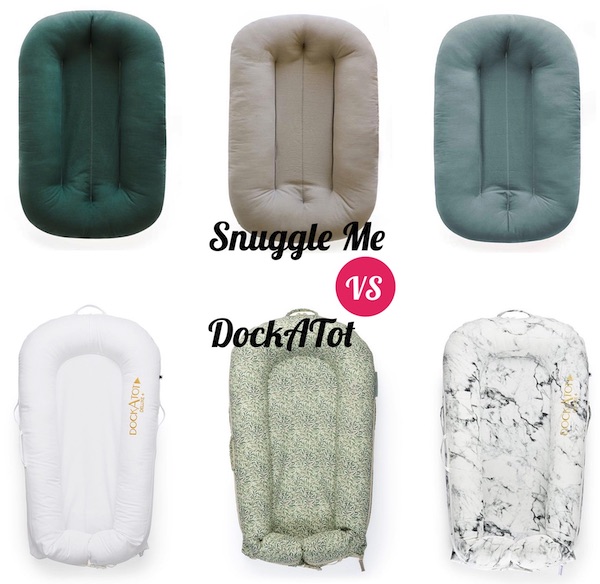 Winner: DockATot has much bigger collection and these prints are so fashionable!
How To Use Snuggle Me And DockATot Baby Loungers
I recommend using baby lounger only for supervised awake times, for resting and relaxing, lounging and playing. If you pair the infant lounger with baby toy arch, it will be perfect for overhead play that will encourage baby to reach and grasp. This wya the baby will practice their fine motor skills. Both infant loungers can be also used for tummy time that helps baby to strengthen muscles that are necessary for crawling.
What's noteworthy, in comparison to DockATot, Snuggle Me works a bit better for tummy time because it has slightly lower edges. If you place a toy in front of the baby, just a few inches from the pillow, it will encourage baby to do tummy time. Thanks to lower sides, it will be easier for your little one to reach for the toy.
These lounging pillows are also perfect for cuddling and bonding with your newborn baby. You can also encourage your older kiddos to spend time and play with the new baby.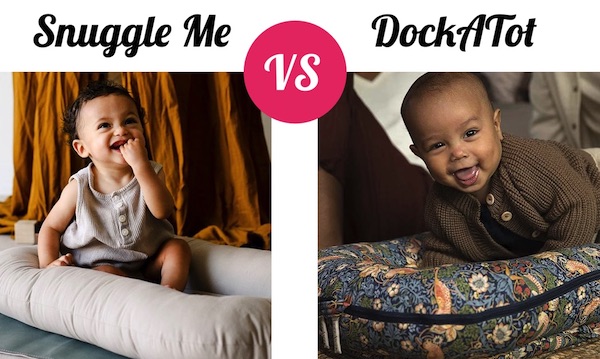 What I also like about having such a comfortable nest is that I can use it in any room. It's portable and so easy to move from one room to another. When I need to prepare a meal or do the dishes, I can bring it to the kitchen and keep and eye on my baby resting comfortably in the lounger. I know that moms also like to bring it to the bathroom when they want to take a bath. It's so nice to have a moment for yourself and relax when your baby is resting in comfy lounger.
Keep in mind that I don't recommend using baby loungers for unsupervised play time, napping or overnight sleep. I don't think it's safe for sleep, and I don't recommend bed-sharing/ co-sleeping, but obviously you can do whatever you want with your little one.
Which Is Better: Snuggle Me or DockATot? – Final Decision
Final decision Snuggle Me Organic vs. DockATot will boil down to choosing what seems to be more comfortable for your baby. You need to use your own mama instinct. Do you want a baby lounger that hugs your little one or gives your child more room?
Snuggle Me Organic Infant Lounger is ideal for newborns and small babies because it gives them hugging sensation similar to mom's womb. But keep in mind that your baby may outgrow this nest quicker (before reaching the 9 months limit). If you prefer something for longer period or you have a hunky baby – DockATot Deluxe+ seems to be a better option.
As the children get older they don't need the snug fit that much, instead they prefer to have more room to wiggle. That's why I prefer DockATot for older children, who can already sit and crawl. The Grand DockATot is a great option for toddlers, for seated play. Older kiddos love this large dock because it's like their own fort!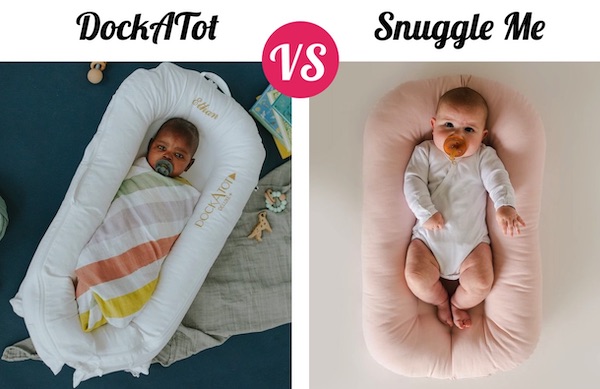 Nanit
Miku

Reasons to choose DockATot

---

- It has padded mattress (in contrast to Snuggle Me which has no padding in the center)

- Gives baby more space and more room to grow - you may be able to use it for longer period

- More fashionable prints to choose from (my favorite is this Pristine White and this Carrara Marble)

- You can use it for changing a diaper thanks to adjustable ends that can be open

- Grand DockATot is better for toddlers than Snuggle Me Organic Toddler Lounger because it doesn't "squeeze" older and larger kids

- If you add this Cabana Kit you can use the dock for lounging at the beach or by the pool (there's a waterproof cover for the bottom, retractable SPF50+ canopy and mosquito net)

Reasons to choose Snuggle Me Organic

---

- Cheaper option, especially if you decide to skip the cover

- More breathable and softer fabric

- This lounger is much easier to clean

- Keeps the baby more snuggly

- Better for tummy time thanks to lower edges

- If you pair it with a removable cover, you'll receive a travel bag -> Choose your bundle here
Snuggle Me Organic vs. DockATot – FAQ & Safety Tips
Whether you choose Snuggle Me or DockATot, you should have some basic knowledge about baby loungers and how to use them in a safe way.
Do I Really Need A DockATot?
DockATot is probably the most expensive baby lounger right now. Is it a must-have? I would say it's not, but it may be really helpful in those moments when you need to multi-task and it can provide a comfy space for baby play time and tummy time.
Of course you can choose Snuggle Me instead, or get a cheaper DockATot alternative if you have smaller budget. Overall, I think baby nest is a good investment, but you don't need an expensive one! Using baby lounger in a safe way is much more important than a popular brand logo!
Is Snuggle Me Safer Than DockATot?
For lounging and play time Snuggle Me seems to be just as safe as DockATot. Because it's a bit narrow and tight, is might prevent rolling a bit better, but it also may restrict baby's movement. It has a bit more breathable fabric – its organic cotton is safer for the environment.
Both the Snuggle Me and DockATot are not safe for sleeping or napping, according to AAP sleep safety recommendations.
Of course you will see on Instagram or Pinterest lots of pictures of cute babies sleeping in these loungers, but that doesn't mean you should put your baby at risk. Studies show that AVOIDING baby loungers during baby's sleep actually decreases chances of SIDS.
Can Snuggle Me Be Used In Crib?
Snuggle Me should not be used in baby crib (or bassinet). This baby lounger does not have padding in the center part which means it takes on surface's firmness. Snuggle Me should be used only on a flat and firm surface – floor is best. You should not place it on a sofa or your bed, and it's not designed for bed-sharing or co-sleeping.
Is Snuggle Me Safe For Sleeping?
Per AAP safe sleep guidance, Snuggle Me, just like DockATot and other baby loungers, is not safe for sleeping.
Baby should not sleep in Snuggle Me lounger – if your little one happens to fall asleep in it, you should transfer them to a safe sleep area like their own crib or bassinet.
I know that lots of parents uses baby loungers for nap time as well as overnight sleep, but according to pediatricians and baby sleep experts this is not safe.
Baby should sleep in their own sleep space like crib or bassinet, on flat and firm surfaces, without any loose blankets, pillows, additional beddings or toys. Moreover, AAP advises against bed-sharing and co-sleeping as this increases the risk of SIDS and suffocation.
Wider perspective on sleep safety and baby loungers:
What's interesting, in Europe this topic is not as controversial as in the US, and lots of parents practice co-sleeping and use Snuggle Me or DockATot (or cheaper alternatives) as co-sleeper, as they assume bed-sharing is safer this way. On the other hand, In Canada DockATot docks have been banned and you cannot purchase them.
---
The purpose of this article is informative. It's not a substitute for medical consultation or medical care. Remember: safety first! Consult your doctor/pediatrician in case of any doubts, and before you introduce tummy time. The author of this article does not accept any responsibility for any liability, loss or risk, personal or otherwise, incurred as a consequence, directly or indirectly, from any information or advice contained here. The article contains affiliate links – your support helps us run this blog!
Source of pictures:
Pictures of Snuggle Me Organic loungers belong to Simply Mommy LLC brand. Source: https://snugglemeorganic.com/
Pictures of DockATot docks belong to DockATot brand. Source: https://dockatot.com/