In this article I'm going to share with you my list of the most reliable, tested and best strollers for big kids that are recommended by experts and parents.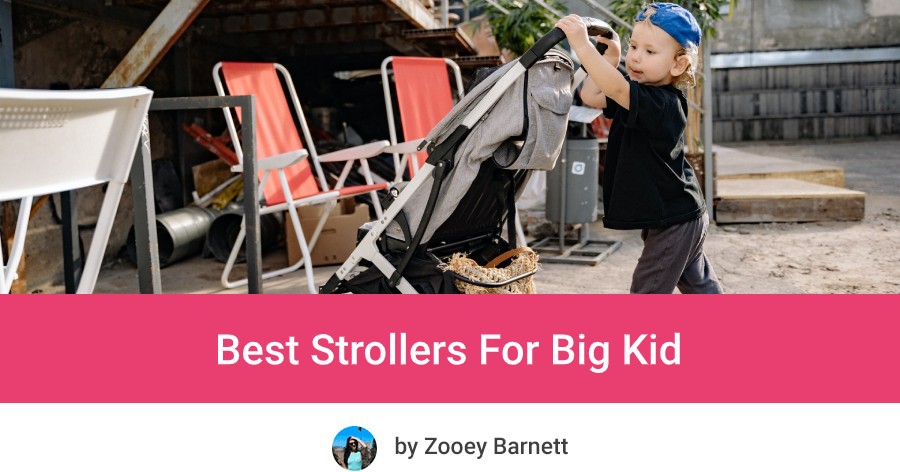 The Results Of My Research & Safety Tests!
If you are here because you want a quick answer – the most reliable stroller for big kids is Baby Jogger City Mini GT2 with weight limit of 65 lbs (👉read my review to be sure it fits your needs). If you need even higher capacity – go for Joovy Zoom Lightweight Jogging Stroller (full review here👈).
My rate:
Does your kid grow faster than its peers and has already outgrown your current stroller?
Or maybe your child is 4 or 5 years old but sometimes still wants to ride in a stroller? Perhaps the school is far from your home and your kid is not able to go on foot the whole distance and you could use a stroller sometimes?
Maybe your child is recovering from a surgery or has a medical condition and a stroller for big kid would be useful for you?
No matter what is your reason, I'm here to help you choose the right stroller. Below I present you reviews of 7 big kids strollers and 1 wagons (stroller alternative) with wide variety of features and high weight limit. I hope you'll find here something that will meet your needs!
This article is not a substitute for medical advice or consultation. It contains affiliate links.
Best Strollers For Big Kids – Key Takeaways
Usually strollers have weight capacity of 50 pounds, but there are a few strollers that have even higher weight limit and a longer seat, therefore they can accommodate bigger and taller kids, even up to 75 lbs!
This is my list of the best strollers for big kids that you can buy in 2024:
Umbrella Stroller For A Big Kid – Reviews
Umbrella strollers are perfect for travels or day trips, mostly because they are super lightweight and easy to carry (which is extremely important when you're handling a big child). They feature compact fold which makes many of them fit into carry-on luggage compartment on airplanes.
Small weight of the stroller doesn't mean that it is crappy or less functional. You might also think that umbrella strollers are only suitable for small and light children. Not at all! There are a few great models of umbrella strollers for big kids, that provide comfortable and safe ride which is still crucial for older children.
Here are my favorite strollers for big kid, starting with umbrella type.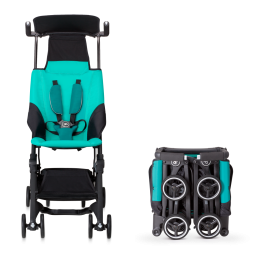 This is the one of cheapest strollers for big kid in my ranking.
This stroller can accommodate a child up to 55 lbs. It weighs only 9.5 lbs which makes it the most lightweight umbrella stroller for big kids. Moreover, it features tiniest fold in the World! It folds into a small package which can easily fit into hand luggage compartment on a plane or it can be easily carried in a bag. It's a real space-saver and best travel stroller for big kids.
GB Pockit is a perfect travel stroller for older children. It is designed for urban parents who are on the run with their kid. It's small and light, but very sturdy and made of durable materials, so it can serve parents for couple of years.
When my daughter was 3 year old (33lbs and 38in) she still had plenty of room in this stroller. I've read TONS of reviews of GB Pockit and many parents use it for 4 or 5-year-old children. For me it's the best stroller for older and taller child.
PRO TIP: If you're on smaller budget, looking for the best lightweight stroller for 5-year-old, you may want to check out this Delta Clutch stroller. It basically looks like Pockit knockoff and has all the same feature, but costs few dollars less. Just keep in mind it's 2 pounds heavier, and its weight limit is 50 lbs. Lots of parents recommends this stroller for toddler or preschooler, especially for visiting Disney.
Pockit has also a basket under the seat which can hold up to 11 lbs of our essentials. It's rather tiny but I didn't expect anything more from such a light and compact stroller. There are also pivoting and lockable front wheels – swivel wheels increase maneuverability and locked wheels make the stroller more stable which is essential when we are going over uneven terrain.
GB Pockit is also convenient to push and navigate through tight places like shopping aisles, restaurants and crowded sidewalks. Keep in mind tho, it has small wheels that work fine only on flat terrain. They can get stuck on harsher surface.
Pros
Cons

Pros

---

+ User-friendly

+ Incredibly small fold

+ Space saver for small car or apartment

+ Even 5-year-old child fits in it comfortably

+ Perfect for air travel with child

+ Sturdy and made of durable materials

Cons

---

- Tiny canopy

- Small storage basket

- Seat doesn't recline (only this newest version - GB Pockit+ features multi-position seat recline which according to many parents is worth those those few extra dollars)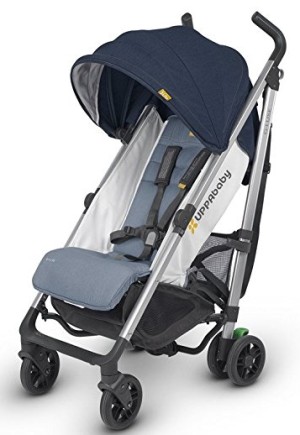 This is more expensive lightweight stroller but I decided to include it in my ranking, because it's made of top-quality materials and can easily hold 3 and 4-year-old child.
The seat is 13 inches wide and deep and the backrest is 20 inches long which is pretty impressive. Additionally, there are about 7 inches extra from the end of the backrest to the top of the canopy, so there's plenty of head room.
It means that a tall or older child fits there comfortably, but he may not be able to take a nap, because there's no head support above those 20″. My 4-year-old daughter doesn't mind it and still like to ride in G-LUXE when she gets tired in theme parks.
Thanks to a wide, deep and long seat this is a stroller for tall child. And with such a high weight limit, it can also serve as a stroller for bigger and chunkier kids.
Lots of parents have been using UPPAbaby G-LUXE for kids older than 2. Even a big and tall 4-year-old can comfortably fit in it thanks to very roomy seat. The newest version of the stroller is not only great for tall and big kids (max. capacity of 55 lbs), but it has also a few upgraded features.
PRO TIP: If you have more flexible budget and would prefer a lightweight stroller that folds into a square package and can handle cobbled streets and old cracked sidewalks (like those in Greece, Italy or France), you should check out UPPAbaby MINU V2. It's a great stroller for travel with 3-4 year old. There are 25-26 inches from the bottom of the seat to the top of the canopy so there is a lot of head space for taller child (but their head will be probably above the headrest). This stroller fits in some overhead compartments on airplanes.
Getting back to G-LUXE, single front wheel design makes the stroller easier to push on slightly uneven terrain like gravel. Of course it is still not suitable for bumps and unbeaten roads, but on flat terrain it pushes smoothly.
The canopy material has been upgraded as well. It has 3 extendable panels and additional pop out sun visor which gives really good amount of shade for the little passenger.
Another useful features include: one-hand recline, all-wheel suspension and included cup hold, which all make using this stroller really convenient. Folding takes some practice, but it's something you'll get used to. Thanks to self-stand fold it is suitable for small apartments. And since the stroller weighs only 16.3 lbs you'll be able to carry it on your shoulder with included convenient strap.
If you would like to check the customer reviews and latest price of the latest versions of UPPAbaby G-LUXE, click here.
Just keep in mind this is more high-end option among lightweight strollers for big kids in this ranking.
Pros
Cons

Pros

---

+ One-hand, deep recline – sufficient for toddler's nap

+ Very spacious seat, comfy for big kids

+ High canopy – lots of head room for tall toddlers

+ Seat fabrics are easy to remove and clean in washing machine

+ Upgraded canopy material, good protection from the sun and wind

+ Fairly smooth ride and one-hand steering on flat terrain

+ Very quiet on indoor surfaces

+ Durable materials and fabric colors/p>

+ Basket is easily accessible from the back

Cons

---

- Canopy lacks peek-a-boo window

- Storage pocket on the back has no closure

- Folding may be difficult and stiff for some parents (read this review for example)
Full-Size Stroller For Big Kids – Review
Lightweight and umbrella strollers are great because they are easy to lift and carry, but sometimes they don't offer as many features as full-sized strollers do. I found few awesome (and light) standard strollers for older children with higher weight limit and longer seats.
Here is my top everyday stroller for toddlers: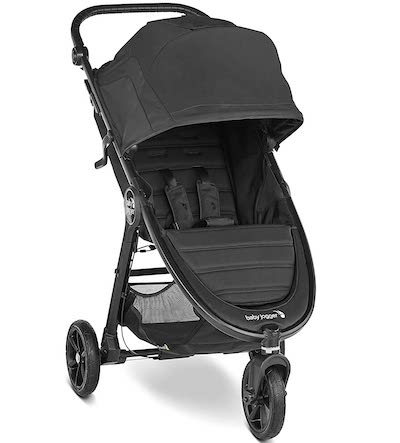 It is a great city stroller for big kiddo with maximum capacity of 65 lbs! This is a very high limit as for a standard stroller. City Mini GT2 could be also a very comfortable stroller for your tall toddler. Actually it has one of the longest seat backs I've found on the market! Even kids over 40″ in height fit comfortably in this stroller. Moreover, the seat is nicely padded with plush fabric.
Besides, you can adjust the seat belts height, recline the seat and adjust the canopy to provide more comfy ride for your passenger. There is also a convenient foot rest.
Parents praise this big kid stroller for a large extendable canopy with UV 50+ protection. Thanks to it your toddler can enjoy strolls on sunny days. There is also a peek-a-boo window so you can keep an eye on your kiddo.
This is an everyday stroller, great for running errands in the city, shopping with a baby and using public transportation. Moreover, it has awesome all-terrain wheels and thanks to them you can take it on dirt roads or over grass with no trouble. In my opinion this is the best full-sized single stroller for a bigger kid.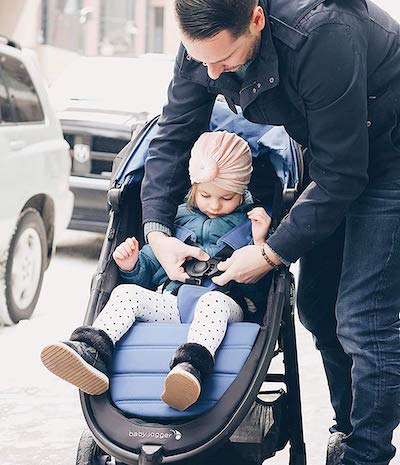 What I also like is the hand-operated brake which gives us maximum control over speed and allows to slow down or stop immediately at any time.
Folding City Mini GT is a piece of cake thanks to patented folding mechanism. You just lift a strap and the stroller folds itself! Then it locks automatically so the stroller stays in that position during storage or transportation. Besides, you can carry the stroller thanks to the strap in the middle of the seat. The stroller itself weighs only 22.4 lbs so it's pretty light to lift.
There are just two things to keep in mind. The most upright position is still leaning back, so the very observant kid can't sit straight (which is actually the case with 99% of strollers). Another thing is that all accessories need to be purchased separately. Still, this is one of the best big strollers out there.
Pros
Cons

Pros

---

+ High-quality

+ Sturdy construction, but not heavy

+ Reasonable price

+ Suitable for strolls on hard-packed trails

+ Improved shock-absorption on cracked sidewalks, cobblestone and gravel

+ Smooth pushing

+ Slim design for easy steering and turning inside buildings (great for going to the mall or to the doctor's office)

+ Quick and easy folding

+ Feels safe (see for yourself in these real reviews)

Cons

---

- Rather small storage bin

- No storage for keeping essentials at hand
Best Double Strollers For Big Kids
Do you need a double stroller for big toddlers? Maybe your twins are taller than their peers and you need a stroller with longer seats?
I found on the market a few double strollers for bigger kids with high weight limit and seats that can accommodate taller children. Here you will find a stroller that hold up to 100 lbs (or even more!).
Check out my list of the best double strollers for big & tall kids.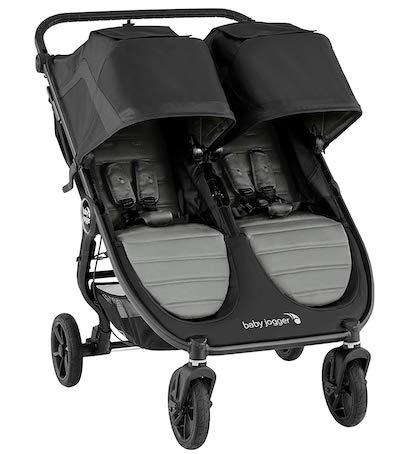 This one is a great multi-tasking and all-terrain double stroller with weight limit of 50 lbs per seat. The stroller itself weighs 32.6 lbs which is quite a lot, but remember it can accommodate two passengers.
Seat back height is 21" which is pretty tall compared to other strollers. The max. head height is 26″! I've read in other parents' reviews that they even use this stroller for 5 year old children!
And thanks to its great weight distribution and balance you it doesn't pull to one side or tips over.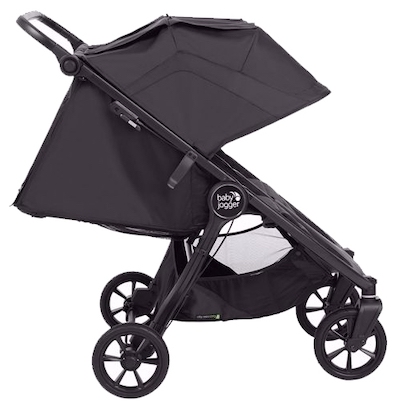 Baby Jogger City Mini GT2 Double has all-terrain rubber wheels which work great on city sidewalks and dirt roads. There is also recently upgraded suspension built in all wheels for smoother ride. You can push the stroller easily even with one hand!
Other features that City Mini GT2 Double offers include: adjustable handlebar which makes pushing comfortable for tall and short parents, compatibility with infant car seats, hand-operated brake, individually reclining seats and two large, independently adjustable canopies. Each canopy has two peek-a-boo windows with silent magnetic closure (older kids also like to have undisturbed nap in the stroller from time to time!).
PRO TIP: You can also read my full review of this big kids stroller. Or, if you're on tighter budget, I recommend you to check out this Joovy Cooper X2 Double, it's a great alternative at much lower price. Just keep in mind that it's not an all-terrain stroller (in contrast to City Mini GT2).
This stroller has patented folding technology and it basically folds itself! It made my life so much easier, when I was recovering from a C-section.
One thing to keep in mind – this stroller, despite its name, is not for jogging with kids. If you are looking for a jogging stroller for big kids just keep scrolling.
Pros
Cons

Pros

---

+ Great balance (it can be used for toddlers of different weight)

+ Durable

+ Slim enough to fit through doorways without any problems

+ Big canopies go pretty far down

+ New silent closure for peek-a-boo windows

+ Smooth ride and comfortable pushing

+ Adjustable handlebar

+ No-flat tires, work on many types of terrain

+ Tall and roomy seats easily fit even 5-year-olds (see what real customers wrote about it)

Cons

---

- Small basket divided with a bar in the middle (only a small diaper bag fits in)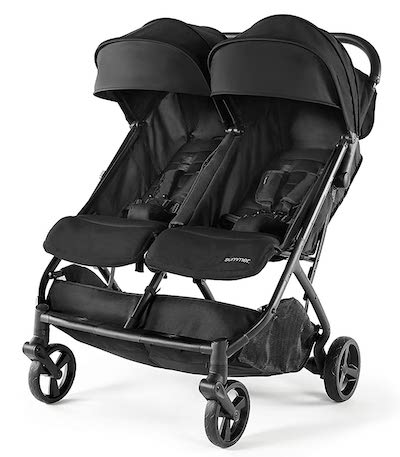 This is one of the best strollers for older children. It can accommodate two toddlers, each up to 50 lbs! It's really hard to find a stroller witch such a huge weight limit (100 lbs of combined carrying capacity!). Stroller's basic weight is only 23 lbs which is pretty lightweight for a double stroller. To be fair, this is probably the lightest double stroller for bigger kids.
Summer 3DPac CS+ Double is a great stroller for twins or kids who are a few years apart. It accepts one infant car seat, and can serve you until your children go to school!
If you want a stroller for big toddlers or a stroller for big kid and baby you should go for Summer Infant 3DPac CS+, because it will grow with your kiddos.
The padded backrest is about 17″ tall, but there is plenty space above it, under the canopy. I've read that even 46″ tall children fit in Summer 3DPac CS+ seat. As you can see, this is one of the best strollers for tall kids.
Even 5-year-old children can fit comfortably in this stroller and rest their feet on the footrest without being squeezed.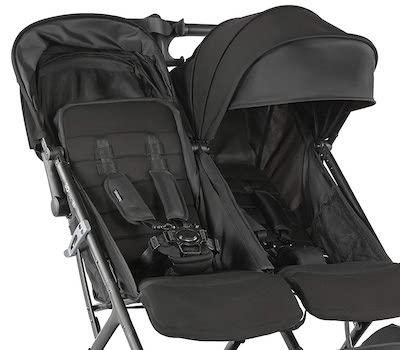 This stroller features two canopies that adjust separately, each one has a mesh peek-a-boo window for better air-flow. There's multi-position recline which is sufficient for naps. This Summer Infant double stroller has rather small wheels which work smoothly on flat terrain, but worse on bumpy, rough surface. Summer Infant Double is a dream to push and you can easily operate it with one hand (even if your children are 15 lbs apart).
There's one more advantage: this stroller can be easily folded down and it locks automatically. As for a double stroller it's quite compact.
It's great everyday city stroller, not only for strolls in parks but also running errands and shopping with kids, I would also recommend it as a travel stroller for big kiddos.
Pros
Cons

Pros

---

+ Roomy, wide and tall seats - comfy for older kids (they don't slide off or feel squeezed)

+ Steers with one hand

+ Doesn't feel lopsided even with 2 kids who are 15 lbs apart

+ Easy folding and auto-lock

+ Lightweight, but robust

+ Wheels roll smoothly and quietly on smooth surfaces

+ It's one of the cheapest big kid strollers in this ranking and it comes with accessories

Cons

---

- A bit bumpy on rough terrains

- Canopies could be slightly bigger
Best Jogging Stroller For A Big Kid
You like jogging with your toddler but he/she grows faster than peers and is already too big for your current jogger? Don't worry!
Here's my guide to choosing awesome jogging strollers for big kids with the highest weight recommendation on the market!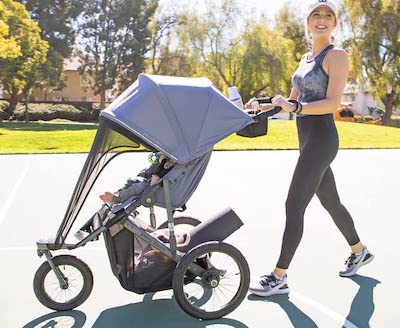 The newest Zoom weighs 27.3 which means it's not excessively heavy as for a jogger. It's one of the best strollers for older children, thanks to a maximum capacity of 75 pounds and long seat. In contrast to older model (Zoom 360 Ultralight Jogging Stroller), the newest Joovy Zoom has upgraded taller seat back and now it can accommodate even a 46 inches tall child. According to online reviews, it can accommodate even a 7-year-old child! And even at maximum load this stroller is still very sturdy and easy to maneuver or turn.
Another awesome feature on this new stroller is the near-upright seat, perfect for curious toddlers who hate lying in the stroller.
Inside of the seat there are mesh pockets so the toddler can keep there some snacks and other take-alongs.
This jogger has big wheels: 16″ in the back and 12″ in front with air-pumped tires (pump included). Moreover, the front wheel can be locked straight to increase stability during running or going over bumps. And when the front wheels swivels it gives maximum maneuverability and agility. The suspension has been recently improved for even smoother ride.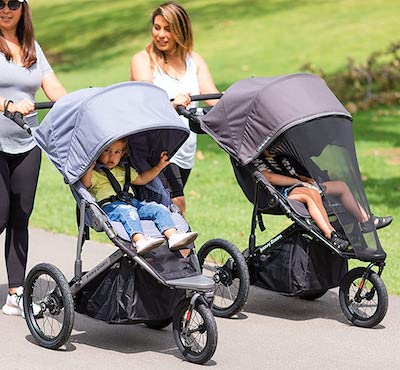 Large canopy gives your child plenty of shade while you're on the go. You can see your passenger through a peek-a-boo window. I like the canopy and the stroller fabrics because they provide great air-flow. This baby stroller has unique feature – it comes with a front mesh sunshade. Your children can still see through the mesh, while being extra protected from harmful sun rays. You can easily unzip it when you don't need it.
PRO TIP: The newest Zoom is more pricey than the older version – Zoom 360 which was one of the cheapest jogging strollers on the market. If you're budget is limited, don't hesitate to go for this cheaper Zoom 360 – it's still available and I still recommend it! And if you're looking for a stroller for running with big kid at REALLY low price, you should check out this Baby Trend Expedition (fits preschoolers up to 42″ in height).
Keep in mind that as every other jogging stroller, this one is also pretty bulky and takes a lot of space. However, you can easily take off the wheels to simplify the storage and transport.
Pros
Cons

Pros

---

+ Easy pushing, even with a heavy kid in it

+ Shock-absorption

+ Rides smoothly over harsh terrain

+ Not excessively heavy

+ Large storage space

+ Useful cup holders included

+ Large sunshade + mesh sun cover which give full coverage

+ Some parents use it for larger kid or child with medical conditions (thanks to ultra-tall seat)

+ For me the stroller was easy to push even with my 5-year-old son in it.

Cons

---

- Unadjustable handlebar

- Pretty big even when folded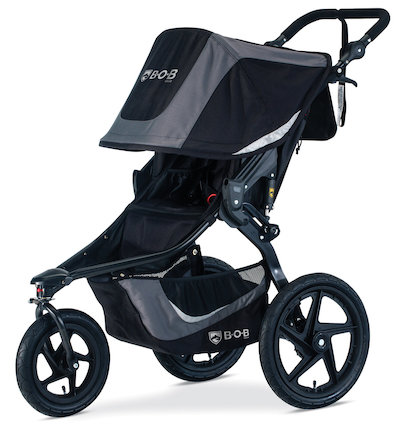 In my opinion, this is one of the best single jogging strollers for big kids available right now. I started using it when my daughter was about 8 months old. It weighs 28.5 lbs and offers maximum capacity of 75 lbs.
It has the biggest capacity among single strollers so even if your toddler is heavy and big for his age, he will fit comfortably in it.
It has very solid and sturdy construction which makes this stroller perfect for transporting bigger toddlers. Flex 3.0 has large wheels which work amazing on bumpy terrain like unbeaten paths, cracked sidewalks or sandy beaches.
Rear wheels are 16″ and the front one is 12.5″. The front wheel can be set in two positions: swivel for better agility and locked forward for more stability during jogging on rough terrain. With BOB you can go over the most challenging terrain thanks to amazing suspension system that absorbs all shocks and bumps.
There are two more features that I love about BOB Revolution Flex 3.0. It has adjustable handlebar with 9 different position. Moreover, this stroller is equipped with large basket and 6 pockets for your valuables. The new model has also redesigned seat that provides nice air-flow and keeps the baby from sweating.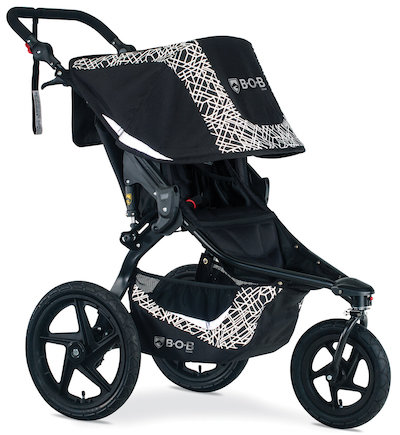 BOB Revolution Flex 3.0 jogging stroller is not tiny, but it's made for the toughest terrain and it serve this purpose perfectly. If you want a top-quality large stroller for older kid, this is your best bet.
PRO TIP: BOB Flex 3.0 is also available in double version that can accommodate two heavy toddlers or preschoolers. If you need a double stroller for running with two big children, I can't recommend this Flex Duallie enough!
This jogger is rather pricey, but there are often nice discounts that allow to save some money. Prices for different color versions may vary too. It may be a good idea to check Flex price from time to time here, if it got any cheaper!
Pros
Cons

Pros

---

+ Oversized canopy which gives full coverage

+ Ingenious adjustable no-rethread harness

+ Deep recline and upright position

+ High-quality, sturdy and strong

+ Works great on wooded trails and uneven terrain (even on sand and snow!)

+ Adjustable handlebar makes this stroller suitable for taller parents

Cons

---

- No accessories included, some of them are pretty expensive

- Putting in and out of the car trunk requires some strength (I wrote more about it in my full review of BOB Revolution Flex)
Stroller Wagon For Big Kids
Wagon is a great stroller alternative for older kids. Usually it has two seats with a high weight limit and can be used for heavier and older children. Strolling in wagon is so much fun, when two kids can face each other!
However parents should carefully choose it, because there are plenty of poor quality wagons-toys that are rather suitable for play than everyday use.
Here is my favorite best quality stroller-wagon for big kids that meets safety standards and can be used as an everyday stroller alternative: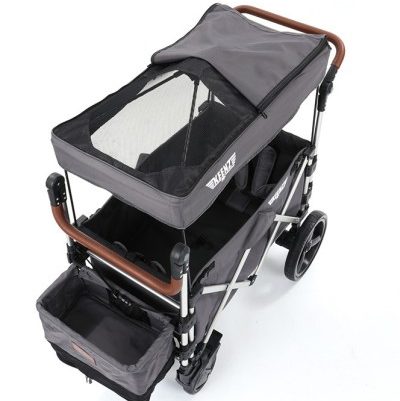 This big kid stroller wagon is one of the more affordable options (in this type of strollers), yet it has many awesome features. It combines advantages of the best strollers and wagons. Here are the main features.
It has two adjustable handles (43″ is the highest setting) so it can be pulled or pushed, whatever suits you better. It weighs only 32 lbs, which is really small as for a wagon for two older kids!
Wagon interior is softly padded and there are back cushions. Each seat has 5-point harness and the whole wagon can hold up to 110 lbs (passengers + items in storage basket). It has retractable roof with mesh sunscreen and a curtain to protect your kids from the sun, wind and rain and prevent from overheating at the same time.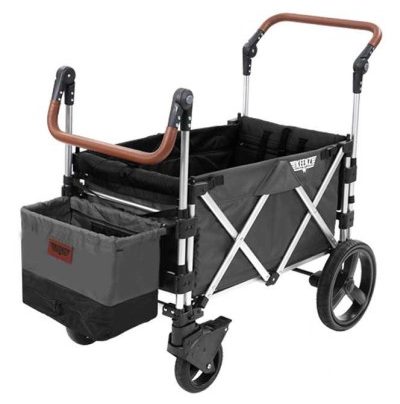 All wheels have tread pattern and there is also a spring suspension and built-in cushioning. Front wheels can be also locked for more rough terrain. There is also large removable storage bin with built-in shoe compartment.
This wagon is great stroller alternative for two heavy toddlers or older children. Riding in it is awesome fun for the kids, so you can be sure they will want to use it really often!
It can be also used for a child with some medial conditions, and since the general capacity is 110 lbs it can be used for a longer period. I've read that parents use it even for 11-year-old child with special needs and it was a lifesaver, because there was no other stroller that could accommodate such a big boy (find out more in this Amazon customer review).
PRO TIP: If you like the idea of using wagon stroller for your older and bigger kids but Keenz is above of your budget, I recommend you this Evenflo Pivot Xplore All-Terrain Stroller Wagon. It's basically half the price of Keenz! Each seat has weight limit of 55 pounds and fits a kiddo up to 5 years.
Keep in mind that folded Keenz 7S 2.0 Wagon still takes up a lot of space (like a double stroller), but it fits in majority of car trunks.
Pros
Cons

Pros

---

+ Durable, built to last

+ It is not bigger than a double stroller

+ Transportable

+ Easy to push and navigate

+ Many parents use it for children over 5 years

+ Perfect for going to the grocery store, to the beach or parks

+ The canopy and curtain gives full shade and privacy if you need to change a diaper or your kids would like to nap on-the-go

+ Responsive customer service

Cons

---

- Pretty big fold

- It takes practice to learn how to maneuver it with the kids in it, especially on the corners
---
Most of standard strollers are design to accommodate a baby up to 30 or 40 lbs. That's understandable if we consider that most of kids ride in a stroller till 2 or 3 years, when they weigh about 30 lbs. But every child develops at a different pace therefore sometimes a child can be bigger than its peers or want to ride in a stroller longer than other kids or there can be some medical reasons. Manufacturers respond to those needs and that's really awesome!
Picking the best stroller for a big kid is not the easiest task, but I hope that with my guide you will find something for you and your kiddo. There are different types of strollers for big kids, they have different features, different weight limits and different sizes of the seats – as all babies and parents have different needs and preferences.
Therefore, no matter if you are looking for the best stroller for 4 year old, best stroller for Disney for your bigger toddlers or a child with a medical condition, make sure the stroller you've picked has the capacity you need and other features that will fulfill your family's needs.
Remember that it's not safe to use a stroller for a baby that exceeds the weight limit, because this makes the stroller less stable and it may easily tip over or break. Not to mention that it's not comfortable for a child when they are hitting the canopy with their head or their feet touch the ground during the stroll.
---
The purpose of this article is informative. It's not a substitute for professional medical advice or medical care. Remember: safety first! Consult your doctor/pediatrician in case of any doubts. The author of this article does not accept any responsibility for any liability, loss or risk, personal or otherwise, incurred as a consequence, directly or indirectly, from any information or advice contained here. This post contains affiliate links.
Sources of pictures: