Non-toxic wooden play gym is one of the best investments that parents can make for their baby's healthy brain development. It gives the child safe and entertaining space for practicing motor and cognitive skills.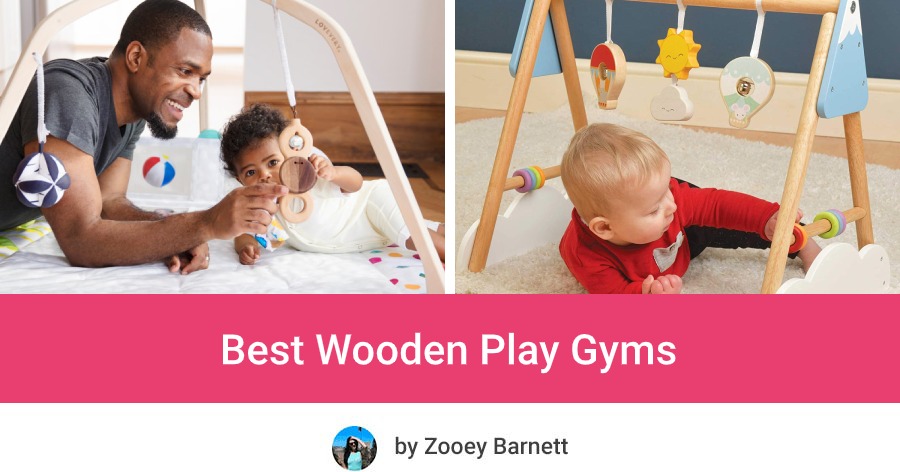 Baby play gyms have tons of benefits for infants and toddlers development. They provide multi-sensory stimulation, give baby opportunity to practice motor skills, learn new cognitive skills and stimulate their curiosity and imagination.
To provide children with the safest place for learning new skills, it's best to choose a wooden, non toxic play gym, made of organic materials, and free of harmful chemicals.
Wooden play gyms have 3 more advantages. They are much more durable than those made of plastic which means you can have one play gym for a few children! They are also better for our Planet. Besides, they look beautiful, and fit basically every nursery decor.
But how to choose the best non-toxic infant play gym?
I picked my favorite 6 wooden baby play gyms suitable for different developmental stages. I chose play gyms recommended by the experts and loved by other moms and dads. The price range is really wide therefore you can find on my list both affordable and more high-end play gyms.
This article is NOT a substitute for medical advice. The content and pics may contain affiliate links.
My TOP 3 Activity Gyms
*Scroll down to see all 6 options and read my reviews*
Best Features
❤️ Made of organic and chemical-free materials
❤️ Includes wood frame and 4 hanging toys
❤️ Encourages to practice reaching out and grasping
❤️Adorable design - looks beautiful in every nursery decor
❤️ Includes play mat, Montessori toys & a cover
❤️ Protects your Little Explorer from overstimulation
❤️ Helps to practice motor skills, color & texture differentiation, cognitive skills like cause and effect, and object permanence
❤️ Great for overhead play, tummy time & imaginative play
❤️ Elements and activities adjusted to baby's age and developmental stage
❤️ Great for visual and tactile sense stimulation
❤️ Helps to develop fine and gross motor skills
❤️ Best help for healthy brain development
advantage
✨ Recommended by 1500+ parents!
✨ Designed by Montessori educators
Best Affordable Wooden Baby Gym
Best Features
❤️ Made of organic and chemical-free materials
❤️ Includes wood frame and 4 hanging toys
❤️ Encourages to practice reaching out and grasping
❤️Adorable design - looks beautiful in every nursery decor
Best Overall Play Gym
Best Features
❤️ Includes play mat, Montessori toys & a cover
❤️ Protects your Little Explorer from overstimulation
❤️ Helps to practice motor skills, color & texture differentiation, cognitive skills like cause and effect, and object permanence
❤️ Great for overhead play, tummy time & imaginative play
advantage
✨ Recommended by 1500+ parents!
Best Montessori Play Gym
Best Features
❤️ Elements and activities adjusted to baby's age and developmental stage
❤️ Great for visual and tactile sense stimulation
❤️ Helps to develop fine and gross motor skills
❤️ Best help for healthy brain development
advantage
✨ Designed by Montessori educators
What's The Best Wooden Baby Play Gym?
If you're looking for non toxic activity gym for your little bundle of joy, you should check these options:
This is my favorite wooden play gym for baby and I'm sure you're going to love it too. What distinguishes Lovevery gym is that it was designed by child development experts to assist your little one in learning new skills.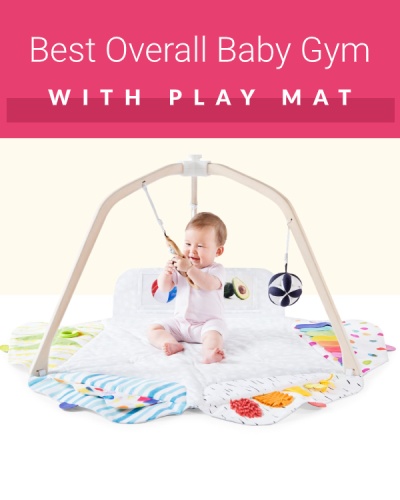 There are 2 main reasons why parents can't stop raving about it:
lt's made of non-toxic organic materials which is extremely important especially when the baby mouths everything. Lovevery play gym is a safe place for babies.
This is a Montessori play gym, designed to help children to develop their cognitive and motor skills, but at the same time it prevents from overstimulation. Many popular baby gyms are very flashy, have tons of pictures and toys making sounds – so the baby is exposed to a large number of stimuli at once. With Lovevery you don't have to worry that your little one gets overstimulated. This activity gym has lots of elements and educational toys, but they are hidden and you decide when to present them.
Lovevery gym comes with a white play mat with 5 developmental zones that baby can explore, which stimulate their senses and help to gain new abilities.
Black & white cards for the first 12 weeks teach the baby to focus. Later, you can switch to a different set of learning cards: common objects or faces.
When the baby is ready for tummy time, he/she can explore the second zone with soft, color tabs.
Third zone allows the infant to discover different textures and how they feel.
Next zone teaches cause and effect – when baby kicks or presses it, it makes sounds.
Fifth zone has built-in pockets where children can hide silicone rings. This helps them to develop object permanence – very important ability to understand that even if you can't see or hear the object, it still exists.
Mom and dad can decide which play zones and elements to hide or cover – preventing the baby from too much stimuli.
The play mat is a fantastic place for doing the tummy time – which is crucial for working on back and stomach muscles strength, and it's necessary for developing gross motor skills like rolling over, crawling and walking.
There is a wooden arch with three hanging toys. High-contrast Montessori ball made of organic cotton stimulates infant's developing vision. Wooden batting ring encourages the baby to grasp and practice hand eye coordination. BPA-free silicone ring with organic cotton teether serves for massaging sore gums.
Lovevery gym also includes a play space cover that allows to create a fort – which encourages older children to imaginative play.
Little Baby Gear Verdict:
This is the best overall activity gym for babies. It provides hours of entertainment and educational activities. Besides, it's made of durable materials, so it will serve you for years (and more than one kiddo!). What you are also going to love is that everything is included. Lovevery gym is not just a wooden toy bar, it has also an educational play mat, so you don't have to spend extra money on a separate playmat for tummy time.
My rate:
If you're still hesitating whether Lovevery play gym is worth the money – check out my detailed review here.
This organic wood baby gym has unique features like the height-adjustable toy arch and easy portability so your baby could use in any room in the house: in the nursery, in your bedroom or living room.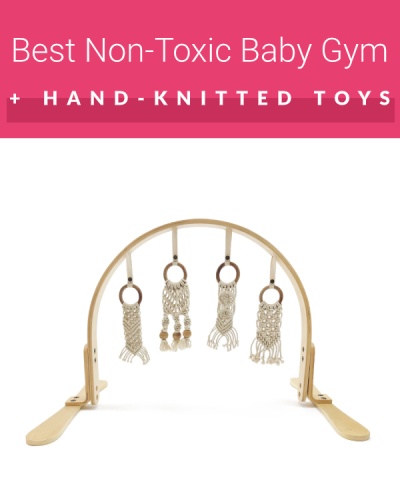 Finn + Emma play gym is a non-toxic activity arch made of 100% birch wood. It's designed with child's safety in mind. For the finishing the brand uses only non-toxic stains and lacquers which are free of harmful substances like lead, phthalate, nickel, mercury, and VOCs. You can choose the color of the wood frame from 3 options: natural, white or dark brown.
This baby activity arch adjusts to two heights so it actually grows with the baby and allows you to use it throughout different developmental stages. You can mount it lower for overhead play, and then make it higher for seated play.
You can buy Finn + Emma playgym in different versions:
Get only the arch and choose the hanging toys separately – The brand has a large offer of toys made of wood or organic fabrics. Keep in mind that buying everything separately is the most expensive option.
Buy the toy bar plus 2 wooden teethers and 2 hand-knitted toys – This set of various hanging toys gives the baby best entertaining and educational experience. Whether your child is lying or sitting, the toys will encourage them to reach, grasp and manipulate – which is a great exercise for hand eye coordination. You should also know that the teethers are made from untreated Indian hardwood and finished with eco-friendly, toxin-free vegetable seed wax. The knit toys are made of G.O.T.S. certified1 organic cotton yarn (in short, G.O.T.S. ensures truly organic status of textiles).
Choose the activity arch with hand-knitted macrame toys – This set includes 4 toys made of organic cotton rope which allow your little one to experience different textures and stimulate their tactile sense. This is the cheapest versions of Emma + Finn wooden play gyms and my favorite one (you can find it here 20% off). Keep in mind that Finn+Emma wooden gyms sell out extremely quickly. Don't miss out on your opportunity and order yours while it's in stock!
There's one more advantage: each toy is removable and can be used as stroller or car seat toy.
The arch has large, long foots that support it really well and make the whole construction stable and sturdy.
Some parents use this non-toxic activity gym on the floor, others add a playmat, place it over a bassinet or couple it with a rocker.
I've also seen that moms pair it with this Wee Gallery Playmat which I recommend as one of the best non-toxic play mats for tummy time and crawling.
3. Crisschirs Wooden Baby Gym
This wood baby play gym is my personal choice for parents on a tight budget. This is the cheapest organic, non toxic baby gym in my ranking.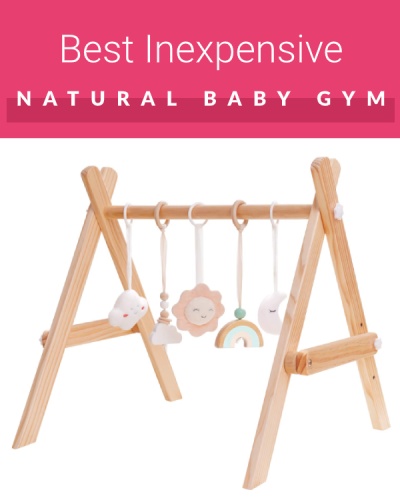 It is made of unfinished beech, sanded to be smooth and it's free of toxins and chemicals.
The activity center bar has unique design because you can connect the wooden legs in 3 ways – and thanks to that you can adjust the height of the center bar. The standard height is 17.7″ from the ground, you can lower or raise it by approx. 0.8″.
It comes with 2 hanging wooden toys that also double as teethers, and 3 plush toys. Each has a slightly different length to add a little challenge for a growing baby.
These cute toys attract infants attention and they love to stare at them. They also encourage babies to practice fine motor skills by reaching out, grasping, pulling, shaking, and sliding. The bids make a gentle clash sound, and the plush sun and cloud toys also make sounds to stimulate baby's hearing.
It's a perfect gift for babies at least 3 months old. You can use it for playing when lying on the back, as well as tummy time. You can switch the toys to keep your wee one always entertained and nurture their curiosity. It is recommended for supervised play.
What I like about this gym is that it has a thick wooden bar on the side to hold the legs – in contrast to many other cheap baby gyms which have ropes (when the child pulls the rope the gym is easy to knock over and can hurt them!). It's more sturdy and robust this way.
Keep in mind that this inexpensive wooden baby play gym doesn't include play mat. When it's fully assembled, the dimensions are: 50″ x 50″ (measured from the inside). You can place it on the floor (and put a blanket, playmat or pillow for the baby), I've also seen that some caregivers have used it in baby's crib.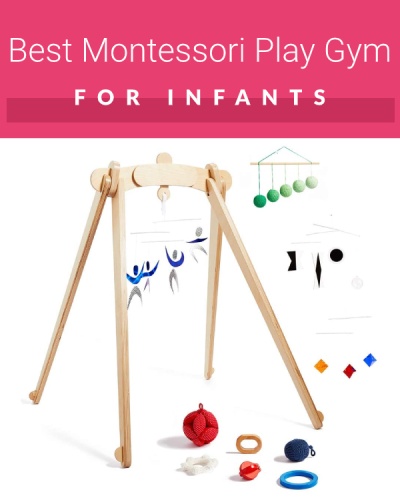 Before we jump into Monti Kids Activity Gym review, let me briefly explain what makes a toy Montessori.
Montessori toys help children to learn through play. They promote creativity, curiosity, perseverance and independence, while supporting development of motor skills, cognitive skills, language and brain growth in general. They encourage kids to work on their concentration and productivity. Montessori toys give children plenty of opportunities for learning through doing. Usually Montessori toys are made of natural and non-toxic materials and have quite simple design to protect child from overstimulation.
Now let's see what this wooden activity gym can offer your baby. The arch is made from birch plywood, which has been certified as being sustainably sourced. Dimensions of fully assembled gym are: 32″W x 33″L x 37″H.
In the middle of the construction you can add a mobile for child's visual stimulation. The height is adjusted to infant's developing visual perceptual skills. As the child grows and their sights becomes more clear and less blurry, you can adjust this wooden arch so your little one could reach attachments.
This wood play gym comes with 10 Montessori toys designed for visual, motor and cognitive development. They also nurture baby's concentration, physical coordination and body awareness.
There are 4 mobiles that you can hang in the middle of the arch to stimulate baby's vision and develop their ability to focus. You can choose black & white mobile with geometric shapes for newborn baby, and later change it to other mobiles that introduce baby to primary colors, color gradations, and teach them to follow and track moving objects.
Apart from mobiles, there are also 4 toys that you can hang on the arch. They challenge babies to reach, grasp and kick which helps them to work on their motor skills and muscle strength. For example the batting ball introduced baby to cause and effect. Among hanging toys there are also two rattles.
According to Montessori experts mouthing toys is a crucial part of sensorial learning activities. That's why Monti Kids use organic materials in their baby gym and toys. Apart from the wood used for the toy arch, they use water-based toxin-free pains and stains.
What's important this Montessori play gym also includes educational sources for parents: articles and videos created by Montessori educators, online lessons how to use the gym and access to personal coaching.
Monti Kids wood gym is on the high-end, but if you're looking for Montessori gym for your baby, this is the best investment. It is certified for babies 0-36 months old.
>> If you prefer wooden accessories and toys for babies, make sure to check my list of the best wooden blocks for kids. They are safe and decided to promote healthy brain development and strengthen skills like coordination, dexterity and logical thinking.
5. Le Toy Van "Hot Air Balloon" Baby Gym
This medium-priced wooden activity gym for baby is recommended from 2 months.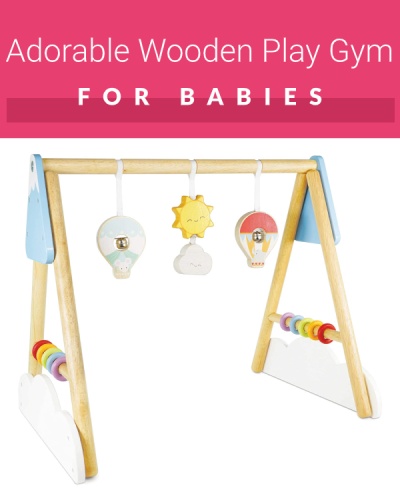 It's made of sustainably sourced rubber wood, plus the brand uses non-toxic paints. Eco-conscious moms and dads will love this baby activity gym.
The toy bar is 18″ from the ground making it perfect for overhead play and tummy time. It comes with 3 wooden hanging toys: two hot air balloon with small bells – for visual and auditory stimulation, as well as a sun and cloud. Your little one can reach out and manipulate them in their little hands. It's a great practice for hand eye coordination.
Those included toys are very unique and you won't find them on other play gyms. They are perfect for stimulating infant's curiosity and imagination.
To keep your child's attention and support their development you can easily attach new toys to the bar whenever you want.
On each side there is a small bar with colorful rings that the baby can slide and from side to side or twist them, learning the cause and effect. They also help to develop color recognition skills.
What you are going to love about this wooden baby activity gym is its adorable design – which distinguishes it from other play gyms.
There are cute decorations on the sides of the supporting legs, like the white clouds at the bottom. I'm sure your child will like them too!
6. HABA Color Fun Play Gym
My last recommendation goes to HABA simple wooden baby activity gym with height-adjustable toy bar and 1 wooden hanging toy included.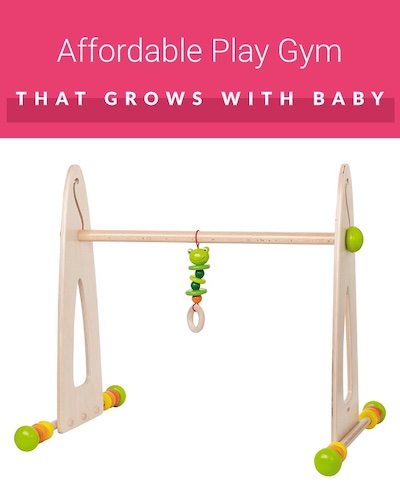 The lowest height of the bar is perfect for overhead play when infant is lying on their back. If you want to place it above infant car seat or rocker, you can move the bar higher. The highest setting will be also useful for seated play. Adjustment is very simple and quick – with the screw mechanism (the green disks on each side). You can adjust the height from 16″ to 21″.
There is a wood rattling frog dangling above baby's head, attracting their attention and encouraging them to reach out, grasp and pull – which is a great exercise for their little hands.
Of course you can add different hanging toys for your little one's entertainment and choose something appropriate to their age and developmental stage (you can find lots of cute mobiles and hanging toys here). If you hang a long toy on the bar, it could encourage baby to play during tummy time.
The base of this activity center has two legs with colorful wooden sliding disks. The child can play with them when doing tummy time. They will also encourage the infant to roll over – which is an important skill in baby's development.
Moreover, when the child pushes disks from side to side, they will be rewarded with acoustic effects. This is a great stimulation for their developing hearing sense, but also helps them to learn cause end effect.
HABA baby activity gym is made of birch plywood and beech wood from sustainable forestry. It's designed in Germany and made in Bulgaria.
If you're looking for more budget-friendly natural wood baby gym, HABA is definitely worth consideration. It's recommended for babies from 6 to 18 months old.
PRO TIP: If you want to use it with a child who can sit upright and tries to stand up while holding on to the toy bar, be very careful because it can make the whole construction less stable.
Are Play Gyms Good For Babies?
The answer is simple: yes, play gyms are good for babies and have a lot of benefits for their development.
Sight
Wooden baby gym toys hang approx. 8-15 inches above the baby which makes them easy to scrutinize for a newborn baby who is near sighted. This supports infant's developing sight and visual perceptual skills.
Important Skills
The child can explore various objects, colors, textures – which gives them opportunity to practice motor skills, depth perception and hand eye coordination.
Tummy Time
Play gyms encourage to do tummy time – some of them include play mats, however if you decide on a cheaper baby play gym, you may need to get play mat separately. Tummy time is crucial for strengthening baby's neck, back and abdominal muscles which are necessary for crawling, rolling over, sitting up, and later – for walking. It also prevents the flat head syndrome.
Cognitive Abilities
Non toxic baby play gym is a safe place for learning cognitive skills like cause and effect, object permanence, creativity. It allows the child to work on their imagination and broaden their knowledge about the world and different objects.
Tactile stimulation
Wood baby activity center provides tactile stimulation and helps the child to reach the important milestone of grasping, as well as learn to follow a moving object, recognize themselves in a mirror, and differentiate various objects.
Training & Mastering
They allow children to learn through doing. They assist them in learning how to interact with the world and support healthy brain development in general.
Are Wooden Baby Gyms Safe?
Wooden baby gyms are safe for babies and as other baby products must meet CPSC safety standards1 before they are sold in the US.
In general, wooden baby gear is better choice than plastic – it's more eco-friendly (especially if materials come from sustainable sources), don't contain chemicals – which is very important when baby mouths everything, and they allow children to feel more various textures.
Besides, wooden gyms are more durable and long-lasting so you can be sure they will serve your family for a long time!
Do Babies Need Activity Gyms?
Play gyms are very useful and helpful because they assist in babies' development. They allow them to learn through doing and playing and are much better than plastic, flashy, loud toys.
You should definitely add one to your baby registry. If you worry about the price I've got good news for you – you can find a high-quality wood playgym for about $50 (check my recommendations above)!
What Age Can Baby Use Play Gym?
Usually, baby can start using play gyms during the first 3 months of their life, for overhead play or tummy time.
For example Lovevery play gym can be used from day 1 – the black & white cards are perfect for newborn's baby developing sight. And you can start doing tummy time very early too, 1-2 minutes per day at first and gradually extend the time.
However, some play gyms are recommended from 6 months. Keep in mind that all activity gyms are recommended for supervised play only!
Always follow the age recommendation given by the manufacturer. Moreover, consult with your GP/pediatrician if your baby is ready to use a play gym and when you can start the tummy time.
When Should I Stop Using A Play Gym?
Most of the baby play gyms can be used for a very long time, even up to 2 or 3 years. Once your child can roll over and is able to sit upright, you can use them for seated play. However, some babies loose interest in wood baby gym toys, and it's up to mom and dad to prolong the experience and make it more enjoyable.
When your child shows signs of being bored with the play gym, you can try to add new toys or a mobile to attract their attention. Choose more "challenging" baby products, that provide multi-sensory stimulation and promote learning various skills.
You should also follow the manufacturer instruction when it comes to max. age recommendation.
---
The purpose of this article is informative. It's not a substitute for medical consultation or medical care. Remember: safety first! The author of this article does not accept any responsibility for any liability, loss or risk, personal or otherwise, incurred as a consequence, directly or indirectly, from any information or advice contained here.
Source of pictures: