Lovevery Play Gym is one of those educational toys that hundreds of parents fell in love with. They rave about its benefits for baby's development, as well as high quality of materials used for it.
But what really makes this play gym so awesome? It's more pricey than many other play gyms therefore lots of parents wonder if it's worth the investment.
If you're one of those parents, keep on reading my review and you'll find out what's so special about Lovevery Play Gym, how does it stands out from other baby gyms and what disadvantages I found.
As mothers, we want the best for our babies. We dedicate our time and energy to helping them achieve essential skills and abilities, and one way of doing that is through play.
A play gym is a splendid choice for a baby, falling into the category of educational toys recommended by experts. I always say that investing in such toys is worth it, as they contribute to baby's motor, cognitive and speech development.
Keep on reading and discover more information on the Lovevery play gym, a toy with Montessori elements, made in USA.
This post contains affiliate links.
Let Your Baby Have Fun & Learn With Lovevery Play Gym
The play gym by Lovevery includes several exciting elements, including a Montessori1 ball, a wooden batting ring, and teethers made of organic cotton and BPA-free silicone. It also has a system of interchangeable cards (black and white card set, cards with common objects and faces, and mirrors) and a play guide for parent's inspiration.
PRO TIP: You can also get some additional accessories to stimulate your infant's senses and skills on Lovevery official website. For example these Sensory Strands are excellent for tactile stimulation, cognitive exploration and training dexterity, grasping, reaching, and hand-eye coordination. This add-on easily attaches to the play gym legs. Here you can also get extra black & white cards which stimulate infant's vision development and help to build their vocabulary.
You can start using this play gym by Lovevery during the first weeks of your newborn's life. It is recommended for babies' first year (for ages 0+).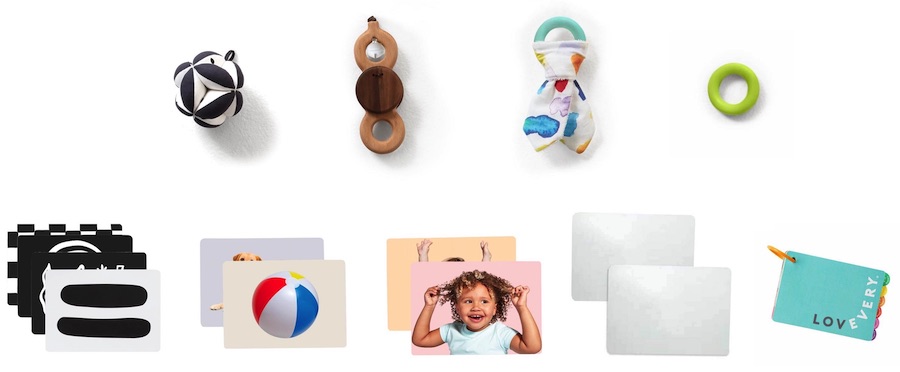 Lovevery baby gym guarantees a complete play experience. We, moms, are always on the lookout for toys that help our babies reach new milestones. With this baby play gym, we can assist our little ones in exploring colors and textures, and learning to focus.
Of course Lovevery gym is perfect for tummy time and learning new things by exploring the side zones that baby can open and close.
Another advantage of this baby gym is that it helps to learn the cause-and-effect process. Moreover, the baby can touch its unique elements, experience how things feel and getting accustomed to unfamiliar sounds.
Within the five development zones, there are elements that one can hide and then reveal for a greater learning experience. You can see the zones in the pictures below.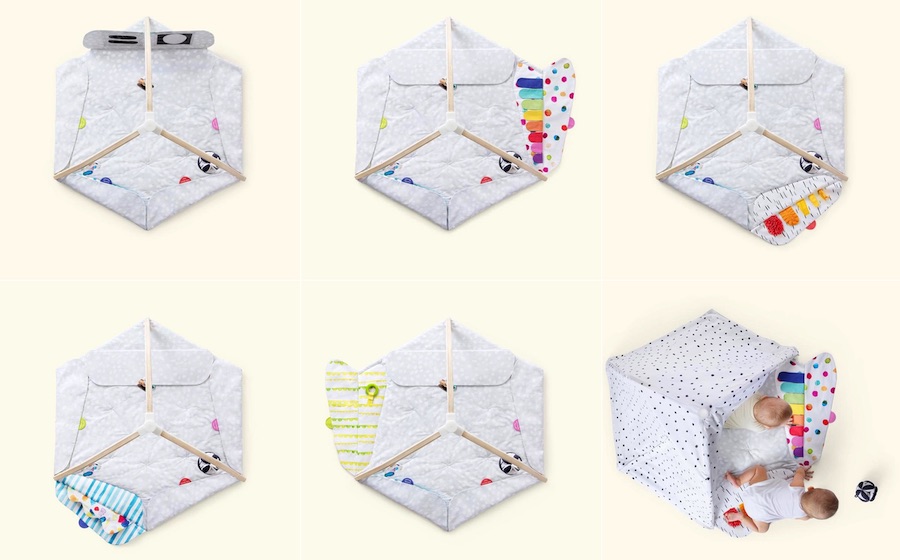 Interchangeable black & white cards with pictures support infant's visual development. As babies gets older and starts seeing in color and 3D, they can play with colorful tabs, hidden in another zone, and explore new colors. It's also a great opportunity to introduce your infant to color names.
Another zone encourages the baby to reach, touch and grasp. This teaches infants new textures, as well as helps them to practice fine motor skills. Thanks to that baby's little hand and finger movements are more precise.
When the baby opens next zone he/she will learn cause and effect by kicking or pressing different elements that make sound. It will also stimulate infant's hearing for broader learning experience.
Fifth zone features a silicone teether that can be hidden in a built-in pocket. Playing in hide & discover will be so fascinating for the child. This will help the child to develop object permanence – very important ability to know that objects still exist even if you don't see, hear or sense them in any other way.
It's a crucial ability which has a great impact on infant's further cognitive development. It's really awesome that Lovevery baby gym allows you to practice it with your baby!
Moreover playing with the teether will be also a great opportunity for the baby to practice eye-hand coordination.
Of course mommies can decide what elements to show, to prevent the baby from excessive stimulation.
This is what distinguishes Lovevery from other play gyms – the child can focus on one toy at the time, while others are hidden, therefore he/she is not overstimulated.
Over baby's head there is a high-contrast ball, a battling ring and a cotton teether which also encourage baby to reach and grasp, when lying on their back. And once the baby has good neck control and can sit upright, she/he can still play with these toys and explore their texture, shape and sounds they make.
There is also a space cover, which can transform the Lovevery baby gym into a fort. Even small babies love forts, and this activity will easily help them discover a passion for imaginative play as they grow.
There are several reasons for which Lovevery the play gym stands out from other products of its kind. They used only sustainably sourced. The other materials are safe for our babies, they do not contain BPA, phthalates or lead. The accessories the baby might place in his/her mouth are from organic cotton and silicone.
As I've briefly mentioned above, what also distinguishes Lovevery gym for babies is that it doesn't overstimulate the baby. Lots of other play gyms have lots of toys that are exposed at once, and use bright colors that may overexcite the baby. The play gym by Lovevery is great for infant's development and educational play, but also has calming effects.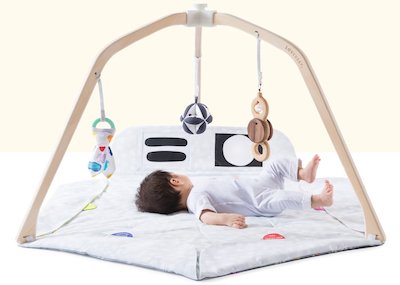 You should also know that the play gym by Lovevery meets the worldwide standards for safety, having been created by baby development experts. It contains Montessori elements and stimulates the learning process from multiple angles. It might appear like baby will simply play on it, but, in reality, your little bundle of joy will be engaged in a deeply immersive experience2.
From a physical point of view, this gym will help the baby to strengthen their back and neck muscles, and develop fine and gross motor skills.
One last thing. If you're wondering how to clean Lovevery play gym, I've got good news for you. The baby gym by Lovevery has machine-washable elements, such as the play mat and cotton teether.
What Parents Say About It
The Lovevery reviews are overwhelmingly positive. In fact, the Lovevery gym has been described as an amazing learning tool. For parents, it is also important that a toy offers a baby with ample opportunities for entertainment as well as development. This gym checks all the boxes!
Parents are impressed with the quality of the materials used in the Lovevery baby gym. They like the possibility to hide and reveal certain elements, as we all know how easily babies can be overstimulated. Some have noticed their babies already had favorite activities, such as looking into the mirror or exploring the color tabs.
If you were to read the Lovevery play gym reviews, you would quickly discover this is one of the most popular baby gyms. It is appreciated for its ability to stimulate various senses, and its interactive elements. Great for both tummy and back time, it allows babies to learn skills they can use later on, such as grasping, rolling over or reaching for a toy.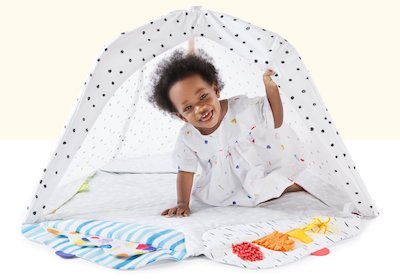 Of course, there are also parents who mention some disadvantages. These Lovevery reviews show, however, that not all children might be interested in using a play gym. Other parents complained that their children were easily bored, but once again it is up to us to teach our kids how to play with various toys.
Nevertheless, most of parents who previously bought this play gym from Lovevery agree it's a fantastic tool for learning through play for an infant.
Keep In Mind – Any Toy Has Its Disadvantages
Even though these are not disadvantages per se, they are worth mentioning. As parents, we want the complete image about a toy we're about to buy for our child, Lovevery baby gym is not an exception here.
These are a few potential drawbacks of this gym:
Not all children might be interested in using it, some may lose interest quickly, especially older babies
It does not take long for an active baby to go through all of the development zones (as parents it is up to us to prolong the experience and make it enjoyable)
Lovevery the play gym comes in a size not convenient for small living spaces. If you have a small apartment, check this gym dimensions first. It's 24 x 38 x 43 inches when the mat zones are closed, and 24 x 50 x 47 inches with mat zones open.
Why You'll Love It
As you might discover from Lovevery play gym reviews, there are countless reasons for which you and your little one will love it.
These are the main reasons for which I believe the play gym by Lovevery to be worth your money:
A multi-learning sensory experience, with opportunities for fine and gross motor skills as well as cognitive skills development
Accessories made from high-quality materials, such as organic cotton and silicone, no risk of allergies or other health issues
Five development zones: learning to focus, how things feel, hiding and finding, exploring colors, and new sounds that also teach cause& effect.
Included cards and toys are wonderful help for expanding baby's vocabulary.
Final Verdict – Is Lovevery Play Gym Worth It?
My final verdict is that Lovevery the play gym is worth its price, as it offers babies with ample opportunities for playing and learning, without overstimulating them. You can use it right from the start and up to a year, as long as your baby shows interest.
The play gym by Lovevery is an excellent product, one that includes everything a parent might desire in educational toy. Its strong point lies in offering a complete learning experience, destined to stimulate various senses and skills. The Lovevery baby gym helps our little ones reach new milestones and grow into active toddlers.
Where to get Lovevery Play Gym? I recommend you to get it from brand's official website to be sure you're getting the original product. There you can also check current sales and discounts.
---
Related articles:
>> Best wooden blocks for kids from 1 to 5 years
>> Lovevery Pioneer Play Kit Review
---
Source of pictures:
Pictures of Lovevery Play Gym belong to Lovevery.
References:
1. The Bump
2. How We Montessori
---
The purpose of this article is informative. It's not a substitute for medical consultation or medical care. The author of this article does not accept any responsibility for any liability, loss or risk, personal or otherwise, incurred as a consequence, directly or indirectly, from any information or advice contained here.
Your trust is really important to us: This article includes affiliate links to products that we think are useful for our readers. If you make a purchase through these links, we may earn a small commission at no extra cost to you. Your support helps us run this blog – thank you!