Is the Lovevery Babbler Kit worth the money? In this review I am going to share with you my personal experience with this play kit, show you how to make the most out of it and advise you whether you should go for the Babbler Play Kit or cheaper Lovevery alternative.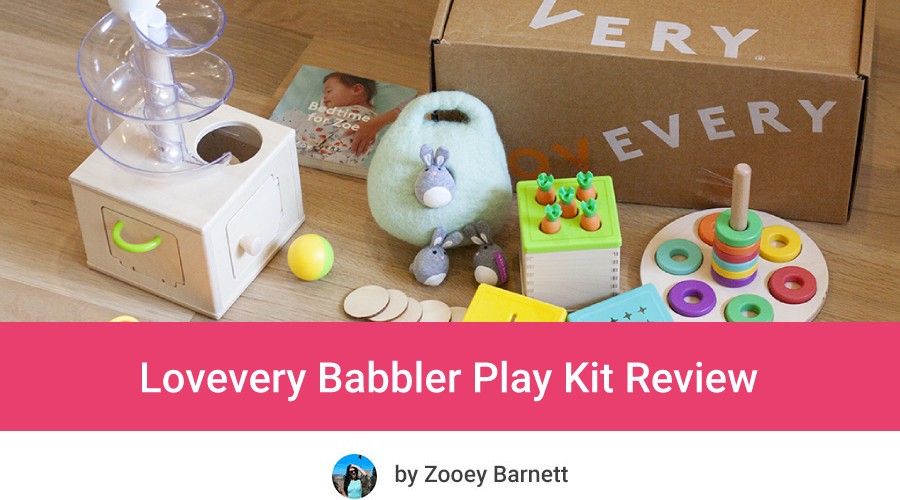 If you've been looking for play kit boxes, STEM toys or Montessori toys for your 1 year old, you've probably stumble upon Lovevery Play Kits.
This brand offer 4 different boxes with educational toys for toddlers at different age and developmental stage which are sent to you every 3 months. For the 13-15 months old babies Lovevery has prepared The Babbler Play Kit.
In this article I am going to show you, what's included with this play kit, what makes Lovevery Babbler to stand out from other subscription play kits or developmental toys, and whether subscribing to Lovevery play kits is worth it.
Oh, and at the end of this article you can find some budget-friendly alternatives if you prefer to buy just a few toys separately, than invest in a whole box.
This article contains affiliate links.
What's In The Babbler Play Kit, How To Play With It & What Benefits It Has?
Lovevery The Babbler Play Kit has been designed by child's development experts. It includes Montessori-aligned playthings and supports STEM learning.
All of them are created to suit children at the age of 13, 14 and 15 months and stimulate specific skills that toddlers are ready to learn during this sensitive period.
Below you can see what's included with Lovevery The Babbler Kit.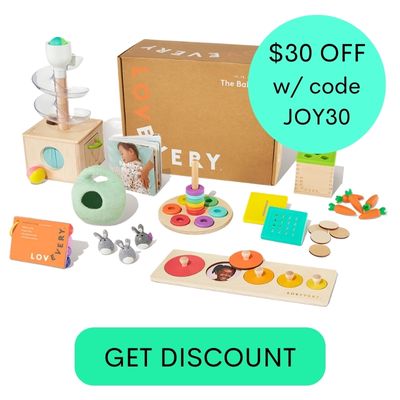 Slide And Seek Ball Run
This ingenious toy is a slide with a wooden box. Your toddler's task is to push the ball through the hole at the top of the slide, so it could roll all the way down to the hole in the wooden box.
It requires using force. For a toddler who is still mastering walking, balancing and hand-eye coordination, this is actually a challenging task.
And all exercises that allow to train balance, are very important for developing gross motor skills.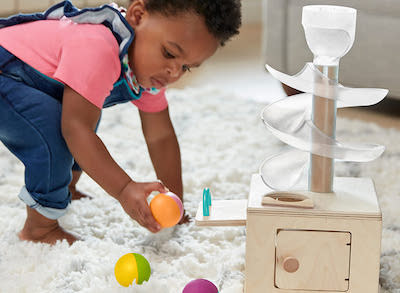 Probably the most essential cognitive skills that this Slide And Seek Ball Run teaches is object permanence. The ability to know that an object still exists, even when you can't see or hear it, is a very important developmental milestone.
At the age of 13-15 months, children are very interested by the objects that disappear and they start to understand that they still exist even when they are hidden. That's why it's so much fun for toddlers to play with this sliding ball toy.
This age is also the perfect moment for them to figure it out how to make hidden objects reappear.
Then, there are 4 ways for your little explorer to retrieve the ball. There is a hole with a fabric curtain and your child can push their little fingers through the hole to pull the ball out.
There are also two different doors and one small lid that toddler needs to open to take the ball out. All of them open in different direction and have different handles or knobs which the child has to master to open. I would say that each door is a different level of difficulty which is perfect for a growing kiddo.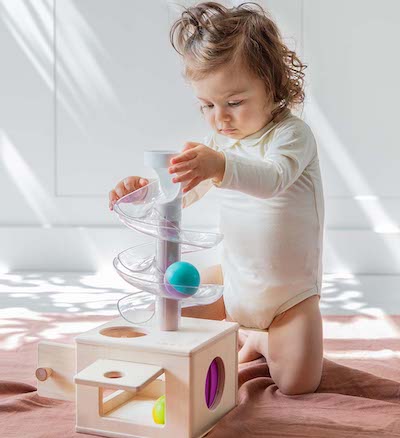 As you can see all of these activities help your toddler understand object permanence, as well as practice problem solving skills. Your little one has to figure it out how to get the ball back.
Learning how to open the horizontal door, vertical door and the small lid which all have different knobs is a great exercise for fine motor skills and pincer grasp.
This ball run toy will occupy toddlers for a long time before they master all skill and ways to play with it. While doing that, they will also learn patience and resilience.
In contrast to Lovevery Ball Run, simple ball ramp toys don't include the box at the bottom where balls disappear, so the only thing that child can do is to push the ball and watch it rolling down. It's good for teaching concept of cause and effect, as well as gravity. But it's not as nearly fun or educational as the Lovevery Slide And Seek Ball Run – the only ramp toy that also teaches object permanence. The box at the bottom provides more hours of playing and exploring.
Flexible Wooden Stacker
Stacking toy is a Montessori classic, but this one stands out from other stackers because it's more complex and develops more advanced skills.
It comes with 12 wooden rings in beautiful colors. The peg is flexible and you can tilt it towards your toddler to help them get the rings on it. And the base has 6 circles where your kiddo can fit the rings – it's a simple puzzle toy.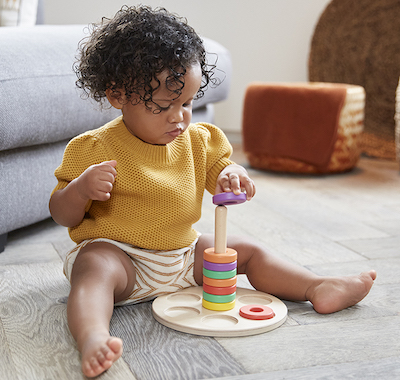 Ability to stack is a very important skill for other developmental milestones. With a wooden stacker your child will master it, staring with simpler activity – removing the rings from the peg. Then, it's time to learn something more difficult – putting the rings back on the post. It's like a threading activity and it requires more advanced fine motor skills – some children master it by 15 months.
It's important to show toddlers how to remove and stack the rings – this is called observational learning. Plus, playing together is a great way to strengthen the bond between the baby and parents.
Flexible post can be a great help at the beginning because you can tilt it to help your toddler stack the ring.
Later, when your toddler starts to stack the rings on his own, this flexible peg will make stacking more complex because he will need to hold it still while pushing the rings down. It's an awesome exercise for hand-eye coordination and dexterity.
The puzzle circles in the base will teach your little one shape recognition, matching and understanding how objects fit together. Plus, it's a fantastic activity before introducing more complex jigsaw puzzles and more shapes.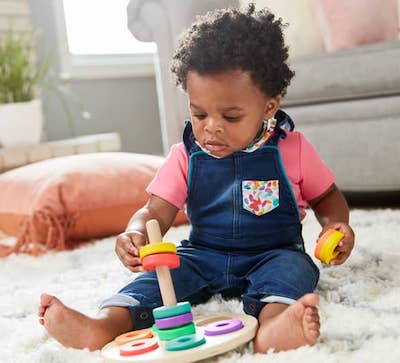 You can use the colorful rings for color recognition, categorization and counting too.
This Flexible Wooden Stacker teaches spatial relationships, and it is way more entertaining, interesting and stimulating than simple stacking rings.
These are crucial cognitive abilities and they have huge impact on math skills.
Posting Box With 3 Different Lids
This is one of toddler's favorite toys in Babbler Play Kit. It's a wooden box with 3 silicone tops: coin lid, carrot lid and posting lid.
What your child needs to do, is to fit specific objects into the slots and drop them or push them through small hole.
Wooden Coin Bank Set With Coin Lid & Coins
This lid has one narrow slot that your little one needs to put the wooden coins through. They will need to pick up the coin, manipulate it in their little hands and rotate it so it fits through. Thanks to this Montessori classic activity kids learn how to rotate their wrist and work on their fine motor skills.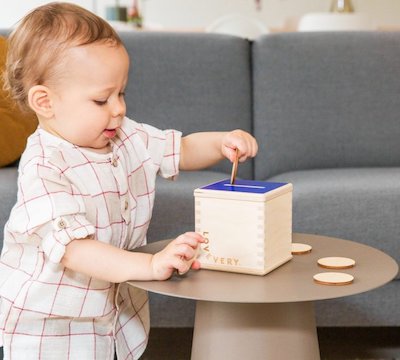 Once the toddler drops all coins into the bank, mom can shake it – I'm sure all little explorers will be interested in that sound. This is called posting.
Carrot Lid With Carrots
This lid has 5 circle holes that your child can use to "plant" and pick the carrots – which is a fun activity that engages them in pretend play.
Of course it can be also used for training posting skills – if your toddler uses force and pushes the carrot through the holes down to the box.
It will take some time for them to figure it out how to rotate the object to make it fit. Over time, they will understand that turning an object (like a coin) to the proper position changes how it fits into another object.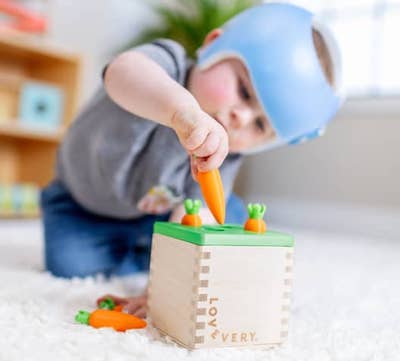 Posting is an excellent fine motor activity and exercise for hand-eye coordination and problem solving skills.
Posting box has broader developmental value – it also teaches object permanence. When your toddlers pushes all objets into the box, you can show them how to retrieve them by pulling off the magnetic bottom or the silicone top.
At first, to show your child where all those pieces "disappear" let them play with the box without the bottom attached. Once the coins or carrots are inside, lift the box to demonstrate that these items still exist even though they were hidden.
Posting Lid For Household Items
Once your toddler masters the other two lids, it's time to try the posting lid for small household items like Q-tips, colorful DYI paper sticks or pipe cleaners (get creative!).
It will be a great challenge for toddler's persistence and patience, as well as a fantastic exercise for precision. Of course all of these recommendations are for SUPERVISED playtime only.
>> Here you can see the posting lid for the Wooden Coin Bank
Bunnies In A Felt Burrow
Babbler Lovevery Play Kit includes this soft, cozy burrow and 3 bunnies. Toddlers can hide them in the burrow and then take them out. It strengthen dexterity, precision, fine motor skills and bilateral coordination.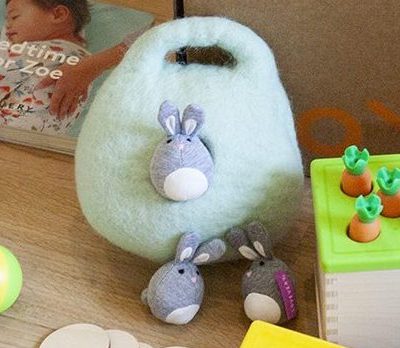 Besides, this activity teaches kids that even if they can't see the bunnies, they are still inside the felt burrow and they can retrieve them. This helps toddlers understand that things can disappear and reappear, which is crucial for developing object permanence.
This will be helpful for other situations too. It may help the kiddo to understand that mommy is still there, even when they don't see her – she is coming back. According to child development experts it may help with separation anxiety.
Last feature that I have to mention – which your toddler will love – is that the burrow has a carry handle! Your little one will be able to carry the bunnies around with him and we all know that toddlers love to do that. They all love all kinds of storage baskets, containers and bags that they can carry around, loaded with their precious toys.
Circle Of Friends Puzzle
Play kit for months 13-15 is the first one that includes puzzles, because it's a good time to introduce your toddler to this kind of activities.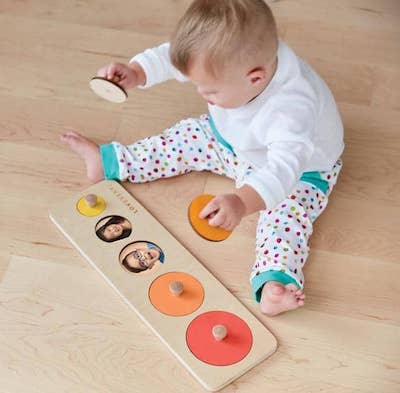 The board includes 5 circle pieces, and when your toddler removes them, he will see friendly kids' faces. You can also personalize these puzzles and cut out circular pictures of family members . It will make this exercise more entertaining and easier for your kiddo to relate to. Besides, lifting the circle to reveal who's underneath it is a fun pee-a-boo game!
This Lovevery educational toy is perfect for introducing babies to puzzles, because it uses the easiest shape – circles. They are the easiest ones for shape matching because they fit in any orientation (there are no corners, so there's no need to rotate the puzzle pieces). All pieces of this puzzle have the same shape.
Putting these flat circles into the puzzle helps your little one to learn how shapes fit together and develop spatial awareness. This basic ability is essential for introducing more complex puzzles later on.
The thing that will be challenging for your toddler at first is that the circles have different sizes. This means that each circle matches its own hole, but also fits loosely in larger holes! This creates logical problem for toddlers and it's a brilliant exercise for problem solving and logical reasoning.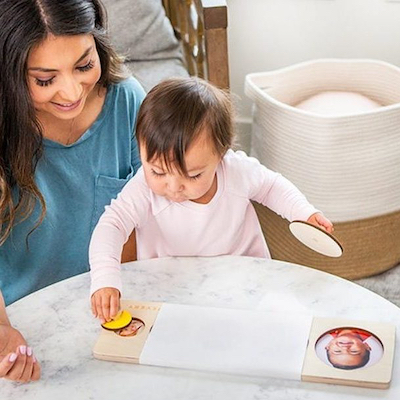 The best thing about this Montessori classic activity is that they encourage toddlers to self-correct. Give your little one some time to experiment with the pieces. By using trial and error he will finally complete it and train logical thinking skills.
Also, remember that at first it will be easier for your toddler to remove the pieces than complete the puzzle.
Bedtime For Zoe Board Book
This book tells a story of Zoe and her bed time routine. It shows real-life situations that children can relate to (like getting water in your eyes during washing her hair). Your kiddo will love this story and it will ease the nighttime routine for them too. It also facilitates understanding the time and sequence.
Bedtime book reading is also a perfect opportunity for training language and conversation skills, and encourages little storyteller to explore their imagination.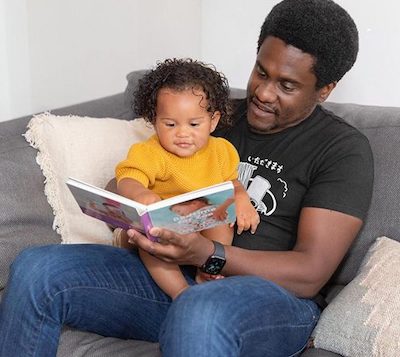 Play Guide
Just like previous play kits, this one also includes a play guide.
Lovevery Play Guide includes lots of tips how to get the most out of Babbler Play Kit, plus awesome ideas for DYI activities, fun challenges and how to stimulate toddler's senses when specific developmental windows open. All playtime ideas are backed by all the research that parents usually don't the time to read.
It's also very informative and explains a lot about developmental milestones and what's happening to your 13-15-month-old child from cognitive, motor, social and emotional perspective during this period.
What To Keep In Mind When Buying The Babbler Lovevery Play Kit
Babies learn by observation. That's why it's so important for parents to show their little ones how all those included items work and play with them.
Teaching your baby is the perfect opportunity for bonding and sharing, and it facilitates social, emotional and language development.
Be creative and explore actively the play kits with your baby. Always supervise them while they're learning.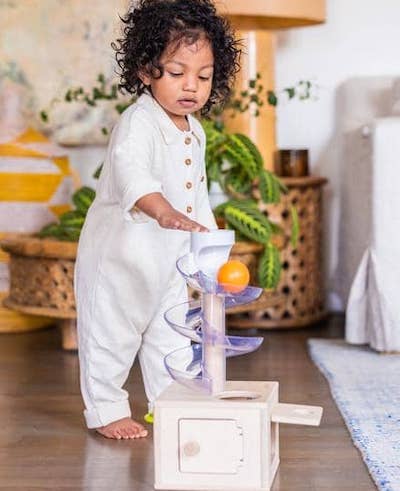 Another things – this play kit is a bit expensive so you will need more flexible budget. The reasons for higher price are:
All the toys included with this play kit are high quality and aesthetically pleasing, plus most of them are made from non-toxic wood.
They are way more complex than toys that you can find on Amazon – they support healthy brain development and provide opportunity for 1 year olds to learn various activities without the risk of overstimulation.
Because these toys are more versatile, they are more interesting, easily attract baby's attention, train their concentration, and keep little explorers occupied and entertained for hours.
There are some cheaper alternatives for some toys for example on Amazon, but they are not as nearly creative and stimulating as Lovevery play kit.
Final Thoughts: Is The Babbler Play Kit Worth The Money?
After testing the Babbler Play Kit, I admit that it is well worth the money and the main reason for that is that all those educational toys support child's development in a holistic way.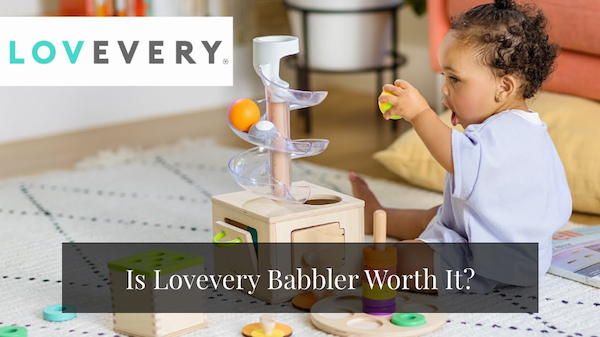 There are designed by early child development experts and chosen appropriately to toddler's developmental stage, sensitive periods and developmental windows.
Plus these playthings are so versatile and can be used in so many ways for fun learning experience! Each piece of Babbler Kit teaches various skills and concepts. And because these toys are so complex and encourage kids to many different activities, they don't get bored with them so quickly!
What you should know about Lovevery subscription boxes is that you CAN find similar Montessori-aligned toys and buy similar playthings separately, but you will literally save only a few dollars and the toys won't be as nearly educational, attractive and fun as Lovevery Babbler.
This is what distinguishes Lovevery – they turn simple toys into multi-functional and educational playthings that will occupy your baby for longer time as they develop new abilities. One item can be used for various activities and teach more and more complex skills.
Only the Lovevery Ball Run includes a wood box in the bottom. My babies had a blast finding ways to retrieve balls and it was a huge part of the lesson. Without the box, it wouldn't be so much fun.
One last thing that makes Lovevery worth it – their play kits don't have flashy colors or loud annoying sounds that could overstimulate the baby.
Check Babbler Play Kit price & available discounts >>
Lovevery Babbler Play Kit Review – FAQ
If you're still hesitating whether to get Lovevery The Babbler Play Kit, here are some details about this box, how to subscribe to Lovevery play kits or cancel them.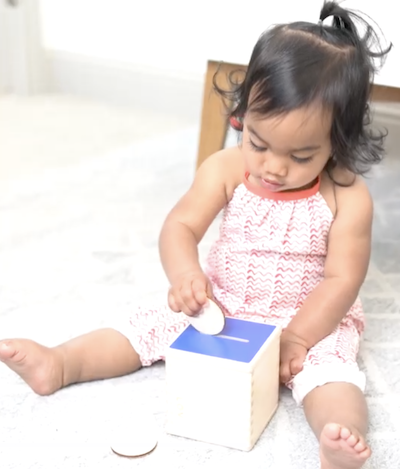 Where Are Lovevery Toys Made?
Lovevery Toys are made in China.
How Much Does Lovevery Subscription Cost?
The Lovevery Play Kits Subscription costs $80 per box in the first 12 months – it ships every 2 months. In the next 3 years boxes ship every 3 months and cost $120 per play kit. You can start the subscription and cancel it at any time.
Are The Lovevery Play Kits Worth It?
Speaking from my personal experience, Lovevery play kits are well worth the money, because they include playthings designed by children development experts and carefully chosen for specific age and developmental windows.
What's more, each toy has broader educational value than most of the toys available on the market. I'm pretty sure your 1-year-old will enjoy playing with all those toys, and it will take longer time to master all activities. They won't get bored with them or loose interest as quickly as with standard toys.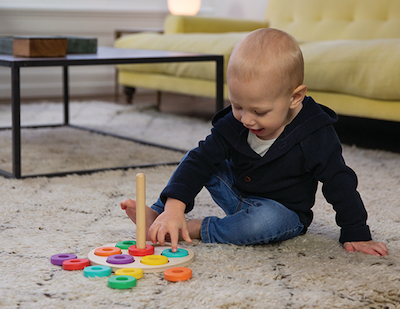 Lovevery playthings are Montessori-aligned, most of them are made from natural wood.
Wooden toys so much better than plastic toys, not only in terms of safety and durability, but also provide natural tactile and audible stimulation! Besides, they don't make loud artificial noises or have flashy lights that could overstimulate the baby.
All the toys are very high quality and allow kids to explore new concepts.
By the way, if you're in the hunt for Montessori toy boxes, you may want to check out Monti Kids offer too. Here's my comparison: Monti Kids vs. Lovevery which will help you to decide which one will be better option for your little one.
Alternative Toys That You Can Buy Separately
Of course you can create a toy box for your toddler on your own, or if you're on smaller budget – pick just a few toys that you like the most. I found lots of playthings that have similar design and help to train (almost) the same abilities.
Below you can see the Lovevery Babbler alternatives that I found on Amazon. Keep in mind that they differ a bit from the original subscription box.
By the way – if you decide to get them all, the cost will be very similar to Lovevery Babbler Kit!
This early learning toy comes with 4 balls that your toddler need to pound through he holes to make them roll all the way down the maze or the chute. It teaches cause and effect, hand-eye coordination and balance.
But the biggest difference between this toy and the Lovevery Slide & Seek Ball Run is that the latter one has the wooden box where the balls "disappear" which also teaches kids the object permanence.
Frankly, figuring it out how to get the balls out of the box was the funniest part of this activity for my toddlers and it occupied them for long time. Without the box at the end, playing with a ball run gets boring quicker and it has limited educational value.
In contract to Lovevery stacker, this one is made from fabric, not wood. The rings have bright colors with funny patterns and intriguing texture to attract baby's attention.
Each ring feels different and makes crinkle sounds for tactile and auditory stimulation. Stacking these fluffy and soft rings is a great exercise for hand-eye coordination and dexterity.
Unfortunately this toy doesn't have the puzzle base like the Lovevery Stacker has.
This Montessori-inspired toy is almost the same as Lovevery Babbler Posting Box. It has 3 lids: coin bank, carrot harvest and matchstick color sorter. Depending on your child's age and skills you can easily change the covers. It's a great exercise for hand muscles and concentration.
It's actually a dog toy, but lots of parents have bought it for their toddlers. It's almost exactly the same as the one included in Babbler box!
There's a carrot-shaped burrow with two holes and 3 bunnies that you can put in and out of the burrow. The only difference is that this burrow doesn't have a carry handle. You should also check out other versions of this toy with various animals (my favorite is this ZippyPaws X-Large Burrow Log and Chipmunks).
This set includes two boards, each with 3 pieces of puzzles. One board has 3 circles puzzles – each in different size – similar to Lovevery toy. The other board has puzzles in various shapes: circle, square and triangle. All of the pieces have large knobs and help to practice pincer grasp. This set is a fantastic introduction to puzzle toys.
Unfortunately these shape puzzles don't have any pictures, but you can also add some photos of your family members on your own.
This funny colorful book is a great option if you want to teach your toddler bedtime routine. Kids and parents love it! And the best thing is that it's inexpensive.
---
Related articles:
>> Best Wooden Building Blocks For Toddlers & Kids
>> Is Lovevery Pioneer Kit Worth The Money? – My Honest Review Of Play Kit For Months 16, 17, 18
>> Is Lovevery Play Gym Worth It? – Review
---
The purpose of this article is informative. It's not a substitute for medical consultation or medical care. Remember: safety first! Consult your doctor/pediatrician in case of any doubts. The author of this article does not accept any responsibility for any liability, loss or risk, personal or otherwise, incurred as a consequence, directly or indirectly, from any information or advice contained here.
Your trust is really important to us: This article includes affiliate links to products that we think are useful for our readers. If you make a purchase through these links, we may earn a small commission at no extra cost to you. Your support helps us run this blog – thank you!
Pictures of the Lovevery Babbler belong to Lovevery brand.