Are you wondering whether The Lovevery Pioneer is a good choice for your toddler? In my Lovevery Pioneer Play Kit Review I am going to share all the things liked (and did not like) about this toy box. Keep on reading to find out if it's worth your money!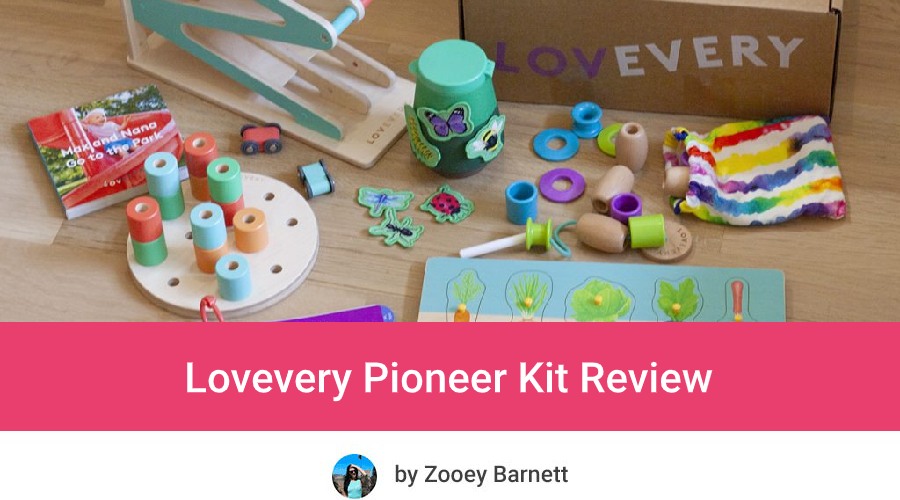 When your baby is 1.5 years old, their understanding of object permanence and cause and effect, as well as their fine motor skills are getting better with each day. During this sensitive period it's important to provide toddlers with educational toys that will nurture their curiosity about the world.
This is why I decided to try the Lovevery Pioneer Play Kit for months 16-18 which includes lots of developmental playthings that encourage toddlers to explore, experiment and discover.
The Pioneer Play Kit comes with 5 toys and a book which are supposed to stimulate two-handed coordination and dexterity, teach concepts like gravity and motion, and help toddlers to understand and manage their emotions.
According to the brand, all of these playthings are backed by research and carefully chosen for specific developmental stage by children's development experts.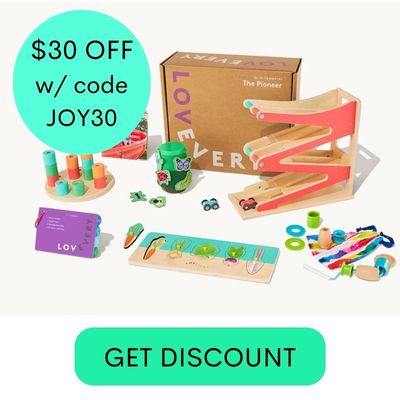 After testing this play kit with my kids, I decided to share with your our experience and answer most important questions: Is the Lovevery Pioneer really worth the money? How to play with it? Is it really beneficial for child's development? Does your toddler need this play kit?
In this article I am going to review Lovevery Play Kit for months 16, 17 and 18 – the Pioneer Play Kit. I hope it will help you to decide whether Lovevery subscription box is the right choice for you, or if you should find cheaper alternative.
This article contains affiliate links.
What's Included With Pioneer Play Kit & How To Get The Most Out Of It
All toys included in Lovevery boxes are Montessori-aligned and help in early STEM learning. What I love most about these playthings is that they are mostly made from natural wood, instead of plastic, and they are not too flashy or noisy, which means they don't overstimulate the baby.
Race & Chase Ramp
With this side-by-side chasing ramp toddlers can learn about basic concepts like cause & effect, motion and changing direction.
What's more, this ramp has two tracks and two cars therefore kids can use it for racing competitions.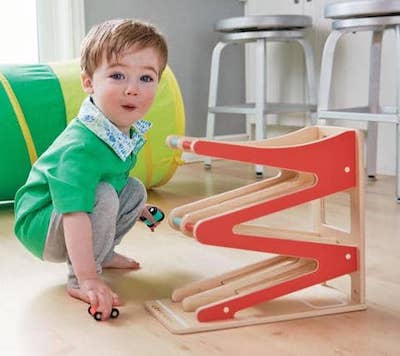 Lots of toddlers love playing with cars and racing and this way they can learn about honest rivalry, how to play fair and how to deal with various emotions when you win or loose, while having a blast! It's also a great way for siblings to learn to play together by taking turns.
It's a good exercise for coordinating both hands if one child plays with two cars simultaneously.
PRO TIP: If you want to get just the chase ramp for your toddler – check out this Imaginarium Drop & Go Ramp Racer. It's also made from wood and teaches the concept of cause and effect, as well as motion. Siblings can still play with it and take turns, but it's not as entertaining and educational as Lovevery Ramp, because it has just one racking track.
Community Garden Puzzle
One-piece puzzles are the perfect way to introduce your toddler to jigsaw puzzles. Lovevery nature puzzles include pictures of vegetables and a gardening tool. All pictures are realistic, and they teach children about the surrounding world.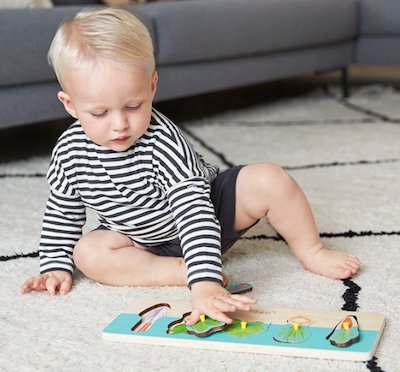 Moreover, they allow them to practice pincer grasp. Each piece has a small knob – that is easy to grab with little fingers.
All pieces vary in shape and size therefore it is easier for your toddler to differentiate them. Each puzzle piece fits only in one place – the difficulty level of this game is just right for 1.5 year olds. Figuring out how to fit the piece into the right spot make take some time, which means this game won't get boring for your little one so quickly.
Community Garden Puzzles facilitate learning shape recognition and matching, as well as understanding how objects fit together. These are very important cognitive abilities – foundation for mathematical skills and logical thinking.
What I like most about Lovevery Pioneer Puzzles is that they are made from wood which means they are safe for little explorers and more durable.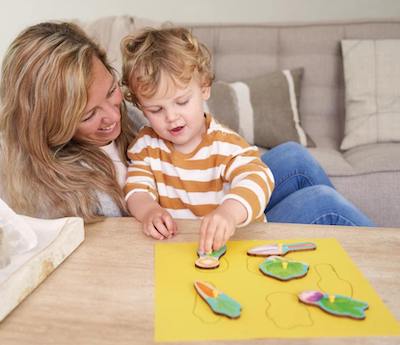 Here's a cool DYI idea for playing with this these puzzles. Draw the contours of each element on a piece of paper and then ask your child to match the puzzles – just like in the picture above.
This is more difficult activity for toddlers who have already mastered the wooden board. It's a great exercise for shape recognition.
Threadable Bead Kit & Drawstring Bag
Threading is a fine motor activity – perfect for toddler who are still mastering dexterity and precise movements of their little fingers and wrist rotation. I only wish there were a few more pieces and a second string.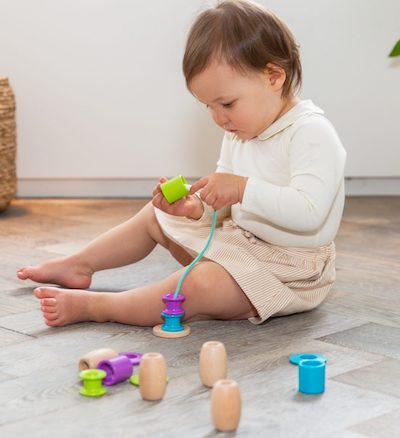 Playing with this bead kit is also a great training for coordinating both hands. It strengthens the connections between the two hemispheres in your child's brain and prepares him for more complex bilateral coordination activities like jumping jacks, jumping rope, catching ball with two hands, playing piano and more.
There is also a drawstring bag for this bead kit for easy storage. You can also use it to continue teaching your kiddo that objects still exist even if you don't see them (object permanence).
Wooden Stacking Peg Board
Stacking is another activity that allows kiddos to train fine motor skills, as well as hand-eye coordination. Putting the rings on the peg helps children to understand spatial relationships and how objects fit together.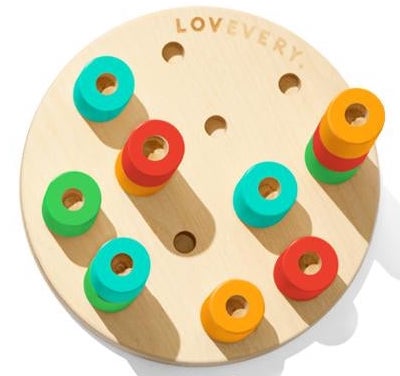 Lovevery Pioneer Play Kit includes stacking rings in 4 colors so you can use them to teach your children how to recognize and copy patterns.
Simply stack a few rings and ask your toddler to copy this pattern and build a tower by stacking rings in the same order of colors.
Noticing regularity and understanding patterns is a very important skill, because it requires logical and algebraic thinking which are necessary for more complex math skills. And of course these wooden rings provide opportunity to train counting.
Moreover, playing with wooden stacking rings is fun for the whole family and it is the perfect opportunity to strengthen the bond between parents and the baby.
Fuzzy Bug Shrub
This is another smart plaything for stimulating two-hand coordination. It comes with 6 Velcro insects that kids can stick, pull or hide. It's a good practice for dexterity, building finger strength and training pincer grasp.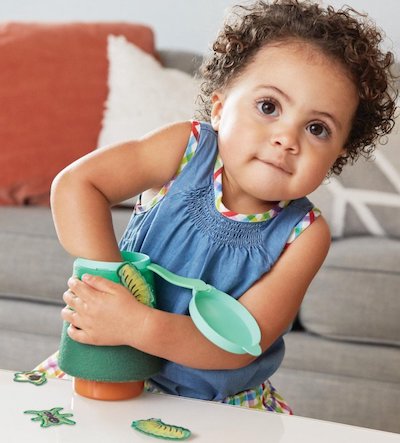 What's more, these Velcro critters introduce children to the world of insects. Just like in puzzles, the pictures are realistic which makes it easier for babies to learn about the surrounding world and facilitates building mental representations (cognitive symbols) that represent external objects.
"Max And Nana Go To The Park" Book
Emotional regulation starts in toddlerhood, but the ability to fully manage and control your emotions usually develops up to 8-9 years.
During this time, it's important to support child's emotional development and teach them healthy emotional self-management and how to deal with emotions like anger, fear, sadness and more.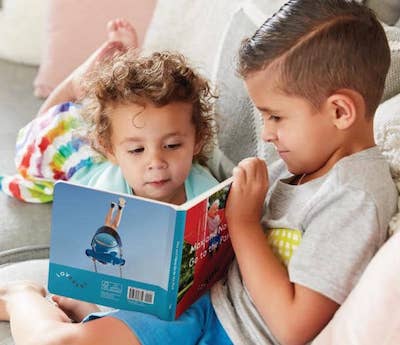 "Max And Nana Go To The Park" board book can be a great help for training self-regulation and teaching how to manage emotions. It makes you and your baby to analyze how do you feel when you get hurt and stimulates learning to monitor, understand and modulate emotions.
The story in this board book encourages to talk about emotions which is a very important skill – but as we all know, it's also a very difficult thing to do regardless the age.
That's why it's so important to teach your child to talk about their emotions from an early age. This is also a fantastic way to strengthen the parent-baby bond.
PRO TIP: If you're looking for a book to help your little one recognize and express emotions check out this book. It's a great start for teaching emotional control.
Play Guide For Months 16, 17, 18
Just like all other Lovevery play kits, Pioneer includes a play guide backed by thorough research with recommendations for DYI activities, ideas for meaningful and educational playtime at home, tips and useful information about your child's developmental stage and milestones during months 16-18.
I think this play guide is very helpful especially for first-time parents, because it show you what changes you can expect in your child's social, emotional, communication, and motor development.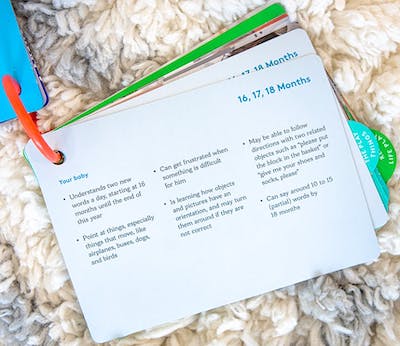 Should I Buy Lovevery Pioneer Play Kit? – Final Thoughts
I think the Pioneer Kit is an amazing choice for 1.5 year old child. All those educational playthings included in this box facilitate learning and developing new abilities.
In contrast to many other toys, they have simpler design, yet they are much more entertaining, fun and teach various skills.
They are adjusted to child's development milestones and specific sensitive period when the child is ready to learn new things. Pioneer box supports STEM learning and doesn't overstimulate the baby.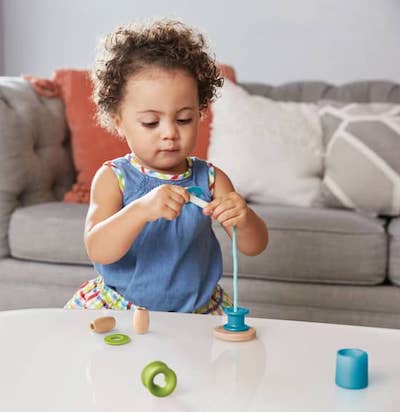 Of course you can create similar box for your toddler on your own and buy similar toys separately (for example on Amazon), but they won't be as nearly engaging or won't have such a huge educational value as Lovevery toys.
Besides, I checked the Amazon alternatives and the price would be the same or even higher!
The best thing about Lovevery box is that the brand did all the work for you – the toys are designed by child's development experts and chosen appropriately for your toddler's sensitive period to facilitate learning. At the same time they are so funny and keep children occupied for longer time.
Pioneer Play Kit Review – FAQ
A few more words about Lovevery play kit to make your decision easier.
Are Lovevery Play Kits Worth It?
In my opinion Lovevery kits are worth the money, because all toys that they include have higher educational value than most baby toys!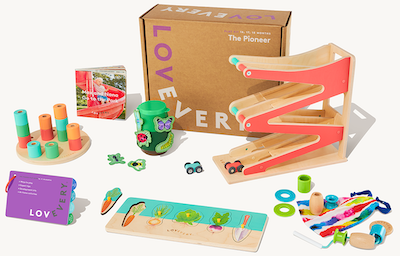 Most of the Lovevery toys are made from wood which means they are non-toxic and durable. They are simple and contain realistic pictures which makes it easier for babies to get to understand the world.
Even though Lovevery play kits have simple design, they offer multiple ways to play with them and stimulate various abilities.
All playthings are Montessori-aligned and designed by child's development experts. Each play kit contains toys carefully chosen for specific developmental stage and milestones to facilitate learning during specific sensitive periods.
They are not too hard – to avoid kid's frustration, but also not too easy – so the toddler doesn't get bored with them too quickly.
And the most important thing – wooden toys included with the play kits make only natural "wood" sounds, there are no weird, artificial, noisy sounds or flashy colors and lights. This way Lovevery play kits protect your child from overstimulation.
>> Comparison Of Lovevery vs. Monti Kids Play Kits
Where Are Lovevery Toys Made?
Lovevery toys are made in China.
---
Related articles:
>> Lovevery Babbler Kit Review
>> Best Wooden Building Blocks For Toddlers & Kids
>> Is Lovevery Play Gym Worth It? – Review
---
The purpose of this article is informative. It's not a substitute for medical consultation or medical care. Remember: safety first! Consult your doctor/pediatrician in case of any doubts. The author of this article does not accept any responsibility for any liability, loss or risk, personal or otherwise, incurred as a consequence, directly or indirectly, from any information or advice contained here.
Your trust is really important to us: This article includes affiliate links to products that we think are useful for our readers. If you make a purchase through these links, we may earn a small commission at no extra cost to you. Your support helps us run this blog – thank you!
Pictures of the Lovevery Pioneer belong to Lovevery brand.