Nursing camis and tank tops are one of the must-have nursing clothes that should be in every new mother's closet. Whether you're looking for the most comfortable maternity cami or the best nursing tank, I'm here to help you narrow down your choice. I picked the most amazing nursing clothing designed for breastfeeding mama's comfort and convenience.
This article is not a substitute for medical advice. It contains affiliate links.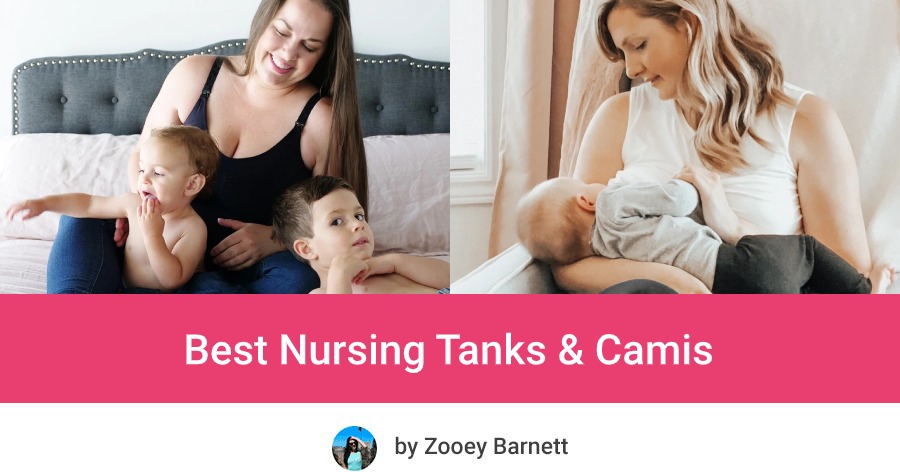 Tank tops and camis are a wardrobe staple for all women. During warm weather you can wear them for lounging around the house. They are also perfect for heading to the gym or doing workout at home. In colder months, you can wear them as layering piece under shirt, sweater, cardigan or jacket. They offer you extra layer of warmth and modesty, but also lengthen your silhouette.
Tank tops and camis come in very handy when you're pregnant and breastfeeding too! But there are a few differences between classic tanks and nursing tanks. The latter ones have convenient cutouts or drop down cups for easy breastfeeding access and they are made from super soft materials with a touch of spandex or elastane so they could adjust to mom's changing body.
Now I'll tell you what to look out for when searching for the best nursing top and share my favorite women's maternity nursing tanks.
Best Features
❤️ Functional & comfy tank with built-in bra that provides excellent support (no need for separate bra!). Fabric stretches out and hugs your changing body.
❤️ Most cozy and breathable tank top for easy nursing. It's a great choice for moms who prefer loose-fitting nursing clothes over slim-fitting ones.
❤️ Great inexpensive camis for pregnancy and breastfeeding. Pretty lacy racerback adds feminine look.
Recommended by
✨ Recommended by 3000+ mamas!
✨ Recommended by 100+ mamas
✨ Recommended by 90+ mamas
My Personal Choice - Best Nursing Tank
Best Features
❤️ Functional & comfy tank with built-in bra that provides excellent support (no need for separate bra!). Fabric stretches out and hugs your changing body.
Recommended by
✨ Recommended by 3000+ mamas!
Best Breathable Tank Top For Warm Weather
Best Features
❤️ Most cozy and breathable tank top for easy nursing. It's a great choice for moms who prefer loose-fitting nursing clothes over slim-fitting ones.
Recommended by
✨ Recommended by 100+ mamas
Cheap Nursing Camis
Best Features
❤️ Great inexpensive camis for pregnancy and breastfeeding. Pretty lacy racerback adds feminine look.
Recommended by
✨ Recommended by 90+ mamas
Last update on 2023-09-30 / Affiliate links / Images from Amazon Product Advertising API
Nursing Tank Styles
There are a few different nursing tank top styles. I'll briefly explain differences between two most popular styles to help you choose what's most comfortable for you.
Tank Top With Double-Layer Design – This type of nursing clothing has wide non-adjustable straps, but you still have an easy nursing access thanks to double-layer style. The top layer can be pulled up and the bottom layer can be pulled down. This style of nursing clothing minimizes the skin exposure when you breastfeed in public. Two layers of fabric also give you extra discretion and you can drape the fabric to create breastfeeding coverage. Loose-fitting nursing tanks usually don't have built-in bras so you will need to wear special maternity bra underneath for extra support. They don't cling or suck to your body and they are perfect for mom's who don't like slim-fitting clothes. They are comfy to wear during pregnancy, postpartum and breastfeeding.
Camisole With Spaghetti Straps & Clip-Down Bra Cups – This style usually has a built-in bra that offers good support, lift and separation. In most cases there's no need for special nursing bras under nursing camis. Thanks to adjustable straps with nursing clasps, breastfeeding is effortless, whether you're at home or in public. You just need to undo the strap and fold down the cup. This style of nursing and maternity clothes is usually slim-fitting and thanks to elastic materials it hugs your body (throughout pregnancy and postpartum). One of the advantages is that you can use camis as a bottom layer under your everyday clothing.
7 Best Nursing Tank Tops & Camis – For Pregnant & Breastfeeding Mamas
Nursing in a cardigan or t-shirt is not an easy job, especially if you don't like to expose your body in public. That's why tank tops and camis designed for nursing mothers are so awesome and convenient!
Finding a supportive nursing tank that doesn't compress your belly and bust and doesn't roll up, isn't that easy. But don't worry, I did the hard work for you!
Here are my favorites – the best nursing tanks that you will love to wear day and night.
After testing 20+ tank tops when nursing my 3 kiddos, I found Kindred Bravely Simply Sublime to be the most comfortable and supportive nursing tank top with built-in bra!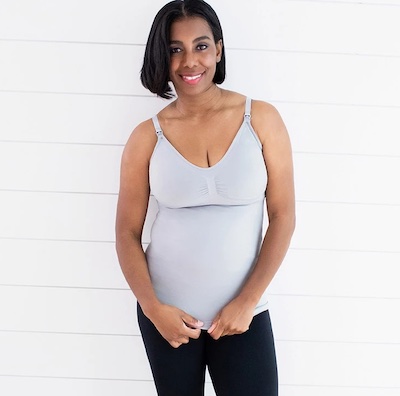 It's so comfy and functional that you can use it throughout pregnancy, postpartum, nursing and even later! I started wearing it during my first trimester with twins – it was so convenient that I didn't have to wear a special nursing bra under it. This tank is really supportive in the breast area.
I have 3 of these and wore them almost everyday when I was breastfeeding my boys. To be perfectly honest, I still wear them from time to time, even though I stopped nursing long time ago! I still love how soft this tank feels and how it hugs my stomach and bust.
It has built-in bra with removable padding which means you don't have to wear a special maternity/nursing bra underneath. The padding provides extra lift, support and discretion, but you can take it out if you don't need it or when your breasts get swollen and more sensitive. It may be also more comfortable to sleep in this nursing tank without the padding.
There are no underwires which means nothing digs into your skin (no pressure on ducts!). Yet, this top supports breasts really well thanks to ribbed, knitted panels and inner side slings that lift and separate breasts. This prevents mono-boob and sagging boobs.
The cups provide good coverage and there are convenient clasps for quick breastfeeding access. You can unclip both cups for skin-to-skin contact with your newborn baby. There's one more advantage – the clip down cups are easy to handle with one hand so you won't have to struggle with them for example when you need to nurse in the middle of the night.
According to moms who own Kindred Bravely nursing tanks, they work fantastic with wearable breast pumps like Willow or Elvie. In contrast to many other tops, these are very supportive and strong enough to hold the pumps.
PRO TIP: If you plan on using electric breast pump like Medela or Spectra, I recommend you a different version of this tank: this Sublime Hands-Free Pumping Tank. It has additional openings in the breast area for breast pump flanges. It will allow you to pump hands-free, and trust me – this will be a game-changer!
What you are also going to love about this tank is how stretchy the fabric is – it adjusts to your growing belly and changing breast size. It feels like it snuggles to your body. It doesn't feel tight and nothing jabs in.
It is a bit longer than most of the nursing t-shirts. Thanks to hip-length cut it ensures your baby bump (or postpartum belly) is well covered and there's plenty room for growth. With seamless construction, smooth silhouette and slim-fit design, it highlights woman's figure.
There's one thing to keep in mind. If you like this nursing tank, make sure to choose the size correctly. Some mamas also recommend sizing up and the tank runs a bit small.
It fits cup sizes B-I and band sizes 30-44. It's an amazing choice for both skinny and plus-size mamas.
This is my second favorite nursing tank for moms-to-be and new moms. It's made from cotton fabric which makes it pretty breathable (some color versions are made from rayon).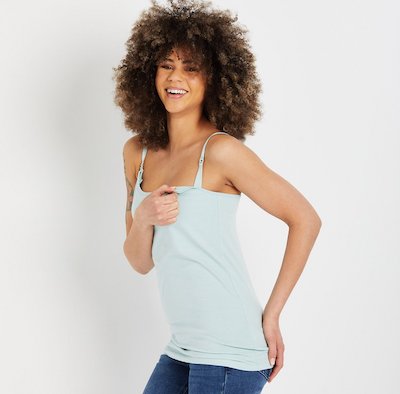 Thanks to a touch of spandex, this cami is stretchy and has a lot of room for your growing belly. You can start wearing it during pregnancy and continue throughout postpartum, nursing and beyond!
There's built-in shelf bra therefore you don't have to wear a bra with it. But keep in mind there's no additional padding. This means it offers only light support. Because of that, some moms wear a nursing bra under it. The good news is that the fabric is quite thick so it's a still good choice for moms who prefer more discretion.
This maternity cami has drop down cups so you could always have a quick nursing access. It also make this top perfect for skin-to-skin snuggles.
I really like the design of this cami – it's not super tight, but it's not loose or saggy either. It will highlight your figure, but won't suck to your body that much.
This sleeveless, scoop-neck nursing top is awesome for every day wear. You can pair it with pajama pants and wear it to bed or when you lounge around the house. It's stylish enough so you could wear it outside the house – just pair it with a shirt or cardigan.
Motherhood Maternity Nursing Tank is available in multiple beautiful colors. They all look flattering, but my personal favorites are: black, blue haze and navy. You can check currently available colors and prints here.
There are two things that you should keep in mind. Because of low cut in the neck area it doesn't offer full coverage for breasts (or if you wear a bra, the top part is exposed). Besides, this nursing camisole runs a bit large.
>> Check out the best maternity sleep bras for pregnancy and breastfeeding
>> Cozy nursing nightgowns and pajamas for new moms
What I love about this nursing tank top is its breathable fabric. It's made from bamboo which is a natural and moisture-wicking material, with a touch of spandex for better elasticity.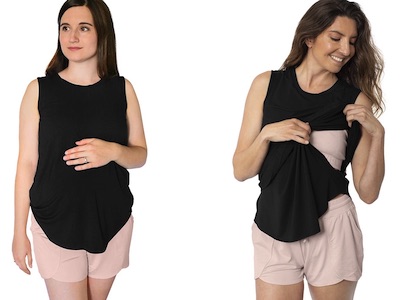 I think this top is perfect not only for sporty moms, but for any mom who lives in a warm/humid climate or experiences hot flashes during first or third trimester. Living in Miami and being pregnant with twins made me feeling sweaty pretty much all the time. This tank top was a game-changer because my skin was breathing and it was finally dry, instead of sticky!
This tank top has loose-fitting design and wide shoulder straps which distinguish it from other tanks in my ranking. It's a fantastic choice for mamas who don't like slim-fitting clothes or shoulder straps constantly sliding off.
Bamboo Tank Top feels incredibly soft and cozy – it was so comfy to wear when my baby bump was huge (and my skin was itchy and sensitive) and I loved wearing it after the birth too. It looks stylish enough so you could wear it when you're going out. I'm still wearing it sometimes, especially in spring and summer, even though I'm not a breastfeeding mama anymore. It's just feels so comfortable and lightweight!
In contrast to other nursing tanks, this one doesn't have built-in bra, so you will need special nursing bra that will lift and support your breasts properly.
This tank top has double layer construction with one hidden underlayer that provides easy breastfeeding access. It's a great option for moms who prefer more discretion when nursing. This additional layer ensures extra coverage, but it's not clingy and it doesn't feel tight. You can drape the material to create nursing cover.
I was really surprised to see how functional this tank top was and it felt really convenient and easy to breastfeed in it.
Moreover, thanks to loose design, this tank doesn't roll up and the fabric doesn't creates pressure points on your breasts, tummy or hips.
I have to admit that Kindred Bravely is my favorite maternity clothes brand and I love the fact that their products are designed to make nursing mother life easier!
PRO TIP: This tank top is perfect to be paired with these Bamboo Maternity Shorts. They have adjustable soft waistband so you can wear when throughout pregnancy and postpartum. These shorts are perfect for lounging, relaxing or working from home. The fabric is also breathable, thin and lightweight which makes them fantastic for warm weather.
Some moms say this tank top has a bit less feminine look, but I think it's a matter of taste. For me, its minimalist look is an advantage.
This lovely nursing tank has built in bra with molded cups. It offers moderate support which means there's no need for special nursing bra.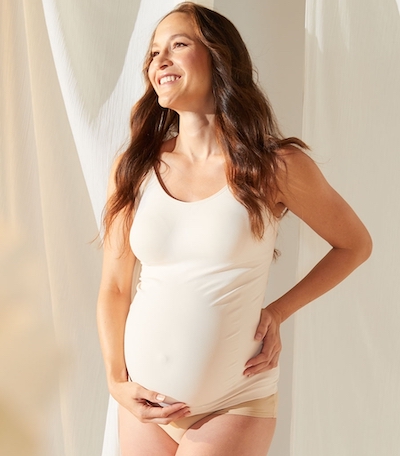 It feels just as supportive as my no. 1 – Kindred Bravely Simply Sublime Top. Even though it supports chest really well, it still offers more relaxed fit, and it doesn't feel as restrictive as a bra.
Moreover, it's made from super soft and stretchy fabric (nylon + elastane)- it doesn't irritate delicate skin, and it's perfect for tender breasts. Thanks to seamless design it feels smooth and you can wear this cami under your clothes. The fabric doesn't ride up which is a huge plus.
Another advantage is that the bra separates breasts really well so you won't have mono-boob. There are also side slings that prevent your breasts from moving from side to side.
Because leaking may happen, especially in the first few weeks after the birth, you can also slide nursing pads in for extra protection.
This top has just the right about of tightness in it – it shapes your body but doesn't squeeze it.
The length is just perfect for covering baby bump or postpartum belly.
You will also like the one-hand nursing clasps on the cups which allows you to breastfeed with ease.
So why, despite all those amazing features, is Cake Maternity Tank only no. 4 in my ranking? The main reason for that is its price. It's more of a high-end product and I'm aware that not all moms can afford it.
But if you have more flexible budget, this nursing tank is definitely worth the splurge and I'm sure you are going to love it!
Keep in mind that Cake Maternity nursing tanks only fit cup sizes B-G and band sizes 32-42.
This is one of the best nursing camis: it has a simple but cute design and it's not expensive. It's functional, versatile and stylish – so you could wear it every day during pregnancy and nursing journey. Lots of moms think this cami is a wardrobe staple. It looks great with various outfits and you can wear it as a layering piece.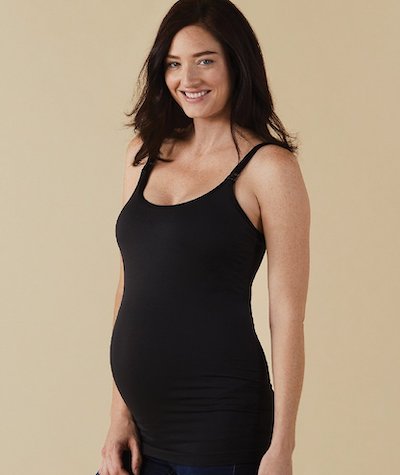 BRAVADO! DESIGNS Nursing Cami is made from elastic fabric therefore it easily expands and contracts depending on your body size and shape. It hugs your baby bump or postpartum tummy without putting any pressure or feeling restrictive.
This nursing cami has built-in shelf bra that provides good lift, support and separation for breasts. It has removable foam inserts which give extra shape and discretion. The good news is that you can also add nursing pads for extra protection from leakage.
The bra doesn't have back closure, but there are easy to use nursing clips that allow you to breastfeed without exposing your stomach. Thanks to drop-away cup design you can enjoy skin-to-skin contact with your little one.
This seamless nursing cami has adjustable straps and it's long enough to cover pregnant belly. If you're looking for extra long nursing tank – this is a great option.
I only wish this maternity and nursing tank was available in bigger sizes that would fit larger breasts too. It only fits cup sizes B-F and band sizes 32-44.
If you're on tight budget, you will love this loose-fitting nursing tank top. It's made from rayon+spandex blend which makes it soft, stretchy and quite breathable.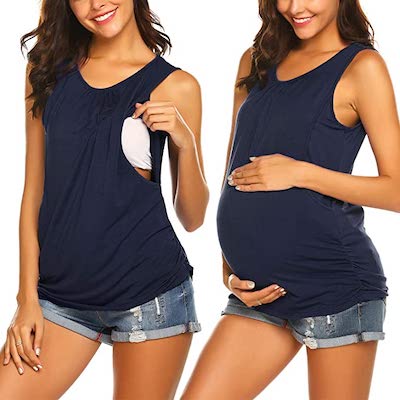 The fabric easily expands for your changing body. Whether you're pregnant or breastfeeding mama, this tank will feel extremely comfortable. You can wear it as a nightshirt.
This nursing tank top has double layer design which means it has convenient cutouts that allow you to pop your boob out when it's time to nurse.
It doesn't have clip-down adjustable straps like nursing bras. Instead, it has wide straps like a tank top. Thanks to pleated sides and o-neck, it looks flattering.
Keep in mind that Ekouaer Women's Maternity Nursing Tank doesn't have built-in bra which means there's no support in the bust area. You will need to wear a nursing bra under it.
There's one more thing that you should remember, if you plan on getting this cami. Ekouaer nursing clothes are quite cheap and some moms complain that the fabric starts to pill after a few washes.
PRO TIP: If you're on really small budget and need a few nursing tank tops, check out this bundle with 3 iloveSIA Nursing Camis. Each features built-in bra with removable foam padding that provides additional discretion and prevents sagging. Wire-free clip-down cups ensure quick nursing access. Thanks to extra length, this seamless nursing cami provides coverage that pregnant and nursing mamas need. But keep in mind these inexpensive nursing tanks may wear out pretty quickly.
What distinguishes HOFISH Tunics is the racerback design with romantic sexy lace. Thanks to loose-fitting design and empire waistline this cami looks really pretty on baby bump. It's a great choice for women who don't like slim-fit nursing clothes.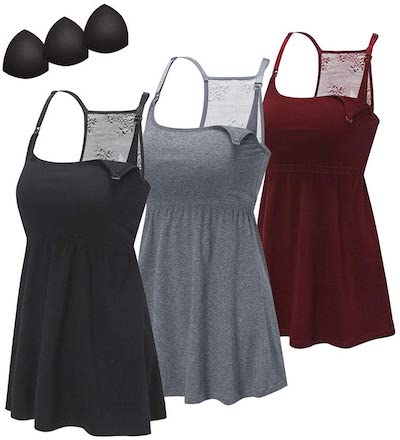 This loose maternity tunic can serve you throughout pregnancy and nursing. It feels comfy and offers plenty room for your growing bump and bust.
There's some soft of built-in bra – two layers of fabric and removable padding in the breast area that provide light support and shape. But there are no molded cups like Kindred Bravely or Cake Maternity tanks have.
Thanks why I would recommend wearing nursing/pumping bra under this tunic for extra lift and support, especially during the day. If you'd like to wear these nursing tanks to bed, you probably won't need a bra.
There are spaghetti straps with adjustments and clasps that allow you to drop the cups fully for nursing or skin-to-skin snuggles with your newborn baby.
This is probably the cheapest option among the best nursing tanks. You can get 3-piece bundle for less than $30! There's one complaint that I have about these nursing tanks tho – color options are very limited.
>> Looking for maternity & nursing swimwear? Check out the best breastfeeding swimsuits
Best Nursing Tanks For Breastfeeding Mama In 2022 – FAQ
Here are some basic information about nursing clothes that every new mom should know.
Do You Really Need Nursing Tank Tops?
Generally speaking nursing clothes are worth it because they make breastfeeding much easier, especially when you're in public. They offer you more discretion and allow you to nurse without exposing too much of your body.
If you'd have to feed your baby while wearing a normal t-shirt or tank without any openings or nursing clasps, you would have to pull it up, fully expose your tummy and breasts.
Thanks to cutouts, openings, double layers of fabric that you can drape, or straps with clasps, maternity and nursing clothing is really convenient. If you're a new mom, you will really need nursing tank tops. They will make life with a new baby so much easier!
If you're good in DYI, you can also try to convert your own pre-pregnancy tanks and camis into nursing tops. On Pinterest you can find some cool ideas how to do this.
I think nursing clothing is a must-have but if you're on a budget, you can make your own tanks for breastfeeding!
What Tops Are Good For Nursing?
Tops with double-layer design or special cutouts are good for nursing. You should pick tanks or camis that allow to easily pop the boob out whenever you need to feed your little one. Make sure to pick clothing that makes you feel comfortable. If you prefer more discretion when you nurse in public, choose a top with two layers of fabric that you could drape – this will give you more breastfeeding coverage.
Do You Wear A Bra With Nursing Tanks?
You don't have to wear a bra with nursing tank if it has built-in shelf bra that provides good support, lift, shape and separation for your bust. However, if there are no cups, you should definitely wear a special nursing bra under the tank – it will support your breasts and prevent sagging.
For some moms, nursing tanks with molded cups are more convenient to wear because there's no need for separate bra and there's less clothing that you have to undo or pull down when you need to nurse. This means that camis with adjustable straps usually offer quicker breastfeeding access.
---
The purpose of this article is informative and entertaining. It's not a substitute for medical consultation or medical care. Remember: safety first! The author of this article does not accept any responsibility for any liability, loss or risk, personal or otherwise, incurred as a consequence, directly or indirectly, from any information or advice contained here.
Source of pictures:
Picture at the top of the article was created with photos that belong to Kindred Bravely. All pictures of Kindred Bravely tanks belong to Kindred Bravely brand. Source: https://www.kindredbravely.com/
Picture of Cake Maternity nursing cami belong to Cake Maternity brand. Source: https://www.cakematernity.com/
Pictures of Motherhood Maternity clothing belong to Motherhood Maternity brand: https://www.motherhood.com/
Picture of Ekouaer maternity clothing belongs to Ekouaer brand. Source: https://ekouaer.net/
Picture of HOFISH nursing clothing belongs to HOFISH brands. Source: https://www.hofish.net/
Picture of BRAVADO! DESIGNS nursing cami belongs to BRAVADO! DESIGNS. Source: https://bravadodesigns.com/