Are you looking for a double stroller alternative for trips to woodlands and moorlands? Or maybe your child has already outgrown your stroller and you need something bigger for daily use? Stroller wagon combo may be just what you need!
Stroller wagon hybrids combine functionality of strollers with a wagon's large capacity. It's not surprising they get more and more popular lately.
However, stroller wagons are quite new on the market and parents have a lot of questions about them: "Can it be an alternative to a big kid stroller?", "What features these wagons can offer parents?", "Aren't they too big for an everyday use?" and of course: "Which stroller wagon is currently the best?".
Keep reading and you'll find answers to these and many more questions.
My 2 Favorite Stroller Wagons
First of all, I need to tell you that there are plenty wagons on the market which are design only for play – for pulling kids in the backyard, but that's it. These wagons don't provide enough comfort or safety features to use them every day instead of a stroller. They are not the subject of this article.
However, there are also stroller wagon hybrids that actually can be used instead of a regular stroller. There are two models worth mentioning: Keenz 7S Stroller Wagon and Veer Cruiser Stroller Wagon Hybrid (review and comparison below).
They provide comfortable space for two kids, even for long strolls. They were designed for parents who like day trips and exploring outdoors with their kids, especially those older, big kids. They are also perfect solution for older children with special needs who can't fit in regular stroller anymore.
This article contains affiliate links.
Keenz 7S Stroller Wagon

LittleBabyGear Verdict: Best Affordable Stroller Wagon For Toddlers & Older Kids

Lighter than many double strollers

Suitable from 12 months and up (even for 6 and 8 year old!)

Padded interior – fabric is removable and washable

Fully-equipped and functional (storage basket with compartment for shoes, canopy with side curtains and storage cover – included!)

Best quality at medium price range (Check availability & price)
Veer Cruiser Stroller Wagon Hybrid

LittleBabyGear Verdict: Best Stroller Alternative Usable From Birth Up To 5 Years

Suitable from birth (works with car seats and converts into a bassinet)

Can hold two kids, each up to 55 lbs (about 5 years)

Equipped with an extendable footwell

Two cup holders and snack tray included!

Modern, stylish design

High price range (Check availability & price)
Stroller Wagon Features – My Review Of Keenz & Veer Wagons
What similar features they have and what differentiates them? And what's most important: what makes Keenz 7S and Veer Cruiser currently the best stroller wagons on the market?
1. Quality & design
One thing is for sure, you won't find wagons with better quality than Veer Cruiser and Keenz 7S. They are simply the best when it comes to durability, quality of materials and fabrics, and thoughtful design.
Seriously, when you look at some of other wagons on the market, they seem to be more suitable for dolls, maybe a small dog, but definitely not kids! With Keenz and Veer it's a completely different story.
These two wagons are designed to accommodate two kids. Each has two seats and total capacity of 110 lbs (55 lbs per seat).
And both these wagons are built to last: they are sturdy and strong enough to hold that weight and serve you for a few years.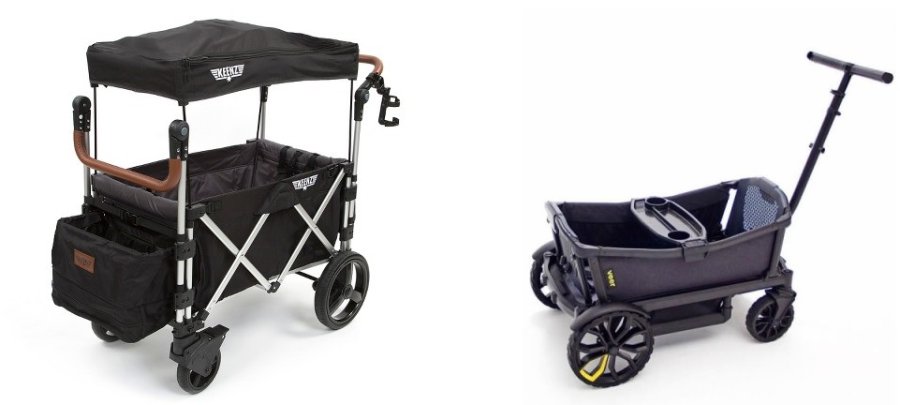 2. Wheels, suspension & maneuverability
Veer Cruiser and Keenz 7S Stroller Wagon have really nice wheels that can handle rough terrain. That's why these wagons are useful for active parents who live in area where there are a lot of dirt, unbeaten roads.
I did some online research and found out that many parents consider buying wagon instead of stroller, but they are afraid it will be really hard to pull with two kids on board. But there's no need to worry about that!
Front wheels on Veer Cruiser swivel to give you better maneuverability and easier turning in narrow spaces. There is also front-wheel suspension that smooths the ride over uneven terrain.
There are large rear wheels with fenders to protect passengers from mud and debris.
Thanks to big, rugged tires Veer wagon stroller can ride over grass, country dirt roads and snow. It's performance on sand is fairly good (if it's not too soft and loose).
There is one-touch flip flop friendly brake (it's located below the handlebar) – easy to use even barefoot.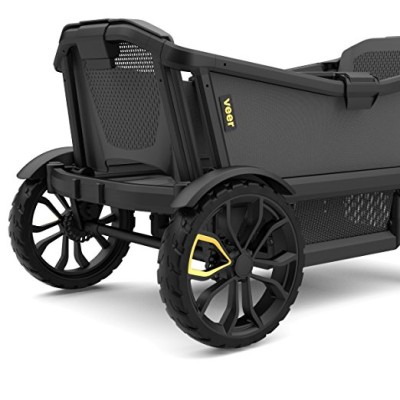 The wheels that Keenz wagon stroller comes with have rubber, non-inflatable tires. Front wheels pivot which makes Keenz 7S more agile. But you can also lock them in straight position, just like in jogging strollers. It's very useful when you're going over harsher terrain.
This stroller wagon is equipped with one-touch parking brake. There are also two additional brakes – one for each smaller wheel.
Keenz wheels are suitable for rough terrain like gravel, grass, bark chips, dirt roads, but only hard-packed ones. On sandy beach they work worse (depending on how deep is the sand).
But don't worry! Keenz offers special beach wheels that easily handle soft, loose sand. This type of wheels is bigger, wider and has greater tread depth. You won't find stroller wagon with better wheels for beaches.
I found this great video were you can see the comparison of the regular wheels and beach wheels for Keenz wagon stroller. Although the regular wheels may work on sand, beach wheels are a good investment if you're going to visit sandy beaches often. The ride is smoother for the kids and pulling the wagon is easier for the parent.
LATEST UPDATE: Keenz is currently redesigning the beach wheels to make them all-terrain. The previous beach wheels (these ones) won't be available again. The new All-Terrain Wheels will be available this Summer (late May-June) – according to Keenz Facebook Page.
3. Seats & seating options
Stroller wagons are really roomy and can be used for a longer period of time, when the stroller seat is not capacious enough to accommodate big toddler or older kid. They are also great option for tall kids.
Besides, in wagon strollers kids sit facing each other which is so much fun!
Okay, now let's take a closer look at Veer and Keenz interiors. You'll notice they look completely different.
Keenz 7S has fully padded interior. There are two seat cushions, the backrests are cushioned as well. Side walls are also covered with fabric, no sharp edges, everything is smooth and soft.
Oh, and you don't have to worry out spills and stains. You can easily take the whole fabric off and wash it.
I love high walls and 5-point harnesses with soft padding on the straps. You can be sure that in Keenz your children are safe and buckled securely in place.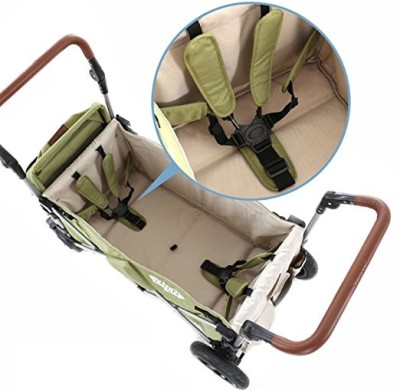 There's one small drawback when it comes to Keenz wagon interior: there is no footwell. It rather doesn't bother kids, but it does mean that padding on the wagon floor will quickly get dirty.
The seats on Veer Cruiser stroller wagon hybrid are built-in and have vented backs that allow for air circulation even on summer days. There is also an extendable footwell, which other wagons (including Keenz) lack!
So the interior has two heights and there is actually place for passengers feet. Big advantage.
The side walls are soft and covered with fabric for passengers comfort. The whole construction is very strong and durable. The materials are also water repellent, stain and fade resistant. However, the seat is plastic and the backrest is rubberized, but there is no padding or cushion at all. I wish the padding was included. As for now – you can only purchase it separately.
I also wish the 3-point harnesses (one for each seat) had some padding.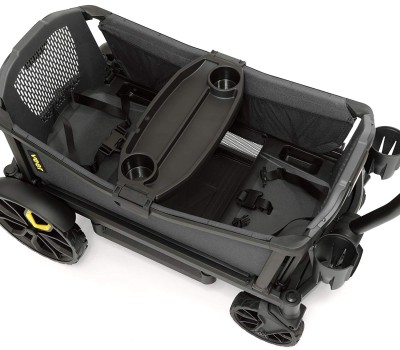 The sides of Veer wagon stroller are shorter than on Keenz 7S. Thanks to that even smaller and shorter children have 360° views. I'm sure your curious toddlers will be happy in it! However, I'd be a bit worried if my frisky 2-year-old boys were trying to venture out or trying to touch the ground or wheels. Good thing is that rear wheels have fenders!
Veer cruiser is a great option for two kids at different age. Moreover, you can use it from birth! For a newborn baby you can add a car seat (there are adapters for example for Cybex and Maxi-Cosi) and the older one can ride in other seat at the same time.
You can also turn it into a bassinet for one newborn – you just need Veer Cruiser Nap System.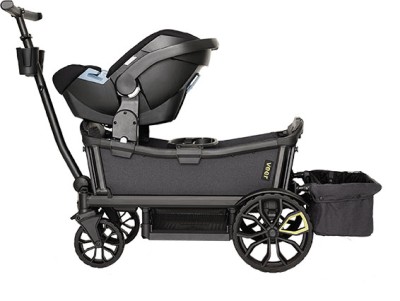 If you want to use Veer wagon stroller for two older kids (for example toddler + preschooler) keep in mind that 5 year old should fit fine, but it may be too tight for a six year old, especially in the leg room.

4. Canopies
Keenz 7S' canopy is fully removable. So you can keep the canopy on a sunny day, to protect your kid from sunburns. And when your kids get taller you can remove the canopy so they could still use the wagon and sit in it comfortably. Even a school kid or taller preschooler can fit in Keenz 7S.
You can also take off the top cover from the roof if you want to provide your passengers with better air-flow (there is a mesh layer).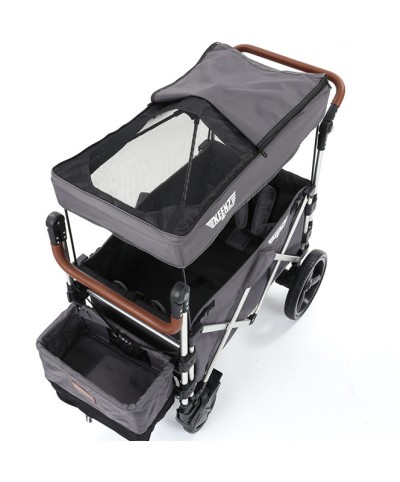 It also has two side curtains to protect your kids and all of your gear from hot sun without blocking air flow.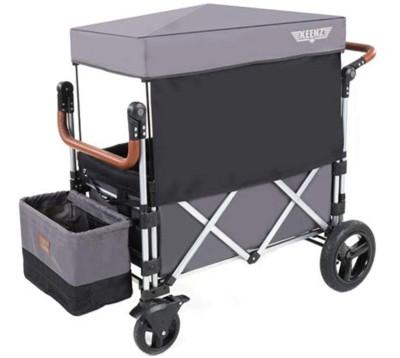 Veer Cruiser doesn't come with the canopy. You need to purchase it separately (at Amazonorat PishPosh). If you want both of your kids to have shade from the sun, you can install two canopies with no problem.
Each Veer canopy has useful side vents which can also serve as peek-a-boo windows.
5. Handlebars
Keenz has two adjustable handles (highest setting is 43") which allow you to either push or pull it.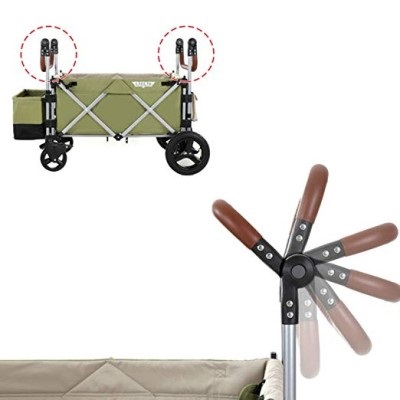 On Veer wagon there's one handlebar that telescopes to adjust to parent height (even for short person like 5'5" and tall person like 6'3") and allow for comfortable pushing. If you want to pull it, you can lower the handle down. You can pull it along like a luggage as well.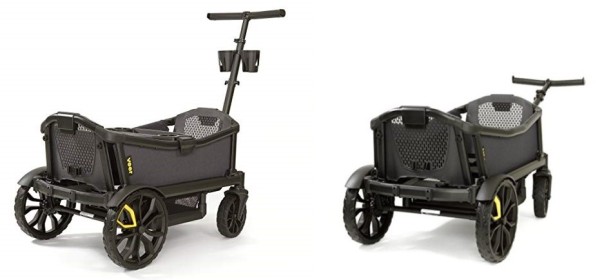 6. Storage space
Inside the Veer wagon there are few storage pockets and pouches for kids' toys or snacks. Unfortunately there is no storage basket for bigger items and you definitely cannot hang your diaper bag on the handle.
But you can purchase Veer storage bin separately (check its price for example at Amazon or at PishPosh). It's big enough to fit all necessities even for a day trip or few shopping bags.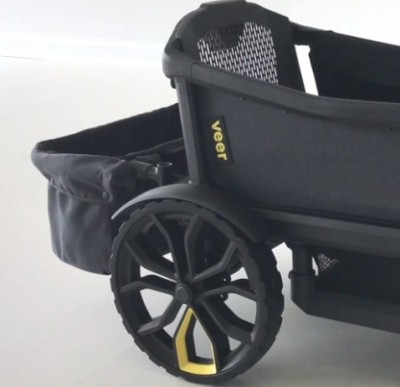 Keenz 7S offers more storage space: it has big storage basket with built-in shoe storage. On the opposite site there are few additional pockets for small items.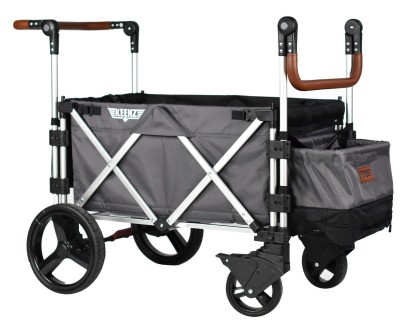 PRO TIP: If you purchase this stroller wagon from PishPosh Baby store, you will receive a cooler (that fits inside the storage bin) and a cup holder!
Keep in mind that Keenz wagon sells out quickly – don't wait any longer and purchase it before it's out of stock again!
7. Weight & Folding
Veer wagon folds up flat (even the sides fold down) and features self-stand so you could easily store it at home or in a car trunk.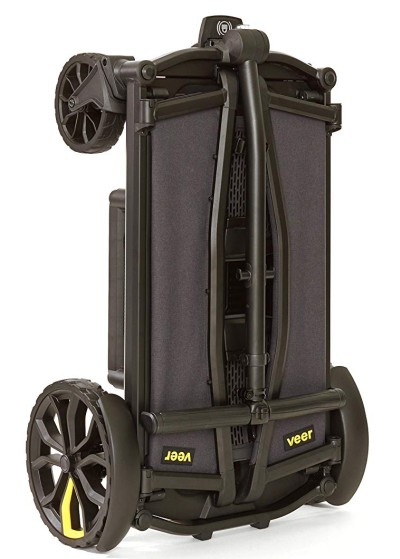 Keenz 7S folds up pretty compact as well (it's few inches narrower and shorter than Veer wagon). Besides, it comes with a storage cover which can be also used for transport and travel. It stands on its own when folded and you can pull it like a suitcase!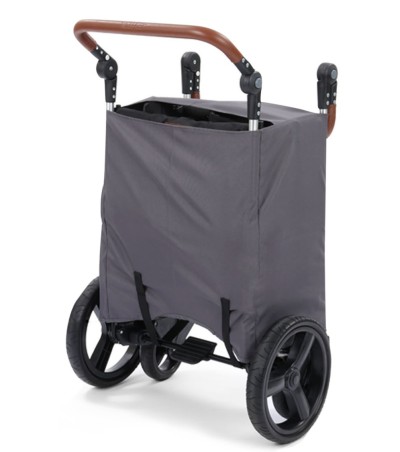 Both these stroller wagons weigh quite a bit (more than a single strollers, but similar to standard double strollers). Without the canopy Keenz weighs about 29 lbs, while Veer weighs 32.5 lbs. Keenz 7S feels noticeably lighter. Nevertheless, lifting and putting both wagons to the car trunk is definitely doable, even for a petite mom.
By the way, Veer weight is similar to many double stroller weight, for example Baby Jogger City Mini GT weighs almost the same.
8. Colors
Stroller-wagons can be fashionable too! Keenz 7S comes in four colors: black, grey, purple and green. I'm sure you'll find something that suits your style!
Keep in mind that some versions may be out of stock sometimes. Don't forget to check the availability before you choose your color.
Veer Cruiser comes with Heather Gray walls and black frame. Now you can also customize sidewalls and canopy and choose 1 of 4 additional colors: blue, orange, white and green. Make your Veer Cruiser as you like it! Find out more about customization on Veer website.
Comparison: Keenz vs Veer – Which Stroller Wagon Is Better?
In the table below I present you the comparison of major features of Keenz 7S and Veer Cruiser.
Table could not be displayed.
Last update on 2020-12-05 / Affiliate links / Images from Amazon Product Advertising API
Okay, so you can see what are the similarities and differences between these two best stroller wagons. But now it's time to answer the question that intrigues many parents: "Which stroller wagon is better: Veer or Keenz?"
Actually it's hard to choose which one is better, because each one has its own advantages and addresses different family's needs. Considering all the features, accessories (also the ones that you can purchase separately) and the price I'd say that Veer wagon is the best stroller alternative which you can use from birth up to 5 years, while Keenz 7S is the best affordable stroller wagon for toddlers and older kiddos.
When you compare both wagon strollers in action they seem quite similar. Both can handle city sidewalks, gravel paths in parks, grass, even the snow. Both are of high-quality – to serve you for couple of years!
Reasons to choose Veer wagon
Veer Cruiser is strong and durable, and it looks awesome. The craftsmanship is perfect and it does have two things that Keenz 7S lacks: compatibility with infant car seats (which means suitability from birth) and footwell. Its price may be daunting for some parents, but trust me – the quality is worth it. If you're looking for a stroller alternative that you could use from birth, then Veer Cruiser is definitely worth considering. Only with Veer you won't need a regular stroller at all.
Of course it may also serve you as a stroller alternative for bigger kids, as it easily fits 4 and 5-year-old children. If you like going to the woods, theme parks, zoos and sometimes go off the beaten path – then Veer is a smart investment.
It's worth to remember that it lacks a few items like the canopy or seat padding, so it's better to have flexible budget if you plan on buying this stroller wagon.
View this post on Instagram
Reasons to choose Keenz wagon
Keenz 7S is functional, user-friendly and really well equipped. It has 2 handlebars, padded interior, padded 5-point harnesses, removable canopy with side sunscreens and mesh top, lots of storage pockets, storage basket and storage cover – all included in the basic price.
Keenz wagon stroller is high-quality as well and you can be sure it will serve you for years. But you cannot use it from birth, only when the child can sit unassisted and has really good neck control. But since it has lower price, it can be purchased as an addition to regular stroller. It can serve as stroller alternative, but only for toddlers and older kids.
Other reasons to choose Keenz wagon? Smaller fold that you can pull like a suitcase, about 3 lbs lighter construction (in comparison to Veer), lockable front wheels, higher side walls and suitability even for 6 or 8 years old kids.
There's one more thing that I need to clear up to you. Veer Cruiser is much more expensive than Keenz 7S but it allows you to skip the regular stroller from the beginning. With Keenz 7S you will still need a stroller for the first 6-12 months, so the amount of money you will spend is actually similar to the cost of Veer wagon! If you plan on buying Veer wagon only for older child(ren) you will need a bigger budget. According to dozens of parents who own Veer – it's worth every penny.
To sum up, I find both stroller wagons top-quality, useful and great alternatives for strollers. I think that Keenz 7S with its awesome equipment and low price is great as an additional vehicle for kids and as a stroller alternative for older children. Veer wagon is suitable from birth up to about 5 years, so if you decide to invest in it, you won't need standard stroller (only the infant car seat). Both these stroller wagon won't disappoint you during day trips and exploring outdoors with your kiddos.
My rate:
---
Regardless of which stroller wagon we consider better, it's clear that some of their features are similar to stroller's functions.
So you may ask now:
Why Would Parents Prefer To Use A Wagon Instead Of A Stroller?
Well, there is one huge difference between these two products. Although many big kid strollers have high weight limit (even 65 or 75 lbs in single strollers) they can accommodate only a 4 or 5-year-old kid. Usually the stroller seat is just not wide and long enough to accommodate older kid! The child outgrows the seat, long before he exceeds the weight limit.
On the other hand we have stroller wagons – which are really roomy and have removable canopy, so the kid can really ride in it for 7 or even 8 years!
Of course there are strollers that are proper for 6 or 7-year-old kid, for example GB Pockit, but it's not suitable for an off-road cruising.
Stroller wagon can be an excellent stroller alternative when:
Your baby grows faster than his peers and already is really big for his age so will quickly outgrow (or already has) your stroller
Your kid is very tall and none of the strollers has backrest long enough
You have a child with special needs who is already too big for regular strollers
You're looking for an alternative to double stroller for trips to theme parks, zoo etc.
However, not only parents of older and big kids buy stroller wagons, some parents start using them with infants! The wagon from Veer can be even used for a newborn because parents can attach a car seat to it or use the wagon as a bassinet. Wagon from Keenz is suitable for kids that can sit unassisted.
Stroller Wagon – Where You Can Use It
You are probably wondering if this wagon is suitable only for off-road cruising or hiking. To be honest, stroller wagon can serve you as alternative to everyday stroller. Many parents take them for shopping to the mall or grocery store, to the parks and zoos.
So just like parents use their single and double strollers for daily errands, shopping, walks and family trips, you can use a stroller wagon for the same purpose. No matter, if your kid is 1 or 5-year-old!
Such a well-equipped, comfy and safe stroller wagon can be your only vehicle for your baby and can serve you from infancy for many years. It can be also very useful with an older and bigger kid and a child with special needs.
Over the last couple of years wagon were very popular in Disneyland, however beginning May 1, 2019 they are no longer allowed there!
Frequently asked questions about kids wagons
Below I answer the most popular questions that parents usually have before they decide to buy kids wagon. If you have any other questions, let me know in the comment section!
Can you use Keenz and Veer wagon at Disneyland?
Before that change, stroller wagons pushed like a stroller, were accepted at Disney. Wagons that could be only pulled were not allowed. However Keenz 7S is JPMA certified stroller-wagon and it was allowed at Disneyland and Disney World, if you pushed it like a stroller. Veer wagon can be pushed like a stroller too, therefore parents could use it at Disneyland. Sometimes Disneyland staff asked parents to prove that the wagon could be pushed like a normal stroller and had brakes.
Lots of parents were using stroller wagons in theme parks, not only for infants (as a stroller alternative) but also for older kids and children with special needs. This was really really useful, convenient and popular solution.
Unfortunately, now all stroller wagons hybrids are prohibited.
Below you can see old photos – taken before Disney World and Disneyland changed their stroller wagons policy.
Can you travel by airplane with stroller wagons?
Obviously both Keenz wagon and Veer wagon are too big to be taken as carry-on, but you can check them at the gate with no issues. I recommend taking the wheels off, so they don't get lost or damaged during the flight.
Can you use these stroller wagons for one child who over 55 lbs?
Keenz and Veer wagons have capacity of 110 lbs each, 55 lbs per seat. If you want to use these stroller wagon hybrids for one child who exceeds seat weight limit, it would be at your own discretion. But I have to mention that I've read that some parents use Keenz 7S for only one child who weighs more than 55 lbs (for example 8 years old child with special needs) and it hold up fine.
Can you use these stroller wagons for 3 kids?
Keenz and Veer have two seats and harnesses for 2 kids. Each can hold up to 110 lbs, so it will probably accommodate 3 kids who don't exceed this limit, but it would be at your own discretion, since one child would not be buckled. I've seen some parents using these stroller wagons for 3 kids though.
However in my opinion, if you want to use a stroller wagon for 3 or even 4 kids, it would be better to get something bigger with the proper amount of seats and harnesses.
A new brand called WonderFold Baby, offers 2 amazing wagons that can accommodate up to 4 passengers. I like this one more, because it has bigger rear wheels and it costs less! It has capacity of 180 lbs and it's only 30.5″ wide (check it in the picture below). Similarly to Keenz and Veer wagons, WonderFold Baby Wagon can be pushed or pulled.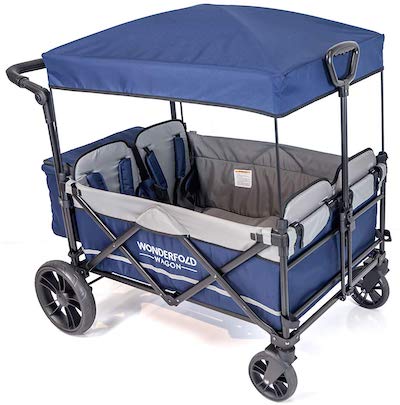 How does stroller wagon compare to a double jogging stroller?
Keenz or Veer wagons are not suitable for running, but they are good for brisk walking. They are less maneuverable than jogging stroller and a bit more difficult to turn, but still these are the best stroller wagons that you can currently find on the market.
Is the interior comfortable for kids?
These stroller wagons are very comfortable and roomy for kids. Many parents use them for children who outgrew normal strollers, even 6 years old! Some parents even say Keenz wagon is so comfy that their children nap in it, few people recommend bringing a blanket for extra cushion. To use Veer wagon for napping you will need special attachment (Nap System).
Keenz vs Veer – which stroller wagon is better for beach?
In general both kid wagons are great for uneven surfaces like grass, hard-packed gravel or bark chips. They can handle some beaches if the sand is not very deep, but if the sand if soft and loose they may get stuck.
However, for Keenz wagon you can purchase beach wheels, specially designed for sand. So if you plan on going to the sandy beaches often, Keenz 7S with beach wheels is better solution.
LATEST INFO: Keenz is currently redesigning the beach wheels. The previous ones won't be available again. The new All-Terrain Wheels will hit the stores this Summer! Yaay! Read more about it here.
Can you use stroller wagons in winter?
Both these stroller wagons can be used all year round. Keenz 7S and Veer Cruiser can handle slush and snow (maybe just not tons of it…), but it's definitely easier to pull them than push on that surface.
---
All pictures of Veer Cruiser belong to Veer. Sources:
All pictures of Keenz 7S belong to Keenz. Sources:
Your trust is really important to me: This post contains affiliate links. If you choose to buy something using these links, I may receive a small commission, at no extra cost to you. Your support helps me run this blog. Thank you so much 🖤 Zooey