You want to start babywearing but using baby wrap seems too difficult? Are you worried that it's too complicated to tie? Or maybe you're concerned that multiple layers of fabric will make you sweat a lot and the baby may get overheated?
You don't have to worry anymore! There is one baby wrap on the market that addresses these concerns: Solly Baby Wrap.
Are you curious why hundreds of parents say it's the best newborn wrap?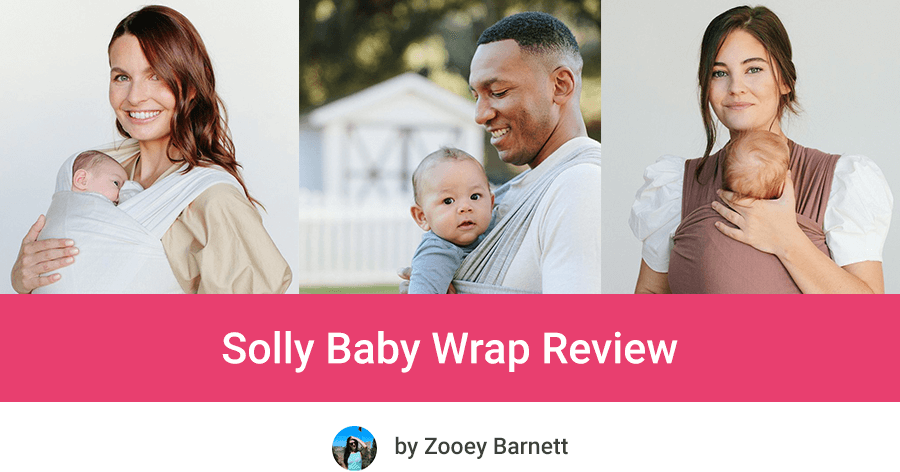 This article contains affiliate links.
Review
LittleBabyGear has chosen it as the best newborn baby wrap for summer and warm weather! Read along to find out why it's so special.
Solly Baby Wrap became moms new favorite wrap, not only thanks to simple and adorable design, but also because it's made of a unique fabric which makes it more breathable and easier to put on than other baby wraps!
Before we get to the detailed review, here's a quick sneak peek of Solly Baby Wrap most important features.
Image
Info

Suitable from birth up to 25 pounds (usually most comfortable up to 9 months)
Made of a silky-soft fabric that wicks moisture away = no overheating
If you need a baby carrier for summer, this is your best choice
Hip-healthy - keeps the baby in ergonomic frog position
Parents say it's easier to put on than other stretchy wraps
Helps to reduce infant crying and relieve colicky baby
Provides cozy place for baby's naps, giving you hands-free moments
SALE: Get 10% OFF your wrap! >>Collect your 10% discount here<<
When can you start using Solly Baby Wrap?
This baby wrap is suitable from birth – usually babywearing advisors say the minimum weight is 7-8 pounds. Solly Baby Wrap can be used for wearing babies up to 25 pounds. Usually they are most useful and most comfortable up to 9 months.
Of course, if you have any doubts whether your and your baby are ready for babywearing (or there are some special circumstances for you or your baby), we encourage you to seek for medical advice or consultation with babywearing advisor, before you start wearing your Solly Baby Wrap.
Once your child outgrows the wrap, you could switch to Solly Loop carrier (check my review here). It's suitable up to 45 pounds so it can serve you for a few years!
It's all about the fabric
Solly Baby Wrap is unique because it's made of a 100% certified Lenzing Modal. This kind of fabric feels soft and smooth, and it's great for warmer temperatures. It's more breathable than cotton and viscose. It's wicks moisture away from the body which means your skin and your baby's skin stay cool and fresh. To put it simply, Solly Baby Wrap doesn't make you all sweaty and hot.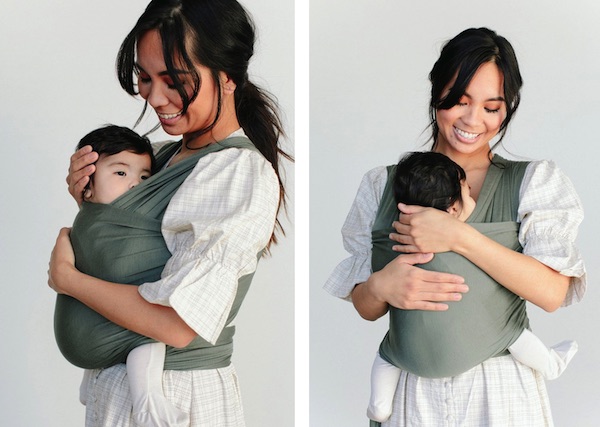 Some say Modal is similar to Tencel, however it feels softer and has more delicate touch. Fabrics that are made of Modal are lighter and slimmer as well. This means you can use your Solly Baby Wrap all year round. Lots of parents agree this is the best baby carrier for summer on the market right now!
Because this fabric is thin and so breathable, Solly Baby Wrap is recommended for families who live in warmer climate, need a newborn carrier for summer or simply anyone who want to carry their baby for multiple hours per day and doesn't like getting sweaty in the wrap!
SALE ALERT! 🥳
If you buy your Solly Baby Wrap right now you'll get 10% off. Choose your favorite color here 👈 By the way, I LOVE the Sea Glass and Rising Sun prints, they are so adorable.
Don't miss out on this fantastic opportunity to buy Solly wrap cheaper. To collect your 10% discount use code: LITTLE10 at checkout.
What's also important Solly Baby uses environment-friendly dyes for their wraps which makes them great choice for eco-conscious parents.
Moreover, the Solly Baby Wrap, is made in the US (in Los Angeles, to be specific), starting with the fabric and ending with the packaging. Lots of parents see this as an advantage.
It's worth to mention that Solly Baby Wrap is machine-washable and you can even tumble dry it on low heat (here you will learn how to wash Solly Wrap).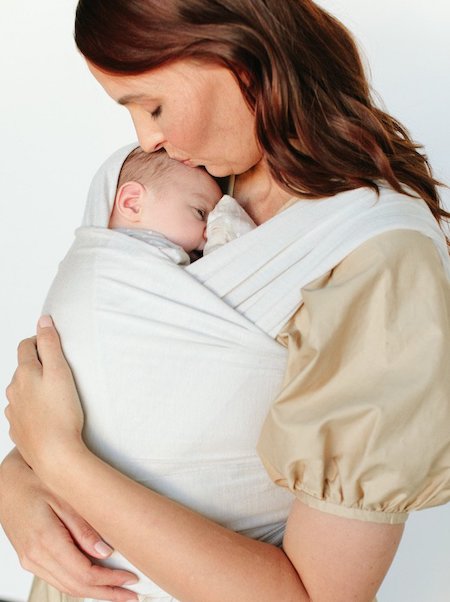 Are Solly Baby Wraps safe? – Carrying positions
If I'm about to purchase a new baby carrier or recommend it for other parents, the first thing that I do is checking International Hip Dysplasia Institute website and their list of hip-healthy products. Solly Baby Wrap has been recognized as one of the hip-healthy baby carriers which is fantastic news.
What does it imply for parents starting babywearing with Solly Baby Wrap?
Basically it means that it's safe for infant's hips and allows you to position your baby in an ergonomic, healthy position. It's called "frog position" and it is a natural position for the infant. In this position baby's legs are M-shaped and their knees are higher than the bum. Baby's legs were in this position in your womb (fetal position).
Frog position ensures baby's thighs are well supported, from knee to knee. This position supports natural and proper hip development.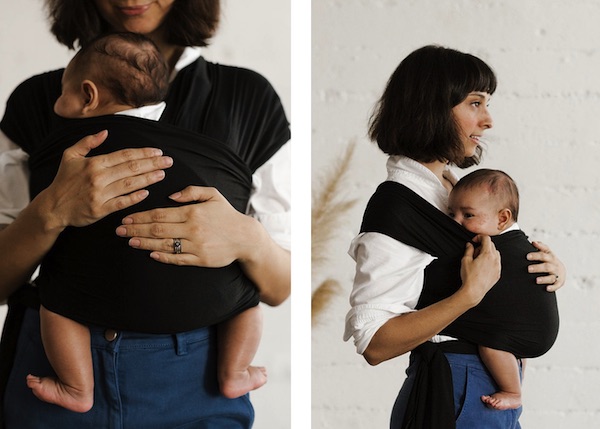 Another important thing about positioning the baby is that baby's spine should be C-shaped (after the baby is born, their back is naturally rounded). It's also crucial to remember that baby's head should be supported by parent's chest.
Proper position for baby's spine and hips is very important for their development and ensures everything develops at a natural, right pace. If baby's legs and spine are forced to straighten before this occurs as a result of natural development, it can have negative consequences for their health. Don't buy a baby carrier that forces your infant to sit straight when he is not ready for it or leaves your baby's legs dangling, without any support for thighs! To put it simply – get a baby carrier that is hip-healthy!
Solly Baby Wraps are safe and hip-healthy, because they ensure the infant is resting in this natural, ergonomic frog position which is good for their back, legs and hips. They support hip joints healthy development.
Even though this wrap is lightweight and made of a slim fabric it's sustainable and strong enough to hold up to 25 lbs and serve you for many months!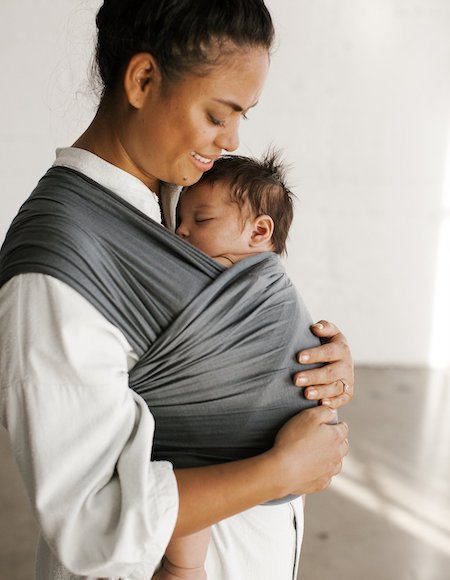 Of course it's important to tie the wrap correctly and to position the baby in it properly. Solly Baby has lots of useful tutorial video on their website (you can see them here) which should help you start your babywearing journey. But still, if you feel uncertain or have any doubts if you tie the wrap or position your baby properly, seek for an advice for certificated babywearing consultant.
Anyway, the fact that Solly Baby Wrap is hip-healthy and allows baby to rest in frog position is essential. All you need to do is just practice tying and positioning the baby and master it!
Easy to adjust and comfortable to wear
Solly Baby Wrap is a long piece of fabric (approx. 5.5 yards long) which you need to put around your upper body and tie. The brand has a few video presentations showing how to do a proper tie. You can learn more tying methods on Youtube and/or consult babywearing advisor.
Even though tying a wrap may seem difficult at the beginning, it's actually not that hard if you practice it a few times.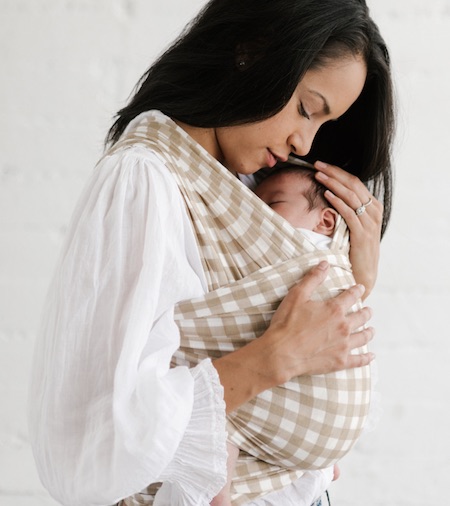 Once you maser it, you'll realize that it's very comfortable to wear and that it ensures proper weight distribution across your upper body: your hips, back and shoulders. You can always adjust the fabric on your shoulders, as well as your waist so it doesn't get strained.
Sometimes parents worry that the wrap will be too short for them to hold the baby properly, while others worry that it will be too hot to wear a few additional layers of fabric. Solly Baby Wrap solves both these issues.
It's long enough to fit plus-size parents, you can also easily adjust it for petite wearer. It's awesome because you can share it with you partner, grandparents or nanny.
Even if you wrap it around your upper body a few times (which means wearing a few layers of fabric) it doesn't make you hot and you don't sweat as much as with other (cotton) wraps. As I've mentioned above this type of fabric that Solly Baby Wrap is made of, is airy and wicks moisture away. No more worries about overheating.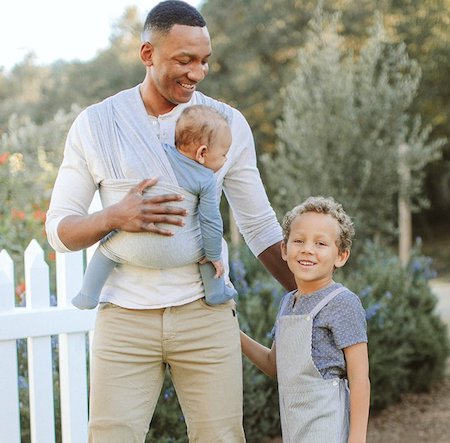 Solly Baby Wrap combines two essential features: it's stretchy and it's strong – ensuring easy adjustments for you, and proper support for baby's delicate body.
How long can you wear baby in Solly Wrap?
Generally speaking you can wear your child in Solly Wrap until he/she is 25 pounds. Usually it's good up to 9-12 months.
If you're wondering how many hours per day you can babywear, the answer is simple: as long as you and your little one want to! If your child is resting in ergonomic spread-squat position, with hips, back and neck well supported, you can continue to babywear during the day as long as both of you feel comfortable.
Give your babe time to get used to it and start slowly. Once both of you get a good hang of it, you may be able to babywear for 1 or 2 hours at a time (then it's usually time for feeding or changing a diaper). Don't force it – all children have different needs and preferences. But always make sure your little one is safe and comfy.
Make sure to often check if your baby's airway is open and monitor their needs. Remember, wearing baby in a wrap should be safe and comfortable for the child, and for you too!
Storage
Solly Baby Wrap is light and doesn't take up a lot of space when folded (the wrap is much more compact than soft-structured carriers so it's easy to store or transport in a diaper bag). Moreover it has a clever design and features self-closing pocket at the end of the fabric so it's very easy to store!
>> Best Diaper Bags For Cloth Diapers
Benefits from using Solly Baby Wrap
Generally speaking baby wearing has tons of benefits for the baby and parents, if you choose a baby carrier that is safe and comfortable for the both of you.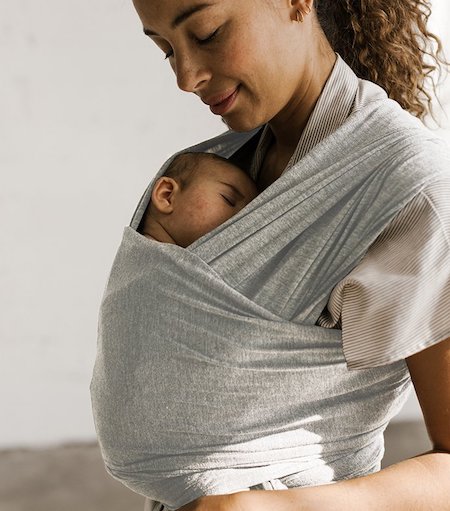 First of all, spending time chest-to-chest promotes bonding. Baby feels you, your touch, your smell, hears your voice – which gives them a sense of closeness and security. Babywearing is the perfect opportunity for touch – which is so important in the first months.
Some say the wrap mimics the womb. If you start babywearing right after the childbirth (if there are no contraindications), for the baby the wrap feels similar to the womb – which so a cozy home for the baby during those 9 months and home means sense of security.
Just like in the womb, the baby in the wrap can hear your voice, feel your heart beat and your chest moving with every breath. This is something that the baby knows, something familiar – therefore safe for them. This way the baby can start learning the new outside world, at first completely different, strange and scary to them, and get to know it in a safe way, with the sense of security and trust.
During the first few weeks baby can focus on objects that are 8 to 10 inches from their face. This is another reason why babywearing is beneficial – during it baby's face is so close to your face and baby can start learning and recognizing your face.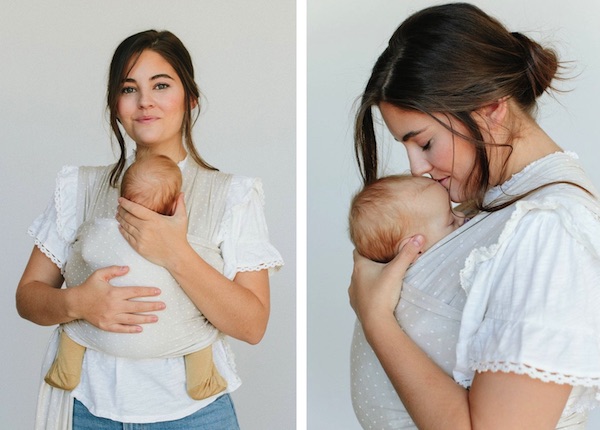 Another advantage of using baby wrap is that is helps with digestion. Your movement is like a massage for baby's belly and helps with reflux, gases and colic. Lots of parents agree that babywearing helps to calm fussy baby and relieves them during those unpleasant colics. There are also evidences that baby wearing reduces baby crying.
And when the baby is calm and feels safe, there are less problems with sleeping! Newborns and infants love to nap with their head rested against paren't chest in a cozy, tight and warm wrap.
There are also other positive effects of wearing baby in a wrap: it helps to regulate baby's body temperature and heart rate, as well as prevents flat head (thanks to napping on mom's or dad's chest instead of a mattress).
Of course babywearing has many advantages for parents too. It frees you hands so you get some things done around your house or spend some time on activities that you've missed so much (like reading a book or your favorite magazine).
With baby wrap you don't have to choose between cuddles or having your hands free – you can have both! It's also a fantastic solution for parents who have also older kids to run around after! When your newborn baby is napping on your chest, you can spend some time on reading to your toddler or playing with them.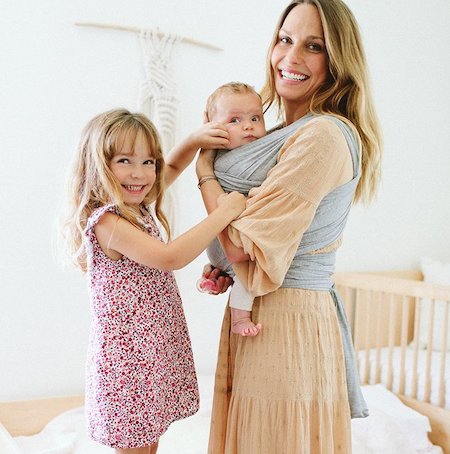 There is one more benefit of babywearing which I can't fail to mention. Skin-to-skin contact is very important for the baby and parents for bonding, but also it may help to reduce the risk of postpartum depression, anxiety after the childbirth and may help to promote breastfeeding. In fact, Solly Wrap is one of the best baby carriers for breastfeeding while babywearing.
Colors & Patterns
I'm a mom, but I'm also a woman and I like to look nice and wear clothes that make me feel confident.
And I like thinking that babywearing can be trendy too. Of course it's not the most important thing – I always check whether it's safe and comfortable for the baby first. But who said the baby wrap can't be stylish and cute?
Just check these gorgeous patterns available on Solly Baby Website. There are over 20 different colors and prints. My favorite ones are Garden Herb and Basil (this one will be available in May, but you can already pre-order it!). You can see Garden Herb below. I love this simple design, it's clean and adorable at the same time.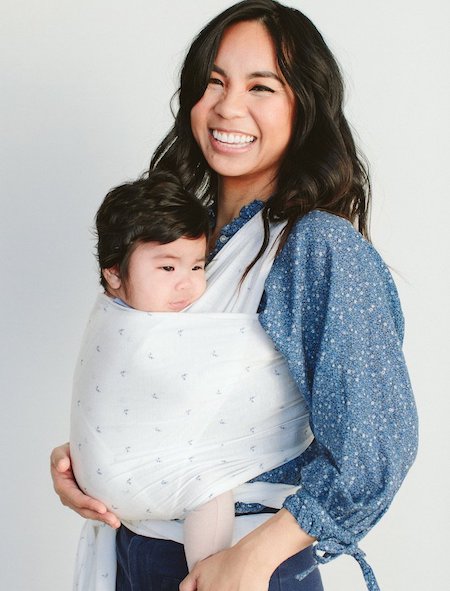 What other parents say about Solly Baby Wrap
According to Solly Baby Wrap reviews written by other parents on brand's website, the best thing about Solly Wrap is that it gives you "hands-free" moments. You can get some things done around the house, do some cleaning, cooking, play with your older kiddos or simply use this time for yourself for reading or relax.
It helps during fussy moments (like colic), soothes and calms the baby and provides hours of sleep (lots of parents say their baby fall asleep in it immediately)! Another advantage is the soft fabric, lightweight and breathable, yet strong and supportive. It keeps the baby snuggly, without making the baby (and the wearer) sweaty and overheated. Moms frequently mention that this is the best baby wrap for summer and spring weather. It's cooler than other wraps and buckle carriers.
Another things that parents rave about are: the beautiful design and colors, and being easy to put on (just enough stretch). Once you figure out how tight to make it, it's very easy to wear.
It's worth to mention that many parents who reviewed Solly Baby Wrap on their official website, mentioned they've used different types of baby carriers and only this one is so easy to use, so airy and cool, and so comfortable to wear. The size is perfect for all body types: short and petite person (5'0) as well as plus-size moms (and dads).
What moms also love is that wrap feels so cozy and safe for the baby, which mean endless cuddles and naps!
The only complaint I've found in Solly Baby reviews is that the fabric may show signs of wear after some, after hours of daily use. But only a few parents mentioned it and it wasn't really an issue.
All in all, parents agree that Solly Baby Wrap is a life saver and it's totally worth the money.
My rate:
Keep in mind
The limit for Solly Baby Wrap is 25 pounds, and usually the child gets too big for it around 9-12 month. Remember not to exceed this weight limit. Solly Baby Wrap is made of a lightweight material, strong to keep the infant in ergonomic position, but you should stop using it when the baby weighs more than 25 lbs or starts to feel less comfy in it.
This wrap allows to carry the baby in only one position – front carrying, facing inward. You should not use it for back carry or facing outward.
9 Reasons why you will love Solly Baby Wrap
1. It's the best baby carrier for summer – thanks to lightweight, slim, airy fabric.
2. It doesn't make you and the baby overheated like many other baby wraps.
3. It's a hip-healthy carrier – allows the baby to rest in natural position and supports healthy hip development.
4. According to many parents it's easier to put on and adjust than other stretchy wraps.
5. It's the perfect solution if you want to get back your hands and get chores done around the house, spend some time with your older kids, or have some "me-time".
6. Solly Baby Wrap works fantastic for soothing and calming fussy baby and reduces crying.
7. It helps with digestion and relieves colicky babies.
8. It prevents flat head syndrome and provides baby with a cozy and comfortable place for hours of nap.
9. Solly Baby Wrap comes in variety of beautiful and adorable colors.
I recommend you to go directly to Solly Baby official website if you want to see their whole baby wrap lineup, check latest prices and current sales.
You may also want to read my review of Solly Baby Swaddle which is made of the same material and is approved as hip-healthy too.
Solly Baby Crib Sheet has been chosen as the best crib sheets for babies with eczema. Don't forget to check our full ranking!
Your trust is really important to me: This post contains affiliate links. If you choose to buy something using these links, I may receive a commission, at no extra cost to you. Your support helps me run this blog. Thank you so much 🖤
---
Pictures belong to Solly Baby. Source: https://sollybaby.com