When I was expecting my first baby I felt overwhelmed with the choice of baby strollers, baby carriers, play mats, baby swings… But the selection of baby bottles made me dizzy! There are so many types: wide neck, small neck, for colic, for gas, for upright feeding, made from glass or silicone and so on! "How to choose the best one and actually how many bottles do I need?!" – I still remember how concerned I felt.
If you feel this way too – this article is for you! I'm going to share with you the results of my LONG research. I will give you the answers you need to choose the right baby bottle for your child!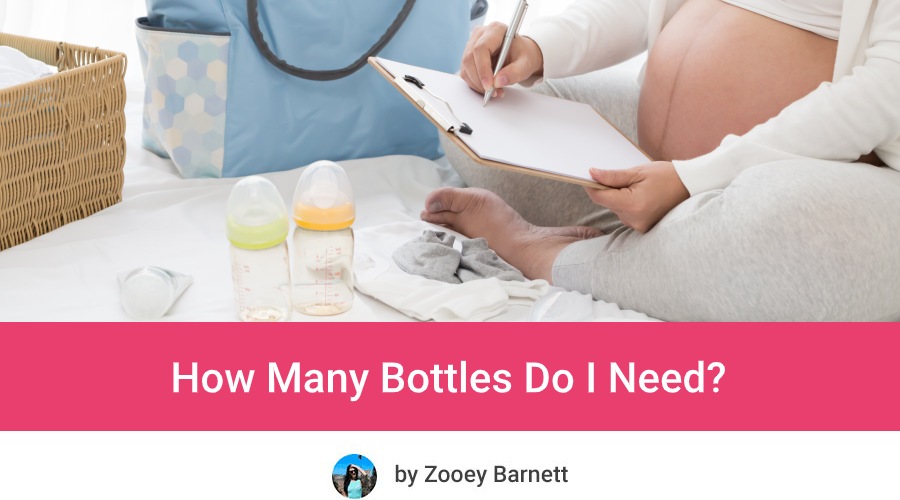 This article is NOT a substitute for medical advice or care
When it comes to feeding your baby, using a bottle can be a vital part of the routine. Although some mommies want to breastfeed exclusively, it is not always possible. The reason for that may be a busy work schedule, or the need for formula supplementation.
Making sure your baby has the right bottles is very important since not all bottles are created equal, and you may need more than one. Besides, each baby has different preferences and may be even picky about specific bottles!
When you're searching for baby bottles for your little bundle of joy, there are many factors to consider, such as different sizes, variety of styles and shapes, type of material they are made of, the shape of the nipple, and of course, the cost.
In this post I will share most important information about baby bottles and nipples: how many bottles you actually need to buy, what types of bottles you should choose and what additional gear you will need for bottle-feeding at home and on-the-go.
Keep on reading and you'll learn everything!
How Many Baby Bottles Do I Need?
How many bottles you buy will depend on just two factors: if you intend to breastfeed your baby and only occasionally need bottles, or if you are going exclusively use bottles. If you are breastfeeding, you will probably need only 3 or 4 baby bottles.
If you are going the bottle-feeding route, 8 to 10 baby bottles should do the trick. Keep in mind that you won't need all of them right away – baby bottles need regular replacement (more on that later) and you will need to change the bottles and nipples as the baby grows and his/her needs and appetite change.

Now saying that you will need those particular amounts, you might need to buy a few bottles at the beginning as testers, before you find the one your baby prefers. Babies that are breastfed tend to be a little more picky when it comes time to use a bottle, so you may have to try a couple more than with exclusively bottle-fed babies.
Baby bottles come in two basic sizes:
small (4- or 5-ounces)
large (8- or 9-ounces)
If you want to bottle-feed your newborn baby start with the small bottles (4oz.) and get 3 or 4 of them. They are easier for the baby's little hands to grip. Besides, newborns eat less than older babies.
After about 4 months switch to 8- or 9-ounces bottles. Depending on how long you plan on bottle feeding, you may need 4-7 bigger bottles.
Types Of Baby Bottle
There are five different types of material that bottles are made from. Most commonly used are glass and plastic, followed by silicone, disposable and stainless, which are not as standard and can be harder to find.
Glass Baby Bottle
Glass bottles are more popular again and many baby bottle brands offer their top-selling models not only in plastic, but also in glass now.
Parents who worry about chemicals contained in plastic, often choose glass bottle for their babies.
They last longer, don't stain or warp with repeated heating and cooling, and they are better to get a deeper cleaning.
However, glass bottles are usually more expensive and heavier for your baby to hold. You also have to be careful about a glass bottle chipping or shattering if dropped (*there are silicone sleeves you can purchase to help reduce the risk of breaking and harming the baby or you).
LittleBabyGear Choice: The best glass baby bottle is Philips Avent Natural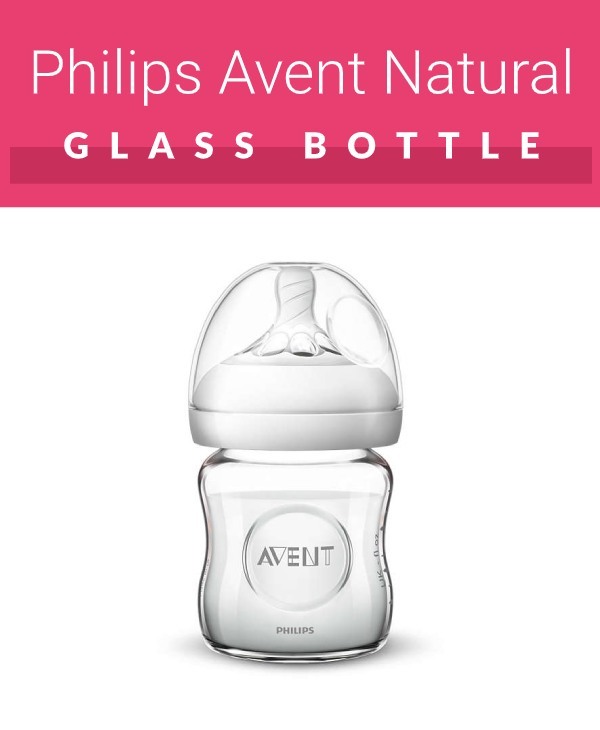 Plastic Baby Bottles
Plastic is probably the most popular material for baby bottles. Even though there has been controversy around plastic baby bottles, majority of brands offer this type of bottles and they are easiest to find at low price.
Plastic bottles are more lightweight, won't shatter if dropped, and costs less than bottles made of other materials.
The downside is that plastic bottles can warp and breakdown with repeated heating, so you will have to replace them more often.
On top of that, people tend to worry about BPA, the chemical that had to be used to harden plastics, which turned out to disrupt the natural balance of baby's endocrine system1. Remember that in 2012 FDA banned using BPA in baby bottles, as well as sippy cups2. You should always make sure the bottle (and other stuff) you're buying for your baby is BPA-free and BPS-free.
LittleBabyGear Choice: The best plastic baby bottle (BPA-free) is Nanobebe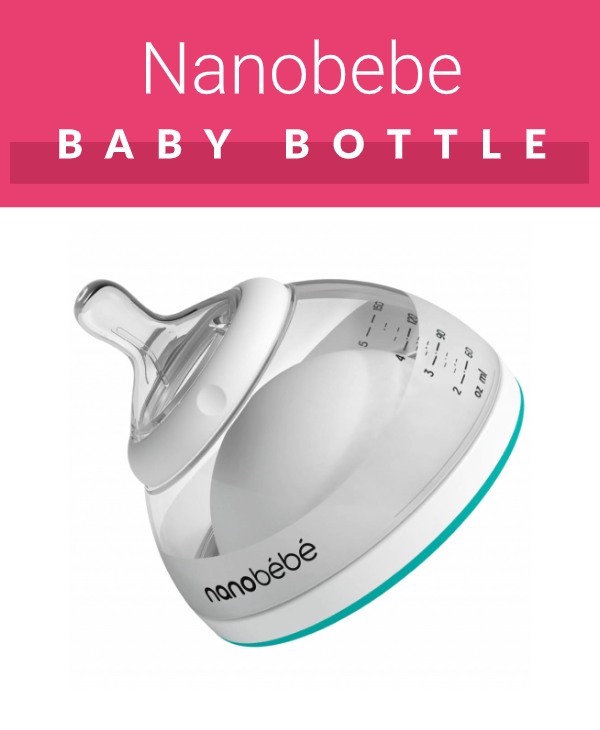 Are glass baby bottles better than plastic?
The answer is that one is not necessarily better than the other. Both types have some advantages and limitations, which I've mentioned above.
Some parents prefer glass bottles for being chemical-free and for their longer usability, even though they are heavier and prone to breaking. Others choose BPA-free plastic bottles because they are lighter for baby to hold, usually more affordable, even though you need to replace them frequently because they crack from regular heating.
Silicone Baby Bottles
Silicone bottles are a great choice as they are lightweight, don't break, chemical-free, easy for your baby to grip, and they are see through.
The unfortunate part is the cost, and at present the choice is limited.
Nevertheless, in the last few years silicone baby bottles are getting really popular as a lighter alternative to glass bottles, and more healthy alternative to plastic bottles.
LittleBabyGear Choice: The best silicone baby bottle is Olababy GentleBottle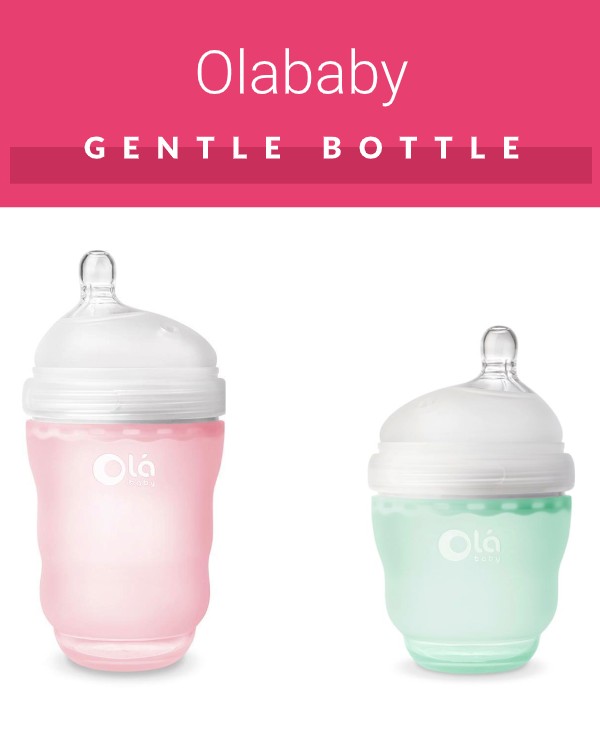 Disposable Baby Bottles
Disposable bottles are actually plastic bottles with a disposable sterilized liner. These liners work great for preventing gas and colic because they collapse as your baby drinks which reduces gassiness.
They are quick and easy to use if you are on-the-go. But they are not eco-friendly, and replacing them after each use is not pocket-friendly in the long run.
LittleBabyGear Choice: The best disposable baby bottle is Playtex Baby Nurser with Drop-ins Liners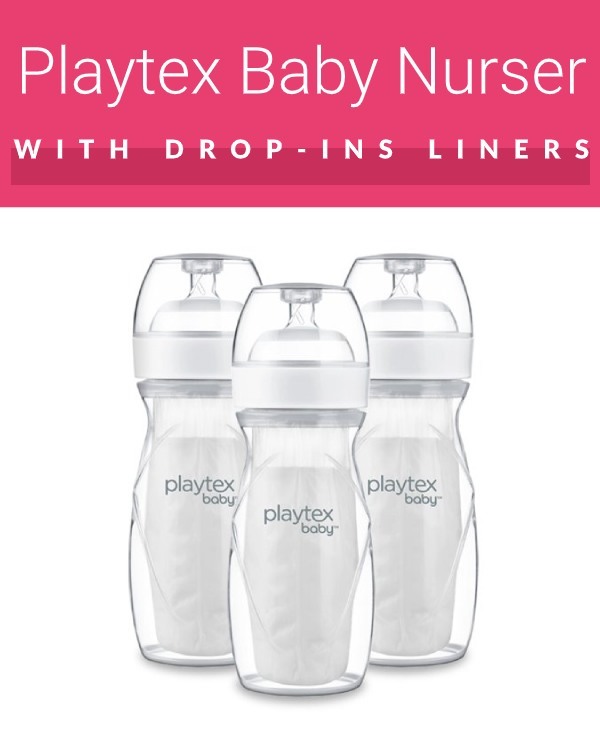 Stainless Steel Baby Bottles
Stainless steel bottles last forever, are lightweight, don't break, and are chemical-free.
Unfortunately, stainless steel bottles are more expensive and harder to find, at least right now. Besides, you cannot see into them, so you don't know how much your baby has had.
Stainless steel can hold heat, therefore make sure to choose a silicone sleeve for the bottle for baby's and your safety.
LittleBabyGear Choice: The best stainless steel baby bottle is Pura Kiki Infant Bottle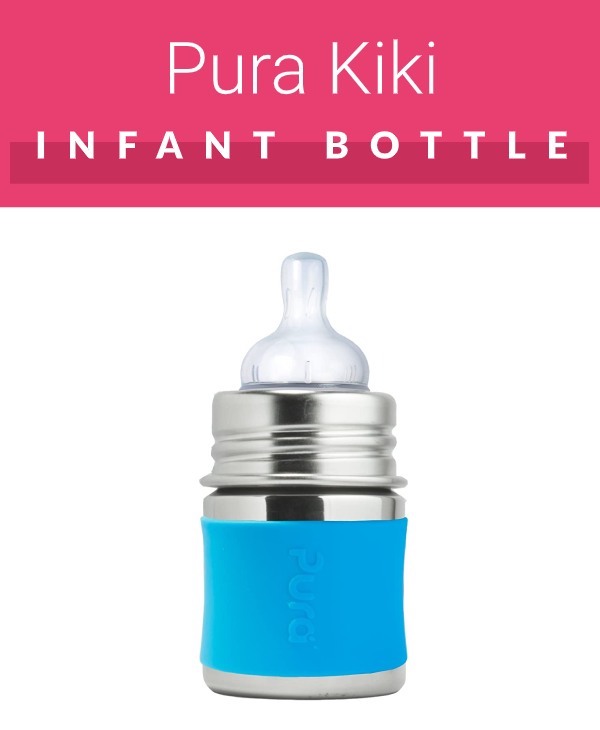 How To Choose The Right Baby Bottle In 2022?
Many important factors will go into your choice of which baby bottle will be the right one for your baby.
1. Material
Whether it will be glass, plastic, stainless, or silicone, always make sure they are BPA-free and phthalates-free.
As you could see in the previous paragraph, the material of the bottle is a crucial thing, but there are also other important factors that you should consider when picking the bottle for your baby.
2. Size
It is always a good idea to start with a smaller 4oz or 5oz bottle. As your baby grows and starts to need more milk/formula, switch to a larger size. Every baby is different, so it will depend not only on their age, but also on their tummy, and their preferences.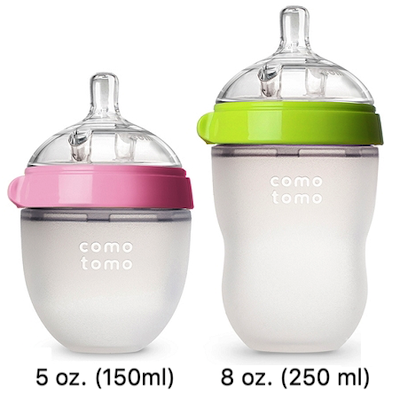 3. Shape
On the market there are two types of bottles when it comes to their shape: standard and angled bottles. Standard bottles are for feeding your baby in a more laying down position, such as cradled in your arms. Keep in mind that you should never feed your baby in fully flat position!
On the other hand, angled bottles are designed for semi-upright position when feeding, and they tend t work well in reducing gas and colic, as well as preventing ear infection.
It's noteworthy, that there are also bottles shaped like a breast (Nanobebe bottles). They are best for breastfed babies, as they facilitate the transition from breast to bottle.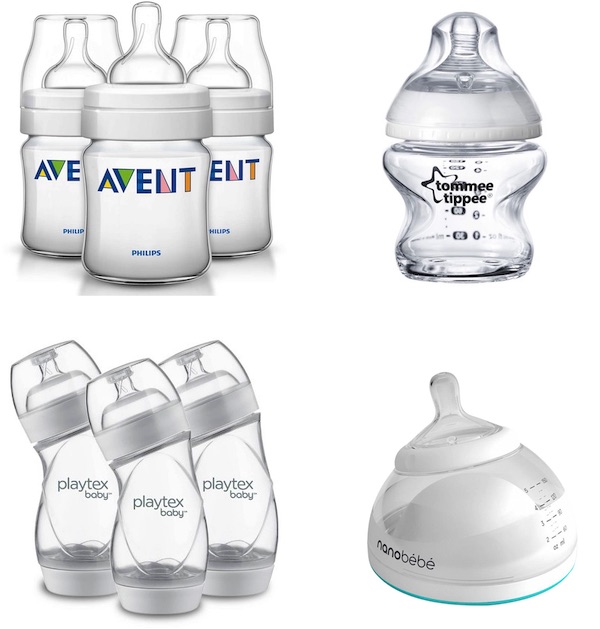 4. Bottle Neck
There are wide and narrow necked bottles. Narrow neck bottles are the standard and tend to work fine for most bottle-fed babies. Usually they take up less space in your diaper bag.
Wide neck bottles are meant to simulate the natural shape of mommy's breast and tend to suit breastfed or fussy babies better. Plus they are easier to clean.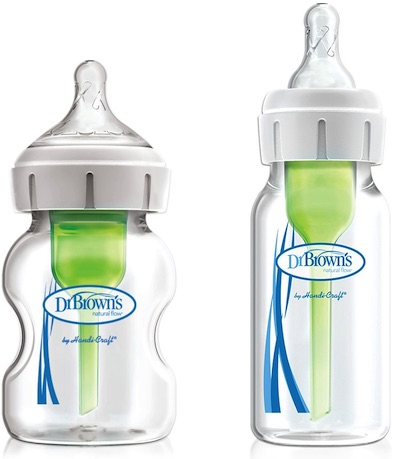 5. Venting System
These are special systems designed to help reduce the chances of your baby swallowing air as they feed which will in turn reduce the chances of wind, colic, and acid reflux.
The venting systems can be designed as part of the bottle or in the nipple.
Dr. Brown's Bottle is in my opinion the best brand when it comes to anti-colic baby bottles. The Natural Flow Options+ with built-in venting system is probably the best anti-colic bottle, that also reduces the chance of gassiness in babies. Unfortunately, the venting system inside the bottle makes it a bit harder to clean.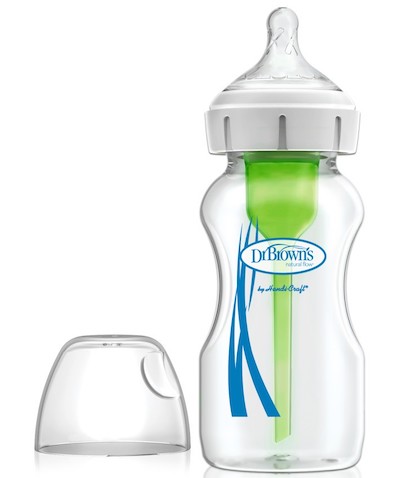 Moreover, having a venting system in your bottle may cause your bottle to leak if not cleaned or put together properly.
Despite that, it is still recommended to have one for the benefit and comfort of your baby to help prevent wind and colic (not to mention you may get more hours of sleep).
6. Ease Of Cleaning
The shape is not only important for the ease of holding the bottle in small hands, but also for the ease of cleaning. Wide neck bottles are in general easier to clean.
Thanks to wide opening, you can fit a standard brush in them. The narrow-neck and oddly shaped bottles might require their own special cleaning brush. Hence, the cost may add up.
Moreover, the fewer parts the bottle has, the easier it is to clean.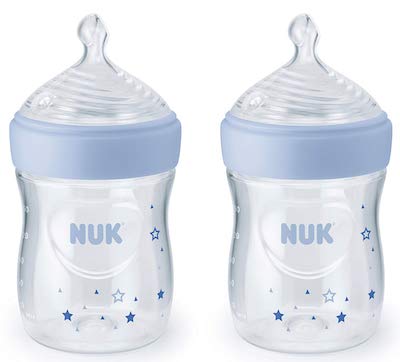 7. Compatibility With Breast Pump
This is something you only realize when you start pumping your milk. It is so convenient to be able to express the milk straight into the bottle and then give it to your hungry baby or store in the fridge. It's a time-saver and makes mom life so much easier!
If you can't breastfeed your baby, but still want to serve them the breast milk, using the breast pump is your solution.
In that case making sure the baby bottle is compatible with your breast pump should be on top of your list.
Some bottle brands only work with that particular brand of pump, while other bottles are compatible with a variety of other breast pump brands (for instance, Nanobebe offers adapter for all standard and popular breast pumps like Spectra, Ameda, Lansinoh etc.)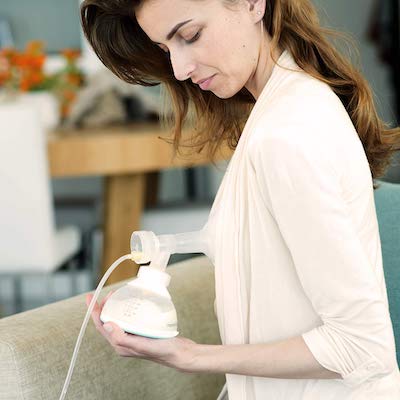 8. Nipples
Just like the bottles vary, nipples too come in different sizes, flow rates, materials, and designs. Bottle nipples are an integral part of the feeding process, and your baby will let you know whether he/she is happy or not with your choice.
Material
Most nipples are made of silicone that can withstand heat. Silicone bottle nipples are firmer but flexible. There are also softer latex nipples but these may cause allergic reactions.
Flow
It is recommended to start with a slow flow nipple since it mimics the flow rate of your breast. It's best for newborns and young infants as it is adjusted to their swallow capabilities, and can help avoid choking from too much milk. Various brands have different names for the flow rate, but usually the slow flow is called stage 1.
If you are finding your baby fussy, because they are not getting enough milk, try a medium flow nipple (stage 2). As your baby's appetite grows, move on to fast flow nipple (stage 3-4).
By the way, some brands also offer special nipples for preemies.
Keep in mind that each brand has their own collection of nipples with different flow rates and the age recommendations may vary. Here are Nanobebe bottle nipples as an example: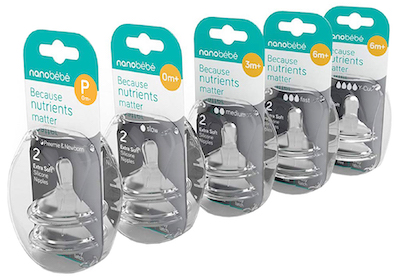 Always make sure the nipple flow is proper not only for your baby's age, but also preferences. Too fast flow may lead to choking, overeating, acid reflux, wind and colic. If the flow is too slow, baby will get frustrated and lots of air bubbles will get into their tummy (leading to colic or other tummy pains).
Size
Nipples come in different sizes, depending on the bottle neck. If you have a wide-neck bottle, you will need wide nipples. If your bottles has narrow neck, you will need narrow nipples.
Shape
You will find three different choices in the shapes. These include:
Orthodontic – narrow in the middle but wider at the tip and base, so they fit in the mouth better.
Standard – tall and dome-shaped.
Ergonomic – designed to mimic the shape of a breast.
There are also different nipples specially designed for preemies, as well as babies with cleft palate.
Nipples will wear out in time, especially once the teeth start coming. You should replace them frequently as they crack, start to leak, discolor, or around every 2-3 months (although some experts recommend to change them even every 2-3 weeks).
Always replace bottles/nipples that show signs of wear, are cracked, don't work properly and / or smell bad.
How Long Do Baby Bottles Last?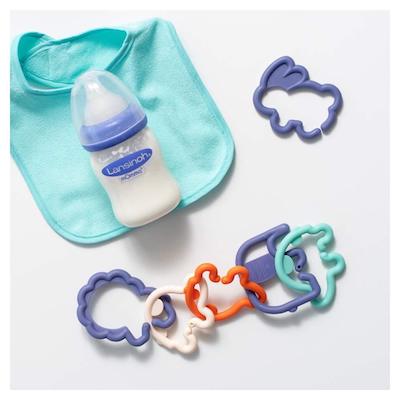 Stainless steel, silicone, and glass baby bottles last for a very long time and only really need to be replaced if they are damaged. You will have to pay close attention to glass bottles because they are more prone to chipping.
Plastic baby bottles should be replaced about every 2-3 months. If they get damaged, discolored, or start to smell bad, you should replace them immediately. Check all your bottle-feeding equipment regularly to make sure everything is in a good shape and works properly.
How To Clean Baby Bottles?
Here is some happy news! You don't need to sterilize baby bottles every time you use them. You can do this for the first few months, but as your baby grows, you only need to sanitize every few days. However, according to CDC if your baby was born prematurely, has some medical condition or is less than 3 months old, you may need to sanitize bottles daily or more often3. Consult this with your pediatrician, depending on your baby's health condition.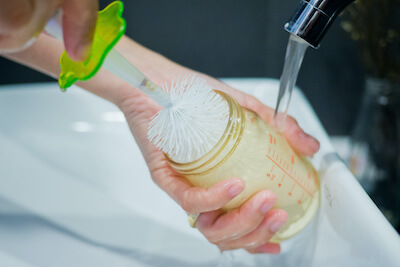 When cleaning your baby's bottles and nipples, or anything in the feeding process, use a separate tub or basin (so they don't touch the sink) using a specific baby bottle brush. Rinse them thoroughly in warm water and let them completely air dry, do not use a towel to wipe them. The other way is to use the dishwasher with the special basket for all bottle parts.
Gear That You Will Need For Bottle-Feeding At Home
So now that you have your bottles and nipples picked out, what will you need to maintain them? Here is a list of items that will help you take care of your baby bottles and save you time as well.
Bottle Warmer
These are very helpful in that it takes less time to warm the bottle. They can have timers to let you know when the bottle is ready. Some even have an auto turn off, which is a great safety feature.
Bottle Sterilizer
Simply put, bottle sterilizers work better and faster (especially microwave sterilizers) than using boiling water. The steam gets hotter than boiling water and kills more bacteria and mold. Boiling a bottle can make bottles breakdown faster or warp, and some are just unsafe to boil (e.g plastic bottles may melt down).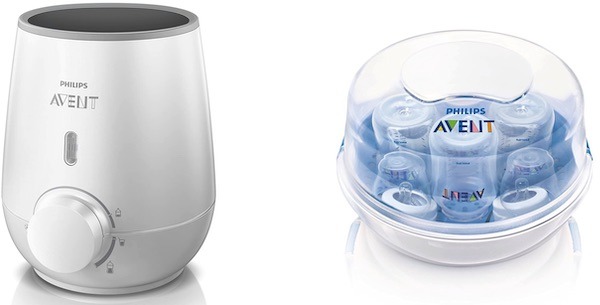 Bottle & Nipple Brushes
Getting yourself a set of brushes will make the cleaning process a lot easier and more thorough. Some bottles and nipples require specific brushes that you can purchase as a set with your bottles.
Drying Racks
These specialized racks are designed to make sure all your bottles and accessories dry properly. It is considered a good practice not to mix your normal dishes with your baby's, and normal dish racks are not designed to hold baby bottles and nipples properly.
Dishwasher Basket
Using a dishwasher to clean your baby's bottles and nipples is fine as long as they are marked as "dishwasher safe" and it is best to put all parts in a baby bottle basket. The baskets are designed to maximize cleaning and drying, and they keep all the parts together. You should also try to use natural detergent instead of your regular one.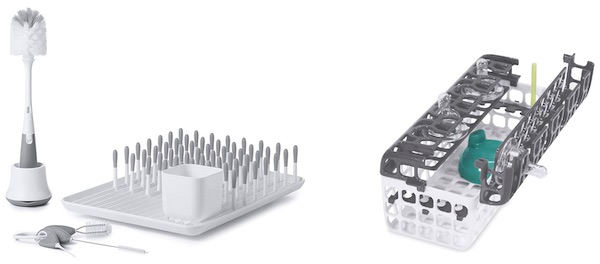 Burp Cloths
It's best to burp the baby after or even mid-feed, to avoid wind and colic. If you worry about spit-up stains on your clothes, get a few burp cloths. They are particularly useful when feeding on-the-go.
And just in case, here are some tips for removing tough baby stains from clothes.
Nursing Pillow Or Comfortable Chair
It is important not just for your baby but for you as well to be as comfortable as possible when feeding your baby. Nursing pillows are designed to keep your baby in a better position for feeding while maintaining a good comfort level.
Comfortable chairs are sometimes overlooked, but they can make all the difference in the world, whether you're exclusively bottle-feeding or mixing breast and bottle. Some things to look at are: rocking function, supportive and padded armrests (baby will get heavier soon), footrest, stain-resistant fabric.
Bottle Gear For Bottle-Feeding On The Go
Of course, you can't stay home all the time, so make sure your bottles can stay cold, and be warmed up when needed.
Insulated Bottle Bags
To keep them cold, use a baby bottle insulator bag, one that keeps them cold for at least 3 hours.
Travel Bottle Warmer
For warming your bottles, there are portable bottle warmers that work with a USB, car adapter, or rechargeable batteries like The Baby's Brew.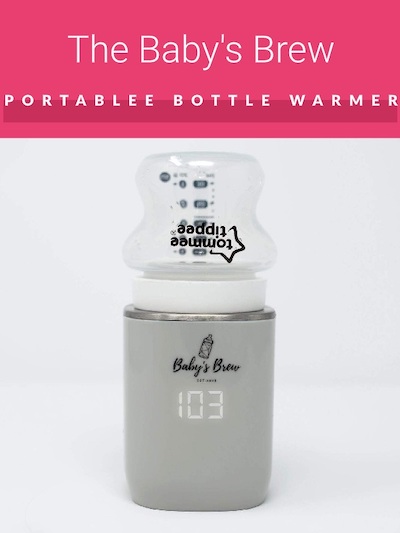 Basic Information About Bottle-Feeding
It's a good idea to start introducing a bottle to your baby between 3 and 6 weeks of age. After that, it may be a little more difficult to get your baby into using a bottle. Remember that your baby gets to decide the right bottle for him/her. If your little one is fussy because he/she is trying too hard to suck, or even worse, is choking because the milk flows too fast, you should consider trying a different bottle or nipple.
You don't have to warm milk before feeding, as some babies like lukewarm milk too, but most will want it about the same temperature as mommy's breast milk.
So if you give baby freshly expressed milk, you don't need to warm it, but if you have stored it in the fridge, warming it up to 98°F may be needed to avoid bottle refusal.
Most newborns will want to feed every 2 to 3 hours or 8 to 12 times a day. As your baby grows (1+ months), this will normally lessen to 7 to 9 times a day.
Finally, remember you only get to choose how many bottles and what other items to use, but your baby gets the final decision on which bottles they want.
>> Read more about bottle-feeding and how to deal with bottle refusal
---
The purpose of this article is informative. It's not a substitute for medical consultation or medical care. Remember: safety first! Consult your doctor/pediatrician in case of any doubts. The author of this article does not accept any responsibility for any liability, loss or risk, personal or otherwise, incurred as a consequence, directly or indirectly, from any information or advice contained here.
Source of pictures:
Pictures of baby bottles and bottle gear belong to specific brands. Sources: Nuk, Philips Avent, Nanobebe, Comotomo, Olababy, Dr. Brown's, Medela, PopYum, Playtex Baby, Tommee Tippee, Pura, Oxo, The Baby's Brew.