With the best bra for Freemie Cups, the pumping process will be easier, more convenient and truly hands-free.
Although Freemie collection cups fit in many nursing and pumping bras, some of them are WAY MORE comfortable for me, versatile and BUDGET-FRIENDLY. I am going to share with you my top picks for hands-free pumping bras for Freemie.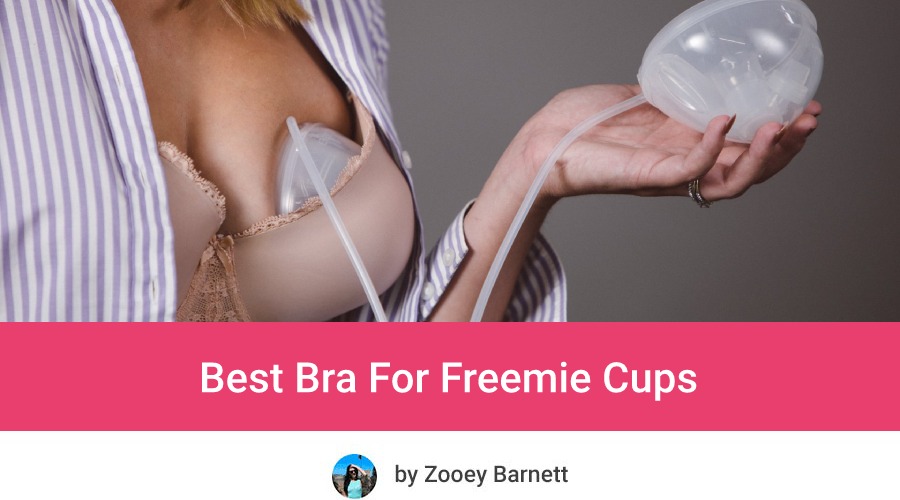 This article is NOT a substitute for medical advice. It contains affiliate links.
What distinguishes Freemie is that the breast shields do not connect with bottles – in contrast to Medela, Lansinoh or Spectra breast pump flanges.
This means that you don't need a traditional pumping bra with special holes for the flanges, because with Freemie no part sticks out.
This is the main reason why I recommend nursing bras for pumping with Freemie.
Best Features
❤️ Stretchy material adjusts to your changing breast size
❤️ Holds Freemie collection cups securely
❤️ Fabric doesn't get saggy over time
❤️ With one-hand clasps it provides easy nursing and pumping access
❤️ Wide underbust band prevents armpit fat
❤️ Elastic fabric and top edge ensure snug fit for collection cups
❤️ Very popular bra among moms using Freemie
❤️ Cheapest option
❤️ Full coverage cups + elastic fabric hold Freemies securely in place
❤️ All-in-one bra, compatible with major brand pumps (Freemie, Willow, Elvie, Spectra, Medela and more)
❤️ Made from soft and breathable cotton
❤️ Budget-friendly price
advantage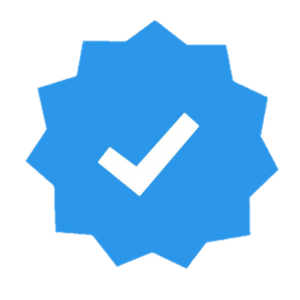 Recommended by 95% of verified buyers!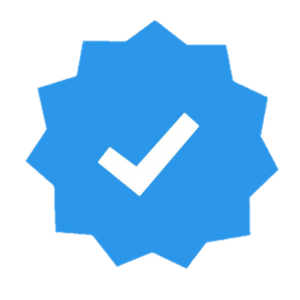 28000+ positive reviews!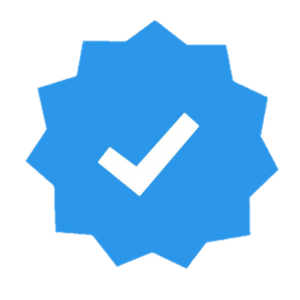 Recommended by 33000+ moms!
Best Overall Bra For Freemie
Best Features
❤️ Stretchy material adjusts to your changing breast size
❤️ Holds Freemie collection cups securely
❤️ Fabric doesn't get saggy over time
❤️ With one-hand clasps it provides easy nursing and pumping access
advantage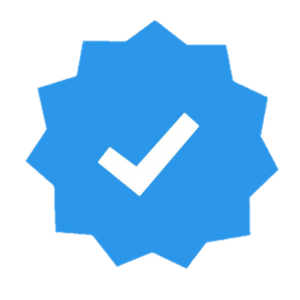 Recommended by 95% of verified buyers!
Best Features
❤️ Wide underbust band prevents armpit fat
❤️ Elastic fabric and top edge ensure snug fit for collection cups
❤️ Very popular bra among moms using Freemie
❤️ Cheapest option
advantage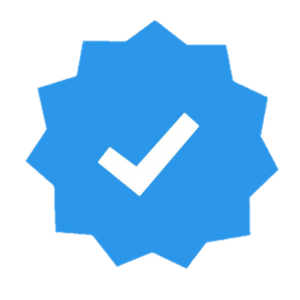 28000+ positive reviews!
Best Features
❤️ Full coverage cups + elastic fabric hold Freemies securely in place
❤️ All-in-one bra, compatible with major brand pumps (Freemie, Willow, Elvie, Spectra, Medela and more)
❤️ Made from soft and breathable cotton
❤️ Budget-friendly price
advantage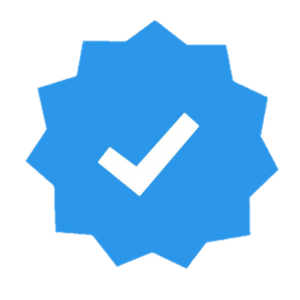 Recommended by 33000+ moms!
Last update on 2023-09-30 / Affiliate links / Images from Amazon Product Advertising API
What you should look out for in the best bra for Freemie Cups is stretchy fabric that will mold to your breast and support them when the are empty and full.
You will need full coverage bra with decent padding, that fits those cups easily and keeps them snuggly on your boobs. If the collection cups do not fit tight enough, the suction may be worse.
Freemies are quick big therefore look for high-quality stretchy material that can expand for the cups, but won't get loose or saggy over time.
One last thing, choose a bra that has easy pumping and nursing access – it's make a huge difference for convenient feeding and using a pump.
What Is The Best Pumping Bra For Freemie Cups?
Here are my reviews of the best bras that work best for Freemie collection cups.
Speaking from my personal experience, Simply Sublime is the best nursing & hands-free pumping bra EVER! It's easy to adjust, provides proper support for boobs and you can use it for breastfeeding or pumping with any wearable wire-free pump.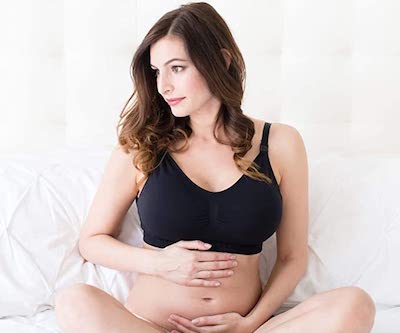 It fits Freemie cups comfortably, and it's also compatible with Willow 3.0 Wearable Breast Pump and Elvie Pump.
This Kindred Bravely bra has clip-down cups which allow you to place the collection cups easily inside the bra.
There is a wide, elastic band and full-coverage cups with removable padding that support your bust and provide optimal shaping and lifting.
SALE ALERT: Right now if you buy 3 Kindred Bravely bras for Freemie you will save $15. Discount applies to all colors, but keep in mind that the sale ends in a few day. Get your $15 discount here >>
The fabric is soft and elastic therefore it adjusts to your changing postpartum breasts and ensure snug fit for the Freemie.
You don't need to worry that the fabric will stretch out over time – I had 3 Simply Sublime bras, wore them basically everyday (and washed quite often) and they remained their shape the whole time!
This is a seamless and wireless nursing bra so you can be sure nothing will dig in or rub your skin.
PRO TIP: If you an active fit mom you may want to get this Sublime sports bra (it's 60% OFF for a few more days!). It has exactly the same features, the only difference is the racerback style and pullover design. It supports breast area even better, which makes it perfect for light exercises, yoga or hiking.
The best thing about Kindred Bravely Simply Sublime is that it fits petite and plus size moms with small and large bust (cup size B-I, band size 30-44).
This is the most affordable option, really popular among moms using the Freemie Pump.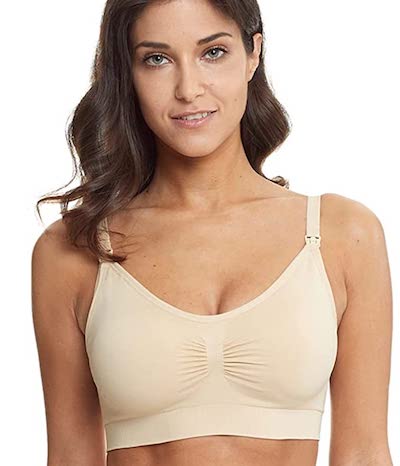 Hofish bundle includes 3 bras, extra bra extenders and clips. It's a fantastic choice for bustier mamas with wide upper body.
These bras don't have underwire which is great for your postpartum breast and milk ducts. Even without the wires, Hofish bras are very supportive (even for large breasts) – thanks to wide underbust band and molded cups.
They provide just enough amount of shaping, lift your bust, and prevent uni-boob. Plus the band is high on each side so it hides armpit fat really well.
Thanks to clip-down cups and elastic top edge, you can easily insert Freemie cups and nothing will pinch the tubes down.
Hofish bra cups are made from high-elasticity fabric which adjusts to your changing breasts. Plus there's always enough room for the pump cups.
Hofish 3-pack nursing & maternity bras are available on Amazon in many colors: black, beige, and pink. You can also mix different colors. Make sure to choose your bra size carefully here & check which colors are available right now.
By the way, if you prefer more discreet bra (no visible nipples), I recommend you to keep the padding inside the cups.
Third place in my ranking of the best bras for Freemie cups goes to Momcozy Pumping Bra. I recommend it mostly because it offers excellent support and maximum comfort for pregnant women and exclusively pumping mamas.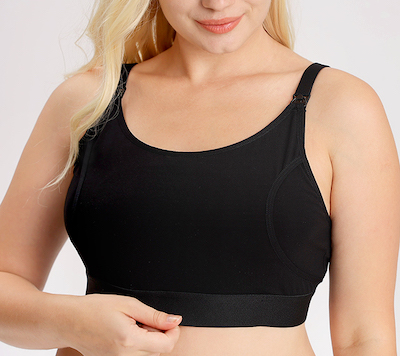 Thanks to quick nursing access it's also a good choice for moms who mix breastfeeding and pumping.
This bra is made from cotton and spandex blend. There are lots of benefits of these fabrics: cotton is delicate for the skin and breathable, while a touch of spandex provides just the right amount of stretch in it.
Budget-friendly price is the cherry on top!
You should know that some moms complain about this bra not being flattering enough. But it works great for lounging around the house and even sleeping, when you don't need that much shaping.
It's wireless so nothing digs in. The fabric stretches easily to accommodate mom's breast when they are both empty and full. Thanks to elastic top edge you don't have to worry about Freemie's tubing getting squeezed.
Full coverage bra cups ensure perfect fit for Freemie collection cups and keep them securely pressed against your breast. You can rest assured they will stay tight – which is so important for maintaining good suction.
This pregnancy & postpartum bra is compatible not only with Freemie, but also with other wearable breast pumps: Willow Pumps and Elvie Pumps.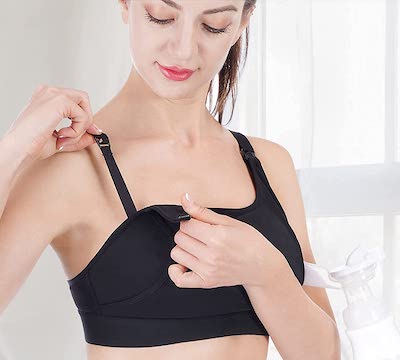 It's basically all-in-one bra, because it also has holes in the cups which means it works with other popular pumps like Medela, Spectra or Lansinoh. The holes are big enough to fit these breast pump flanges that collect with baby bottle.
If you prefer more discreet pumps, the good news is that you can switch their original breast shields for Freemie cups. Whichever solution you choose, you'll be always able to pump hands-free.
Momcozy bra is a game changer – and it can be actually the only bra you will need as a new mom.
Overall lots of mothers seem to agree that Momcozy pumping bra has good coverage for Freemies and holds the pump parts securely in place. It doesn't provide the best shape, but it's really versatile, comfortable and gives enough support when you juggle your everyday tasks.
Body Silk is a medium-price nursing & maternity bra that fits Freemie cups really well.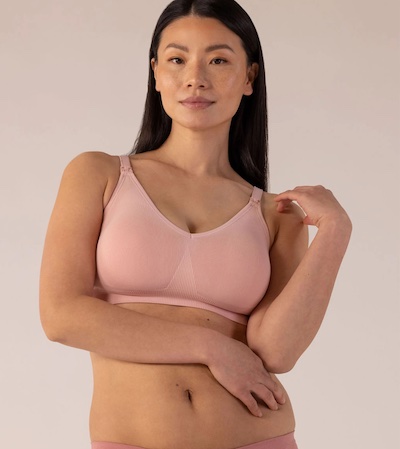 It's perfect for moms who are mixing breastfeeding and pumping. Thanks to clip-down cups you always have one-hand easy access to your breasts, whether it's time for nursing or expressing the milk.
This bra's design makes it extremely comfortable for collection cups: it's made from stretchy fabric, it's wireless, and it has adjustable shoulder straps.
Elastic fabric hugs your changing postpartum breasts. Moreover, molded cups provide natural shape and lift, without compression or discomfort. They also ensure good breast separation (forget about mono-boob).
Although there's no underwire, this comfy bra provide really good support because it has wide, ribbed underbust band. It imitates the support of underwires, but without uncomfortable digging and rubbing.
There is also removable foam padding for extra nipple discretion.
Beside all these useful features, there's one more reason moms love this Bravado bra. It looks so flattering! It comes in many cute colors (my favorite is this Apricot version) – it looks nice just like a regular bra.
If you feel like Bravado bra has a bit too thin material or you prefer more shaping – Motherhood Maternity Bra will be an excellent choice for you.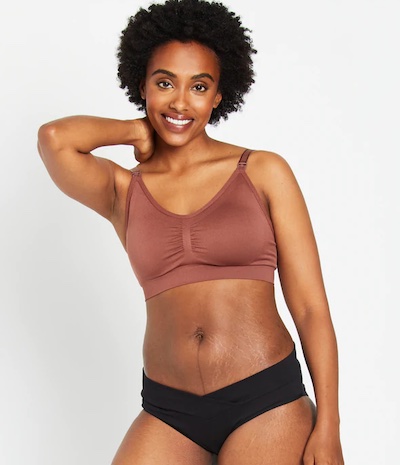 It's perfect for moms who like high amount of support, lifting and modesty. It ensures great nipple discretion therefore you can wear it as your everyday bra.
It's also one of the best bras for plus size moms – it comes in 7 sizes, including 3X for busty mamas.
A few mothers wrote that sizing is a bit off and they needed to order different sizes to find the right bra. Make sure to check the sizing chart carefully here >>
It's made from ultra soft fabric and doesn't have any uncomfortable wires (less risk of clogged ducts).
The cups are molded and elastic which means they super comfortable for accommodating your breast that change during your pumping and breastfeeding journey.
Because this bra has full coverage cups they hold and cover the bust really well, and they also accommodate Freemie cups without any discomfort, yet provide very secure fit.
And whenever you need to nurse or insert Freemie flange, you can unclip the bra cups with one hand, it's so convenient.
Best Nursing Bras For Freemie Cups – FAQ
I hope my ranking helped you to choose the best bra for Freemie Cups. Here are a few more details about pumping bras and tips for easy pumping.
Are Hands Free Pumping Bras Worth It?
I wouldn't say pumping bra is a must-have, especially if you're stay-at-home mama. But if you like multi-tasking, have more kids to run around after or want to goo back to work, getting good hands-free pumping bra can make your pumping experience a lot easier.
Whichever pump you decide to buy – wearable like Freemie, Willow or Elvie, or electric like Medela, Philips Avent or Spectra, only with a supportive pumping bra you'll have your hands free to take care of other tasks. That's why I think the hands-free pumping bras are worth the money.
>> Best Willow Pump Bra & Elvie Pump Bra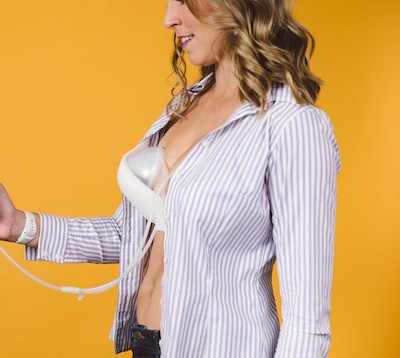 Which Bra Doesn't Work With Freemie Wearable Pump?
If you have a hands-free pump you should avoid bras that have underwire because it will dig into your skin or may even lead to clogged ducts and have a negative impact on your milk supply.
Overly padded bra is not a good choice for Freemie cups either because it may be too tight and not as stretchy as needed.
Whether you're an exclusively pumping mom or breastfeeding too, you don't want a bra that doesn't give you quick access to your breasts. If the bra doesn't have clips on cups – skip it.
Ideally, the bra should offer you one-hand access, in case you're holding your baby in other hand.
As a new mom you should be wearing flimsy bra that is too soft or loose, and makes your breast saggy. Strapless bra is also not a good option because it won't hold cups as they get filled with milk.
Avoid cheap bras made from low quality materials. The fabric will loosen over time and won't provide you needed comfort and support.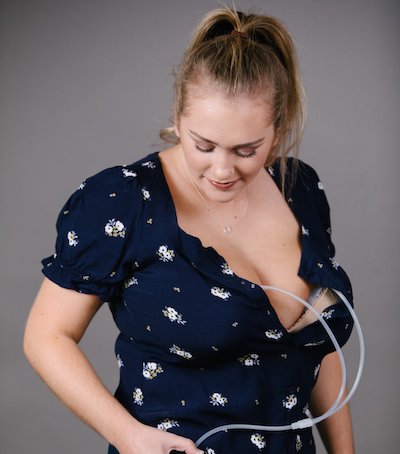 How Do You Keep Freemie Cups From Leaking?
To keep your Freemie Cups from leaking, first make sure you chose the right size. If you bought flanges that are too small or too big you may experience leaking as well as sore nipples.
If you chose the correct pump size, and the cups are still leaking, check if you put everything together correctly (check all breast shield parts, including valves and tubing).
There's one more important thing to do to avoid leaking with Freemie. Before the first use, boil all hard cup parts to make them airtight – make sure to stir the parts while boiling to avoid any damaged.
By the way, washing them with hit water is not enough – only boiling the cup pieces will keep Freemies from leaking.
Why Is My Freemie Squeaking?
If your Freemie is squeaking it's a sign that the cup is placed in the wrong way on your breast which makes the vales to squeak.
---
Related Articles:
>> Willow vs. Elvie vs. Freemie – Which One's The Best Wearable Breast Pump?
---
Sources of pictures:
Pictures of Simply Sublime Bra belong to Kindred Bravely Brand.
Pictures of Momcozy Hands Free Bra belong to Momcozy Brand.
Pictures of Bravado! DESIGNS Body Silk Bra belong to Bravado! DESIGNS Brand.
Pictures of HOFISH Bra belong to HOFISH Brand.
Pictures of Motherhood Maternity Seamless Bra belong to Motherhood Maternity Brand.
---
The purpose of this article is informative. It's not a substitute for professional medical advice or medical care. Remember: safety first! Consult your doctor/pediatrician in case of any doubts. The author of this article does not accept any responsibility for any liability, loss or risk, personal or otherwise, incurred as a consequence, directly or indirectly, from any information or advice contained here.
Your trust is really important to me: This article includes affiliate links to products that I think are useful for our readers. If you make a purchase through these links, I may earn a small commission at no extra cost to you. Your support helps me run this blog – thank you!