As a parent of twins I know that choosing a double stroller may be twice as hard as picking a single stroller.
It's really difficult to find a stroller that is well-equipped, safe and strong enough to hold two kids securely, without being gigantic and excessively heavy. You will be going to the mall and running daily errands with it, right? So it should make your life easier, not harder!
Whether you have twins or need a stroller for infant and toddler, I'm here to help you choose the right double buggy that will meet your needs.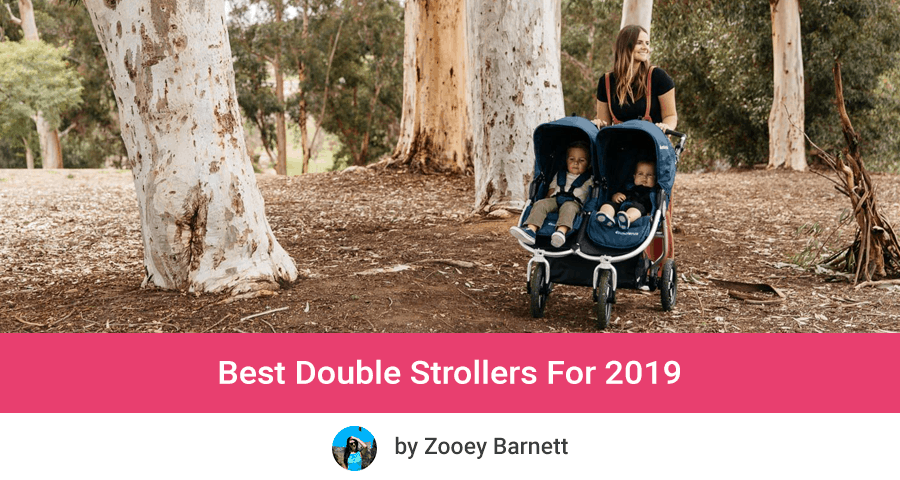 On the market there are two main types of double strollers: side-by-side and tandem models.
In tandem stroller one baby sits behind the other one or the kids can be facing each other. In some models the back seat is placed a little bit higher that the front one. This version is called stadium seat. Thanks to that kind of seating option both kids can explore surrounding during a stroll.
Tandem stroller has the same width as a single stroller which is a huge advantage, because you don't have to worry about fitting through doorways or elevators. However, this type of a double stroller is much longer. It makes going through curbs more difficult. There is also one more disadvantage of this type: when we recline the front seat, the kid in the back seat has less leg room.
In side-by-side stroller kids sit next to each other. This type is as long as a single strollers, so you won't have problems with curbs, but it is much wider. The width can be a problem when we are trying to fit through narrow grocery store alleys – it can be really difficult not to bump into any shelves or stands. However, I really like this type of double strollers, because I know seating next to each other is so much fun for kiddos!
Okay, so we have the basics and now it's time to see which double strollers are best in 2019.
1. Baby Jogger City Mini GT Double
LittleBabyGear Verdict: Best medium-priced stroller for city and off-road walks
Suitable even for 4 and 5-year-old kids
You won't have any problems with steering, even on harsh terrain and with heavy passengers
Price range: $$$
2. Bumbleride Indie Twin Double Stroller
LittleBabyGear Verdict: Top-notch all terrain stroller
Handles all types of terrain, even the snow
Thanks to deep recline and adjustable calf rest the seat has infant-ready mode
Price range: $$$$$
3. ZOE XL2 BEST
LittleBabyGear Verdict: Best lightweight double stroller with pocket-friendly price
Easy to carry and lift – weighs only 19 pounds
Lots of accessories included
Price range: $
4. Joovy Scooter X2 Double
LittleBabyGear Verdict: Inexpensive stroller for city dwellers
Works for tall toddlers
Spacious storage basket for parents' essentials
Price range: $
Sale
6. Joovy Caboose Ultralight
LittleBabyGear Verdict: Budget double stroller for siblings
Great double stroller for infant and older kid
Includes child tray and parent console
Price range: $
Sale
7. Joovy Twin Roo+
LittleBabyGear Verdict: Cheap and practical stroller alternative for the first months
Usable up to 6-9 months
Space-saver
Price range: $
7 Top-Rated Strollers For 2019
Here I present you my ranking of 7 high-quality double strollers, which I can truly recommend to any parent. I chose only the reliable strollers that are highly rated by dozens of customers.
The best double strollers for 2019 are: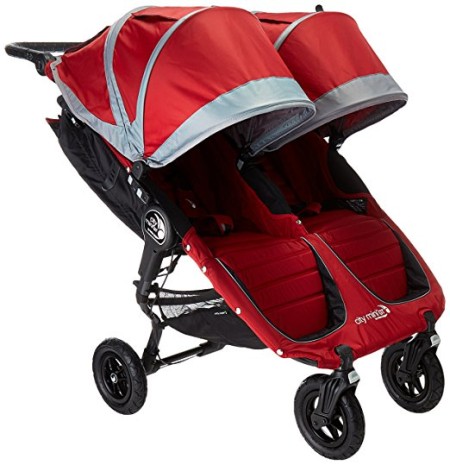 This is my favorite side-by-side stroller in a medium price range. This stroller will serve you for years and easily accommodate even a 3 or 4 year old!
It has two regular seats that are suitable for infants who can hold their heads up (around 3-6 months). Maximum capacity is 50 pounds per seat. There is multi-position recline with near-flat position. The seats have vented tops which provide additional ventilation. There are also retractable covers that you can use to close the vents.
The seats are nicely padded to provide maximum comfort for the little passengers. Each seat has also a leg rest and footrest – unfortunately both are non-adjustable.
There are two separately adjustable 3-panel canopies. I love how far they extend to protect babies from sun rays and wind. Each sunshade has two peek-a-boo windows so you could keep an eye on your precious cargo.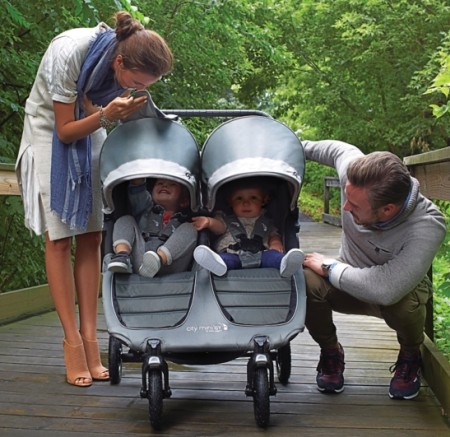 This double baby stroller has 8.5″ all-terrain wheels with rubberized tires. There is also front wheel suspension that soaks up bumps and smoothes the ride. Therefore it can handle gravel paths and slightly uneven terrain.
Baby Jogger City Mini GT can be also turned into a travel system for one infant. So you can use this double stroller for infant and toddler. If you have newborn twins Baby Jogger has something for you too! City Mini GT can hold two carrycots (sold separately).
I like that this side-by-side baby stroller has adjustable handlebar so pushing is comfortable for parents of all heights.
Folding is super easy thanks to patented technology. It's hard to believe but you can actually fold this double stroller with one hand. Automatic lock keeps the stroller closed which simplifies storage and transport.
If you want to learn more about Baby Jogger City Mini GT Double here is my full review of this stroller. If you're thinking about buying this stroller, keep in mind that there may be over $100 difference between some color version! You can compare them here.

What other parents think
I checked what other parents wrote about this stroller on Amazon to find out if it's worth the money. At the time of writing this ranking most reviews were positive. In the table below you can see major assets and drawbacks that parents mention.
Pros
Cons

Pros

---

+ Easy to use handbrake

+ One-hand compact fold

+ Works great for kids with larger age gap (for example newborn and 3.5-year-old)

+ Deep recline is perfect for naps and suitable for younger infants

+ Easy to maneuver on any type of terrain, even with heavy kids

+ Feels very light to push and turn

+ Fits through doorways

+ Sunshade goes really low and protect babies from the sunburns

+ Great stroller for everyday use and occasional off-road trips

+ Sturdy and strong

Cons

---

- There should be bigger storage basket with more easy access

- Velcro closure on peek-a-boo windows is noisy

- Accessories (like cup holders and parent organizer) are not included and can be pricey – you can check the price of accessories at Amazon by clicking here

- VNot perfect for shopping at the mall

- Heavy (32.6 pounds) – it may be challenging to move it in and out of car frequently
Keep in mind
Although this stroller has suspension built into the front wheels and can handle many types of terrain, it's not suitable for very rough terrain. On bumpy rocks kids will bounce a bit.
3 Reasons Why You Will Love This Double Stroller
1. Many parent use it occasionally for older kids (even 5 year old), so it can serve as stroller for big kids or older toddlers.
2. Thanks to high-quality, durable materials you can be sure this stroller is a long-term investment.
3. Works not only for twins but also as a double buggy for toddler and baby thanks to well-balanced construction.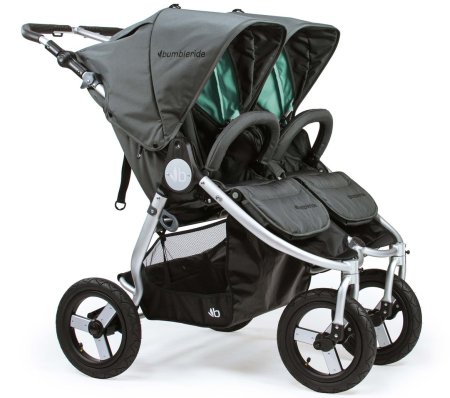 This is more expensive side-by-side double stroller, but the quality and versatility are definitely worth the money. Bumbleride Indie Twin accepts two infant car seats and two bassinets so parents can use it from birth.
It's not only a top-notch twin stroller, but also a great double stroller for siblings. All thanks to excellent stability and weight distribution.
The regular seats feature near-flat recline, there are also adjustable calf rests.You can actually use the full recline and calf rest raised all the way up to convert the seat into infant-mode. It provides secured and enclosed space for small infant.
It can be even used for a newborn baby but since the seat is facing front, you wouldn't be able to observe your baby (except for the viewing window on the canopy). That's why I think getting a bassinet for newborn baby is better option, particularly for frequent walks.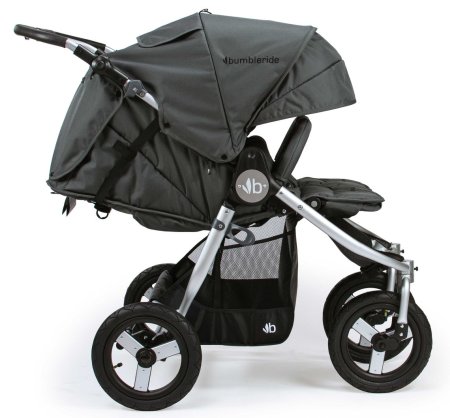 But it's nice to have a newborn-ready seat, especially since this double stroller is quite pricey and not all parents have extra budget for the carrycots.
The maximum weight capacity is 45 lbs for each seat. Based on customer reviews I can tell you that Bumbleride Indie Twin Double Stroller will most certainly serve you up to 3-3.5 years.
I love how well-padded and cushy the seats are. They are perfect for naps on-the-go, no matter how old your babies are.
Another noteworthy features are the two large canopies that extend really far. They even pass over the bumper bars! Even when the seat is fully reclined the canopy provides great amount of shade. No more worries about sun in baby's eyes!
Each canopy has also a mesh peek-a-boo window with magnetic closure. It's a huge advantage, because it provides additional air-flow and it's silent, in contrast to Velcro which most parents hates.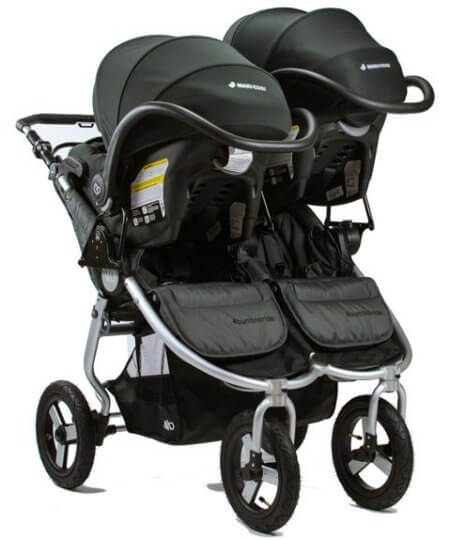 The stroller is compatible with Maxi-Cosi, Nuna Pipa and Cybex Aton models (you can find the full list here).
If you plan on going for long-distance strolls from birth, I recommend you adding a bassinet for the newborn baby. Bumbleride Indie Twin allow you to attach two bassinet therefore you can actually convert this stroller into parent-facing double pram.
As you can see all the seating options make this double stroller perfect for newborn twins, two toddlers or kids with small age difference.
But the versatile seating configurations are not the only thing that make this one of the best double strollers.
Bumbleride Indie Twin has fantastic all-terrain wheels that give you the freedom to go for a stroll wherever you want to! There is also all-wheel suspension. You're going to love how smoothly this stroller handles sidewalks, trails, gravel, grass, even the snow.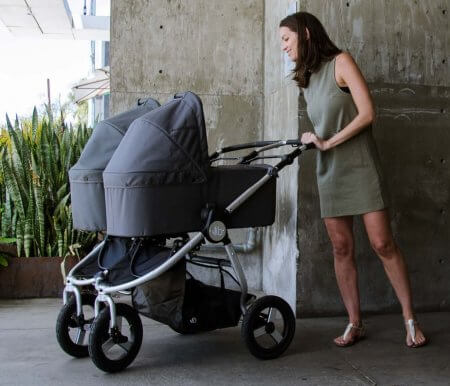 What other parents think
This double stroller is quite expensive and the newest model hasn't been on the market very long, therefore the number of customer reviews is not very impressive, but one thing is certain: parents love Bumbleride Indie Twin!
There are not so many customer reviews on Amazon, therefore I also checked the opinion on Bumbleride website. Below you can see what features parents praise most often and the drawbacks they mention.
Pros
Cons

Pros

---

+ Smooth ride, truly all-terrain wheels (some parents have used it even on the beach! -> more here <-)

+ Perfect stroller for long walks

+ Lots of coverage when canopies are fully extended

+ Great maneuverability

+ Effortless, one-hand push and steering

+ Feels less bulky than many other double strollers

+ Stable, strong construction & perfect balance even for a newborn and 3-year-old

+ Large basket with easy to access wide opening

+ Deep recline, comfortable for napping

+ Eco fabrics

+ Attractive, cute design

+ Easy folding

Cons

---

- Nuna infant car seat is more difficult to attach and detach than other models (it's even mentioned by the manufacturer on Bumbleride website)

- Seats are not reversible – no parent-facing mode

- One of the heaviest double strollers (36 pounds)
Keep in mind
Except for the tire pump, accessories are not included. If you want a parents organizer, rain cover, bassinet, car seat adapters or standing board, you will need to spend some extra money.
3 Reasons Why You Will Love This Double Stroller
1. With infant-ready seats and dual car seat and bassinet compatibility this may be the only stroller you will ever need. You will be able to enjoy it for about 3-3.5 years.
2. It's versatile and truly all-terrain. With Bumbleride Indie Twin cracked sidewalks, grass, gravel or snow won't be a problem!
3. All fabrics are eco-friendly and easy to clean. The seat padding + canopies are removable and washable.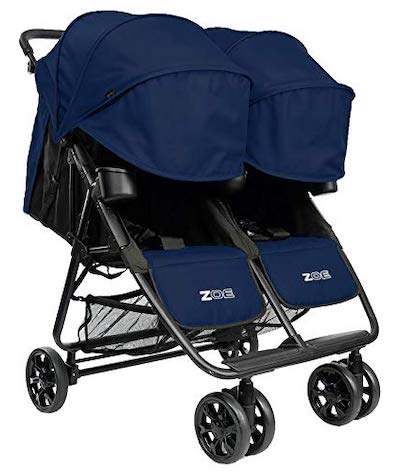 This is absolutely one of best selling double lightweight strollers. No wonder! It weighs only 19 lbs, which makes it lighter than many single strollers!
Each seat is suitable from 6 months up to 50 lbs and reclines individually. It is a great feature because one baby can take a nap while the other one is sitting and observing the world. There are huge 4-panel expandable canopies, each has a peek-a-boo window with magnetic closure (big plus!). Under the seats there is a good-sized storage basket, there are also additional pockets where parents can keep their essentials like keys and phone at hand.
Many parents use it as an everyday lightweight stroller. It's sturdy (especially for such a light design) and pretty easy to maneuver with one hand, mostly thanks to one big convenient handlebar instead of two small handles. With two older toddlers steering requires using rather two hands.
It folds and opens in few seconds, which makes it perfect for using public transportation and travels. It's a great space saver for parents who small apartments and it fits easily in majority of car trunks.
The newest version of ZOE XL2 BEST stroller is a little bit heavier than the previous version (19 lbs instead of 17 lbs) but it features improved wheels. They make the stroller easier to turn and suitable for more types of terrain. This version has also deeper recline and bigger 4-panel canopies.
What other parents think?
I checked customer reviews on Amazon to find out what parents think about this double lightweight stroller. Here are the main features that parents praise and dislike.
Pros
Cons

Pros

---

+ Very light and easy to lift

+ Compact fold which is easy to storage in car trunk or at home

+ Reclining and comfy seats

+ Many accessories included

+ Easy to operate with one hand

+ Fits through standard doorways

+ Good customer service

Cons

---

- 5-point harness may be difficult to unbuckle and adjust for some parents

- Cup holders don't attach to stroller securely

- Carry strap is not included
Keep in mind
Although the basket under the seat is pretty big, it rather won't fit large diaper bag because of a bar in the middle. This stroller doesn't feature car seat compatibility and flat recline, therefore it can't be used for newborns, only from 6 months.
3 Reasons Why You Will Love ZOE XL2 BEST
1. Thanks to individually reclining seat, great weight distribution and balance, it can be used for twins or kids with age and size differences without any problems. 
2. It comes with many accessories included for FREE: parent cup holder, two child cup holders, one snack cup and one padded double front belly bar.
3. According to many parents this is the best double lightweight stroller, considering its numerous features, ultra light design and affordable price.
Do you like ZOE XL2? Before you decide to buy it make sure it meets your needs and read more reviews written by other customers on Amazon.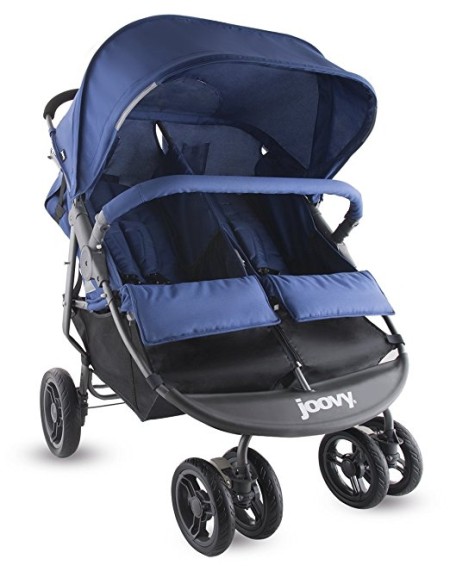 This is probably the most popular and best-selling double side-by-side stroller. It's very well equipped and in addition it's a low budget option.
Each seat can accommodate a passenger from 3 months up to 45 pounds. You can adjust the seat backs and calf rests individually. The one-hand infinite reline allows you to set the back rest in any position. The seats go to near-flat position which is perfect for napping on the go. There is also removable bumper bar for both seats.
There is however one canopy for both seats. I'm not a fan of this design, I definitely prefer two separately extendable sunshades which are useful when one baby wants to nap and the other wants to observe everything around. Joovy Scooter X2 canopy is roomy but doesn't extend very far. It covers babies faces and torsos, but definitely not their legs.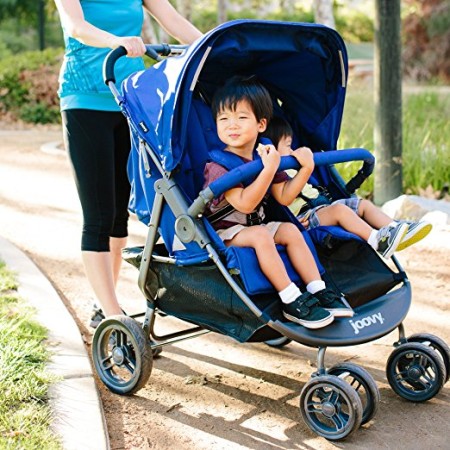 This double stroller has decent wheels (9.5″ in the back and 7″ in the front), but the rubber tires are very thin. Dual front wheel design creates a strong foundation and adds stability. But keep in mind that dual wheels ar not good on sand or gravel.
As for an everyday stroller Scooter X2 performance is really impressive. Although this is a double stroller it's very nimble and its maneuverability is incredible.
I like how big storage space this stroller offers. There is capacious basket under the seats where parents can easily fit their diaper bag and few other stuff. There are two additional zippered pockets for your valuables and two beverage holders on the back of each seat. This integrated organizer is very useful and parents don't have to spend extra money on a console or another organizer to keep their essentials at hand.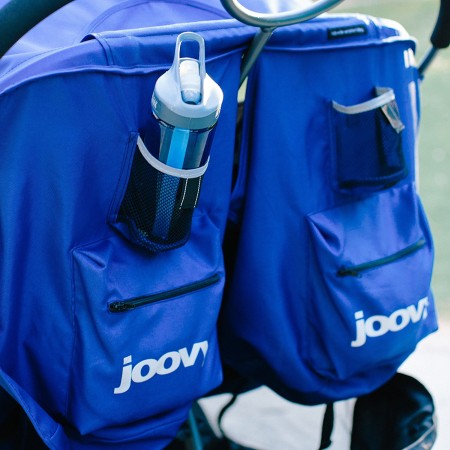 With Joovy Scooter X2 Double Stroller you don't have to worry about getting through doorways – it's only 30″ wide so it easily fits through standard doors.
This side-by-side stroller isn't very light – it weighs 32 lbs and some parents find putting it in and out of the car trunk quite challenging. Good thing is that it folds compactly and fits in most trunks.
Joovy Scooter X2 Double Stroller comes in 5 different colors. Keep in mind that the availability and price may vary, depending on the color version you choose. You can compare prices of all colors here.
What other parents think
I always check customer reviews on Amazon before I decide to buy a product for my babies and this stroller was no exception. At the time of writing this review it has over five hundreds reviews (and most of them are positive ones). It's a remarkable result!
Pros
Cons

Pros

---

+ Huge basket under the seats

+ Great padding

+ Fits through doorways

+ Although the sunshade are not very long the cover is sufficient

+ Moves smoothly

+ Works for twins and kids of different age

+ Deep recline

+ Many parents use this stroller for tall toddlers

+ Useful pockets inside the seats for sippy cups or favorite toys

+ Responsive and helpful customer service

Cons

---

- Two separate canopies would work better

- Doesn't stand on its own when folded

- Few parents mention that lifting the front wheel and tilting the stroller backwards for going over curbs is not very easy (read more about it here)

- The handlebar grip should be few inches further toward the person
Keep in mind
Although this stroller can handle many types of terrain I wouldn't recommend it for grass and sand. Going over snow and mud may be also challenging.
Also, this model is not compatible with infant car seats so it cannot be used for newborns. It's a stroller for two kids at least 3 months old.
3 Reasons Why You Will Love This Double Stroller
1. It's well equipped and convenient to use like the most luxury strollers, but much cheaper.
2. Perfect option for parents on a small budget.
3. Great stroller for everyday use, shopping, running errands and day trips.
To get this stroller at good price with full warranty you should purchase it from seller approved by Joovy. On the official website manufacturer recommends Amazon as trusted and official source. Click here to check latest price.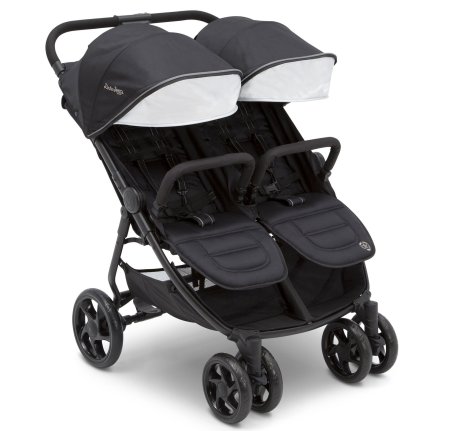 This model is fairly new on the market, but it quickly gets more and more popular. There are no bells and whistles, but it has all the necessary features, weighs only 21 lbs and in addition, it has affordable price!
Destination Ultralight Double Stroller by J is for Jeep Brand can be used from 6 months (or when the baby has developed neck control), all the way up to 40 pounds per seat.
Each seat feature independent, multi-position recline. Frankly, it's not the deepest recline I've seen, but it's sufficient for a comfortable nap. You can also flip up the calf rest to give your baby's little legs more support during the nap time.
Since there is no flat recline, nor car seat/bassinet compatibility, this double stroller is not suitable for newborn twins. However it serves amazingly as a second, lightweight double stroller.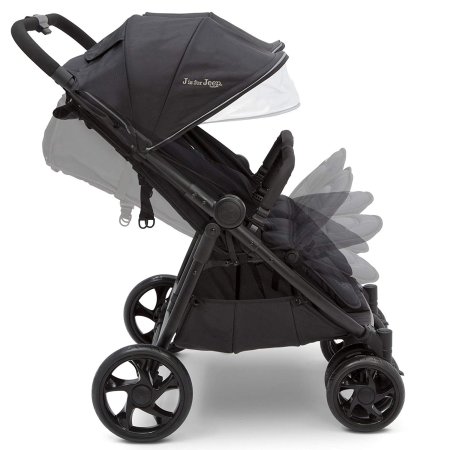 If you need a buggy for everyday use in the city for your 6+ months kiddos and you're on a tight budget, you should definitely consider this top-rated double stroller.
The seat interior is nicely padded and feels really cushy. I only wish the harness straps were padded too, to be more gentle for baby's skin. It's something you should keep in mind.
On a positive note, there is a separate bumper bar for each seat, included with the stroller. The bars are removable and swivel to make taking baby in and out of the seat easier. Nice! Another useful feature is the water resistant fabric.
This double baby stroller has individually extendable canopies with SPF 50+ pop out sun visors. They are not as generous as the canopies on Bumbleride Indie Twin or Baby Jogger City Mini GT Double, but still big enough to keep the sun out of baby's eyes.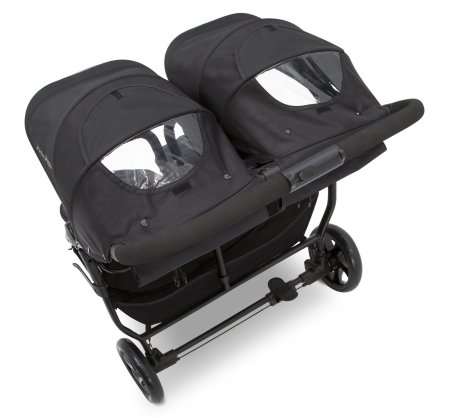 This is not an all-terrain double stroller, but it operates pretty well on surfaces like gravel paths and short grass (and of course pavement). J is for Jeep Brand Double Stroller is not as versatile as for example Indie Twin, but it won't let you down as a city stroller.
IMPORTANT: I've read in customer reviews that some parents have run with this stroller. Remember that it's

not designed for jogging

and it's not safe to run with it!
The storage basket underneath the seats is quite impressive and can hold a lot of stuff. However, typically for a double stroller, on the back of it there is a bar in the middle. It makes the access to the bin a little harder, but not fully blocked.
This side-by-side double stroller lacks some features like car seat compatibility, near-flat recline or adjustable handlebar. But it's light, handles different types of terrain, navigates easily and costs less than $300. How could you not fall in love with it!?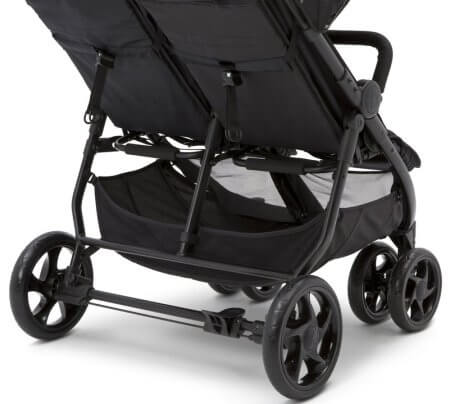 What other parents think
I checked customer reviews on Amazon and I have to admit – the amount of compliments this stroller receives is really impressive. It's one of the top-rated double strollers. See the current rating for yourself (click).
Pros
Cons

Pros

---

+ Great steering and navigating, even on trails

+ Effortless to push

+ Generous, sturdy canopies

+ Sufficient recline (although it's not fully flat, and not suitable for newborns)

+ Adjustable calf rest for comfortable napping

+ Folding and unfolding is a breeze

+ Good size storage basket

+ Carrying handles and shoulder strap included

+ Lightweight & easy to carry like an umbrella stroller, but much more sturdy and strong

+ Sleek design (great for use at amusement parks -> more in this review <-)

+ Fits through normal doorways

+ Reasonable price

Cons

---

- No accessories like snack trays or cup holders

- The harness straps are not very nice to touch
Keep in mind
This stroller is not suitable from birth – the seats don't recline far enough, there is no options of attaching infant car seat or bassinet. You can use it only for kids who have good neck control.
3 Reasons Why You Will Love This Double Stroller
1. It's lighter than many standard single strollers! No more struggles with carrying or loading the stroller to the car trunk.
2. This is one of the cheapest double strollers, perfect options for parent who have to stick to their budget.
3. It's a dream to push and navigate – perfect for travel and everyday use like shopping trips, going to the day care and long walks.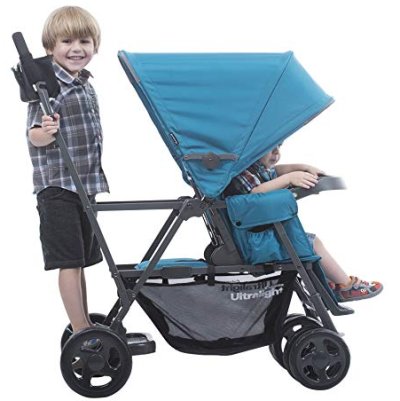 One of the top-rated strollers for siblings in 2019, the Joovy Caboose is practically a double only that it is meant for an infant and an older kid, say 2-year-old and up.
This is a highly functional and inexpensive double stroller that comes in 5 color schemes. But what makes the Joovy Caboose Ultralight one of the best double strollers for this year? I would say versatility, ease of use and lightweight design.
The first thing that I liked about this stroller is that it is meant to come in handy right from your child's birth in that it can be used as a travel system. While it does not come with a car seat in the package, it has a universal car seat adapter that accepts seats from most brands.
This stroller's front seat unit can accommodate 3+ months old infants and has a weight capacity of 45 pounds. This seat has 3 recline positions that you adjust using one hand. Although it does not recline completely flat for napping, it still has enough give for a quick rest. Another feature worth of mention here is a footrest that adjusts all the way up to boost the overall comfort of the baby.

The seat at the back is basically a bench recommended from 6 months, up to 45 pounds too. It's equipped with 3-point harness to keep the big boy or girl securely in place.
There's an option to add the Caboose Rear Seat to convert the bench into a full-size, front-facing seat, which looks exactly like the front one. It's sold separately, but it doesn't cost much (check it here).
PRO TIP: If you already know you want this stroller with standard rear seat, choose this Joovy Caboose Too Ultralight with second seat included. It's cheaper than purchasing stroller and second seat separately.
The bench seat has a really thoughtful design that allows it to slide front and back to allow the older kid to access it when the front seat is reclined in the 2nd position.
However, it will be impossible to sit on the bench if the passenger at the front wants the seat almost flat or if you are using a car seat.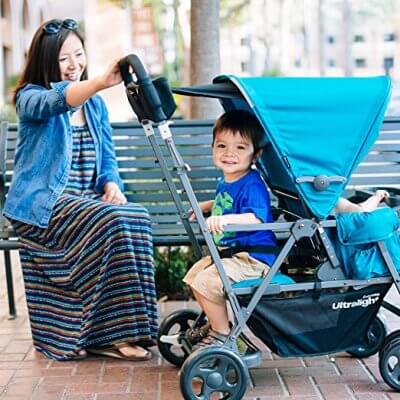 But that's where the stand-on platform comes in. What your older kid will love about this platform is that they can use it while facing either forward or backward.
Moreover, this standing platform doubles as a footrest when the older child is sitting on the bench seat.
The front seat's sunshade is decent, but it doesn't extend very far so it may not always fully protect the baby from sun. There is also a rear canopy attachment to protect your kid at the back from the sun.
It's not a full-sized canopy, rather a small hood that reminds me a bit of GB Pockit sun hood, but still it's a nice addition.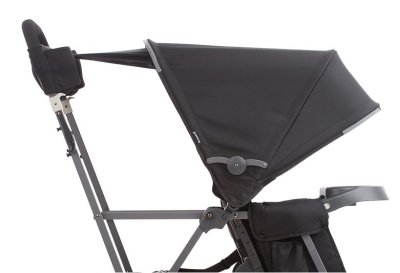 The wheels are made of soft rubber and while they are not meant for unbeaten paths, they have a suspension system that offers really smooth rides on flat pathways.
Just as its name suggests, the Ultralight Sit and Stand double stroller is amazingly light at 23.5 pounds (with all the accessories on).
Folding it is a 3-step process and it requires using 2 hands. This is probably the biggest challenge that I found with this stroller, by the way, coupled with the fact that it does not lock automatically and self-stand.
Oh, one more thing. Although this is one of the best double strollers for infant and toddler, it has annoyingly large fold. It's very long and feels quite bulky. It may not fit in a small car trunk, if you have a bigger car you probably won't have problems with it.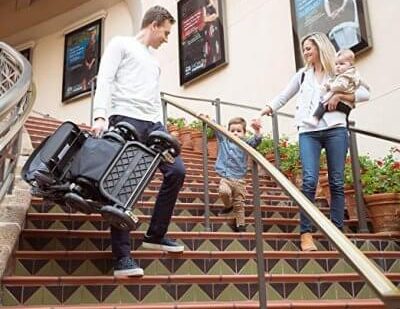 What other parents think
The Ultralight Graphite is quite popular among parents if the reviews on Amazon and on the manufacturer's site are anything to go by. Here are some of the common pros and cons that stood out from their feedback.
Pros
Cons

Pros

---

+ Slim design allows easy maneuvering

+ No problems with getting through doorways, elevators or narrow shopping aisles

+ Lightweight design makes pushing easy

+ Stand-on platform and bench for big boys and girls

+ Front seat canopy has extension for the rear seat

+ Parent's and kid's organizers are included

+ Lightweight for a double-stroller

Cons

---

- Handlebar is not height-adjustable

- Brakes are not flip-flop friendly

- Decent basket under the seat but with a very difficult access

- Large fold size
Keep in mind
The ability of the Joovy Caboose Ultralight to withstand a weight of up to 90 pounds definitely ranks it as one of the best double strollers for 2019. However, the softer rubber wheels mean that it's meant only for city rides and in paved parks.
3 Reasons Why You Will Love This Double Stroller
1. Thanks to its slim construction it's easy to maneuver and fits through doorways and elevator with ease.
2. It's one of the lightest double strollers on the market which makes it easier to lift to the car trunk.
3. Bench seat and standing platform make it a great double stroller for an infant and a big kid.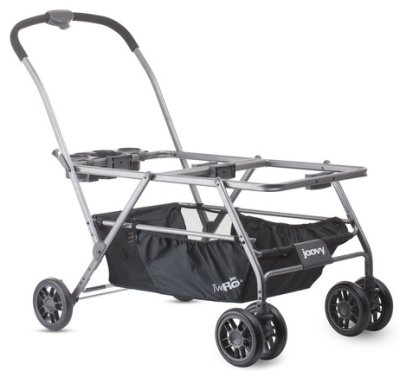 This is a low-budget alternative for double twin stroller. It's just a frame that can accommodate two infant car seats. Perfect solution for parents on a small budget that don't need full-sized stroller for their twins during first few months.
When the infants are old enough parents can change the frame for a double lightweight stroller which is definitely more pocket friendly than a standard stroller.
Let's take a look at the feature that this double stroller frame has. It accepts major brand car seats. To attach the infant car seats you will need to purchase separate adapters. It's an additional cost, but it's still cheaper option than many standard double strollers.
Currently there are adapters for these car seat brands: Britax, Chicco, Graco, Maxi Cosi, Cybex, Peg Perego and UPPAbaby. As you can see the choice is really vast, and you'll be able to attach most of the popular car seats. Notice that this stroller frame is not compatible with any of Evenflo or Phil and Teds car seats.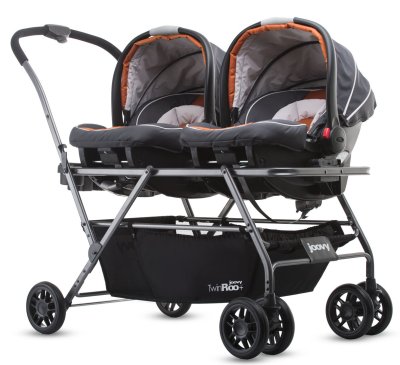 What's unique about this double stroller frame is that it's narrow as a single stroller, but the car seats are mounted side by side (facing the same or opposite direction). In the picture below you can see how it looks like.
Most frames have car seats arranged in stadium-style seating where the second one is mounted behind the first one.
Joovy Twin Roo+ has different design, but frankly – it turns out to be really convenient!
When the car seats are side-by-side you have a clear access to both of them and you can easily take your babies in and out. With Joovy Twin Roo+ you don't have to worry about the handlebar or the second car seat getting in your way or blocking babies' view.
There is a large basket that can accommodate a lot of parents necessities. Just keep in mind it may be less accessible when the infant car seats are on. Joovy stroller frame is also equipped with useful parent tray mounted below the pushbar. There are FOUR beverage holders and a place for your phone. Each of the cup holder doubles as a storage compartments.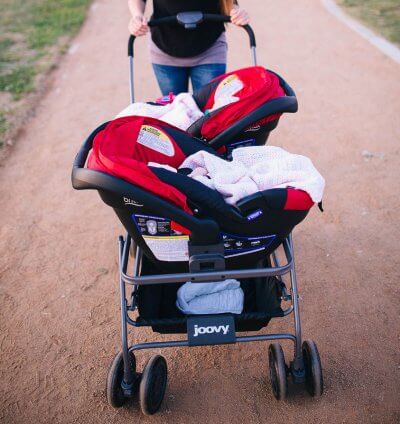 This double car seat frame has dual swivel front wheels which make it more maneuverable. Keep in mind that you will probably need to operate it with two hands, especially in narrow places and corners because of its long wheelbase.
The wheels are medium sized and non-inflatable therefore they are best for urban environments and hard, paved surfaces. Their performance on gravel driveway or paths in park is decent. But I don't recommend it for unpaved roads and other bumpy surfaces, because it will wiggle and shake.
Folding is easy and quick and you can wheel it up to your car trunk like a suitcase. The fold is really flat, but it's very long (almost 48 inches), so it does take up a lot of space in a trunk. But it seems to be easier to store at home, if you place it on one side.

What other parents think
I checked what other parents think about this frame and it turned out this solution is very popular among parents of twins. It's highly rated and many parents recommend it for the first few months with infant twins. Here you can read customer reviews on your own.
Pros
Cons

Pros

---

+ Makes life with twins MUCH easier

+ Lots of infant car seats compatible with the frame, they easily click in

+ Folding is a piece of cake (even with one hand)

+ Large storage underneath the stroller for all of your necessities

+ Great for the first 6-9 months

+ Easy access to both babies

+ Twins can face each other or the same direction

+ Works perfect for trips to the mall and restaurant or running quick errands

+ Practical, cheap alternative

+ Fairly lightweight

Cons

---

- Steering and turning takes practice (because of long wheelbase)

- Wheels are not good for rough terrain

- Fold is very long – may not fit in every car trunk
Keep in mind
The frame requires adapters for attaching the car seats. If you purchase just the frame you won't be able to use it. You need to add the adapters first, and unfortunately all adapters are sold separately. On a positive note, they cost less than $30 and even with this additional cost it's still a cheap alternative for a stroller for twins.
Also, remember that car seats are more suitable for short walks, not long-distances strolls.
3 Reasons Why You Will Love This Double Stroller
1. It's a great option for parents on a small budget, who don't want to spend much money on a standard stroller.
2. Thanks to unique design you have easy access to both of your babies and their way is not blocked by anything therefore they can observe the World or interact with each other.
3. This frame is excellent stroller alternative for the first few months. When your babies outgrow the infant car seats, you can switch to a double umbrella stroller (which is also pocket-friendly).