WildBird Ring Sling is my recent babywearing discovery and I can't stop raving about it! Never in my life had I thought that I would like wearing ring slings but then I tried the WildBird. Lots of moms will agree with me: this is the best ring sling for newborns (and toddlers). It's so comfy, supportive and easy to use.
Read my WildBird Ring Sling Review and find out whether it is the right choice for you as well.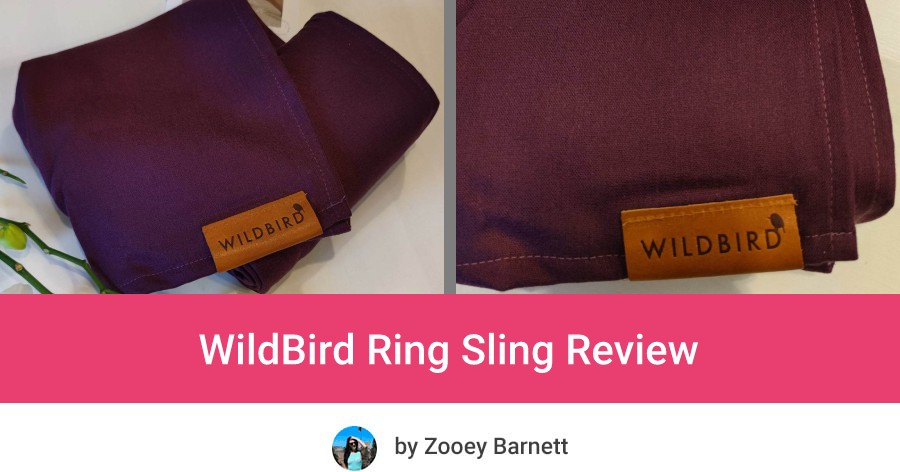 WildBird Sling has all important features that I always look for in baby carriers: it's ultra-soft and comfy, SO EASY to put on, the fabric is breathable and doesn't make me sweaty and sticky.
Plus it looks SO PRETTY! There are literally dozens of cute and adorable colors and patterns to choose from. WildBird is definitely one of the most fashionable baby carriers out there.
This article is not a substitute for medical advice. It may contain affiliate links.
WildBird Review – Everything You Need To Know About This Ring Sling
I find WildBird to be the best ring sling baby carrier and lots of moms agree with me. It's simpler to use than baby wraps and doesn't make you sweaty like buckle baby carriers. It's a fantastic choice for babywearing beginners: you can start using this baby carrier for your newborn baby from 8 pounds, and it will serve you for up to 1.5-2 years!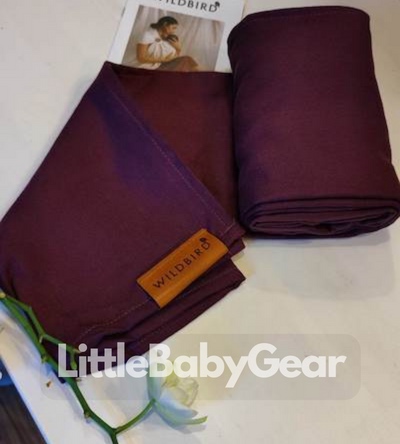 3 Versions Of WildBird Sling
It's important to notice that WildBird Ring Sling comes in 3 versions: Solid, Modal and Pattern, which differ in fabric, softness, breathability and elasticity.
Here's a quick comparison of all versions of WildBird:
Solid – It's made of 100% linen, which is breathable and helps to regulate mama's and baby's temperature. It's dyed in one color. The sling feels crazy soft and provides great support for babies up to 35 lbs. There are also a few multi-color versions with cute patterns, strips and dimensions.
Modal – It's completely different because it's made of 75% modal and 25% linen blend. Modal makes the ring sling more stretchy and silky soft, while linen ensures proper support. It's perfect for all weather conditions, including hot summer. I think that Modal is the best version of WildBird slings and my absolute favorite in this collection is this gender neutral Owl color (last time I checked it was 15% OFF!).
Pattern – It's also made of linen, but this version has cute patterns, strips and dimensions. Other than that, it doesn't differ from Solid.
WildBird Single vs Double – Which One Should You Choose?
What's noteworthy, in previous years you could get either Single or Double WildBird Sling. The latter one has two layers of fabric sewn-in together, which was excellent choice for parents with more experience in babywearing, and it was also a good ring sling for toddlers.
It's no longer available on WildBird website, but if you're looking for extra strong ring sling, you may be able to find it in other stores. Keep in mind it's not a good choice for warm weather!
The difference between single and double WildBird is that the single one has only one layer of fabric, while the double one has sewn together two layers of fabric. This makes it heavier and thicker.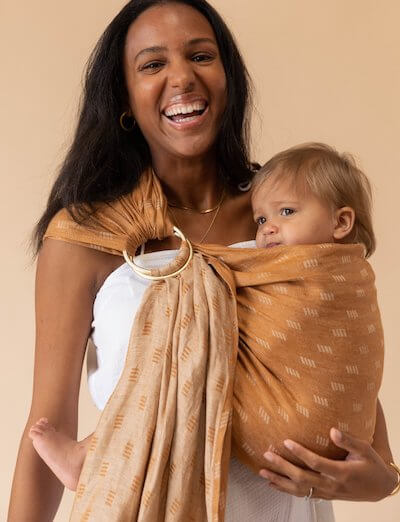 Obviously, single layer ring sling is lighter and more breathable. It's more comfortable to wear on warm days or in hot climate. It's also perfect for babywearing beginners or using the sling with a newborn baby.
WildBird Double is a better choice if you already have some experience in babywearing or need some extra support for your heavy kiddo. If you toddler-wearing your child, WildBird Double Sling will be perfect. It also works great in colder climate. But keep in mind that on a very petite person it may feel bulky and heavy.
SALE ALERT: Right now selected slings are at lowest price ever – up to 60% OFF! There's one more fantastic news: you can get extra 10% discount if you use code: LITTLEWILDBIRD10 at checkout. Don't wait too long because the slings sell out super fast! Choose your favorite color & grab your discounts here >>
Fabrics – WildBird Modal vs Linen
As I mentioned above, you can choose WildBird Ring Sling made of 100% linen or a blend of 25% linen and 75% modal.
The biggest advantage of linen fabric is its breathability. It allows the air to circulate through and helps to regulate body temperature. It will keep you and the baby from sweating. This type of fabric is also very strong and supportive.
What you are going to love about WildBird Modal is that it's buttery soft and elastic, but not excessively stretchy. Lots of moms find it easier to put on and adjust to get the right tightness, plus it's easier to position the baby in it.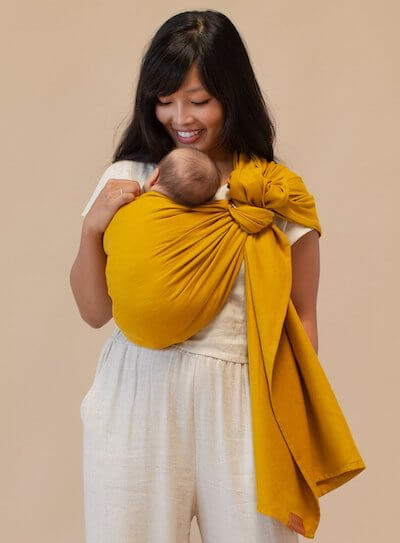 Modal and linen blend is also very breathable and protects both of you from getting overheated. You can use it all year round. Keep in mind that because of the stretchiness, WildBird Modal is better choice for newborns and young babies than toddlers (with heavier kids you may feel like it's sagging a bit or doesn't provide enough support). I would say it's best up to 25 pounds or until baby's first birthday.
PRO TIP: If you're unsure which fabric to choose or hesitating between single and double sling, I recommend you to take this quiz on WildBird website. It will help you to narrow down your choice and choose the right baby sling for your little bundle of joy.
How Do You Soften A WildBird Ring Sling?
The fabric of WildBird slings get softer with each use. If you want your sling to break in quicker, you can wash it on gentle cycle or pull the fabric back and forth through the rings a few times.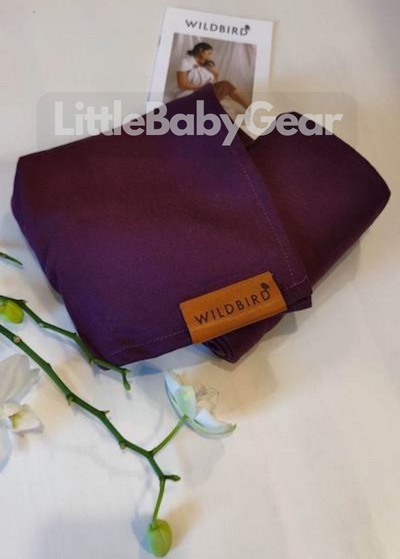 How Old Does A Baby Have To Be For WildBird Ring Sling? – Weight Recommendations
WildBird Ring Sling can be used from birth, if your little one weighs at least 8 pounds. The weight limit is 35 pounds. This makes ring sling a better choice than baby wraps, which usually have smaller weight capacity and shorter usability. Lots of moms use the WildBird sling up to 1.5-2 years.
How Do You Wear A WildBird Ring Sling?
WildBird Sling is a long piece of fabric with two rings sewn-in on one end.
At the beginning you need to thread the fabric through the rings. Once you do this, you won't have to do it again, you will only need to adjust the fabric – tighten or loosen it.
The ring sling has unique design because you wear it only on one shoulder. It goes from one shoulder to the opposite hip and looks kind of like a pouch or hammock.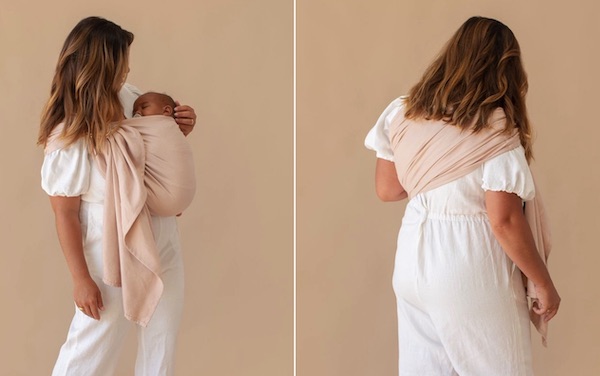 According to moms who have been using WildBird Ring Sling, it's very easy to put it on and adjust. It's much more simple than tying baby wrap.
Another advantage of the WildBird Sling is that it's not extensively long and when you put it on, you don't drag it on the ground – it doesn't get dirty, it's more hygienic, it's easier (and quicker) to deal with shorter fabric.
The only thing that takes more time to learn is how to position the baby in the ring sling. It's quite intuitive, but requires some practice especially with a newborn baby. It's important to learn how to do it properly to ensure ergonomic position for the baby and good support for their hips and back. The good news is that WildBird has tons of useful tutorial videos that will help you to master babywearing!
Lots of moms ask "Are ring slings bad for your back?". The truth is, because of the unique design, baby's weight is not distributed evenly across your body, as it is in baby wrap or buckle carrier. With a ring sling there's more pressure on one shoulder and one hip which may lead to pain if you don't take breaks from babywearing.
Nevertheless, most of parents who own WildBird Sling, agree that it's super comfortable to wear and they are able to use it everyday for multiple hours. However, if they carry the baby for a few hours without a break, they sometimes experience back pain.
If you want to enjoy using WildBird Ring Sling I would recommend taking some breaks from babywearing every 1-2 hours.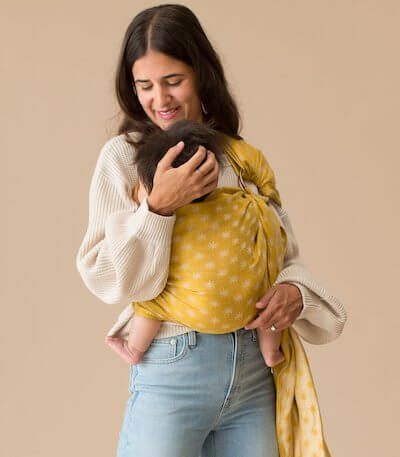 Carrying Positions
WildBird Ring Sling allows you to carry your little one on your front facing inward (from birth) or on your hip (once the baby is older and has good neck and head control). Lots of moms say that carrying the baby in WildBird Ring Sling "feels like a motherhood", because baby's position is so natural – just as you would carry your little one in your arms.
Keep in mind that it's not possible to carry the baby in WildBird on your back.
WildBird baby sling is one of the best breastfeeding carriers – thanks to its unique design it's very easy to re-position the baby for nursing.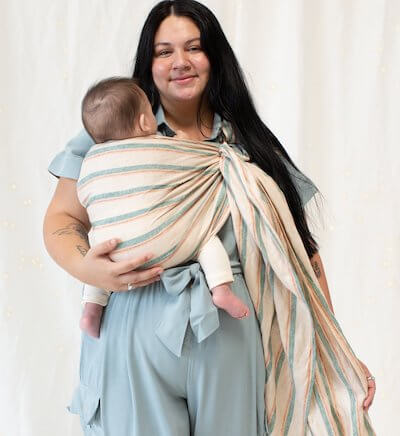 Safety & Ergonomics
What's important WildBird Ring Sling has been acknowledged by the International Hip Dysplasia Institute1 as hip-healthy. This means that, if you use it properly, it holds the baby in natural, ergonomic position which is safe for their hips.
Baby's legs are M-shaped, with knees higher than the bum and legs supported from the back of one knee to the back of the other knee. It's the most natural and healthy position for newborns and infants, and it decreases the risk of hip dysplasia. In the WildBird Sling your little one can maintain naturally C-shaped spine. The fabric provides proper support for baby's back and neck.
Size
You can choose standard version which is 74-77″ long or get extended Sling which is 90″ long. WildBird is a good choice for parents of all heights and body types. It's not as long as baby wraps, so it will be convenient to wear for a short and skinny mom, but it's also long enough to fit plus-size moms (wearing size 22-24).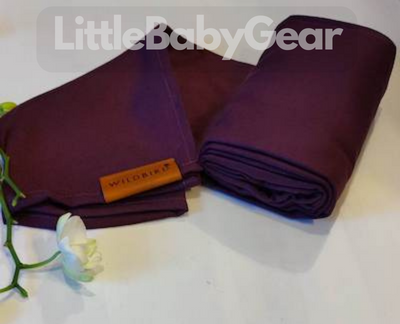 >> Check out my new rankings: Best Baby Carriers For Plus Size Moms & Best Baby Carriers For Petite Moms
Fashions & Colors
WIldBird Ring Slings are available in so many beautiful colors and prints – it was really hard for me to pick just one! 🙂
The brand also often adds new designs. If you're a fashionable mama, make sure to check their collection frequently.
From the Solid collection my absolute favorite is Acadian. From Pattern collection I love Stratus, Soleil and Caracara (this one comes from a brand-new Seaside collection).
I have two favorites in Modal: Selene and Polaris. By the way, Modal is my favorite version of the WildBird Ring Slings.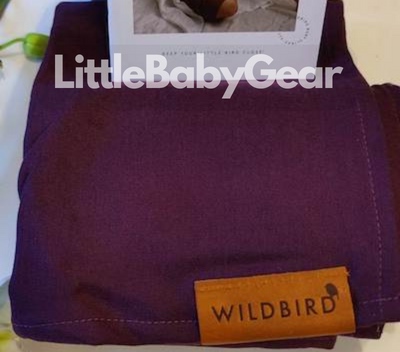 Keep in mind that availability may change quickly, some colors may be already sold out. Here you can check currently available WildBird collection.
PRO TIP: Make sure to check end-of-season sale here – some of the slings are up to 60% CHEAPER! There are only last few pieces left so don't miss out on this opportunity. You can get even $55 OFF some colors!
WildBird vs Sakura Bloom
Sakura Bloom is another best ring sling – recognized as hip-healthy, just like WildBird.
Currently, their collection is made either from linen – which is airy and lightweight, but also strong and supportive, or silk – premium, breathable fabric.
Whichever sling you'll choose, WildBird or Sakura Bloom, you will receive breathable, supportive and cozy baby carrier, perfect for newborn cuddles and toddler-wearing.
For me, WildBird feels a bit easier to thread and adjust, and it's easier to place the baby in it, because it's not as thick or sturdy.
Both slings offer two carrying positions: front facing inward and hip carry.
WildBird is available in two sizes which are either 74″ or 90″ long, while the Sakura is available in two lengths: 75″ and 82″.
Sakura Bloom slings are available in 5 single-color fashions, the WildBird offers much wider choice as it comes in 20+ colors and prints. What's also important, WildBird slings prices vary depending on the fashion – Doubles and Patterns are more expensive, but they are not nearly as pricey as Sakura Bloom (which can be over $200!).
Frankly, Sakura Bloom offers probably the most expensive ring slings on the market! They cost almost twice as much as WildBird Solid version!
>> Baby Wrap Or Ring Sling? Read My Comparison: WildBird vs Solly Baby
WildBird Ring Sling Cheaper Alternatives
If you're on smaller budget and you missed your chance to get WildBird on sale, you may want to consider getting a cheaper ring sling. There are two WildBird alternatives: Nalakai Ring Sling and Moby Ring Sling.
Although I think the WildBird is the best, coziest and most comfortable ring sling, Nalakai and Moby are also pretty good, especially if you need to stick to your budget.
WildBird vs Nalakai Ring Sling
The biggest difference between WildBird and Nalakai is the type of fabric. WildBird is made from linen or a blend of modal and linen, while the Nalakai Sling is made from bamboo and linen blend. Both slings are breathable, lightweight, and ultra soft, but the Nalakai feels slightly thinner, while the WildBird feels a bit stronger and more supportive in my opinion.
The fabric of Nalakai is flatter (smoother). However, the modal version of WildBird is more stretchy than Nalakai and it's easier to position the baby in it.
Both the WildBird and Nalakai slings are suitable from 8 to 35 lbs, so you can use them from infancy well into toddlerhood. Both allow you to carry your baby on your front facing inward or on your hip.
What's noteworthy, Nalakai ring slings haven't been recognized as hip-healthy. They do hold the baby in natural and healthy position with M-shaped legs and offer support from knee to knee, but they are not on the International Hip Dysplasia Institute list.
Nalakai is available in multiple single-color versions and it's a bit cheaper than WildBird slings. You can see available colors and current price here.
WildBird vs Moby Ring Sling
If you're looking for the best ring sling in a low price range, you may like the Moby sling.
What's noteworthy, it has slightly lower weight limit than WildBird – Moby is suitable from 8 to 33 pounds.
Another difference between WildBird and Moby ring slings is the fabric. Moby slings are made from cotton – according to parents it's a bit stiff and gets hot quicker.
Moby is better choice for colder climate, while the WildBird slings are perfect for all weather conditions and work really well for summer use. It's much more breathable than Moby. Moreover, WildBird feels softer, which also makes it easier to adjust. What's also important, Modal version of WildBird is much more stretchy than Moby.
If you're okay with sturdier, thicker and stiffer fabric, then Moby will work well for you. Here you can read other parents reviews and see currently available discounts for this sling.
One last noteworthy difference is the length. WildBird is available in standard (74″) and long (90″) version, while Moby comes in one size (85″).
Best Ring Slings FAQ
Here are some basic information that hopefully will help you to choose the best baby ring sling for your little bundle of joy.
Which Ring Sling Is Best?
As you can read in my article, there are a few awesome ring sling baby carriers: WildBird, Sakura Bloom, Moby, and Nalakai.
Among these 4 baby slings I think the WildBird is the best ring sling, considering how soft, comfy and easy to wear it is. It's so convenient to put on – it literally takes a few seconds! WildBird feels so secure and safe for newborn babies and toddlers. Its linen fabric is ultra-soft and supportive, and thanks to awesome breathability – it doesn't make you hot or sweaty. It's a perfect ring sling baby carrier for summer and hot weather!
What you are going to love about WildBird fabric is that it's crazy soft, but also strong at the same time, it's supportive, but not too stiff, it's easy to adjust it and put the baby in it, it's not too thin or too thick, and it allows the air to circulate through keeping you dry and comfy.
What distinguishes WildBird is its beautiful design and wide variety of adorable prints that moms can choose from. There are dozens of colors and patterns available in WildBird collection and I'm sure you'll find at least a few that you will love to wear! This is definitely the most fashionable baby sling ever!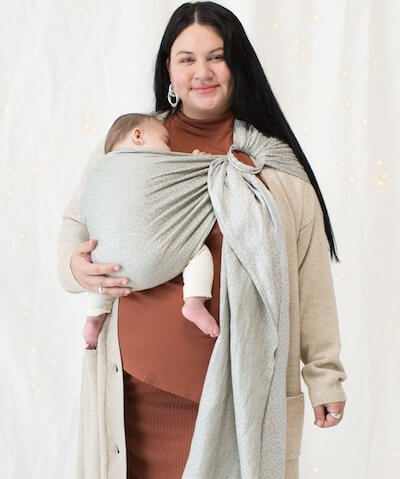 Are Ring Slings Worth It?
Lots of moms say that wearing a ring sling feels so natural, because it's similar to carrying the baby in your arms.
Some parents prefer baby sling over baby wrap – it's so much easier to put on, it doesn't require complicated tying every time you want to wear it, and you don't have to deal with too much excess of fabric. You just thread the fabric through the rings once and you're good to go. Of course you have to learn how to position your child in a a sling that once you practice it a few times, putting the sling on will be a breeze!
Besides, the best ring slings have higher weight limit than baby wraps which makes them usable for longer period. Some moms use WildBird or Nalakai even with 1.5 year old toddlers!
Are Ring Slings Safe For Newborns?
The best ring slings that I recommend here are safe for newborns and can be used from birth (if the baby weighs at least 8 lbs).
It's important to learn how to position the baby properly in the sling to provide proper support for their legs, hips and back. Newborn baby should maintain frog position with M-shaped legs, knees higher than the bum, legs supported from the back of one knee to the back of the other knee, and C-shaped spine. This is the most natural and ergonomic position for infants and prevents them from hip dysplasia.
If you want extra reassurance that ring sling is safe for your newborn baby, pick one that is approved as "hip-healthy".
When babywearing, always follow the TICKS safety rules.
Babywearing has lots of benefits for newborns: it gives them sense of security, warmth and closeness. Ring sling allows for skin-to-skin contact and the baby feels in it similar to the way he/she felt in the womb. Thanks to that, the transition to the new world is easier for the baby.
Babywearing reduces crying in infants, helps them to regulate temperature, relieves digestive problems like colic and winds, and promotes emotional, social and cognitive development. Experts say that it's also beneficial for moms and reduces the risk of postpartum depression.
Which Sling Is Best For Newborn?
In my opinion, the best sling for newborn baby is WildBird Ring Sling. It's approved as hip-healthy and keeps newborns in natural position called frog position (or spread squad position) with M-shaped legs. Its fabric is ultra soft and delicate – perfect for newborn's gentle skin. At the same time it's strong and provides great support for newborn baby's body (for their hips, legs, back and neck muscles).
Newborn babies love to rest and nap on mommy's chest and lots of parents say that they get calm immediately when they are in the WildBird.
WildBird Ring Sling baby carrier is easy to use and adjust, so whenever you're alone with your newborn baby, you'll be able to put it on without any hassle.
It's made of breathable fabric that ensures good air circulation so it prevents you and your newborn baby from overheating.
Find out more about using WildBird with a newborn baby here.
Which Is Better: Ring Sling Or Wrap?
Some moms say that it's best to have both! But if you have to decide between ring sling or wrap, here are a few things you should consider.
Baby wrap works best for newborns and young babies – usually it has lower weight limit than a ring sling. Moreover it's easier to put newborn baby in frog position in a wrap, than in a sling, especially if you're new to babywearing. Therefore if you're looking for the best baby carrier for the first few months, baby wrap may be better than a ring sling.
However, if you want a carrier that will serve you longer than 9 months, ring sling with higher weight capacity will be a better choice than a baby wrap.
Another important difference between these two types of baby carriers is that wrap requires tying each time you put it on and there's a learning curve. With a baby sling you only thread the fabric once and putting it on is very simple and quick. Some parents are hesitant about using baby wrap because it seems to be more difficult. If you feel insecure about wearing your little one in wrap, baby ring sling may be a better choice.
To answer the question "ring sling or wrap?" – it's important to remember that both have some unique features and advantages and depending on what you're looking for, one may work better for you than the other.
Are Ring Slings Bad For Your Back?
Because of unique design ring sling baby carrier puts more pressure on one shoulder and one hip. It doesn't spread baby's weight as evenly as baby wrap or soft-structured baby carrier.
In general, ring slings are not bad for back, but you need to remember about taking breaks from babywearing to relieve the pressure off your shoulder.
Most parents who use slings like WildBird, say that they can use it everyday for a few hours without any back pain, if they take frequent breaks.
---
The purpose of this article is informative and entertaining. It's not a substitute for medical consultation or medical care. Remember: safety first! The author of this article does not accept any responsibility for any liability, loss or risk, personal or otherwise, incurred as a consequence, directly or indirectly, from any information or advice contained here.
Source of pictures:
Picture at the top of the article was created with photos taken by the author of this article and they belong to LittleBabyGear.com. All pictures with the sign of LittleBabyGear belong to LittleBabyGear.com. Other pictures of WildBird slings belong to WildBird. Source: https://wildbird.co/