Being 5'2" hasn't made babywearing easy for me. Most baby carriers feel too bulky and uncomfortable. If you're here, you've probably experience that too and you're looking for a carrier that will suit your body size. It's the right time to get the best baby carrier for petite mom!
This article is not a substitute for medical advice. It contains affiliate links.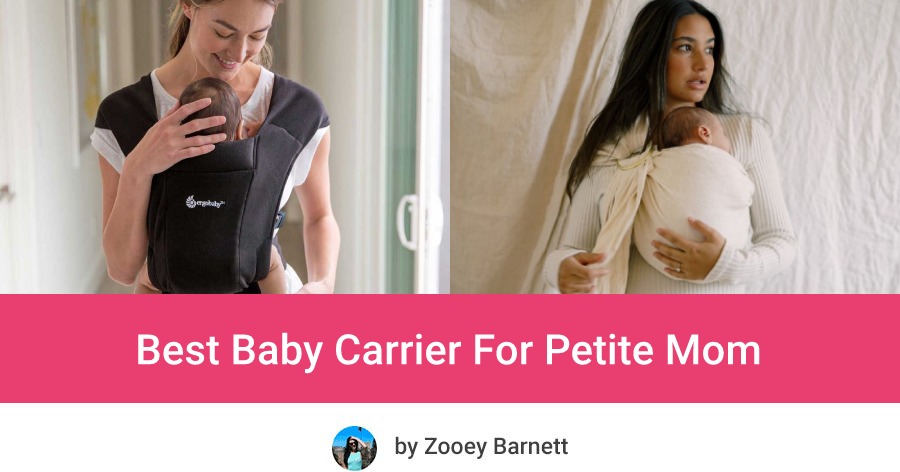 I've tested dozens of baby wraps, ring slings and buckle carriers and finally found 4 amazing baby carriers that suit skinny person.
I'm short and I have narrow shoulders and I don't like baby carriers with a lot of fabric because it's so hard to deal with it. That's why I picked carriers for infants and toddlers that don't require wrapping layers around your body.
It's wasn't that easy to find a good buckle baby carrier for petite mom either, because most of them have wide, padded straps which feel extremely bulky on my narrow shoulder. Usually the shoulder straps stick out and that doesn't look good.
Thankfully I found a soft-structured baby carrier that feels and looks good on woman with narrow shoulders.
By the way, if you're on tight budget, here you'll find my tips how to get the best baby carrier for petite mom without breaking the bank.
4 Best Baby Carriers For Short & Petite Moms
Here are my favorite baby carriers that work excellent for petite moms with less broad shoulders and smaller waist.
After trying over 15 different baby carriers, I found WildBird to be the most comfortable one. This is a perfect baby carrier for petite moms.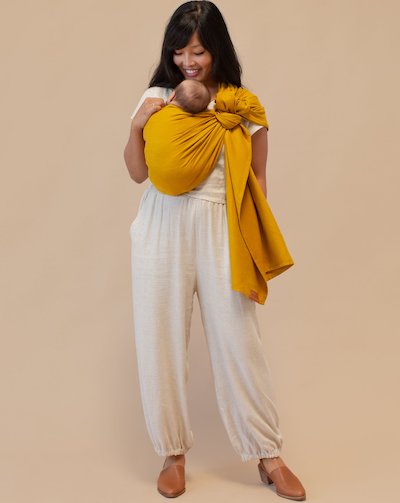 Being short means that you don't want to deal with a large extend of fabric – that's why a ring sling is a better choice than a wrap. Standard version of WildBird is 74″-77″ long – it's easy to adjust as the baby grows but it's not TOO LONG for a petite mom's body.
This ring sling baby carrier has one more huge advantage: it easily adjusts to different body types and sizes therefore it's a good choice for petite mom and tall dad.
WildBird can be used from 8 pounds, all the way up to 35 pounds. It's great for newborn babies, as well as the toddler stage.
It's important to note that WildBird Ring Sling has been recognized as hip-healthy by the International Hip Dysplasia Institute which means it helps babies to maintain healthy, natural and ergonomic position (called frog position) with M-shaped legs.
Thick and adjustable fabric provides extra neck and head support for smaller infants.
These baby slings offer two carrying positions: front facing inward and hip carry. Lots of moms say that babywearing with WildBird "feels like motherhood" because carrying baby in this "pouch" feels so natural, just as if you were carrying your little one in your arms.
Many petite moms praise these ergonomic carriers for making their hands free again. If you're working from home or have more kids to run around after, WildBird is a life saver. It's also a fantastic option for breastfeeding.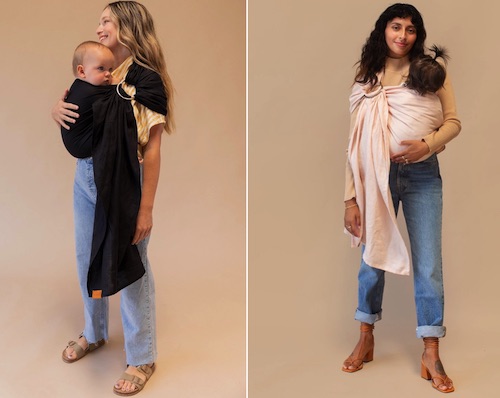 Another noteworthy feature is the fabric – you can choose from 4 different versions of WildBird baby slings. All of them look gorgeous and SO PRETTY.
Solid is made from 100% linen fabric which makes it soft, strong and durable. Because the fabric is ultra-breathable it will keep your baby cool and prevent overheating. Among solid options you can find some patterns too with cute strips and dimensions.
Double has two layers of fabric (Solid or Pattern) which makes it a better choice for carrying heavier child. It's thicker and even more supportive.
Modal is made from 25% of linen and 75% of modal. This is my favorite version of WildBird because it's buttery soft and more stretchy than other baby carriers in this ranking (which makes it easier to use and adjust). From Modal collection I love this Owl color – it's absolutely adorable!
Whichever version of WildBird you choose, it will keep you from sweating, while providing proper hip support for your little adventurer. Parents agree that WildBird works awesome for baby's temperature regulation.
There's one thing that you should keep in mind. Lots of petite moms say that these ring slings are extremely easy to use and don't require any tying (you only need to thread the fabric through the aluminum rings once, before the first use).
But if you plan on using them from newborn stage, take some time to learn how to position the baby properly in the sling. Once you get a good hang on it, putting it on will take literally a few seconds!
Oh, and one more thing – this is one of the most affordable baby carriers for petite moms.
>> Still hesitating whether to get WildBird baby sling? Read my full honest review!
If you've been thinking about getting a baby wrap, but all that tying feels intimidating and overwhelming, the Loop Carrier may be a good solution. It's similar to baby wraps, but it's more structured.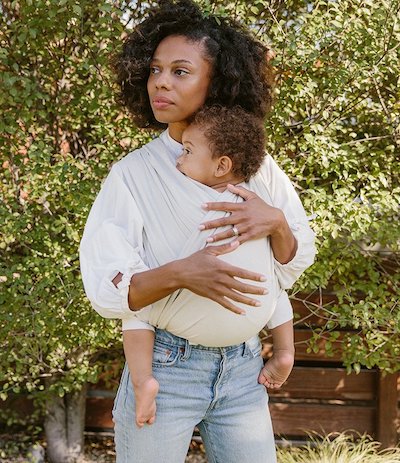 Solly Loop has unique design with a ring sewn-in that goes on the back. In the front it looks almost like a wrap with two layers of fabric wrapped around you and your baby. The main difference between Loop and wraps and slings is that Loop has higher weight capacity – 45 lbs. This means that it will serve you for much longer period, from infancy to toddlerhood.
Solly Baby Loop comes in 2 sizes and the smaller one is perfect for petite moms. I'm 5'2″ and skinny and it fits me comfortably.
What makes Loop Carrier a fantastic choice is even weight distribution. It doesn't strain your shoulders, neck, back or pelvis.
Keep in mind that this baby carrier allows for front carrying position. If you want to carry baby facing outward, consult with Solly Baby babywearing advisor.
Thanks to its unique design, Loop is pretty easy to adjust and tighten. It may be tricky at the beginning tho, because the fabric is quite thick. After a few washes, it softens and adjustments get easier. Thankfully, this baby carrier is machine-washable.
PRO TIP: You can now get this fantastic baby carrier for petite moms 10% OFF! Grab your discount here with code: LITTLE10 at checkout. Don't miss out on this opportunity to save money.
Solly Baby Loop is recommended from 15 pounds, but you can also use it from 8 pounds without an infant insert. This is an ergonomic baby carrier which means it keeps the baby in healthy position and supports the legs from knee to knee.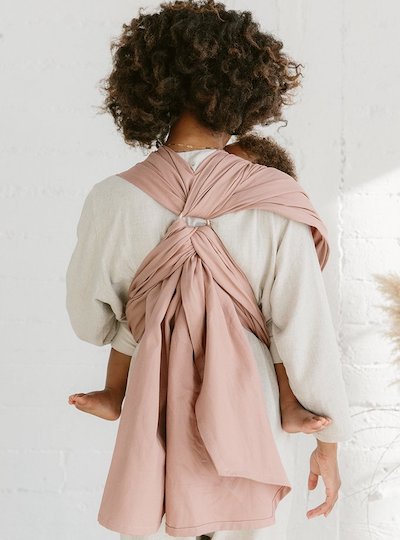 Overall, I love this baby carrier because it nice to the touch, lightweight and much less bulky than buckle baby carriers. It allows you to enjoy skin-to-skin cuddles just like baby wrap and sling, but it's has longer usability thanks to higher weight limit. And because you can adjust the fabric to your body size, I find the Loop to be one of the best baby carriers for petite moms.
>> Do you need more information about Solly Baby Loop? Check out my review!
If you're in the hunt for the best soft-structured carriers for short moms, Ergobaby Embrace is your best option.
Although Embrace is a buckle carrier, it's much less bulky and thick. But even though it's lightweight and thin, it's still very supportive for the baby.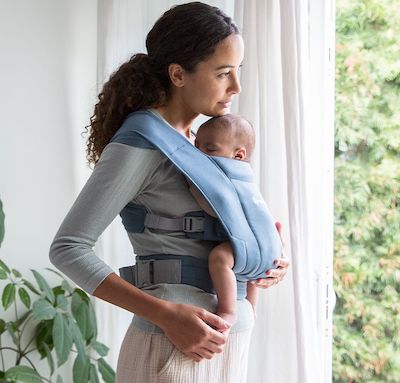 This baby carrier has wide, but thin shoulder straps – they don't have that bulky padding that gets hot quickly and looks weird on narrow shoulders.
These adjustable straps look a bit like a wrap-style fabric and you wear them X-crossed. There is also an adjustable waist belt with cushy padding.
These features also make Embrace a great choice for moms with bad back. This soft structured carrier distributed baby's weight evenly across parent's body, without putting too much pressure on back or hips.
Ergobaby Embrace has been approved by the International Hip Dysplasia Institute as a hip-healthy carrier. It keep the baby in curved C-spine position with knees higher than the bum. Ergo baby carrier supports baby's legs from knee to knee and there's also a long panel that provides extra support for baby's head.
The best thing about Embrace is that you can use it from birth (7 lbs) with no infant insert and it offers 2 carrying positions: front carry facing inward and front carry facing outward.
Thanks to all adjustable straps, Ergobaby Embrace is one of the best baby carriers for petite moms. Fabric straps don't slide off the shoulders, even if you're a narrow-shouldered female. If you want to babywear for long periods, this is one of the most comfortable baby carriers. If you'd like to learn more about this carrier, read my Ergobaby Embrace detailed review.
PRO TIP: Right now during Cyber Monday sale, you can receive FREE Ergobaby Embrace (value of $79) with purchase of ANY Ergo carrier. Get your FREE Ergo Embrace here 👈
Baby K'tan Original is one of the best baby carriers for petite moms. It's a wrap but it doesn't require any tying! It's a ready-to-wear out of the box and doesn't have any snaps, buckles or rings. This baby wrap slips on like a T-shirt which makes it extremely easy to use.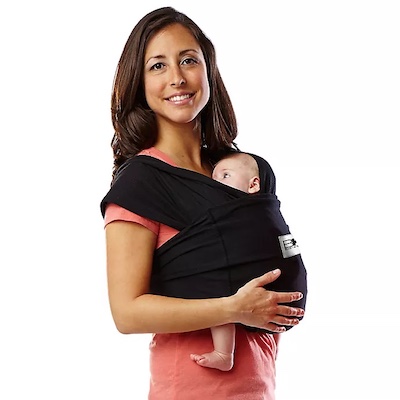 What distinguishes this baby carrier is that you can actually choose a size for the most secure fit. There are 6 different sizes to choose from – from XXS to XL. For moms shorter than 5'2″ and wearing size 0, XXS size will be the best choice, and if you're wearing size 2 or 4, Baby K'tan recommends choosing XS size.
Choosing the right size is probably the most difficult (and important) thing, because it will have a huge impact on your comfort and the support for baby's body.
What's noteworthy, because this baby wrap comes in various sizes, it cannot be shared with other caregivers who wear a different size. If you're a petite mom, but your husband is tall and also wants to babywear, you will need two different baby carriers.
Another thing that you should know about this baby wrap is that it allows to carry baby in front position facing inward and outward, as well as hip carry position. It's recognized as hip-healthy and can be used up to 35 lbs. Many parents use it from newborn stage until the baby is 12-18 months old.
If you're looking for ergonomic carrier with short learning curve Baby K'tan is definitely worth consideration.
Choosing The Best Baby Carrier For Short Moms – FAQ & Babywearing Tips
Even if you're very short and skinny, babywearing can be comfortable, you just need a proper baby carrier that will fit your body size.
Below you can find basic information on how to pick baby carrier for petite mother.
What Is The Best Baby Carrier For Petite Mom?
It's not that easy to find a comfortable baby carrier for petite women with smaller frames.
I tested different baby carriers types and found 4 amazing options, in various styles and wide price range. None of these ergonomic carriers requires additional infant insert which is a huge plus.
In my opinion WildBird Ring Sling is the best baby carrier for petite mom. It easily adjusts to wearer's body size, it's very simple to use and quick to put on. Wearing it feels so natural, and it's one of he most breathable baby carriers out there. Its lightweight, airy fabric is perfect for summer and warm climate. I think this is the best baby sling for newborns and toddlers. It's also super cute and quite affordable.
If you prefer more structured carriers, another great option for petite mom is Solly Baby Loop and Ergobaby Embrace. If you're opting for a baby wrap – check out Baby K'tan (size XXS or XS should be a perfect fit for mom with small frame).
Whichever style and baby carrier you choose, remember – it's all about getting a comfortable fit.
PRO TIP: If you have a bit bigger budget, you should also check out Baby Tula Explore with breathable mesh lining.This baby carrier offers front carry position (facing in and out), back carry position and hip carry position. Baby Tula offers one of the most versatile buckle baby carriers for petite moms.
What Is The Easiest Baby Carrier To Use?
In my opinion, WildBird Ring Sling is the easiest baby carrier to use. It has short learning curve and after practicing it a few times, putting it on takes only a few seconds. Only before the first use, you need to thread the fabric through the rings. After that, baby sling is always ready-to-wear, you only need to adjust its tightness to make it fit snugly.
Lots of moms say that they can put it on on their own, for example in a parking lot, and since the fabric is not that long you don't have to worry about dragging it on the ground and getting the sling dirty.
Moreover, this is probably the best baby carrier for nursing moms. Because of its design, it's so easy to position the baby for breastfeeding. Soft and stretchy fabric provides extra cover and discretion for both you and the baby. If you want a comfortable carrier for nursing on the go, this is the best option.
Another thing that makes WildBird so user-friendly and easy to use is its compact design. It doesn't take up a lot of space and fits in basically all diaper bags.
What Baby Carrier Is Best For Short Moms?
If you're 5'4″ or shorter, you should choose baby carrier that is not too bulky. It should be lightweight and fit snugly, while providing proper support for your little bundle of joy.
I'm only 5'2″ and after a few years of wearing my 3 kids, I found WildBird Ring Sling to be the best baby carrier for short moms. If you're opting for soft-structured carrier – Ergobaby Embrace is a fantastic baby carrier for short women. WildBird has higher weight limi (35 lbs) and it's pretty affordable option. On the other hand, Embrace is a great buckle carrier. What distinguishes it, is that you can use it for outward facing carrying (from 5/6 months).
If you're more into wrap-style baby carriers, Baby K'tan is a great option for short mom. It comes in 6 sizes, including two small ones. It's ultra-easy to use thanks to pre-tied design. You don't have to wrap it around your body and learn complicated tying, it slips on like a T-shirt.
Solly Loop is also one of best baby carriers for short moms. Among these 4 carriers, Loop has the highest capacity (45 lbs) which means you can use it even with toddlers.
Is Lillebaby Complete A Good Carrier For Petite Moms?
I know that on other websites you can read that Lillebaby Complete All Seasons Baby Carrier is recommended for petite moms. It's awesome because it offers six different carrying positions, adjustable seat and has amazing lumbar support. But I think it's a better choice for average and tall mamas with broader shoulders.
Lillebaby carrier has wide, thick, padded shoulder straps – and although they are adjustable, they don't fit petite person that well. For me the shoulder straps were always sticking out in a weird way and sometimes sliding off, which was very annoying.
---
The purpose of this article is informative and entertaining. It's not a substitute for medical consultation or medical care. Remember: safety first! The author of this article does not accept any responsibility for any liability, loss or risk, personal or otherwise, incurred as a consequence, directly or indirectly, from any information or advice contained here.
Source of pictures:
Picture at the top of the article was created with photos that belong to Ergobaby and WildBird.
Pictures of WildBird slings belong to WildBird brand. Source: https://wildbird.co/
Pictures of Solly Baby Loop belong to Solly Baby brand. Source: https://sollybaby.com/
Pictures of Ergobaby Embrace belong to Ergobaby brand. Source: https://ergobaby.com/
Picture of Baby K'tan wrap belong to Baby K'tan brand. Source: https://babyktan.com/