Whether you want to reduce the appearance of your stretch marks or simply keep your skin hydrated and glowy during those magical nine months, here you will find out what are the safest and best oils for pregnant belly. You'll also learn which of the popular and best-selling products you should AVOID!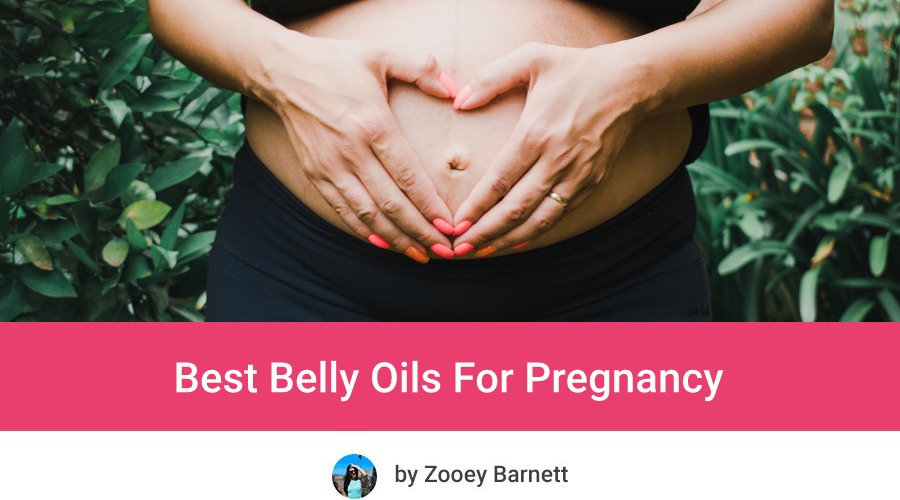 Stretch marks show how much effort your body is putting to grow a new life in your belly. They may appear during pregnancy, especially in third trimester, or during postpartum.
They pop up because the body grows rapidly and are caused by tearing of the dermis – the layer of the skin, made up of elastic tissue and collagen, that provides flexibility and strength to the skin1.
Moms-to-be develop stretch marks on their bellies, breasts, hips, thighs and butts. They may have different colors – from yellow to purple.
Some moms love their pregnancy stretch marks and wear them proudly, some moms want to get rid of them or minimize their visibility.
Although there is no miracle cure that would prevent or treat stretch marks, there are some skincare products that can keep your skin nourished and moisturized, improve its elasticity as your belly grows, and promote skin cell rejuvenation.
Adding a body butter, belly oils, belly cream or lotions to your skincare routine during and after pregnancy has lots of benefits and can improve the condition of your skin. Always remember to consult your doctor first, to make sure you and your baby are staying healthy and have all necessary vitamins.
Now let's find out how to pick the best belly oils to hydrate your skin during and after pregnancy.
This article is not a substitute for medical advice. It contains affiliate links.
Best Belly Oils To Prevent Pregnancy Stretch Marks Recommended By Moms
Here are the best and highly-recommendable stretch mark oils to moisture your growing belly and help your skin maintain its protective shield.
LittleBabyGear Verdict: Best Inexpensive Organic Belly Oil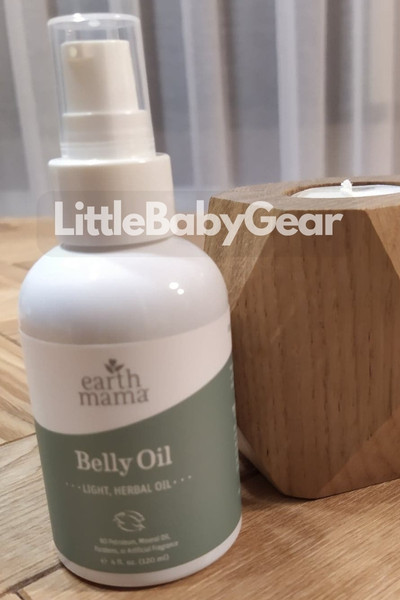 From my personal experience, Earth Mama Organics Oil is best for stretch marks during pregnancy and safe for the growing belly.
It has fantastic, short and clean ingredients list, plus it doesn't cost a fortune like many other stretch mark prevention products. No wonder it's one of the moms' favorites!
Thanks to combination of organic calendula, organic jojoba oil and borage oil, and orange blossom pure essential oil, it has nourishing and moisturizing effect on mom's growing skin. It helps to soothe itching skin and prevents skin marks from popping up (full info about the ingredients).
Earth Mama Organics plant-based oil hydrates skin really well and makes it SO SMOOTH. As your skin is stretching and growing, this oil helps to maintain its elasticity and strength. It absorbs quickly and doesn't leave the skin feeling sticky (which is the common complaint about many other belly oils).
This bump moisturizer is chemical free which is another benefit. It doesn't contain any petroleum, mineral oil, parabens or artificial fragrance. It's safe for use during and after pregnancy, and in fact you can use not only for your stomach, but whenever your skin needs hydration! Besides, this is a fantastic choice for every eco-conscious mama!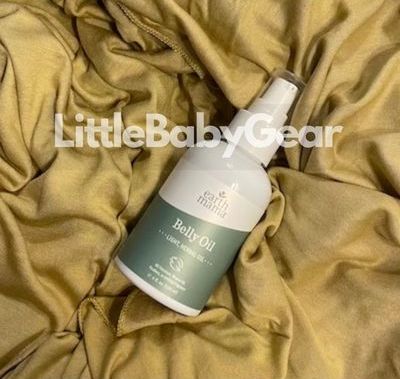 Moms who have been using Earth Mama Organics Belly Oil rave about it because it's safe and it actually works. Check out the reviews on their website and see for yourself. Lots of moms say that it has helped them to prevent stretch marks on their bellies and hips. It's perfect for sensitive skin and doesn't cause irritation. On the contrary, this oil is a great relief for itching skin.
If you're looking for the best oil for pregnant belly, you should go for Earth Mama Organics.
I know that you may feel overwhelmed with the amount of money you need to spend to get all the things for a new baby (especially if it's your first pregnancy), and you shouldn't feel like the belly oil is a luxury that you need to skip.
This is cheapest belly oil that actually works, so if you're on tighter budget, this is your best choice!
By the way, Earth Mama Belly Butter is fantastic too and together with this oil helped me with stretch marks prevention in my last pregnancy! This butter is the most effective & best pregnancy-safe body lotion with clean ingredients.
My rate:
PRO TIP: If you've already gave birth and looking for a postpartum belly cream that will improve the appearance of your skin, try this Earth Mama Organics Skin & Scar Balm. It works magic for stretch marks and helps the C-section scars to fade faster. I also recommend you this Organic Perineal Balm – it soothes and provides relief "down there" after the childbirth.
LittleBabyGear Verdict: Best Nourishing Oil For Stretch Marks Prevention & Treatment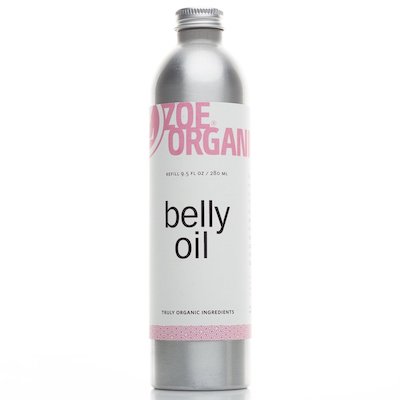 If you're looking for safe skincare products that you would use during pregnancy and postpartum period, you will love this belly oil! According to many moms it works wonders: it moistures the skin, and reduces the appearance of stretch marks, redness and itching sensation.
Moms who have bought Zoe Organics Belly Oil say that it keeps the skin elastic and nourished during the pregnancy and it really does prevent stretch marks. Some of them even say that they hadn't have a single stretch mark!
Moreover, moms who have started using this belly oil after having a baby, say that it has helped them to get rid of stretch marks. With daily application on belly, breasts and hips, the stretch marks are fading!
This moisturizer promotes skin cell regeneration, soothes irritated and inflamed skin and also helps to get rid of C-section scars.
What you are also going to love about Zoe Organics Belly Oil is that it moistures skin without making it grassy or leaving oil residue.
You can get this tummy oil in 9.5 fl oz/280 ml glass bottle or pick 2 fl oz/60 ml travel-friendly bottle (compare prices here). Both bottles are refillable.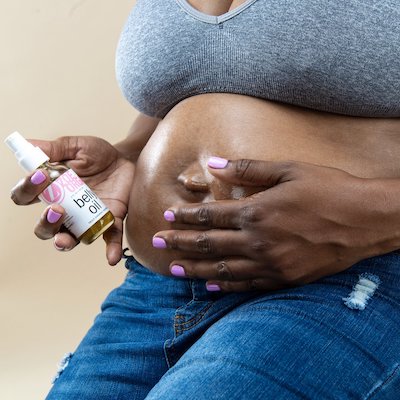 Mamas also like this belly oil for its vegan and 100% organic ingredients. Inside each bottle we can find oils from: sunflower, jojoba, olive, grape seed, rosehip seed, pumpkin seed and tamanu, and a blend of essential oils that give it delicate natural scent (lavender, geranium and ylang ylang). All ingredients are certified as organic.
Whether you're trying to be eco-conscious mama or have very sensitive skin, you will love this natural belly oil. It doesn't contain any detergents or synthetic ingredients, and it's free of artificial fragrance. It's not only a safer choice for our planet, but also for your pregnant belly skin. It's less likely to cause skin irritation than non-organic belly oils.
PRO TIP: Would you like to save some money on Zoe Organics products? Get this Stretch Mark Bundle (oil + belly butter) and get 10% OFF!
LittleBabyGear Verdict: Chemical-Free Oil & Quick-Absorbing Oil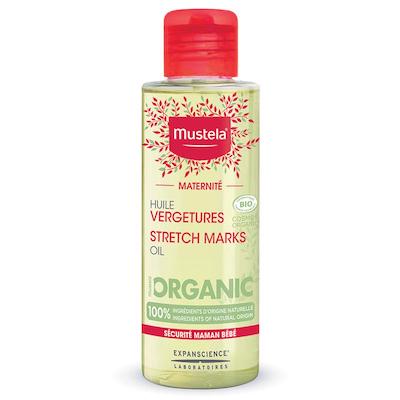 Mustela is one of the well-known brands for baby and mother skincare products. Moms who have been using the Mustela Organic Oil throughout the pregnancy say that it works magic and has helped them to reduce the appearance of stretch marks. Some of them even say that not a single stretch mark has popped up on their belly, hips, bum or breasts! Here you can read real customers testimonials.
If you're looking for non-toxic oils that would be safe for your skin and the baby in your belly, you will love Mustela Oil short and pure ingredient list. It only contains avocado, sunflower and passionfruit seeds oils, plus vitamin E.
All those ingredients work miracles for women skin during pregnancy and postpartum. They improve skin elasticity and softness, and keep it moisturized.
IMPORTANT: Your skin is covered with a protective film (called hydrolipidic film) that limits the development of microorganisms. During the pregnancy this film weakens which means the protection from bacteria and fungi is limited. The skin is less soft (or even rough), feels tight, dry, itchy and reddened. Thankfully, the avocado oil in Mustela products helps to restore this natural protective shield, maintain it at proper level and reduce water loss.
Moreover, this tummy oil is free of nasty chemicals like parabens, hormone-disrupting phthalates and phenoxyehtanol (the latter one can be especially harmful for nursing moms and infants if absorbed through skin).
Another advantage that moms often mention in their reviews is that Mustela Stretch Mark Oils absorb quickly, doesn't leave your skin sticky and doesn't stain your clothes. It prevents from skin dryness really well.
The only minor drawback that moms mention is the pump – it may be little tricky to press it when your hands are oily. The good news is that you can pick new packaging without the pump – it's even cheaper (check it out here)!
LittleBabyGear Verdict: Best Long-Lasting Oil To Relieve Stressed Skin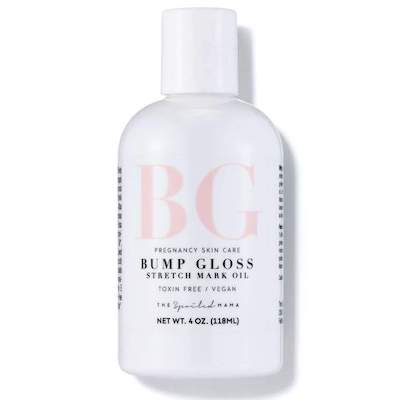 With its pure ingredient list, Spoiled Mama Bump Oil works miracles for stretch marks prevention and treatment! It works best for preventing new stretch marks from popping up.
This pregnancy oil is a composition of 10 cold-pressed oils from: tamanu, sea buckthorn, rosehip, borage, jojoba, olive, meadowfoam seed, avodado, kukui seed, apricot kernel, and calendula. It's enhanced with shea butter, and packed with vitamin E. Large part of the component are certified organic. There's also natural light scent thanks to lavender essential oil.
Its organic formula is perfect for soothing irritated and itchy skin. It has also anti-inflammatory properties and relieves dry pregnancy skin. Moreover it aids in skin regeneration thanks to collagen-building components.
You can use it not only during pregnancy, but also during postpartum – it will reduce the visibility of stretch marks and scars. I've read that it has helped moms to get rid of stretch marks that they had for many years – they turned from red to colorless and started to disappear!
Moms who have been using this pregnancy oil say that it doesn't leave the skin oily or sticky, at the same time it keeps it moisturized and nourished throughout the day and night.
It makes mommy's body glossy and glowy, increases skin elasticity and adds hydration. Moms recommend it for perineal massage, as well as infant massage.
The only minor drawback that I found is that Spoiled Mama Bump Oil is rather on the high end. But according to customer reviews it's totally worth the money! If you're on tighter budget, click here to check if there are any discounts.
LittleBabyGear Verdict: Cheap & Good Moisturizer With Some Drawbacks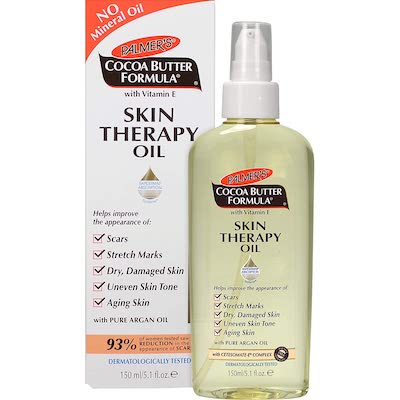 This is one of the best-selling moisturizing body oils. It has 13K+ positive reviews on Amazon, but not all of them are from expecting mamas.
Thanks to nutrient-rich formula, Palmer's Oil relieves damaged and dry skin, improves skin tone, reduces the appearance of wrinkles, scars and stretch marks. It's also suitable for skin with eczema and lots of people who have eczema scars has testified its effectiveness.
Another advantage of this product is its non-greasy and non-staining formula. You won't have to worry about oily stains on your PJs or clothes!
This moisturizer is a composition of oils from: canola, sesame seed, cocoa seed, argan, sunflower seed, and rosehip. They hydrate the skin deeply and leave it silky soft and firmer. They also reduce the appearance of marks which helps to even skin tone.
Moreover, thanks to vitamins A and C, and essential fatty acids contained in rosehip oil, skin cell regeneration is improved. It includes vitamin E too, which reduces the visibility of scars, stretch marks and other skin imperfections.
Nevertheless, there are some synthetic ingredients that I don't like, e.g. isopropyl myristate, cetearyl ethylhexanoate and fragrance. Use your own mama instinct and make your own decision if you're okay with that. On the positive note, Palmer's brand states that this tummy oil is phthalates-free and paraben-free.
If you'd prefer body oils that are organic and free of artificial fragrance and ingredients, choose a different product (for example Earth Mama Organics or Zoe Organics).
Other Popular Stretch Mark Oils
I decided to mention 3 more option that didn't make my TOP 5 list.
Bio-Oil Skincare Oil Review
If you've been looking for bump oil you've probably heard about Bio-Oil Body Oil – which is an extremely popular remedy for stretch marks and scars. It has 60K+ positive reviews on Amazon (see for yourself here)!
Although it's said to be safe for pregnancy, you should keep in mind that it wasn't invented with pregnant women needs in mind, but it's rather designed for different stretch marks and different types of skin.
It's a nutrient-rich serum with oils from rosemary, lavender, calendula, chamomile and Purcelin, plus vitamin A and vitamin E help to replenish hydration, improve skin elasticity and reduce inflammation.
However, inside this body oil we can also find some synthetic ingredients like Cetearyl Ethylhexanoate, Isopropyl Myristate, Alpha-Isomethyl Ionone, Triisononanoin and parfum.
Some of those artificial ingredients are potential allergens and skin irritants. Bio-Oil also contains linalool which is a well-known allergen. Moreover, since Bio-Oil contains parfum, it's also questionable whether it contains hormone-disrupting phthalates (which can be an ingredient of artificial fragrance).
Because of that I have decided to not include it on my list of the best belly oils for pregnancy. Of course it's just my personal opinion.
Hatch Mama Belly Oil Review
This one is more of a high-end skincare product. It comes in a stylish, minimalist bottle which looks super luxurious. In the ingredients list we can find healing and soothing calendula oil, moisturizing and regenerating sweet almond oil which contains vitamin E and grapefruit peel which plenty antioxidants. According to moms, it absorbs fast and smoothes the skin really well.
Hatch Mama Belly Oil didn't make my top 5 list because of two things. Firstly, it contains a few synthetic ingredients like Isopropyl Myristate and Diethylhexyl Syringylidenemalonate. I prefer my belly oils not to have those artificial "extras". The second reason is that quite expensive, even though it's not fully natural or organic.
Burt's Bees Mama Bee Body Oil Review
This is one of the best-selling body oils for new mamas. It's natural and free of chemicals like parabens, petrolatum, SLS or phthalates (big plus for clear statement about that!).
It keeps your skin soft and well hydrated throughout the pregnancy, protecting it from stretch marks. It also soothes itching.
It has tons of nutrients inside like oils from sweet almond, lemon peel, soybean and canola, plus vitamin E.
Nevertheless, I decided to not include this oil on my TOP 5 list because of a few ingredients. You should be aware of some potential skin irritants or allergens: geraniol, linalool and wheat germ oil. The latter one contains gluten, therefore this oil is not a good choice for women sensitive to gluten.
Moreover, it contains rosemary leaf extract – there is evidence that rosemary may cause uterine contractions (which may result in miscarriage or pre-term labor). There is insufficient reliable information to determine what amount of rosemary oil is safe for use during pregnancy, therefore it's best to avoid products that contain it. This is the main reason I don't recommend this product.
If you'd like to try this brand anyway, Burt's Bees Mama Bee Belly Butter may be a better choice. It does contain some synthetic ingredients, but at least it's free of rosemary oil.
---
The purpose of this article is informative and entertaining. It's not a substitute for medical consultation or medical care. Remember: safety first! The author of this article does not accept any responsibility for any liability, loss or risk, personal or otherwise, incurred as a consequence, directly or indirectly, from any information or advice contained here.
Source of pictures:
Pictures of Earth Mama Organics has been taken by the author of this post and belong to Little Baby Gear.
Pictures of Zoe Organics products belong to Zoe Organics brand.
Pictures of Mustela products belong to Mustela brand.
Pictures of Spoiled Mama products belong to The Spoiled Mama brand.
Pictures of Palmer's products belong to Palmer's brand.