The smaller babies, the greater stroller they need. That's why bassinet strollers – also called baby prams – are the perfect solution for newborns and infants, especially if parent love long-distance strolls.
But do you really need a stroller with bassinet? How to choose the best one? Which stroller bassinets are approved for overnight sleep?
In this article I will answer these and many more questions so keep on reading!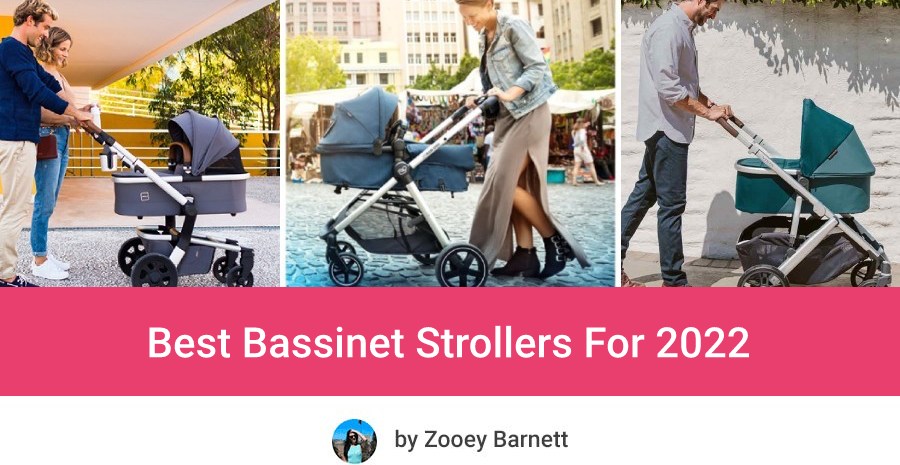 This article is NOT a substitute for medical advice. It contains affiliate links.
Only the bassinet provides fully flat position which gives perfect support for the infant's back. It is the best position for newborns' delicate spine and head, since they lack neck control.
Today modern bassinet strollers are very different from the ones that were available on the market 20 or 30 years ago. The choice is really vast. You can choose a pram stroller that looks old-fashioned and comes only with the carrycot.
There are also strollers with bassinet which can be switched for a toddler seat, as the baby grows. Finally, there are strollers with bassinet option where the seat is 2in1, reclines flat and converts into a bassinet.
I know that as a loving parent you want the best and safest stroller for your little one, therefore I created this ranking of TOP bassinet stroller prams for 2022. These are not only my favorite models, but they are highly-rated by hundreds of moms as well.
If you're looking for a stroller with bassinet for your newborn baby these are the best options right now.
Bugaboo Fox2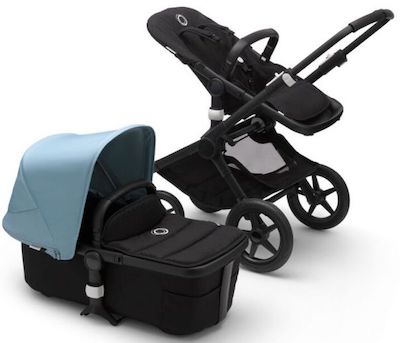 Beautiful, luxurious look
Very comfortable bassinet
Handles snow
Most expensive pram stroller
Price range: $$$$$
Customize your Bugaboo on PishPosh Baby & Read my review
Best Baby Prams & Bassinet Strollers Of 2022
In this ranking I present you modern prams that are highly recommended by parents and have tons of positive reviews.
The best bassinet strollers for 2022 are:
This is one of the best bassinet strollers in a medium price range. It has a 2-in-1 stroller seat with weight limit of 50 lbs, which easily converts into a bassinet mode for newborns.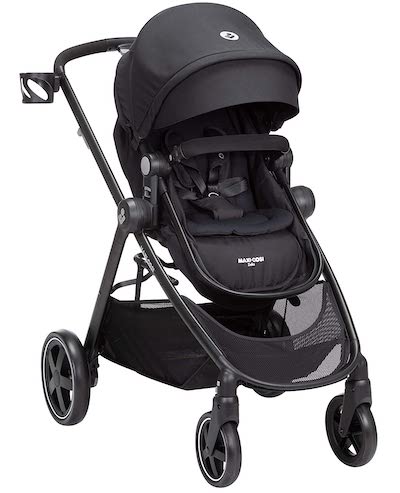 Bassinet Component
Why parents love convertible seats with carriage mode? It's simple – there are fewer parts to store!
Zelia pram stroller with its integrated bassinet can be used from birth. The seat reclines flat and in just two simple steps transforms into bassinet mode, both parent-facing and world-facing. I recommend using the first option, just so you could keep an eye on your little bundle of joy.
It's important to note that Zelia bassinet is not approved for overnight sleep and you can't use the bassinet mode out of the stroller frame because it will collapse.
Whenever you use the bassinet-mode you should buckle your babe in the 5-point safety harness.
You can attach an apron to keep your baby warm and cozy in colder weather.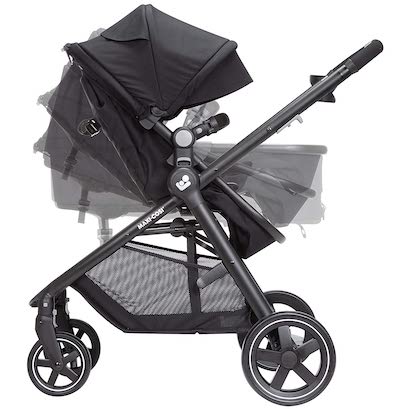 Other Features
The bassinet mode can be used up to 8 months or when the baby is able to sit up and has good neck control. Then you can start using the toddler mode and in case your kiddo gets tired, you can always recline the backrest for a quick nap on the go.
You are going to love the option of reversing the seat, depending on your baby's preferences. Reversible seat is a really rare thing on inexpensive strollers!
Maxi Cosi Zelia has quite impressive sun hood with additional zippered panel and flip out sun visor. It provides really good amount of shade, especially in upright position. There is a mesh viewing window. It provides nice ventilation so you can leave it uncovered on hot summer days to protect your baby from overheating.
Zelia is one of the best newborn prams available in 2022. It's affordable, lightweight, and can be used from birth well up to 3.5 years, without any additional attachments!
This is not an all-terrain stroller, but it has lockable front swivel wheels and suspension built in the rare wheels. It works best on urban flat surfaces, but a short grass or hard-packed gravel driveway should be a problem either. On larger bumps you may feel the stroller is shaking a bit.
You should remember about cleaning the wheels properly when they get dirty from sand or gravel. Also, if you have used the stroller during rain, make sure to dry the wheels properly. Otherwise they may start to have issues with swivel-lock function.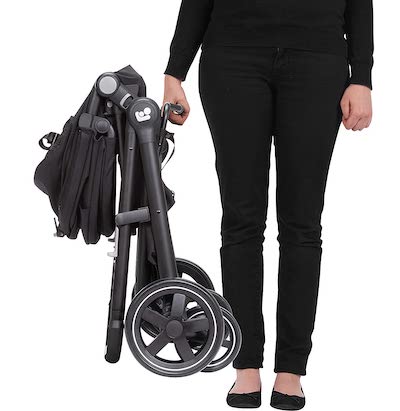 Zelia bassinet pram folds down in 3 easy steps. Although you need to use both hands (to lift triggers on the handlebar) it's very simple and quick and doesn't require bending! What's more, this stroller locks automatically, stands on its own, and feature useful carry handle.
Another advantages are: height-adjustable handlebar, spacious storage bin that can accommodate a big diaper bag, and lightweight design – this bassinet stroller weighs only 21 lbs! Moreover, the belly bar and rain cover are included in the price.
Noteworthy information is that Zelia is also available as a bassinet stroller travel system with Maxi Cosi Mico 30 car seat (available on Amazon).
Pros
Cons

Pros

---

+ Feels light

+ Easy portability - with the convenient carry handle

+ Comfortable to push, great maneuverability

+ Reversible seat allows your baby to see you or the world

+ The seat transforms into bassinet - no additional bulky piece of gear to store

+ Compatible with many infant car seat so you can turn it into a pram stroller car seat combo

+ 3 steps to fold - most parents say it's easy (if you don't mind learning curve)

+ Handlebar adjusts for tall parents

+ Affordable

Cons

---

- Some parents complain about the safety harness being a bit complicate to use

- Small parking brake, feels plasticky

- Pretty wide
UPPAbaby VISTA V2 is one of the best strollers with bassinet in 2022. It has high price tag, but it's totally worth the price.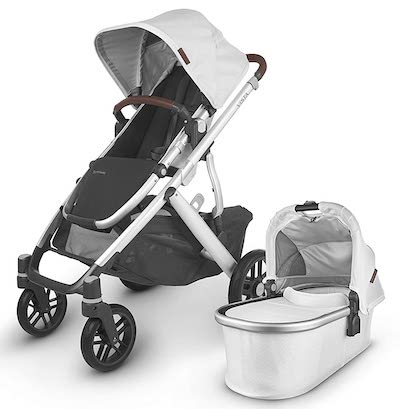 Bassinet
The bassinet is included with the stroller and there is also a rain cover and a bug shield for it. Thanks to rigid construction, back support, proper depth and ventilation, it is approved for overnight sleep, if you use it with the stand.
I often say that this is one of the best bassinets – if not the best one!
The stroller has been upgraded last year, but the bassinet has stayed the same for the last two years. You don't change something that works great, right?
Here are the features that make it my favorite.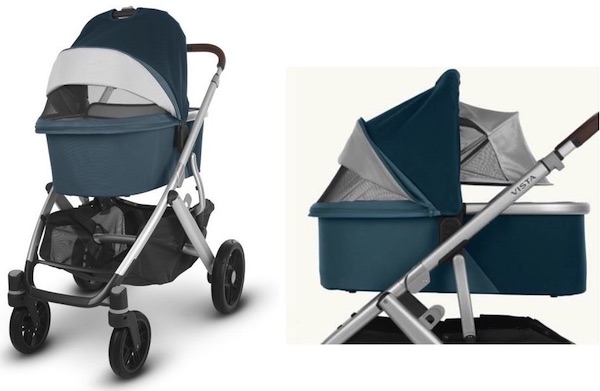 There is a vented base which and a removable perforated mattress pad which provide nice breathability and comfort for sleeping baby. Moreover, the inner liner is water-repellant therefore it keeps the sleeping surface dry so the baby could always feel comfortable. The liner and sunshade cover zip out so the bassinet is very easy to keep clean.
And the best part is the sunshade – it has extendable UPF50+ visor which provides full shade from harmful sun rays. Your baby can sleep undisturbed and you don't have to worry he/she will overheat – there is a mesh part on the sunshade which you can unzip to provide additional air flow.
If you purchase the UPPAbaby Stand (check it here).you will be also able to use this bassinet as a portable crib. It is approved for overnight sleeping, which is a huge advantage. It can be actually the best bassinet strollers for newborns in 2022.
Weight limit for this carrycot is 20 pounds.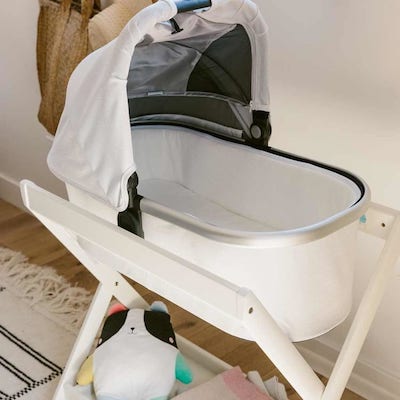 Toddler Stroller Features
UPPAbaby VISTA V2 comes also with a regular seat suitable from 3 months. One-hand deep recline is excellent for naps on-the-go, while the recently improved sun hood provides great coverage from the sun. There is peek-a-boo window with magnetic closure, which I love.
Telescoping handlebar makes pushing super convenient for parents of all heights. The wheels and suspension are great for city and off-road use. I wouldn't recommend it for rocky trails, but it won't have problems with grass, gravel, cobblestone or hard-packed sand trails. And there is also an ENORMOUS basket that can hold up to 30 lbs of parents necessities.
VISTA can be also used as a stroller & car seat combo with awesome MESA infant car seat (no adapters needed) or a few other car seat from different brands (with adapters).
Keep in mind that different color versions of UPPAbaby VISTA have different prices. You can save a few dollars on some colors actually.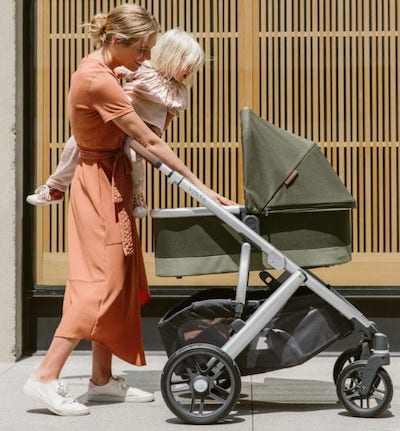 I included UPPAbaby VISTA in my ranking of the best convertible strollers and best travel systems for 2022, therefore here I focused mainly on the bassinet. If you want to learn more about this stroller read my VISTA V2 review or my full review of VISTA.
Pros
Cons

Pros

---

+ Each seating options clicks into the frame easily and securely

+ Bassinet is very useful and comfortable for overnight sleeping

+ Extendable canopy on the bassinet gives full coverage from the sun which is great for fair-skinned and sensitive to the sun babies

+ The whole stroller is very easy to maneuver, the wheels handle flat and slightly rough terrain (like gravel and grass)

+ Huge basket can hold everything parents may need during a day trip

+ Easily expands to a double stroller

+ Well-designed and made of durable, high-quality materials

Cons

---

- It's not very lightweight – but lifting it to the trunk is doable

- Even when folded it takes decent amount of space in a car trunk

- Some parents wish the MESA infant car seat was included
This is an inexpensive stroller with bassinet option. It's truly 3-in-1 stroller – it not only comes with an infant car seat and regular stroller seat, but it also converts into a pram.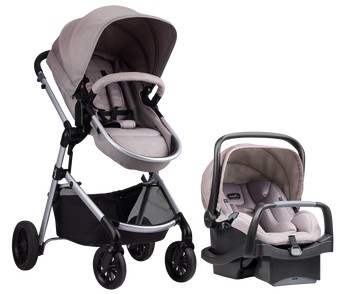 Evenflo Pivot Modular includes a seat that is suitable from birth, and the weight limit is 50 lbs. This seat features multi-position recline with fully flat position. You can not only recline the back rest, but also lower the whole seat unit to create a bassinet.
Using It From Birth
I love that the seat is convertible and offers two seating options. Thank to that you can use this stroller since infancy to toddlerhood – first with a bassinet and then convert it into a regular seat. However, you have only one piece of baby gear to store! It's perfect option for parents who want to have stroller with bassinet option, but don't have lots of free space at home.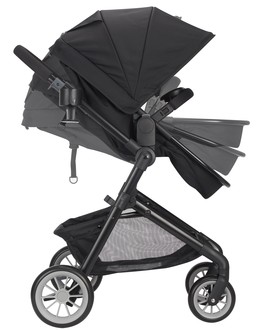 You can use the bassinet option only when it's attached to the stroller chassis. When you detach it, it collapses.
Other Features
The seat (and bassinet) is reversible so your child can ride facing you or the World. You can adjust it, depending on baby's age and mood.
There is 3/5-point harness and 3-panel canopy which provide decent amount of shade. Good thing is that it has peek-a-boo window so when the baby is facing front you can easily check on him. I love that this window is silent and made of mesh so it can provide extra air-flow for the baby on hot days. I also like the soft seat padding and removable bumper bar.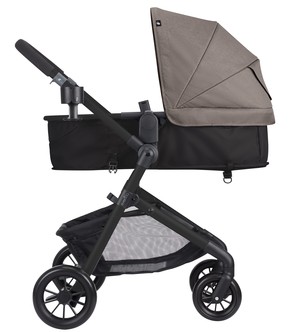 Underseat basket can accommodate large diaper bag and it's very easily accessible – LOVE IT!
The handlebar is not adjustable, it is fixed at 40″ from the ground. The wheels are rather small and have Cruiser Tires. They work best on flat terrain like sidewalks, pavement, asphalt, even gravel and indoor surfaces (at the mall or airport). It's not an all-terrain stroller, but it's perfect for city use.
Oh, and there is one more seating option that you can use from birth – this is a travel system and it includes SafeMax Infant Car Seat which safety features are confirmed by many tests.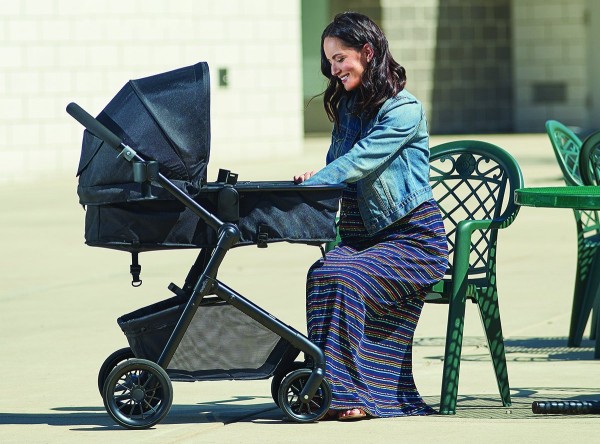 I included Evenflo Pivot Modular Stroller Car Seat Combo in my ranking of top travel systems for 2022 so here I focus mainly on the bassinet option. If you would like to learn more about this stroller I invite you to read my in-depth review.
Pros
Cons

Pros

---

+ Easy to assemble

+ Seat and car seat easily click onto the stroller frame

+ Basket is very capacious, perfect for shopping and day trips

+ Stylish look

+ Bassinet and regular seat easily snap in and out of the frame

+ Material is very soft and comfortable

+ Lightweight, yet sturdy

+ Great quality for a reasonable price

+ Space-saver

+ One of the cheapest strollers with bassinet option

+ Comes with infant car seat, car seat base, cup holder and child tray so you don't have to spend extra money on these items

Cons

---

- Wide footprint (because of the rear wheels)

- Some parents complain about the front wheels as they need to be greased to prevent getting stuck (read more)
This high-end stroller doesn't come with the bassinet included in the basic set, but I decided to add it to my ranking of the best bassinet strollers for babies anyway. Why? Simply because of the bassinet's amazing features.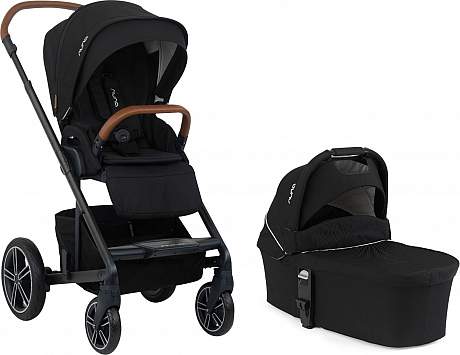 Nuna MIXX is a convertible stroller that comes with an all-season seat that moms love and good wheels that can handle many types of terrain. Of course this stroller has some drawbacks (for example: its weight), but it works excellent as a pram with the additionally purchased bassinet.
Bassinet
Here are the things you are going to love about Nuna MIXX as a bassinet stroller.
MIXX series bassinet attaches directly to the stroller chassis. Everything works very smoothly and clicks easily in the right spot.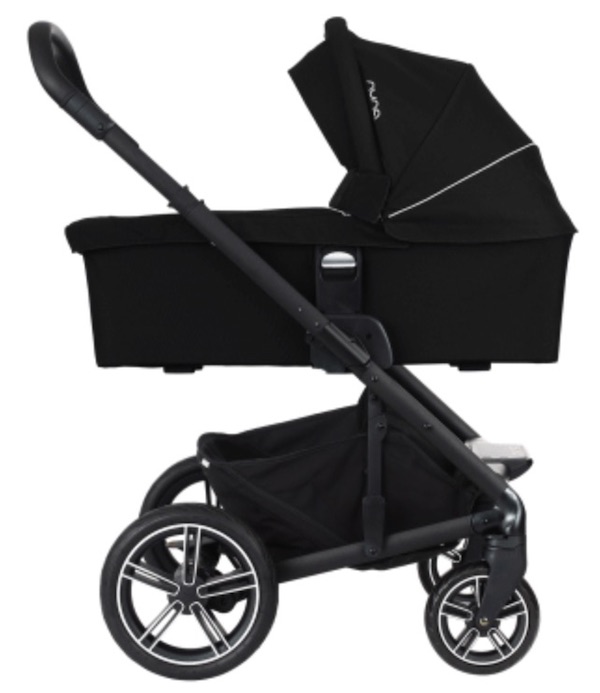 The bassinet is equipped with a roomy sun shade and apron that together provide sheltered place for an infant and give nice protection from the sun and wind.
Moreover, the hood has a flip out sun visor and an integrated mesh panel at the back that provides extra air-flow. Therefore your baby won't be sweating and getting hot inside the bassinet.
And if you ever want to give your baby more privacy during the nap time, there is also a Dream Drape. It fully shelters the baby and allows for undisturbed sleep. It's also a perfect solution when you want to protect your baby from glances of curious passersby.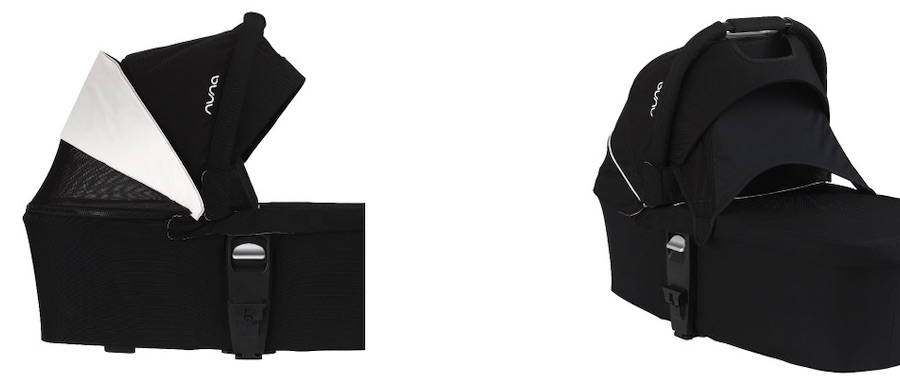 Another fantastic thing about MIXX series bassinet is that it's approved for overnight sleep. Why you will love this feature?
Well, it means that Nuna MIXX bassinet is a perfect bed for a baby during the first few months. It may be used instead of a crib, if you have limited space in your apartment.
Moreover, the bassinet folds flat therefore it's easy to transport. It also simplifies storage (for example for the next baby).
There are three more functions that you're going to love about this carrycot. It has a convenient carry handle and a storage compartment for few small necessities. This pouch is really handy and allows you to keep a few diapers, a teether and wet wipes always within reach.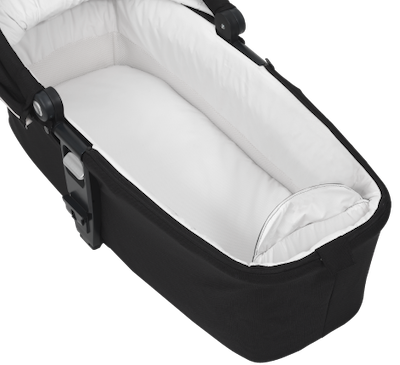 And in case of a diaper blowout or spilled milk you'll be able to remove the mattress cover, liner, as well as the top cover and toss it in the washing machine.
I really like bassinets because they provide the best and safest surface for sleeping newborns. And Nuna MIXX is one of the best bassinet strollers in 2022.
Currently the bassinet is available only in one color – Caviar. You can find it on PishPosh Baby.
Other Features
Nuna MIXX has also an option of travel system and it is compatible with all car seats from Pipa series: Nuna PIPA, Nuna PIPA Lite and Nuna PIPA Lite LX – they all attach to the chassis with the Ring adapter, that is included with the stroller (no need to spend extra money on adapters!).
When the baby outgrows the bassinet and can sit unassisted you can switch it for a regular seat which can be installed rear or front facing.
As I briefly mentioned above, the seat is all-season – it has a removable top Bamboo cover and mesh layer underneath it. When it gets warmer, you can remove the Bamboo layer and allow the air to circulate through mesh and keep your baby from sweating.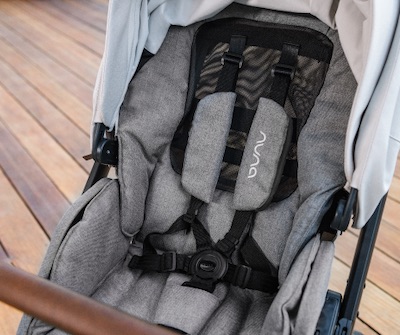 The sun shade on the main seat is big and has additional zippered panel with side mesh windows. The back panel has a peek-a-boo window, and another mesh window – for extra ventilation.
As you can see both stroller's components are very breathable and ventilated.
The backrest adjusts with one hand to 5 positions, providing comfortable place for naps.
The calf rest is adjustable too, and you can even flip it all the way up and buckle it to the seat frame – to create a newborn-friendly environment, similar to a carry cot. According to the manufacturer it is suitable from birth.
Nuna MIXX rear wheels are filled with foam, while the front swivel wheels are plastic – so no worries about punctures or loosing air. The rear ones are really big, there is also all-wheel suspension.
I wouldn't recommend taking this stroller on rocky trails, but it will definitely handle cracked sidewalks, paths around the playground and gravel driveway.
This stroller is equipped with spacious underseat basket that is easily accessible from the back. It can accommodate even a large diaper bag.
You can learn more about this bassinet stroller (and all its versions from 2017 to 2021) in my full review.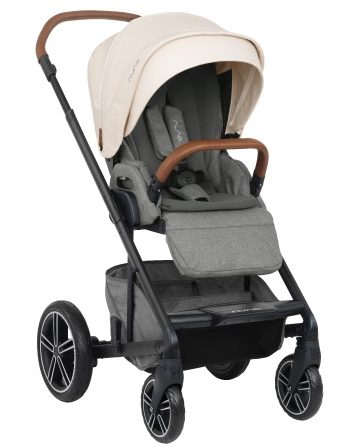 Pros
Cons

Pros

---

+ Sturdy construction

+ Carrycot can be used for overnight sleeping and it folds up flat for easy transportation – perfect as a travel bed for infant

+ Carrycot is softly padded and features removable liner and mattress cover for easy cleaning

+ It works with Pipa series infant car seats

+ Each seating options easily clicks onto the frame

+ Wheels are great for strolling around the city and in the park

+ Telescoping handlebar – convenient for parents of different heights

+ Excellent protection from sun burns and overheating thanks to breathable canopy

+ Smooth, one-hand pushing

Cons

---

- Newborn carrycot is sold separately

- Front wheels design could be better
This is one of the modern and stylish strollers that is suitable from day one. You can use it right from day one with bassinet (sold separately) or with the cocoon attached to a fully reclined seat. You decide what's more convenient for you!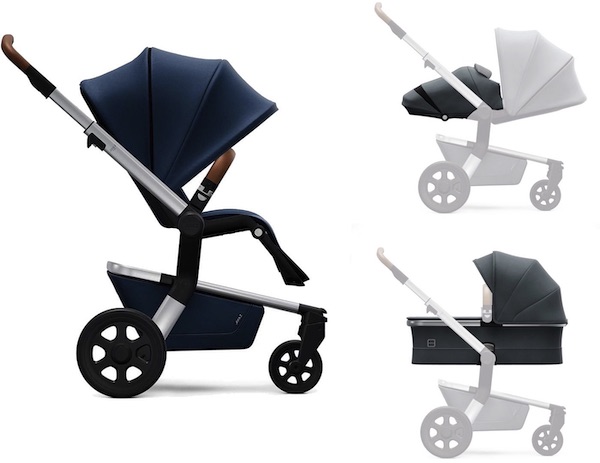 Seating Configurations For Newborns
There are tons of features you're going to love. The stroller seat has 3-position recline and the lowest position is truly. The footrest is also adjustable. If you recline the backrest all the way down and flip up the footrest, you will have an infant-ready mode.
To give your little one more comfort and support during the first six months Joolz has designed a special newborn cocoon with built-in footmuff (YAY!) that easily attaches to the flat seat.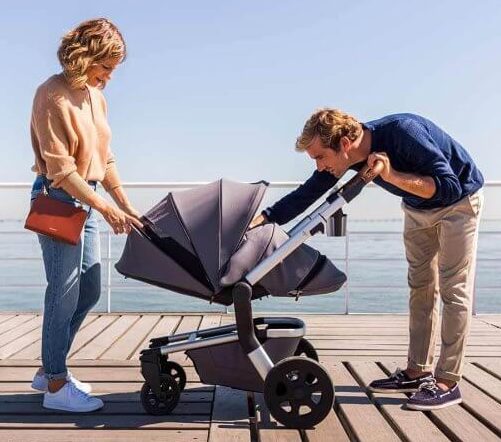 So even without the bassinet, you can use this stroller from birth – just like a pram! Joolz cocoon has a breathable mattress and integrated mesh vents to keep your baby from sweating and overheating. It creates a sheltered and cozy place for a sleeping newborns and protects them from wind.
If you're a fan of bassinets (like I am) or simply love long-distance strolls, I recommend you adding Joolz bassinet to your Hub stroller.
It provides the best and most comfy position for a newborn baby. With a big, vented sun shade and apron your little one is protected from weather and can sleep soundly.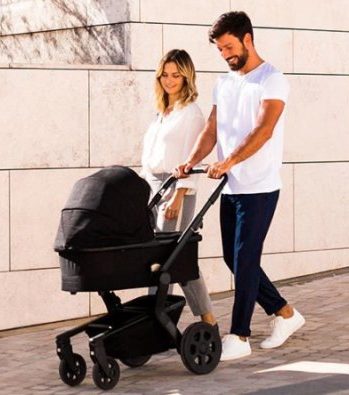 You'll also love how easily it is to switch between different seating options – the seat removes from the frame effortlessly and the bassinet attaches in the same spot with one simple click.
If you're hesitating whether to use Joolz Hub stroller with bassinet or cocoon you should consider a few things:
How often will you use it during the first 6 months?
Will you use it for long strolls or just for running quick errands?
How big is your budget?
If you plan often long walks from day one, the bassinet is a better option because it's more comfortable for the baby for longer periods.
Of course the bassinet stroller is more expensive option. If you're on a tight budget or plan on using the stroller rarely during the first few months – the cocoon will probably work better for you.
Nevertheless, if you want a pram-looking stroller, you need to pay extra. On Amazon you can compare the prices: bassinet vs cocoon.
Other Features
Joolz Hub includes a reversible seat, roomy storage bin with clear and easy access, and handlebar hooks for a diaper bag. This brand really knows what mommy needs!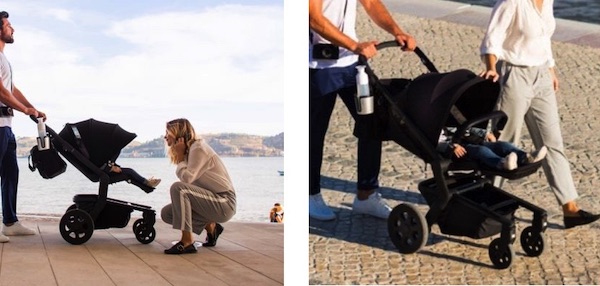 I have to mention the sun shade – which is literally A M A Z I N G.
It's huge and has additional fourth mesh panel that opens with a zipper. When the hood is fully extended it shades the baby from head to toe, regardless the recline position! If your babe hates having sun in their eyes, you'll be thrilled with this canopy.
The whole stroller is a breeze to push and steers effortlessly with one hand. It's only 20 inches wide so it fits in narrow spaces and turns easily even in tight corners.
What types of terrain Joolz Hub can handle? It's a city stroller, but it works really well on grass, gravel and uneven surfaces too. It doesn't stuck on cracks on pavement.
On bigger bumps it may wiggle a bit, but generally speaking the ride is smooth and visibly cushioned.
Folding mechanism takes a few steps and you will need two hands to pull triggers on both sides of the handlebar. But all in all, the process is easy and you'll get used to it very quickly. Folded dimensions are 26″ x 21″ x 13″ so it will probably fit in most medium sized trunks. Chassis and the regular stroller seat weigh about 25 pounds, while chassis and stroller bassinet weigh 26 pounds, therefore lifting Joolz requires some strength.
Pros
Cons

Pros

---

+ Beautiful look

+ Main seat lays flat for a newborn baby and accepts a cocoon (cheaper than bassinet), so you can but don't have to add the bassinet

+ It's intuitive and user-friendly. Switching between each seating configuration is super easy

+ It's more compact than many other full-sized strollers (on the other hand it's not a small or lightweight as umbrella strollers, but it's also much more comfy!)

+ Wheels can handle slightly rough terrain

+ Extendable handlebar

+ Enormous canopy that covers the baby from head to toe

+ Mesh ventilation in the canopy, as well as in the cocoon

+ Once you get a good hang of it, folding becomes easy

+ Included carry strap

+ High-quality, durable design

+ Eco-friendly

Cons

---

- Accessories, as well as the cocoon and bassinet are sold separately therefore to use it as a pram for a newborn baby you need to spend some extra money
This one works similar to Evenflo and Maxi Cosi baby pram strollers, meaning the seat converts from toddler mode to bassinet mode with few simple buckle adjustments.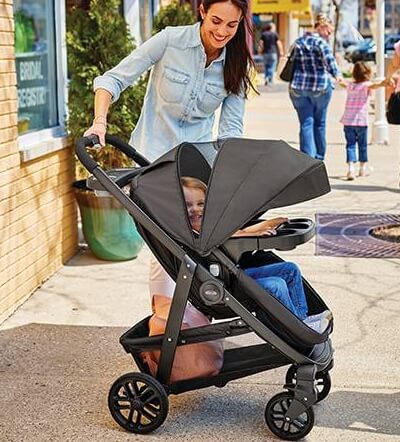 From-Birth Use
There is no separate bassinet. If you want to use Modes from birth, you just need to transform the toddler stroller into bassinet stroller.
First, you need to remove the snack tray. Then you simply recline the backrest fully by using one-hand lever at the back, then you recline the whole seat using the lever at the front.
The last step is to unclip the buckle on the underside of the seat and to push the leg part of the seat down. And there you go – the bassinet is ready for your baby.
This may sound complicated, but trust me, it's really easy to do! In case you're unsure how to convert the seat into bassinet, the brand has posted useful video with a tutorial.
The bassinet is quite shallow and works only when attached to the stroller frame. This one is not approved for overnight sleep.
Whenever you put your newborn baby in the bassinet, use the safety harness to keep your little one secured in place.
It's noteworthy that you can use the bassinet mode facing in or out, but obviously the former one is more practical with little infants, because it allows you to keep an eye on them.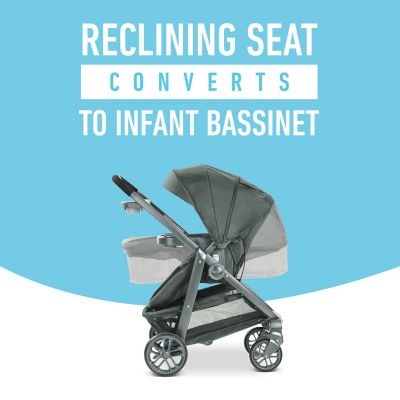 Other Features
Usually inexpensive strollers don't have big canopies, but Graco Bassinet Stroller is an exception – it has three-panel sun hood, with fourth mesh panel that opens with a zipper, and an additional sun visor. Surprisingly this sun hood provides really good amount of shade. And when you open the mesh panel, the airflow inside the stroller is better, protecting your baby from overheating. I only wish the peek-a-boo window had magnetic closure, instead of that noisy Velcro.
Just like the bassinet, the seat in toddler mode can be used in both directions. If your child has "separation anxiety", you can install the seat facing you. Whenever your kiddo prefers to look around and observe surroundings, you can reverse the seat with few simple clicks. The weight limit for the toddler mode is 50 lbs.
Another important feature is the compatibility with all Graco Click Connect infant car seats. You can turn your bassinet stroller into travel system by attaching the car seat onto the seat, or directly onto the frame (if you remove the seat first).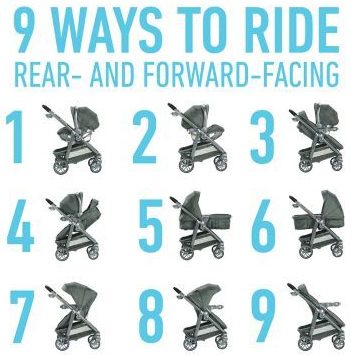 This bassinet stroller has large storage bin, plus it comes with two useful accessories: parent and child snack tray. It's really nice that you don't have to pay extra for these add-ons.
Modes Bassinet Stroller weighs just under 23.5 lbs so it's fairly easy to operate.
Fold is pretty simple, you just push one button and it closes in half. You can do it with one hand! The bassinet stroller stands on its own and locks automatically.
This is probably the cheapest bassinet stroller in my ranking and there's a reason for that – it has hard plastic wheels which don't handle a lot of terrain. Therefore I would recommend it only for urban surfaces and smooth grounds. If you decide to get this baby bassinet stroller, be aware that it may wobble even on small cracks and bumps.
Pros
Cons

Pros

---

+ Main seat turns into a bassinet with few simple adjustments

+ Graco car seats click just right in

+ Storage bin is roomy and deep

+ Extendable sunshade covers the baby nicely

+ Folds down easily with one hand

+ It locks automatically when folded

+ Lightweight enough to lift it to the car trunk

+ Child tray and parents tray with few storage compartments included in the price

+ Good, versatile bassinet stroller for parents on a tight budget

Cons

---

- Carrycot is not approved for overnight sleeping

- The wheels are plasticky and don't handle any bumps, sometimes they may squeak

- The stroller doesn't fold with the bassinet facing parents

- You rather need to push it with both hands
This is one of the most luxurious bassinet strollers. All included parts allow you to use it from birth, even up to 3 years.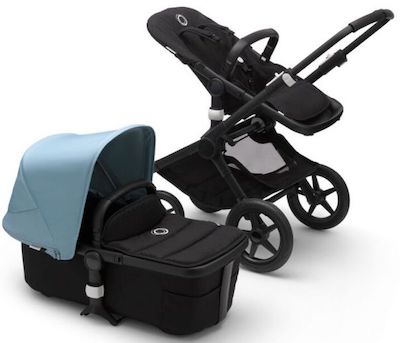 Bassinet
Fox2 comes with one seat frame which works with toddler seat fabrics, as well as bassinet fabrics. Everything is included in the basic package. So you actually don't get a separate bassinet, just fabrics that you need to attach to the frame. It makes it easier to store it for the next child – the fabric takes up obviously less space than the actual carrycot.
Installing the fabrics is not complicated, and Bugaboo shares useful video tutorials to help you with that. Besides, you only do it once – when you assemble the stroller. When your baby is able to sit upright, you can change it to toddler seat fabrics.
On a positive note, all fabrics are machine-washable which is a huge advantage, considering all those spit-ups and diaper blow-outs.
The bassinet is deep, has rigid walls and nice supportive mattress, making it suitable from birth. The sun shield (the same that you use with regular seat) is giant. One of the three panels opens with a zipper. The new Fox2 has also mesh peek-a-boo window allowing you to keep an eye on your little one.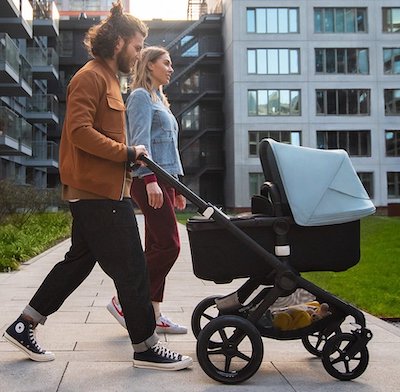 Fully extended sun hood completely covers the baby, giving them private and sheltered space for naps on-the-go. There is also a removable apron – perfect for more chilly days to keep your little one warm and comfortable.
Fox 2 has a convenient carry handle so you could easily transport your baby in the bassinet from a stroller to home.
What's more, the bassinet is approved for overnight sleep – you just need the Bugaboo Stand.
Thanks to all those awesome features Bugaboo Fox2 is one of the best pram strollers of 2022.
Other Features
Bugaboo stroller pram can be used with bassinet, car seat or regular seat – which attaches in both directions. It has foam-filled tires that imitate the air-filled ones and provide ultra-smooth ride while you don't have to worry about punctures or inflating.
There is also central-joint and rear-wheel suspension that cushions the ride and makes the Fox2 suitable even for rough terrain (but not jogging).
Another noteworthy feature is the two-wheel position which allows you to pull the stroller over sandy beach or larger amount of snow.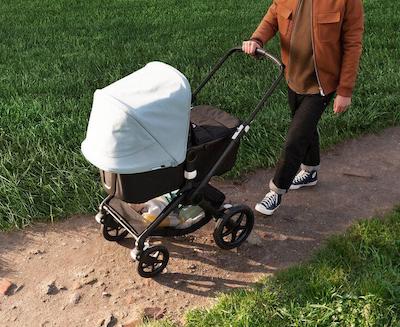 There is also a spacious basket under the seat with weight limit of 22 lbs. If you have a large diaper bag, you'll be able to fit it in there.
Although folding takes some practice, there is one thing that makes Fox2 stand out from other baby bassinet strollers: you can fold it down with the bassinet attached to the frame!
Bugaboo Fox2 feels pretty light – in the basic configuration (with seat fabrics) it weighs only 21.8 lbs. However, if you add the canopy, storage basket, and belly bar – it will weigh about 5 pounds more which makes it similar to VISTA and Hub.
And last, but not least – Bugaboo is famous for the stroller customization they offer. Fox2 is available in many colors and you can actually personalize it to fit your style (right now you can choose the color of the frame, the seat/bassinet fabrics and the canopy).
>>Read more about 2020 Fox2 (as well as its previous model – 2019 Fox).
Pros
Cons

Pros

---

+ Looks chic and fashionable

+ It comes with two sets of fabrics: for the newborn carrycot and toddler seat, that attach to the same frame. This means fewer parts to store and transport

+ Comfortable to push with one hand

+ Works great on gravel trails too

+ The suspension is fantastic - you don't feel any cracks in the pavement (it's a fantastic NYC stroller)

+ Features unique two-wheel position that makes getting through sand and snow much easier

+ Compatible with many popular car seat brands

+ The bassinet easily clicks onto the frame

+ Incredible large canopy for excellent sun protection

+ The main seat is mounted high up on the frame - you can use it as a portable high chair in restaurants, and it's easier to get the child in and out of it

Cons

---

- Folding takes some practice

- Very expensive, accessories are sold separately so the cost adds up
If you're looking for the best bassinet stroller for twins, and you want something similar to Fox2, you should definitely check out the Bugaboo Donkey2! Read my comprehensive review here.
Do I Need A Stroller With Bassinet?
Parents often wonder if it's worth to invest in a stroller with bassinet (or purchase it additionally). I'm a huge fan of using the bassinet during the first months, but in some cases they may seem less practical.
As any other type of buggies, bassinet strollers have many advantages, but also couple features that moms may not like. Here's my list of reasons to get a bassinet stroller, and some situations when it's less needed.
Reasons To Get The Bassinet Stroller
Bassinet provides fully flat position which is the best for infant's back
It's a sheltered and cozy place – perfect for undisturbed naps on-the-go
If you plan regular long strolls with your newborn baby it's the best option
If your stroller doesn't feature lay-flat seat, and you don't plan on babywearing, but want to often go for long-distance strolls, the bassinet is the only solution
Baby should not spend too much time in an infant car seat; bassinet provides more comfortable and ergonomic position for newborn baby for longer periods
Even if your stroller main seat offers fully flat recline, it won't be as supportive as bassinet mattress
You can find many convertible models which offer huge versatility: you can use that kind of strollers with a bassinet, car seat or regular seat which can be switched, depending on your needs, so you spend money only one time
According to many moms bassinet stroller is very stylish 😉
They are suitable from birth up to 6-9 months – babies grow sooo fast, so you should make a good use of this time!
There are a few models with really great amortization and suspension (check the list above)
Why You May Want To Skip The Bassinet Stroller
If you are going to barely use the stroller during the first months, and only for quick walks, the infant car seat may be enough
If you are going to babywear your newborn baby most of the time, the bassinet may be less useful for you
Bassinet strollers have some disadvantages: some are pretty bulky, wide and heavy
Storing or transporting may be a little difficult – if the bassinet is separate and doesn't fold, it may take up quite a lot of space
Bassinet can be used only for the first few months – therefore it may seem like a too high cost for such a short usefulness
Is A Car Seat Or Bassinet Better For Newborn?
I know that when many future moms thinks about strolling with their baby through neighborhood, park or city streets, they imagine a stroller with a bassinet. When I was looking for my first stroller, I only considered buying this type!
The other option for the first months is using an infant car seat. Strolling with a baby in a car seat during first months is for some moms a convenient alternative, but for others it may seem like a pretty unusual idea. You can say what you want and I will still be a big fan of prams. 🙂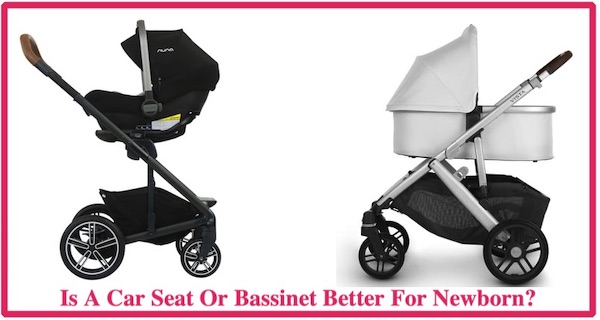 Many moms decide to use infant car seat because transition between the car and house is easier, and you don't have to wake your sleeping baby by taking him/her out of the car seat and putting into the bassinet.
Of course you can also stroll with your little passenger sleeping in a car seat. It's very convenient, especially if you often drive before going for a stroll or if you want to run some daily errands and often change between driving and walking.
Remember that a car seat is not proper for long rides. It doesn't provide a proper position for sleeping newborn during long walk. According to some safety standards the infant shouldn't be in the car seat longer than for 1-2 hours.
In my opinion, both options have some advantages and their very own application. Stroller bassinets are better if you often go for long walks. Thanks to a bassinet baby lies flat and can nap comfortably. Car seat is a better solution if you don't go for long strolls, but often run errands and drive a car with a baby.
So to answer the question which is better: car seat or bassinet, I would say that car seat (which you will probably get anyway) is better for newborn for short, occasional walks, while the bassinet is better if you plan on frequent longs strolls with your newborn baby.
How To Choose The Best Baby Bassinet Stroller – Buying Guide
If you decide to buy a bassinet stroller for your little one, baby's comfort and safety are the most important things.
Therefore you should check how roomy and sturdy the bassinet is, check stroller's stability, maneuverability and durability.
Things to consider when buying baby bassinet stroller:
Bassinet & Mattress
You should pay attention to the bassinet itself and choose the one that is big and roomy and offers proper stability. The mattress should be comfy and soft but also thick enough to provide support for baby's back and head and protect baby from bumps and shocks.
The padding on the mattress should be breathable – it's very important so the baby doesn't sweat and overheat. It's best if the mattress padding is removable and machine-washable.
Can A Baby Sleep In A Stroller Bassinet?
Not all stroller bassinets are approved for overnight sleep. The ones that are very rigid, solid structure, proper ventilation and good, supportive mattress. Among bassinet strollers that I reviewed in this article, bassinets that baby can sleep in are: UPPAbaby bassinet, Nuna bassinet and Bugaboo bassinet. Remember that you will need a special bassinet stand to be able to use it for overnight sleep.
If you want to use your stroller bassinet for day naps or overnight sleeping, always use original stand for it, to keep the baby safe, and follow manufacturer instructions.
Other stroller bassinets are not tested/ approved for sleeping. Graco, Evenflo or Maxi Cosi bassinets work only when attached to the stroller frame, otherwise they collapse. That's why they cannot be used for overnight sleeping and I advice you not to test it.
Wheels
Many baby bassinet buggies don't have large wheels and such an amazing amortization like, for example, joggers, but you should look for the one with the best possible suspension system and wheels big enough for bumpless rides and effortless maneuvering.
Canopy
Another important thing is the sunshade. It should be big enough to protect baby from the sun and wind and provide nice coverage. The best canopy is the one that is extendable, has a flip out sun visor and provides good air-flow. It's really useful if the canopy has a mesh part with a cover – it's perfect for summer strolls as it provides extra ventilation.
I hope my ranking of the best newborn prams and bassinet strollers were helpful for you. If you're still hesitating which model is right for your baby – let me know in the comment section below. You can also check my ranking of other top-quality strollers of 2022.
My rate:
---
Source of pictures: each brand's official website.
The purpose of this article is informative. It's not a substitute for medical consultation or medical care. Remember: safety first! Consult your doctor/pediatrician in case of any doubts. The author of this article does not accept any responsibility for any liability, loss or risk, personal or otherwise, incurred as a consequence, directly or indirectly, from any information or advice contained here. This article contains affiliate links – your support helps us run this blog. Thank you!