Although Nuna MIXX2 has been on the market for some time now, I didn't have the opportunity to try it out and find out what's so special about it until few weeks ago. So here's a story how I met Nuna MIXX2!
My friend who has 5-month-old baby asked mi for a coffee. We haven't seen each other for a while so we agreed "no kids!" 🙂 Finally, we meet at nice coffee shop and she shows up with a baby in a stroller, apologizing me because her husband had some work and couldn't stayed with the baby. To be honest I wasn't listening to her because I was so fascinated by her… stroller! Yep, I feel a little embarrassed but I have to admit, at the beginning I was more excited by her stroller than meeting her (very lovely) daughter. 🙂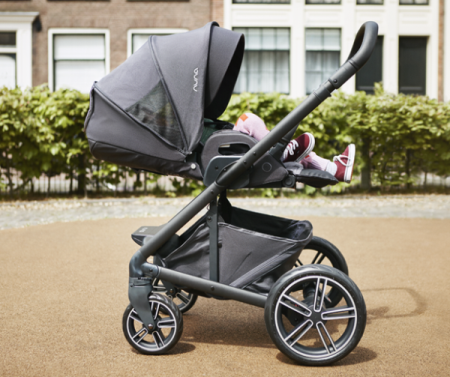 So she was pushing brand new Nuna MIXX2 with one hand, holding her stylish purse in other hand, gliding so easily between tables, reclining the seat with one hand. Oh, and her storage basket… it was fulled with shopping bags, diaper bag, blanket and few other things. I was so jealous! So of course I couldn't resist to ask her about the stroller and try it out.
I was really wowed with its maneuverability. It pushes like a dream and looks so fancy. If you've read some of my reviews on this blog, you already know how much I love versatile and multifunctional strollers. No wonder, this one stole my heart immediately!
This Nuna MIXX2 review is a result of my tests and my friend experience with this stroller. I tried to put together all of the important information for parents who haven't heard about this stroller yet and for those parents who still hesitate if they should go for it.
| | | | | |
| --- | --- | --- | --- | --- |
| Stroller name | Type | Weight | Age/weight recommendation | Best application |
| Nuna MIXX2 | All-in-one convertible stroller | 26.8 lbs | From birth to 50 lbs | Excellent choice for parents who value flexibility and want multitasking stroller that has it all and looks stylish. |

Nuna MIXX2 Review
When Nuna MIXX stroller was released, it quickly gained many fans among parents. No wonder, it's not only all-in-one, everyday stroller, but also chic looking buggy. Let me introduce you to the new Nuna Mixx2 which went a beautiful makeover and now has ever more luxurious look.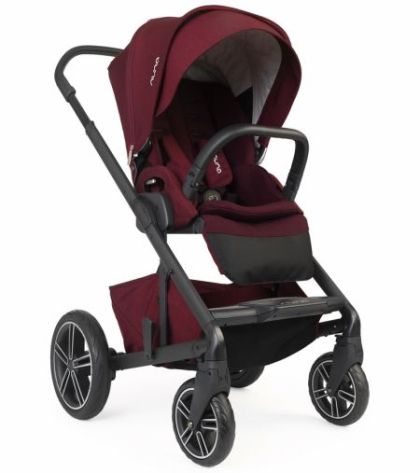 With Nuna MIXX2 you can stroll with your baby in a stylish way! This stroller is also very versatile – perfect for parents who like flexibility. This stroller offers few seating options. There are modes for newborns and toddlers: bassinet, travel system, rear and front facing main seat.
Now I would like to tell you a little bit about Nuna Mixx2 features and functions, advantages and disadvantages (if there are any! 🙂 ).
Seat
This stroller main seat is recommended by manufacturers from birth to 50 lbs. There is 5-position recline to provide maximum comfort during riding and napping. Parents can easily recline the seat with one hand thanks to a handle on the back of the seat (it's place on the top of the storage pocket) – super intuitive and easy to operate. There is also adjustable calf support and integrated footrest.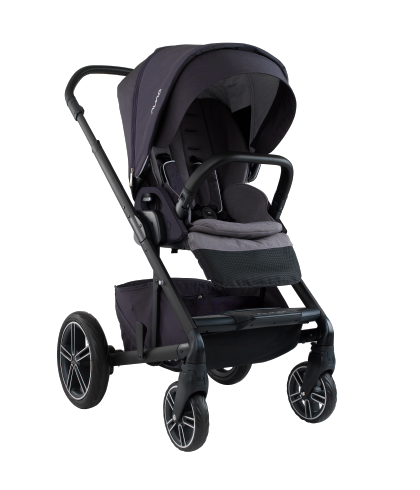 With Nuna MIXX2 your baby can just lie back in (pretty) flat position and rest its legs comfortably. I added "pretty" because although manufacturer calls it a flat position it is just a little bit lifted (maybe few degrees). It's still suitable for newborns, however I just had to mention it. You can see the flat position in the first picture at the beginning of this review.
So we can recline the seat all the way down and then we can lift the leg rest all the way up and snap it to the frame to create a closed space for sleeping little baby. Your baby will be lying flat and won't slide down or anything. And when the child gets older and bigger we can always lower the leg rest. There is also a step where taller children can rest their feet, however it's not adjustable.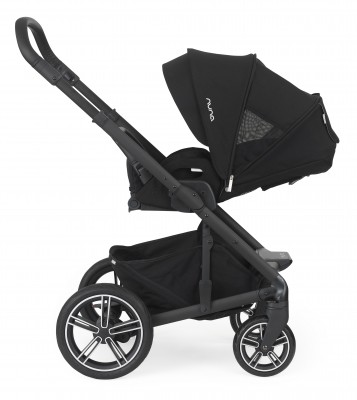 The seat is equipped with 5-/3-point harness with easy to use release button. Using the harness takes some practice, for toddler it is undoable. What I love most about Nuna MIXX2 seat is that my baby can ride facing me or the World. Reversing the seat is a piece of cake, you just push two buttons on the sides of the seat and take it up.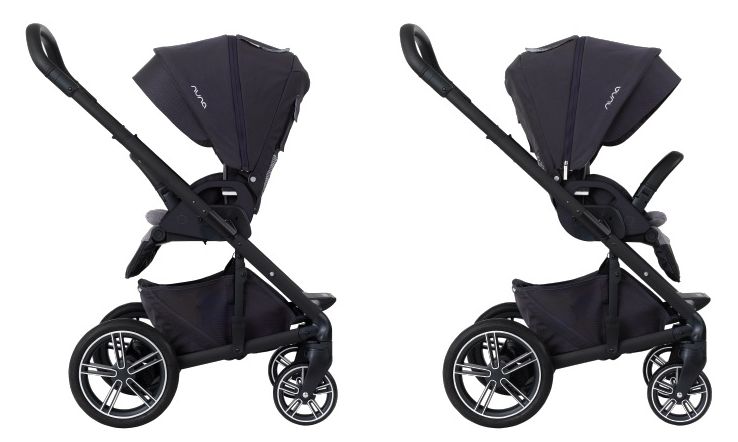 I think it is very useful to have reversible seat. When my babies were little I preferred when they were facing me. Now, when they are older and curious about everything they want to ride facing surrounding and watch everything around.
What I also like about this seat is the upright position – when the seat isn't reclined, the child can sit pretty straight which is very useful for toddlers who want to see everything.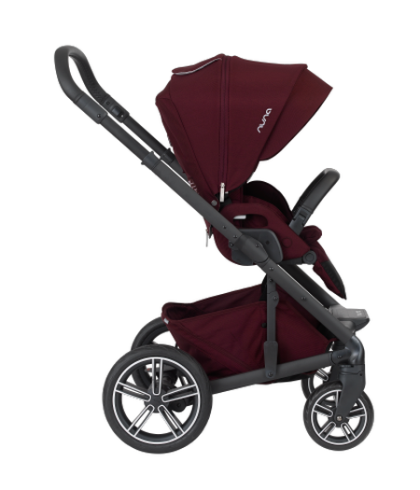 The new 2017 Nuna MIXX2 has new cotton blend fabric which is more comfortable for the little passenger and looks more chic. The material feels like a plush, it is really soft and breathable so it's perfect if you live in a warm climate.
The seat fabric can be easily removed and washed. It's very important because it WILL get dirty at some point and it's good to have the ability to clean it in a washing machine. After cleaning it's easy to put on – everything easily snaps into place.
We can also install a removable arm bar to provide more safety ride for the baby. It not only prevent baby from falling out, it's also a place where baby can comfortably hold on to. This arm bar features luxurious leather-look fabric.
We can also use this stroller with MIXX2 bassinet which provides the most suitable position for newborns. This is the main difference between bassinet and fully recline seat – this one offers really flat position. It can be used since birth to 20 lbs or 27" (whatever comes first). The carry cot itself weighs 11.2 lbs.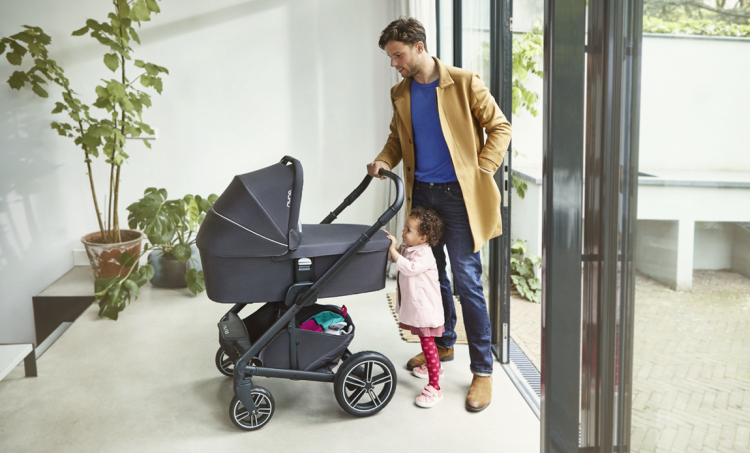 It's approved for overnight sleeping, its canopy is equipped with integrated mesh window to provide extra air-flow. There is also hidden storage pocket for our essentials. When not in use, it can be easily fold to compact and flat package.
It also comes with a Dream Drape, which you can see in the picture below. This cover is designed to provide baby with undisturbed, peaceful sleep.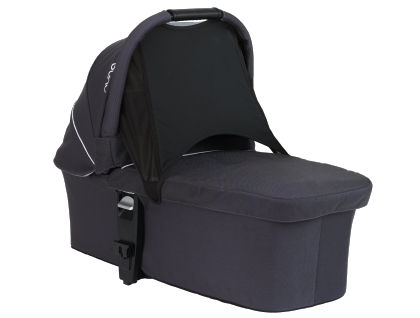 Top cover is removable with release magnets and, like mattress cover, it is machine washable. If we want to buy Nuna MIXX2 carry cot separately it is available in the U.S. only in Jett color and costs around $150. However, if we want to buy Nuna MIXX2 as a set (stroller+bassinet) we have two options: Jett and Suited.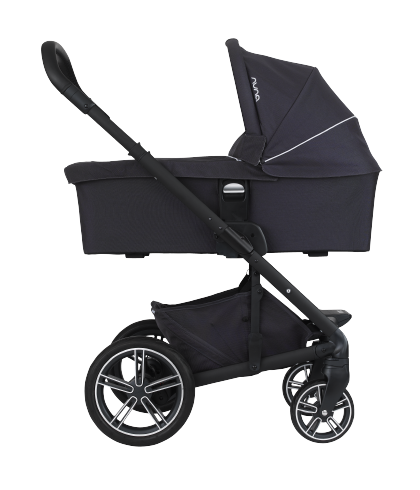 So remember that the main seat goes all the way down, just few degrees from flat position, while bassinet offers a fully flat position. Both are suitable for newborns. Therefore with the fully reclined seat, bassinet is actually only an optional item that you can buy, but you doesn't really have to! How great is that!?
Nuna MIXX2 Travel System
We can also turn Nuna MIXX2 stroller into a travel system. It comes with an adapter for Nuna PIPA car seat and other car seats by Maxi Cosi. Nuna MIXX2 is compatible with the PIPA infant car seat, which has not changed since it was released 3 years ago.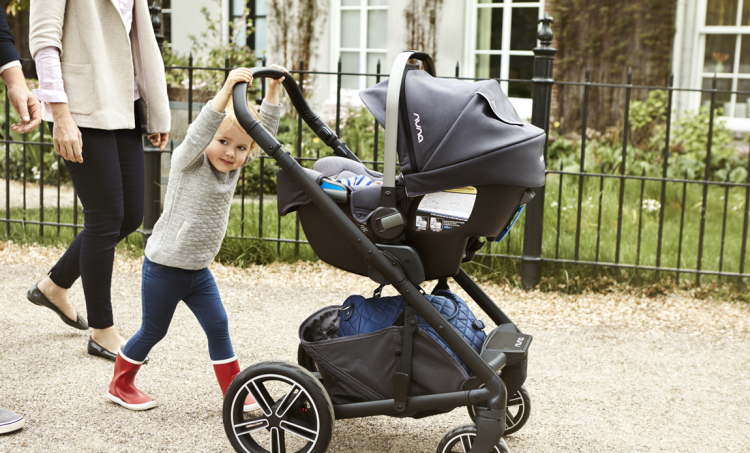 However there are also two other, recently released, Nuna infant car seats that work with MIXX2 stroller: PIPA Lite LX and PIPA Lite. They are a little bit different from regular PIPA car seat.
What's really great about the adapter is that we can keep it attached to the car seat and it won't interfere with the car seat base installed in the car. It's really useful that we don't need to take the adapter on and off every time we want to put the infant car seat into to the stroller frame.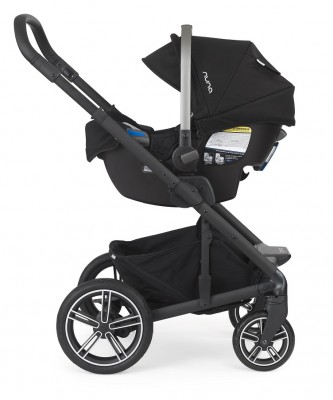 Installing the infant car seat takes literally few seconds and it clicks audibly when it's done so you can be sure you put it in the right place.
Nuna PIPA infant car seat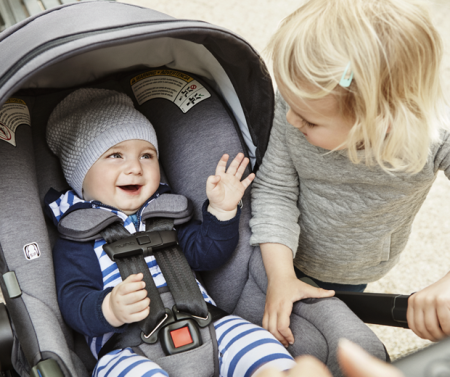 PIPA is one of the lightest infant car seat I've had a pleasure to use. It weighs only 7.9 lbs which means it's very easy to lift and carry around with a convenient ergonomic handle. It's suitable from birth to 32 lbs or 32 inches. It has a removable body pillow to give infants extra support. When the baby grows we can easily remove it.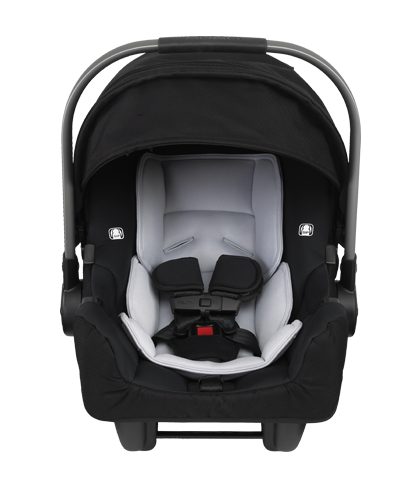 What's the most important thing about infant car seat? Safety – of course! When it comes to Nuna, their products not only look awesome but they are design with child's safety in mind. Nuna Pipa car seat features side impact protection, stability leg that absorbs the impact in case of an accident and minimizes force to the baby, shell shape that is resilient and keeps the baby in safe position and adjustable 5-point harness.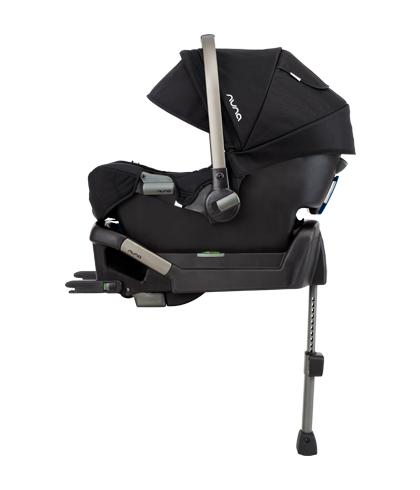 This infant car seat is rearward facing and has large canopy with UPF 50+ protection. Nuna PIPA car seat also has the Dream Drape like the Nuna MIXX2 carry cot. It gives baby privacy, peace, sun coverage and perfect air-flow for undisturbed, comfy sleep.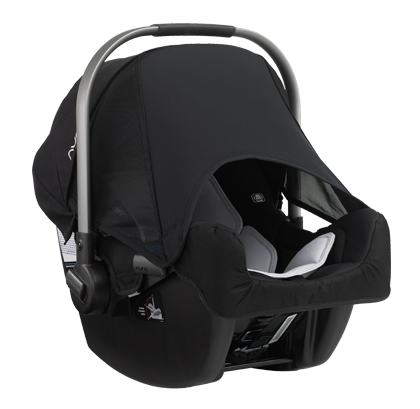 Nuna PIPA comes in 6 different colors which we can pair with the Nuna MIXX2 stroller color version.
Psst! Are you looking for a travel system for your baby? Check out

my other reviews

of the best travel systems!
Canopy
Nuna MIXX2 stroller is equipped with large, extendable canopy made of fabric with UPF 50+ protection. When the canopy is fully extended it's really large and fully protects the baby from the sun. Open and folded canopy stays in place and doesn't move itself.
There is also a sun visor that we can fasten to the canopy with a zipper (then we can hide the zipper under the fabric and the sun visor looks like a part of the canopy). When we don't need the sun visor we can just simply unzip it and put it into the storage basket or fold it inside the canopy.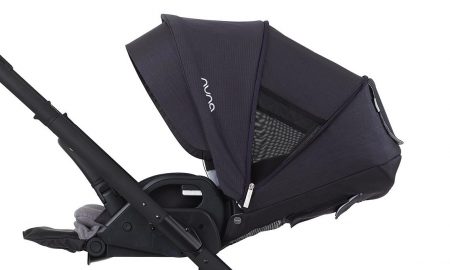 One of the panels of canopy can be open with a zipper and extended. When we open it we get two additional mesh windows on both sides of the canopy which provides extra ventilation.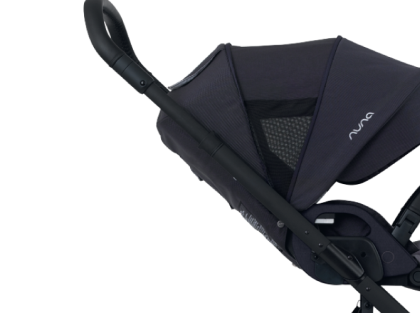 There is also mesh peek-a-boo window. It doesn't have loud Velcro closure, but silent magnets so we can spy on our little one the whole time without disturbing its sleep.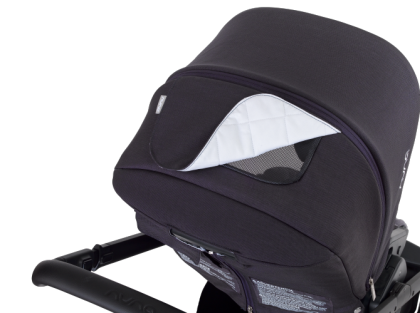 Wheels
This Nuna stroller has foam-filled wheels so we don't have to worry about getting flat or taking air-pump everywhere. Rear wheels are 11″ and front wheels are now 7.5″ – a little bigger than in previous version. Nuna MIXX2 wheels not only roll very nicely, but also look super stylish. Chrome black wheels with white parts together with the dark matte frame look chic and smart.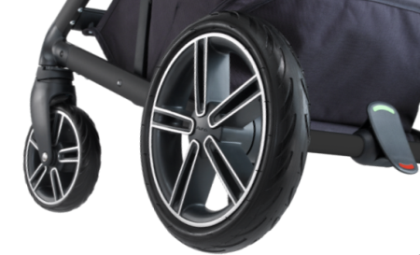 Brakes
Nuna MIXX2 stroller is equipped with single action brake that locks the rear wheels. The pedal is conveniently places in the middle of rear axle and has color indicators. Using is simple and very intuitive, no matter if you stand behind it or aside.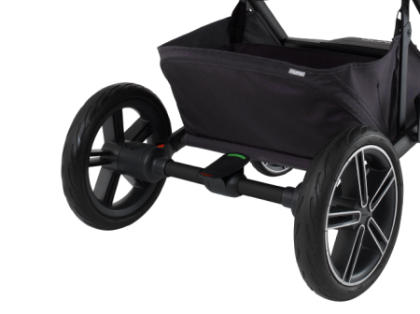 To lock the stroller we need to step on the red side and to release the wheels we have to press the green part. It's easy to do in flip flops, sneakers or high heels and you don't have to worry you hurt your toes or tear your shoes.
Handlebar
MIXX2 by Nuna features adjustable, telescoping handlebar with three height positions. It extends from 38" to 42" from the ground.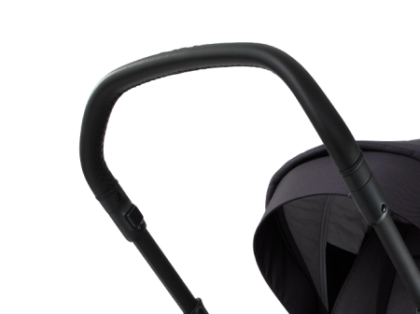 This push bar has really stylish and luxury look thanks to hand-sewn fabric that looks like a leather. Although this is not a real leather it feels really nice and all the stitches and the fabric is high-quality.
Maneuverability and ease of use
Nuna MIXX2 stroller maneuvers very smoothly and can be pushed with one hand. Its wheels roll nicely so navigating and turning is almost effortless. This Nuna stroller has really tight turning radius and turns 360 degrees without any problems. Such an easy operating is unsurpassed among full-sized stroller. This stroller is awesome for city use, trips to the mall or park, going to playground or daycare and trips to grandparents.
Large foam wheels allow us to stroll over unbeaten terrain. Progressive suspension technology provides smooth and comfortable ride. Although this is not a jogger or all-terrain stroller, it handles more rough surfaces. We can push it over grass, gravel, cobblestone and cracked sidewalks. Thanks to big rear wheels and suspension system, it will roll nicely.
Storage space
Nuna MIXX2 has really awesome storage basket under the seat. It's HUGE! There is a zippered pouch inside where we can put small important things like keys or wallet (or car seat adapter if you would like to use it).
There is also a divider so you can separate your stuff into two pouches which might be really useful if you take a lot of things with you and you don't want to waste time searching them in a large basket. You can also use the basket as one big storage, it really depends on your preferences. As you can see in the picture this basket is really huge, you can easily fit there a big diaper bag, your purse, some snacks and a blanket for your baby. And it's very easy accessible from the back and both sides.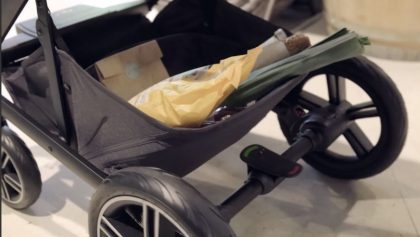 This basket also has been upgraded in the new version of the stroller. Now it is made of the same material as the canopy, instead of a mesh in previous version.
There is also one additional storage pouch on the back of the seat. In the new 2017 Nuna MIXX2 it is much bigger and places in the middle of the seat back. It's also pretty big and it will easily accommodate your phone, wallet, tissues, wipes or some snack. What I also like about this storage is the silent magnetic closure. It's not loud like Velcro so you don't have to worry about waking your baby up.
Weight and folding
Nuna MIXX2 is a standard full-sized stroller, therefore it weighs more than lightweight travel strollers. MIXX2 by Nuna weighs 26.8 lbs and its dimensions are: 44.3″ high, 23.4″ wide and 33.5″ long.
Folding is simple and quick, no matter if the seat is rear or front facing (it's actually very useful and a big advantage, that you don't have to change the position of the seat before folding – like for example in Uppababy Vista). We can also take off the seat first and fold the frame separately.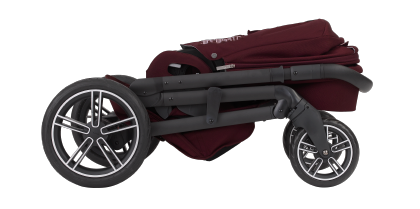 Folded Nuna MIXX2 stroller is pretty compact and flat: 16″ high, 23.6″ wide and 35.8″ long. This Nuna stroller has one more great feature when it's folded – we can pull it like a suitcase, leaning on the rear wheels. It's really useful we don't have to carry this stroller all the way, we can just simply roll it.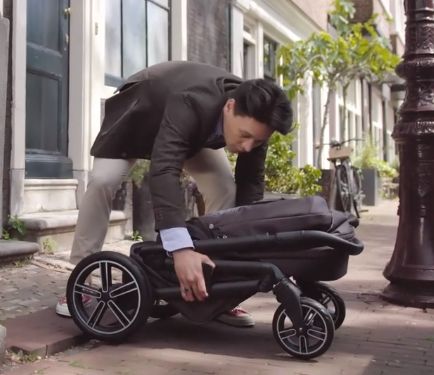 There is automatic lock which keeps the stroller in folded shape. Unfolding is also pretty easily and one-hand, however it requires bending. Remember that first you need to unlock it.
Assembling
Nuna MIXX2 arrives folded, without the wheels and rear axle attached. We just need to open the stroller, add the rear axle and put the wheels on – everything clicks easily into the right spot. The canopy is already on, but we need to attach it to the sides of the seat. The seat fabric is also on, but we also need to snap it to the frame. All can be done in few minutes.
Accessories included
Nuna MIXX2 stroller comes with a rain cover and adapter for PIPA infant car seat and car seats from Maxi Cosi.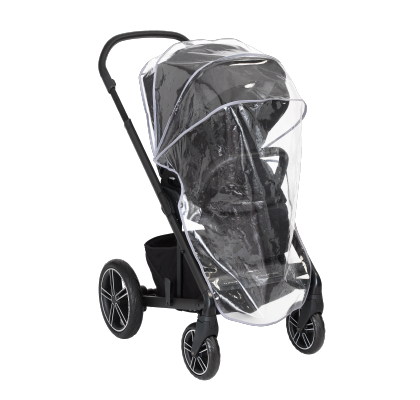 We can also purchase separately travel bag, footmuff and seat liner. You can also find on the market cup holder, child tray and parent organizer for Nuna stroller.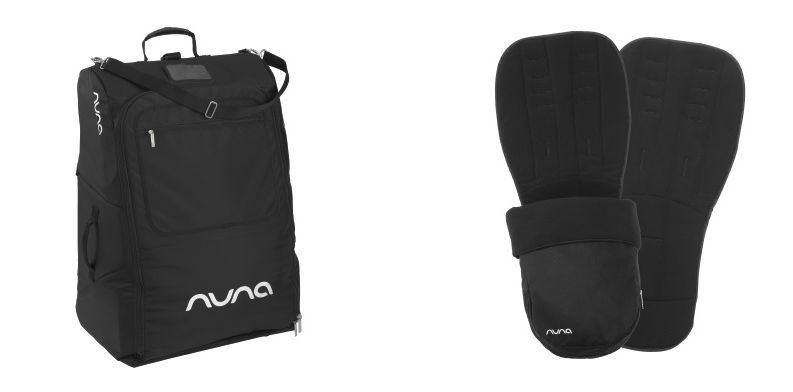 Pros & Cons
To sum up my Nuna MIXX2 review I present you a list of advantages and disadvantages of this stroller, although it was really hard to find the latter one!
| | |
| --- | --- |
| Pros | Cons |
| Versatile and multifunctional | Might be pretty heavy for some parents |
| Different seating options: reversible main seat, basinnet, travel system – this stroller adjusts to family needs | Less color options for bassinet in the U.S. |
| Seat reclines to flat position, suitable for newborns | |
| One-hand recline | |
| Large, extendable canopy with mesh windows | |
| Upgraded, soft fabric | |
| Pretty large, foam wheels handle many types of terrain | |
| Convenient to use parking brake | |
| Adjustable, telescoping handlebar for parents of different height | |
| Smooth maneuverability, easy pushing and turning | |
| Large storage basket and additional pocket on the back of the seat for essentials | |
| Infant car seat for Nuna PIPA and Maxi Cosi car seat included | |
| Rain cover included | |
| Quick and easy folding | |
Nuna MIXX2 Review – Video
Here you can watch a funny video about Nuna MIXX: unboxing, assemling and some features. Although the video is about the previous version of this stroller – Nuna MIXX (Jett), it is very similar to the newest version. The only things different are: smaller storage pocket on the back of the seat and no fabric cover on the handles on both sides of the seat.
If we look closely we realize that the newest 2017 Nuna MIXX2 is very similar to the previous Nuna MIXX in Jett color, which was better "equipped" than other colors.
Specification
| | |
| --- | --- |
| Stroller type | All-in-one, convertible |
| Stroller weight | 26.8 lbs |
| Weight limit | 50 lbs |
| Stroller dimensions (WxHxL) | 23.4" x 44.3" x 33.5″ |
| Folded dimensions (WxHxL) | 23.6″ x 16″ x 35.8″ |
| Handlebar height | 38-42" |
Color versions
Nuna MIXX2 comes in four color versions: Caviar, Indigo, Bery, Jett and Suited. The last two versions can be bought as a set with the bassinet.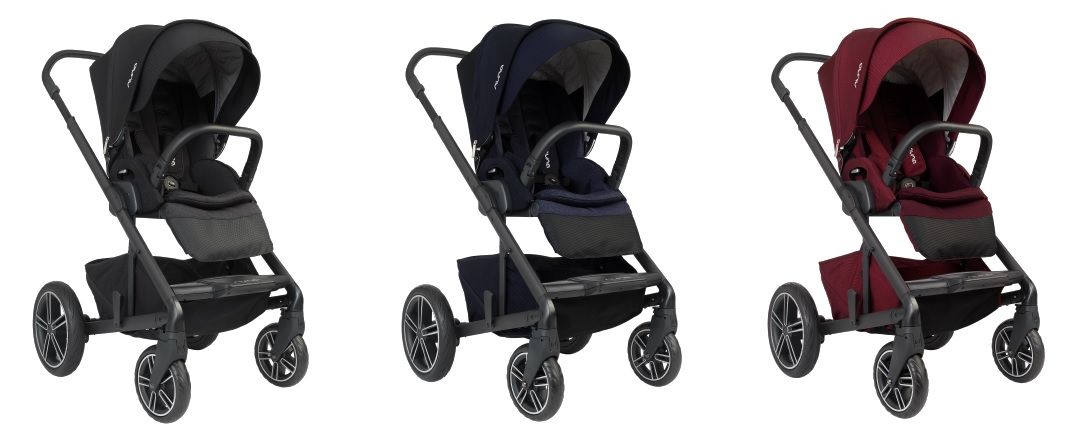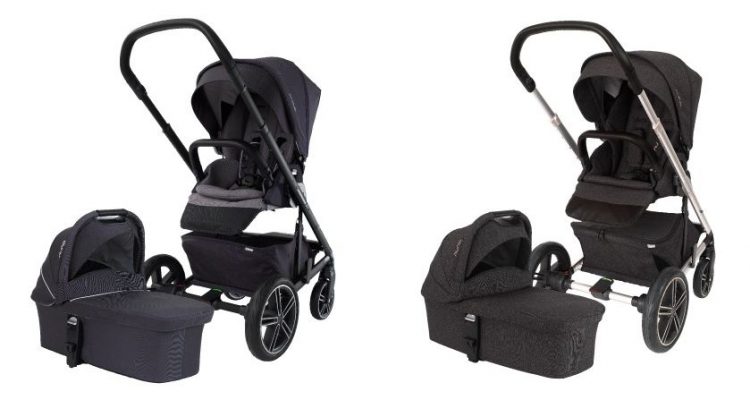 Nuna MIXX vs MIXX2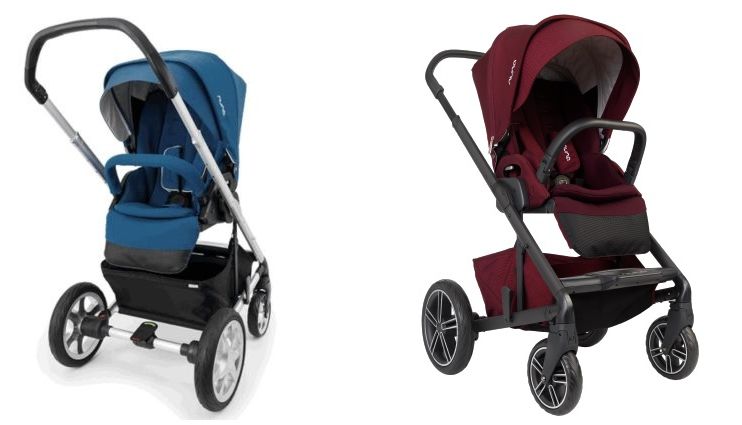 Probably many parents wonder what is the difference between the previous version of Nuna MIXX and the newest 2017 Nuna MIXX2. This stroller went a really beautiful makeover. All of these changes were manufacturer's response to customers complains. So here is my comparison Nuna MIXX vs MIXX2 – list of changes and upgrades.
| | | |
| --- | --- | --- |
| Feature | Nuna MIXX | Nuna MIXX2 |
| Weight | 25 lbs | 26.8 lbs |
| Front wheels size | 6.9″ | 7.5″ |
| Wheels color | Silver inside | Chrome black wheels with white lining |
| Frame color | Silver | Black |
| Fabric | Certified Oeko-Tex fabric | Cotton Blend – Mélange |
| Handlebar/ arm bar cover | Cover made of the same material as the whole stroller | Luxurious, hand-sewn leather-look handlebar and arm bar |
| Seat handles | The handles that we use to reverse the seat were plastic | The handles are covered with the material |
| Canopy | Smooth lining | Quilted lining, bigger peek-a-boo window |
| Storage | Mesh basket, one small pocket on the left side on the back of the seat | Basket made of the same material as canopy, one large pocket in the middle of the back of the seat |
| Price | Around $500 | Around $600 |
Warranty
Nuna gives 2-year warranty for their gear and 1-year warranty for their infant car seats, MIXX bassinet and accessories. You can read more about it on Nuna's official website.
Final assessment
I have to admit that – Nuna MIXX2 is one of the best full-sized, convertible strollers available on the market today. It serves its purpose very well. It is a great everyday stroller, perfect for shopping, stolling around the city, trips to park and even strolling over dirt roads.
It's not all-terrain stroller, it's not a lightweight stroller for travel, but it is awesome all-in-one stroller that will serve since day one for at least couple of years. This could be your primary and only stroller. It's super comfortable for the baby, easy to push and glides like a breeze. And it looks so chic!
Thanks to Nuna MIXX2 you don't have to choose between comfort, safety, functionality and stylish look. You can have it all in one stroller!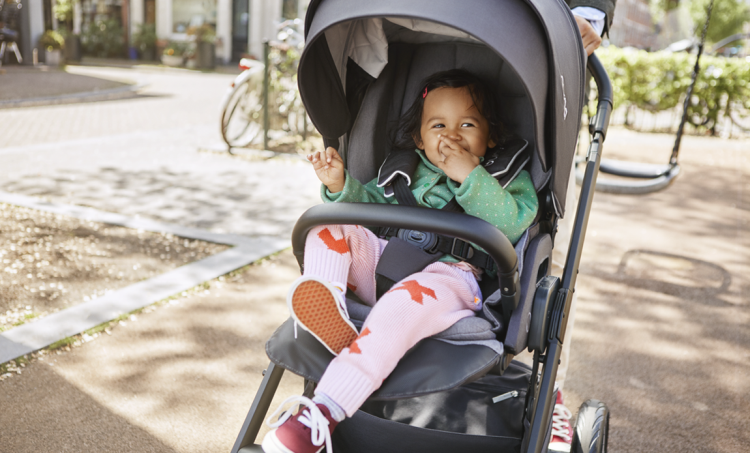 And to be honest, Nuna MIXX2 is a serious competition for strollers like UPPAbaby Vista, especially that it has few better features, performs really well and costs less! Moreover, Nuna MIXX2 is also safe for the baby, because it doesn't contain any chemical ingredients according to the manufacturer. No wonder so many parents felt in love with it!

Source of photos: https://www.nuna.eu/usa/
---
Here are also other strollers that you may like…

Hello Moms! I am Zooey. I am a wife and a mother of three amazing kids: 3-year-old Haley and almost 1-year-old twins Jesse and Matthew. I am a jogger, cooker and blogger
If you have a question or a comment, do not hesitate to write to me! 🙂