Do you want a travel system that is high-quality, durable, safe, multi-functional and doesn't cost a fortune? I've got something just for you: Evenflo Pivot Modular Travel System. Find out why this stroller is so awesome and loved by so many parents!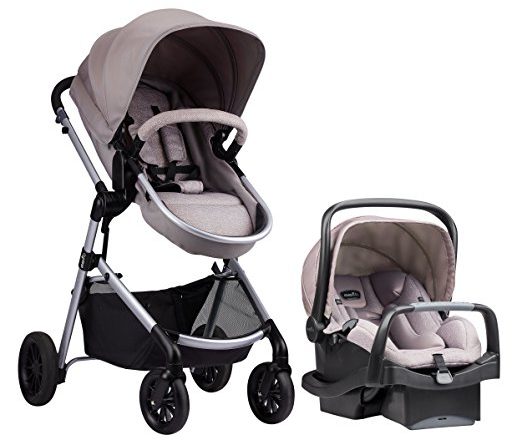 When I saw this stroller for the first time and I found out it costs less than $300 I was really excited and I knew I had to try it! I wanted to check if it only looks so awesome or if it's high-quality and multi-tasking as well.
Recently this stroller gets more and more popular and many parents are thinking about buying it. I decided to test it and review in details to answer the question: Is Evenflo Pivot Modular Travel System worth buying?
This article contains affiliate links.
Image
Weight
Verdict

Evenflo Pivot Modular Travel System Check It On Amazon

Weight:




Stroller - 20 lbs



Capacity:




Car Seat - 4 - 35 lbs




Stroller - birth - 50 lbs

LittleBabyGear Verdict:

Great option for parents who need versatile stroller for every day use, but have small budget.

Seat converts to bassinet which makes the stroller good choice for those who have little space at home
Psst! Did you know that there is a new version of this stroller that expands to a double mode? Here's my sneak peak on the brand new Evenflo Pivot Xpand Modular!
Evenflo Pivot Modular Travel System Review
This is a 3-in-1 stroller that really grows with the baby. This travel system will definitely serve you for few years – from infancy till toddlerhood.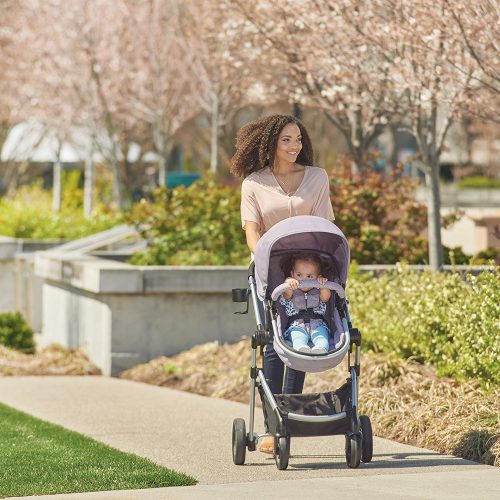 What's included in the set?
Evenflo Pivot Modular Travel System comes with:
SafeMax Infant Car Seat
SafeZone Base
Toddler seat that fully reclines and converts to a bassinet
Child tray
Parent cup holder
Seating options
Evenflo Pivot Modular Travel System offers six different seating modes. Parents can push it with an infant car seat or toddler seat, or convert the toddler seat to bassinet. In each seating option baby can ride facing parent or the World. Check out the picture below – each part of this stroller looks so elegant and stylish!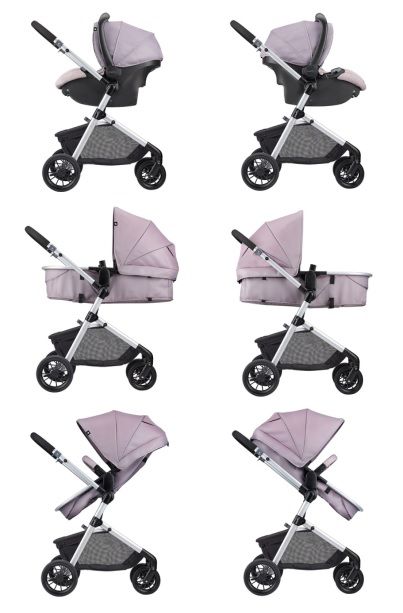 SafeMax Infant Car Seat
Let's start with the option for newborn baby – infant car seat. SafeMax Infant Car Seat is suitable for babies from 4 to 35 lbs. When we install it in the car in the SafeZone Base it is rear-facing.
The base absorbs and dissipate energy during a crash through anti-rebound bar. This anti-rebound bar is awesome safety feature, because it also prevents forward motion in the event of a collisions. Huge advantage!
This car seat has passed many safety tests above norms and standards!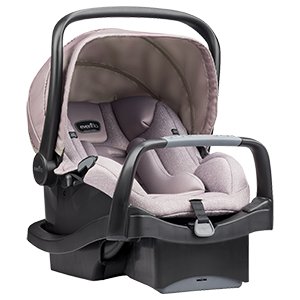 It's easy to install the car seat into the base in the car. And just by one click parents can remove the car seat from the base and transfer it to the stroller frame.
If you want to stroll with the infant car seat you just simply snap it in the frame, front or rear facing. You don't need any adapter which is really convenient and useful because you can quickly switch between car and stroller without waking the baby. It's a handy feature when you have to run some quick errands in the city or go to the store.
SafeMax Infant Car Seat has full canopy and there is an additional cushion for head and back support. It increases infant's comfort and provides more safety ride. This newborn insert can be removed as the baby gets older.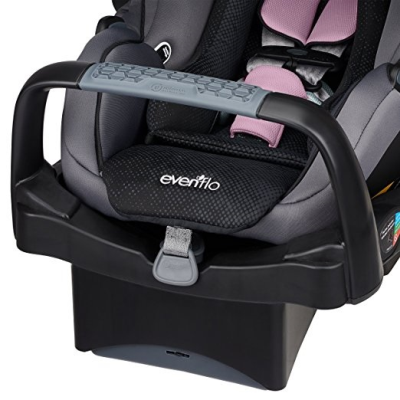 The car seat is nicely padded with soft fabric which is proper for newborn's delicate skin. The harness straps can be adjusted by rethreading, as the baby grows.
This infant car seat is also very lightweight (about 8 lbs) so parents can easily carry it by holding an ergonomic handle. Even when we add baby's weight, it's super easy to lift.
SafeMax Infant Car Seat can be also bought separately. You can find more information about SafeMax here.
Carriage mode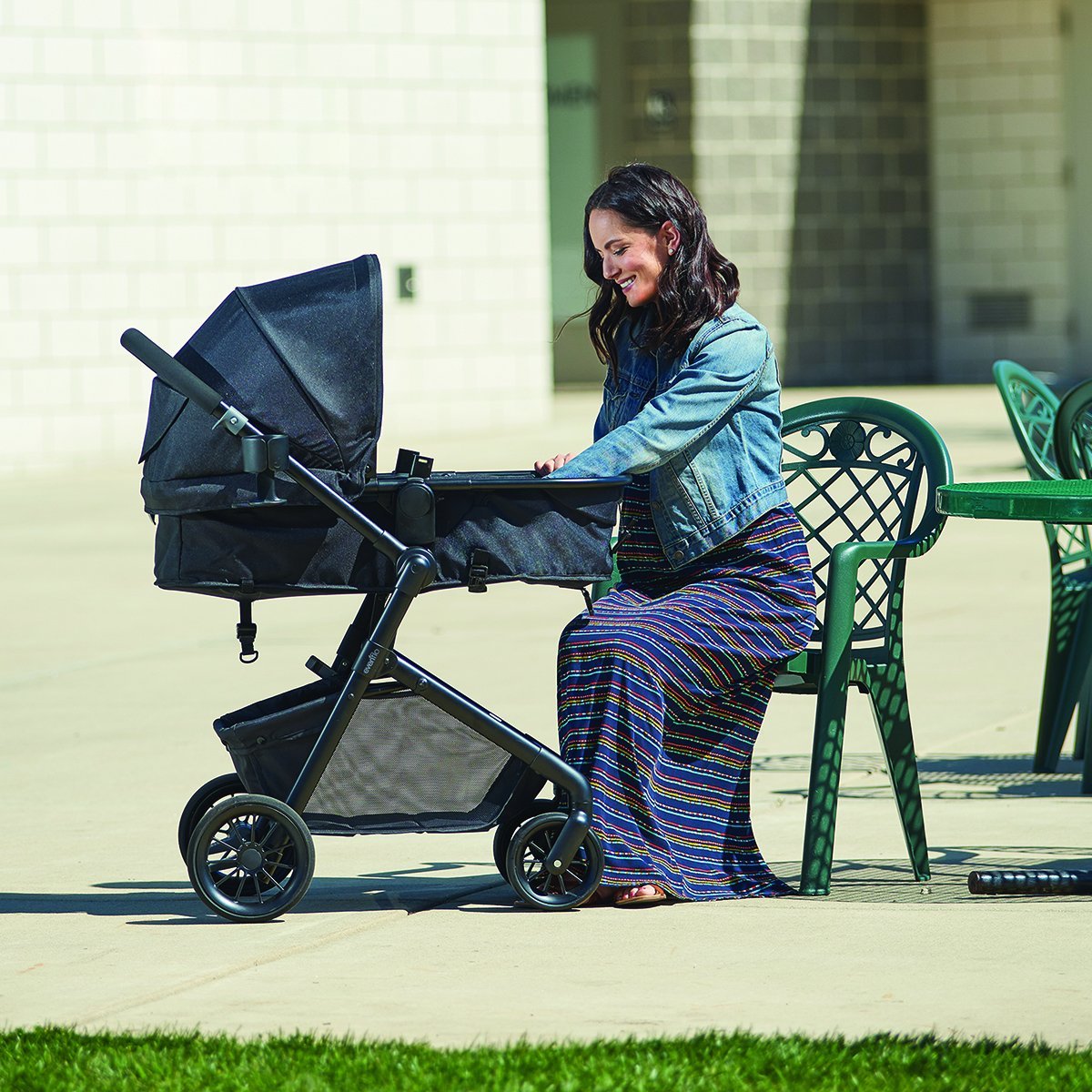 For longer walks we can turn this stroller into carriage mode. You're probably wondering how to do it, since there is no additional piece of gear like a bassinet in the set. Well, the toddler seat can be easily converted to a bassinet within few second.
If you have the seat removed from the frame, you just need to flip it over and there is a buckle on the bottom which you need to unfasten. Then pull out the strap that is hanging on the back of the seat to recline it fully. Then just click the seat into the frame, recline it all the way down and voila, you have a stroller with bassinet. 🙂 You can also do this while the seat is attached to the frame.
In the carriage mode canopy covers most of the baby. I think bassinet is the best way to stroll with newborns and infants who don't have head and neck control yet.I love that the seat features fully recline and can be converted to carriage. It's 2-in-1 which means we can save space in house, because there is less baby gear to store.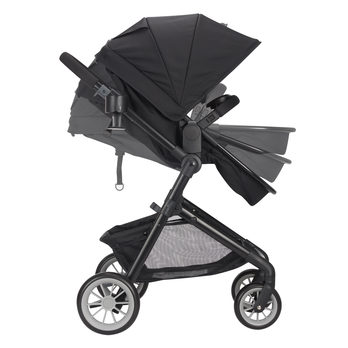 This bassinet can be used only when it's attached to the stroller, because if we take it off it will collapse. So we can't use it for sleeping in the house, unless it's snapped into the frame.
Toddler mode
When the baby can sit unassisted and has neck and head control, you can start using the toddler seat without converting it to carriage. The seat is very easy to lift and recline. In the toddler mode there are two different ways to adjust the seat position: lower or lift the whole seat or just recline the back rest by using a strap.
In this mode the seat can also go all the way down so your toddler can comfortably nap during strolling. Fully recline is also very useful for changing a diaper.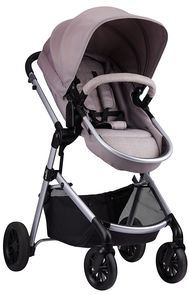 This seat is equipped with very convenient belly bar which your child can hold on to or you can use it as a handle. There is also removable child tray that clicks into the bumper bar. You can put there some snack and a sippy cup for your little one. The belly bar and child tray can be easily removed just by clicking two buttons. Bumper bar doesn't swing away but removing it is a piece of cake.
It's a big advantage that a child tray is included, because it is very rare that this accessory comes with the stroller.
What I also like is that the footrest has rubberised fabric which can be cleaned seamlessly. Sometimes the child sits in the stroller with wet shoes or shoes covered with mud, but we don't have to worry that the material will be destroyed. We can easily clean it with wet cloth.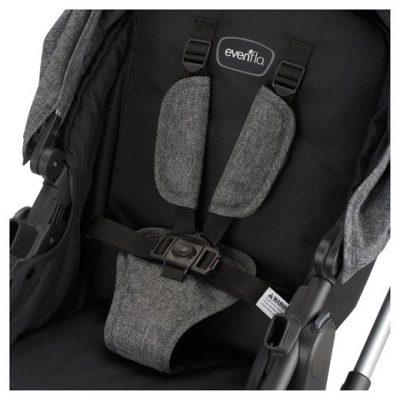 There is an adjustable 5-point harness to secure the baby during riding. Moreover, the seat is reversible. The baby can ride facing the World and watch the surroundings but we don't have to worry about not seeing the baby, thanks to good-sized peek-a-boo window in the canopy.
Toddler seat is suitable up to 50 lbs, it fits 2 – 2.5-year-old baby comfortably. From the bottom of the seat to the canopy there is 23", the seat is 12" wide.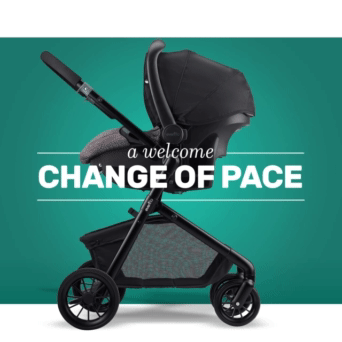 Nowadays many parents buy travel systems as a primary stroller. No wonder! When you buy a stroller and matching infant car seat – like Evenflo Travel System, you don't have to worry about adapters and of course the price is often more affordable.
I am a big fan of travel systems, because thanks to them parents can have a stroller that will serve them from day one till their baby can walk and doesn't want to ride in a stroller anymore.
Besides, when you buy a travel system you have less baby gear to store and less baby gear means saved space at home and saved money! And as we all know new parents' budget is often pretty tight when we consider how much baby products they need to purchase for their new baby. No wonder this comfy, safe and cheap travel system from Evenflo is so popular!
Here you can check current discounts on Evenflo Travel System
Canopy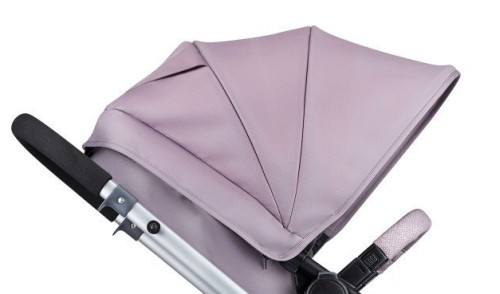 Evenflo Pivot Modular Travel System features large, 3-panel canopy that provides full coverage from sun rays. Your little one can lie or sit comfortably and enjoy summer strolls.
There is also good-sized mesh peek-a-boo window which gives extra air-flow. It's easy to see through the fabric. There is no Velcro or magnetic closure, the fabric just lies and covers the peek-a-boo window. It's actually great because it's silent and you can spy on your little one without waking him/her.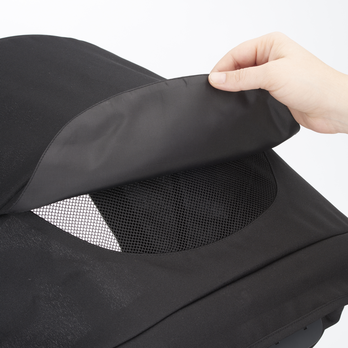 Thanks to this large canopy with proper ventilation your baby is protected from sunburns and overheating at the same time.
Wheels
This stroller has two bigger rear wheels and two smaller front ones with Cruiser Tires. Thanks to them you can push the stroller effortlessly while your baby is having a smooth ride. And you don't have to worry about having flat tire! Front wheels swivel and you can't lock them, that's why this stroller is not all-terrain.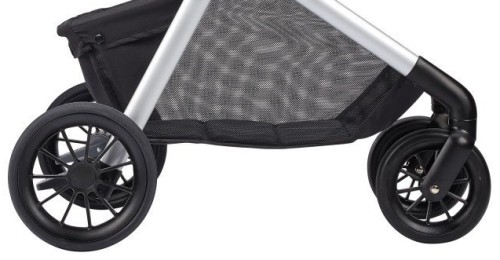 Remember that it is not a jogging stroller and the wheels are not suitable for harsher terrain. However Evenflo Pivot Modular glides smoothly over most of the surfaces in the city: uneven sidewalks, streets, gravel park paths. This is awesome urban stroller
Brakes
This stroller has double action brakes, places next to the rear wheels. We have to lock each wheel independently. It's not too much of a hustle, however I'd wish there was a single action brake.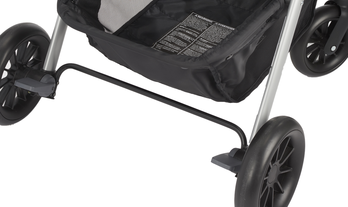 What's the most important, the brakes are easy to press and lift, even while wearing high heels or sandals.
Handlebar
Evenflo Pivot has ergonomic handlebar with fixed height at 40" from the ground. I'm rather short person and pushing this stroller is very convenient for me.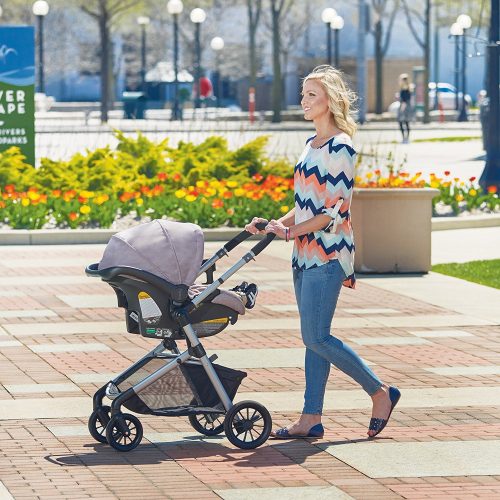 The stroller has excellent shape and construction. Thanks to it my hubby who is over 6 feet tall also didn't have any problems with pushing the stroller and what's the most important he wasn't kicking the back of the stroller (which is a common issue when the handlebar is not adjustable). However, for very tall parents (like 6'4" and higher) the handlebar may be to short.
Storage basket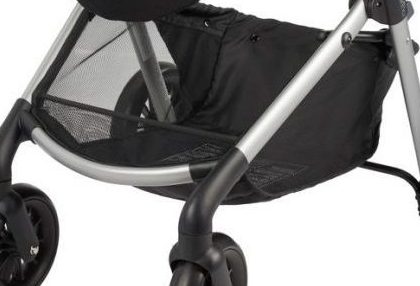 Evenflo Pivot Modular Travel System offers plenty of storage space thanks to large basket under the seat. It can accommodate our essentials and all of the necessary baby gear. I could easily fit there my bag and a large diaper bag!
This stroller works fantastic for going to the mall and day trips. The basket is easily accessible from the back and front.
Folding and size
Evenflo Pivot Modular Stroller weighs only 20 lbs which is really nice for a full-sized stroller.
We can quickly and easily fold it, it takes about 5 seconds. The are two levers on both sides of the handlebar, we need to lift them and stroller folds down. And there's no need to bend over! Great for parents with back problems.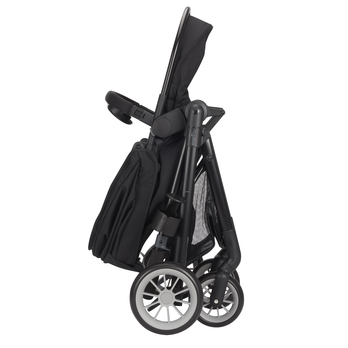 After folding we can lock the stroller by pressing a button and then the stroller will stand on its own and remain closed. It has very slim profile which make it easy to storage in a closet and transport even in a small car trunk.
The only thing that can be irritating is that to unfold the stroller we have to use both hands. But it's pretty common in most of the stroller so it's not such a big disadvantage. 🙂
Assembly
I'm pretty sure this was the easiest setup of all strollers I have tested. I was like "wow, that was a piece of cake". It took me only few minutes to attach the wheels, handlebar and the seat and I was ready for a walk with my baby. Everything was very intuitive and simple.
Accessories included
This travel system comes with few accessories. There's removable child tray which can be snapped in the belly bar. There's also a parent cup holder included in the set which clicks onto the side of the frame. Both accessories are easy to install and remove.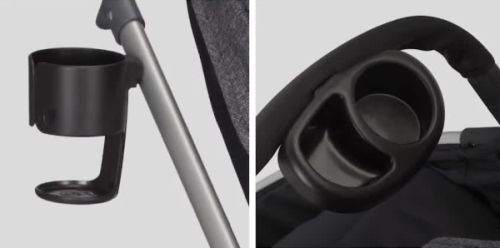 When I recently checked on Amazon there was huge discount on Pivot Travel System and its price was even lower. Here you can check if the sale is still on.

Pros & Cons
Pros
Cons

Pros

---

+ Seat that fully recline and converts to bassinet mode

+ Light infant car seat that passed safety test above standards

+ Easy and quick switching between regular seat and infant car seat

+ Reversible seat

+ Large basket under the seat

+ Assembling is a piece of cake

+ Folding and unfolding takes few seconds

+ Accessories included in the price: parent cup holder and child tray

+ Pocket-friendly price

+ Stylish look

Cons

---

- Unadjustable handlebar height – it might be difficult to push the stroller for very tall parents (above 6'3″)

- Wheels are not all-terrain
Color versions
There are five different color versions: Casual Grey, Sandstone, Aspen Skies, Manchester Tan, Rockland. You can find more information about currently available colors here.

Evenflo Pivot Modular Travel System Specification
| Stroller | Data |
| --- | --- |
| Stroller Type | Travel System |
| Stroller Weight | 20 lbs (frame + regular seat) |
| Weight Limit | Infant car seat: 35 lbs, regular seat: 50 lbs |
| Handlebar Height | 40" |
Video
What other parents think
I always check other parents reviews before buying anything for my kids, to be sure it meets my needs. And every time I'm checking the Evenflo Travel System on Amazon it is more and more popular! At the moment I'm writing this, it has over 60 reviews (and almost only positive ones!).
Parents praise it for lightweight and sturdy construction, sleek look of a high-end stroller, easy assembling, safety features, smooth maneuverability and reasonable price. Parents also like how easy is the seat to recline. Some parents mention that this stroller may be hard to push because the front wheels sometimes get stuck.
Read more reviews written by other parents and find out what they think about this travel system.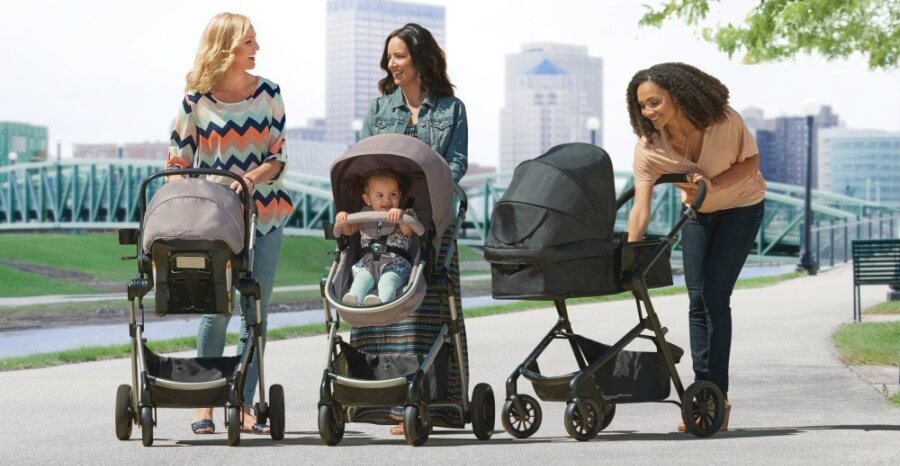 Evenflo Pivot Modular Travel System – Review Conclusion
Keep in mind
This is not an all-terrain stroller, although it handles many types of surfaces, it works best in the city: on pavements, asphalt and even gravel routes.
Why You Will Love This Travel System
There are so many reasons I can recommend this stroller for. It's light, safe, provides comfy ride and works great for active and busy parents. It's not heavy and bulky, but still very sturdy. If you are looking for a versatile and light travel system, you're in the right place. 🙂
Thanks to convertible seat that transforms into bassinet, you have two seating options but only one piece of gear to store!
This stroller offers so many features like a high-end products and comes with extra accessories. You probably might think it has to cost a fortune, but the price is really pocket-friendly.
For a price under $300 we get a really awesome baby travel system for everyday use and some great accessories for more convenient usage.
My rate:
Do you like Evenflo Pivot Modular Travel System? Before you buy it, check other parents reviews here and make sure this stroller suits your style.
---
All pictures belong to Evenflo. Source: https://www.evenflo.com
Your trust is really important to me: This post contains affiliate links. If you choose to buy something using these links, I receive a small commission, at no extra cost to you. Your support helps me run this blog. Thank you so much 🖤 Zooey