Are you looking for a stroller that would be a smart investment, serve you for years and grow with your family? You're in the right place! Baby Jogger City Select LUX 2017 may be just what you need.

Baby Jogger City Select LUX 2017 is definitely one of the best strollers that were released this year. It's super versatile and offers over 20 different seating options! It's wonderful solution for families with one or multiple children.
Parents can use it as a single stroller or easily convert it to a double stroller, or even make it a triple with a Glider Board. It can be used since day one to toddlerhood as it grows with the baby and the whole family. Besides, it handles all types of terrain and provides very comfortable ride for the baby. What more could you want?
Stroller
Data
Verdict
Price

Baby Jogger City Select LUX


Stroller type: Convertible, expandable stroller

Stroller weight: 30.4 lbs (frame + one seat)

Max. number of children: 3

Weight limit: 45 lbs per seat
LittleBabyGear Verdict:



Stroller for everyday use, for parents who plan on having more than one child

Check Availability & Price:

Amazon / PishPosh Baby
This stroller is great for everyday use, perfect for parents who prefer to have one stroller that does it all than have few specialized strollers. It really adjust to any family needs.
For such an affordable price we can have high-quality, all-in-one convertible stroller for three kids!
This article contains affiliate links.
Baby Jogger City Select LUX Review (2017)
Let me show you what features Baby Jogger City Select LUX has and how it works. I also checked what other parents think about it to give you the full image.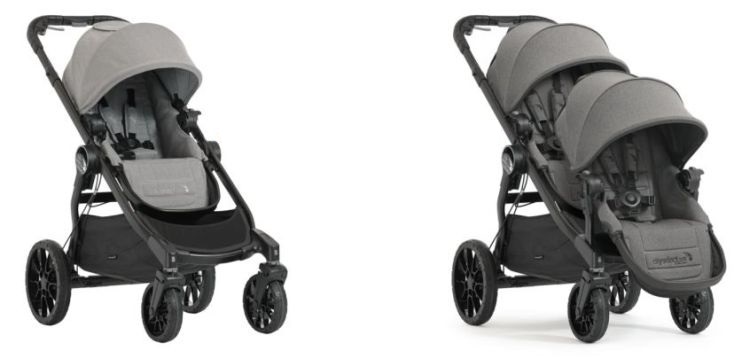 Seating modes
First of all, Baby Jogger City Select LUX 2017 can be used for newborns, infants and toddlers and it can accommodate one, two or even three kids if we add Glider Board!
Parents can start strolling with a bassinet or infant car seat snapped in a frame. Then, when the baby can sit straight unassisted parents can switch to a toddler seat that can be facing forward or backward. Then, when the second baby comes into the World, parents can use this stroller as a double one. There will be also a room for the third kid – the oldest one can stand and ride on a Glider Board.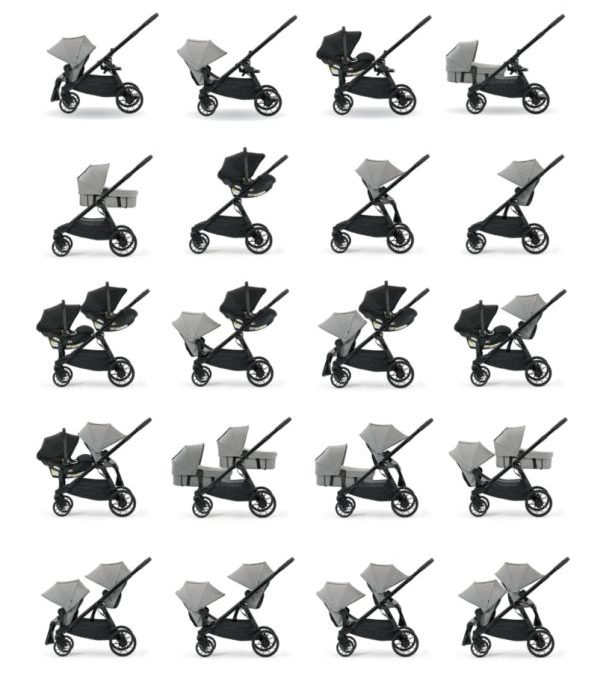 You can install two infant car seats, two bassinets, two toddler seats or mix the seats. Oh, and you can also switch one of the seats to a bench seat and add a board. These options are great for older toddlers. Altogether, there are actually more than 20 different seating options!
It's over 25% more than regular City Select offers. And switching between those seat arrangements takes only few seconds. I just want to say one thing: WOW!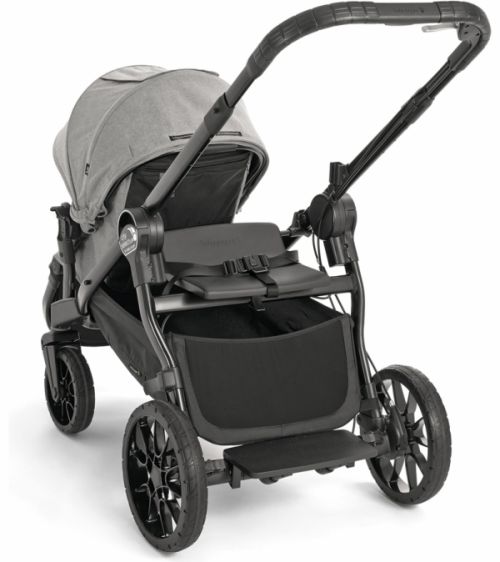 Funny thing, such a big fan of UPPAbaby VISTA like me has to admit that this stroller is even more expandable than Vista! Thanks to so many seating arrangements parents can customize this stroller and use it like they prefer.
Lots of parents praise this stroller for its versatility and usability and recommend it to anyone who ever plan on having more than one child. City Select LUX 2017 can be the only stroller you will ever need, no matter how your family will change and grow.
More expandable models you can find in my ranking of the best single-to-double strollers.
This stroller is compatible with major infant car seat brands, for example Britax and Chicco. If parents want to use it as travel system they will need a special adapter for it.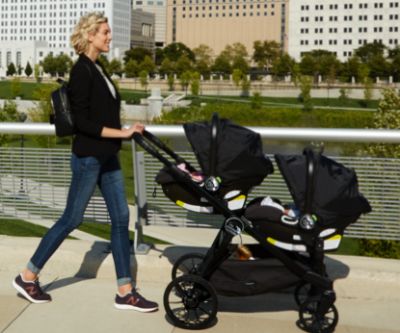 Toddler seat feature multi-position recline so we can adjust it for our baby preferences and mood just by pulling a lever on the back of the seat. Calf support cannot be lengthen or shorten, but it moves up and down to provide maximum comfort for the baby.

There is a 5-point harness with two separate shoulder straps that click independently into the buckle. They have very nice soft padding. To adjust the harness we need to go to the back of the stroller and there is a Velcro right above the zippered pocket. We need to open it and we will see the back of the harness there.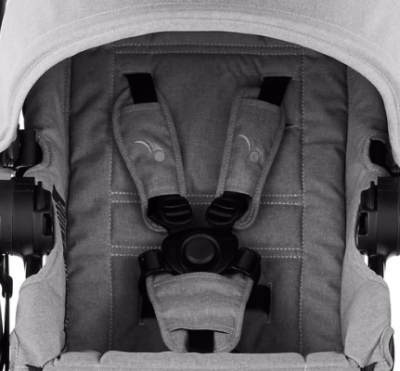 Toddler seats are reversible so your children can ride facing you, the World or brother/sister (if you use this stroller for two kids).
LUX doesn't have middle seat location like the regular Baby Jogger has. Here we have the upper and lower position. Thanks to upper position the baby can be closer to the parent – great option if you have an infant and a toddler.
If you want to move the seat to the lower position you will need special attachment bars. They cost around $20 so I think it's not a big deal at all. Here you can check its price and see how the seat attachments work.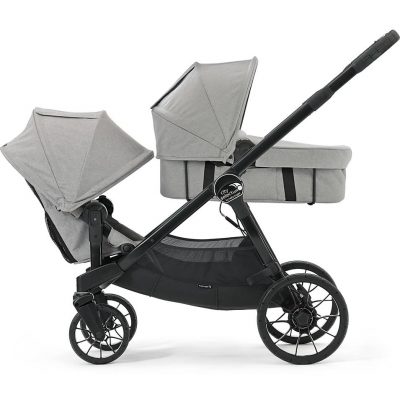 The seat has nice padding, it's soft and makes riding more comfortable. This premium fabric is also easy to clean. We can easily take off the seat cover – it is attached to the frame with heavy duty naps. During strolling something always spills out and the seat often gets dirty. It's handy that we can remove it and clean it in the washing machine.
Toddler seat can accommodate a baby up to 45 lbs, but the back rest is not the highest I've seen, so I would say it will work for 3 or 3.5-year-old child.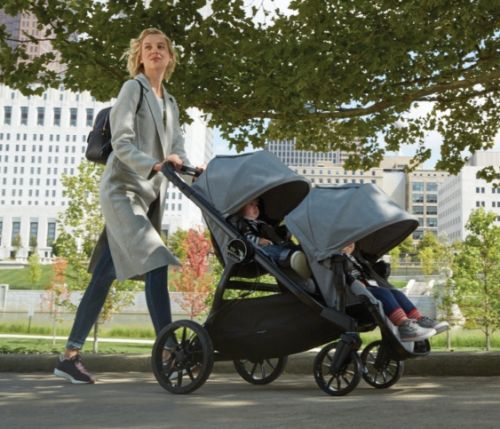 Parents can purchase Baby Jogger City Select LUX 2017 as a single or double stroller. If you decided to buy it as a single stroller, you can always purchase the second seat kit (with adapter) separately, when your family gets bigger. Bassinet is also sold separately.
Baby Jogger City Select LUX 2017 single stroller includes: frame with basket, wheels, one toddler seat, canopy.
Baby Jogger City Select LUX 2017 double stroller includes: frame with basket, wheels, two toddler seats, second seat attachments, two canopies.
You can check the current price and discounts for the single model here and for the double model here.
Canopy
The canopy gives decent amount of shade and there is UV 50+ protection so your baby can enjoy summer strolls and you don't have to worry about sunburns. Thanks to it only the feet and calves of my 14-month-old sons were exposed to the sun.
What I also like is that canopy offers a lot of growing room, because it can be raised to make more space for bigger baby.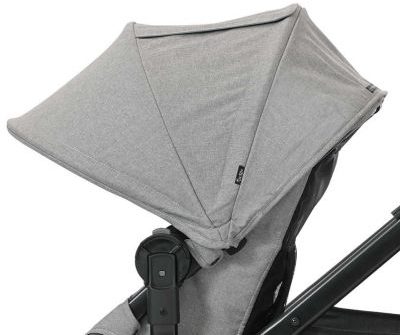 The whole canopy is removable and it attaches to the frame with Velcro placed along the edges. It fits the frame tightly and stays in place the whole time. In many other strollers removable canopy is a nightmare because of constant slipping off, but this one holds in place really well.
There is also good-sized mesh peek-a-boo window with magnetic closure which all parents love! It gives nice air-flow and is easy to see through so you can check on your passenger whenever you want.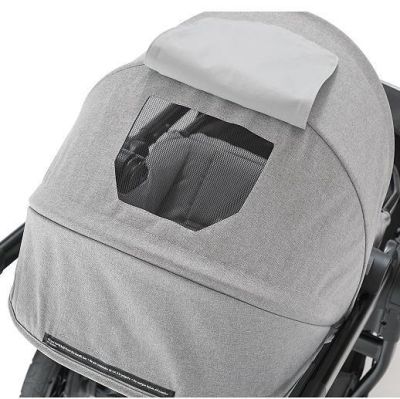 Wheels and suspension
City Select LUX 2017 from Baby Jogger features quite versatile wheels. Front swivel wheels can be locked which increases stroller stability and gives parent better control during maneuvering. Very useful features when going over rougher terrain.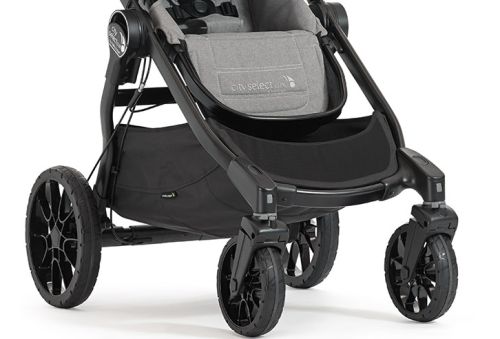 Thanks to these big wheels we can easily get over curbs and other obstacles. However, keep in mind that when you're going over rough terrain you need to use both hands to push the stroller.
I'm a fan of air-filled pneumatic tires because they provide the smoothest ride ever, but these wheels are not bad either! City Select LUX 2017 wheels have rubber tread and plastic spokes and they work really well.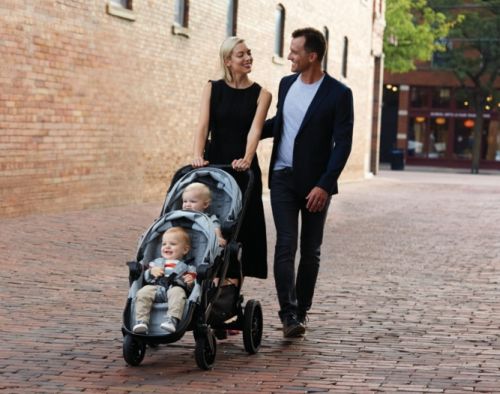 I've taken my 1-year-old twin boys for a stroll over old cracked sidewalks, gravel paths and lawns. This stroller glides like a breeze over flat surfaces. On more bumpy terrain it shakes a bit, but it doesn't feel like it's going to brake or something. The suspension is noticeable and cushions the ride at least a bit.
One more important thing – this stroller, despite its name, is not suitable for jogging (it's only the name of the brand, not the type of a stroller). It's all-terrain and has amazing suspension that will handle multiple types of terrain, but not running.
Brakes
Baby Jogger City Select LUX is equipped with hand brake. I like this type of brakes, it's very easy to use and it helps you to stop suddenly. And you don't have to use the full strength of your arms to stop the stroller, because you have a handbrake for it!
This stroller has decelerating brake and parking brake in one, within reach. Locking and unlocking is very easy, but an older child won't be able to do this when sitting on a bench seat.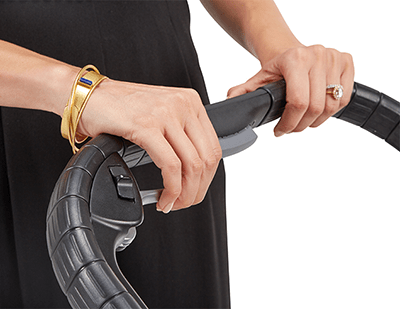 If you want to slow down you just squeeze it like a bicycle brake. It's very useful if you live in a hilly area or like to stroll down the hill. If you want to park and lock the wheels you need to swing the handle down. At first it might be pretty tight, but after a while it will work more smoothly.
Besides, this brake is definitely flip flop friendly LOL 🙂
One minor thing that could be improved is the position of the handbrake. The handle would be more comfortable and easy to pull if its shape was reversed. However, after a while I've got used to it and the handbrake started to work smoothly, so no complains actually 🙂
Handlebar
The handlebar is adjustable and telescoping which is great for parents of different height because it reduces the wrist fatigue. It telescope out from 38.5″ up to 42.5″ for more comfortable pushing for taller parent (even 6'8″!). The lower position is pretty high therefore it might be less convenient for short person (less than 5'3″). However, it works fine for average and tall parents.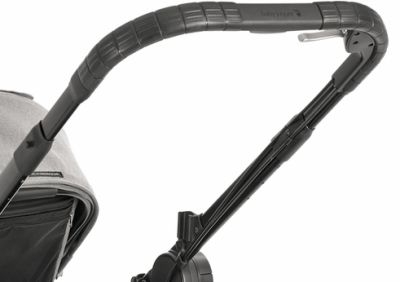 What I also like about this handlebar is the soft nice texture on it. It doesn't have foam padding that most of the strollers have which rips very quickly. City Select LUX handlebar has rubberized rings.
Remember not to hang any bags from the handlebar because it might decrease stroller stability or it could tip over. The storage basket under the seat is really big and it will accommodate everything you may need.
Maneuverability and ease of use
I love how convenient this stroller is to navigate. It pushes like a dream and we can easily make quick turns or even full 360° almost effortlessly. It has a quite big construction, but turns on a dime!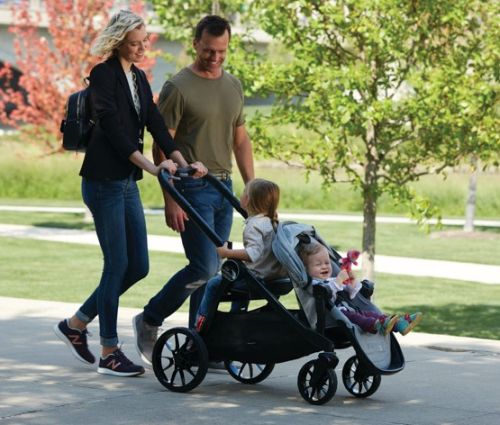 LUX is little more difficult to maneuver through tight shopping alleys, yet it is still easier than with a double side-by-side stroller.
I tried this stroller with my 3-year-old daughter and one of my 1-year-old boys. I was afraid that it would be heavy and hard to push with two kids, but even with an older toddler I pushed this stroller almost effortlessly and didn't have any problems with controlling it.
Therefore City Select LUX is a great solution for parents of two kids, one of whom is older toddler who does well on short walks, but during day trips and long distances he/she gets tired and wants a break to sit. Some parents use this stroller with a seat bench even for 5-year-old kids!
Storage
The storage basket in City Select LUX 2017 is really big and can accommodate large diaper bag, snacks, drinks, toys and even a blanket. If parent use this stroller as a single one, the basket is easy accessible from the back. The material is super stretchy so we can easily take out our gear.
In a double version access to the storage is a little more complicated but not completely blocked. The is also a net to prevent items from falling out of the back of the basket.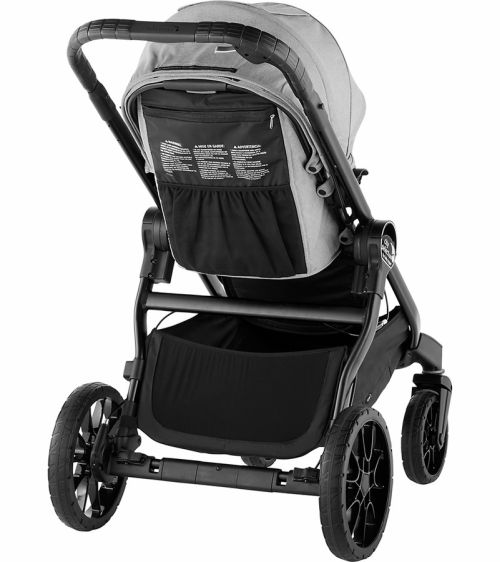 If you use this stroller as a double but want to quickly convert it to a single, you can fold the additional seat in half and store it in the underseat basket – it will fit easily!
There are also additional pockets on the back of the seat: one mesh pocket and one zippered pocket. Parents can keep there their essentials like phone, keys, wallet and Kleenex within reach.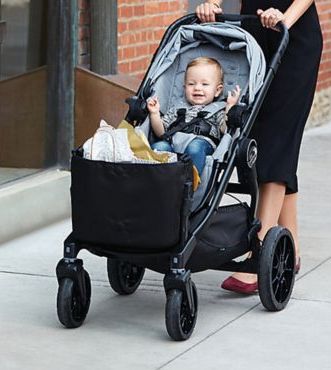 There is also an additional tote bag that we can purchase separately for a single version of this stroller. It's great for parents who love shopping with their kid. You can check this storage bag here.
Size, Weight and Folding
This stroller is pretty big and heavy, let's face it 🙂 But this is the trade-off for high-quality, durability and flexible design. This stroller is designed to expand to accommodate two or three kids so it's actually understandable it is big. It is well-built and solid because it has to handle added weight when carrying more children.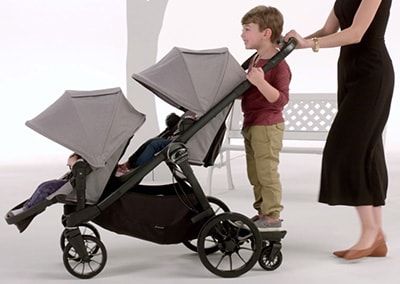 Its size is somewhere between a standard single stroller and standard double stroller. Remember that no matter if you use this stroller with one or two seats, the frame has the same size. Therefore I would say it is pretty big as a single stroller, but definitely very compact as for a double stroller. However, you won't notice its weighs while pushing, thanks to nice design and good construction.
To fold this stroller we need to pull two handles on both sides and it will collapse down. Some parents complain that they stuck on one side when trying to pull handles. However, folding is actually very simple if it's done correctly. We need to stand in front of the stroller and lift the handles on the sides with both hands. We can't fold the stroller from the side, because we will get stuck.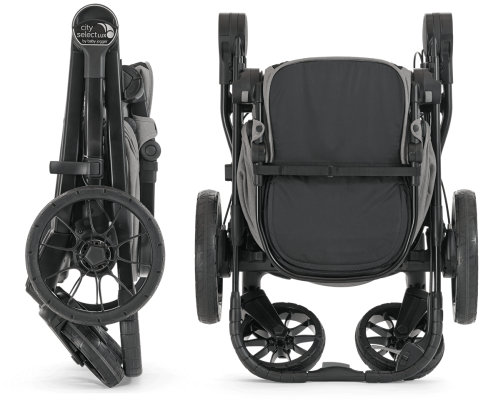 There is also an automatic lock that keeps the stroller folded so we can be sure if won't open when we lift it to put in a car trunk. The stroller doesn't feature self-stand, however this is not such a big deal if you transport it in a trunk. At home it can be stored on the side or just lying down.
For more easy transportation and storage we can pull off the wheels which is easy to do. We can store the stroller with one seat attached (in upper position) and don't have to worry it will get dirty, because it folds inward so it will stay clean! This is another difference between LUX and regular City Select which cannot be folded with seat attached.
If you use additional seat you will need to take it off, be careful not to lose the attachment bars. Unfolding takes only few seconds and you ready to go!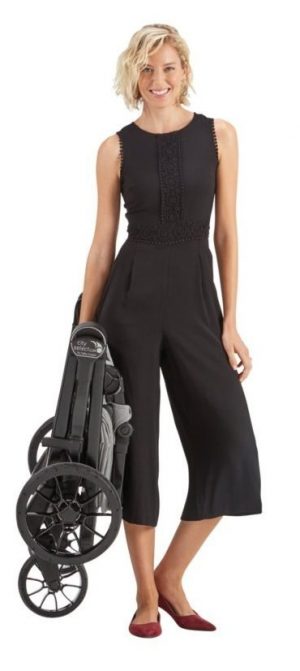 Parents were complaining about regular City Select folded size and the newest LUX is the manufacturers' answer to those complaints. Overall, Baby Jogger City Select LUX 2017 is very convenient to storage and it features 30% smaller fold than regular City Select and it is noticeable difference!
It is pretty compact fold for such a sturdy stroller. After folding it doesn't take up the entire trunk and it features even smaller fold than VISTA or CRUZ!
However, it weighs 30.4 lbs therefore for some parents it might be pretty heavy to lift and throw in a car trunk. But which double stroller isn't?!
Stroller specification
| Stroller | Data |
| --- | --- |
| Stroller Type | Convertible, Expandable |
| Stroller Weight | 30.4 lbs (frame + one seat) |
| Weight Limit | 45 lbs per seat |
| Stroller Dimensions | Max. 23.6" x 44.8" x 42.5" (WxLxH) |
| Fold Dimensions | 21.5" x 30.5" x 10" (WxLxH) |
| Handlebar Height | 38.5" - 42.5" |
Assembling
After testing this stroller and reading tons of other parents' review I can say it's pretty easy to set up, everything simply snaps right in. We just need to put the wheels, seat and canopy on and we are ready to hit the road within about 10 minutes.
Do you consider buying City Select LUX? Before you do it, make sure to check available discounts and read what other parents, who have this stroller, say about it on Amazon.
Pros & Cons
My City Select LUX Review wouldn't be comprehensive without quick summary with main advantages and disadvantages of this stroller.
Pros
Cons

Pros

---

+ Versatile, all-in-one stroller that grows with the baby: works with bassinets, infant car seats and toddler seats

+ Perfect for parents who plan on having more kids: it converts to double or even triple stroller; works for kids of the same or different age

+ Offers a place for older toddlers: Glider Board and Bench Seat

+ Good wheels and four-wheel suspension handle city streets and slightly uneven terrain

+ Comfortable to push and turn

+ Premium fabric, easy to clean

+ Easy to use decelerating brake and parking brake in one

+ Quick and easy assembling, each part just snap right in

+ Switching between different seating options takes only few seconds

+ Plenty storage space: large basket under the seat and two additional pockets on the back of the seat

+ Telescoping handlebar

+ Easy folding mechanism

Cons

---

- Doesn't stand on its own when folded

- Accessories and seating arrangements for the second kid have to be bought separately

- The wheels don't work on sandy beaches

- Handlebar might be too high for short parents; it's better for average and tall people
What other parents think about Baby Jogger City Select LUX
As always, I checked this stroller on Amazon and I've read what other parents say about it. At the moment I'm writing this, it has over 40 reviews and almost only positive ones. What are the main assets and flaws accoring to other customers?
This stroller is easy to push and maneuver, has smaller fold than regular City Select has, noticeable suspension, variety of seating options and wheels that can handle cracked pavement. Parents also love how easy this stroller is to expand and how well-built it is. Another advantages that parents mention are: handlebar that extends, so taller person doesn't kick the back of the stroller and the possibility to use a bench seat. Few parents complained about the quality of the material and the handbrake position.
Want to read more customers reviews? You can check them here.
Video – How Does City Select LUX Works?
Color versions
Baby Jogger City Select LUX 2017 comes in 6 different color. They are very natural and subdued. You can see all color versions in the picture below. The price may vary, depending on the color version. Here you can compare prices for all colors.

Warranty
Baby Jogger offer lifetime warranty on the frame and 1-year warranty on fabric and small parts. Here you can find more information about the warranty.
Accessories
There's ton of accessories that increase the pleasure of use. We have Second Seat Kit, Pram Kit, Bench Seat, Glider Board, Shopping Tote, Bug Canopy, Cup Holder, Parent Console, Child Tray, Belly Bar, few adapters for infant car seats and couple more… 🙂
I love these extra items, I only wish some of them were included in the price! All of the convenience items are sold separately. It's not such a big deal, it's actually really common in modern strollers nowadays, but it's good to keep that in mind when deciding to buy this stroller. 🙂
| Image | Description |
| --- | --- |
| | Second Seat Kit – It includes the seat and attachment bars. Thanks to it we can convert City Select LUX to a double stroller. The price varies depending on the color version. |
| | Pram Kit - We can push this stroller with one or two bassinets. Thanks to it we can use for newborn babies. Different colors may vary in price. |
| | Bench Seat – It makes this stroller suitable for older kids too. It has maximum capacity of 65 lbs. You child can hop on and off any time thanks to a useful footrest. |
| | Glider Board – Thanks to it the older child can also enjoy family strolling. Glider board is universal and works for many Baby Jogger strollers, for example: regular City Select, LUX and City Mini GT. |
| | Shopping Tote – It makes running errands and shopping more easy. It can hold up to 10 lbs of groceries, shopping bags and our gear. |
| | Bug Canopy – It's very useful if you live in an area were there are a lot of seasonal bugs. This canopy completely encloses front and both sides of the seat. It has UPF 35+ ventilated mesh so it protects the child from the sun and bugs. Translucent fabric doesn't block child' seeing. |
| | Cup Holder – It has expandable design and can hold cups and bottles of different size, up to 2 lb. We can attach it to either side of the stroller and keep the beverage within reach. It is made of leatherette fabric which is very easy to clean. |
| | Parent Console – It easily attaches to the handlebar and offers nice storage. There is a insulated cup holder, covered storage pouch and additional open pouch that can be also used as a second cup holder. |
| | Child Tray – There is a place for baby's snacks and beverage holder for a sippy cup or a small bottle of water. I really like this snack tray because it rotates to open and close on either side, which is very easy to do. I prefer rotation than lifting up because it's easier to take the screaming baby out of the stroller without spilling all snacks. Besides, we can fold this stroller with the child tray attached. |
City Select vs City Select LUX – Comparison
Let's see how the new City Select LUX compares to the previous model – City Select stroller. Here are few things that manufacturers have changed for the newest version of this stroller. These are the main differences between City Select and City Select LUX.
Baby Jogger City Select LUX 2017
Baby Jogger City Select
Seating Modes

20+ (with Glider Board and Bench Seat)

16+
Fabric

Premium fabric – nice and soft

Standard fabric – little rough

Brakes

Decelerating and parking brake in one – gives more control when going downhill

Hand-operated parking brake

Suspension

All-wheel suspension, improved front-wheel suspension

Front-wheel suspension

Lock

Automatic lock

Manual lock
Fold

Folds up with the seat attached; 30% more compact fold

Bigger fold
Price (Single Model)
More pricey
Check current price and available discounts
More affordable
Check current price and available discounts
UPPAbaby VISTA vs City Select LUX 2017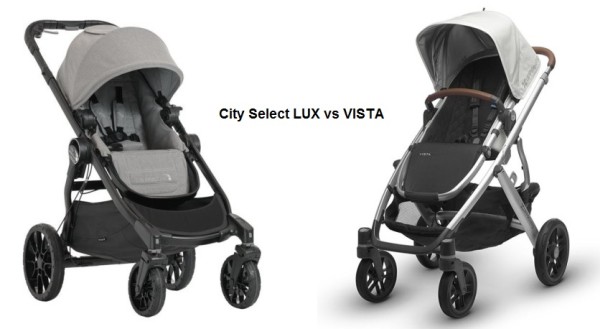 Are you wondering what are the main differences between these two strollers? Here is my comparison City Select LUX vs VISTA.
City Select LUX has more seating options than VISTA 2017 and offers additional attachment – bench seat.
Second seat for LUX can accommodate a child up to 45 lbs, just like the regular seat. In VISTA the additional Rumble Seat has smaller capacity than regular seat (only 35 lbs). LUX can accommodate heavier second child.
City Select LUX has rubberized tires, VISTA 2017 has polyurethane wheels.
Single version of LUX is 4 lbs heavier than single version of VISTA 2017.
City Select LUX has a hand-operated decelerating and parking brake, VISTA is equipped with a foot-operated parking brake.
UPPAbaby VISTA 2017 is more expensive than Baby Jogger City Select LUX.
Baby Jogger City Select LUX – Review Conclusion
All of the features and adjusting functions feel very high-end and intuitive to use at the same time. Fabrics, maneuverability and folding are definitely a step up from the regular City Select. I have to admit: Baby Jogger City Select LUX 2017 lives up to its name and reputation for real!

Keep in mind
Despite the name, this stroller is not suitable for jogging (it's just the name of the brand). Also, keep in mind that the frame size is exactly the same in single and double version. So as for a single stroller it is pretty big. It gets more bulkier when we add another seat (as every other expandable stroller). Folding takes some practice and it needs to be done from the front (if you try to fold the stroller from the side, it will stuck).
3 Reasons Why You Will Love City Select LUX
1. This is a great stroller for everyday use. It's the best solution for parent who plan on having more than one baby or already have multiple children. It is a versatile and flexible baby stroller.
2. You can begin with a single version, then upgrade it to a double for a minimal cost – you just need to purchase the second seat kit or additional bassinet/infant car seat instead of buying second single stroller or new double stroller. You just simply expand it when your family grows and it will adjust to your needs.
3. Thanks to compact fold (as for such a big stroller) and option of using it for two or even three kids, you have less baby gear to store!
Do you like City Select LUX? Before you buy it, check what other parents wrote about it on Amazon and make sure this stroller meets your needs.
---
Pictures of Baby Jogger City Select LUX and its accessories belong to Baby Jogger. Source: https://www.babyjogger.com
Your trust is really important to me: This post contains affiliate links. If you choose to buy something using these links, I receive a small commission, at no extra cost to you. Your support helps me run this blog. Thank you so much 🖤 Zooey