In this post I've rounded up some of the top blackout curtains, blackout shades and more to help you find the best blackout curtains for your baby's nursery.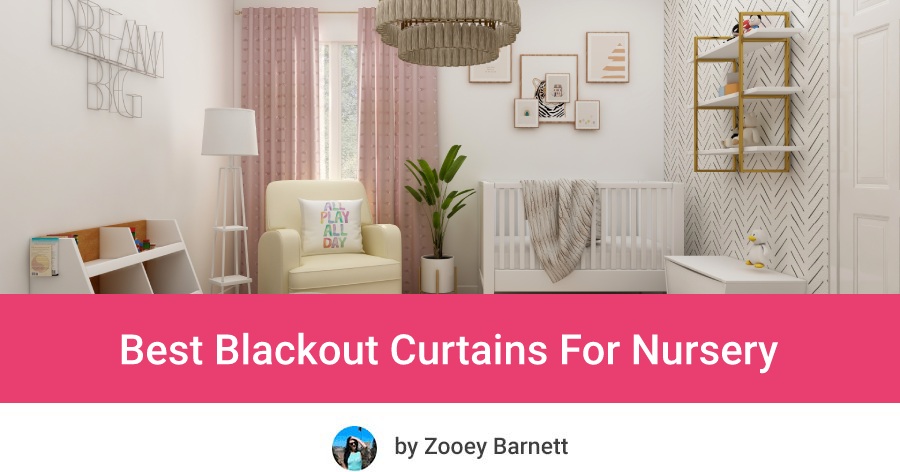 Did your baby sleep anywhere, no matter the level of noise or the amount of light for the first eight weeks or so? Yeah, mine, too. It's typical for newborns. And then, at around 10 weeks something changes and… no more easy sleep (for them and for you).
This has to do with circadian rhythms and the corresponding hormones (such as cortisol and melatonin) that begin developing at 8 weeks. This is why a difference in sleep is usually noticeable when babies are 10- 12 weeks old.
At this age, it becomes more important to create an ideal sleep environment for your infant to get in good naps and eventually start sleeping through the night.
Baby sleep issues mean you're also not getting enough sleep. This can affect your whole day, even your whole week! You may not have the energy to do anything else, or avoid running errands because you're hoping this time, he will sleep more than 23 minutes.
This is where light-blocking curtains can be a big help.
This article is not a substitute for medical advice. It contains affiliate links.
Best Features
❤️ Sizes for all windows (even super tall ones)
❤️ Full blackout + noise reduction
❤️ Best curtains for places with lots of sunshine
✖️Blackout liner may not look good from the other side of the window
❤️ About 90% blackout
❤️ They provide thermal insulation
❤️ Adorable design, perfect for baby's nursery
✖️The fabric attracts pets fur
❤️ Installation doesn't require drilling!
❤️ Great temporary solution (for example in rented apartment)
❤️ Lots of parents bring these curtains on vacations
✖️They don't fully darken the room (about 70% blackout)
advantage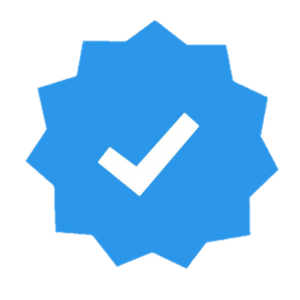 Recommended by 60K+ verified buyers!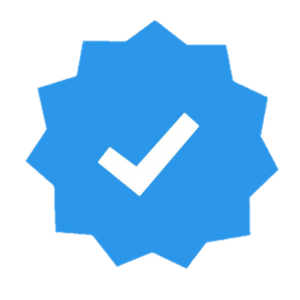 Recommended by 97% of verified buyers!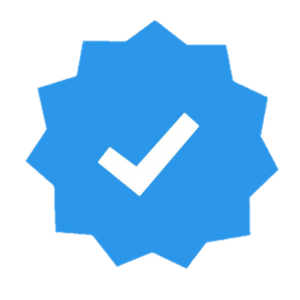 Recommended by 80% of verified buyers!
Moms' Favorite Choice
Best Features
❤️ Sizes for all windows (even super tall ones)
❤️ Full blackout + noise reduction
❤️ Best curtains for places with lots of sunshine
✖️Blackout liner may not look good from the other side of the window
advantage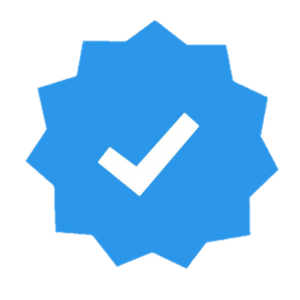 Recommended by 60K+ verified buyers!
Best Features
❤️ About 90% blackout
❤️ They provide thermal insulation
❤️ Adorable design, perfect for baby's nursery
✖️The fabric attracts pets fur
advantage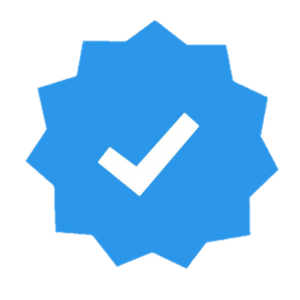 Recommended by 97% of verified buyers!
Best Features
❤️ Installation doesn't require drilling!
❤️ Great temporary solution (for example in rented apartment)
❤️ Lots of parents bring these curtains on vacations
✖️They don't fully darken the room (about 70% blackout)
advantage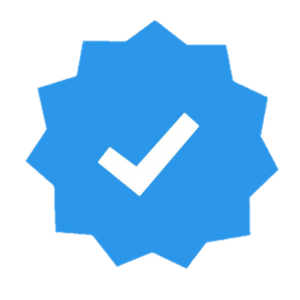 Recommended by 80% of verified buyers!
Last update on 2023-09-30 / Affiliate links / Images from Amazon Product Advertising API
Should A Nursery Be Completely Dark?
Baby sleep experts (yes! that is a REAL job!) agree that completely dark rooms are best for babies… but usually clarify that if your infant is sleeping just fine with the curtains you currently have, there is no reason to change.
However, complete darkness could be a key factor if your baby is taking short naps (under 30 minutes) or is waking before 6 am, consistently.
Best Blackout Curtains For Your Baby's Nursery
If you're facing any baby sleep issues, then consider one of the best blackout curtains from this list to achieve that total darkness in baby's nursery.
Room sharing with baby and don't want your bedroom to feel like a nursery? These Nicetown curtains blackout panels are a great, practical option for parents who need something that can suit their whole house, without feeling childish.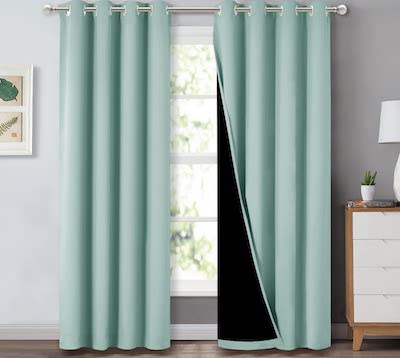 They are also one of the few brands offering white blackout curtains (which still block the light!). If you want to keep your home stylish – and dark for baby's sleep – try these blackout curtains.
Reasons To Choose These Blackout Curtains
Sizes for all windows: Come in lots of sizes and colors, including up to 108″ long for really tall windows – you're definitely going to find something that fits your windows on the list.
Full blackout: They are designed with a triple-weave thick blackout lining on each curtain panel (the link provided includes two panels) to achieve that true blackout quality. Extra advantage: noise reduction up to 2x quieter than without any curtains.
These are the best blackout curtains on the list: My favorite independent review was a mom from Alaska (you know, where they have 24-hrs of sunshine during the summer months) who said they are "Alaska-tested" true blackout curtains.
Keep In Mind
These are the best nursery blackout curtains because they are designed with a heavy blackout liner. The blackout lining isn't always the most attractive to view the curtain from the other side of the window. (But, if your baby is getting optimal sleep, who cares?)
I listed these magical Magnata Casa curtains first because I think they are sweet curtains for the nursery.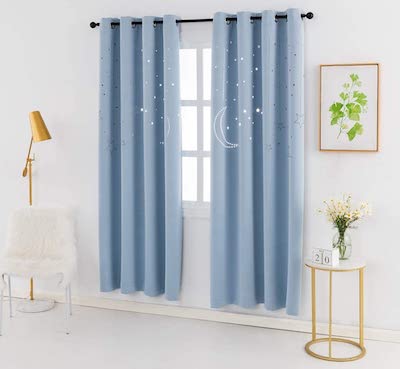 I consider them "almost" blackout curtains, or light blocking curtains because the lovely cut out moon and stars design does allow in just a little light. It certainly makes the room sufficiently dark in the afternoon, but still has a fun design that sets the tone for your baby's nursery, too.
Reasons To Choose These Blackout Curtains
Adorable design: They make a very nice nursery theme for any gender-neutral nursery, without the need of painting your walls or nailing up pictures.
Lots of sizes: They come in lots of sizes, from 36″ – 96″, so they work for both small windows and long, full windows, too.
These curtains are polyester, but made without the use of any chemical coatings.
Blocking light & noise: While they aren't true blackout, they do block 85-90% of outside light very well and reduce noises, too (by around 10-20 Db).
Heat insulation: Being heavy curtains, they provide thermal insulation, too. This saves energy during the winter by keeping the heat inside the nursery.
Keep In Mind
Remember, with the cute cut out design, these curtains are not technically "blackout", but they do block around 90% of sunlight and prevent the nursery from being too bright.
Another cute option for room darkening curtains are these BGment foil-star printed curtains. Because the design features tiny foil stars, they reflect light and make the stars really "shine" which I think makes for a cute feature in a toddler bedroom.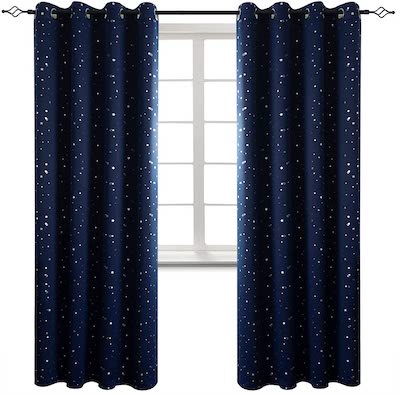 Now, they are only 75% blackout, so not true blackout curtains, but they can help make baby's nursery darker, for sure!
Reasons To Choose These Blackout Curtains
Sizes: There are several sizes to choose from, ranging from 45″ – 90″ long, fitting large or small windows.
Fabric: Are available in different colors (I like the grey the best in a gender-neutral nursery). These curtains are machine washable, too!
Thermal insulation: These heavy, triple-woven nursery curtains are ideal for a child's room to keep the cool air inside during warm weather and lock in the heat during winter.
Keep In Mind
The BGmet curtains are only 75% blackout, but the darker colors will offer more darkness compared to the lighter, neutral shades like beige or pale grey.
If you child's bedroom needs only a little help being darker, these are really cute nursery decor that also work as room darkening curtains, but they won't do the job of blackout shades entirely.
If you need to cover big windows, these Deconovo curtain panels are available in 108″ in length. They also come with very cute matching tiebacks, to really make your room feel trendy. They are the perfect blackout curtains if your child's nursery is also your bedroom at the moment.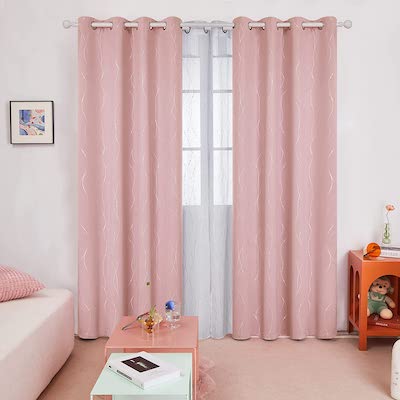 Reasons To Choose These Blackout Curtains
Cute patterns: They come in many different sizes and colors. This one has a gorgeous, although subtle, vertical silver pattern, another option is the "Constellation" pattern curtain which is really nice, too.
I love the look of long curtains that 'sweep' the floor just a little, and these can do just that if you buy the longer sizes.
Heat insulation: With the thick blackout lining, these curtains also offer insulation and help to keep your toddlers room cooler in the summer heat or warmer air in during cold months – without adding to your utility bill.
Noise reduction: The heavy fabric also helps reduce noise (especially if your window overlooks a busy street or you have noisy neighbors).
Keep In Mind
The manufacturer recommends you hand wash, but they are machine washable, too – just use the gentle cycle.
As they don't have additional blackout lining, they aren't the best blackout shades, but they will increase the darkness in any room, as the fabric is quite heavy.
These are solid-color curtains with multiple hanging options; hang them by tabs or a rod-pocket style, depending on your decor. They are a good option if you have a unique curtain rod you're looking to find curtains for.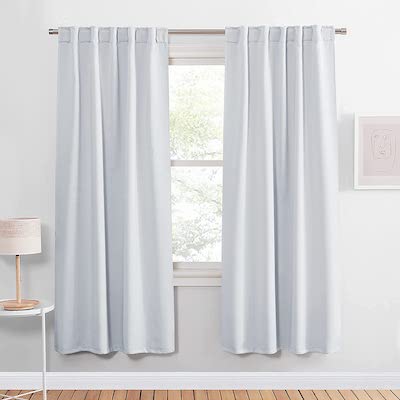 Reasons To Choose These Blackout Curtains
They don't wrinkle: They don't have an unattractive liner on the other side, but use triple-wave material to be room darkening. No liner also means less wrinkles!
Good blackout: Many parents find that the 85% blackout is enough for their baby's nursery (although if you're looking for white blackout curtains, just know the darker colors do a better job at keeping out the light).
Protection from UV damage: The fabric also blocks harmful UV rays, which can damage your photos and wall decor, over time.
Keep In Mind
They are listed as 85% blackout. They do a great job for early bedtimes when it's already getting dim, but might not be the best blackout shades for very bright rooms.
For a sweet touch to any baby nursery, hang these adorable pompom curtains.
They are so darn cute I can hardly stand it! (they also have a sheer curtain option… which I have ordered for myself already).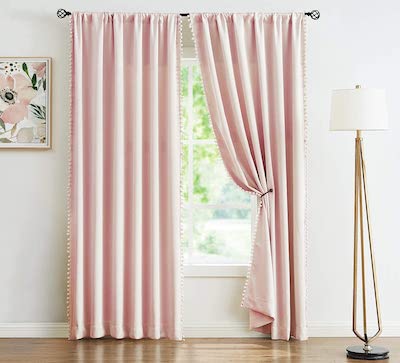 Reasons To Choose These Curtains
Various hanging options: You can hang them by rod pocket or curtain clips, no grommets needed.
Sufficient blackout: They are half-blackout, but still block up to 80% of UV rays to protect your walls. Also, as thermal curtains, they will help with your heating bill.
Cute designs: They can really make a nursery theme stand out!
Keep In Mind
These cute curtains are rated as 50% blackout, so not the best options in fully blackout curtains. Give them a try if your child's nursery just needs a little help in reducing how much light filters in.
Portable Choices For Nursery Blackout Curtains & Shades
What if you cannot hang curtains? Perhaps you rent an apartment that already uses roller blinds and you're not allowed to add curtain rods.
Solution: These reusable, portable blackout shades.
Sure, permanent curtains have their place, but a portable curtain works at Grandma's house, while you're on vacation, and more!
This window treatment is basically a blackout window liner, made of blackout fabric, that attaches to your window by suction cups – no nails, no drilling, no marks on the walls!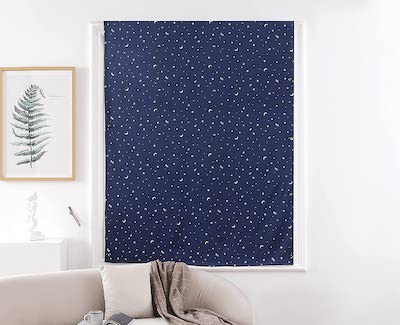 Reasons To Choose This Blackout Curtain
Great temporary solution: If you cannot hang curtains or a curtain rod for any reason, or you need to cover a skylight that keeps allowing sunlight to enter your baby's nursery, these types of window treatments are your best options.
Easy installation: Just clean the window and attach by suction cups.
A few colors to choose from: While the first one displayed is a black option, there are other color choices, including pink an blue.
Keep In Mind
You need the correct size window for this to provide the optimal black-out. If you have a very large window (or a very small one), this may not work.
Blackout shade that WILL fit any window? And does not require a curtain rod? Try these Uligood temporary ones. You cut them to fit, so you know for sure they will match your given window, guaranteed.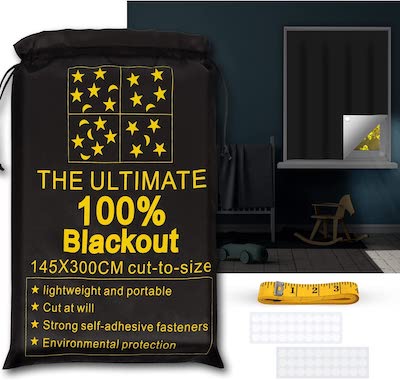 Reasons To Choose These Shades
All accessories for installation included: A sheet of the blackout shade, measuring tape, a ruler and adhesive strips, all within in a convenient carry bag to take on-the-go.
Very easy to attach and remove: Just measure the window, cut the material and attach (to the window frame, not the window itself) with the self-adhesive stickers (30 are included). They are also easy to remove and don't leave any marks behind.
Keep In Mind
This is a temporary blackout blind – once you remove it you may not be able to apply it back to the adhesive strips again.
If you need a budget option for a unique size window – particularly something like a high basement window, the Redi Shade is for you.
Don't be fooled by the "paper" name in the title – this still provides blackout quality, just with a shade, not a curtain.
The best part? You cut it to size! How perfect is that?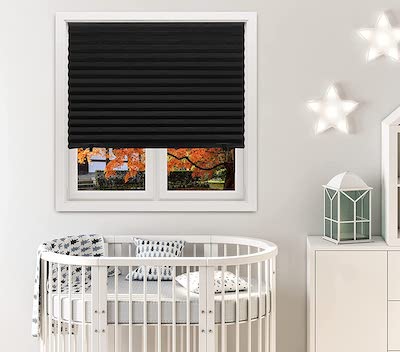 Reasons To Choose These Shades
Easy installation: No tools required! Just trim the shade, peel off the adhesive strip and stick to the window frame directly.
You can adjust the size: They are perfect for small windows, because you can trim the paper to fit any size you need and it won't damage your walls or leave marks.
No fabric to wash: Just dust the shade occasionally.
Good blackout: It actually does a good job at blocking light effectively, especially if you trim it to the right window size, so the edges of the pager are snug against the window, not leaving any gaps for light to come in.
PRO TIP: If you need something for larger windows, or just want the feeling of roller blinds for your windows, these "cellular blinds" are a great choice. However, they are more pricey than the Redi Shade, listed above.
Keep In Mind
Make sure to get the black colored shade, as the other choices are only 'light filtering' or 'room darkening'. If you don't like the black color, sorry – the white shade choices aren't going to offer black-out the way the dark shade does.
What Are Non-Toxic Blackout Blinds For Nursery?
Non-toxic curtains are typically made of safe, natural materials like cotton, bamboo, and hemp. However, many baby products, including curtains, have had flame retardants applied to them. Flame retardants are a great advertising choice for baby-products, but underlying is that they are usually toxins.
Your best bet is to choose fabrics that have not been treated with chemicals, often listed as Oeko-Tex certified, which means that it has been tested for toxic chemicals (and passed)1.
Many of the blackout curtains mentioned on this list are not treated with chemicals.
Sleep Issues That Blackout Curtains May Help With
Some typical sleep issues you may experience include:
Short naps (under 30 minutes)
Your infant struggles to go down for a nap,
Frequent wakings at night (other than regular feeds – they will need to nurse or have a bottle for several months)
Early morning wakings after they have started to sleep through the night (before 6:00 am)
Nursery Blackout Curtains – FAQ
Does your little one sleep like a champion… or not so much? Check out these frequently asked questions about nursery curtains to determine what's best for your baby.
What Are Blackout Curtains?
Simply put, backout curtains block natural light from entering through the window. They are the most effective way to get a room dark during daytime naps or if streetlights shine into baby's nursery at night.
Studies show everyone (babies included!) sleep better in dark environments. One reason for this is that darkness stimulates the sleep hormone – melatonin, and cues baby that it's time to sleep.
Alternatively, light stimulates the brain and tells us to wake up – which is why light can be very disruptive to infant sleep.
Should I Get Blackout Curtains For My Baby's Room?
If you think your baby's sleep could improve with blackout curtains then what are you waiting for? Nursery curtains can actually be a serious help for baby sleep. (Thank me in the comments, after naptime has significantly improved!)
And, if you don't think your baby needs curtains to get better sleep, then I must ask – are you just here to gloat?
Do Babies Really Need Blackout Blinds?
Some babies don't need a super dark environment sleep soundly. But, if your nursery has a south-facing window or there is a lot of outside noise, heavy blackout curtains can certainly help.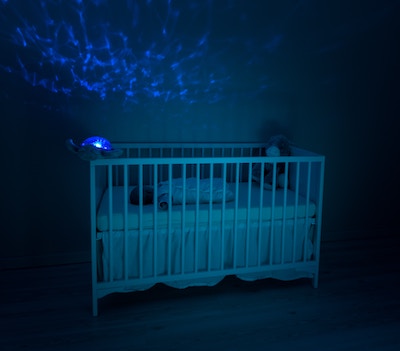 Do Babies Sleep Better With Blackout Blinds?
Yes, it has been proven that the majority of babies have a longer, deeper sleep when the room is darker. Using blackout curtain panels is one of the tricks to make baby's pack n play more comfortable, as well as to help baby to sleep more than 30 minutes during nap time.
When Can I Start Using Blackout Curtains For My Baby?
While newborns sleep through just about anything, that tends to change around 3 months old. Between 3 and 4 months is generally when parents find that blackout curtains become helpful for baby's room, and may use them for the first year or 2 years to help baby sleep.
How Long Should Curtains Be In Baby Nursery?
Once your toddler is in a toddler bed and may be able to get in and out of their own bed independently, you must baby-proof/toddler proof baby's room. Any curtains can be a hazard if they are long enough for baby to reach and wrap themselves in.
Once you are at the stage of considering using a toddler bed instead of a crib, you should re-consider the use of long blackout curtains, too.
Either shorten them (ideal for a small window frame) so that your child cannot wrap themself up in them, or, remove the curtains all together.
Should You Close Curtains For Baby Naps?
As your child gets older and a nap time routine gets set, some parents leave their blackout curtains open a little.
This allows for some natural light to come in, while still making the room dark enough for a good nap. With this approach baby is more likely to wake up on their own, instead of needing to be awoken from a deep sleep at nap time and this leads to good night's sleep – yay!
But if you need the room darkening curtains to be completely closed, that's fine, too.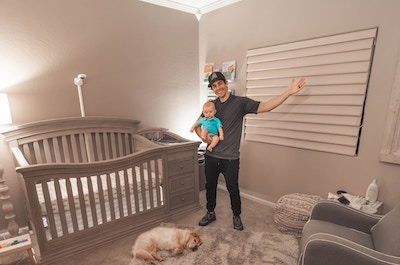 Do Blackout Curtains Make Room Warmer?
They can, especially the insulated ones. This is actually a great hack for energy-savings if you experience cold winters! Your nursery will naturally retain heat with the thick curtains covering the window.
What Is The Disadvantage Of Blackout Curtains?
Just to be clear: blackout curtains will not give your baby day-and-night confusion.
But, if you use blackout curtains exclusively, then your baby may not sleep well in places other than their own dark nursery – like at Grandma's house or while you're on vacation. If that's the case, then you may want to invest in some of the mobile blackout curtain options listed above.
How Can I Darken My Nursery Without Curtains?
If you aren't able to hang curtains in your baby's nursery, here are some short-term ideas that might help:
---
The purpose of this article is informative. It's not a substitute for professional medical advice or medical care. Remember: safety first! Consult your doctor/pediatrician in case of any doubts. The author of this article does not accept any responsibility for any liability, loss or risk, personal or otherwise, incurred as a consequence, directly or indirectly, from any information or advice contained here. This article contains affiliate links.
Resources:
https://www.mychemicalfreehouse.net/
Pictures of NICETOWN Window Curtain Panels belong to NICETOWN Brand.
Pictures of MANGATA CASA curtains with stars belong to MANGATA CASA Brand.
Pictures of BGment Kids curtains belong to BGment Brand.
Pictures of Deconovo curtain panels belong to Deconovo Brand.
Pictures of PONY DANCE nursery curtains belong to PONY DANCE Brand.
Pictures of Pompom curtains belong to Pompom Brand.
Pictures of DREAM ART portable curtain belong to DREAM ART Brand.
Pictures of Uligood portable shades belong to Uligood Brand.
Pictures of Redi Shade pleated paper shade belong to Redi Shade Brand.