Are you confused how to choose the best bassinet for small space? I'm here to help you pick the safest small bassinet that will easily fit in tiny nursery or parents' bedroom.
Bassinets are designed for newborn babies and in general they are less bulky than baby cribs. However, if you have a small apartment or want to put your baby's bassinet in your bedroom, finding a good and SAFE bassinet with small footprint may be quite challenging.
I did the hard work for you and picked the best bassinets that have all necessary safety features, as well as easily fit in a small apartment.
Good bassinet should provide ample space for baby to grow, it should be easy to move around a small house, and it shouldn't clutter the nursery (or your bedroom).
This article is not a substitute for medical advice. It may contain affiliate links.
Table could not be displayed.
Last update on 2023-03-22 / Affiliate links / Images from Amazon Product Advertising API
Ranking Of Best Baby Bassinets For Small Spaces
Here are the best compact bassinets for small spaces, designed for babies up to 3-6 months.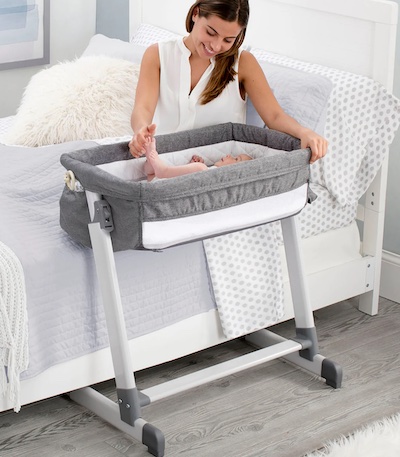 This space-saving bassinet has the smallest footprint in my whole ranking! It's perfect for small apartments and it's also one of the best budget-friendly options.
What Makes It A Good Choice For Small Spaces
Simmons Kids Bassinet has really compact size: 31″ x 19.5″ so it easily fits in small rooms. It has 5 different height settings so you can adjust it to your bed.
This narrow bassinet has wheels which make it easy to move around the house. They are lockable to ensure the bassinet stays securely in place the whole time, even when the baby wiggles.
It's really awesome that you can use it as a stand-alone bassinet or bedside co-sleeper bassinet sleeper. It has unique Z-shaped frame which allows you to slide the base underneaths your bed and the cradle sits on top of your mattress so the baby stays close to mom the whole night.
Thanks to this design, this bassinet reduces the risk of SIDS related to bed-sharing. It allows you for co-sleeping while still giving your baby their own safe and comfy sleep space.
The only thing this bassinet for small spaces misses is foldable bedside wall to make it easier especially for C-section mamas.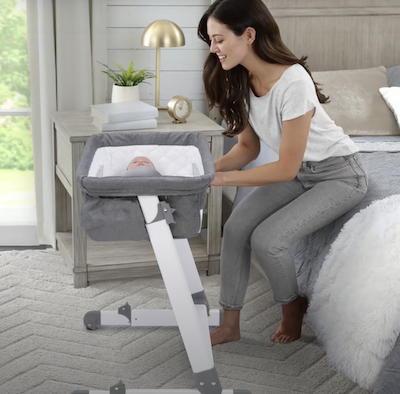 Sleeping area has been designed to keep your little one safe: there's 1-inch mattress and 1 machine-washable fitted sheet (mattress cover).
I've heard that with many bassinets lots of parents have a hard time finding sheets that fit properly. The good news is that Delta Children provides tight fitted sheets designed specifically for this bassinet to ensure there is no excess of fabric (you can get 2-pack to always keep a clean spare sheet).
This Simmons Kids Bassinet features a few useful large storage pockets which can fit a few spare diapers, wipes, diaper rash cream and other necessities.
Safety
Delta Children Simmons Kids Bassinet can be used from birth up to 15 pounds (around 5 months).
It is certified by JPMA and meets or exceeds CPSC safety standards.
It has breathable mesh sides so when you place it next to your bed, you can easily keep an eye on your little one. Plus, your baby can sleep soundly without getting overheated or sweaty.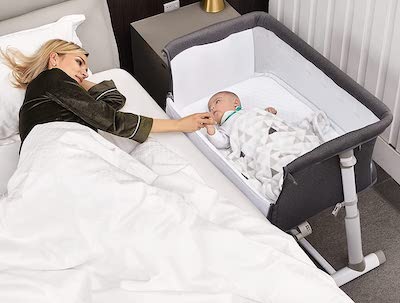 Ronbei bassinets are extremely popular – they offer great quality for reasonable price.
And this particular Ronbei Bedside Bassinet has small footprint, its legs easily slide under parents' bed and the cradle part can actually sit on top of parents' mattress – which makes this bassinet ideal for small spaces.
What Makes It A Fantastic Bassinet For Small Spaces
Assembled size of the Ronbei Bassinet Sleeper is: 36″ x 21″. It comes with a waterproof bassinet mattress pad with dimensions: 31.5″ x 20.5″ x 0.8″. Tight fitted sheet is also included in the price.
You can adjust the height of bassinet from about 18″ to 25.6″ from the ground (9 height settings), depending on how tall is your mattress. It's really convenient because you can place this sleeper right onto your mattress to keep baby close to you at night.
The bedside wall can be folded down, so you could quickly access your little one, when it's time for feeding or just to comfort them.
Thanks to these features you won't have to get out of bed, bend and twist to get your child out of the bassinet at night – which is a game-changer for moms after C-section.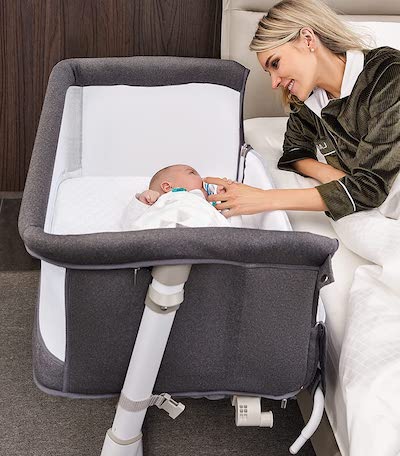 What's more, the legs don't stick out far like in many other bassinets, and they easily fit under parents' bed – this way the bassinet takes less space.
Ronbei is the best small bassinet that allows for co-sleeping without actual bed-sharing.
Safety
This bedside sleeper bassinet is suitable for babies from 6 to 19.8 pounds, and usually parents use it up to 6 months.
On two sides there are mesh walls which allow you to keep an eye on your little bundle of joy, plus they ensure proper air circulation inside the bassinet.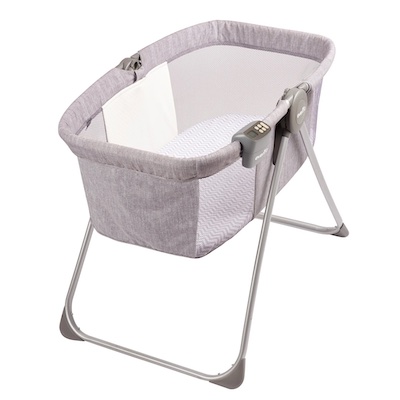 Many parents say that Evenflo Loft is the best bassinet for small spaces, because it has narrow design, it's lightweight, and folds down flat into a compact size. Plus, it has some extra features that usually can be found on high-end bassinets: speakers, nightlight and even a room temperature monitor.
Reasons To Choose This Small Bassinet
Evenflo Loft is a compact and narrow bassinet that won't take up a lot of space in your small bedroom or baby's nursery. Its footprint dimensions are: 20.5″ x 33.75″.
What I also like about this portable bassinet is that it collapses seamlessly – there's no need to disassemble legs or detach the cradle. Folded dimensions are: 20.5″ x 4″ x 26.75″. It fits in majority of car trunk.
Even though this bassinet doesn't have wheels, it's easy to move around the apartment, because it's so lightweight – only 10 lbs.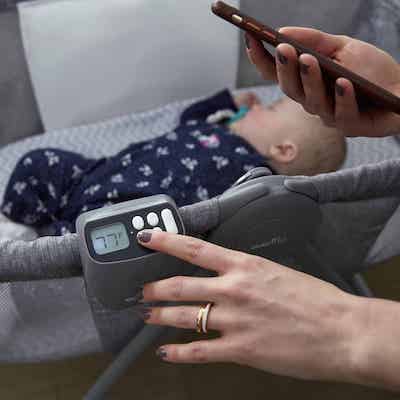 Evenflo Loft is one of the most inexpensive bassinets for small spaces, yet it comes with some fancy features like: built-in nightlight and room temperature sensor so you could rest assure your baby is nice and cozy.
Moreover, this small bassinet features Bluetooth speakers! you can connect your phone with it and play some lullabies or nature sounds to lull your little one to sleep.
Although Evenflo Loft doesn't have adjustable height or foldable bedside wall, you can still use it as a bedside bassinet. Simply place it right next to your mattress – it is 26.75″ high, so it's similar to standard adult bed height. You'll have quick access to your baby whenever you need to comfort them.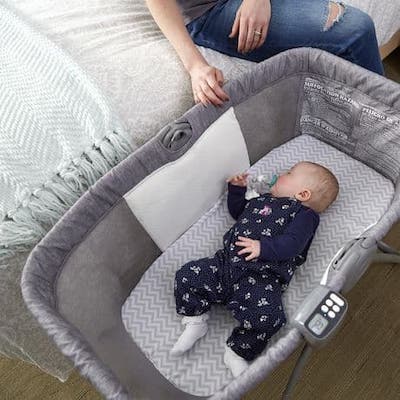 Safety
Evenflo Loft comes with a firm, flat and thin mattress that is design for infants up to about 6 months (20 lbs), and 1 fitted sheet that is machine-washable.
There's mesh on side walls for increased breathability. You can clearly see your child through the mesh.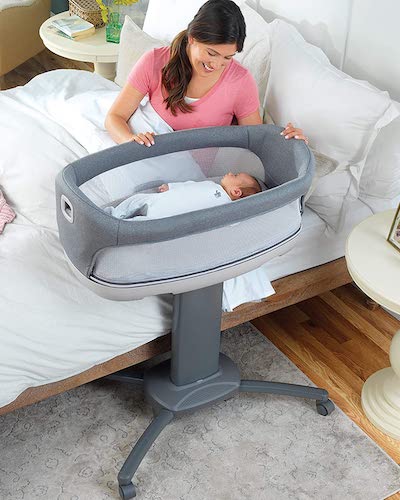 Chicco Close To You 3-in-1 is slightly bigger than Ronbei, but it is still a fantastic compact bassinet.
It's also a bit more pricey, but it's a tradeoff for some extra features like melodies and wheels.
Reasons to Love this Bassinet For Small Spaces
Chicco bassinet has dimensions: 33.5″ x 28″ and its base has 4 wheels. You can roll the bassinet right next to your bed with the cradle on top of your mattress and two legs hidden under your bed.
Thanks to wheels you can easily more this bassinet from one room to another, plus there's a convenient handle for pushing the bassinet away.
It's really nice feature because when you need to get out of bed you can simply roll the bassinet away, and you won't have to scoot down the bed (after giving birth it could be painful!).
Chicco Close To You has adjustable height (from 24″ to 33.5″) so it fits different parents' beds. Moreover, because you can slide it up so high, it doubles as a changing table!
Mattress dimensions are: 18.5 x 29 inches so it provides plenty growth space for your child.
What distinguishes this bassinet is that it has soothing features: 6 melodies and 2 vibration levels to help the baby calm down and fall asleep. If you're looking for a compact rocking bassinet for small spaces – this is one of the best choices.
There's also a useful nightlight, which makes midnight feeding or diaper change easier.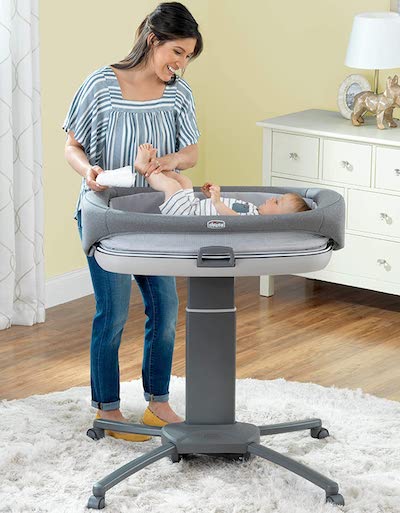 Mattress with 2-side cover is included with the bassinet. Keep in mind that quilted side of the cover is designed for sleeping, and the waterproof side is for diaper changes.
Safety
As a bassinet or bedside sleeper Chicco Close To You 3-in-1 can be used for newborn babies and up to 20 pounds (or when the baby starts to push up on hands and knees). As a changing station you can use it until your infant reaches 35 pounds!
With mesh sides there's good airflow and you can see thought it and observe your child.
Keep in mind that this Chicco bassinet doesn't feature foldable bedside wall.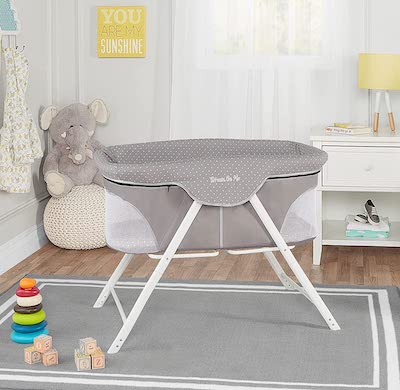 This is one of the best bassinets for small spaces. Despite its name, it can be used not only as a travel bassinet but it also works perfect in small apartments – thanks to its compact size and foldable design.
Why You Will Love This Small Bassinet
Dream On Me Traveler features pretty compact footprint: 37″ x 22″, and it's 27″ tall. In contrast to other best bassinets for small spaces, this one has fixed height.
But it's a tradeoff for lightweight and foldable design!
This bassinet weighs only 7 pounds so it's super easy to move around the house, or carry when you're traveling.
Moreover, it folds down flat (dimensions: 32″ x 21.5″) therefore it's easy to pack in a medium-sized car trunk or store for your next child. What you are going to love is that you don't have to disassemble anything for folding!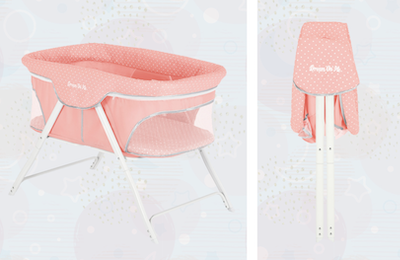 The best thing about this compact and lightweight bassinet is that it's really inexpensive and includes a travel bag which doubles as a storage cover (for protection from dust or tears).
Dream On Me Traveler is great choice if:
You have little free room at your place;
Need a compact bassinet for weekends at grandma's place;
Travel often and need a comfortable & portable bassinet for small hotel rooms.
Safety
This bassinet has slightly higher weight limit: 25 lbs, but keep in mind that if your child starts to push on their knees and hands before reaching 25 pounds, you should stop using it.
This Dream On Me bassinet has breathable mesh sides for better ventilation and visibility.
Mattress and the frame cover are removable and machine-washable so you don't have to worry if your little one makes a mess (and trust me, even with the best diapers for blowouts, leaks and blowouts will happen from time to time!).
Keep in mind that you can use the Dream On Me Traveler only as a stand-alone bassinet, it doesn't have adjustable height and it doesn't sit onto parents' mattress.
Final Decision: What Is The Best Bassinet For Small Spaces?
After reviewing so many options, I think that the best bassinet for small spaces is the Simmons Kids Bassinet, because it has really small footprint.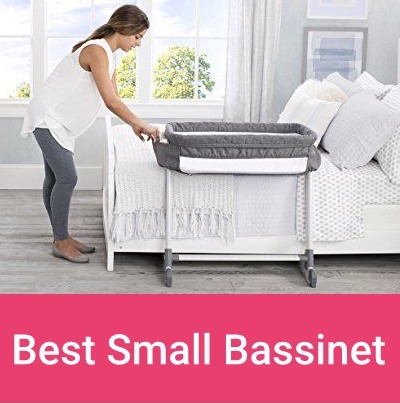 In terms of floor space it takes, this is the smallest bassinet in my ranking. Even though it has such a compact design, its sleeping area is similar to other bassinets and provides plenty growth space for your child.
If you'd prefer a bassinet with foldable bedside wall to have a quick access to your baby at night, RONBEI bassinet is better choice. Its base also tucks away under parents bed so it doesn't take up a lot of space.
If you're looking for the best bassinet for small space with a gentle rocking motion and soothing sounds, Chicco Close To You 3-in-1 is your best bet. Moreover, this bassinet doubles as a changing station.
Dream On Me Traveler is a great option if you're looking for a bassinet for small spaces, that folds down and is easy to transport – for weekend at grandparents' house or staying in a hotel room during vacations.
Evenflo Loft is also a great bassinet for small spaces, because it takes up little floor space and features compact fold size. This portable crib is a fantastic choice for parents on a tight budget, yet it has many cool features like a night light, Bluetooth speakers and room temperature monitor. This means you won't need to spend extra money on separate sound machine / night light (like Hatch Baby Rest or Hatch Baby Rest+).
PRO TIP: Some of the bassinets have a similar size of mini cribs which are also a great space-saving solution for small spaces. What distinguishes mini cribs from bassinets is that you can use them longer – approx. up to 18 months, and many of them convert into toddler beds. I recommend you to check my ranking of the best mini cribs here. If you're unsure if you need a bassinet vs. mini crib. vs. full size crib for your baby – check the differences here.
Best Small Bassinet – FAQ
Here's additional useful information for parents that are in the hunt for the best bassinet for small spaces.
Where Do You Put A Bassinet In A Small Room?
Pediatrician recommend that baby sleeps in the same room as parents for the first few months because it decreases the risk of SIDS. The best option is using a bedside sleeper bassinet which allows for co-sleeping and keeping baby close, without sharing the bed (which is not a safe option).
If you have a small room and want to add your baby's bassinet it's best to choose a small bassinet with legs that can be easily tucked under adult bed. This way it will take up less space.
Keep baby bassinet right next to mom's side of the bed, because you will be able to take the baby out easily when it's time for nursing or feeding or to respond to your baby's cries.
Does Size Of Bassinet Matter?
Weight and height limits of a bassinet are more important than its size, but it doesn't mean you shouldn't pay attention to bassinet dimensions when you're making a purchase.
Bassinet size matters, precisely – the mattress size – because it's often related to maximum baby's weight and height.
When choosing the best bassinet for your newborn baby, check the dimensions of the mattress: in most cases it will be between 30-33 inches long and 15-18 inches wide.
A good bassinet will fit your growing baby comfortably and it will serve you for longer period.
But it doesn't mean you need to choose the bigger and bulkiest bassinet on the market!
As you can see in my ranking, there are high-quality bassinets with compact footprint and spacious sleep space for your little one.
If you don't have a lot of free room in your house or apartment, check these features when choosing a bassinet:
Does it have long legs that stick out?
Can you place it right next to your bed or even over your mattress (with its legs under your bed)?
Does it have a bulky frame?
Does it have wheels and adjustable height?
Does it have a foldable design for easy storage?
Which Bassinet Is The Safest?
The safest bassinet is the one that meets AAP safety recommendations and safety standards of the Consumer Product Safety Commission (CPSC). It should have a firm, flat and thin mattress.1
The mattress should be designed for that specific bassinet and fit tightly and you should use a tight fitted sheet. Nothing else should be in the crib – this means no blankets, pillows, stuffed toys or bumper pads as they can pose a suffocation risk.
By choosing safe bassinet you reduce the risk of SIDS.
All of the bassinets for small spaces that I recommend here meet the safety standards of the CPSC. Keep in mind that for your child safety, you should transition your little one from bassinet to crib when they show signs of pulling up on their hands and knees, rolling over or sitting up.
What Kind Of Bassinet Is Best For Newborn?
I think that the best kind of bassinet for newborn baby is bedside co-sleeper bassinet that sits over adult bed mattress and has foldable bedside wall. This way you will have a quick and easy access to soothe your baby or take them out of the bassinet for mid-night breastfeeding.
In my opinion, the best bassinet for newborns for small spaces is RONBEI bassinet – you can use it as a bedside co-sleeper and it doesn't take up a lot of space.
Remember that the safest option for newborns is room-sharing, but not bed-sharing.
---
Sources of pictures:
Pictures of Simmons Kids Bassinet belong to Simmons Kids (Delta Children) brand.
Pictures of Evenflo Loft belong to Evenflo Brand.
Pictures of Ronbei bassinet belong to Ronbei brand.
Pictures of Chicco Close To You 3-in-1 belong to Chicco Brand.
Pictures of Dream On Me Traveler belong to Dream On Me Brand.
---
The purpose of this article is informative. It's not a substitute for professional medical advice or medical care. Remember: safety first! Consult your doctor/pediatrician in case of any doubts. The author of this article does not accept any responsibility for any liability, loss or risk, personal or otherwise, incurred as a consequence, directly or indirectly, from any information or advice contained here.
Your trust is really important to me: This article includes affiliate links to products that I think are useful for our readers. If you make a purchase through these links, I may earn a small commission at no extra cost to you. Your support helps me run this blog – thank you!