Are you wondering if you need a bassinet, when should you stop using it and when it's time to transition your little one from bassinet to crib? I've got you covered. Here you'll find out if bassinet is really a must-have and how long you'll be able to use it.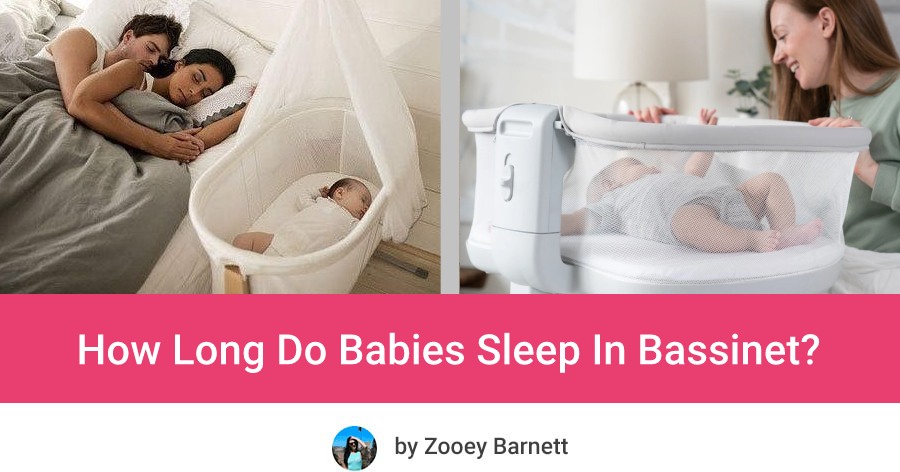 If you're expecting mama or your little bundle of joy has already come to this world, you may be wondering if it's worth it to invest in a bassinet, if you are only going to use it for max. 6 months? Maybe it's better to go straight for a crib?
I know that as a new parent you're short on time (and probably also short on money), so I am going to give you simple answers to all of these important questions.
What Is A Bassinet?
Bassinets are designed to provide cozy and safe enclosed sleeping space for newborn babies and infants. Usually they can accommodate babies up to 3-6 months.
What's noteworthy, bassinets are designed only for sleeping on back. They are not large or high enough to provide a safe space for babies who can already roll over or stand up.
You can either choose a self-standing bassinet or a bedside sleeper bassinet.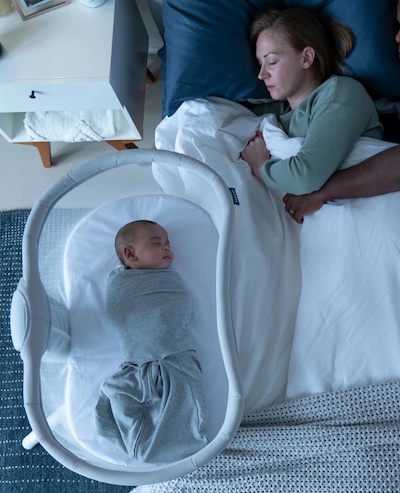 The main difference between these two types is that bedside bassinet allows you to place it right next to or even slightly above your bed mattress and lower the bedside wall down – for a quick and easy access to your little one at night.
You'll be able to take your baby out of the bedside sleeper without getting out of bed, bending or twisting. That's why bedside sleepers bassinets are the best choice for C-section mamas.
Self-standing bassinets do not have foldable side.
It's worth to notice that some of the strollers bassinets are approved for overnight sleep if you place them on a proper stand.
For example: UPPAbaby VISTA stroller comes with a fantastic, breathable bassinet and if you get a special stand for it, you'll be able to use it for naps and overnight sleeping.
The main drawback is that the stand doesn't have adjustable height or wheels, and even if you set it right next to your bed, you will still have to get up to check on your baby.
What Features Should You Look Out For
Here is the list of functions that the best bassinet should have:
Adjustable height – so you could lower it to your mattress height
Sturdy frame – the bassinet should feel extremely stable even when your baby wiggles a bit
Wheels – they make it easier to move the bassinet around the house, and you can roll it away from the bed when you need to get up which is very convenient
Mesh sides – the bassinet should be breathable and allow the air to circulate through to keep your baby from overheating and sweating (mesh also makes it easier for parents to keep an eye on the child)
Breathable mattress with washable sheets – check if the bassinet you want to buy has vents in the bottom and if the sheets are machine-washable because diaper blowouts and spit ups will happen for sure!
Foldable bedside wall – I recommend bedside bassinet type, because it is may more convenient than regular bassinets
Storage – it's really helpful if the bassinet comes in some storage pockets where you can keep a few diapers and wipes to always have them at hand.
Other useful features (but not must-haves):
Built-in soothing music, vibration or rocking – these feature come in handy for soothing a fussy infant. Some high-end bassinets like the Snoo feature motions with crying detector. Cheaper bassinets, like the Snoo alternatives, also offer soothing rocking movement but you need to turn it on manually. In my opinion built-in music or white noise is not a must-have, you can use a smartphone app for that.
Night light – built-in night light can be really useful during midnight diaper changes. But I think it's best to get a less expensive bassinet without this feature, and invest in a separate good nightlight (like the Hatch Rest or Rest Plus).
How Long Does A Baby Sleep In Bassinet
Modern baby bassinets have weight limit of 20 lbs – 25 lbs, and you can use them until your baby reaches 25″ – 30″ in height.
I found only one high-quality bassinet that has higher weight limit – Mika Micky Baby Bassinet has maximum capacity of 33 pounds.
Babies can sleep in a bassinet until they are not able to push up on their hands and knees (which is usually between 4 and 6 month of age).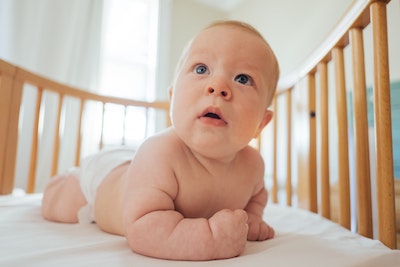 When To Stop Using Bassinet
Each bassinet has different weight and height limits – you should check your manufacturer guidelines and DO NOT use the bassinet when your baby EXCEEDS the limits, because then the bassinet may be less stable and the risk or SIDS may be also higher.
Therefore, if your baby reaches the weight or height limit of your bassinet, you should stop using it.
Despite of the weight and height capacity of your bassinet, there is one general rule that you should always follow.
Stop using the bassinet if your baby moves a lot and starts to roll over, pull themselves on hands and knees, sit up or pull themselves up from sitting to standing. When your little one reaches one of these important milestones, it's time for a transition from bassinet to bigger sleeping surface: either full-size crib or mini crib.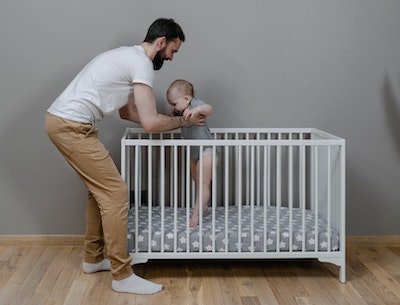 It's very important because bassinets are shallower and have shorter side walls than cribs therefore if the baby can roll or sit up, they could flip themselves out!
Usually babies reach 20 pounds around 4-6 month, and around that time they also start to learn how to roll over. Around 6 month they start to pull up themselves on hands.
Do I Need A Bassinet?
Lots of new parents hesitate if they really need a bassinet – after all you are going to use it only for 3-6 months!
Is it worth to spend money on something that will serve you for such a short time?
Why You Need A Bassinet
Bedside bassinets make it easier than cribs to keep your baby close to you at night. It's especially important for moms who have C-section and can't really move that much or bend, as well as for breastfeeding moms. It's really convenient to keep baby's bassinet right next to your bed at night in the first few months because infants wake up a lot at night.
Bassinets are smaller than cribs and may feel more cozy for little babies. During the 4th trimester (the first 12 weeks of baby's life) your newborn is adjusting to being outside of mom's warm, tight and cozy womb. It may be easier and more comfortable for your little one to sleep in a bassinet than a large crib.
Bassinets make room-sharing easier and allow you for safe co-sleeping without actual bed-sharing. According to American Academy Of Pediatrics (AAP) if the baby sleeps in parent's room (but not their bed) during the first 6-12 months, it helps to decrease the risk of sudden infant death syndrome in a great way. At the same time, AAP advises against sleeping with baby in the same bed. With a bassinet you're able to keep your baby as close as possible, without the risk of bed-sharing.
If you don't plan on room-sharing and prefer your baby to sleep in their nursery, make sure to invest in a good baby monitor with high quality audio and night vision (like Nanit or Miku).
If you're still unsure whether you need a bassinet or how does it differ from a crib, make sure to read my comparison: bassinet vs. mini crib vs. standard crib.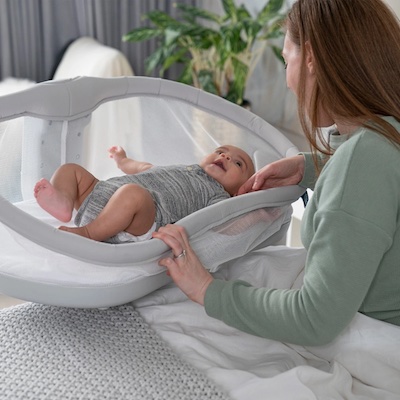 Can Babies Sleep All Night In A Bassinet?
Bassinets are a safe place for baby to sleep through the night, as well as for naps. They are perfect for the first few months, when infants sleep even up to 16 hours per day.
Safe Sleep In A Bassinet – How To Prevent Sudden Infant Death Syndrome
Here are some American Academy Of Pediatrics safe sleep guidelines – follow them decrease the risk of SIDS:
Baby should sleep on their back, on a flat and firm surface, in a bassinet or crib.
Sleeping area should be free of any accessories: there should be no loose bedding, blankets, pillows, stuffed animals or bumper pads.
Do not replace the original mattress and do not add any mattress toppers to make the sleep surface higher or softer. Even if the original mattress pad seems thin or very firm. This is the safest surface for infant to sleep on.
You should only use tight-fitted sheets in the right size for your bassinet/crib mattress. Any excess of fabric can increase the risk of suffocation.
Baby should have their own sleeping surface and not sleep in parents bed.
Room-sharing is highly recommended – keeping baby's crib or bassinet in parents' room helps to decrease the risk of SIDS.
In case of falling asleep in a stroller, baby swing or glider, you should transition baby to their bassinet or crib.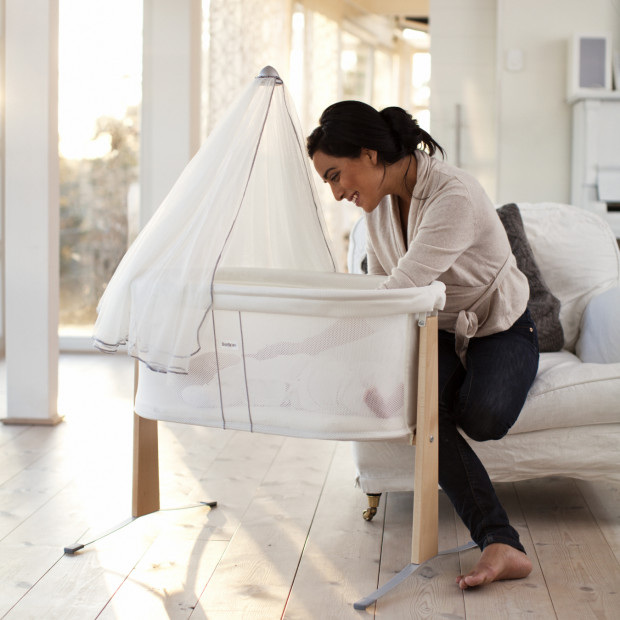 When Should I Transition Baby From Bassinet To Crib?
There are a few signs that it's time for your baby's transition to a crib:
When baby hits age and/or weight and/or height limit (check the instruction manual for your bassinet)
When baby seems to be cramped and not cozy anymore.
When baby is able to roll over, pull themselves on hands and knees, or sit up
Whichever of these signs comes first, you should transition your baby to a crib.
How To Make The Transition Easier?
If you're worried that swapping the bassinet for a crib will cause your baby to have trouble sleeping, here are some parenting hacks to make the transition easier.
Play white noise or use a night light for better comfort.
Make the transition in stages – for example start with naps in the crib and let your child get used to it.
Establish bedtime routine.
Don't make the transition to a crib and a new room at the same time – give your baby time to get used to this new bigger sleep space, but keep the crib in the same room that you sleep in. Once the child feels comfortable in the crib, you can move it to baby's room.
Sleep in the same room as your child – once you move the crib to the nursery, it may be a good idea to sleep there (if you have a couch bed or inflated mattress), because it will help baby with adjustment to new bed and new room.
When your baby is falling asleep in the crib, sit next to them (on a chair or on the floor) to make them feel more comfy – and each night move a little farther away until baby is sleeping peacefully on their own.
Provide your little one with plenty of tummy time during day.
Don't use crib for punishment or playtime.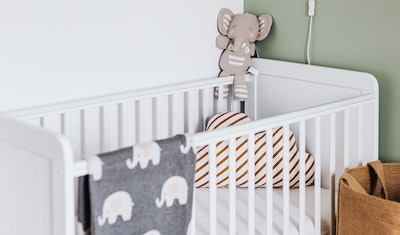 Can A Newborn Baby Sleep In A Crib?
Newborn baby can sleep in a crib, on a firm mattress with tight-fitted crib sheet, with and no accessories in the sleep space.
This means no bumper pads – they actually pose a threat of entrapment, suffocation and strangulation.
Crib is a bigger space and it may take some time for baby to adjust to this new sleeping environment (it's a huge change from a snuggly tight womb). To help baby sleep comfortably, make sure to create bedtime routine.
You may also want to try swaddling your little one. Swaddle is a great solution to keep baby warm and snuggly (just like in mom's womb). In a swaddle, baby feels securely and is safe from loose blankets. If baby is showing signs of rolling over or starts to pull up themselves, switch the swaddle for sleep sack.
---
The purpose of this article is informative. It's not a substitute for professional medical advice or medical care. Remember: safety first! Consult your doctor/pediatrician in case of any doubts. The author of this article does not accept any responsibility for any liability, loss or risk, personal or otherwise, incurred as a consequence, directly or indirectly, from any information or advice contained here.