One of the most important thing to figure out as new parents is where will your baby sleep in. Your choice boils down to 3 options: bassinet vs. mini crib vs. full sized crib. Each has various features that you may need, as well as different age and height restrictions.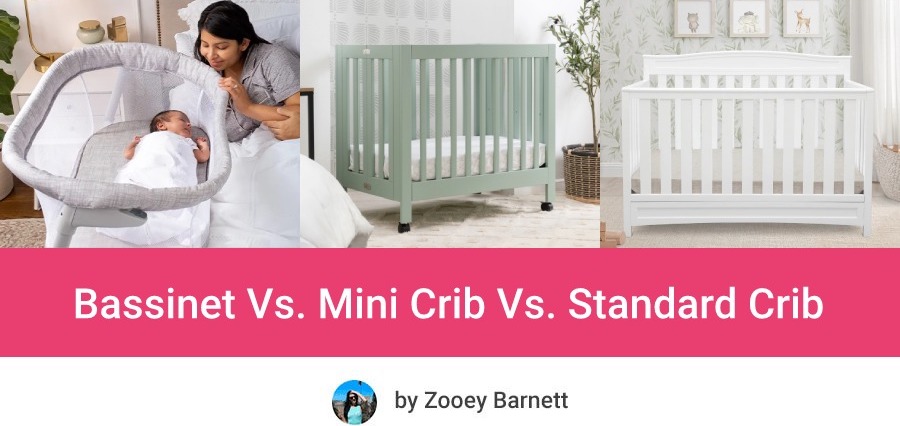 Your baby's safety is crucial thing that's why you should only consider baby products that meet or even exceed standards set by the Consumer Product Safety Commission.
Whether you're hesitating between baby crib vs. bassinet1 or mini crib2, make sure to check if its safety features and design meet CPSC requirements.
Key Differences Between Bassinet Vs. Mini Crib Vs. Standard Baby Crib
The main difference between bassinets vs. mini cribs vs. full sized cribs is the size and how long your child can sleep in it.
Bassinet is the smallest of the 3 and for most babies it is suitable up to 6 months of age.
On the market you can find also bedside sleeper (type of a bassinet) which can be set right next to parents' bed and their mattress height.
Bedside bassinet has one pull-down side, to make it easier for moms to take the baby in and out of it. This is very convenient for breastfeeding mamas and women after C-section.
Mini crib is bigger than a bassinet, but smaller than a standard crib. Nevertheless, it has longer usability than a bassinet – usually parents use it up to 1.5-2 years. Most of the modern mini cribs are convertible and turn into a toddler bed.
Full sized crib is the most versatile option and it also takes up the biggest amount of room, so it's a good choice for parents who have a bigger house and a nursery for their newborn baby.
Almost all modern standard cribs convert into toddler beds, day beds and even twin size beds. This means that convertible crib is an investment for years and can be used even until your child goes to mid school!
Another differences between bassinet, mini crib and standard crib are the shape and the cover. Bassinets are usually oval or rounded, have lower walls and come with some sort of a canopy or hood that you can extent when your child needs some shade from light.
Mini cribs and standard sized cribs are rectangular and have higher walls – thanks to that they can be used until the child reaches 35 inches in height. These types of baby bed don't come with covers or canopies.
What Is A Bassinet?
Bassinet is a sleep space designed for newborn babies and infants up to about six months and about 20-25 pounds. Make sure to check the age, weight and height restrictions for your bassinet given by the manufacturer – using it above those limits is not safe for the baby!
Bassinet mattress is usually 1″-1.5″ tall, and included in the price. This is what differentiates bassinets from cribs which are best to use with a 6 inch mattress and in most cases you need to buy it separately.
This type of baby bed was designed to allow parents to keep their baby close to their bed at night. Majority of bassinets allows you to adjust its height to your mattress height and pull it right next to parents' bed.
Generally speaking, the biggest benefit of having a bassinet in the first few months of baby's life is that it gives you quick access to your little one when it's time to nurse in the middle of the night or when your child wakes up at night crying and needs comforting.
In the first few months, babies wake up several time at night and it's just convenient to keep them within reach and not having to get out of bed every time. This is especially helpful if you're a breastfeeding mama or if you delivered by C-section. If you will having or had Cesarean delivery, check out my list of the best bassinets for C-section moms.
If you plan on keeping the bassinet in baby's nursery and also sometimes in your bedroom, make sure to get a lightweight bassinet with wheels that is easy to move around the house.
Reasons To Get A Bassinet – Pros
In my opinion, bassinet is a fantastic option if you have limited space in your apartment or don't have a separate nursery for your baby in the first months.
It doesn't take up a lot of space, so it's good solution if the baby sleeps in parents' bedroom. It can be also a great choice for grandparent's house.
Bassinets are also lighter and lots of them have wheels which make them easily portable.
Most bassinets right now work as a bedside sleeper – they have an adjustable height and can be pulled to parents' bed. Some have a swivel cradle so the bassinet can actually sit over parents' mattress.
This makes it a lot easier to get the baby in and out of the bassinet at night when it's time for feeding, especially for moms who had C-section. There's no need to scoot down the bed, because your little one is right next to you.
Bassinets allow you to sleep with your baby without actually sharing the bed (co-sleeping is actually not recommended by the AAP3).
Some of the baby bassinets like Snoo or its cheaper alternatives have built-in motions and soothing music which may be helpful for putting baby to sleep or comforting a colicky infant.
There are even some bassinet models that are equipped with a night light or convert into a changing table.
What To Keep In Mind Before Getting A Bassinet – Cons
In contrast to traditional cribs and mini cribs, bassinets can be used only during the first 6 months or until the baby reaches 20/25 lbs in weight.
Because it's only a temporary solution and babies quickly outgrow bassinet, lots of parents decides to skip it and just go for a crib (or mini crib) to avoid additional expense.
What Is A Mini Crib?
Mini crib is just a smaller version of a standard crib, but in most it has the same functionality.
Dimensions of mini cribs are usually up to 40″ x 29″. Thanks to smaller footprint, mini crib is a good solution for smaller spaces. Mini cribs fit mini mattresses with dimensions: 38″ x 24″ and require bedding in that specific size.
Even though mini cribs are smaller than full sized cribs, you can use them for the same period: until baby reaches 35″ in height or starts to climb out of it which is usually around 18-24 months.
This is because mini crib has only smaller footprint, but the rails are the same as on traditional cribs.
You can also adjust mattress height – usually there are 2-4 height settings.
The best thing about mini cribs is that they are not only for newborns and toddlers up to 2 years. If you choose a convertible mini crib it will serve you for more years – because you'll be able to turn it into a toddler bed or a day bed.
Your child safety should be your priority that's why you should only choose a mini crib that is Greenguard Gold Certified – meaning it uses non-toxic wood and paints.
Similar to bassinets, some mini cribs feature wheels which makes the extremely easy to move from one room to another. Some models have also foldable design – you won't find this feature on standard cribs.
To sum up the comparison of mini crib vs bassinet, the former one is only slightly bigger, but can be used for a longer period than just first 6 months. But keep in mind that it doesn't have motion or music feature.
Reasons To Get A Mini Crib – Pros
The biggest advantage of a mini crib is that it's smaller than a traditional crib, but its functionality and usability is not compromised. You can use it until your baby is 35″ tall, just like a full sized crib.
Lots of mini crib converts into toddler bed or even a day bed with special convert kit.
Mini crib is a fantastic space-saving solution for small nursery or room sharing. It provides comfortable and safe sleep space for the baby, but it's less cumbersome than a standard crib.
Moreover, some of the mini cribs are equipped with removable wheels which makes them more portable. This also means that you can place it right next to your bed for easy access to your child at night and during the day move it around the house (for naps) without a hassle.
According to many parents, convertible mini cribs are better alternative to standard sized cribs because they take up less space, weigh less and cost less!
So if you're short on space in your apartment and want to save money – choose a mini crib instead of a standard crib.
Some mini cribs have foldable frame which is another advantage for parents who want to have multiple children. You can simply fold down the crib and store is easily for the next child.
What To Keep In Mind Before Getting A Mini Crib – Cons
Some mini cribs with wheels may feel less sturdy. Make sure that the one you're choosing doesn't wobble and really stays in place when the wheels are locked.
Another thing to keep in mind is that mini cribs require special bedding. Standard crib mattress is bigger than mini crib mattress and both fit different sheet size.
What Is A Standard Crib?
Standard full-size cribs are designed to fit a standard mattress with dimensions: 52″ x 28″.
They feature adjustable mattress position and majority of them can be converted into toddler beds or even twin beds!
Standard cribs are the heavier and larger option out of these, they don't have wheels so it cannot be easily maneuvered, and they don't fold down. If portability or folding frame is an important factor for you, skip a full size crib and go for something more compact.
However, you should keep in mind that this type of crib will serve you for the longest period – even till your kiddo turns 10 – if you turn it into a twin bed. In the long run, this is definitely most cost-effective option, especially if you go for more affordable brands like Delta Children or DaVinci.
Moreover, it is the sturdiest and most durable option for baby sleep.
What I also like about these cribs is that some of them come with an extra storage space like an underneath drawer or attached changing table with some shelves for baby's diapers, wipes, diaper rash cream, burp clothes and more.
By the way, if you choose this type of a crib, make sure to get a few baby crib sheets that fit the mattress tightly, without any loose fabric. Here's my list of the best crib sheets for babies with sensitive skin and eczema >>
Reasons To Get A Standard Crib – Pros
Most of the modern full size cribs are convertible cribs that can be turned into a toddler bed, day bed and twin bed.
This makes them the most versatile and multi-functional option when you're looking for a safe sleep space for your kiddo.
Cribs have adjustable mattress height so they really grow with your baby.
Full size crib is suitable until your little bundle of joy reaches 35″ in height (or starts to try climb out of it).
Most parents use it for 1-1.5 year. After that period, you can turn your convertible crib into a toddler bed, and then into a twin size bed, when your kiddo is all grown up. Moreover, it usually has higher weight limit and with the convertibility feature it's an investment for years!
Standard sized cribs feel stronger, sturdier and more durable than mini cribs and bassinets.
What To Keep In Mind Before Getting A Standard Crib – Cons
One of the differences between crib vs. bassinet is that the former one requires bigger mattress, up to 6″ tall, which means additional expense for parents.
Moreover, it takes up way more space than a bassinet or mini crib, it may feel quite bulky (especially in small spaces), and heavy. If you're looking for a portable crib, this is not a good choice for you.
Choosing Safe Place For Baby Sleep
To decide between mini crib vs. bassinet vs. crib, consider the following factors:
Age Recommendation
Bassinet is just a temporary solution for newborns and small infants, during the first few months.
Mini crib and traditional crib can be used up to 18-24 months (or even longer if you convert them into toddler beds).
Make sure to choose age appropriate sleep space for your little one!
By the way, older babies can try to climb out of the crib before they reach age or height limit. I prepared a few tips how to prevent kiddos from climbing out of the cribs plus a list of the best cribs for tall babies (read the article here).
Convertible Design
Bassinets can be used only for specific period (up to around 6 months) and they don't have a convertible design.
On the other hand, you can get a convertible mini crib or standard convertible crib that turns into a small bed for toddler or even a twin-size bed for older kids.
Size
For small spaces, bassinet or mini crib will be the best option, because they take up less space than standard cribs. It's a good solution especially if you want to keep your baby at night in your room.
Because the bassinets are usually height-adjustable, they are convenient to use for short and tall parents. With cribs and mini cribs it's a bit different, even if the mattress position is adjustable, it can be more difficult to put the baby in and out of it, if the crib frame is very tall. If you're a short mama, check out these cribs for short parents.
Portability
This is an important feature, if you're looking for baby's bed for grandparents house or if you want to move it from one room to another easily.
Some bassinets and mini cribs have wheels which makes them more portable.
Easy Access
If you want to keep your baby close to you at night, bassinet is the best option, particularly the one with rotating cradle that basically sits on top of parents' mattress or has pull-down wall on one side.
These are very important features for mom convenience, because they ensure quick and easy access to the baby at night, without getting out of the bed.
Mini cribs with wheels provide easier access to your little one than standard crib but you will need to get up to take the baby out of the crib.
Budget
If you have a bigger budget you can go for a convenient solution: bassinet and baby crib.
If you're short on money, getting an inexpensive convertible crib + mattress will be a better solution and a long-term investment. For parents who don't have a lot of free space at home, mini crib will be a good alternative. It's also a great choice for room sharing.
---
The purpose of this article is informative. It's not a substitute for professional medical advice or medical care. Remember: safety first! Consult your doctor/pediatrician in case of any doubts. The author of this article does not accept any responsibility for any liability, loss or risk, personal or otherwise, incurred as a consequence, directly or indirectly, from any information or advice contained here.
Sources of photos included in the top picture: