Breastfeeding and babywearing are a fantastic combination. You can actually nurse your little one not only in a baby wrap, but also in a soft-structured carrier like the Lillebaby Complete. Here are my tips for making the breastfeeding session in a baby carrier easier and more comfortable for you and your child.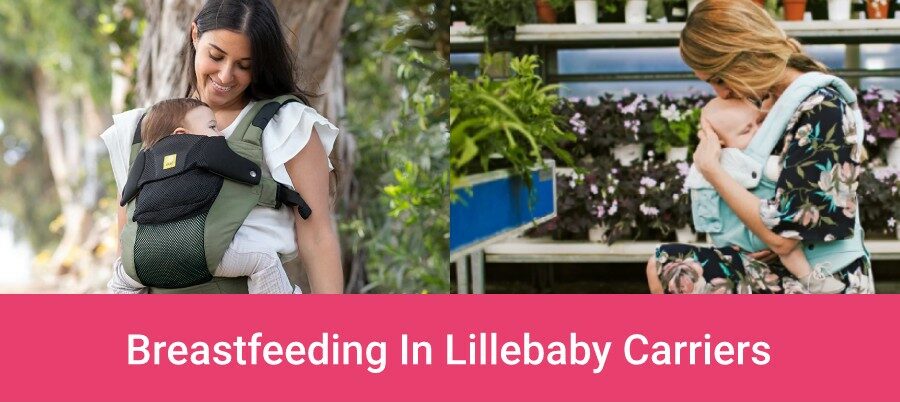 Babywearing is one of the joys of early parenthood and is full of proven benefits for both babies and parents. One of the advantages to babywearing is the ability to comfortably nurse babies while on the go.
You read that right, breastfeeding doesn't only have to confine mothers to a 30-minute sitting session on the couch. Feeding baby while on an outdoor walk, tending to other children, attending events, or out shopping, are all possible in a baby carrier.
August is National Breastfeeding Month and in this article we'll share some tips on how you can successfully breastfeed in a baby carrier like a pro.
This article is not a substitute for medical advice. It contains affiliate links.
How To Nurse In A Soft-Structured Baby Carrier
Once you and the baby feel comfortable with nursing and the babywearing, it's time to combine the two. There are several things you can do to make it more comfortable for the both of you.
1. Wear Comfy Clothes
First, wear clothing that is breathable, hassle free, and comfortable to use. There's nothing more frustrating for a parent and hungry baby than clothing that is too overly complicated. The double shirt method works great for quick access and discretion when out in public.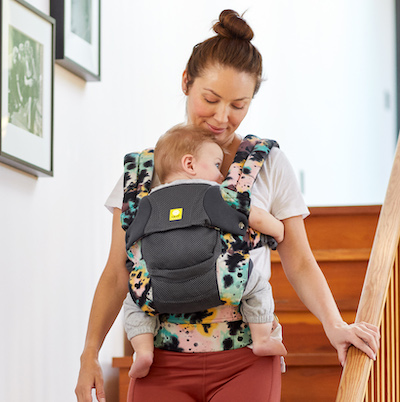 2. Adjust The Carrier
Once you're ready to nurse the baby in your carrier you'll first start by adjusting the waistband. Loosen the waistband a few inches to lower the baby's position, bringing their mouth to the nipple level for a good latch.
To allow space for baby to move their head freely while remaining supported in the carrier, loosen just one shoulder strap at a time, working with the strap that is on the opposite side of the breast baby is feeding from.
The LILLEBABY Complete 6-In-1 Carrier features two-way adjustable shoulder straps that gives the wearer the option to loosen straps in a way that is most convenient for them and baby.
If you're looking for the most comfy and best baby carrier for nursing, here's my full list.
3. Support Baby's Head
While baby is nursing you may feel the natural instinct to keep your hand behind their head for support. However, breastfeeding in a carrier can be done totally hands-free! If your carrier has a built in headrest, flip it up and secure one or both sides to provide extra support for baby's head. This also provides more privacy for the wearer.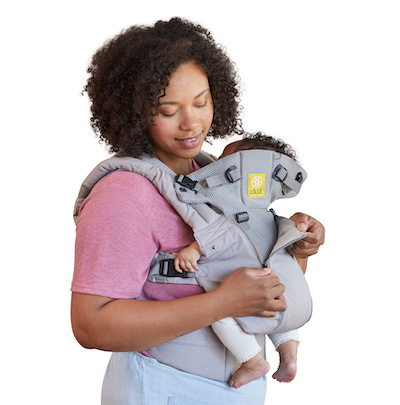 4. Re-Position The Baby
Once baby has finished feeding, now it's time to retighten the straps on the carrier and bring the baby back into the proper carrying position. You can do this while baby remains in the carrier.
Let's start again with the waistband. By placing your hand under the baby's bottom, support their weight by lifting them higher on your chest and tighten the waistband of the carrier at the same time.
With the baby's placement at the ideal height (close enough to kiss) you'll now want to retighten the shoulder straps.
5. Be Patient With Yourself
Before attempting to breastfeed in a carrier it's important to understand that there's a learning curve to both breastfeeding and babywearing.
I always suggest that mothers master breastfeeding and babywearing separately before combining the two, as this will be a big help before transitioning into nursing in your carrier.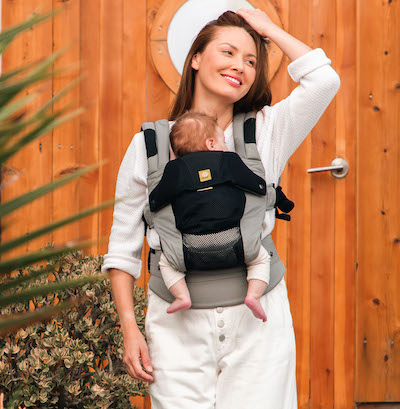 The American Academy of Pediatrics recommends exclusive breastfeeding of infants for the first six months of life. This means countless hours of a mother's life is dedicated to exclusively feeding her baby. Combining the benefits of breastfeeding and babywearing is a game changer!
Article By Guest Contributor: Azja Pryor, CBWS Babywearing Educator
---
The purpose of this article is informative. It's not a substitute for medical consultation or medical care. Remember: safety first! Consult your doctor/pediatrician in case of any doubts, and before you introduce tummy time. The author of this article does not accept any responsibility for any liability, loss or risk, personal or otherwise, incurred as a consequence, directly or indirectly, from any information or advice contained here. The article contains affiliate links – your support helps us run this blog!
Source of pictures:
Pictures of Lillebaby carriers belong to Lillebaby brand. Source: https://www.lillebaby.com/