Getting the best Diaper Genie Alternative is a fantastic option for all parents on tight budget who want to make diaper changes a bit easier.
You don't need an expensive diaper pail to keep stinky poopy diaper locked away!
Here I'm presenting my ranking of most reliable inexpensive diaper pails & other cheap alternatives.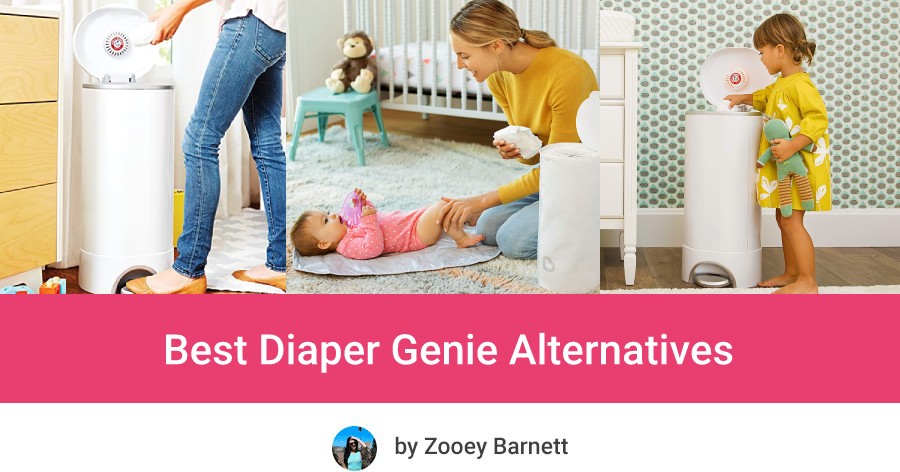 This article is NOT a substitute for medical advice. It contains affiliate links.
Diaper changes are arguably one of the least fun parts of parenting. Before your child is potty trained you will change thousands of diapers (it's thought the average child gets through around 5,000 diapers!).
As your baby grows, their rolling and squirming skills will make for interesting nappy changes.
With all of that in mind, it's no wonder parents rave about Diaper Genies. These clever inventions make some of the fuss out of diaper changes.
The Playtex Diaper Genie can hold up to 30 newborn diapers. The built-in antimicrobial inhibits bacteria growth, and the carbon filter are supposed to keep bad odors from leaking out.
It seems to be an impressive piece of equipment, but is it worth the price tag and does it really work that well?
Many parents rave about their Diaper Genie (and other pricey diaper pail options), but I don't think this is a must-have item, especially that it not always keeps the smell at bay!
There are better and more affordable solutions! In this article I'm sharing my favorite and best alternatives to Diaper Genies on the market.
Best Features
❤️ Way cheaper than Genie and doesn't require special refills
❤️ Holds lots of diapers and locks stink away
❤️ There's a foot pedal for hygienic hands-free use
❤️ Converts into general trash can once you're done with diapers
❤️ Works with any plastic bag
❤️ Unique disposal system ensures no smell gets out
❤️ Very easy to clean
❤️ Great capacity
❤️ It's a regular trash can but lots of parents recommend it as an inexpensive diaper pail alternative
❤️ Holds 15 diapers and keeps the odor locked in
❤️ Works with old grocery bags
❤️ Removable inner bucket - easy to empty and wash
advantage
✨ Recommended by 8300+ parents!
✨ Recommended by 5500+ users!
Best Diaper Genie Alternative
Best Features
❤️ Way cheaper than Genie and doesn't require special refills
❤️ Holds lots of diapers and locks stink away
❤️ There's a foot pedal for hygienic hands-free use
❤️ Converts into general trash can once you're done with diapers
advantage
✨ Recommended by 8300+ parents!
Best Features
❤️ Works with any plastic bag
❤️ Unique disposal system ensures no smell gets out
❤️ Very easy to clean
❤️ Great capacity
Best Features
❤️ It's a regular trash can but lots of parents recommend it as an inexpensive diaper pail alternative
❤️ Holds 15 diapers and keeps the odor locked in
❤️ Works with old grocery bags
❤️ Removable inner bucket - easy to empty and wash
advantage
✨ Recommended by 5500+ users!
Last update on 2023-09-30 / Affiliate links / Images from Amazon Product Advertising API
Best Diaper Genie Alternatives
Keep reading to find out which alternatives to Diaper Genie made it onto the list:
The Dekor Classic Diaper Pail is the best inexpensive Diaper Genie alternative on the market. This diaper disposal system is easy to use and comes in many colors to match your nursery decor.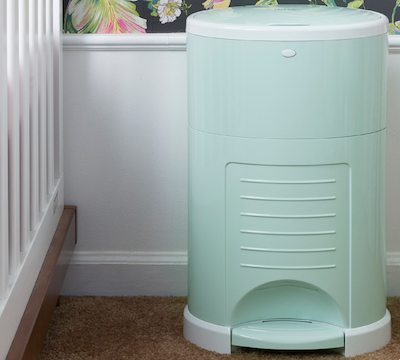 Parents love the Dekor Classic because the hands-free design means you can dispose of soiled diapers quickly and hygienically. The inner trap door lid closes quickly to keep odors locked inside. The two sealed lids ensure odors can't escape.
You will love how easy it is to empty the Dekor Classic. The front-opening design means it's convenient and easy to remove the bag once it's full.
The Classic version of Dekor can fit up to 45 newborn diapers. If you feel like it's not enough for your needs, you may want to check out the bigger version – this Dekor Plus.
Unlike its competitors, the Dekor Classic refills are affordable, meaning this product pays for itself in the long run.
Another thing I love about the Dekor Classic is that regular trash bags fit into the pail, so if you've run out of refill bags, it's not a disaster, you can grab a trash bag, and you're good to go.
It's also a good option for parents on tight budget – you don't have to spend a fortune on special bags like with Genie. You can use cheaper trash bags.
The Dekor diaper pails transform into regular kitchen trash cans once your diaper-changing days are behind you. Simply remove the inner swing lid, and you can use it as a general trash can. Isn't that neat?
Creative Baby Diaper Pail features unique and very effective piston system that traps odors and prevents any stinky smell from spreading around.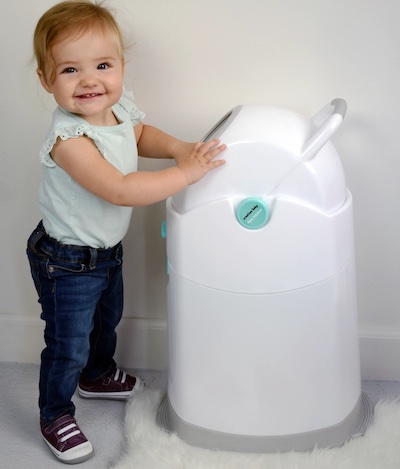 Here's how this system works: on top of the pail there is a hole where you put soiled diaper, then you need to flip the handle – it will drop the diaper in the pail. Flip it again to original position and it's ready for next time.
Parents love this feature because it means they can dispose of dirty diapers without releasing a bad smell into the room.
Although it's not a hands-free option, you can operate it with one hand so it's still convenient to use.
The biggest advantage that makes parents prefer this diaper pail over the original Genie, is that it fits kitchen trash bag. This makes it an easy and affordable option because you don't need to commit to buying expensive special bags.
The downside to the Creative Baby Pail is probably the aesthetic. It looks like a functional and practical garbage pail you might find in a public restroom; it doesn't have the stylish appeal of some of the other models.
For me the capacity is more important than the aesthetics – this pail can hold approx. 50 diapers. When using diaper size 3 and 4, you can empty it once a week.
One more thing to keep in mind – the handle may be really tempting to fiddle with for sneaky toddler. I found mine once trying to drop his toy cars in! Thankfully, this unique hygienic design doesn't allow kids to reach and touch disposed diapers.
Safety 1st Diaper Pail is a big pail that can hold up to 50 diapers. This is an excellent option for parents who don't want to empty the bin daily.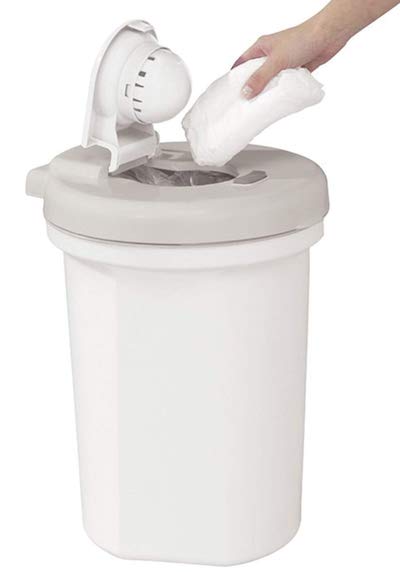 Some parents say it's sealed really well and no stinky smell gets out of it. But a few customers complained that it doesn't hold too many diapers before the smell gets bad.
So even though it's capacious, you will probably have to empty if every few days to prevent foul odors.
The good news is that this pail has a cup for deodorizer. Parents recommend DIY odor-absorbents like baking soda or carbon filters.
This is one of the cheapest alternatives to diaper pails and the best thing about it, is that it doesn't require special bags. You can just use inexpensive regular garbage bags.
Two things to keep in mind. This plastic pail probably won't last to multiple children, and you will most likely need to get a replacement after a few months. Thankfully, it's still cheaper solution than pricey Diaper Genies.
Its design is nothing fancy, so it may not look the best in a cute nursery.
4. Dekor Mini Diaper Pail – Best Compact Diaper Pail For Small Space
If you're looking for a pail to fit in a smaller nursery, the Dekor Mini is the best diaper pail alternative for small space. This compact diaper pail lets you enjoy the odor-fighting benefits of a diaper pail without having to lose as much space in your nursery.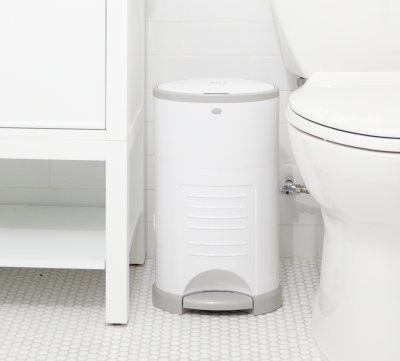 Most pails are big and bulky because they're designed to hold as many diapers as possible. The Dekor Mini, however, is designed to fit neatly and efficiently into a small space. The downside of having a smaller pail is that it will need emptying more frequently.
The Dekor Mini is similar in design to the Dekor Classic listed above (but, of course, on a smaller scale). The Dekor Mini uses the same odor-lock technology to keep bad smells out of your home. In addition, the Dekor Mini is easy to use hands-free, making it a hygienic option.
One of the best things about the Mini diaper pails is the ease of use. It takes just 20 seconds to change the bag, and the continuous refill liners make emptying the diaper pail a breeze.
Lots of parents uses these compact diaper pails with regular trash bags or more eco-friendly reusable cloth bags.
The Munchkin Toss Disposable Diaper Pail is portable and ideal for travel. It has collapsible design will fit easily in your diaper bag when empty. Then, when needed, simply expand the pail to use.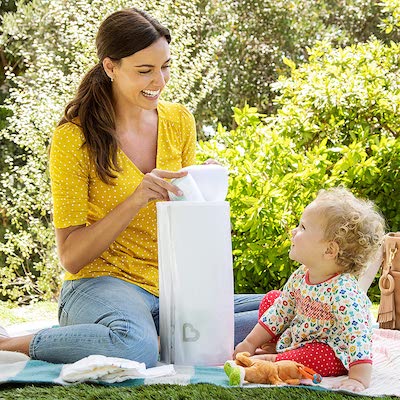 The freestanding and durable pail is easy-to-use and holds up to 30 newborn diapers. The resealable lid features an odor-trapping panel to keep bad odors locked inside. Once the pail is full, you simply toss it in the trash.
New parents love how easy the Munchkin Toss diaper pail is to use. It's the perfect odor-busting dirty diaper storage system for road trips or vacations with your little one.
Becoming a parent is no reason to stay home all the time. Munchkin makes travel with a baby easier than ever.
The best thing about the Munchkin Toss is the price tag – the affordable price means it won't eat into your vacation budget.
The PurePail Go Portable Diaper Pail is great for when you're on the go. If you're in the countryside or camping, and don't have access to changing facilities, a portable pail is a great solution.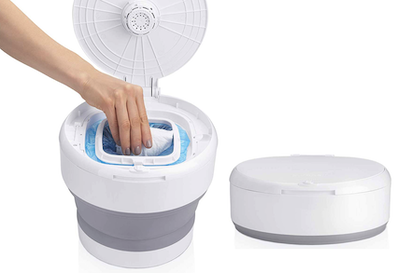 The PurePail Go is an expandable diaper trash can that collapses to 3.5 x 9.75 inches for easy transportation. It fits in medium size diaper bags, but it does take up a lot of the space.
When in use, this compact diaper pail stands taller and can hold up to 12 newborn disposable diapers / 4-5 cloth diapers.
Parents rave about this pail because it keeps the odor and moisture from dirty cloth diapers locked in. The carbon filter soaks up odors, and the seals prevent any bad smells from escaping.
This product offers all the convenience of a portable diaper pail with the odor control you would expect from a full-size pail.
If you're looking for a portable product you can use on days out, this is a great option. You can relax knowing you don't have to worry about having a stinky diaper bag!
What Can I Use Instead Of A Diaper Genie? – Low-Cost Alternatives To Diaper Pails
If you don't have a diaper pail, here are some alternatives to diapers pails you can try:
Regular Trash Can
A regular trash can will hold diapers, but it won't be as good at odor-control as diaper pails. Nevertheless, many parents are happy with this low-cost solution.
PRO TIP: Lots of parents recommend this trash can as a great low-cost alternative to Diaper Genie. It has a separate bucket with a handle – it's easy to empty and you can wash it in the sink to always keep it hygienic.
Disposable Plastic Grocery Bags
Disposable grocery bags are an option if you're going to take them to an outdoor trashcan regularly. However, old grocery bags feature tiny holes that will allow the smell of the diapers to contaminate your house.
Dog Poop Bags
You could use a dog poop bag to contain each dirty diaper and then pop it into the general household waste. However, this means you'll be using one plastic bag per diaper, which may not appeal to eco-conscious parents.
Disposable Diaper Bags
Disposable diaper bags are an alternative to the dog poop bags mentioned above. Ubbi sells lavender-scented plastic bags made from recycled materials, which you can order here.
Wet Bags
A wet bag is a great place to store soiled diapers before washing if you use cloth diapers. Reusable waterproof bag like this one will contain any smells and moisture within the bag. Best of all, it can go straight into the washing machine along with the cloth diapers.
>> Best reusable wet/dry bags for cloth diapers
Reusable Diaper Pail Liners
The best cloth diaper pail alternatives available are reusable liners (like this one) which are essentially big reusable wet bags designed to store soiled diapers. They are machine washable so that they can be put directly into the washing machine on your next diaper load.
Natural Diaper Smell Hacks – DIY Odor-Absorbents
Whichever diaper pail alternative you choose, here are some tips for making it odor-free, hygienic and fresh.
Vinegar
Using vinegar is an effective way to get rid of the stink. Prepare a spray mixture from 1/4 cup of vinegar, 1/3 cup of water and 40 drops of tea tree oil. Spray It into your diaper pail alternative.
Carbon Filters
Place a carbon filter (with safe activated carbon) in pail. It absorbs odors really well.
Baking Soda
Placing 1/2 cup of baking soda in the bottom of the diaper pail alternatives is a great DYI idea for reducing poopy diaper odors. You may also want to sprinkle baking soda inside the plastic bags or liners you're using. Do it every week at least.
Activated Charcoal Bags
Bags with activated charcoal place in the bottom of diaper pails are very helpful for removing odors, absorbing moisture and preventing mold growth.
What To Look Out For In Diaper Pail & Genie Alternatives
When choosing a pail for dirty diapers, you should consider the following factors to ensure you select the right product for your family:
Liners / Refill Bags/ Plastic Bags
Most diaper pails will only work with branded refills which can be expensive. Work out what the additional cost of refill liners will be in advance. Many parents prefer diaper pails that take general trash bags because of the convenience and affordability.
Seals
The seals on the pail keep the smell trapped inside. If you want a nursery that smells fresh, choose a product with top-quality seals. A poorly sealed pail will fill your baby's room with the stink of soiled diapers.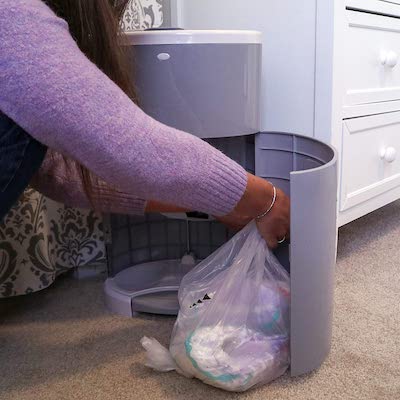 Size & Capacity
This is a balancing act. It will dominate the nursery if it's too big and may not look great. But, on the other hand, if it's too small, you'll be forever changing it.
Shape
Some diaper trash cans are short and stocky, whereas others are taller and more streamlined. Figure out where the product will go and find one that fits neatly in the space. You may be limited by the size and layout of the nursery.
Ease Of Emptying
If changing the liner is going to be a hassle, you're not going to love the diaper pail. You want a liner that is quick and easy to change.
Budget
You could spend a small fortune on a pail if you wanted to, but it's important to stick to your budget. There is no point getting into debt for a place to store stinky diapers.
The budget-friendly products listed above are all fantastic. You don't need to break the bank to find baby products that work.
Best Diaper Pail Alternatives – FAQ
Here are few more useful details that should help you narrow down your choice.
Do You Really Need A Diaper Genie?
No, you don't really need a Diaper Genie; however, you do need somewhere to keep those poopy diapers. Dirty diapers can quickly pile up, so you'll need somewhere to store them hygienically until they can go in the outdoor garbage bin.
Are Diaper Pails Worth It?
Yes, diaper pails are worth the money. Don't underestimate the value of convenience, especially when you're a sleep-deprived parent caring for a beautiful but demanding newborn baby. It might sound like an unnecessary luxury, but it will make your life easier.
You're going to need to dispose of a lot of dirty diapers over the next few years. So it makes sense to invest in a diaper pail that will help you do that in a simple, hygienic and convenient way.
Diaper disposal systems may seem expensive, but if you divide the price by the number of diapers you'll be filling it with over the next two years, it's quite reasonable.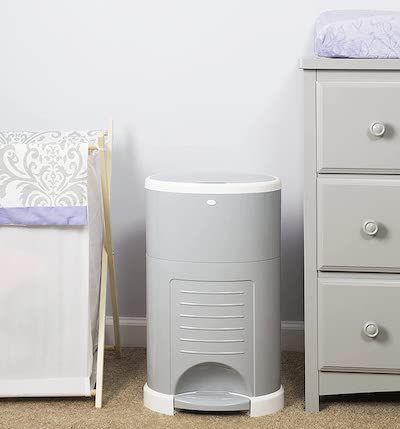 Diaper Genie vs. Munchkin Step
Both diaper pails are really similar, both have a slick tall design and can hold many newborn diapers. These are two most capacious diaper pails on the market!
Moreover, both pails features a foot pedal for hands-free diaper disposal.
Another thing that is common for both pails is the need for special bags which means that in the long run the cost adds up.
What distinguishes Munchkin Step Diaper Pail is that it uses technology that twists the refill tight when you close the lid. This completely prevents stinky smell from creeping out. There is also a lavender-scented baking soda puck that absorbs bad odors.
On the other hand, Genie has built-in antimicrobial to prevent bacteria growth, plus carbon filter that takes the stink out of dirty diaper disposal.
Lots of parents wonder which diaper pail is better and more pocket-friendly in the long run: Munchkin or Genie?
I went through dozens of customer reviews and it seems like most parents agree that Munchkin Step is better than the new version of Diaper Genie.
Emptying and switching the bags is way more simple with Munchkin, plus it looks better and truly locks foul odors away.
However, it seems like the original Genie has slightly better capacity which means less frequent emptying.
Diaper Genie vs. Ubbi
Ubbi and Genie are two best-selling diaper pails, but which one is actually better?
They both have almost the same price. But what distinguishes Ubbi is that a regular trash bag fits in it, while Genie requires you to pay extra for special refills.
However, you should consider also the functionality of each product, not just the price.
What parts like about Genie Pail is the foot pedal for completely hands-free diaper disposal. With Ubbi you have to open the lid with your hand.
Another difference is the capacity – Ubbi fits more disposables than Genie.
A huge advantage of Ubbi is its steel construction, instead of plastic. Steel is not porous as plastic and it doesn't absorb stink that much.
I know that Ubbi initial price is a bit higher than Genie's, but from a long-term perspective, this is more budget-friendly choice, because you don't have to spend a fortune on refills.
How Do I Dispose Of Dirty Diapers Without A Diaper Pail?
The best way to dispose of diapers without a diaper pail is to pop them in a general waste bin. Disposable diapers cannot be recycled, so do not place them in a recycling bin.
If you don't have a diaper disposal system, you could use a dedicated trash can instead. The trash can will need a lid to lock away bad smells. A foot pedal trash can is ideal for a hands-free hygienic place to dispose of nappies.
If you use a dedicated trash can, you will need to empty it at least every other day to keep smells at bay. Choosing a smaller trash can will encourage you to change it more frequently, stopping bad odors (and bacteria) from developing.
How Do You Make A Diaper Genie?
Regular trash cans can be turned into DIY diaper disposal systems. All you need is a trash can with a lid (ideally a swinging lid for hands-free use) and a plastic bag to line it.
The swing lid will keep most of the odor inside the bin, but you will need to empty it more frequently than a pail designed for nappies. Add one of the DIY odor-absorbents to minimize the odor.
What Can I Use As A Diaper Pail For Cloth Diapers?
You don't really need a diaper pail for cloth diapers. However, you do need someone to store them until they get washed. A washable diaper wet bag is an easy and convenient storage solution because it can go straight in the wash with the diapers.
---
Related articles:
>> Best Organic, Non-Toxic & Biodegradable Disposable Diapers
---
Sources of pictures:
---
The purpose of this article is informative. It's not a substitute for professional medical advice or medical care. Remember: safety first! Consult your doctor/pediatrician in case of any doubts. The author of this article does not accept any responsibility for any liability, loss or risk, personal or otherwise, incurred as a consequence, directly or indirectly, from any information or advice contained here.
Your trust is really important to me: This article includes affiliate links to products that I think are useful for our readers. If you make a purchase through these links, I may earn a small commission at no extra cost to you. Your support helps me run this blog – thank you!