In my Stokke Steps review I am going to share my experience with this high chair. We've been using it for baby-led weaning with our 3 kids for over 4 years. Now we know that Steps high chair has plenty useful feature, but is it really a MUST-HAVE?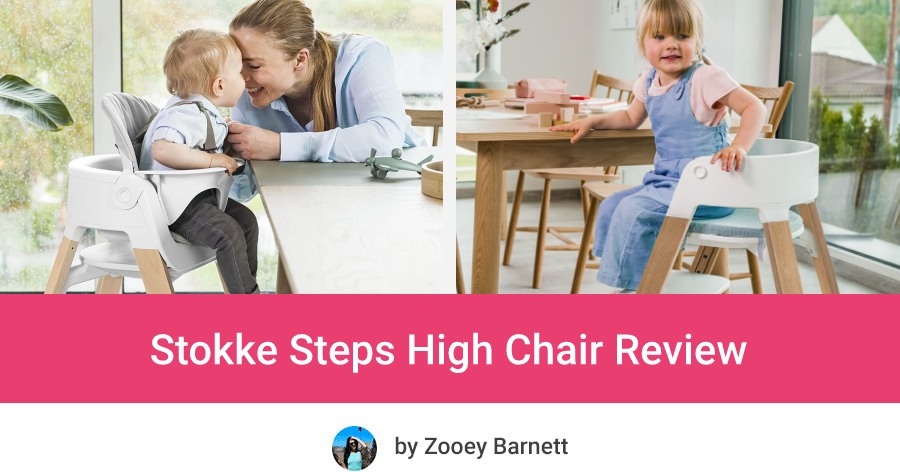 This article is NOT a substitute for medical advice. It contains affiliate links.
Unless you like mealtimes full of excitement and danger, high chairs are a necessity. Plenty of cheaper ones will do the job, but if your little one is going to spend in it quite some time learn to eat independently, you may want to invest in more comfortable chair with useful adjustments, that will grow with your kiddo.
When we started BLW with our first child, we decided to get the Stokke Steps high chair and since then it has served us for over 4 years!
There are so many things that we love about Steps. It's so lightweight, yet it feels really sturdy and doesn't wobble like many cheap highchairs.
Who likes to eat with dangling feet, right? Steps has 5-position footrest which is super easy to adjust without any tools.
It has adjustable seat backrest to provide proper support for young and small infants. The thing that I really like about this Stokke high chair is that the child doesn't slide down from the seat – in contrast to many other high chairs.
Oh, I should also mention the plastic tray which doesn't have any cervices where the food could get stuck. I just love how quick and easy it is to clean.
The best feature in Steps is that it grows with the child. You can use it with or without the tray or bring it to your dinning table. For kids above 3 years it converts into a dinning and desk chair. As you can see this is an investment FOR YEARS!
>> Get 10% OFF Stokke Steps High Chair <<
I can't deny that Stokke Steps is super useful and makes mealtimes more convenient (for both the baby and parents). But it has a really steep price.
So is it really worth the hype? Or should you rather save your money and choose cheaper alternative? In my Stokke Steps high chair review I am going to answer these questions.
Stokke Steps High Chair Review – Which Version To Choose?
This stylish, quality product will cost you more than many high seats but justifies its price by adapting as your child grows. Stokke high chairs have a well-earned reputation.
The Steps comes in three versions called: Complete, Chair, and High Chair.
I have the Complete version, which includes a range of accessories but not the bouncer seat that makes it suitable to use from birth.
If your child is already too old for the baby seat, or you don't need the tray, you might not need the Complete version. Instead you could choose the high chair or chair version.
Here's what comes in each box:
Stokke Steps Complete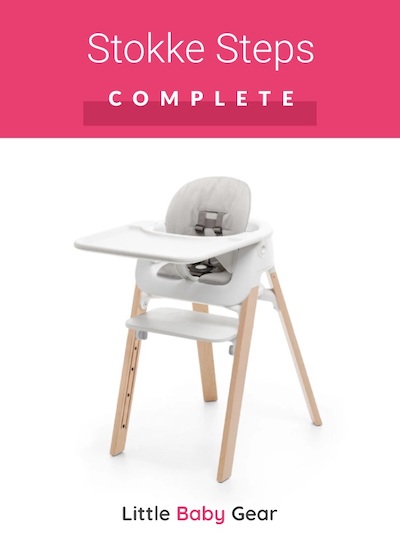 Complete version includes:
Chair with wooden legs and plastic seat
Baby set (which looks like a bucket seat)
Harness
Tray
Backrest cushion for extra support for infants
This bundle is usable from 6 months to 3 years. This "all-in-one" version is the most versatile and the most comfy option, with the highest price tag.
When I was getting the Steps, unfortunately there was no sales! But last time I checked The Tot store they were offering 10% discount (if you sing up for their newsletter). This is an excellent opportunity to get this pricey highchair at more affordable price. Check here if you can sill save 10% OFF >>
Stokke Steps High Chair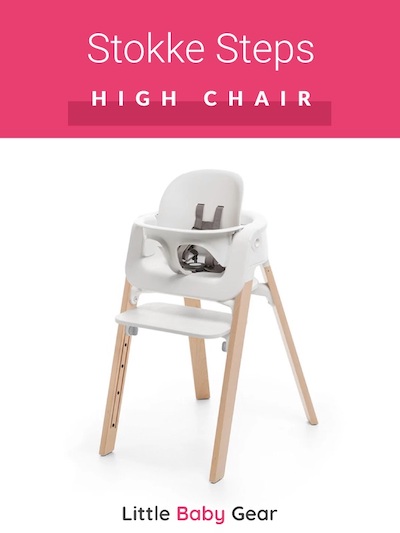 High chair bundle includes:
This version is also suitable from 6 to 36 months. The only difference is the lack of tray and supportive cushion which make it a better choice for older infant or toddler who can already eat at the table. You can bring this highchair to the table to allow yoour child be a part of the mealtime.
Stokke Steps Chair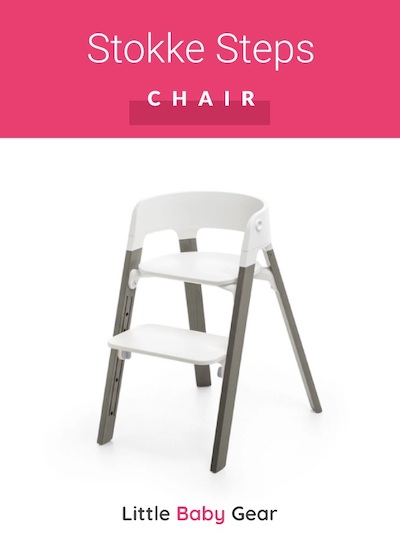 This is the simplest version which includes nothing but the chair. You can customize it by buying the tray, cushion, and other accessories separately, depending on your needs.
Keep in mind that the Steps chair on its own is suitable from 3 years. It can serve as a dining chair or desk chair for your preschooler.
Stokke Steps Review – Features
The Steps is made mainly from plastic, with only the legs made from wood.
This highchair comes in a range of colors to match your decor and shares the ergonomic design of its older brother, the Stokke Tripp Trapp.
It's a highchair that boasts a more modern design than its predecessor but has similar selling points. These are:
It boasts a stylish Scandinavian design
This high chair is easy to clean and adjust
It brings your baby to the table for family mealtime
The high chair has the ability to grow with your child. It's suitable for newborns up to adults.
Let's take a closer look at all features that make parents rave about this highchairs, as well as some drawbacks.
Adjustable Footrest
This highchair is cleverly designed to cater to kids of any height. The footrest can be adjusted without tools so you can easily change its position as you child grows.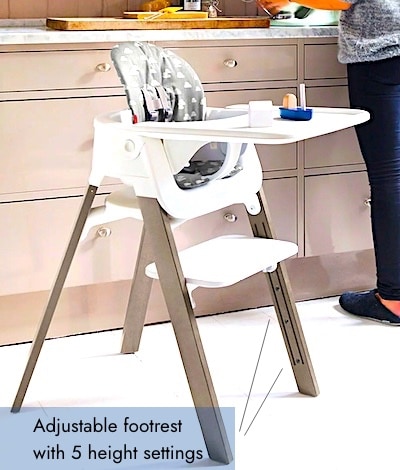 Eating with dangling lets is so uncomfortable so it's a huge advantage that Steps high chair has adjustable footrest. You can slide it up and down to 5 different levels.
Moreover, thanks to sturdy legs, your child can use the footrest to climb in and out of the highchair on their own.
Adjustable Backrest
One ergonomic feature is that you can adjust the backrest for a snug fit.
The baby seat has two positions, it can be used forward or backward. I found the second option handy, as our little is at the age where she needs to be closer to her food.
What I also like about Steps is that with baby set your kiddo sits upright and doesn't slide off the chair – which is a common issue with many other high chairs.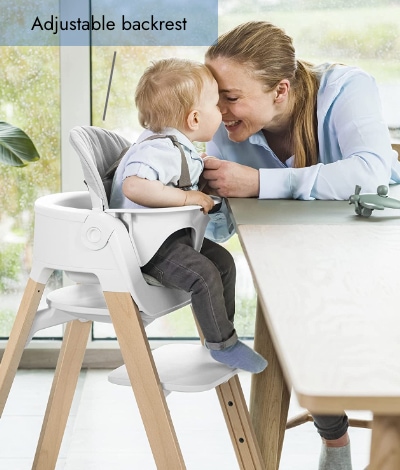 While I was initially surprised to find the seat height isn't adjustable, I found that the adjustable backrest and footrest make this a non-issue.
Five-Point Harness
As many parents know, it's not enough to simply plop your little one in their high chair. You also need to strap them in so they don't fall to the floor when they wriggle in the seat.
Safety first. That's what the five-point harness is for. It did the job and kept the toddler from escaping. It's also removable and you can pop the straps in the washing machine.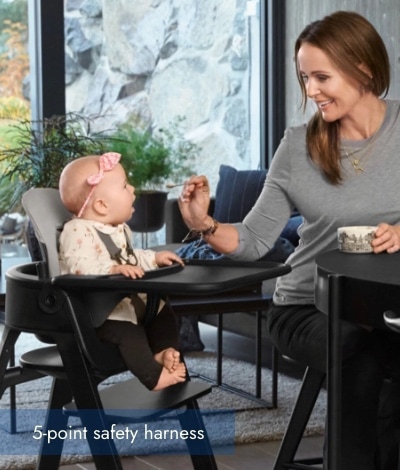 Tray
The tray, which is included in the Complete version, is removable and easy to clean. If it's dirty, just wipe the surface down with a cloth.
Unlike Stokke's Clikk and Tripp Trapp, Stokke doesn't advertise its Steps tray as dishwasher safe, so I didn't try this at home. Perhaps it's safe to use in the dishwasher and they forgot to say so in their FAQs, but I wasn't brave enough to find out.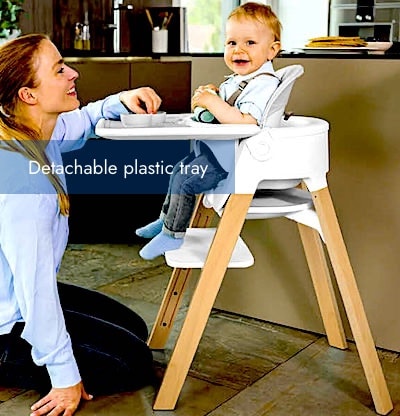 Is Stokke Steps Easy To Clean?
Even though Steps is not dishwasher-safe, it's sill super easy to clean. It has plastic seat and tray which are easy to wipe down with wet cloth. Moreover, in contrast to Tripp Trapp chair, Steps doesn't have hard-to-get crevices where the food could get stuck.
This means that whether you're starting spoon-feeding or baby-led weaning, Steps highchair will make the mealtime less messy, because it's simply faster to clean.
>> Check out the best BLW bibs
Cushion
Steps Complete includes backrest pillow and seat cushion which provide extra support for younger babies and also makes the chair more comfy for little ones.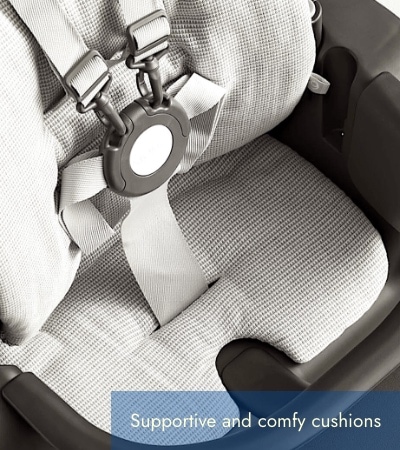 Like the tray, cushions can be removed, which is fortunate, as I found that food gets stuck to the fabric pretty easily. I like the fact that they are machine-washable.
I only wish there was a second set of cushions included (or at least it was a bit cheaper…). Spare cushion would come in handy, when the other one is in the laundry.
Design
Steps high chair has wooden legs which stick out pretty far. The footprint is quite large and takes up a lot of space on the floor. On the positive note, the legs are strong and sturdy and the chair doesn't wobble.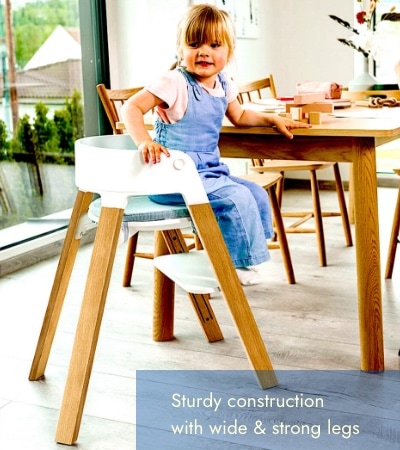 Another great news is that Steps has really lightweight construction. It weighs only 10.1 lbs which means it's lighter than best-selling Keekaroo Height Right and Stokke Tripp Trapp. This makes Steps easy to move around the house.
Unfortunately this chair doesn't fold down.
Price
Steps is the most expensive of Stokke's three options – the beloved but old-school Stokke Tripp Trapp and their latest addition, the not quite as versatile but stylish and more affordable Clikk.
But all of its features, adjustments and the fact that you can basically use it till teenagehood, makes it splurge-worthy.
PRO TIP: I bought my Stokke Steps at regular price which wasn't really budget-friendly. But last time I check you could get this high chair 10% off here – (if you sign up for the newsletter you will receive personalized discount code). Make sure to check here if you can still get 10% discount!
What Age Is Stokke Steps For? All Of Them!
With Steps, Stokke seems to have taken things a "step" further than Tripp Trapp's three settings. This high chair has 5 different age settings.
How does it change with the different stages of your baby's life? Its 5-in-1 design works as follows:
Newborn Stage
A bouncer with an attachment is sold separately. This can be used from birth. It attaches directly to the high chair so that your brand new baby can feel like they are part of mealtime conversations even before they're eating solids.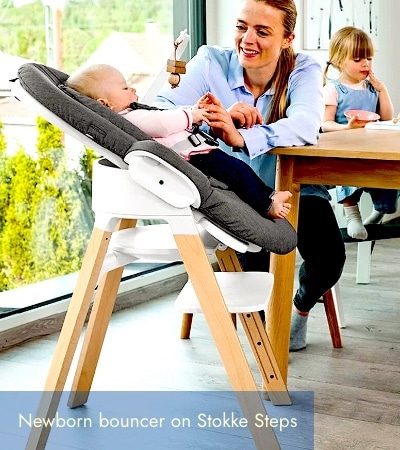 Six Months To 1 Year
At six months, you can replace the bouncer with the baby set and tray. Your baby is now ready to eat meals with the family.
You can adjust the backrest and footrest to keep your baby comfy during the mealtime.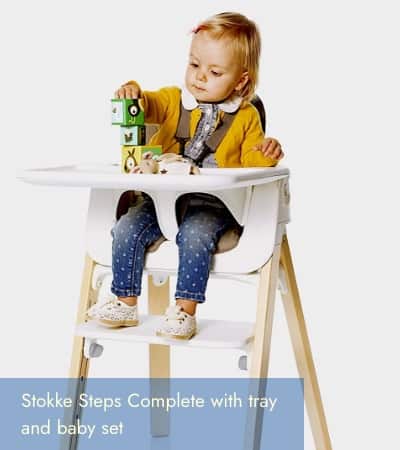 PRO TIP: If you want to use Steps for BLW I recommend you to get a placemat that will easily fit in the tray. Check out my ranking of the best kids placemats.
From 1 Year To 3 Years
From roughly a year, or when your kid's ready, you can lift the tray and remove it. This gives toddlers a seat at the table.
You can slide your Steps high chair right up to the dining table and this pretty much makes buying a booster seat pretty unnecessary.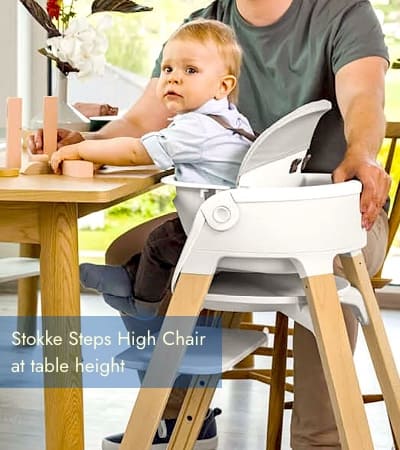 From 3 Years & Beyond
When your kid is roughly 3 years old, you can remove the baby seat. Your toddler or preschooler will feel very grown-up sitting with their family at the table in their very first normal chair.
They can carry on sitting on Stokke Steps chair until teenage years, because it has maximum weight of whooping 187lbs!
Although some adults might feel a bit silly sitting in what is clearly a kiddies chair, it does seem like a good desk chair for when your kid reaches homework age.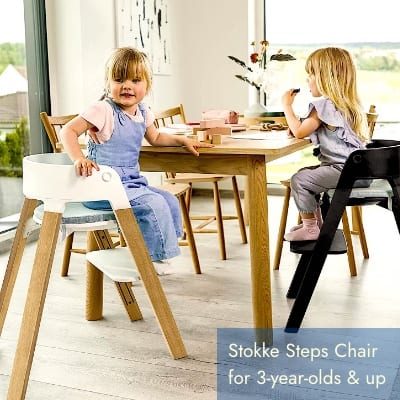 You can keep the Stokke Steps as a "backup" chair for kids birthday party even when they are in middle school. It's a great dinner chair alternative for kiddos.
So if you're wondering how long can you use Stokke Steps, I would say it will definitely serve you for many, many years and multiple children.
What Other Parents Think About It? – Stokke Steps Reviews
It's not cheap, but it's worth it. This seems to be the consensus on the Stokke Steps high chair.
Other feedback from real reviews and videos of the product includes that it's easy to clean, can be used from birth, and allows babies to join the family, and sit at the table. Reviewers love its modern design and recommend it for the most part.
There isn't a lot of negative feedback, but some parents find it hard to assemble, though it seems to have the edge over the Trip Trapp here. Another complaint is the large footprint.
One more thing you should keep in mind is that if you want to use it from birth, you need to buy the baby bouncer separately, pushing up the already substantial price.
Pros
Cons

Pros

---

+ Modern & stylish design

+ Plastic seat is easy to clean

+ Stable construction + 5-point harness to ensure baby's safety

+ Comfortable and supportive seat - baby doesn't slide off

+ With the bouncer it can accommodate your kid from birth through childhood to at least the teen years (last time I checked the bouncer was available here with 10% discount)

+ It's much lighter than other highchairs - easy to move around the house

+ It's easy to adjust the seat and footrest

Cons

---

- Legs stick out pretty far (big footprint)

- It doens't fold
Final Decision: Is Stokke Steps Worth The Money?
The first thing you notice is this high chair modern design. I feels very fancy feeding the toddler dinner in such a stylish highchair.
While it seems to be a simple design when you look at it, there's so much it can do, which is typical of Scandinavian furniture and a reason why it's known as one of the best high chairs.
All of Stokke products grow with your family which is super useful and I think this makes the products sell so well.
I found Steps to be perfect for our toddler with the special baby seat in, and it makes an ideal chair for our 7-year-old without the baby add-on.
It all comes apart for easy cleaning and because the seat is plastic you can simply wipe it with a damp cloth. In contrast to many other high chairs, this one doesn't have any cracks or spaces where the food could get stuck.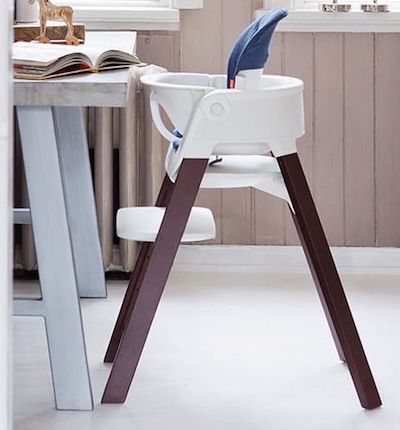 As a mom who did BLW with 3 kiddos I realized how important it is, because self-feeding is really messy. And I hate chairs with hard-to-get nooks and crannies.
While Steps wasn't easy to assemble, it certainly isn't the toughest piece of furniture I've ever put together.
The Stokke Steps isn't cheap, even compared to Stokke's other highchairs.
If you can afford it, the Stokke Steps is well worth it. It's expensive, but more than justifies its price. It adjusts and grows with the child, it's a breeze to clean and it's ultra lightweight.
If you are looking for something a bit cheaper but with similar functionality check out my ranking of the best high chairs for BLW. You may also want to read my comparison Stokke Steps vs. Tripp Trapp to make sure you're choosing the right highchair for your baby.
---
Sources of pictures: All pictures belong to Stokke Brand.
---
The purpose of this article is informative. It's not a substitute for professional medical advice or medical care. Remember: safety first! Consult your doctor/pediatrician in case of any doubts. The author of this article does not accept any responsibility for any liability, loss or risk, personal or otherwise, incurred as a consequence, directly or indirectly, from any information or advice contained here.
Your trust is really important to me: This article includes affiliate links to products that I think are useful for our readers. If you make a purchase through these links, I may earn a small commission at no extra cost to you. Your support helps me run this blog – thank you!