Choosing the right high chair between Stokke Steps vs. Tripp Trapp is not an easy task. These are two extremely popular high chairs with lots of adjustments to accommodate growing babies. Both of them have similar functions and shockingly high weight limit to serve you even till adulthood.
Let's find out which Stokke high chair will be the best option for your little one.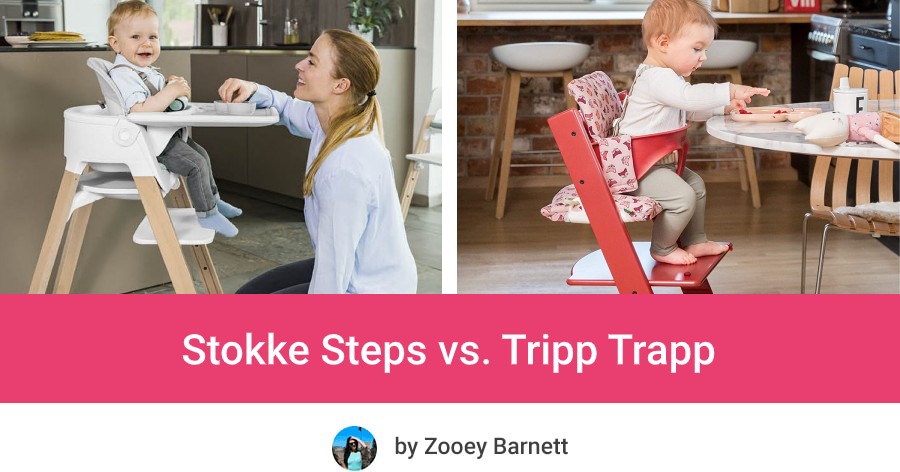 This article is NOT a substitute for medical advice. It contains affiliate links.
There are so many options out there when choosing the best high chair for your little one. It can get a bit overwhelming selecting the correct one.
When it comes to buying a highchair, most parents will agree that there are a few essential features to consider: safety, chair's ability to grow with a child, adjustable height and footrest, and ease of cleaning.
If you're here, you've probably narrowed down your choice to Stokke Steps vs. Tripp Trapp.
Although both, high chairs come with a heft price tag, they are both premium chairs with multiple seating arrangements, so you won't regret your purchase if you have the budget.
In this article I will be comparing the features and revealing the positives and negatives of both chairs for you to help you make a more informed decision on which high chair suits your requirements.
Best Features
❤️ No crevices to catch crumbs and spills
❤️ Easy to clean with wet cloth
❤️ Baby seat has adjustable backrest to promote good posture
❤️ Adjustable footrest for a growing child
❤️ Suitable even up to 10 years
❤️ Traditional wooden chair design
❤️ Easy to scoot under the table
❤️ Doesn't take up a lot of space on the floor
❤️ Adjustable seat height & footplate position
❤️ Suitable for older kids, teenagers and even for adults
advantage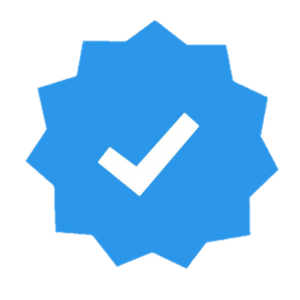 120+
positive reviews from verified buyers!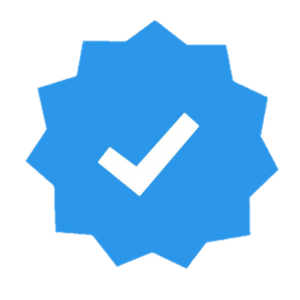 Recommended by
1900+
parents
My Personal Choice
Best Features
❤️ No crevices to catch crumbs and spills
❤️ Easy to clean with wet cloth
❤️ Baby seat has adjustable backrest to promote good posture
❤️ Adjustable footrest for a growing child
❤️ Suitable even up to 10 years
advantage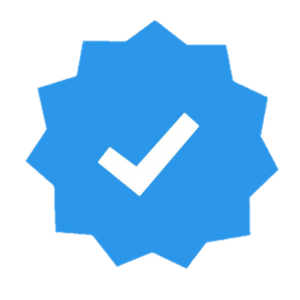 120+
positive reviews from verified buyers!
Best Features
❤️ Traditional wooden chair design
❤️ Easy to scoot under the table
❤️ Doesn't take up a lot of space on the floor
❤️ Adjustable seat height & footplate position
❤️ Suitable for older kids, teenagers and even for adults
advantage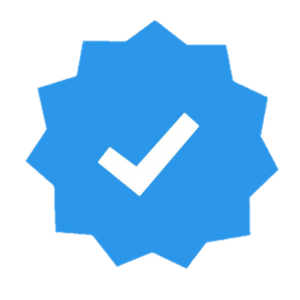 Recommended by
1900+
parents
Stokke Steps High Chairs vs. Tripp Trapp – Main Differences
Let's take a closer look at the differences between these two high chairs so you can decide which stands out more than the other.
Here is a list of the most significant differences between Stokke Steps chair vs Tripp Trapp to help you out.
Age & Weight Limits
Stokke Steps: Newborn to 187 pounds. Because of the size of the seat, it can fit a child till around the age of 10-12.
Stokke Tripp Trapp: Newborn to 242 pounds. It fits adults too (as a stool).
You don't want to end up with a high chair that your child will outgrow quickly. The best high chair is the one that ensures to fit your child now and many years later, providing room for growth.
Even though Steps has lower weight limit, your child will still be able to use it for many years (much more than with majority highchairs).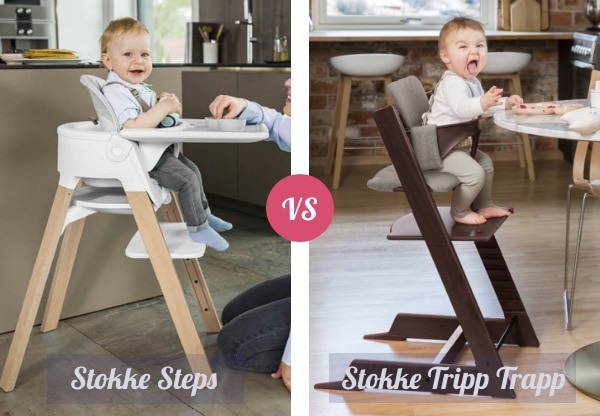 Configurations
Stokke Steps high chair can be used in a few modes. Once your baby is ready to sit up unassisted, use the Complete chair with Baby Set, seat cushion and tray. At any time you can remove the tray and bring the chair to the dinning table.
From 3 years & up your kiddo can use just the Stokke Steps as their own dinning chair or desk chair.
Stokke Tripp Trapp offers the same seating configurations. If you buy this Complete version you'll receive chair plus baby set with harness, suitable from 6 months+. Seat cushion and tray are optional.
Once your little one is all grownup you can ditch the baby set. What's important this is the only Stokke high chair that has such a high weight limit and actually can be used till adulthood. It doesn't look like a baby chair, the seat is quite roomy, and it really can accommodate an adult person.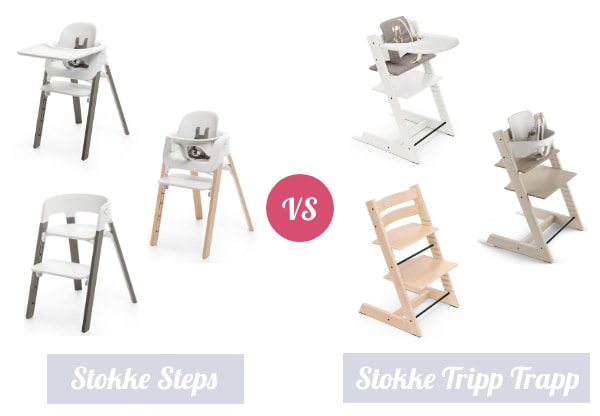 Although both Stokke high chairs will give you plenty years of use, Tripp Trapp is a better choice if you're looking for something that could serve your kiddo through school years.
PRO TIP: I only used these highchairs for weaning, but they can be used from birth so that your newborn baby can join family meals. You just need to purchase this Newborn Bouncer, suitable for newborns & infants up to 6 months.
Ease Of Cleaning
Both of the Stokke high chairs have extremely mixed reviews about cleaning. Some users mention that the chairs are easier to clean when the straps are removed.
I would say that Tripp Trapp is more difficult to clean because there are many nooks and crannies in the chairs, making it easier for food to get stuck.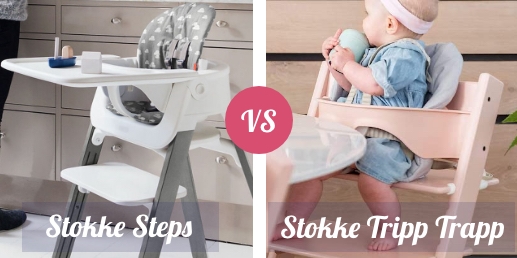 That's why I recommend using this chair only with a bib that covers the baby and the whole chair (like this Grabease All Over Bib). Otherwise cleaning this high chair after messy meals will be really annoying.
With Steps it's a bit easier to keep the chair clean, because the seat is made from plastic, therefore it's easy to wipe down with wet cloth, and it doesn't have those annoying crevices.
There's one more thing to keep in mind. In contrast to Tripp Trapp, Steps tray is not dishwasher-safe.
Chair Dimensions & Weight
Stokke Steps: 16.9″ x 24″ (footprint); 10 pounds
Stokke Tripp Trapp: 19.3″ x 18.1″ (footprint); 15.4 pounds
It's important to consider the size and how much space each of the chairs takes up. In that case, what you are going to love about the Stokke Tripp Trapp is that it has more compact footprint, and it can be easily pushed and hidden under the table, taking up no extra space.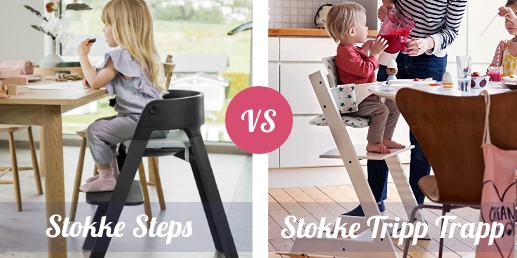 On the other hand, Steps is so much lighter and portable and in many cases this is more important feature than chair dimensions.
Choosing a lightweight chair is beneficial, because it is easy to move around the house. If grandparents look after the child, it is much easier for them to move a chair that weighs less.
Durability & Sturdiness
Both high chairs feature contemporary Scandinavian design. Tripp Trapp has wooden construction, while Steps has plastic seat and only its legs are made from wood.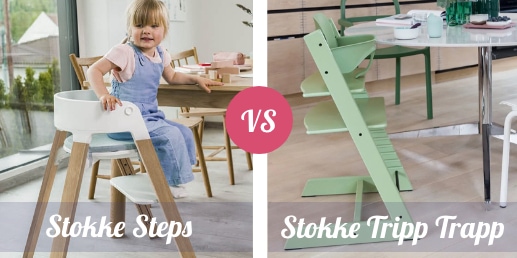 Both are strong, feel very stable and don't wobble even if you have a frisky preschooler! Steps legs are spread widely, while the Tripp Trapp has tilted design – to prevent chairs from tipping over.
However, some users think that Stokke Tripp Trapp has more sturdy build and can last for over 30 years if maintained well.
Safety & Comfort
Both Stokke highchairs are JPMA certified which is one proof of their safety.
Stokke Steps and Tripp Trapp come with a 5-point safety harness to ensure the baby is held securely in place.
For safety reasons, I prefer the 5-point harness over 3-point harness, but it's definitely harder to keep it clean, because the shoulder straps easily get dirty.
Stokke uses non-toxic paint, and both chairs are free of BPA and phthalates.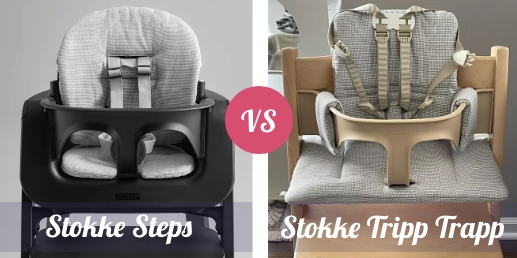 An advantage of the Tripp Trapp is that when you buy it with baby set or newborn bundle, it includes Extended Glider Set to provide further stability if children push themselves back from the table. The gliders ensure the high chair doesn't tip over and the child does not fall on their back.
Steps doesn't have extra protectors for the legs, but they are set apart widely to provide stability and prevent tipping.
Other features that influence child's comfort and safety are: chair height and foot rest adjustments, and ergonomic seat design.
Children can comfortably enjoy their mealtime as both chairs have an ergonomic design to support good posture, help them sit upright and provide natural spine support.
The Steps comes with a 2-position adjustable backrest to fit kids of different sizes and ensure good back support as they grow. This is the main reason why I prefer Steps over other Stokke chairs (which lack backrest adjustments).
Beside this, Steps features adjustable foot rest. Who like to eat with dangling legs right? This high chair offers 5 different height level to fit growing babies and always provide foot support.
The Tripp Trapp grows with your baby too: it has height-adjustable seat and adjustable footplate. With multiple seating positions this Stokke chair can fit even a teenager or adult person.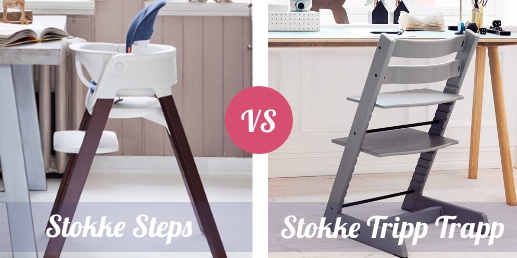 As you can see both high chairs have adjustable design. You just need to decide which adjustments will be more useful for you.
By the way, keep in mind that without a seat cushion, Tripp Trapp is just like a bare wooden plank. My kids preferred the Steps plastic seat, even without the padding.
Design & Colors
The Tripp Trap has a simple design, without fixed tray. This allows the high chair to come closer to the table than other chairs, working well for people in small homes who simply want to slide the chair under the table for storage.
You can bring the Steps to the table too, but its legs stick out pretty far which means you will need more space for this high chair.
Tripp Trapp is definitely a better option if you're looking for space-saving high chair.
What's also noteworthy, when we compare Stokke Tripp Trapp versus Stokke Steps, the former one is available in more customizable color options. You'll be able to find something that matches your kitchen and dinning room decor.
Stokke Steps Review
Stokke Steps is a highly versatile chair that is sure to tick off everything you are looking for in the best high chair for BLW. It isn't like any regular chair. The Scandinavian design is extremely minimalistic and will blend in with any decor!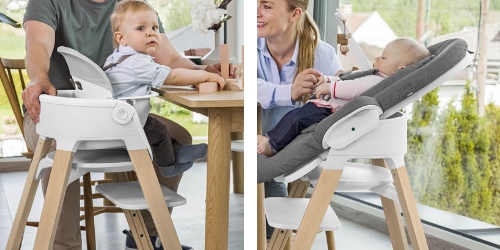 The standout feature of this highchair which makes it worth the price, is that it grows with your child.
The chair is recommended for children up to 10 years old with a maximum capacity of 187 lbs.
If you purchase additional bouncer, you'll be able to use it from birth so your newborn could join you during family mealtimes. Of course the bouncer is not a must-have, especially if you're breastfeeding.
I recommend getting Stokke Steps Complete Bundle because it includes chair, baby set with 5-point harness and padding, and a tray.
The baby set is suitable from 6 months to 3 years, and you can use it with or without the tray. Although the Steps height is unadjustable, it will probably fit your dining table height.
The tray size is large and can fit silicone plate, suction bowl and utensils at once.
The baby set and the tray promote independence and allow babies to self-feed and access food within their reach.
By the way, if you don't need the tray, choose this High Chair Version, you will save quite a few dollars!
You can also decide whether you want to use the fabric padding or not – I like it because it provides extra cushioning on the plastic seat.
The best thing about the baby set is the backrest adjustability – there are two depth options – so the baby can sit closer or further from the tray.
You can also move the footrest up and down, so your child's feet can rest comfortably at any age.
One thing to keep in mind: chair legs stick out a bit so it takes up more space on the floor. At the same time this design also ensures great stability.
>> Full review of Stokke Steps
Stokke Tripp Trapp Review
Without any doubt, The Tripp Trapp is one of the most versatile highchairs on the market! It is cleverly designed with 4 different sets for each stage.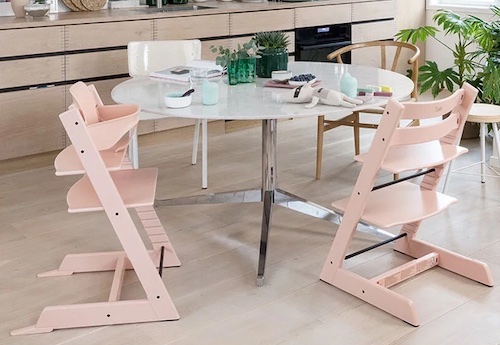 The first is the newborn set which can be used from birth. To make the Tripp Trapp suitable for newborns, you will need the Stokke Bouncer that can be used on its own (on the floor) or attached onto the chair.
Next comes the Tripp Trapp baby set, which is to be used once the baby has outgrown the infant stage and can sit unassisted (approx. six months).
It can be used with seat fabric and tray or without these accessories.
The last stage is the chair which accommodates children from 3 years onwards until adulthood.
The best part about the Stokke Tripp Trapp highchair is that it can be used for years and years to come. Made from European beech and oak wood, the chair is extremely sturdy and durable.
There are various color options available to match any kind of décor within your home. In terms of safety, the chair comes with a safety harness that can be removed when the child can safely sit independently.
If you have the budget for a high-quality, highchair for your child to grow, Tripp Trapp chair is the perfect choice for you.
Not only is this chair suitable as a regular dining chair, but can also be used for watching tv, engaging in activities and simply used as secure place for children to sit when together with the family.
Which One Should I Choose: Stokke Steps vs. Tripp Trapp High Chair?
If you're wondering which highchair is best between Stokke Steps vs. Stokke Tripp Trapp, the truth is you can't go wrong with either of them! Everything depends on your needs, and which features you prefer.
Although both chairs are quite expensive, they are excellent high-quality choices, and you won't regret buying either as they both come with so much functionality.
Nanit
Miku

Reasons To Choose Stokke Steps

---

- Backrest easily adjusts back and forth, without any tools

- Foot plate moves up & down = no dangling feet

- Each stage of the high chair is well thought out

- Can be used by older children as a dinning or desk chair

- Stylish modern design

- Easier to clean than Tripp Trapp

- Lightweight & easy to move from one room to another

- Last time I check it could get 10% OFF Stokke Steps (check if the discount is still available here)

Reasons To Choose Stokke Tripp Trapp

---

- Highchair that will last generations to com

- It is exceptionally sturdy

- It encourages good posture as child grows and provides spine support

- Chair and foot plate are height-adjustable

- Can be used as a stool or extra dining chair for adults
Stokke Tripp Trapp vs. Stokke Steps – FAQ
Do you have more questions about Stokke high chairs? I hope this part will help you to make final decision and choose between Tripp Trapp vs. Steps.
Does Stokke Steps Tray Work With Tripp Trapp?
Yes, the Stokke's tray is compatible and fits with the Tripp Trapp Baby Set.
Can You Use The Tripp Trapp As A Step Stool?
Yes, the Tripp Trapp can be used as a step stool if children are supervised. Please make sure children are not wearing socks as the surface can get slippery with wood and socks together.
Can An Adult Sit On Stokke Steps?
Yes, a grown adult can sit on the Stokke Steps as the maximum weight limit is 85kg. However, seat dimensions are built for young children, so it may be a little uncomfortable. When comparing stokke tripp trapp vs stokke steps can be used till adulthood with a maximum weight limit of 115kg
Does Stokke Steps High Chair Fold?
No, after the Stokke steps highchair has been assembled, it does not fold. This might be a big disadvantage to parents who are short of space in their homes and looking for easy storage.
How Long Can You Use Stokke Steps?
The chair will continue growing with the child, and the ideal age for using this contemporary style chair at the family table is around 10-12 years. The adjustable footrest works well to help children step in and step out of the chair as they get older and build their independence.
What Is The Best Stokke High Chair?
There are three Stokke high chairs and only you can decide which one fits your needs best.
If you're on smaller budget, looking for affordable Stokke high chair, I recommend you to check out the Stokke Clikk. It's also a good option for small spaces, because it comes apart easily.
If you want a chair with modern design & adjustments, that is easy to clean and that grows with your baby, Steps seems to be the right solution.
If you'd prefer a highchair made from high quality wood, that you could also use later on as a standalone chair, the Tripp Trapp is better choice.
---
Sources of pictures: All pictures belong to Stokke Brand.
The purpose of this article is informative. It's not a substitute for professional medical advice or medical care. Remember: safety first! Consult your doctor/pediatrician in case of any doubts. The author of this article does not accept any responsibility for any liability, loss or risk, personal or otherwise, incurred as a consequence, directly or indirectly, from any information or advice contained here.
Your trust is really important to me: This article includes affiliate links to products that I think are useful for our readers. If you make a purchase through these links, I may earn a small commission at no extra cost to you. Your support helps me run this blog – thank you!