Why some of the strollers have capacity of 35 lbs, while others can accommodate a passenger up to 55 lbs? Can 4-year-old child ride in a stroller? Why would parents need a big stroller? Is there a stroller suitable for 5-year-old kid?
Many parents often ask these questions and here I will try to answer to them. In this article I will show you what is a "big kid stroller" – what features it has, why it can be useful and when parents need it.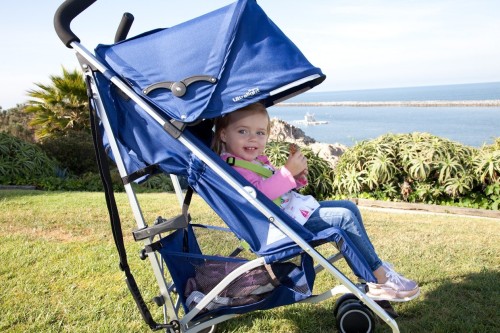 Big Kid Stroller – What Is It And What Features It Has?
Let's start with defining what is a big kid stroller and what function must stroller have to be suitable for bigger and older children.
In short, big kid stroller is a stroller that has higher weight limit and longer backrest so it could accommodate kid that is heavier and taller. Therefore such a stroller is suitable for children that are big for their age or suitable for older – even 5 or 6-year-old kids.
You may now think that a stroller which can hold such a big child, has to be very large, heavy and bulky. Not necessarily. There are many umbrella strollers for big kids, which are very easy to lift. There are also standard full-sized strollers for older children which are a little bit heavier than umbrella strollers. And of course there are double and jogging strollers for big kids which usually have heavier construction (but not every model – I will show you that later).
Before I present you what features such a strollers have, here's the list of the main types of big kid strollers.
Umbrella strollers for big kid
Full-sized strollers for big kid
Single jogging strollers for big kid
Double strollers for big kids
Double jogging strollers for big kids
Now, let's see what features can big kid stroller offer to parents.
Capacity
Usually strollers can hold a passenger up to 35 or 40 lbs. Such a capacity is a standard. However, manufacturers know that parents may need buggy that can accommodate even bigger child, that 's why they design single strollers with a weight limit of 55, 65 or even 75 lbs and double strollers with a capacity of 100 or even 110 lbs!
Seat
Such a stroller should also have more roomy seat with longer back rest and higher canopy so it could accommodate taller child. There are strollers that even 5-year-old children can fit into it without touching the canopy with their heads.
Some models of big kid strollers feature also recline seat. Some parents may think that an older child doesn't need such a features because he doesn't take naps during strolling. In my opinion, recline seat can be still very useful even for older and bigger kids and it's also crucial for big child's comfort.
Canopy
It should be wide and high to give a child more room to grow. Besides, it should be also large and expandable to provide a lot of shade – enough to cover bigger child.
Frame
If the stroller is supposed to hold up to 50 or 100 lbs, the frame has to be very strong and robust and made of high-quality materials.
Other Features
Big kid strollers have also other features that other types have. For example, there are models with adjustable handlebar, quick and compact fold and large storage space for parents convenience. There are few models that are very easy to store or even to carry around on a shoulder.
Strollers for older children have different types of wheels: some of them have air-filled tires, while other have rubberized or plastic wheels. Few models have suspension to make the ride more cushioned.
This type of strollers also offer many accessories, some of them are included, some need to be bought separately. And of course big kid stroller vary in price – we can find them in really wide price range, from $150 to $700.
When And Why Would Parents Need A Big Kid Stroller?
Many people react with surprise and even indignation when they see a 3 or 4-year-old child in a stroller. Some of them may think "this kid is too old to ride in a stroller", "someone should teach this mother when to stop using the stroller", "wow, this mother has to be really lazy, she didn't teach her baby to walk" etc., etc…
However, other people should not judge why a preschooler is riding in a stroller because in fact there could be many important reasons for that.
Sometimes parents use strollers for bigger and older kids not only because it is "convenient" and "more comfortable" for them, but because they need to. Maybe their kid got really tired after a long walk? Maybe he/she is not used to long distances and is not able to go all the way on foot.
Maybe parents needed to go somewhere really quickly, maybe the kid has fallen asleep in the car but is too heavy for parents to carry in arm? Maybe the child only looks like a 4-year-old but in fact he's a really big 2.5-year-old? There can be many other reasons, so we shouldn't judge parents who use a stroller for their older child.
When Big Kid Stroller Is Useful For Parents?
Here I would like to discuss why parents may need stroller for their older child and when it can be useful.
1. For A Child Who Grows Faster Than His Peers And Needs Bigger Stroller
Every child develops at different pace. Some 2-year-old children are 32 inches tall, while others are 36". At the age of 4 some kids can weigh 32 lbs, while other can weighs 40 lbs or even more! The differences between children can be really big and that's why some parents may need larger stroller with higher weight limit or longer seat back, because they child grows faster than his peers.
2. For An Older Child Who Still Wants To Ride In A Stroller / Can't Do Long Distances
Even when 3-year-old child can walk really well is very independent, longer distances may be really tiring for him. For example, the nursery school can be far away from your home and your child just gets tired after a while and is not able to go on foot the whole distance. In this cases it is good to have a stroller at hand, and in this situation umbrella and lightweight strollers are the best.
These two types of strollers are really light and portable. It's nice to have a stroller that can be quickly opened and folded up and carried on a shoulder or in a bag when it's not in use. This types can be also useful during long strolls with a toddler who like to walk, but sometimes gets tired and wants to sit in a stroller for a while. Then when he gets rested, he can walk again and you can just throw this lightweight buggy on your shoulder.
3. On Vacations
Maybe you love sightseeing and you visit a lot of places on a vacations, but it's too exhausting for your baby little feet? Stroller can be really useful if you travel with 3, 4 or even 5-year-old child. Besides, it can be also a life saver at the airport, when you need to move really quickly or wait in long queue for very long time.
4. For A Kid Recovering From A Surgery
Large stroller with bigger capacity can be really useful for children who just had a surgery and their mobility is temporary limited.
5. For A Child With Medical Condition / Special Needs
Big stroller with roomy and comfortable seat can be also very helpful for parents of children with special needs. Such a stroller gives parents more flexibility. Going to the doctor, spending time outside the house, running errands – it can be much more easier with a stroller that can accommodate bigger and older children and provide them with comfortable and safe ride. Such a stroller is not only comfy for the kid, but also more portable and convenient for parents.
If you're looking for a stroller for autistic child or older kid with disability – read my article about Special Needs Strollers. You will also find there my recommendation for kids 7+ years old.
Is There A Stroller For 5-Year-Old Child?
Many big kid strollers can accommodate children from 3 to 6 years. For example, GB Pockit is an umbrella stroller that can easily fit a 5-year-old child and Joovy Zoom 360 Ultralight is a jogging stroller that parents use even for 6 year old kids!
My full list of strollers suitable for big and older children you can find in this article.
---
The purpose of this article is informative. It's not a substitute for professional medical advice or medical care. Remember: safety first! Consult your doctor/pediatrician in case of any doubts. The author of this article does not accept any responsibility for any liability, loss or risk, personal or otherwise, incurred as a consequence, directly or indirectly, from any information or advice contained here.
Resources:
https://www.cdc.gov/physicalactivity/basics/children/index.htm#print
care.com/c/how-old-is-too-old-for-a-stroller/
https://wetheparents.org/too-old-for-stroller