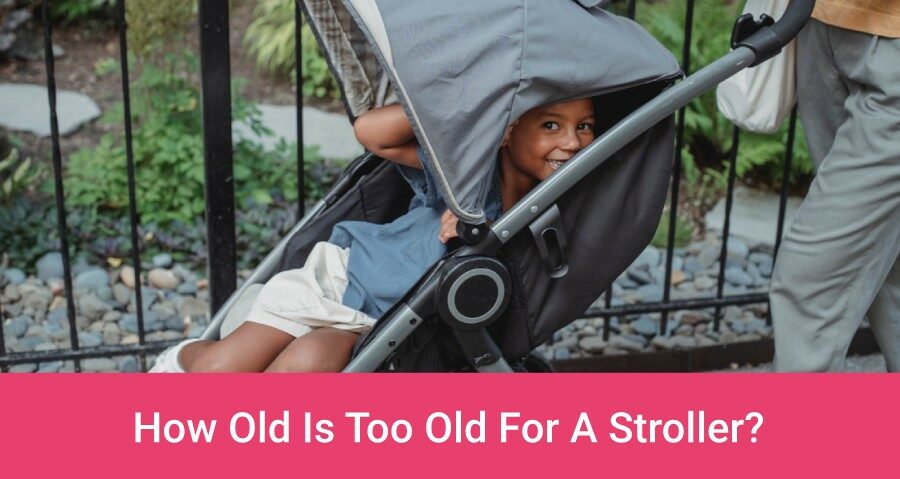 Article by Jessica Holbrook – Register Nurse & Educator
As your child gets older, you may start to wonder when to stop using a stroller. Unlike car seats, there are no strict guidelines or specific laws regarding stroller use. It can be hard to know: when is a kid too big for a stroller?
While there are various weight limits on strollers, some single strollers can handle even up to 75 lbs which is the average weight of a 10 year old child. That of course doesn't mean your (healthy) 10 year old should be riding in a stroller instead of walking. So when actually the child is TOO OLD for a stroller?
Many parents continue to use strollers for their big kids, well past toddlerhood. Some use strollers for every family trip or for walking long distances through amusement parks. Others bring a stroller in case their child gets tired at the end of a short walk. Others still use a stroller for safety when their children struggle to follow directions while walking around a public place.
Whether for convenience, safety, special needs, or whatever other reason, every family is different, and every mom and dad has to make their own decision about when they should no longer use a stroller.
Kids with developmental delays or special needs should be allowed to develop at their own pace, and no parent should be judged for making the best decision about mobility for their child.
This article is not a substitute for medical advice.
How Old Is Too Old For A Stroller?
It is common to see young kids riding everywhere in a stroller. Nobody expects a babies little legs to carry them all over the zoo or mall, but as kids get older, the expectation that your child walk everywhere starts to increase.
Putting your big kids in a stroller occasionally is not going to hurt their physical development or social skills.
In certain circumstances, parents need a stroller for big kids to get from place to place more quickly or navigate a crowded area without having to chase one or two kids around.
A child's development is more important than their age when deciding when to go stroller free. Children with mobility issues may need to use strollers for several years longer than their peers.
While there are no strict rules about being too old for a stroller, you should not use a stroller once your child has surpassed the weight limit of that particular stroller. Most jogging strollers have a higher weight limit than an umbrella stroller, but it depends on the brand.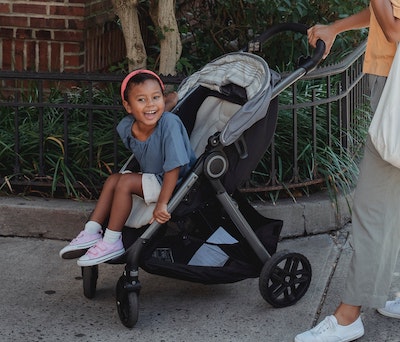 Is A 4 Year Old Too Big For A Stroller?
As your child gets older, you may start to wonder, do 4 year old's use strollers? A 4 year old may still need a stroller for long walks or busy days out and about. You can start transitioning your 3 year old or 4 year old out of a stroller by encouraging switching back and forth between walking and riding in the stroller.
As your toddler becomes a small child, try to give them opportunities for a little independence while developing stronger muscles in their little legs. This is a good time to teach them about following directions and remembering to hold your hand in a crowd or while crossing the street.
Should A 5 Year Old Be In A Stroller?
So, when do kids stop using strollers? According to one study1, only about 2% of kindergarten age students regularly ride in strollers. The American School Health Association recommends limiting stroller use in children around the age of 5 2. Giving your kindergarten age child opportunities to walk as often as possible can help them develop strength and maintain a healthy weight as they get older.
Of course, if your child has delays in their cognitive development or physical development, keep them in a stroller as long as you feel is necessary for their safety and well-being.
Does My 6 Year Old Need A Stroller At Disney?
Amusement parks like Disneyland are fun for children and parents. They are also exhausting, crowded, and the days can be very long. Even big kids are sure to be tired at the end of a long day of walking around a theme park.
Strollers are great for amusement parks because they provide a place for your child to rest, and offer a convenient storage solution for jackets, backpacks, snacks, and sunscreen. A 6 year old can probably handle walking for most of the day, but may need a place to stop and rest when they get tired.
Does A 7 Year Old Need A Stroller At Disney?
As a parent, you can be the judge of whether your 7 year old would benefit from stroller use around Disney. Most 7 year olds will no longer fit in an umbrella stroller. You'll have to ask yourself; at what age is a kid too big for a stroller?
Try to weigh the pros and cons for your own family. Finding stroller parking can be a hassle, and a 7 year old might not need to take a break during the day. However, very few parents will have the energy to carry their 7 year old back to the car after a long day of amusement parks. Only you know whether your kiddo has the stamina for a stroller free day.
Why You May Need To Use The Stroller For Older Children
Even as your child grows, they still might need to use a stroller. You may be concerned that other parents will judge you or your child, but there are plenty of reasons a mom may need a stroller for a big kid.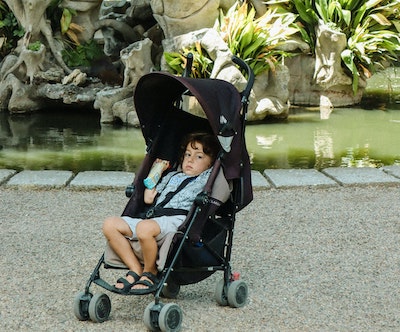 Long Distances
It it important to remember that even older children have much shorter legs than adults, and it can be hard for them to keep up. If you will be traveling a long distance, your older child may need to rest every once in a while.
Developmental Delays
Some children have delays in their physical or cognitive development that make mobility more difficult. Even mild developmental delays can make it hard for a child to get around without a stroller. Some children may even transition directly from strollers to wheelchairs as they get bigger.
Vacations
Vacations usually include long walks and a lot of time away from home. Children who are stroller free at home may need to be pushed around in a stroller on a family trip. Big kid stroller may come in handy on holidays and hikes.
Injuries Or Surgeries
Children may have to return to using strollers if they get an injury or have surgery. Crutches and walkers are not safe for children, and using a stroller is much more convenient than renting or purchasing a wheelchair.
Is There The "Right" Age To Stop Using A Stroller?
While there is no "right" age to stop using a stroller, it is never too early to encourage physical activity. Any time it is safe and you have enough time, try to allow your child to walk. If your child gets tired quickly, use positive reinforcement to keep them walking a little bit further with each outing.
Your child's development might slow down due to stroller overuse. Unfortunately, many children do not get enough physical activity during the day, and obesity is becoming more common in young kids.
Experts recommend that toddlers and children get at least 60 minutes of physical activity each day3. Walking with friends or a stroller free trip to the zoo are great opportunities for physical activity. You can transition away from strollers once your child is ready to tackle walking longer distances without help.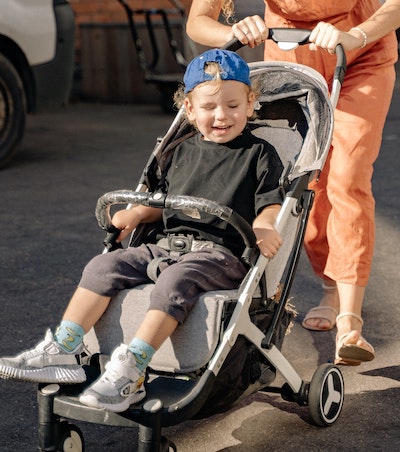 When To Stop Using A Stroller
While there is no specific age that you must stop using a stroller, toddlers and older kids should practice walking as often as they can. With practice, many parents find that a stroller becomes more of a hassle than it is worth.
Your child might be ready to stop using a stroller if they:
Constantly ask to walk,
Have a hard time sitting still in the stroller.
Have reached the weight limit for their umbrella stroller.
Can follow directions and stay near you in a crowded area.
Have gone on short walks without complaining or needing to be carried.
Transition Out Of A Stroller – Benefits
Transitioning from strollers to walking requires some effort and patience, but there are some benefits to having your kiddo start walking everywhere.
Strollers take up a lot of space. Eliminating your fancy jogging stroller gives you back a lot of room for packing the other things you want to bring on your family trip.
As your toddler gets older, they will have a harder time staying seated while you are walking around. You might find yourself pushing an empty stroller while chasing your toddler. Eliminating the stroller solves this problem.
Taking a walk is great for a child's physical development. It is a great way to develop strength and stamina, boost their mood, and help them sleep better at night4.
Navigating Through A Crowd
Strollers and crowds do not always mix. While it is nice to know that your child is buckled in at all times, getting through a crowded airport or busy store is much more difficult with a stroller.
Stroller Overuse – Risks
The most serious problem with stroller overuse is that it replaces walking. Experts agree that walking is one of the best forms of exercise, and most Americans, including children, don't exercise enough5.
Strollers are wonderful tools for parents and their children. They are convenient and parents often use strollers as an alternative to taking the car for shorter distances. There is no perfect age to stop using strollers, and it is never too early to encourage your child to walk as often as they can.
---
Medically Reviewed By Jessica Holbrook, RN
Jessica Holbrook has been a registered nurse and educator for over 8 years. She has experience in critical care, neonatal, intensive care, and postpartum intensive care. Currently she's working in Intermountain Medical Center Coronary Intensive Care Unit. She's been creating educational materials for both new nurses and patients in the hospital. She has also written for several parenting blogs and healthcare career websites.
---
The purpose of this article is informative. It's not a substitute for professional medical advice or medical care. Remember: safety first! Consult your doctor/pediatrician in case of any doubts. The author of this article does not accept any responsibility for any liability, loss or risk, personal or otherwise, incurred as a consequence, directly or indirectly, from any information or advice contained here.
Resources:
https://www.cdc.gov/
https://www.sciencedirect.com/
https://bmcpublichealth.biomedcentral.com/
https://www.webmd.com/
https://www.bing.com/