Are you trying to introduce a bottle to your breastfed baby, but nothing seems to work? Check these 4 most recommendable bottles for breastfeeding infants, that reduce the risk of nipple confusion and bottle refusal!
Bottle-feeding doesn't have to make your baby fussy!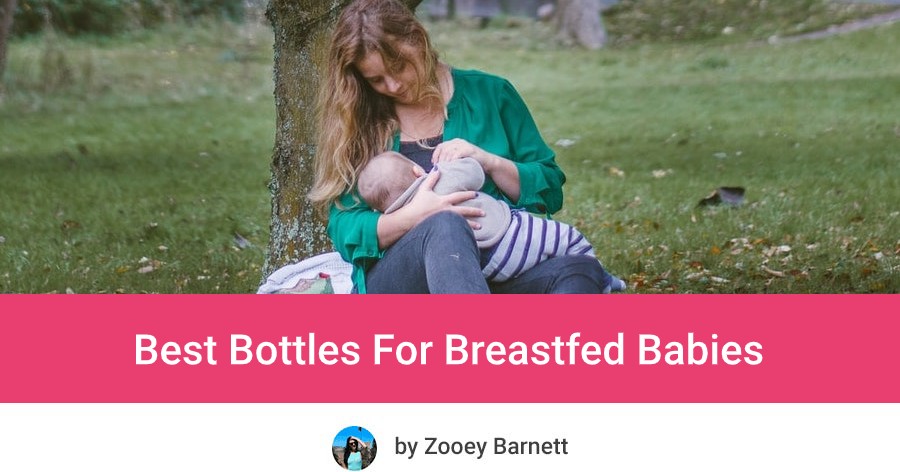 This article is NOT a substitute for medical advice. It contains affiliate links.
If you are lucky enough to have the time and energy to breastfeed your baby, there are a lot of advantages for baby's health and development.
However, even if you decide to go with breastfeeding over a bottle, there might come a time when you will need to use a bottle, therefore it is a good idea to get your little one used to it. Some babies will have no problem going back and forth between mommy's breast and the feeding bottle, but many do.
If you decide to wean your baby off the breast and switch to "full-time" bottle-feeding, the switch may be challenging for the baby. But don't worry, with the right bottle (and lots of consistency and patience) you will get your breastfeeding baby to take a bottle.
Whether you want to bottle-feed your baby with breast milk or formula, there are a few things you can do to help your little bundle of joy get through the transition more easily. Choosing the proper feeding bottle is one of the most important things.
In this transition period, you and your partner will need a lot of patience as your child may be fussy. Just remember to stay calm, and with a little repetition, trial and error, you will find the right method to get your baby to transition to a bottle.
Let's take a look at a few bottles that just might do the trick for your little one and make the bottle-feeding more tolerable.
4 Best Bottles For Breastfed Babies
Remember that each child is different – has different needs, latch capability and preferences, therefore one bottle may be perfect for one baby, but won't work for another infant. You need to be patient, try a few bottles until you find the best one FOR YOUR child. Maybe you'll get lucky and find the perfect one on the first try.
I did the hard work for you and narrowed down your chose to 4 best bottles for breastfeeding babies. The things that I considered are:
Bottle features that will make the transition easier for the baby (like nipple and the flow that resembles mom's breast)
Features that will make the switch more convenient for the mother who still want to give her baby the breast milk, but cannot breastfed directly (e.g. the possibility to connect the bottle with breast pump).
I've also checked hundreds of parents reviews to make sure these bottles have low level of bottle refusal in breastfed infants.
The most recommendable bottles for breastfed babies, especially those who refuse the bottle, are: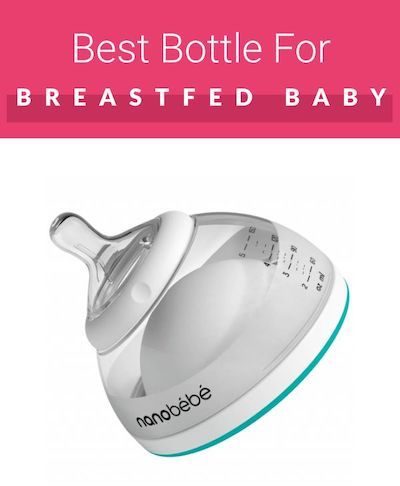 The Nanobebe is one of the most unique looking bottles you will see on the market today. It is designed to look like a breast. This is to help with the confusion your baby may experience when going from breast to bottle. The functional design has a large rounded surface that allows for breast milk or to warm up and cool down quicker and more evenly to retain their nutritional value. The good news is that you can use this bottle for formula too.
Although the bottom has an unusual shape that may take a little getting used when you are holding it, the concave shape can make it easier for your baby to hold on their own, once they get to that stage.
The Nanobebe nipple has two air vents that will help with the prevention of gas and colic. The brand offers 5 different nipple flow rates to address each baby feeding needs. Choosing bottle with the right nipple flow is crucial for preventing baby from colic.
PRO TIP: I recommend you to order Nanobebe from brand's official website. The current promotion:
Nanobebe Starter Set and Newborn Set are 15% OFF with code FALL15 (get the discount).
Grab your discounts while the sale is on!
It is also one of the best space-savers as it is stackable. This works well for storage in the fridge and cupboards. The bottom is a bit of an issue as well, so if you don't snap it on correctly, it will leak. Always make sure the bottle is closed properly to avoid spilling out the milk on your baby's face!
At last, if you decide to go with the Nanobebe beware, it comes with a slightly higher price tag. However, according to hundreds of parents who have been using it, it's worth the money. It really warm up quickly as promised, it facilitates the transition from the breast to bottle thanks to unique breast-like shape, and it's super easy to clean.
>>Read more about Nanobebe in my full review
Pros
Cons

Pros

---

+ Resembles a breast = lower risk of bottle refusal

+ Great for quickly warming and cooling milk which helps to protect nutrients from damages

+ Dish-washer safe & very easy to clean

+ Compatible with many breast pumps

+ You can pump directly into Nanobebe, and then use the same bottle to store and warm the milk, and feed the baby

+ Thanks to stackable design they don't take up a lot of space when stored in the fridge

Cons

---

- A bit more expensive (*grab the discounts I mentioned above to save money)

- If you don't close it carefully it can leak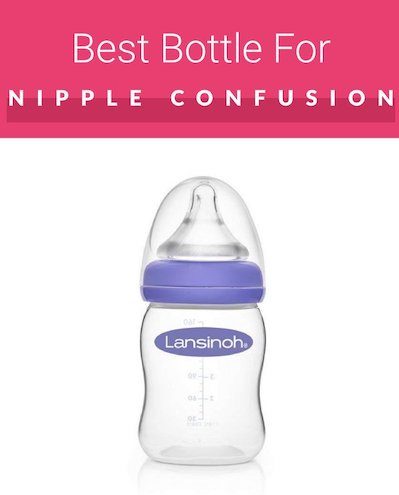 The Lansinoh mOmma bottle has the most ergonomically designed nipple. This is supposed to simulate a natural breast, which will aid in the normal sucking motion of your baby.
Since the bottle nipple works similar to mom's breast, the baby can use the same feeding actions, which in turn helps to avoid nipple confusion. Therefore, it can help in transitioning back and forth between your breast and the feeding bottle.
On top of that, it has an air ventilation system that helps reduce air intake to minimize gas and colic issues.
Having only three pieces, this is one of the simplest and easiest bottles to clean. The gradual slope of the nipple and firmer material makes it easy to turn the nipple inside out for cleaning. It will also pass the shake test, so worry not about little leaks.
The Lansinoh mOmma is one of the cheaper bottles to buy, but there are few drawbacks. The sloped nipple may not work for all babies as their lips may slip, so you have to make sure your baby has a good latch.
The Lansinoh Breastmilk Bottle comes in two sizes 5oz (150ml) and 8oz (240ml) and there is no glass bottle option.
On a positive note, there is an adapter for Lansinoh breast pump. Thanks to that moms who cannot breastfeed but still want their baby to benefit from breast milk, can express their milk directly to the bottle. It's very convenient and time-saving.
Pros
Cons

Pros

---

+ Ergonomically designed nipple (short nipple bottles are great for breastfed babies)

+ Simple and easy to clean

+ Inexpensive

+ Durable bottle and nipple

+ Compatible with Lansinoh breast pump

+ Lower risk of nipple confusion - lots of parents say their baby doesn't have problems with using the bottle and going back to breast

Cons

---

- According to some parents the slow flow nipple is still a bit too fast

- Doesn't prevent all air bubbles from getting to baby's mouth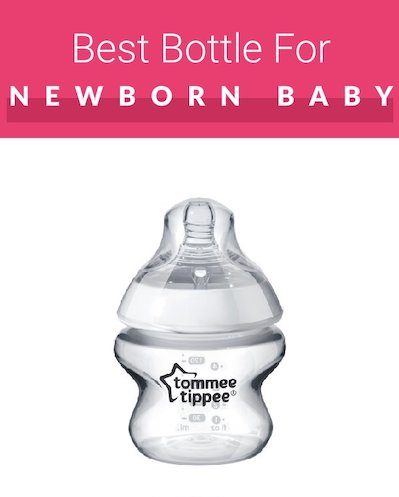 The Tommee Tippee Closer To Nature was designed to facilitate the switch from breast to bottle. It has a wide nipple made of soft silicone that flexes and stretches just like mommy's nipples when nursing. This is all designed to make sure your infant stays properly latched and seems to work quite well.
According to many parents who have been using this bottle, the teat is fantastic, because it really mimics the breast, therefore the chances that baby will accept Tommee Tippee bottle are higher!
The slow flow nipple included with this bottle is really slow which makes it suitable for newborn babies. If you feel like it's too slow for your breastfed infant, you can always switch to faster flow teat – Tommee Tippee offers wide variety of nipples at affordable price.
Moreover, it's equipped with a special anti-colic valve that the air that gets inside the bottle. Thanks to that you can be sure your baby is feeding without swallowing air that could lead to painful colic or wind. Some parents also recommend this bottle for infant who have acid reflux.
These baby bottles are made of BPA-free plastic, which means they are safe for infants.
Although the bottle shape is peculiar, the wide neck makes it easy to clean. Besides, there are no extra parts inside the bottle (like straw) which would make the cleaning more time-consuming.
Overall, I would say that Tommee Tippee is a great inexpensive bottle for newborns and breastfed babies.
Pros
Cons

Pros

---

+ One of the best bottles for newborn babies thanks to really slow nipple

+ Nipple that flexes and stretches to stimulate a natural flow of a breast and helps baby to latch

+ Recommended by many parents for colicky baby and infants with acid reflux

+ Easy to clean

+ Wide range of nipple flow rates to choose from, as the baby and their feeding needs grow

Cons

---

- Bottle shape makes it a bit difficult for the baby to hold and self-feed

- Nipple may collapse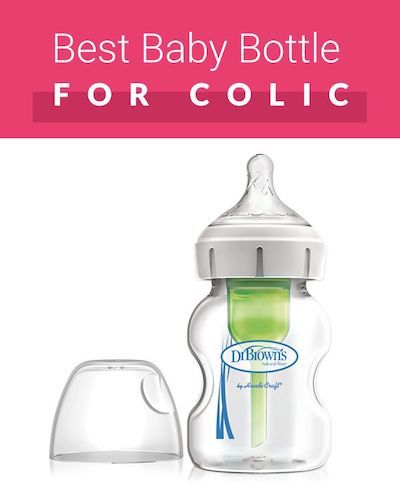 Dr. Brown's bottles have been one of the top-rated and most popular bottles to help with gas or colic in babies and rightly so. The bottle's two-piece vented design that eliminates air inside the bottle while your baby is feeding, which reduces gas, colic, and reflux in your baby. In the UK and many other countries, it is the most recommended bottle for gassy and colicky babies.
The bottle comes in a variety of versions made of glass or plastic, wide or narrow neck and 5oz (150ml), and 9oz (270ml) sizes.
The wide neck is suitable, especially for infants, as it allows you to see when they have finished the bottle, an issue for some mothers with narrow neck bottles.
Although this bottle is a top rater for preventing gas and colic, it does not do so well on the leaking side of things. Ironically the thing that makes it so good for the gas and colic makes it susceptible to the leaks, so try not to shake it. Also, pay close attention when putting it together, or again you can get leakage.
When it comes to cleaning the bottle, it is not as straightforward as others, as there are a lot of parts to it.
When it comes to helping your baby transition from breast to bottle, the nipple on the Dr. Brown's was hit and miss with babies. The good thing about this bottle is that the nipples can be easily switched for another brand that might work better for your baby.
Pros
Cons

Pros

---

+ Best bottle for preventing gas, colic, and reflux (see the full ranking here)

+ Equipped with a special venting system

+ Two materials to choose from: plastic and glass

+ Two neck options: narrow and wide for different feeding preferences and latch capabilities

Cons

---

- More difficult to clean
What Bottle Nipples Are Best For Breastfed Babies?
What nipples are the best, well that depends on your baby. Probably the most important part of trying to reduce breast to bottle confusion is not actually the bottle but the nipple. In some cases, the bottle can help, but really it is the nipple that makes most of the difference.
You may have to experiment with different bottles and nipple combinations, and just because it is expensive it doesn't mean it is the best one for your baby.
Some features to generally look for are slow flow (newborn) rate, silicone (it tends to be softer and healthier), and longer instead of a shorter one so your baby can get a good latch.

The only true way for you to have the right nipple that works best for your baby is trial and error. You may have to buy a couple of different bottles and nipples before you find the one that works for your baby. Your friends and professionals can recommend this one or that one, but only your baby truly knows what he/she likes, and let's face it – your baby is the boss.
However, there are a few important things you should remember when choosing the bottle nipple size and flow.
It should be chosen accordingly to your baby's mouth, baby's age and latch capability. Usually slow flow nipples are best for newborn babies, and as the baby gets older and their demand and appetite is bigger too, you will need to switch to nipples with nigher flow. Usually brands offer 4 or 5 different flow rates.
Getting the right nipple flow rate is crucial for avoiding colic, gas and acid reflux, as well as decreasing the risk of choking, and general discomfort during feeding.
If the milk flows too fast it may lead to gulping, coughing, hard swallowing, choking, overeating, colic and wind, refusing the bottle.
If the flow is too slow, baby will struggle to get the milk out of the bottle which will result in swallowing too much air. This in turn may lead to colic, reflux and gas which can be painful for the baby and make them fussy. Besides, if it takes too long for the baby to finish the bottle, he/she may become irritated or fall asleep at the bottle1.
Breastfeeding Advantages
Breastfed babies tend to have a lower infection rate in the first few months, and according to the American Academy of Pediatrics, breast milk helps against SIDS (Sudden Infant Death Syndrome)2.
Moreover, it helps decrease the chances of obesity, asthma, allergies, and it can assist in promoting brain development. A couple of extra bonuses are that:
It may help mothers lose weight faster after birth (yay for that)
It is (almost) always there when you need it
It's FREE!
It's the perfect opportunity to bond with your newborn baby and give them sense of security and love
Why You May Need To Switch From Breastfeeding To Bottle-Feeding
There may come a time when you will have to use bottle more frequently than nurse (for example when going back to work).
Maybe you can't directly breastfed your baby, but still want you little one to benefit from its valuable nutrients. In that case breast pumping and bottle feeding may be the right solution.
Another reason for switching from breastfeeding to bottle-feeding may be that your milk supply decreased and you need to supplement with formula. Or maybe you simply don't want to breastfed anymore and want to switch to formula, and your baby isn't old enough to drink from a cup.
Is It Normal For A Breastfed Baby To Refuse A Bottle?
It is quite common for a breastfed baby to refuse a bottle, but you can help your baby transition with a little patience and time. Remember, your baby will want to do what they know best and at the start that is nursing in warm mommy's arms at her breast.
Your little one may be refusing the bottle, because he/she know that you know something better – the breast.
Besides, the bottle refusal may be due to … the bottle itself. The major features that may have impact on whether or not your baby will accept the bottle are:
Nipple shape
Nipple material (e.g. it may feel weird for the baby if he/she is used to your breast)
Flow rate – if it's to slow the baby will struggle to drink the milk, if it's too fast baby may

associate the bottle with negative experience like coughing, choking or milk spilled out on his/her face
This doesn't mean that you can't transition your baby to a bottle or incorporate a bottle into your baby's feeding schedule.
Most babies are not able or even willing to take a bottle in the first few weeks of their life as they are still looking for their mother's comfort. The first few weeks of life are essential for the bonding of mommy and baby, and you don't want to miss out on this special time.
After this initial few weeks, you can start introducing a bottle, just to get your baby used to it. If you wait for more than six weeks, it may be harder for you to transition your baby to a bottle. But if you introduce it too early (and too frequently) it may be confusing for your little one, who is also just learning nursing.
Even if you plan on full-time breastfeeding for the first year of baby's life, it's still good to learn your baby to use the bottle, just in case you will have to be away from the baby and temporarily not able to nurse.
If your baby is fussy and refuses the bottle you may need to consult with your pediatrician and if he rules out other (medical) reasons, he may recommend you to get a different, better bottle.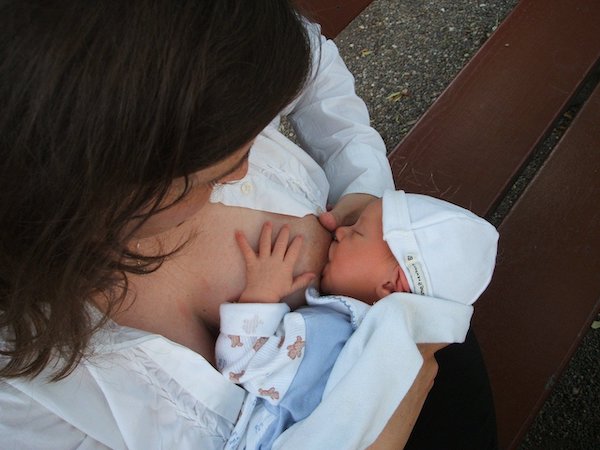 Making The Switch Easier For The Baby
Whether you'll be using the bottle for your breast milk or formula, there are some things that you can do to facilitate bottle-feeding for your little one.
First of all, don't wait too long before introducing a bottle into the feeding routine. It is recommendable to introduce a bottle between 3-6 weeks of age. After that, you may have trouble getting your little one to take a bottle. Of course it doesn't mean you need to switch to formula! You can use a bottle for feeding your baby with your expressed breast milk.
Take baby steps – include bottle feeding once or twice a week, then increase the frequency to 1 bottle each day instead of breastfeeding. This will help the baby to get used to bottle and artificial nipple.
Some babies won't like the idea of using a bottle after breastfeeding as you are changing their comfort zone, and mommy's breast is just right. Be consistent and patient. Try a few bottles until you find the right one. In case of any doubts consult your pediatrician and/or GP.
My Breastfed Baby Won't Take A Bottle – What To Do?
When looking to transition your baby from your breast to a bottle, there are plenty of things that you can do to make it easier for your baby and you. Don't wait too long, as the best window of opportunity is in the 3-6 week period. In this time, your baby will have learned to latch. Although they have just got comfortable with latching on to your breast, it is a good time to introduce something new like a pacifier or bottle.
If you wait too long, your baby will only want your breast and get them to accept anything else will be more difficult. You can start directly with a bottle and see if she will take it, and if not, you will have to try a few "tricks".
Tickle your baby: Use the nipple of the bottle, just like you would with your breast. Gently touch their nose and lips and maybe put a little milk on it just to let them know what is coming. Once your baby starts to take the nipple, make sure they are properly latching, not only on the tip but to the base of the nipple.
Take a break: Try having your partner or some else to feed your baby. Your little one might be more willing to accept something different from someone else but you. Your baby has started knowing that you are the one that breastfeeds them and may be confused when you try to feed them in a method other than your breast. Your family member will appreciate the opportunity to bond with the baby.
Change your feeding spot: Your baby will be used to the comfort of your feeding chair or bed or wherever you normally feed your baby, so when you decide to introduce the bottle, do it in a different location of the house. This way, he/she is not associating that something is out of the ordinary.
Go for a walk: Try walking around the house and maybe sway and bounce your baby gently as you move. Movement can help relax them, and a relaxed baby is much easier to work with.
How about a snack: You don't have to wait until your baby is hungry to try the bottle. Do you eat only when you are hungry? Babies can be fussier when they are hungry, so try to introduce the bottle when they are more relaxed.
Try a little yoga: Well, not exactly yoga, but try feeding your baby in different positions. Babies will find a position they prefer when it comes to breastfeeding, and the same can happen when using a bottle. Try to feed your little one in a more upright position or try the same position as if you were nursing. It is also good idea to s

witch sides, just like when you breastfeed. So when your baby is half-way through the bottle, switch him/her to the other side.

What's that smell: The night before you try using the bottle, sleep with a piece of clothing or cloth and then wrap the bottle in it. The scent of a mom can make a baby feel more comfortable and help them relax.
Top it off: Sometimes it comes down to simply finding the right nipple, and you may have to buy a few different ones before you find the one that works for your fussy little one. The right nipple flow is crucial not only for baby's comfort, but also for their safety (to avoid choking!), and well-being (to avoid that awful colic).
That's not a bottle: Try using something other than a bottle like a spoon or a sippy cup, if your infant is old enough. Do this with the baby in an upright position and touch it to the baby's mouth. Let the baby take it naturally and don't force the liquid as it could cause choking.
Baby steps: Start with using just the nipple, put it on your finger and gently rub it around the baby's mouth, gums, and inner cheeks. Once your baby accepts this, try putting a small amount of milk in the nipple, not too much, just to give the baby taste of what's inside the bottle
You may need to repeat these tricks a few times if your baby doesn't respond right away3. Try not to get frustrated and remember to take breaks for you and your baby. Always make sure you and your baby are comfortable and relaxed when trying these "tricks," and I will say again, patience is the key!
>> Learn more about bottle refusal and how to get a breastfeeding baby to take a bottle
---
Sources of pictures:
---
The purpose of this article is informative. It's not a substitute for medical consultation or medical care. Remember: safety first! Consult your doctor/pediatrician in case of any doubts. The author of this article does not accept any responsibility for any liability, loss or risk, personal or otherwise, incurred as a consequence, directly or indirectly, from any information or advice contained here.
Your trust is really important to us: This article includes affiliate links to products that we think are useful for our readers. If you make a purchase through these links, we may earn a small commission at no extra cost to you. Your support helps us run this blog – thank you!