If you're on the market for a top-of-the-range convertible stroller, your choice may revolve around Baby Jogger City Select vs UPPAbaby VISTA.
Most parents agree that these 2 are arguably among the best single-to-double strollers you can get on the market today. They are highly recommendable, especially if you plan on having second child 1-2 years after the first one.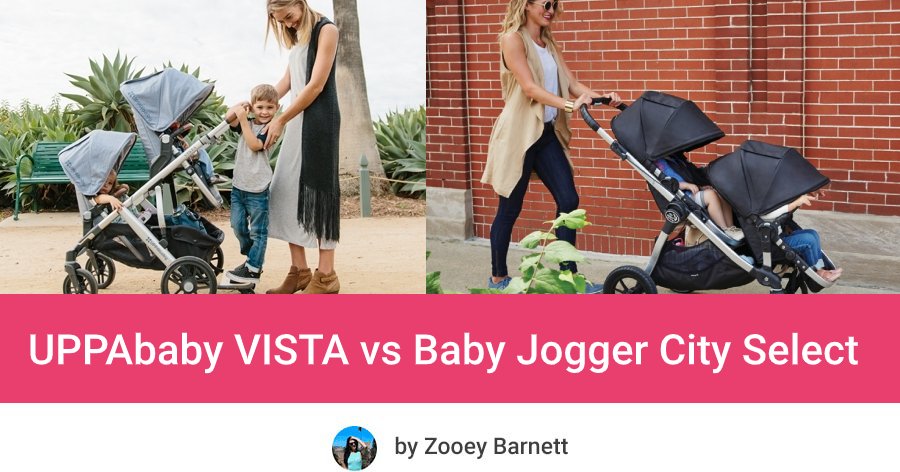 They are stylish, super comfortable, safe, and made to last. While I can't predict which one you will love more, I can explain the features, strengths, and drawbacks of each and let you choose the best one for your baby. How VISTA and City Select differ, which one stands out and performs better?
Let's get this City Select vs UPPAbaby VISTA comparison started.
UPPAbaby VISTA vs Baby Jogger City Select – Main Differences & Similarities
Both VISTA and City Select are expandable strollers, therefore it's worth to compare them in both single and double mode to see which one is better for one and which works better for two kids.
*Please note that in this comparison I'm referring to VISTA 2019 version (not VISTA V2), and latest version of City Select 2016/2018.
This article contains affiliate links.
VISTA
City Select
Convertible, expandable stroller
Convertible, expandable stroller
Basic set includes bassinet for from-birth-use
To use it from birth you need to get bassinet separately
Main seat suitable from 3 months up to 50 lbs
Seat suitable from 6 months up to 45 lbs
Sibling seat is smaller and has lower capacity (35 lbs)
Sibling seat is exactly the same as the main seat
Only allows to attach the bassinet at the bottom, while having the toddler seat at the top
Allows to attach the bassinet at the top and toddler seat at the bottom

11.5" rear wheels & 8" front wheels made of polyurethane, all-wheel suspension

12" foam rear wheels & 8" plastic front wheels, front-wheel suspension

13 seating configurations, including 9 for two kids
16 seating configurations, including 11 for two kids
Telescoping handlebar adjust from

39.5" to 42.5"

Telescoping handlebar adjust from 40.75" to 43.11"

Giant storage basket with weight limit of 30 lbs
Large storage basket with weight limit of 15 lbs
Weighs 26.6 lbs (with one seat)
Weighs 29.5 lbs (with one seat)
Fold:

17.3" x 25.7" x 33"

Fold:

11.6" x 25.6" x 34.65"
UPPAbaby VISTA vs City Select – The Basic Package & Price
If you order UPPAbaby VISTA (2019) you will receive: the stroller with bumper bar, the bassinet, 2 bug shields (1 for the seat, 1 for the bassinet), rain shield (for the seat), and storage bag (for the bassinet). You can see the price for this basic set here <<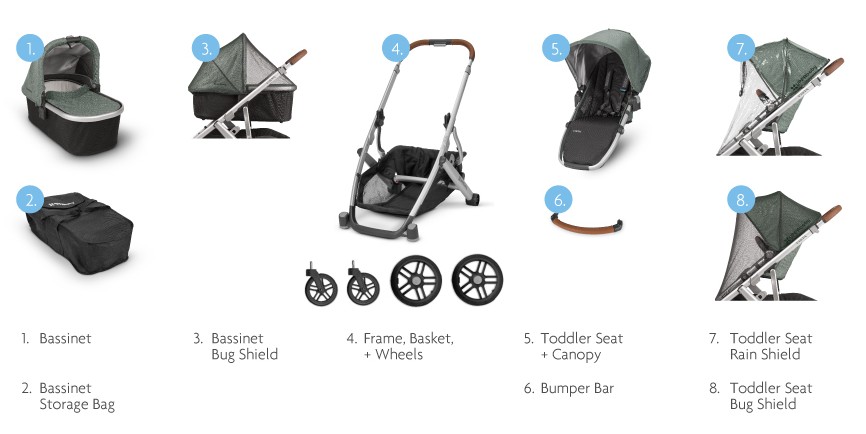 It's worth to mention that VISTA is also available as a travel system – with included UPPAbaby MESA infant car seats.
All other attachment for different seating configuration are sold separately.
If you purchase Baby Jogger City Select you will receive just the stroller. All additional attachments like the sibling seat, bassinet, child snack tray, bug and rain shields are sold separately. City Select is also available as a double stroller with included second seat.
>>Check price & discounts for single City Select on PishPosh Baby
>>Check price & discounts for double City Select on Amazon
You may now be thinking that VISTA has so much better equipment included in the basic set. That's true, but it's also much more expensive than City Select stroller (about 2x).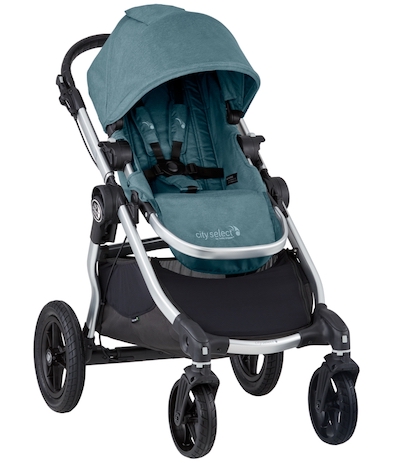 However, I did the math, and it turned out that both these strollers with the same amount of add-ons basically COST THE SAME. If you order the Baby Jogger stroller with accessories you will pay similar amount of money as you would pay for the UPPAbaby stroller basic set (with the same extras included). The only difference is that with the former one you need to add all those extra items separately to your shopping basket.
I actually think that separate add-ons are an advantage – because you can decide which items you really need. And if you decide to skip something, the cost of the stroller will decrease!
UPPAbaby VISTA vs City Select – Toddler Seat & Canopy
The first notable difference in this competition is the main seat features. The UPPAbaby stroller uses a toddler seat with a weight limit of 50 lbs and 40 inches. It is engineered to accommodate the baby from 3 months.
On the other hand, City Select comes with a toddler seat with capacity of 45 lbs, suitable from 6 months.
Even though Baby Jogger stroller has lower weight limit on the main seat, according to previous users both these strollers are good up to 3-3.5 years. I would say that capacity of the main seat is not a feature that should influence your choice.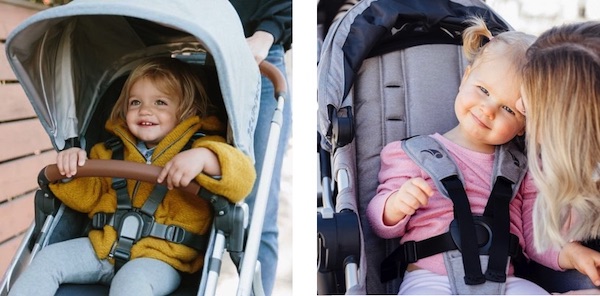 City Select has 3 recline angles, while VISTA offers 6 recline positions. However, both strollers feature bucket-style seats, which means they don't actually recline fully flat. Each strollers comes with an adjustable footrest to keep your infant or toddler comfy.
Another similarity is that both these convertible strollers feature reversible seats, therefore your little passenger can face you or the world. Each seat is equipped with a 5-point security harness, but what I like about City Select is that is has padded cover for the crotch strap, that VISTA is missing. That's a small differences I had to mention – you can see it in the picture above.
Another notable difference between Baby Jogger City Select vs UPPAbaby VISTA is the design of the canopy. While each stroller has a large, extendable canopy, the Select has 3 panels all cut from the same fabric.
On the other hand, VISTA features 2 panels plus a long sun visor. When it's fully extended, it's a few inches longer than Baby Jogger canopy, therefore it gives slightly better coverage from the sun rays and wind.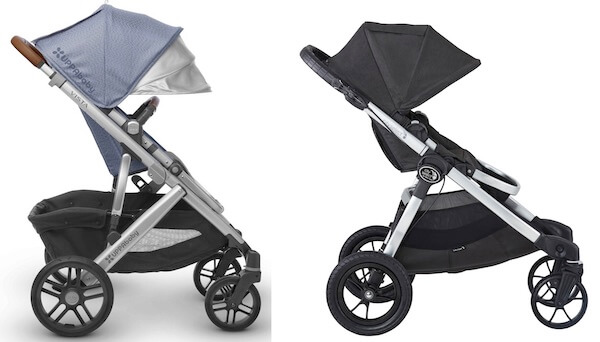 UPPAbaby VISTA vs City Select – Sibling Seat
This is one of the biggest differences between these convertible strollers. As I mentioned at the beginning both of them can expand into a double strollers. In the next paragraph I will show you all the seating configuration that they offer, but here I'd like to focus on the comparison of sibling seats.
For VISTA you can purchase separately sibling seat that is called Rumble Seat, which has LOWER capacity – 35 pounds and 36 inches. That means you cannot use VISTA with two identical toddler seat, this stroller works only with 1 toddler seat and 1 Rumble Seat.
This also makes dual seating configuration a bit more "complicated" as the Rumble Seat only attaches at the bottom, while toddler seat can only be installed at the top, and not the other way around.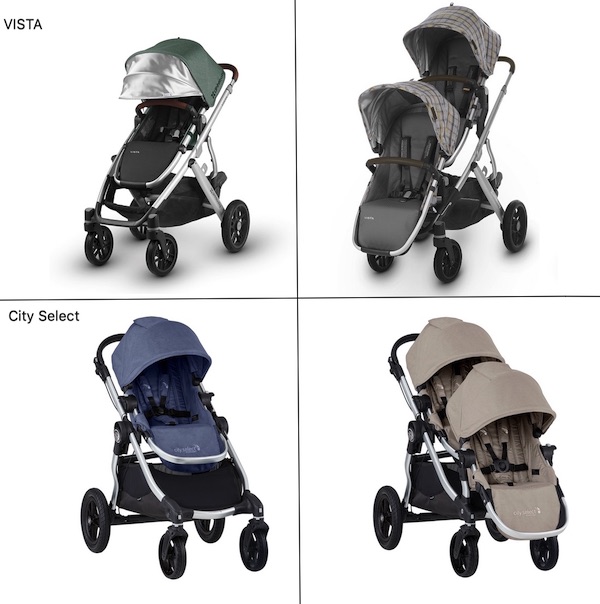 City Select is in my opinion more user-friendly in that matter and offers parents sibling seat that is identical as the main toddler seat.
This is a huge benefit because you don't have to mind about which seat goes where when choosing between different sitting configurations.
Also, when using Baby Jogger City Select with second seat, your kids won't be fighting over the "biggest" or "best" seat, like it may happen with VISTA.
UPPAbaby VISTA vs City Select – Seating Configurations
VISTA has 13 seating configurations, including 4 for one child and 9 for two children. It allows you to attach two bassinets, two infant car seats, toddler seat + Rumble Seat, bassinet + toddler seat, and infant car seat + toddler seat/ Rumble Seat.
City Select has 16 seating combinations: 4 as a single stroller and 11 as a double stroller. You can install two toddler seats, two bassinets, two infant car seats or mix different seats for babies at different age.
The biggest advantage of Baby Jogger stroller is not just the amount of seating arrangements, but their versatility and usefulness.
The seating options for children at different age make me love double City Select more than double Vista. Altogether there are 3 configurations on VISTA that I don't like, and 3 arrangements on City Select that I really like.
If you want to use VISTA for newborn baby and toddler you have these options:
Bassinet at the bottom + toddler seat at the top – lots of parents complains about this configuration because they would prefer to keep their newborn baby closer to them. It's harder to keep an eye on newborn riding in the lower position.
Infant car seat at the top + Rumble Seat at the bottom (facing in or out) – The main concern that parents have about this configuration is that Rumble Seat has lower capacity, as since you cannot attach regular toddler seat on the bottom, this configuration may not be suitable if your older child is older than 2.5 years.
Infant car seat at the bottom + toddler seat at the top – This combination isn't ideal either because again – it's better to keep younger baby closer to parents.
All these complaints are due to the fact that VISTA doesn't allow you to instal regular toddler seat in lower position and that complicates everything.

I'm so glad that Baby Jogger has a solution for this, and offers better seating configurations for two kids at different age. The best are:
Bassinet at the top + toddler seat at the bottom facing parents – this allows you to keep an eye on your newborn baby, being so close to you, and your toddler to nap, because the regular seat reclines as usual in this configuration. Okay, I must admit that this combination is not perfect either – because toddler seat is facing parent or rather… the bassinet, so the child's view is rather blocked. But your older child will be still able to look around, and even take a nap.
Infant car seat at the top + toddler seat at the bottom facing you or out – This configuration is better than the one that VISTA offers, because the seat at the bottom is just the regular toddler seat with the same size and capacity of 45 lbs (in contrast to VISTA which only allows to put Rumble Seat in that position). Your newborn is close to you, while your toddler can enjoy riding at the bottom. If he/she wants to take a nap – use the parent-facing position because the seat recline normally in that position. If he/she is more interested in looking around and observing everything, make the seat facing out. Just remember, you won't be able to recline it in that position. The latter configuration is best for older, curious and more independent kids.
Of course Baby Jogger stroller offers more combinations for siblings (and twins), but I wanted to show you the best ones, that in my opinion surpasses UPPAbaby.

Another thing noteworthy is that the upper seat attaches much higher on the VISTA frame than on City Select frame. Moreover, the bottom seat on Baby Jogger will stick out further when facing parent which will require more caution when steering in tight places.
If I had to decide between City Select vs UPPAbaby VISTA for two children: newborn baby and 6+ months old child, and focus only on the seating configurations, I would say the City Select is the winner. It's also important that second seat, car seat adapters and carrycot from Baby Jogger collection are more affordable than those of UPPAbaby.
I wrote more about Vista and City Select as expandable strollers in this article. If you feel confused about their seating arrangements – let me know in the comments and I'll do my best to help you!
Infant Car Seats Compatible with Baby Jogger City Select & UPPAbaby VISTA
Currently, car seats that you can use with Baby Jogger City Select are:
Baby Jogger City Go and City Go 2
Chicco KeyFit30
Britax B-Safe, Bob B-Safe, B-Safe 35, and B-Safe 35 Elite
Peg Perego Primo Viaggio 4/35 and Primo Viaggio SIP
Cybex Aton and Aton Q
Nuna Pipa, Pipa Lite, Lite LX, Lite R and Pipa RX
Maxi Mico Max 30, Mico AP, Mico Max Plus, Pebble, Pebble Plus, and Cabrio Fix
Graco SnugRide Click Connect (30, 35, 35 LX)
None that you will need an adapter for each of these infant car seat, in order to attach them properly onto the stroller frame. For each brand Baby Jogger offers separate adapter.
Infant car seats that work with VISTA:
UPPAbaby MESA (no adapter required)
Chicco KeyFit, KeyFit30 and Fit2
Cybex Aton and Cloud Q series
Maxi-Cosi Mico Max 30, Mico Max Plus, Mico AP, Mico NXT, Mico, Citi, Cabrio and CabrioFix
Nuna PIPA, PIPA Lite, PIPA Lite LX, PIPA Lite R, and PIPA RX
Apart from MESA, you will need to purchase special adapter to connect VISTA with other brands' car seats.
These adapters not only add to the overall cost of the pushchair, but they also add another component that you'll need to deal with. You'll need an adapter for all car seats to work with BJ City Select, and for majority of car seats if you're eyeing the UPPAbaby. But at least you won't need one with the UPPAbaby Mesa.
It's noteworthy that majority of Baby Jogger's adapters are cheaper than UPPAbaby's.
UPPAbaby VISTA vs City Select – Handlebar
Both buggies are equipped with adjustable telescoping handlebar. I'm a fan of this type of handlebar because it gives parents with longer legs more space behind the stroller – no kicking the rear axle!

A key difference that might influence your choice between VISTA vs City Select is the handlebar height. Vista handle adjusts from 39.5″ to 42.5″ which is comfortable for short and tall caregivers.
City Select handle slides out from 40.75″ to 43.11″. For a very short person it may be slightly too high, but for average and very tall people it will be really convenient.
Another difference is the material used for the handlebar. Both of these strollers have a stylish handlebar, but keep in mind that UPPAbaby uses 100% leather for the cover, whereas Select has rubberized grip.
UPPAbaby VISTA vs City Select – Wheels, Suspension & Brakes
One common feature of these strollers is that they can glide through different terrains with ease: old sidewalks, grass, cobblestone, hard-packed gravel, and even small amount of snow. They won't handle sandy beach or tree roots, but for city use and occasional off-road walk they will be perfect!
Now let's see the differences:
UPPAbaby has polyurethane wheels: 11.5″ in the back and 8″ in the front, plus an all-wheel suspension. All of that makes the stroller really maneuverable and easy to push and turn with one hand. It glides smoothly and pushes with no effort.
City Select has 12″ foam rear wheels and 8″ plastic front wheels and only the front wheels have suspension. The ride is surprisingly smooth and bump-less. This buggy is also good for one-hand steering and maneuvers like a dream.

Unless you go for a walk on a very harsh terrain (like rocky trail), each of these pushchairs will perform amazing and with one passenger you'll be able to steer with one hand. With two passengers, both strollers may require more force and two-hand pushing.
The safety of your baby when riding on a stroller heavily depends on the brakes. Worth noting, City Select stroller uses a 2-in-1 decelerating and parking brake operated by hand. On the contrary, VISTA uses a foot brake which is sandal-friendly (tap to engage, tap to release).
Although this boils down to preference, the 2-in-1 hand brake of City Select seems convenient. I feel more secured when having speed control at my fingertips. VISTA foot brake works well too, but you can only use it for parking, not decelerating.
UPPAbaby VISTA vs City Select – Storage Space
Each of these strollers has a spacious storage basket under the seat. However, an important feature that might help you decide VISTA vs City Select is that VISTA has a 30 lbs storage capacity while that of City Select is 15 lbs "only".
VISTA storage basket is able to accommodate almost twice what that of City Select can take. A large basket makes a lot of sense, especially when strolling with two or more children. Besides storing children stuff, VISTA basket will come a lot in handy whenever you have a large shopping to ferry home.

UPPAbaby VISTA vs City Select – Folding
When dealing with children, parents want buggies that fold in a few seconds and without lots of hassle. In that aspect, UPPAbaby is the clear winner. Here's why:
These buggies are very easy to fold, and the process takes only a few seconds. However, you can fold UPPAbaby with two seats in place and most of the process requires using only one hand. Besides, it blows City Select out of the water with its self-standing and auto-locking mechanisms.
Folding Baby Jogger will need both hands, and it does not auto-lock or self-stand. Moreover, it closes only with 1 seat attaches, the sibling seat needs to be taken off first.
Being able to fold VISTA without the need of detaching sibling seat first seem like a huge advantage. But keep in mind, it will end up being very bulky and might occupy a lot of space wherever you put it.
On this note, I should mention that a few parents out that point unfolding City Select is demanding in that you have to bend all the way to the ground.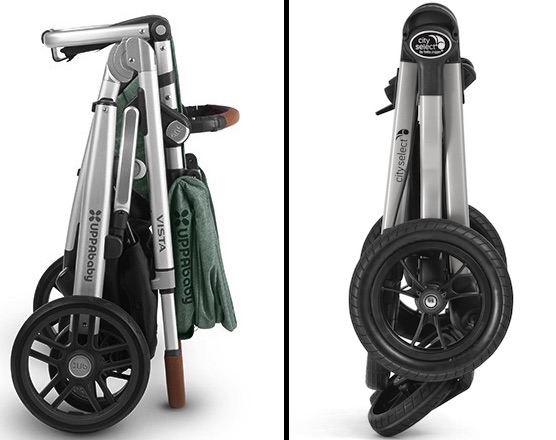 UPPAbaby VISTA vs City Select – Weight & Size
When dealing with a convertible stroller, every inch and pound of weight matters a lot. Now, these strollers don't differ a lot in terms of size. The exact weight of these strollers depends on whether you're using them in single or double mode. Again, the weight will vary across the sitting configurations.
Specification
| | VISTA | City Select |
| --- | --- | --- |
| Open size with one seat (L x W x H) | 36" x 25.7" x 39.5-42.5" | 43.5" x 25.6" x 40.75 - 43.11" |
| Fold size (L x W x H) | 17.3" x 25.7" x 33" | 11.6" x 25.6" x 34.65" |
| Weight with one seat | 26.6 lbs | 29.5 lbs |
| Weight with two seats | 32.6 lbs | 37 lbs |
UPPAbaby is almost 7″ shorter than Baby Jogger City Select which may have a huge impact on how easy the stroller maneuvers in narrow places (like between grocery store shelves). I would say the Baby Jogger is long as for a single stroller.
With the second seat attached (especially when facing parent), the City Select may be more difficult to steer and turn, or get over a curb, because it gets quite long (similar to tandem double strollers). It's also noticeably heavier than UPPAbaby. But I think it's a trade-off for having these awesome seating arrangements that I showed you earlier.
Keep in mind that Baby Jogger's bassinet is almost 4 lbs lighter than Uppababy's.
Accessories For UPPAbaby & Baby Jogger
For family with multiple children both brands offer great add-ons, sold separately.
UPPAbaby: Rumble Seat, Bassinet, Mesa Infant Car Seat, PiggyBack Board for third oldest child
Baby Jogger: Second Seat, Bassinet, Deluxe Bassinet, City Go Infant Car Seat, Glider Board for third oldest sibling
Each company has a wide collection of convenient items including cup holder, parent console, travel bag and many more. Baby Jogger add-ons are in general a bit more affordable.
I recommend you to check all those extra items on PishPosh Baby where you can often grab awesome discounts:
>>Browse Baby Jogger Accessories
Final Assessment
Judging these buggies by the most essential features of a stroller, there seem to be no clear winner. As single convertible stroller, both VISTA and City Select perform fantastic and have similar function. However, the weight and size (especially the length) of Baby Jogger makes it slightly less comfortable to use for one child. Simply, the weight of UPPAbaby VISTA makes it more convenient for one child, and it does perform just as amazing.
However, Baby Jogger double stroller seem to a better choice for growing family. For two children it has more useful seating configurations. Although it's heavier and bigger than UPPAbaby, its functionality and seating arrangements outweigh these disadvantages. Besides, if you decide to skip some of the accessories, you can save a lot of money. With VISTA, accessories are included are make the stroller really pricey.
So, is the City Select stroller worth it? In my opinion, yes – the City Select stroller is worth the money considering all its features, especially in a double mode! This stroller will offer you tons of sitting configurations. Plus, it's well-built and maneuvers like a dream.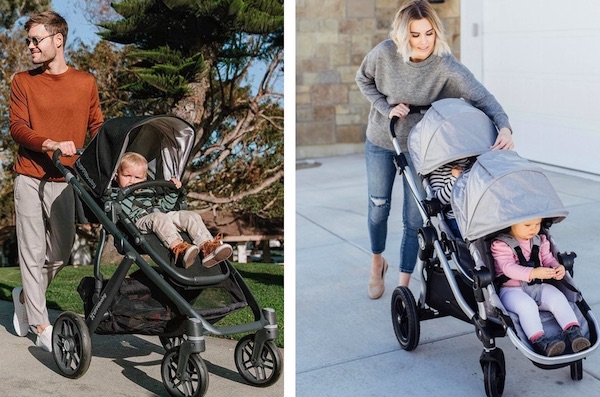 ---
Sources:
Pictures of City Select belong to Baby Jogger. Source: https://www.babyjogger.com/
Pictures of VISTA belong to UPPAbaby. Source: https://uppababy.com/
Your trust is really important to me: This post contains affiliate links. If you choose to buy something using these links, I may receive a commission, at no extra cost to you. Your support helps me run this blog. Thank you so much 🖤