In this article I'm going to share with you my tips for choosing the best pregnancy-safe sunscreen. Proper protection from harmful UV rays and sunburns is essential for keeping your skin healthy, as well as keeping your growing baby safe.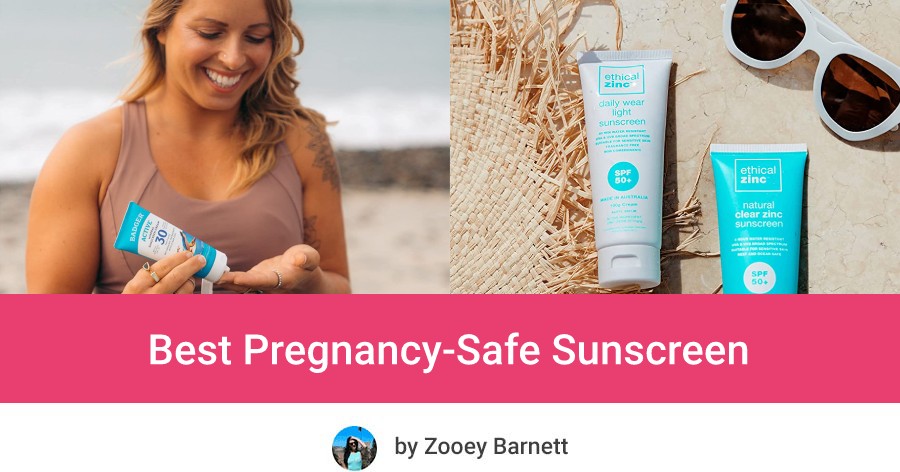 We all know that what a pregnant woman eats gets transferred to her unborn baby, but did you know that what you put on your skin can, too?
If a cream, lotion or chemical sunscreen gets absorbed through your skin, it can enter into your bloodstream and be passed on to your baby.
The worry here is that some sunscreens include oxybenzone or avobenzone, which are hormone disruptors than can be absorbed through your skin and enter your bloodstream.
This article is not a substitute for medical advice. It may contain affiliate links.
Best Features
❤️ Contains organic moisturizing ingredients
❤️ Helps to repair the skin after sun damage
❤️ The only mineral sunscreen that doesn't leave white cast!
✖️Don't wear it with white clothes
❤️ Very short and simple ingredients list (only 5 organics ingredients)
❤️ Fragrance-free & moisturizing
❤️ Perfect for sensitive skin
✖️A bit thick formula
❤️ Great for the whole family (it's actually a sunscreen lotion for babies!)
❤️ Sweat resistant
❤️ Perfect for fair skin
✖️You need to shake it before the use (otherwise the formula may separate)
advantage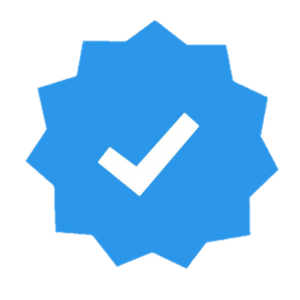 Recommended by 89% of verified buyers!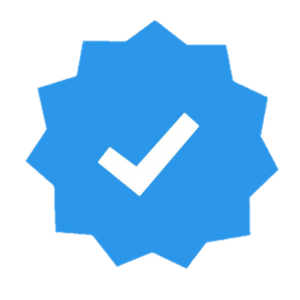 Recommended by 87% of verified buyers!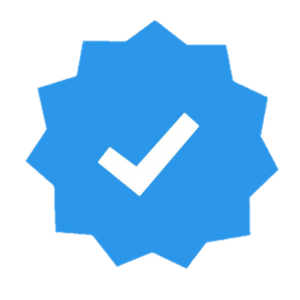 Recommended by 84% of verified buyers!
Moms' Favorite Choice
Best Features
❤️ Contains organic moisturizing ingredients
❤️ Helps to repair the skin after sun damage
❤️ The only mineral sunscreen that doesn't leave white cast!
✖️Don't wear it with white clothes
advantage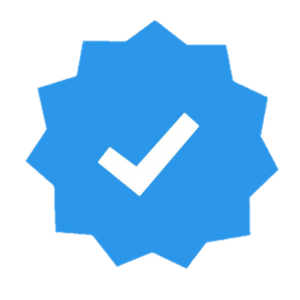 Recommended by 89% of verified buyers!
Best Features
❤️ Very short and simple ingredients list (only 5 organics ingredients)
❤️ Fragrance-free & moisturizing
❤️ Perfect for sensitive skin
✖️A bit thick formula
advantage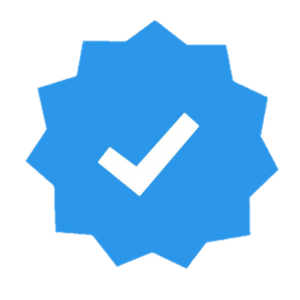 Recommended by 87% of verified buyers!
Best Features
❤️ Great for the whole family (it's actually a sunscreen lotion for babies!)
❤️ Sweat resistant
❤️ Perfect for fair skin
✖️You need to shake it before the use (otherwise the formula may separate)
advantage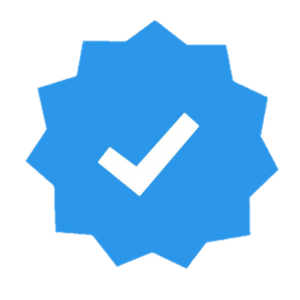 Recommended by 84% of verified buyers!
Last update on 2023-09-30 / Affiliate links / Images from Amazon Product Advertising API
Are All Sunscreens Safe?
Chemical sunscreens are not safe during pregnancy. The hormone disruptors can have harmful effects on your baby if they are absorbed through your skin.
Are There Any Pregnancy Safe Sunscreens Out There?
Now that we can see which chemicals to avoid in chemical sunscreens, you may be wondering if you need to hide in the shade and cancel your beach vacation altogether.
Hold it! You can still enjoy the outdoors, protect your skin, and prevent skin cancer with a pregnancy safe sunscreen.
Protect Skin With Physical Sunscreens
I'm talking about physical sunscreens or mineral sunscreens that are not absorbed into your skin. A pregnancy-safe sunscreen is a mineral sunscreen, offering protection through physical blockers, not irritating chemicals. These minerals are not absorbed into your skin, (and later on your bloodstream, where they go on to reach your baby).
Physical blockers (get it? 'sunblock') only sit on the surface of your skin and are washed off when you bathe. They are also great for sensitive skin.
Look for pregnancy safe sunscreen by checking the ingredient list: zinc oxide and titanium dioxide are usually the active ingredients.
Best Pregnancy Safe Sunscreens – Ranking
A safe sunscreen is important during pregnancy. To help narrow down the dizzying amount of products and ingredients, I've done the research and proudly present to you the best pregnancy-safe sunscreens:
I'm a big fan of Earth Mama's stuff. And their tinted mineral sunscreen lotion, that comes in both SPF 25 and SPF 40, is my favorite sunscreen for pregnancy, postpartum and beyond.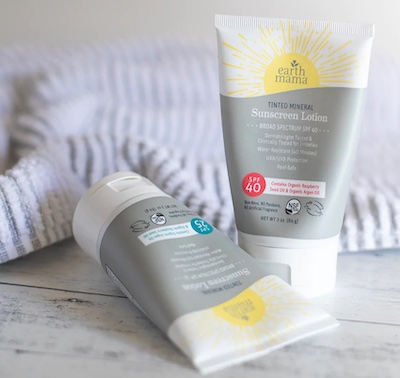 This broad spectrum sunscreen protects from both UVA and UVB rays and is also water resistant for up to 40 minutes.
Active mineral ingredients: zinc oxide. Inactive ingredients: organic coconut, jojoba and olive oil, shea butter, mica and iron oxide. Other cool ingredients are red raspberry seed oil (works to repair sun damage) and argan oil.
The oils, plus zinc oxide, mean its not only a sunscreen, but a moisturizing cream, too.
PRO TIP: A great travel-sized (and mess-free) option is this SPF 40 mineral sunscreen stick. It comes in two shades (light-medium for pale skin, or medium-dark for darker skin tones). It provides sun protection, moisturizing lotion, and a bit of tint to give your skin a subtle glow – all in one easy-to-use stick. This is better for different skin types and is a bit more inclusive.
Why Moms Love It
Mothers (ones who found it matched their skin tone) loved that they could wear this mineral-based sunscreen daily, almost like a light make-up. It's great for the face because it is a non-greasy sunscreen and comes in two SPF protection options; 25 or 40.
Also, this is one of the few mineral sunscreens that doesn't leave a white cast on your skin, because of the iron oxide. The iron oxide protects from blue light (you know, the light from your phone or computer screen, that you may be exposed to right now).
So, not only is this cream pregnancy safe, but it protects our skin from digital blue-light if you work in front of a computer all day.
Keep In Mind
The iron oxide means it works with some skin tones, but it may not be right for mamas with darker skin, and be careful wearing it with white clothing – it could leave a slight brown color.
I think it's the best face sunscreen, but no so great for the entire body.
What is the best mineral body sunscreen lotion, then? This Sun Bum Mineral Spray Lotion SPF 50 suncreen is perfect for all-over the body. It is a spray formula with strong, mineral SPF 50 protection that is easy to apply.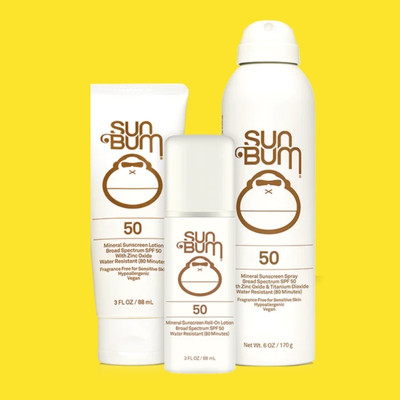 It uses zinc oxide and titanium oxide as the active ingredients to protect your skin from the sun and clean ingredients like sunflower oil, banana extract and citric acid to make the gentle formula convenient to apply.
This one includes several chemical ingredients, but ones which are considered safe to use during pregnancy.
Why Moms Love It
Parents loved that the formula for the Sun Bum mineral SPF 50 sunscreen is convenient, easy to put on and absorbs quickly. Its awesome as a full-body sunscreen lotion (SPF 50), but also comes in different strengths: including SPF 30 (and comes in a lotion, too).
It holds up to swimming or sweating for more than 1 hour, which is great for active mamas or beach days.
Keep In Mind
Just because it is in a spray-formula doesn't mean that you have no rubbing involved: it's a physical barrier sunblock, after all, so you will need to rub it in.
And, with the main ingredients being zinc and titanium oxide, it does leave a slight white cast, sorry.
PRO TIP: If you've got sensitive skin during your pregnancy, try this hypoallergenic formula, for sun safety without irritating your skin. Just know, this comes in a smooth lotion, not a mineral-based spray.
This Babo Botanicals zinc spray-on broad-spectrum sunscreen is good for expectant mothers, good for kids – even good for babies! It was named the best sunscreen by Redbook, too.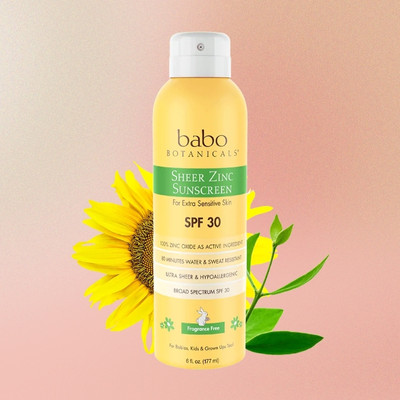 It comes in a lotion too, both in SPF 30 and SPF 50 (you can check them out here), but I prefer the spray because the ingredient list is a lot shorter, is mostly plant-based, and offers hydration, too.
Ingredients: non-nano zinc oxide for sun protection, aloe vera, sunflower oil (organic, of course) to make it easily spreadable. It does not contain Octinozate or Oxybenzone, and is fragrance-free.
Why Moms Love It
Babo Botanicals uses a trademark Nutri-soothe formula which is really good for your skin, as its full of vitamins and antioxidants, and of course, is hydrating, too. It is easy to apply (for babies, apply to your palm first, then rub on their body).
This stuff will protect your skin through water or sweat for up to 80 minutes.
If you'd like to go for the lotion, you will love that that this non-greasy cream isn't oily. If you face acne prone skin during pregnancy, then you understand why that's so important. Let your pores breathe, mama!
Keep In Mind
The lotion version doesn't easily absorb into the skin. You'll need to spend a bit of time really rubbing it in to avoid that funny white cast. Also, if it gets on your towel or swimsuit, it can leave white residue but it should come out in the wash.
That's the reality of most mineral sunscreens, but it's still good to keep that in mind
This Badger Mineral Sunscreen lotion SPF 30 is another awesome choice for a pregnancy safe sunscreen and is great for sensitive skin because it contains only 5 ingredients (all of them organic)!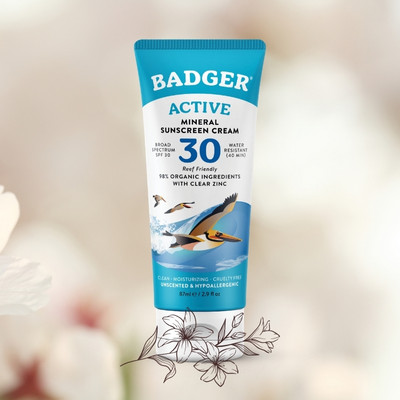 It still offers broad-spectrum protection to block UVA and UVB rays, and is a reef-safe sunscreen (will not cause coral bleaching if you wear in the ocean). It offers water-resistant broad spectrum SPF 30 protection for 40 minutes.
Want that super-short ingredient list? Here it is: zinc oxide (18.75%), organic sunflower oil, organic beeswax, vitamin e, and organic seabuckthorn extract (an antioxidant which is good for your skin).
Why Mom Love It
It's a great, pregnancy safe sunscreen with very few ingredients. Due to its hypoallergenic and fragrance-free formula, it's a good option for those with sensitive skin.
Keep In Mind
The formula doesn't include water, so it has a very thick texture which can be hard to apply (knead the tube before squeezing out). After applying, it can feel oily, but keep in mind, it's also hydrating, so there's some give and take there.
If you're looking for a great sunscreen for pregnancy and beyond, reach for this organic broad spectrum SPF 50 lotion. It's my preferred choice for a baby-safe sunscreen for the whole family, easy to carry in my diaper bag or purse.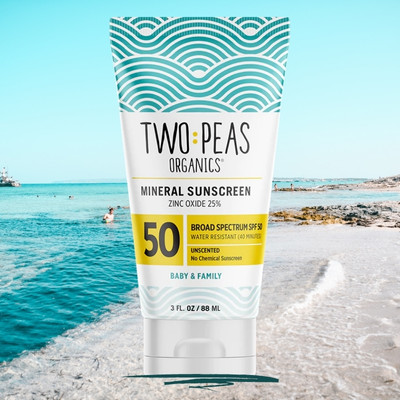 It contains 25% zinc oxide and works for sensitive skin types (of both little babies and adults) because of the organic ingredients. It offers broad spectrum protection for 40 minutes (while being water resistant). Because it doesn't contain any chemicals, not only is it pregnancy-safe, it is also reef-friendly.
It uses coconut oil, castor oil, sunflower oil, raspberry seed oil, apricot oil and shea butter to leave your skin feeling soft and smooth.
Why Moms Love It
The fragrance-free formula and organic ingredients make it awesome for babies and children. And the water-resistant coverage up to SPF 50 is great for fair skin. It rubs in quite smooth and doesn't feel greasy.
Keep In Mind
As with most pregnancy safe sunscreen, the active ingredient of zinc oxide means that this will leave a white shade to your skin.
The good news? You'll know if you missed a spot on your baby bump. The bad news? Your bikini might have some white residue on them.
So, you share everything with your kids, right? Now they can share something with you! Pipette Sunscreen is 'technically' for kids, but there's no reason adults can't use it too.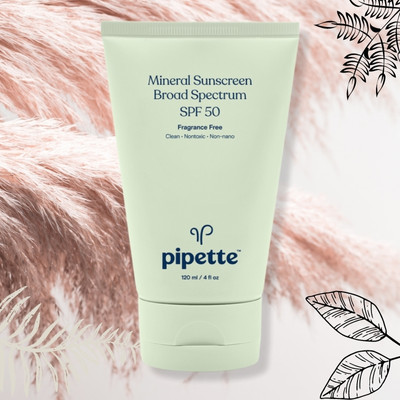 This mineral sunscreen offers broad spectrum SPF 50 protection in a cream that is water resistant and sweat resistant, too. It's especially a favorite of those with fair skin (with makes it great for little babies who are extra sensitive to the sun).
The active ingredient is zinc oxide, and the dermatologist approved formula incorporates other healthy ingredients to make it not only a pregnancy-safe sunscreen, but a baby safe one, too.
Why Moms Love It
Those 'inactive ingredients' are what parents love about it: sugarcane-derived squalane. Squalane moisturizes the skin by mimicking vernix, the amazing stuff that covers baby's skin when they are born.
It also has an antioxidant known as Bisabolol which reduces irritation (great for mamas with sensitive skin), and several skin conditioners to make this thick mineral sunscreen go on smooth.
Keep In Mind
You do need to shake the tube pretty vigorously before each use to ensure the consistency, otherwise it may come out separated and leave a greasy residue on your skin.
Raw Elements makes several mineral sunscreens that are all pregnancy-safe, but I really like the face and body cream that has SPF 30 protection and comes in an aluminum tin.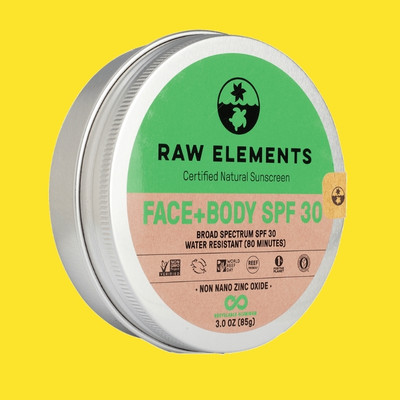 The UVA and UVB protection lasts for 80 minutes, even if you are swiming or snorkeling, so it's the perfect choice for active mothers.
Of course, zinc oxide is the main ingredient here, but they also incorporate a lot of healthy minerals and antioxidants into the formula to make it great for your skin, like: green tea, cocoa butter, vitamin E, hemp seed oil, coffee extract, mango butter and rosemary.
Why Moms Love It
The Raw Elements company is really awesome. They are passionate about the ocean and spending time in the sun in a safe, healthy and environmentally-friendly way. And, their products work, which is really the bottom line, isn't it?
Their products are shipped in sustainable, recyclable packaging (like aluminum tins, or resin tubes), so you can feel good about your impact on the environment even as you wear sunscreen.
Keep In Mind
This sunscreen has a strong scent, which you may either love… or not. If you want to join up to save coral reefs with this pregnancy-safe sunscreen, you may need to also be game for smelling like hemp seed oil and natural mango butter.
This zinc sunscreen paste is the best pregnancy safe sunscreen for mamas who look for a truly simple formula with fewer ingredients (only four in the whole formula!).
Here they are: zinc oxide, organic coconut oil, beeswax and cocoa powder.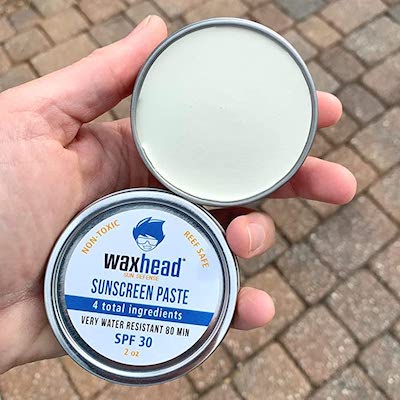 Waxhead also has a sun serum SPF 35 that is a vitamin-enriched lotion which heals dry skin while it protects it (but that has a few extra ingredients more than this paste), and a cool sunscreen stick that makes application really easy and mess-free.
Why Moms Love It
The minimum ingredients make this paste a winner, but the fact that you can get it in a tinted formula is pretty awesome, too! The cocoa powder means this doesn't leave a white residue on your face, and makes you smell like chocolate.
You can buy tinted or non-tinted, depending on your skin tone. I choose non-tinted version for my kids, just so I can easily see where I applied it on them, and I always recommend it for my fair-skinned friends.
The tinted option is great for any other complexions, from tanned to darker skin tones.
Keep In Mind
It comes in a small, 2-oz tin, and it is one of the most expensive sunscreens mentioned on this list. Sorry… but at least I warned you first, right?
The Ethical Zinc brand SPF 50 sunscreen is made in Australia, so you know they are serious about sun-safety. It's the best pregnancy safe sunscreen that is truly sheer while also offering SPF 50 protection.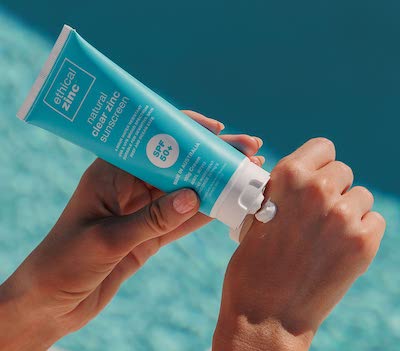 The broad spectrum protection lasts for over an hour, and is water resistant for hours longer than other products.
The physical prevention ingredient is zinc oxide, and other ingredients include skin conditioners, castor oil, coconut oil, vitamin E, and natural vanilla scent.
Why Moms Love It
This is one of the only zinc-oxide sunscreens that doesn't leave white cast on your skin. I don't know how they managed it, but apply it 15 minutes before sun exposure and you won't look like a ghost – really!
When they say 'sheer' they mean it. If you're after a sunscreen that isn't tinted and won't leave you white, this is it.
Plus, the vanilla scent is really pleasant.
Keep In Mind
One thing to remember is that this sunscreen can leave you skin feeling oily. There is a bit of sacrifice to having no white cast.
Final Decision: What Is The Safest Non-Toxic Sunscreen For Pregnancy?
There are some real winners on this list: ones that use antioxidants and vitamins to nourish skin, convenient sunscreen sprays, and others that have a subtle tint, but I think the best pregnancy safe sunscreen for daily use is this Earth Mama Organic Mineral Sunscreen, in SPF40.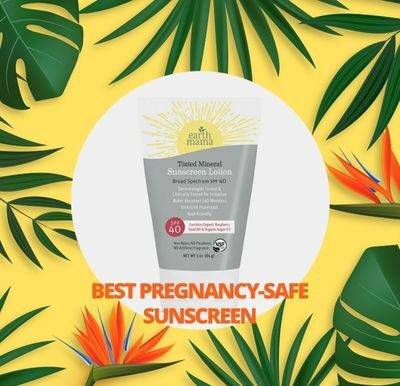 It works as a type of make up, helps to hydrate skin and prevent sun damage, all at once – what's not to love?
Best Sunscreen For Pregnant Women – FAQ
Still have questions about the best pregnancy safe sunscreens? Let's check out some of the common queries.
Can You Wear Normal Sunscreen When Pregnant?
Chemical sunscreens should be avoided during pregnancy due to safety concerns for your unborn baby. It's advised to use a mineral sunscreen and always check the sunscreen ingredients, just to be in the clear.
Choose a great, pregnancy safe sunscreen from this list and you may find that you're hooked, even after pregnancy!
Mineral Sunscreens Vs. Chemical Sunscreens – Which One Is Better For Pregnancy?
The best pregnancy safe sunscreen is a mineral sunscreen. Chemical sunscreens actually absorb the sun's uvb rays, while mineral sunscreens are physical 'blockers' making the sun's rays bounce off, not be absorbed.
During pregnancy, moms should steer clear of chemical sunscreen and go for sun protection that sits on top of your skin, instead.
Hormone Disruptors During Pregnancy
Endocrine (or hormone) disrupters are chemicals that disrupt the natural levels of hormones in your body, by either changing your body's natural levels or, through a chemical reaction, mimicking the hormones you naturally create.
When taken during pregnancy, these hormone disruptors have been correlated to low birthweight, infant neurological problems or thyroid issues in infants, among other concerns.
Further, studies have shown that trace elements from sunscreens have been noted in breast milk: including ethylhexyl methoxy cinnamate, octocrylene and homosalate. Whether they are amounts which are dangerous for an infant to consume, or if they even get passed to the baby during breastfeeding has yet to be determined.
Therefore, it is recommended to avoid suspected harmful chemicals used in sunscreen and stick only with a pregnancy-safe sunscreen for your entire pregnancy.
What Ingredients In Sunscreen Are Not Pregnancy Safe?
Common Sunscreen Ingredients To Avoid
Ethylhexyl methoxy cinnamate
Oxybenzone
Avobenzone
Octocrylene
Homosalate
More Skincare Product Ingredients To Avoid
Parabens
Phthalates
Retinols and salicylic acid (found in face creams, not so much in sunscreen). If you're dealing with pregnancy acne, reach for creams with hyaluronic acid, instead.
Read more about unsafe ingredients in my article here >>
Ingredients In Best Pregnancy Safe Sunscreens
The best pregnancy safe sunscreens use zinc oxide and titanium dioxide as the active ingredients. Zinc oxide is more popular in mineral sunscreens, but titanium dioxide is considered generally safe, too. Titanium dioxide and zinc oxide are both naturally occurring minerals that leave a white pigment, which blocks the sun.
Sun Protection During Pregnancy
You already know that sunscreen protects from the sun's harmful rays, reduces the risk of skin cancer, prevents premature aging (as well as dark spots and wrinkles). But, did you know that wearing sunscreen can help you avoid the dreaded melasma that some women experience due to pregnancy hormones, too?
More Than Sensitive Skin – What Is Melasma?
Also known as the "mask of pregnancy", melasma is a skin discoloration that usually affects the forehead, cheeks and nose of expecting mothers. It doesn't cause pain, but it can make you feel self-conscious.
Not all mamas get melasma, but just in case, you are advised to wear physical sun protection (like a wide brimmed hat) and use a moisturizer that contains sunscreen on a daily basis.
Is Sunscreen Safe On Pregnant Belly?
Yes, wearing mineral sunscreen on pregnant belly is safe. You should always apply pregnancy-safe sunscreen (mineral sunscreen) to your pregnant belly when spending time in the sun to avoid sunburns.
How Long Can I Sit In The Sun While Pregnant?
Sunscreen use is advised, even for short periods of time, for pregnant women because their skin may be more sensitive, easily dry or develop melasma due to the harmful UV rays of the sun.
Remember to use a good moisturizer after sunbathing to hydrate your skin properly. I recommend you to choose one of the pregnancy-safe body lotions that are free from nasty chemicals.
Can Sunburn On Belly Hurt Baby?
No, mama, your baby is protected from the sun's rays there in your womb.
However, a sunburn could be really uncomfortable for you! And, later on, you have an increased risk of skin cancer from sunburns, so please avoid this scenario. Moreover, getting a sunburn means that you may be at higher risk of dehydration which CAN HURT your baby.
---
Sources of pictures:
Pictures of Earth Mama Sunscreen belong to Earth Mama Organics Brand.
Pictures of Babo Botanicals Spray belong to Babo Botanicals Brand.
Pictures of Badger Sunscreen belong to Badger Brand.
Pictures of Sun Bum Sunscreen belong to Sun Bum Brand.
Pictures of Raw Elements Sunscreen belong to Raw Elements Brand.
Pictures of Waxhead Paste belong to Alba Botanica Brand.
Pictures of Pipette Sunscreen belong to Pipette Brand.
Pictures of Two Peas Organics Sunscreen belong to Two Peas Organics Brand.
Pictures of Ethical Zinc Sunscreen belong to Ethical Zinc Brand.
---
The purpose of this article is informative. It's not a substitute for professional medical advice or medical care. Remember: safety first! Consult your doctor/pediatrician in case of any doubts. The author of this article does not accept any responsibility for any liability, loss or risk, personal or otherwise, incurred as a consequence, directly or indirectly, from any information or advice contained here.
Your trust is really important to me: This article includes affiliate links to products that I think are useful for our readers. If you make a purchase through these links, I may earn a small commission at no extra cost to you. Your support helps me run this blog – thank you!