Boba and Solly Baby are two brands that offer the best stretchy wraps that are designed with parents and baby comfort & safety in mind.
But which one is actually THE BEST? I'll try to answer this question in this article.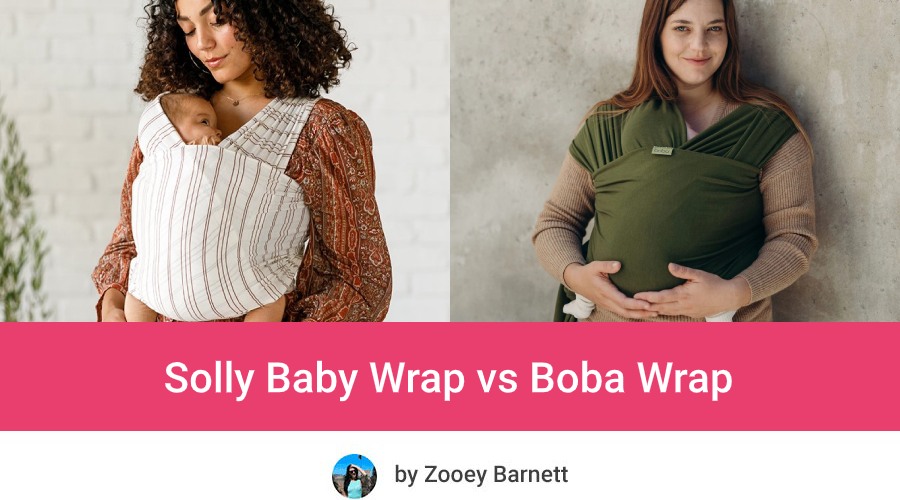 This article is NOT a substitute for medical advice. It contains affiliate links.
If you want to start babywearing with your newborn baby, wrap is a wonderful solution. It allows you to carry your little one in natural, ergonomic position, and gives you perfect opportunity for skin-to-skin contact. It's also much more affordable than a soft structured baby carrier.
One of the biggest advantages of babywearing is that it gives you those precious hands-free moments. It allows you to soothe your newborn baby and at the same time prepare a meal, read a book, play with your older child, or take care of household tasks.
But you will have all those benefits only if you get a wrap that is comfortable and safe for your baby and convenient to wear for you.
There are at least 4 baby wrap carriers that are recommended by the International Hip Dysplasia Institute as safe for baby's hips: Solly Baby Wrap, Moby Wrap, Boba Wrap and Baby K'tan. Each has a lot of advantages and unique features, as well as some small drawbacks.
The decision, which one is best and which one to buy, will highly depend on your preferences, but I hope this comparison article will give you lots of useful information so you could make the right decision.
| Wrap | Image | Favorite Color | My Personal Choice For | Most Comfortable For |
| --- | --- | --- | --- | --- |
| Solly Baby | | Favorite color: Basil | My personal choice for: All-year-round babywearing (including warm summer) | Most comfortable for: All sizes (from petite to plus size) |
| Boba | | Favorite color: Pearl Blue Dot | My personal choice for: Colder/ mild climate and weather | Most comfortable for: Average & plus size |
Solly Wrap Review
This baby wrap comes as a long piece of machine-washable fabric (5.5 yards / 5 meters long) that you need to tie around your body. It allows you only for baby wearing front inward position – which is the safest position for newborns and infants. It's suitable up to 25 lbs.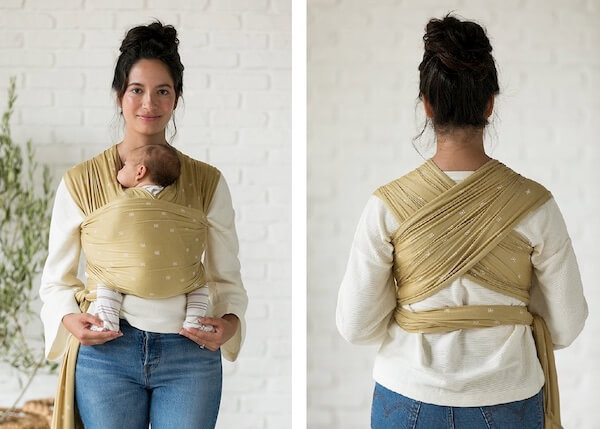 It has a learning curve, as opposed to soft structured carrier which doesn't require tying. Solly, just like Boba, is a stretchy wrap and allows you to adjust the material to your body, and fits different body types (both petite and plus size parents).
Once you learn how to wrap it correctly, baby wearing will be really comfortable as this wrap ensures proper distribution of baby's weight across your body. Thanks to that, your shoulders, back or pelvis won't be overloaded or sore.
Moreover, Solly Baby wraps are recognized as hip-healthy by the International Hip Dysplasia Institute. This means they are safe for infant's hip joints, keeping the baby in natural, ergonomic "frog position" with M-shape legs, hips bent, knees higher than a bum, and C-shaped spine.
According to parents its fabric is super soft and delicate for baby's skin. Some parents even say this is the softest and coziest wrap ever!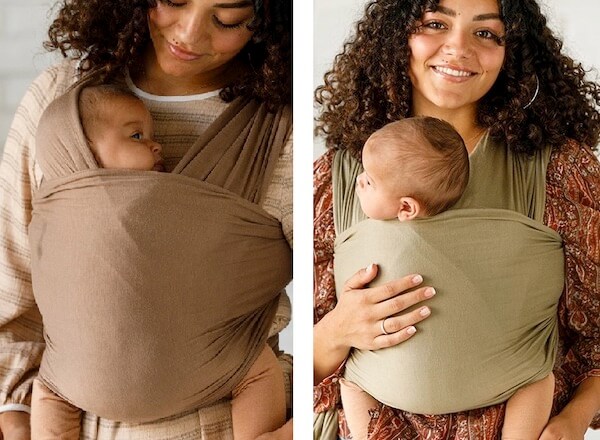 If you go through customer reviews on brand's website (there are over 900 positive reviews at the time I'm writing this comparison!), you'll notice that lots of parents agree that this fabric is much more breathable than other wraps (made of cotton, bamboo, viscose or Tencel). You can wear it in summer months (77°F) without sweating and worrying that your baby will get overheated.
Moreover, this fabric is light and thin (but still very supportive!) as a scarf. No matter if you're slim or chubby, it will be comfy to wear, because even with a few layers of fabric you won't be sweating. It doubles as a nursing cover.
Boba Wrap Review
There are two versions of Boba Wrap. The Classic one is made of cotton knit fabric and thanks to a little amount of spandex, it's elastic and stretchy. The Bamboo version is made of bamboo, cotton and spandex.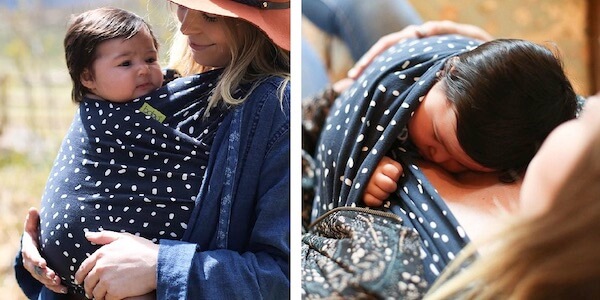 The difference between both versions is that the Classic Boba is more thick and strong, however it quickly gets hot. It works best when the temperature is around 59-68°F. The Bamboo Boba is a bit more breathable (but not as breathable as Solly). However, this version is a bit less flexible. The biggest downside of Boba that parents often complain about is that the fabric doesn't breathe and makes you sweaty really quickly.
As opposed to SollyBaby, Boba is suitable for babies up to 35 lbs.
I've read a few opinions that Boba fits plus-size parent better, because for caregivers with skinny body type, it may feel like there's too much fabric and too much layers and they will get hot and sweaty quickly.
Boba is also approved as hip-healthy which means it protects baby's hip joints from dysplasia (if used properly). In allows you to wear your baby in front inward position and keeps them in "frog position" – the safest and most natural for newborn and infants.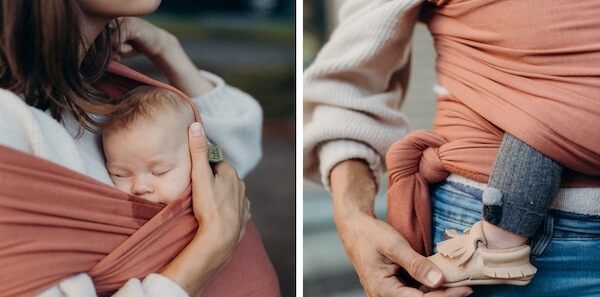 Lots of parents say it doesn't take a lot of time to learn how to tie Boba Wrap. Thick fabric feels very secure and supportive, and doesn't strain parent's back or neck. However, some caregivers complain about the fabric being too long and hard to tuck away (because it's so thick).
On the other hand, caregivers say that Boba Wrap fabric is elastic and sturdy at the same time, so the baby feels secured in it, and it's fairly easy to position the child in it, and tuck their head in.
Solly Wrap vs Boba – Main Differences
Which of these two baby carriers is a better choice? Which one is easier to use and more comfortable to wear? Which one is more comfy for the baby?
Now it's time for the ultimate comparison of Solly Baby Wrap vs Boba Wrap.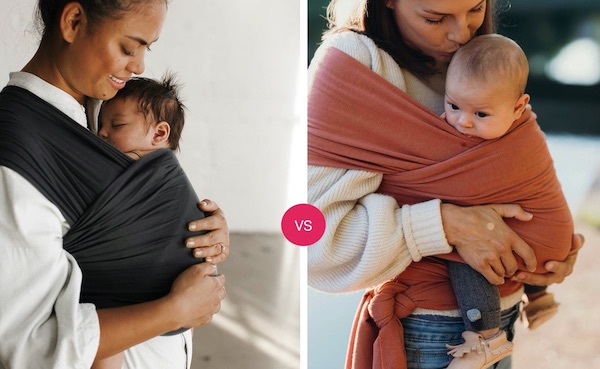 Fabrics & Breathability
This is one of the major differences between these two baby wraps.
Boba Classic Wrap is made of 95% French Terry cotton + 5% spandex. This fabric is pretty thick, strong and nice to the touch. Spandex makes it stretchy and flexible which is crucial for babywearing because it allows you to easily adjust the wrap to your body or share it with other caregivers (who wear a different size).
Some caregivers complain that this type of material quickly gets really hot and makes the wearer and the child wet and hot. This can make babywearing less comfortable and makes baby's skin prone to rash and itchiness.
However, if you live in colder or mild climate, use Boba in autumn or winter and dress lightly for babywearing, you should be fine.
Boba also offers more breathable version of their wrap made of 66.5% bamboo, 28.5% cotton and 5% spandex. It works better for warmer weather, but some parents say you still get hot in it after a while. Others complain about this version being less stretchy.
On the other hand, Solly is made of 100% certified Lenzing Modal. This fabric is sourced from the pulp of Austrian Beechwood trees. The wrap is sewn in Los Angeles (BTW, even the packaging is made in LA).
What is so special about this material?
First of all, it's very lightweight and breathable. It allows the air to circulate through so neither you, nor the baby gets sweaty or hot while babywearing. According to customers who have tried Solly and other cotton or viscose wraps agree that Solly is much more airy and doesn't make you sweat as cotton counterparts.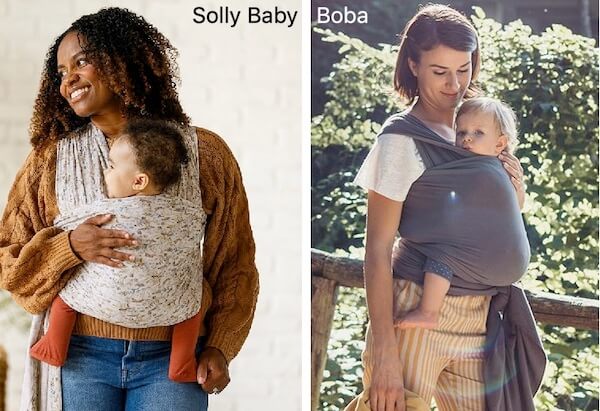 Moreover, Lenzing Modal wicks the moisture away which is very important because it prevents the baby from overheating during summer and lets the skin to breathe. This way it also prevents baby's from skin rash.
Moisture-wicking fabric is also helpful from keeping baby warm in winter. When the sweat is trapped between the skin and wrap, it cools down easily in colder months making the body temperature to go down as well. Solly fabric wicks the moisture away, keeping the baby from cold.
Even though this fabric is lighter and thinner than for example cotton, it's very strong, durable and ensures proper support for babies body. Hundreds of babywearers who posted their customer reviews on Solly Baby Website agree that this baby wrap is buttery-soft and it has just the right amount of stretch to make tying simple, and allowing to hold the baby snuggled.
As you can see, Solly Baby fabric makes this wrap suitable for all year round use, regardless of the climate you live in and regardless of the weather. Some customers say it feels like wearing a scarf or a t-shirt!
Moreover, the material and dyes that Solly uses are environment-friendly which may be a huge advantage for eco-conscious parents too.
LittleBabyGear Verdict: Solly Baby is a clear winner here. If you're looking for a breathable baby wrap carrier for summer or want a wrap that you could use throughout the year, Solly is your best option. According to some parents Boba is comfortable when the temperature is between 59°F and 68°F, while Solly works well even up to 77°F, without making you sweaty.
Ease Of Use
There are different opinions on Solly and Boba ease of use. Some caregivers say that Solly Baby has just the right amount of stretch making wrapping and tying a lot easier than with other wraps.
On the other hand, there are parents who complain that this wrap is so light and thin, it has longer learning curve. For some, it takes more time to learn how to tie it properly to provide support for baby's thighs, to tuck baby's head in, and to distribute the weight properly on wearer's shoulders. For those people, Boba seems to work better and they find it more sturdy and thick. This stretchy wrap is more "predictable".
However, this thick fabric of Boba is also its disadvantage, because it increases the risk of overheating. Moreover, it makes it harder to tuck away the ends.
The good news about Solly is that the brand offers tons of useful tutorials – especially on their Facebook and Instagram you can find lots of helpful videos.
LittleBabyGear Verdict: I would say it's a tie in this aspect. For me Solly is easier to use, however, for others Boba may be more convenient. It also depends on how experienced you are in babywearing in general.
Storage
Because of the thick fabric, Boba is pretty bulky. When you fold it, it will take up about half of your diaper bag. It doesn't have any storage bag.
Solly on the other hand, folds into built-in storage pouch and takes up little space. When you fold it, it's the size of a wallet.
LittleBabyGear Verdict: Solly is definitely a winner here. When you're out and about with your little one and would like to store the wrap when not in use, Solly will easily fit in your diaper bag. It makes it also a better choice for travel, because it takes less space in your luggage.
Weight Limit
Both baby wraps can be used from birth (if there are no medical contraindications). Solly Baby Carrier Wrap is suitable up to 25 pounds, while Boba Wrap can be used up to 35 lbs.
According to parents who have been using these baby wraps, Solly is most comfortable and suitable for babies up to 9 months. On the other hand, Boba wraps are comfy even up to 1 year. It's important to notice that some caregivers use it even up to 18 months!
LittleBabyGear Verdict: Boba seems to be a winner here, because you can use it longer, for older and heavier infants.
Price
Depending on the color and pattern, Boba Classic Wrap price ranges from $40 for a single-color model, to $59 for a wrap with pattern. The Bamboo version costs $50.
Solly Baby Wrap is a bit more expensive – the regular price is $65. There are over dozen of colors and patterns to choose from and all of them look so adorable.
PRO TIP: If you're thinking about getting Solly, I have a promo code for you! Right now you can get 10% OFF your wrap – don't miss out on this opportunity! Collect your discount here with code LITTLE10.
Ultimate Decision: Is Solly Or Boba The Best Baby Wrap?
I hope my detailed comparison and reviews will help you to make the right decision: Is Solly Baby or Boba a better choice?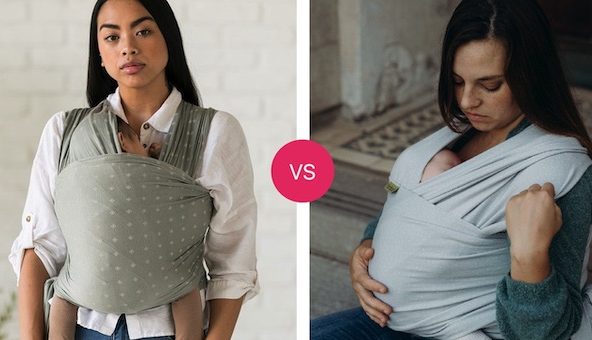 In my opinion, Solly Baby is the best stretchy wrap ever and it's definitely worth the extra money, even if it has a longer learning curve. I think the breathable fabric that protects you and your little one from sweat and overheating, is worth spending more time mastering the tying technique and how to position the baby properly to give them the best support.
According to many customers, Solly has wider offer of patterns and more beautiful colors than Boba and other baby wraps (like Moby or Baby K'tan). My favorite fashions are: Quilted Star, Basil and Oat Dot (you can check them here).
However, if you're on a smaller budget, and live in cold/mild climate, or will only use the wrap in colder months, Boba will definitely satisfy you!
If you're still hesitating between Boba vs Solly, here's a short summary.
Reasons To Choose Solly
Solly
1. Thin, lightweight and REALLY breathable stretchy fabric
2. Ideal for all-year-round use - keep baby warm and cozy in winter, and protects from overheating in summer
3. Comfortable to wear in warm weather (even up to 77°F) without sweating (lower risk of overheating)
4. Ends are easier to tuck away than with Boba
5. One-size-fits-all - convenient to wear for very skinny people (even though there are multiples layers it allows the skin to breathe), as well as people with larger frame
6. Softer fabric ever - it's delicate, super cozy (and soothing) for the baby
7. Folds up into built-in storage pocket, takes up much less space in a diaper bag than Boba - easier to store, perfect for travel
8. Gorgeous colors and patterns - wider choice than Boba offers
Reasons To Choose Boba
Boba
1. Thick fabric feels more secure
2. For some caregivers it's easier to position the child in Boba than in SollyBaby
3. It doesn't cause back pain
4. More sturdy fabric (more predictable)
5. You can use it longer and for heavier babies than Solly
6. Good choice for colder or mild climate and weather (up to 59°F-68°F)
7. Most comfortable to wear for average in height and weight people, as well as for people with larger frame
---
The purpose of this article is informative. It's not a substitute for medical consultation or medical care. Remember: safety first! The author of this article does not accept any responsibility for any liability, loss or risk, personal or otherwise, incurred as a consequence, directly or indirectly, from any information or advice contained here.
Source of pictures:
All pictures of Solly wrap belong to Solly Baby. Source: https://sollybaby.com/
All pictures of Boba wrap belong to Moby. Source: https://boba.com/